Julia Roberts is once again gracing the red carpet. The Hollywood star recently attended the New York Premiere of her new show, Gaslit.
As part of the promotion for her show, Roberts appeared on the Late Show with Stephen Colbert. Perhaps in homage to the fierce female role of her new show, Robert took two suits and added a feminine twist.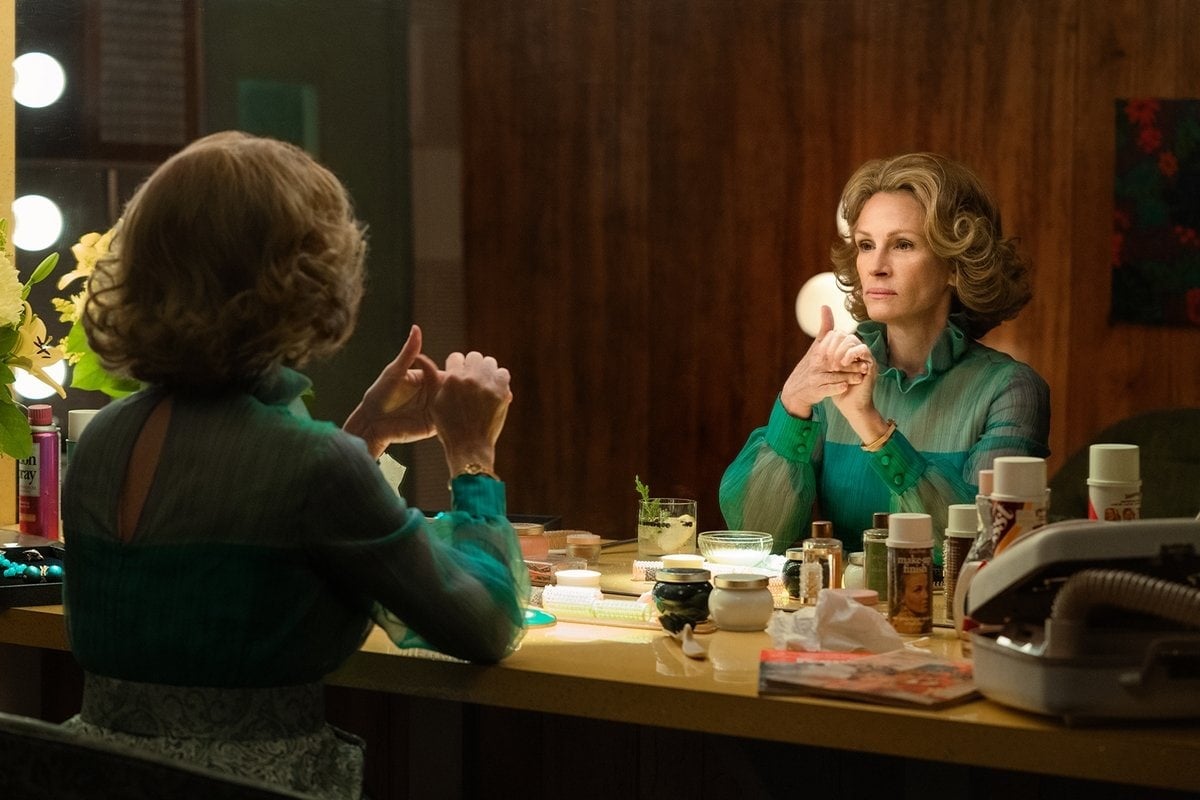 Julia Roberts portrays Martha Mitchell, the wife of John N. Mitchell, who was the United States Attorney General under President Richard Nixon (Credit: Starz)
"What is fascinating about her was that she was so outrageous given her position. She was supposed to be glamorous and quiet but she was glamorous and loud, " Roberts told Colbert about conservative and flamboyant socialite Martha Mitchell.
"She was a pioneer for women speaking their mind. She would have been very popular today!"
It's not often that you appear on a hit talk show and walk the red carpet for a TV premiere in one day. For her back-to-back appearances, Roberts turned to menswear-inspired looks.
Roberts Stands Out in Custom Lafayette Suit for The Late Show
For her guest appearance on 'The Late Show with Stephen Colbert' at the Ed Sullivan Theatre, Roberts looked ready for Easter in a custom-tailored suit by Lafayette 148 New York.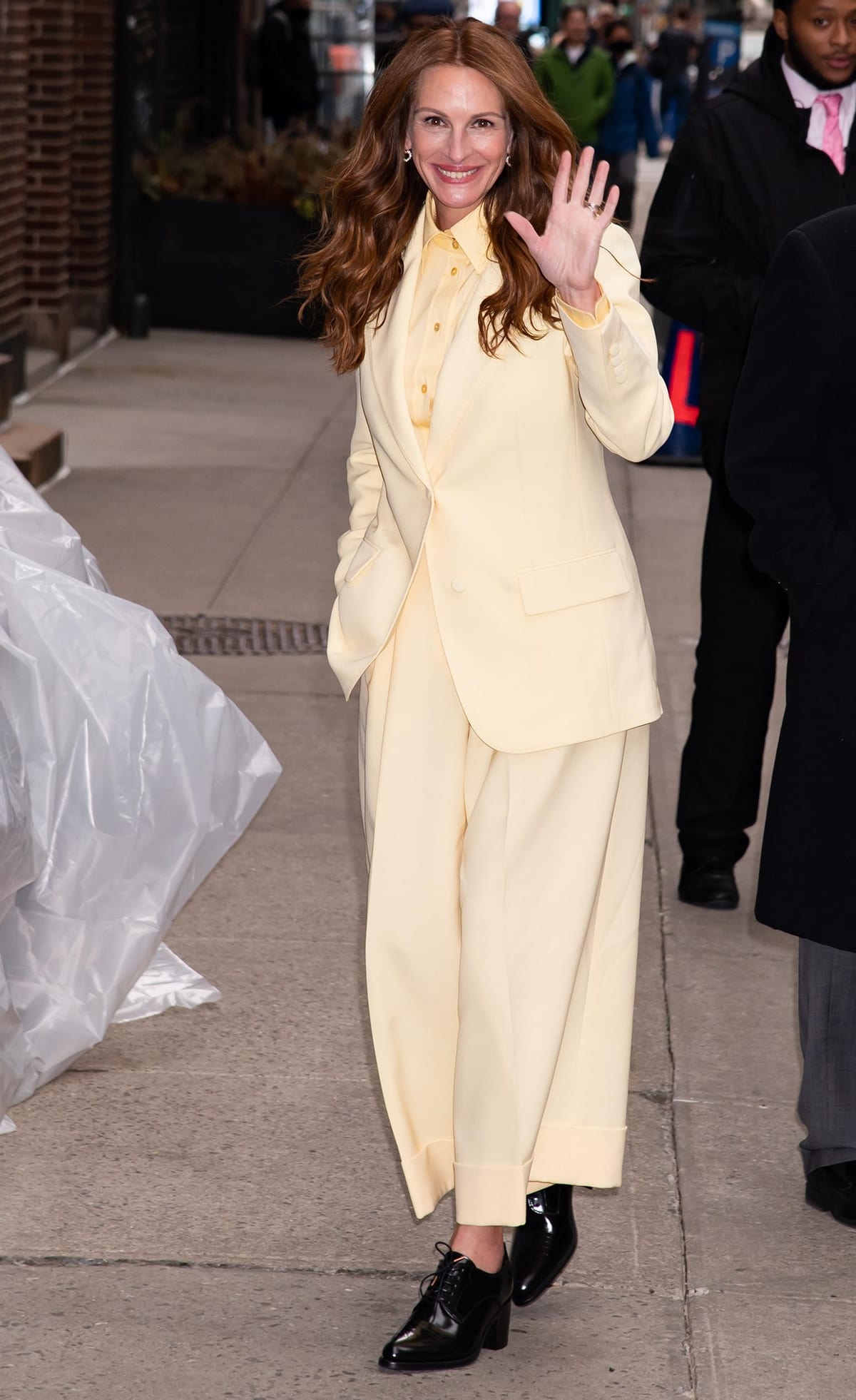 Julia Roberts is seen arriving in a custom Lafayette 148 New York suit and black lace-up Oxford shoes at "The Late Show with Stephen Colbert" at the Ed Sullivan Theater on April 18, 2022, in New York (Credit: Janet Mayer/ Startraksphoto)
It was hard to miss the actress in her sunshine yellow three-piece suit that complemented her auburn hair.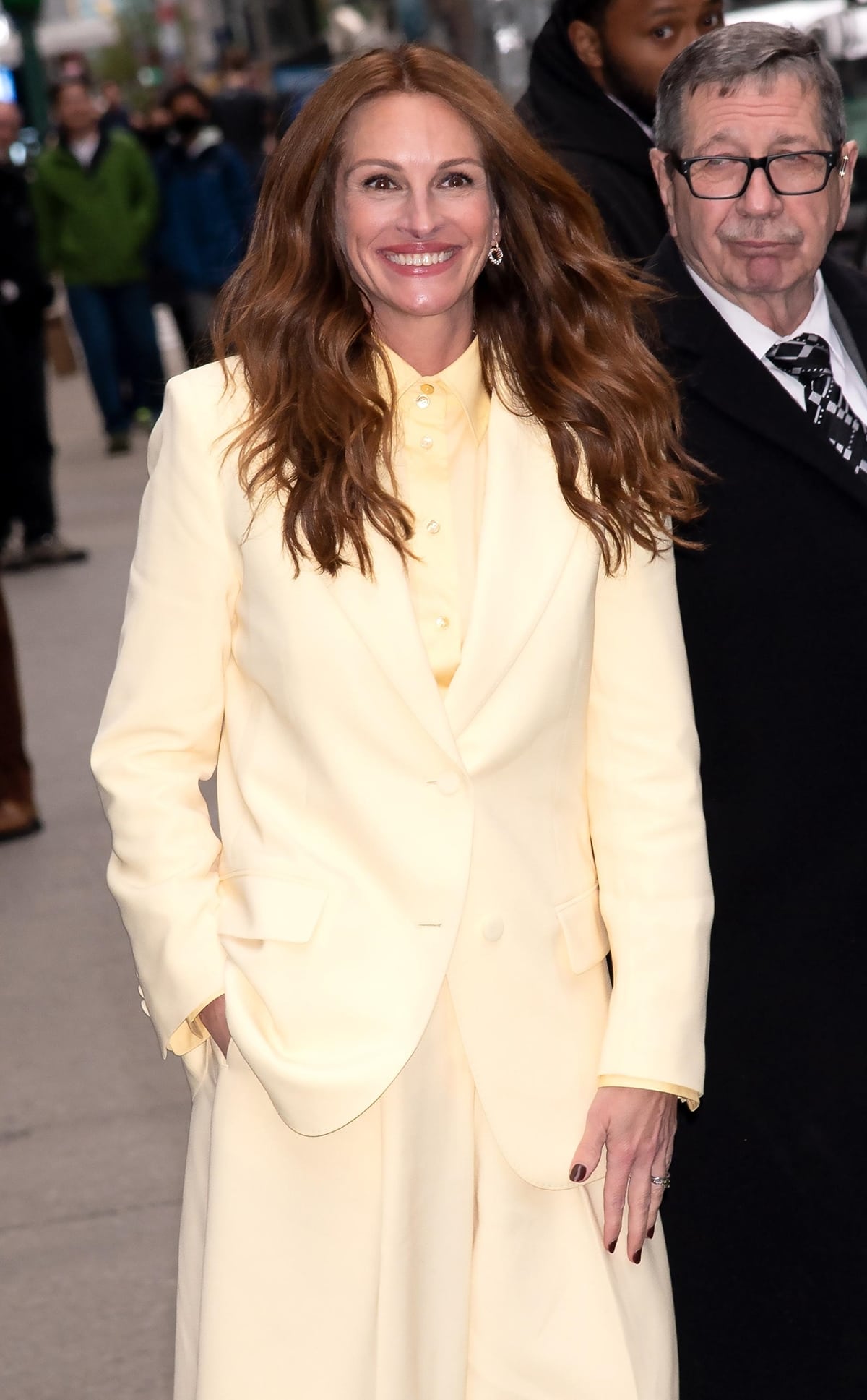 Julia Roberts celebrated Easter in a yellow suit by American fashion house Lafayette 148 New York (Credit: Janet Mayer/ Startraksphoto)
Roberts balanced her suit with lace-up Oxford loafers with a block heel. These shoes helped to break up the look and balance the bold pastel hue of her custom suit.
Fresh from the Gucci Runway for Gaslit Premiere
Fast forward to that evening and Roberts walked the red carpet at the New York premiere for her new limited series, Gaslit.
Roberts takes the lead role in the show, playing Martha Mitchell, the first person to speak out about Richard Nixon's involvement in the Watergate scandal.
Sean Penn, Julia Roberts, Dan Stevens, and Betty Gilpin attend the premiere of "Gaslit" at the Metropolitan Museum of Art on April 18, 2022, in New York City (Credit: Roger Wong / Instarimages)
The limited television series is based on the first season of the podcast Slow Burn by American journalist Leon Neyfakh.
She appeared on the red carpet beside her Gaslit co-star, Madonna's ex-husband Sean Penn.
USA Today and Variety report that Roberts wouldn't join the show without Penn being on board. Penn is playing her husband, John N. Mitchell, Nixon's Attorney General, in the show.
"I didn't ever think we'd get her but her one requirement was that she act with Sean Penn. You didn't have to twist my arm, but I didn't say yes right away — I had to eat dinner with him," Gaslit's creator Robbie Pickering said about getting Julia Roberts to play Martha Mitchell.
"I was so nervous I showed up in this leather jacket that I shouldn't have been wearing. But I was like, 'Sean Penn is a tough guy! I have to look cool.'"
Julia Roberts plays celebrity Arkansan socialite Martha Mitchell, wife to Nixon's loyal Attorney General, John N. Mitchell, played by Sean Penn (Credit: Starz)
"I just thought (it) would be intriguing to Sean, and lo and behold, it was," Roberts said.
"He's great at portraying anything, but the idea of seeing him really inhabit and have this complete and total internal and external transformation into John Mitchell, it's pretty astonishing. To be up close to that every day was remarkable."
Julia Roberts stepped out for the series premiere wearing a three-piece suit from Gucci's Pre-Fall 2022 collection. It was a more understated look than her earlier custom yellow suit and put a quirky twist on a menswear staple.
Julia Roberts in a three-piece Gucci Pre-Fall 2022 suit and Chopard jewelry with her Gaslit husband Sean Penn (Credit: Roger Wong / Instarimages)
The loose open collar on the crisp white shirt, mid-length shorts, and classic black stilettoes add a fun New York feel to the look.
While she kept her footwear minimalistic, the statement piece for Roberts' outfit was an oversized diamond brooch and 18k white gold earrings from Chopard's Precious Lace and Rd Carpet collections.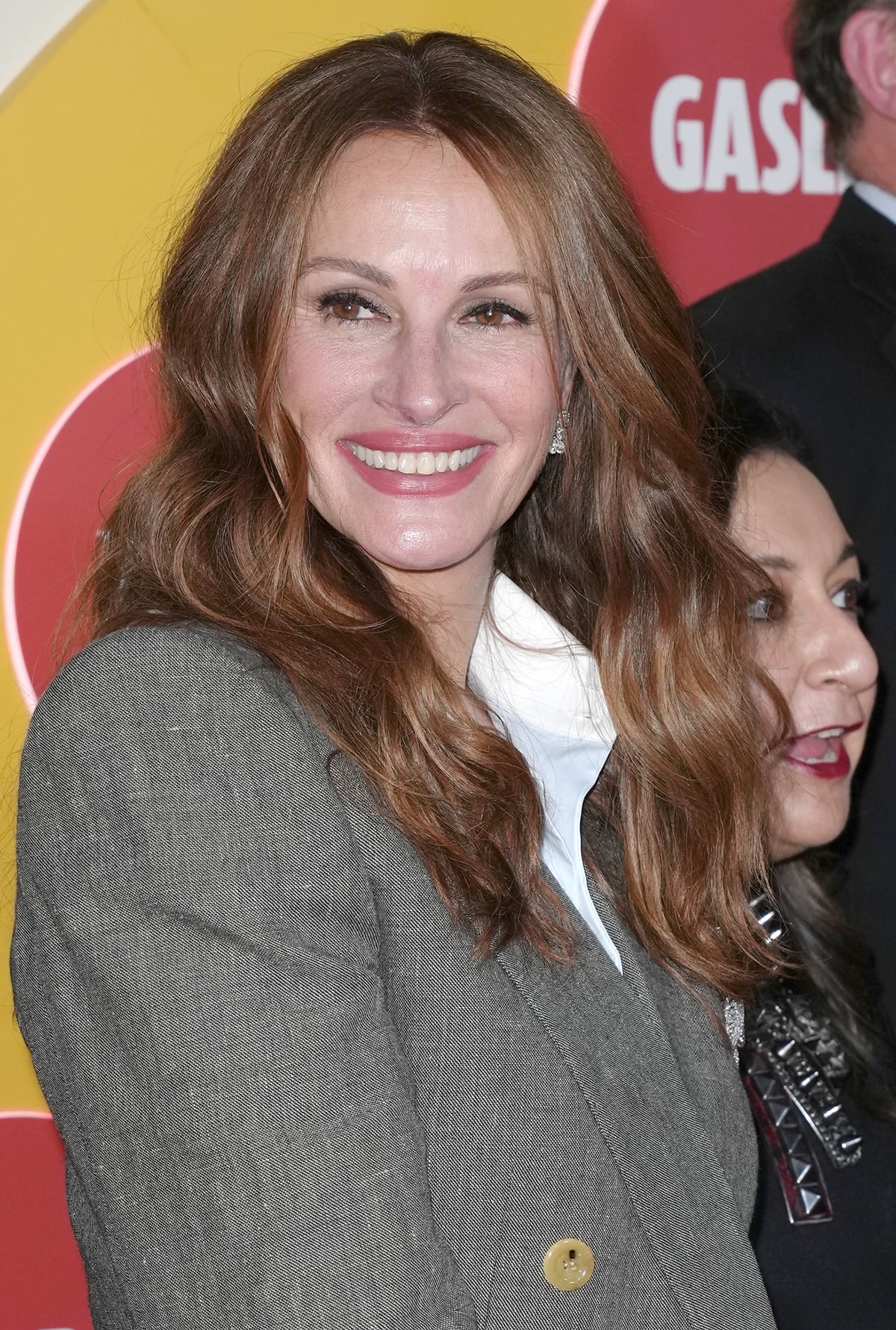 Julia Roberts flashes her signature smile at the premiere of her American political thriller limited television series Gaslit (Credit: John Nacion / Startraksphoto)
Her outfit complemented the classic black suit of her Gaslit co-star, Sean Penn. Their matching white shirts and tailored suits set the town of their new political drama. Her black heels tied their two looks together for the red carpet event.
You can tune into Gaslit on Starz to see Roberts and Penn's on-screen chemistry as a political power couple.
Julia Roberts wears her hair back at the world premiere of "Mother's Day" held on April 13, 2016, at TCL Chinese Theatre in Los Angeles (Credit: FayesVision / Brian To / WENN)
Mother's Day wasn't until May 8, but in April 2016 the stars of the American romantic dramedy film Mother's Day celebrated early at the world premiere of the comedy-drama held at TCL Chinese Theatre in Hollywood.
Julia Roberts, who plays an accomplished writer who put her child up for adoption in the movie, turned up in a tailored white shorts suit by Rag & Bone.
Julia Roberts wears a tailored Rag & Bone shorts suit set on the red carpet (Credit: WENN)
The then 48-year-old actress decided to embrace her inner "Pretty Woman," showing off her slim legs in a pair of white shorts.
Julia teamed the shorts with a matching blazer and a button-up black shirt underneath.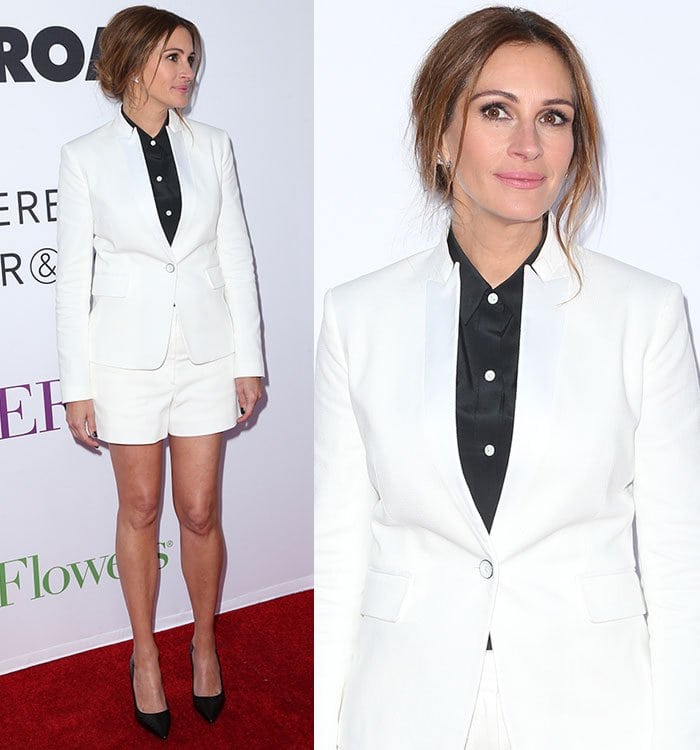 Julia Roberts wears a monochrome shorts suit set to the premiere of "Mother's Day" (Credit: WENN)
Emma Roberts' aunt painted her nails black and wore a pair of Jack Vartanian earrings and black Giuseppe Zanotti heels.
She styled her hair in a chic updo with face-framing strands and kept her makeup simple with pink lipstick.
Julia Roberts wears a Rag & Bone shorts suit with heels (Credit: WENN)
Julia's Giuseppe Zanotti "Lucrezia" pumps feature ostrich-embossed leather, pointed toes, and about four-inch heels.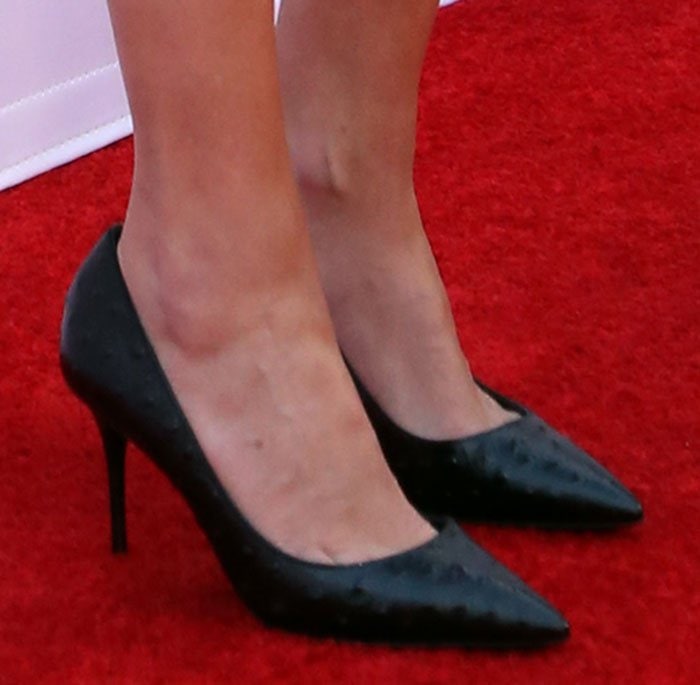 Julia Roberts's feet in Giuseppe Zanotti pumps (Credit: WENN)
These Giuseppe Zanotti pumps are available in different versions (and very limited sizes) at Farfetch and Amazon.
Giuseppe Zanotti "Lucrezia" Ostrich Pumps, $352.75 – $695