The time has finally come to say goodbye to all of Kim Kardashian's horrid maternity outfits. That includes the sheer material, the lace detailing, the too-tight fit — and the pinched, awkward uncomfortable swollen feet stuffed into heels.
Kim and husband Kanye West welcomed their baby boy last Saturday morning. Just today, the couple announced their little one's name, Saint West, on Kim's website. The name refers to her son as being a "blessing," especially "because she had such a difficult pregnancy."
The second heir of the Kardashian-West legacy, Saint West weighed in at 8 pounds and 1 ounce.
Kim Kardashian and Kanye West announcing the birth of Saint West
To date, there are no pictures of the new addition, but the Kardashian clan is thrilled.
Momager Kris Jenner and sisters Khloe and Kourtney Kardashian were all at the Los Angeles hospital to support Kim and Kanye. Kylie was busy in Miami for Art Basel, but also said she was excited to meet her nephew.
In the spirit of welcoming the new(born), and bidding adieu to the old, let's run down the 5 worst pregnancy looks of Mrs. West that we are happy to wave goodbye to.
1. 2015 CFDA Fashion Awards
This Proenza Schouler dress worn over oversized underwear was not the most horrible look on Kim, but it definitely was not her best.
Her feet were not yet at the stage of full torture, so we could still appreciate her custom ankle-strap sandals from the same designer.
A pregnant Kim Kardashian attends the 2015 CFDA Fashion Awards in custom Proenza Shouler with husband Kanye West
2. 2015 MTV Video Music Awards
It was definitely a surprise when Kanye announced his presidential run for 2020 at the 2015 MTV VMAs.
However, we were more enamored-slash-appalled by the form-fitted and revealing Balmain gown that Kim wore to the event.
While we usually love the reality star in sexy body-hugging dresses, we did not love this look on her. She paired the Balmain creation with Tom Ford metallic gold sandals.
A pregnant Kim Kardashian attends the MTV Video Music Awards in a Balmain gown and Tom Ford sandals
3. LACMA 2015 Art + Film Gala
Kim really brought out her trashy side in a completely sheer Givenchy jumpsuit for the LACMA 2015 Art + Film Gala.
She paired the tacky jumpsuit with sandals from the same designer brand. This was one of her worst pregnancy ensembles. We will definitely not miss this horrid outfit.
A pregnant Kim Kardashian holds her heavy baby bump in a sheer Givenchy jumpsuit at the LACMA 2015 Art + Film Gala
4. Givenchy Show at New York Fashion Week
Kim's oversized granny panties made another appearance at the Givenchy show at New York Fashion Week when she wore a ridiculous lingerie dress and thigh-high boots.
Why oh why did Kim choose this overly exposing dress for a highly fashionable affair? We are still looking for the answer to that question.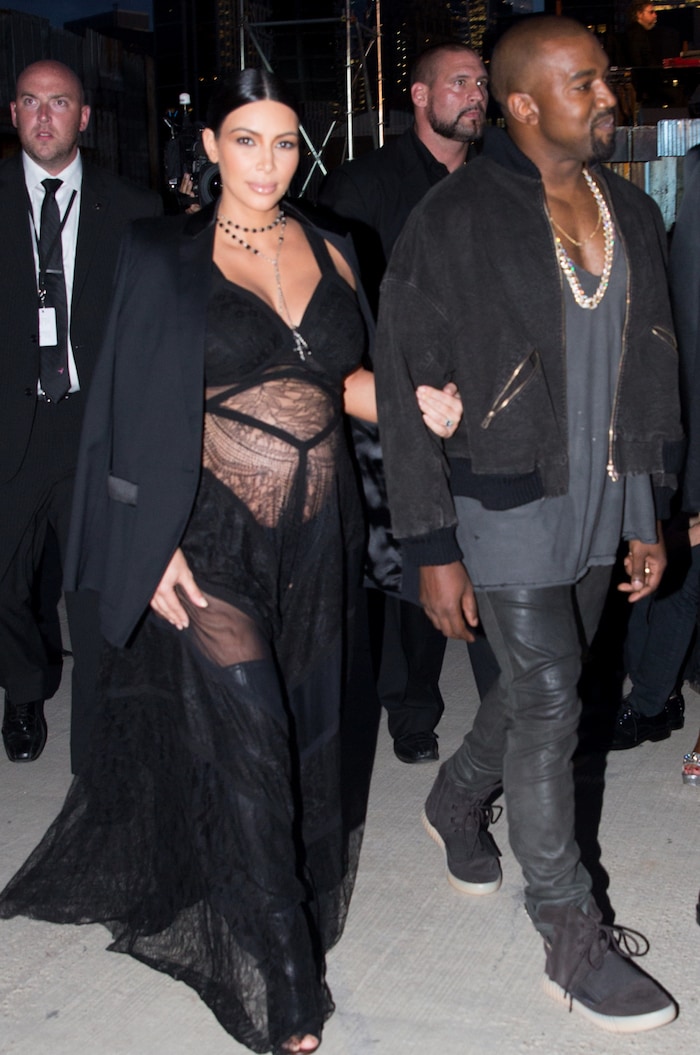 A pregnant Kim Kardashian wears a lingerie dress and thigh-high boots for the Givenchy Runway show at New York Fashion Week
5. Shopping at Kamal Boutique
The 35-year-old's tortured feet were obvious in the Hermes cage sandals she wore while shopping with her friend Larsa Pippen in Beverly Hills.
She looked like a sausage in her tight Wolford dress. The accompanying tight sandals and tight choker didn't help the situation either.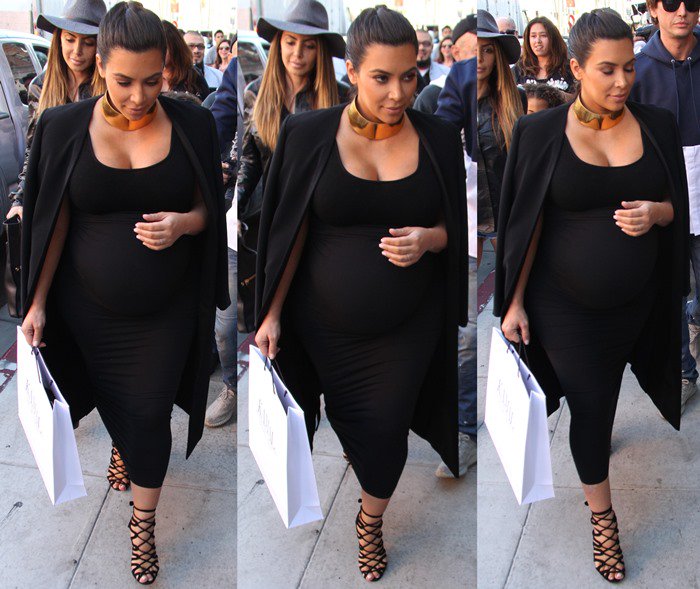 A very pregnant Kim Kardashian wears a pair of Hermes cage sandals while shopping in Beverly Hills
Goodbye ugly sheer clothing, goodbye tortured feet. We look forward to seeing fashionable, old Kim again soon.
Credit: Andres Otero / Brian To / FayesVision / Jeff Grossman / WENN