He may be a well-known comedian with a net worth of $6 million, but Pete Davidson seems more famous for his long list of high-profile failed relationships.
After ending his highly-publicized whirlwind romance and engagement with Ariana Grande, Pete Davidson began dating 46-year-old actress Kate Beckinsale. Four months later, the two called it quits and Pete started seeing 25-year-old Margaret Qualley.
Right after his split from Margaret, Pete started dating 18-year-old model Kaia Gerber in October but broke up after three months.
Saturday Night Live's Pete Davidson is known for his long list of high-profile failed relationships
Cindy Crawford's daughter appeared to have no problem moving on following her split from Pete in January.
The high-fashion model has been actively posting more photos on her Instagram page now post-breakup. In addition, Page Six reported that she was seen modeling for Louis Vuitton in Florida and enjoying some time with her friends just a few days after their split.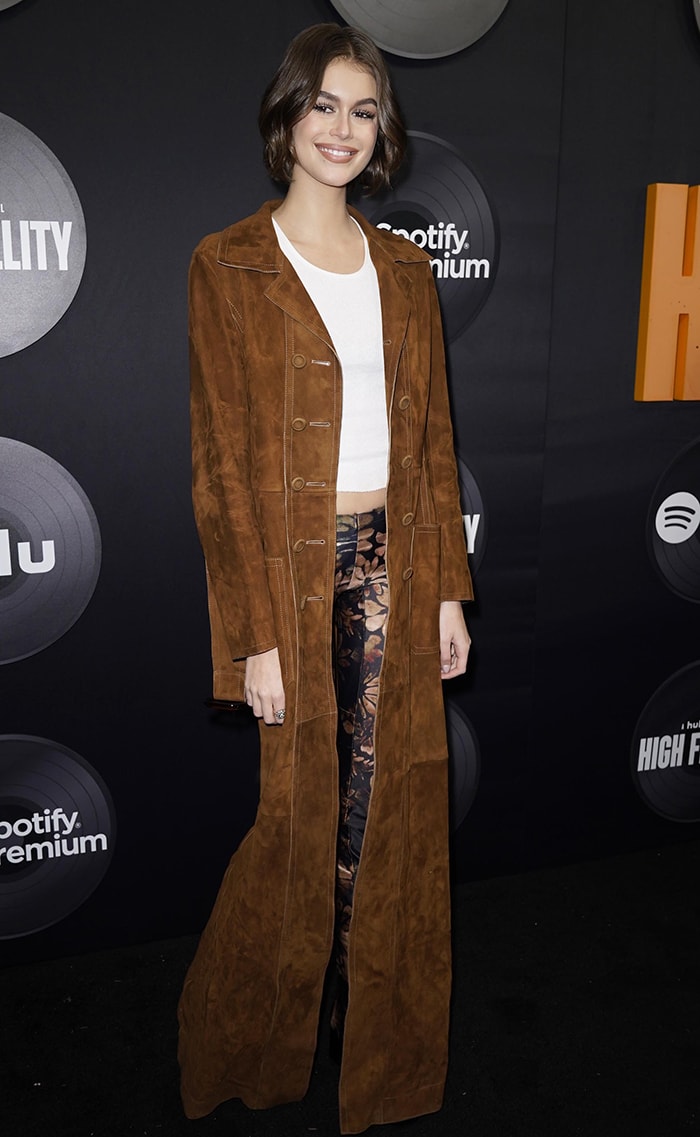 Kaia Gerber in Charlotte Knowles pants and Fendi trench coat at the premiere of Hulu's High Fidelity on February 13, 2020
Kaia was also busy during Paris Fashion Week, walking several runway shows and hanging out with her supermodel friends, including Gigi Hadid, Bella Hadid, Rita Ora, and Cara Delevingne.
On March 3, she was spotted leaving the Miu Miu presentation still wearing her '40s-inspired hairstyle. She stepped out dressed in a black turtleneck top worn underneath a navy Alexander Wang structured oversized blazer ($1,495 at Farfetch).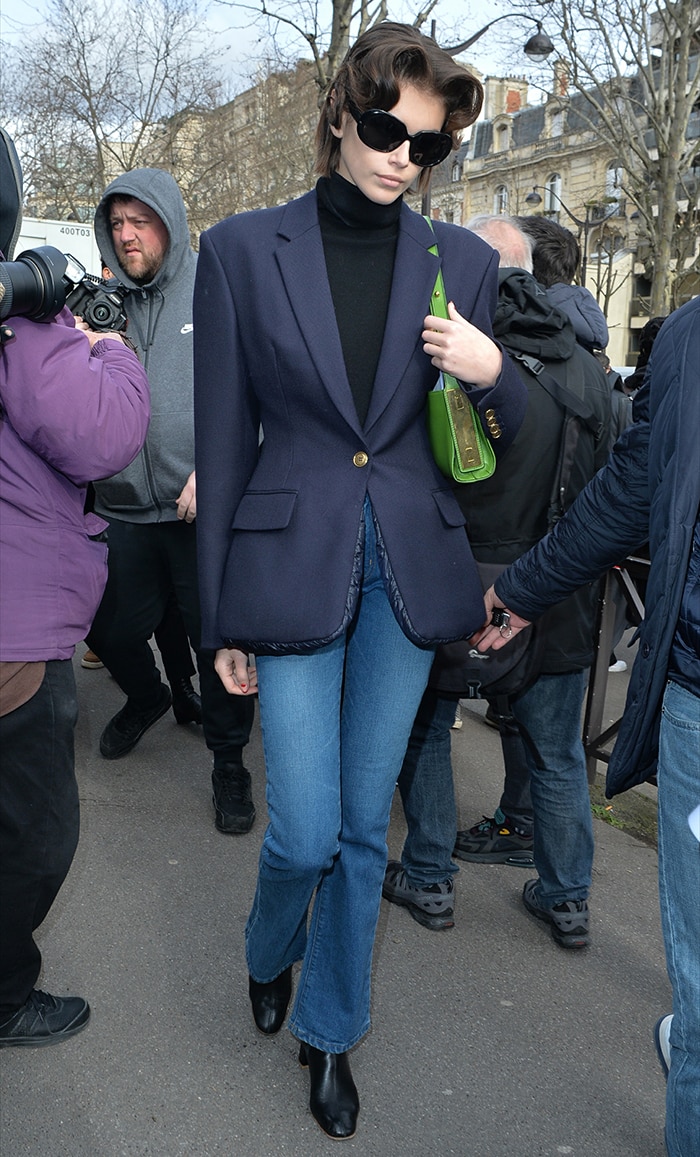 Kaia Gerber in Alexander Wang blazer and jeans after walking Miu Miu's presentation during Paris Fashion Week on March 3, 2020
She teamed the look with jeans, a green Marc Jacobs Spring 2020 bag, and a pair of By Far ankle boots.
Kaia Gerber completes her look with By Far ankle boots
By Far Sophia Leather Ankle Boots, $449.60 at Neiman Marcus
On February 28, Kaia looked hot in a tailored cami pinstripe mini dress by Alexander Wang ($875 at The Webster). She layered a black coat over her tiny frock to keep her warm and added a pair of black knee-high boots.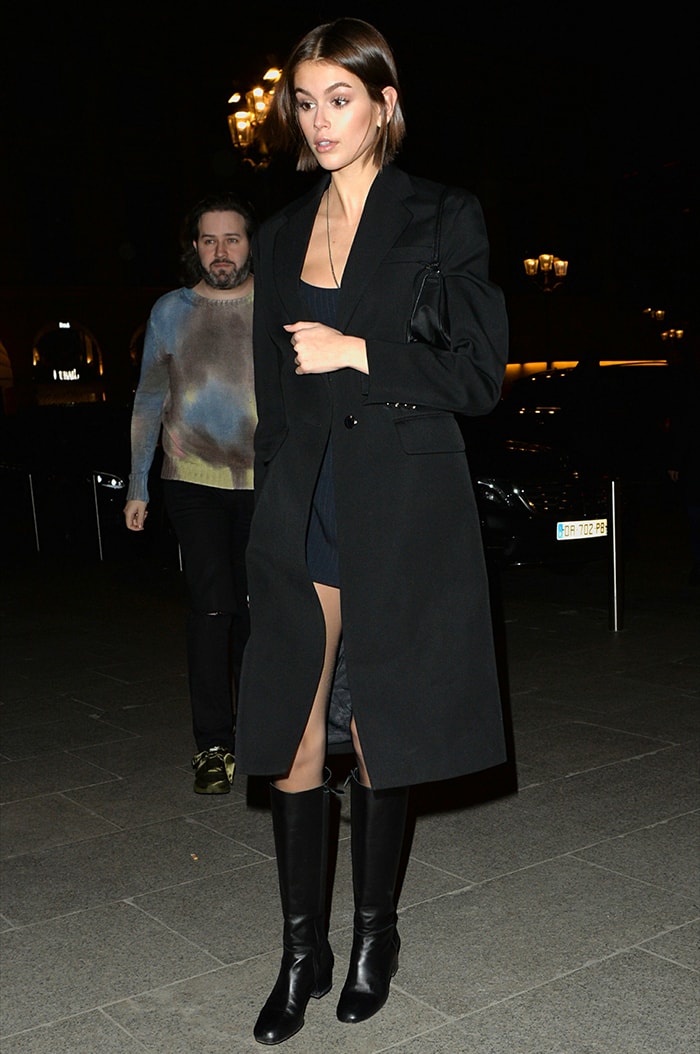 Kaia Gerber out and about in Paris in Alexander Wang mini dress and knee-high leather boots on February 28, 2020
How did Pete and Kaia meet?
According to Page Six, Pete and Kaia most likely met at Alexander Wang's Collection 1 2020 runway show in May 2019.
Pete made his runway debut at the fashion show, while Kaia Gerber also modeled for Alexander Wang at the same event.
Following his breakup from Once Upon a Time in Hollywood actress Margaret Qualley in mid-October, Pete was seen having lunch with Kaia at Sadelle's on October 20.
A source told US Weekly that "Pete appeared happy to be with Kaia, and she seemed like she was into Pete, though there was no PDA."

Three days later, Pete was seen leaving Kaia's SoHo apartment, wearing a black jacket, a yellow shirt underneath, sweatpants, and New Balance sneakers.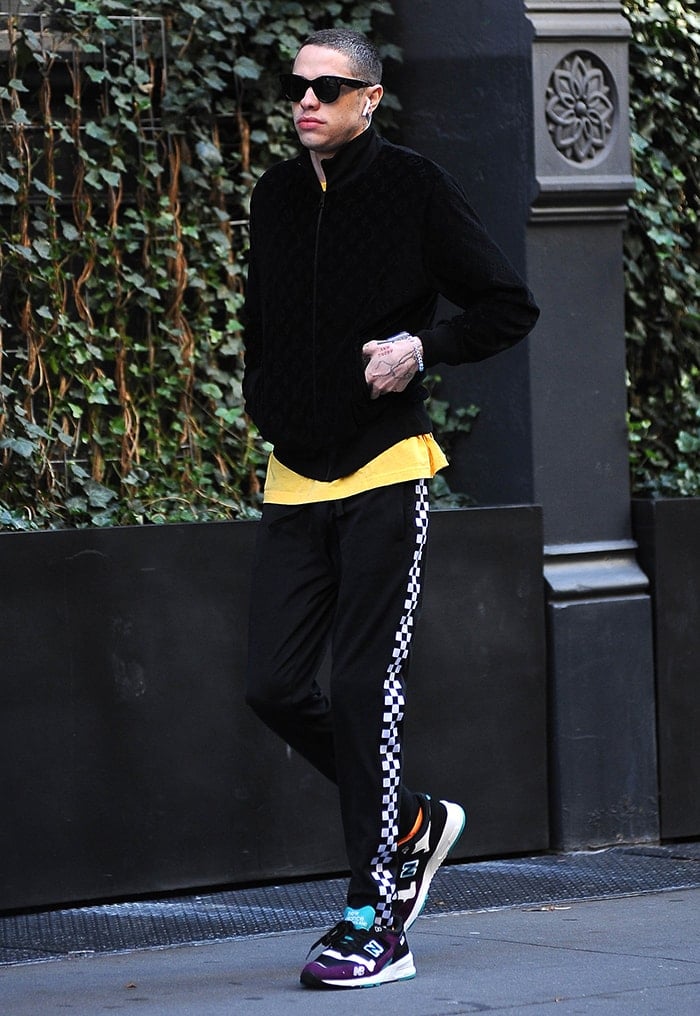 Pete Davidson leaving Kaia's SoHo apartment on October 23, 2019
The two, though, are said to be "just friends."
Kaia and Pete's romantic relationship
While they have not confirmed their relationship, Kaia and Pete have been spotted together several times. A source told E! News: "Kaia and Pete are definitely in a romantic relationship. They have been friends for a while now and run in the same friend circle, but became romantic recently."
"They started hanging out alone more often after meeting up in NYC in October. Kaia expressed she loved Pete's personality. She thinks he is charming and is very intrigued. They have been texting a lot this past month, and are definitely seeing where it goes," the source continued.
"Kaia and Pete were spending time in Malibu together recently, and then flew to NYC because of Pete's work commitment where Kaia supported him."
In November, Pete and Kaia were spotted packing on the PDA in a pool in Miami.
Pete and Kaia end their whirlwind romance
After their three-month romance, Pete and Kaia ended their relationship. The news came after Pete, who has been candid about having Borderline Personality Disorder, joked on Saturday Night Live that he's entering a treatment facility.
In December, Pete was spotted leaving Kaia's apartment after seeing Kaia's parents Cindy Crawford and Rande Gerber having an intense conversation on the sidewalk. A bystander, who apparently heard the conversation, told DailyMail that he heard Rande saying that the person in the apartment, presumed to be Pete, got "scratched eyes" and was "freaking out."
The witness overheard Rande saying: "His face was like scared as if someone or a camera was on him. His eyes are very… and he's like freaking out. How in the hell can he… be away… he needs help my God that's crazy… private rehab… like in an hour."
A source told Page Six: "It looks like Pete and Kaia are over. It got very overwhelming for Kaia. Pete has a certain M.O. and he's very intense to his girlfriends. Kaia is only 18 and it's a lot to deal with."
Pete reveals reason behind split from Kaia
In an interview with Charlamagne The God last month, Pete revealed why it didn't work out between him and Kaia.
"We were dating for a few months, and she's very young, and I'm f***ing going through a lot, and it was before I was going to rehab. She has stuff going on and she should be having fun. She shouldn't have to worry about some dude that just has issues, she should be enjoying her work and all that other s**t."
"It wasn't just the right place or the right time at all. Also, her parents were really helpful and stuff, so they're all cool," he added.
Pete also said in the interview that he's currently taking a break from dating unless he meets the love of his life.
Credit: Instar / WENN