"Should we start an OnlyFans?" Megan Fox asked on Instagram after posting three behind-the-scenes photos of her SKIMS shoot with new BFF Kourtney Kardashian.
The pair looked very comfortable with each other as they made sultry poses captured by celebrity hairstylist Andrew Fitzsimons.
View this post on Instagram
In one photo, Megan was photographed sitting on the toilet with Kourtney straddling her lap. Both were clad in pieces from SKIMS.
Megan opted for a Fits Everybody scoop neck bra with a Jelly Sheer dipped hipster, and Kourtney looked phenomenal in a Summer Mesh t-shirt bodysuit.
This isn't the first time that SKIMS put together A-list celebrities for its advertising campaign. The previous one brought together four of the world's most iconic supermodels: Candice Swanepoel, Tyra Banks, Heidi Klum, and Alessandra Ambrosio.
Even SKIMS founder Kim Kardashian couldn't resist posing with the Victoria's Secret Angels "because it was too iconic."
View this post on Instagram
Newfound friendship
For this recent photoshoot, Megan and Kourtney showcased their newfound friendship. It developed naturally due to the closeness of their significant others – Colson Baker (a.k.a. Machine Gun Kelly) and Travis Barker.
The new BFFS went up the stage together at the 2021 MTV Video Music Awards to introduce the joint performance of their rockstar partners.
View this post on Instagram
Megan and MGK were also present at the lavish wedding of Kourtney and Travis in Italy.
The 36-year-old actress has a connection to another Kardashian sister thanks, in large part, to her fiancé. Apparently, MGK's long-time best friend Pete Davidson asked her for Kim's number months before they got together.
Unfortunately for Pete, Megan shut him down. But fortunately for him, they still managed to find each other.
Extended family
Speaking of connections, it looks like Megan's family just got bigger. Her ex-husband Brian Austin Green and his current partner Sharna Burgess just welcomed baby Zane into their lives.
Megan Fox and Brian Austin Green at the Teenage Mutant Ninja Turtles premiere in Germany (Credit: Patrick Hoffmann / WENN)
The 37-year-old professional dancer told US Weekly that Megan sent a gift when she learned the news. Sharna also shared that Megan visited them to meet the new addition to their family.
"She came in and got some Zane snuggle time," she said. Sharna fondly recalled that it "was wonderful and really great to see."
Aside from baby Zane, Brian is also dad to four older boys: Kassius with Vanessa Marcil; and Noah, Bodhi, and Journey with Megan.
Fashion rebranding
We've seen a lot of celebrities hopping on several fashion trends this year, such as Valentino's pink parade and the Barbiecore bandwagon.
This post-pandemic shift in fashion truly brought out the most interesting looks, which further proves that people are getting excited about fashion again.
Some of our favorite A-list stars are currently having their own fashion resurgence. Red carpets have become fashion playgrounds for celebrities such as Anne Hathaway, Natalie Portman, Tessa Thompson, and Joey King.
For Megan, she claims that she owes it all to her fiancé. She told Vogue that before getting together with MGK, fashion "wasn't something I was focused on or thought about."
This was primarily because she was "put in the category of being a sex symbol," so publicists urged her to dress a certain way to be taken "seriously as an actor."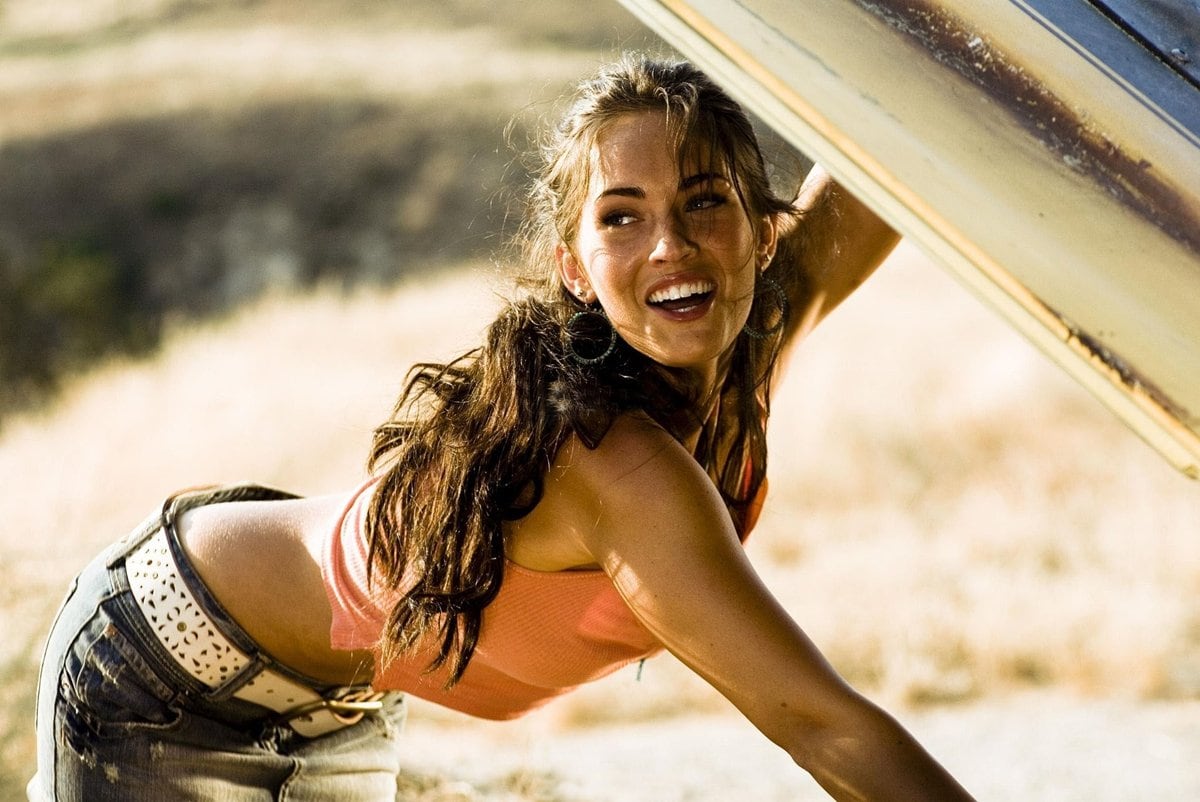 Megan Fox in her breakout role as Mikaela Banes in the first two installments of the Transformers franchise (Credit: Paramount Pictures)
"But they weren't dressing me the way in which I liked to express myself," Megan said. "So I kind of gave up on fashion."
That is, until she met the man that would change the trajectory of her life.
"Musicians have so much freedom to express themselves in the way that they dress," Megan reflected. She added that her fiancé is "slightly eccentric in the way that he dresses." But "that has freed me up to express myself more."
Megan Fox leaving little to the imagination in a see-through Mugler dress and Machine Gun Kelly in a bold red Dolce & Gabbana suit (Credit: MEGA / WENN)
The Jennifer's Body actress also credits MGK for introducing her to Maeve Reilly, her current stylist. "She's adventurous, too," she told Vogue. "And she wants to dress me the way that I feel."
"Obviously, if you see some of the things she's put me in we're not trying to run away from it: we're leaning into it," Megan said. "Which is fun, because this has never felt aligned with my personality before."
Channeling Barbie
Back in June, Megan made a bold pink statement as she arrived at Madison Square Garden for her fiancé's concert.
She wore a fuchsia set with a metallic finish from The Andamane. She paired it with pink heels from Femme and carried a crystal-embellished mini bag from L'Alingi.
With her recently dyed pink hair and enviable figure, Megan could give Margot Robbie a run for her money.
Margot stars as the titular character in the highly anticipated Barbie film from writer-and-director Greta Gerwig. Her onscreen partner Ryan Gosling made waves with his blond hair and washboard abs in his promotional photo as Ken.
But while we wait for the movie to come out next year, lovebirds Megan and MGK are here to serve an all-pink feast.
View this post on Instagram
Why Machine Gun Kelly Put a Shotgun in His Mouth
Also in June, Megan joined her fiancé at the New York premiere of Machine Gun Kelly's documentary Life in Pink.
According to Hulu, it provides "an in-depth look at the dramatic highs and lows of an artist chasing music's top spot while tackling noise from the outside world, stardom, fatherhood, and more."
One of the shocking moments revealed in the documentary was when he tried to take his own life with a shotgun in his mouth while Megan was on location for a film.
"I just f*cking snapped," MGK said. "I called Megan, I was like, 'You aren't here for me.' I'm in my room and I'm, like, freaking out on her. Dude, I put the shotgun in my mouth."
He shared that he tried to fire the gun, but "the shell just gets jammed." MGK recalled that his fiancée was "dead silent" at that moment. "That was kind of where I started realizing, like, something's not right."
Megan Fox and Machine Gun Kelly at Zero Bond in New York City (Credit: Janet Mayer / INSTARimages / Cover Images)
For the premiere, the pair understood the assignment and stepped out in coordinating pink outfits.
Megan wore a tight-fitting cutout minidress from Nensi Dojaka with asymmetric shoulder straps and a plunging neckline. She matched it with her cotton candy hair and her favorite Femme pink heels with ankle ties.
Meanwhile, MGK showed up in a Chet Lo look with a color-blocked crop top and white pants with chains. Bright pink hair and white lace-up shoes rounded out his look.
View this post on Instagram
My bloody valentine
Earlier in June, the couple attended the premiere of their film, Taurus, at the Tribeca Film Festival. Co-written by MGK with director Tim Sutton, Taurus is loosely based on the musician's life and experiences.
No stranger to controversy, the pair wore statement-making looks that referenced their shared fascination for blood.
MGK wore a white fully-embroidered suit from Dolce & Gabbana and high-top sneakers. He also had an assortment of silver rings and a layered pearl necklace. His pink hair and hot pink nails added pops of color to his all-white ensemble.
But what drew everyone's attention was his syringe earring, which had a single red crystal that looked like a drop of blood.
Meanwhile, Megan wore a blood-red latex dress from Sportmax. It featured a strapless neckline, a midi length, and a ruched detail. Her sleek, straight hair wasn't dyed pink at the time, but it fit the vampy theme of her look.
She coordinated with metallic silver pumps from Jimmy Choo, which featured buckled ankle straps and a pointy-toe silhouette.
View this post on Instagram
Earlier this year, Megan caused a frenzy when she confirmed that she and MGK drink each other's blood. She told Glamour UK that it was only "a few drops" and that they "consume each other's blood on occasion for ritual purposes."
In an interview with Vogue, MGK shared additional details about the engagement ring designed by Stephen Webster: "The concept is that the ring can come apart to make two rings. When it's together, it's held in place by a magnet. So you see how it snaps together? And then it forms an obscure heart."
MGK added that the "bands are actually thorns. So if she tries to take it off, it hurts…"
The reason? "Love is pain!"