They are still going strong a year after they went public about their relationship.
Megan Fox and Machine Gun Kelly, a rapper with a net worth of $10 million, have been inseparable and rumor has it that they are already planning to take things to the next level.
An insider told ET: "MGK would love to start a family with Megan someday, but right now doesn't seem to be the time in terms of scheduling."
Megan Fox and Machine Gun Kelly leaving Chrome Hearts dinner party in Los Angeles on June 11, 2021 (Credit: Mega / WENN)
"As far as engagement goes, it is likely that this will happen sooner than later and it has been a topic of conversation without question. Their schedules are starting to get super busy again, so they want to make sure that the timing is right since it would be a big step for both them and their families," the source added.
Last week, the loved-up couple was spotted walking hand-in-hand while leaving a dinner party hosted by Chrome Hearts in Los Angeles.
Megan and Machine Gun Kelly each carried a Chrome Hearts bag as they wore matching leather outfits.
The 31-year-old rapper stood out in his neon pink turtleneck top paired with a black leather jacket and leather pants. He styled the look with layers of necklaces, a pair of dangling earrings, and a couple of bracelets.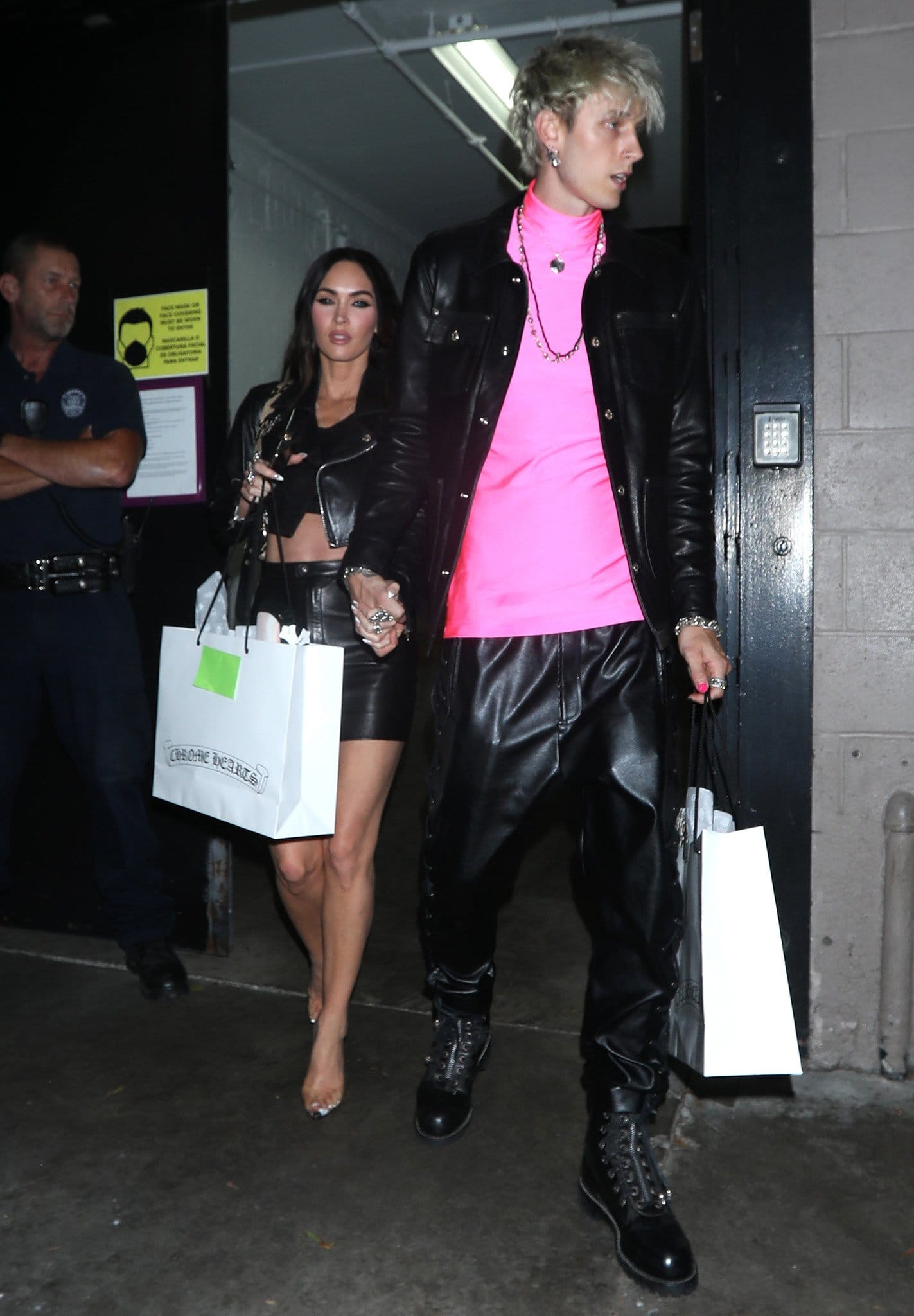 Machine Gun Kelly draws attention in his neon pink top with leather pants and jacket (Credit: Mega / WENN)
Meanwhile, the 35-year-old actress cut a sexy yet edgy figure in her leather outfit.
She showed off her abs in a black crop top layered underneath a moto jacket and paired with a mini skirt that put her slender pins on display.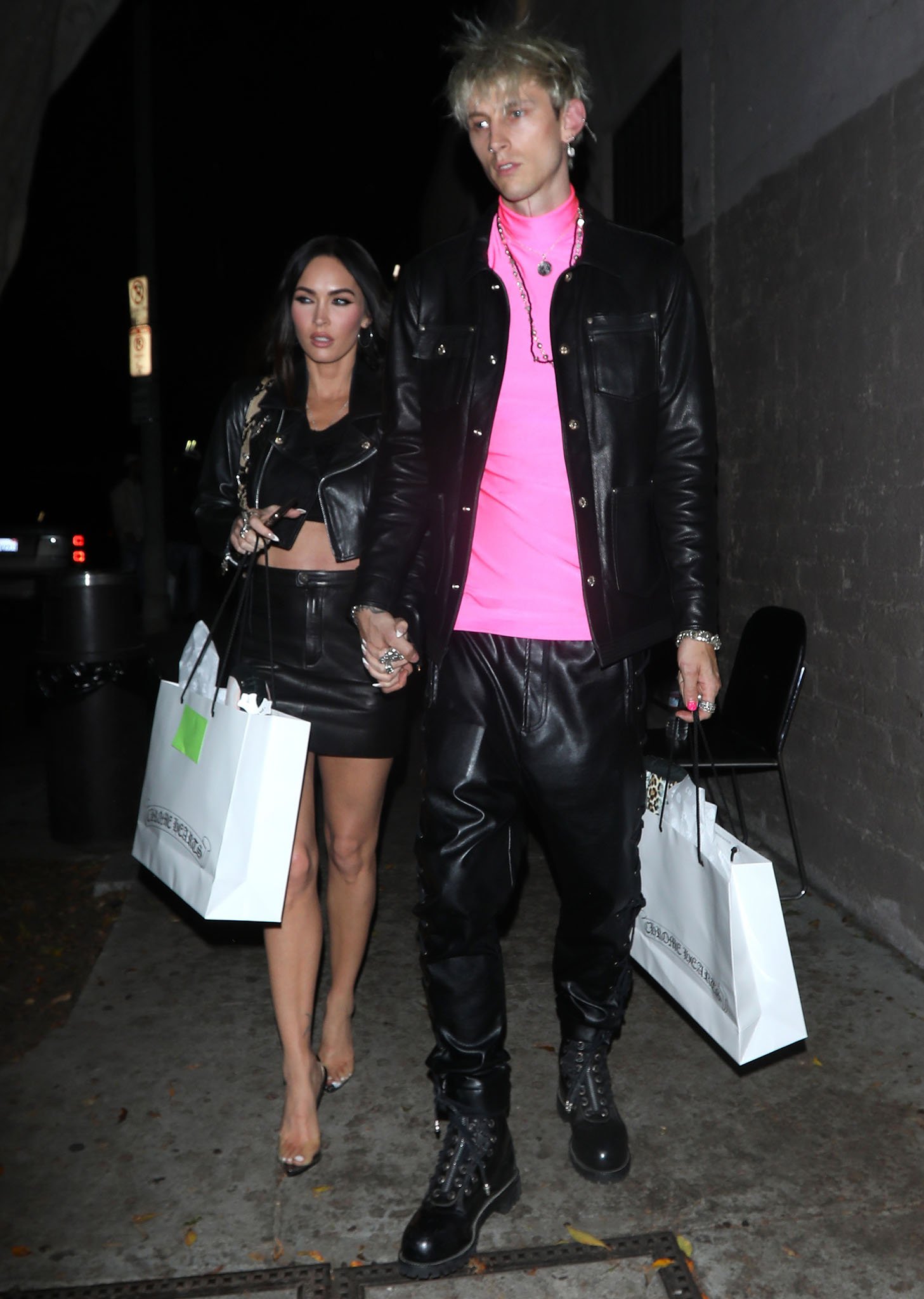 Megan Fox flaunts her abs and legs in a crop top with a moto jacket and a leather mini skirt (Credit: Mega / WENN)
Continuing with the edgy vibe of her look, the "Jennifer's Body" star let her raven tresses cascade over her shoulders and highlighted her features with black eyeliner and mascara with a hint of pink blush and lipstick.
She accessorized with silver hoop earrings, a silver necklace, and some statement rings and carried a snakeskin bag over her shoulder.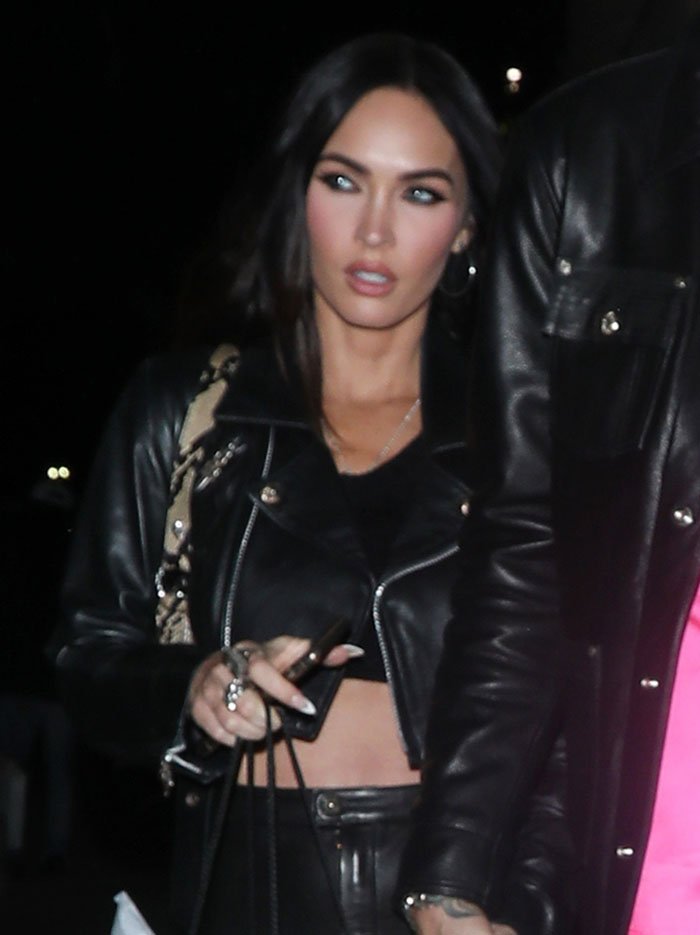 Megan Fox highlights her eyes with black mascara and eyeliner and wears her raven tresses loose around her shoulders (Credit: Mega / WENN)
To complete her party look, Megan slipped into a pair of Femme "Macallan" slingback clear pumps. They are see-through, which became popular among celebrities in 2018.
The Macallan is 100% vegan and features a pointed toe, a slingback strap with elasticated trim, and a 4.5-inch towering heel.
Megan Fox shows off her white pedicure in Femme Macallan see-through pumps (Credit: Mega / WENN)
Femme 'Macallan' Slingback Pump in Phantom Black, $169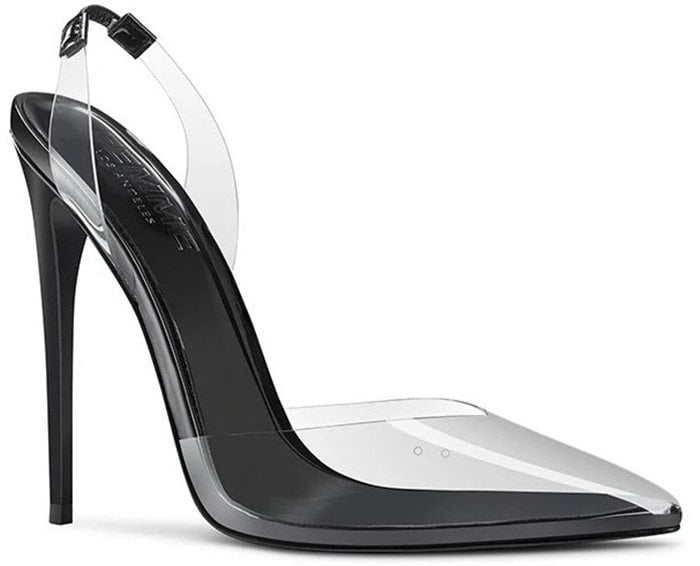 These vegan Femme Macallan pumps feature see-through vamps and slingback straps with stiletto heels
Early this month, the couple was pictured having a piggyback ride while inside the VIP lounge at the Mayweather fight in Miami.
Machine Gun Kelly gives Megan Fox a piggyback ride inside the VIP lounge at the Mayweather fight in Miami on June 6, 2021 (Credit: Mega / WENN)
How Did Megan Fox and Machine Kelly Meet?
Megan Fox and Machine Gun Kelly, whose real name is Colson Baker, met in March last year on the set of their upcoming thriller, Midnight in the Switchgrass, set to be released on July 23.
A source told E! News that the two didn't start hanging out until the production was halted due to the COVID-19 pandemic.
"They've been hanging out a lot since their movie was shut down. The downtime has been good for them… they are intrigued by each other and having a lot of fun."
The two sparked dating rumors in May 2020 after they were spotted grabbing takeout food in Calabasas while inside an Aston Martin driven by MKG.
A few days later, Megan appeared in Machine Gun Kelly's music video for Bloody Valentine, fueling dating rumors.
A month later, the two went public about their relationship as they were pictured packing on the PDA while leaving Furley's Bar in LA.
Brian Austin Green Confirms Separation from Wife Megan Fox
A few days after Megan and MKG were spotted together in May 2020, Megan's husband Brian Austin Green announced that they had separated after nearly 10 years of marriage.
He admitted in his podcast "…With Brian Austin Green" that they had been on a break since the end of 2019.
"I will always love her, and I know she'll always love me and I know as far as a family what we have built is really cool and it's really special."
Megan Fox and Brian Austin Green at the German premiere of Teenage Mutant Ninja Turtles on October 5, 2014 (Credit: Patrick Hoffmann / WENN)
"It sucks when life changes and something that you're used to, that you've been doing for 15 years, you try and not get rid of but you change. There's the unknown aspect and that's really scary. There's that pit in my stomach. I really don't want Megan and I to be at odds. At the end of it all, she's been my best friend for 15 years and I don't want to lose that," he continued.
He also revealed that he and Megan talked about MKG. "Megan and I talked about him and they're friends at this point, and from what she's expressed, he's a really nice, genuine guy. I trust her judgment. She's always had really good judgment."