Her red-carpet sartorial game has always been bold and jaw-dropping. But just recently, Florence Pugh drew flak for wearing a sheer pink gown that showed her nipples.
The Little Women actress was among the star-studded guests at Valentino's Haute Couture presentation during Rome Fashion Week.
Hopping on the Barbiecore bandwagon, Florence sat front row in a see-through hot pink gown from the Italian luxury fashion house. She left very little to the imagination as she opted to go completely braless underneath, with her nipples fully visible.
Ariana DeBose, Anna Wintour, and Florence Pugh at the Valentino show during Rome Fashion Week on July 8, 2022 (Credit: Marco Piovanotto / ABACA / INSTARimages / Cover Images)
It's a halter-style gown with a high neck, an open back, cinched waist, and a tulle skirt with a dramatic train.
Adding edge to the look, the Oscar-nominated actress styled her feminine pink gown with a Maria Tash Eternity septum ring with forward-facing diamonds in scalloped settings.
She further accessorized with multiple tiny stud earrings, a pair of pink Rockstud Maxi Brass earrings from Valentino, and a matching pink statement ring.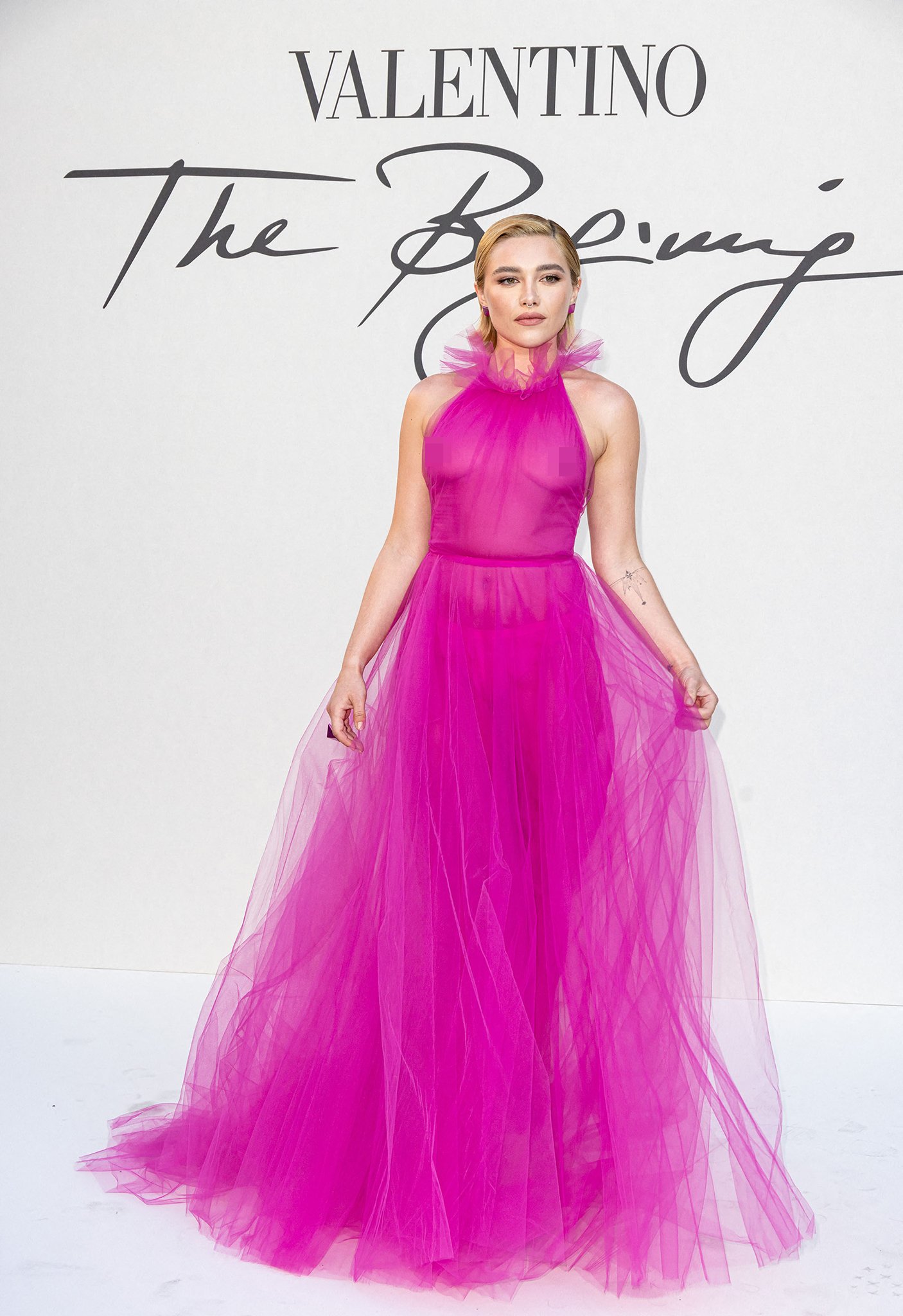 Florence Pugh frees the nipple in a pink sheer Valentino gown (Credit: Marco Piovanotto / ABACA / INSTARimages / Cover Images)
She then wore her short blonde hair in a slick side-swept style and wore light pink makeup to complement her outfit.
For her footwear, the 5'3" actress wore the popular "Tan-Go" patent leather pumps, also from Valentino. They're available in many colors at Mytheresa and Nordstrom.
Florence Pugh teams her see-through tulle gown with Valentino Tan-Go pink patent platform pumps (Credit: Marco Piovanotto / ABACA / INSTARimages / Cover Images)
Done in the same Pink PP shade, the shoes feature thin ankle straps with adjustable VLogo signature buckle, 2.2-inch platforms, and 6.1-inch towering block heels.
Valentino 'Tan-Go' Platform Pumps, $1,150 at Farfetch
The Tan-Go pumps are defined by the high platforms, block heels, and VLogo buckle
While many of her followers praised her look, some left negative comments about her body, particularly her breast size, and criticized her for flashing her boobs.
Addressing the indecent comments, Florence took to Instagram and hit back at trolls in a lengthy post, saying she already expected that her dress would ignite some reactions, "whether it be negative or positive, we all knew what we were doing."
Florence added she "was excited to wear it, not a wink of me was nervous. I wasn't before, during or even now after."
View this post on Instagram

She also noted how "easy it is for men to totally destroy a woman's body, publicly, proudly, for everyone to see."
"It isn't the first time and certainly won't be the last time a woman will hear what's wrong with her body by a crowd of strangers, what's worrying is just how vulgar some of you men can be."
Adding that she's "happy with all of the flaws," Florence also addressed body shamers who are "upset by the size" of her boobs and body.
"What's more concerning is… Why are you so scared of breasts? Small? Large? Left? Right? Only one? Maybe none? What. Is. So. Terrifying."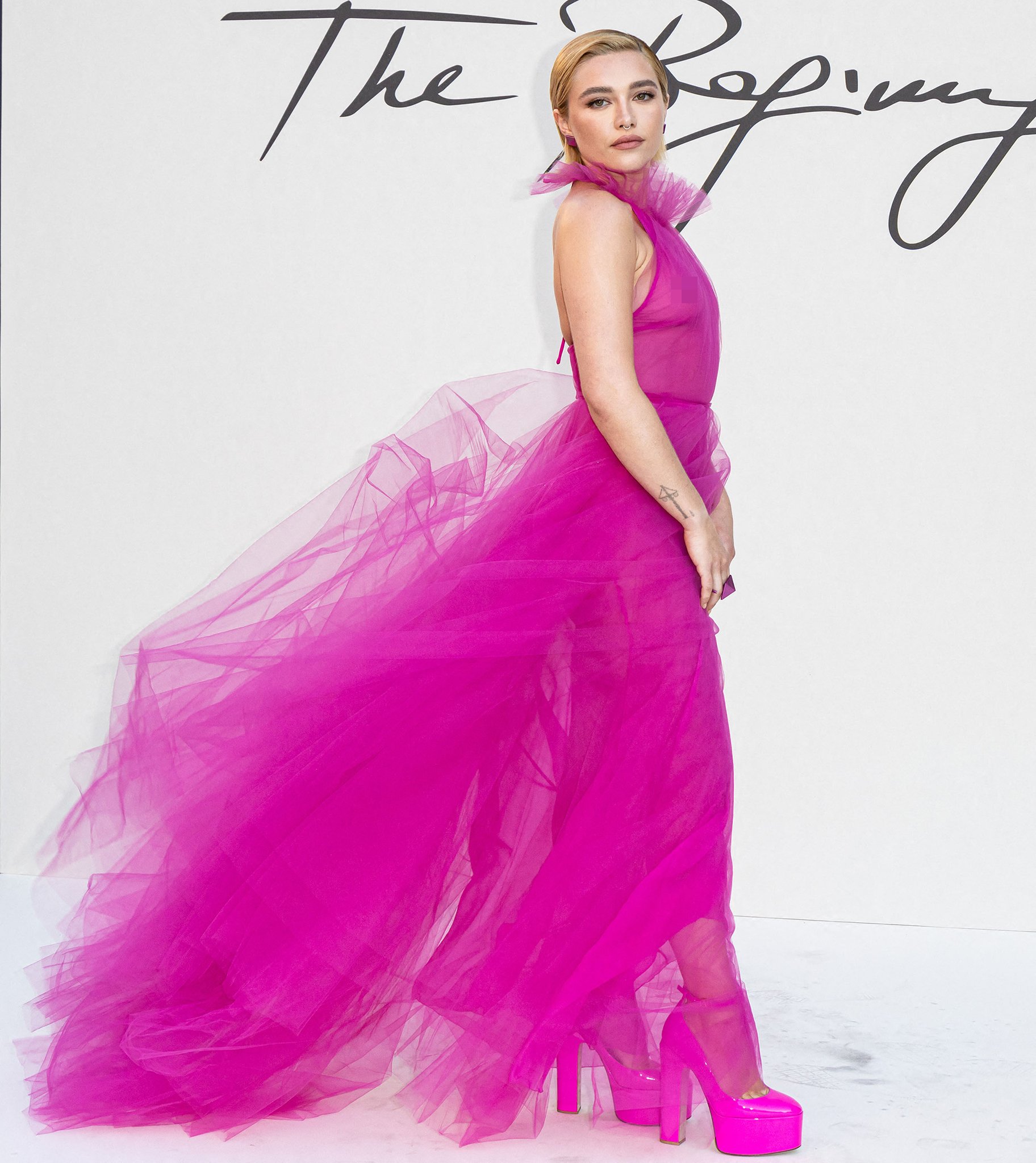 Florence Pugh claps back at body shamers over indecent comments about her boobs and body (Credit: Marco Piovanotto / ABACA / INSTARimages / Cover Images)
She went on to say that she "grew up in a household with very strong, powerful, curve women." "We were raised to find power in the creases of our body. To be loud about being comfortable."
To end her post, she asked the body shamers to "Grow up. Respect people. Respect bodies. Respect all women. Respect humans."
Florence Pugh wears her hair in a slick side-swept hairstyle and complements her pink gown with light pink eyeshadow and matte lipstick (Credit: Marco Piovanotto / ABACA / INSTARimages / Cover Images)
Not only is Florence daring enough to take such a fashion risk but also brave enough to take on steamy roles.
Her highly anticipated psychological thriller starring Harry Styles, Don't Worry Darling, won't hit theaters until September this year.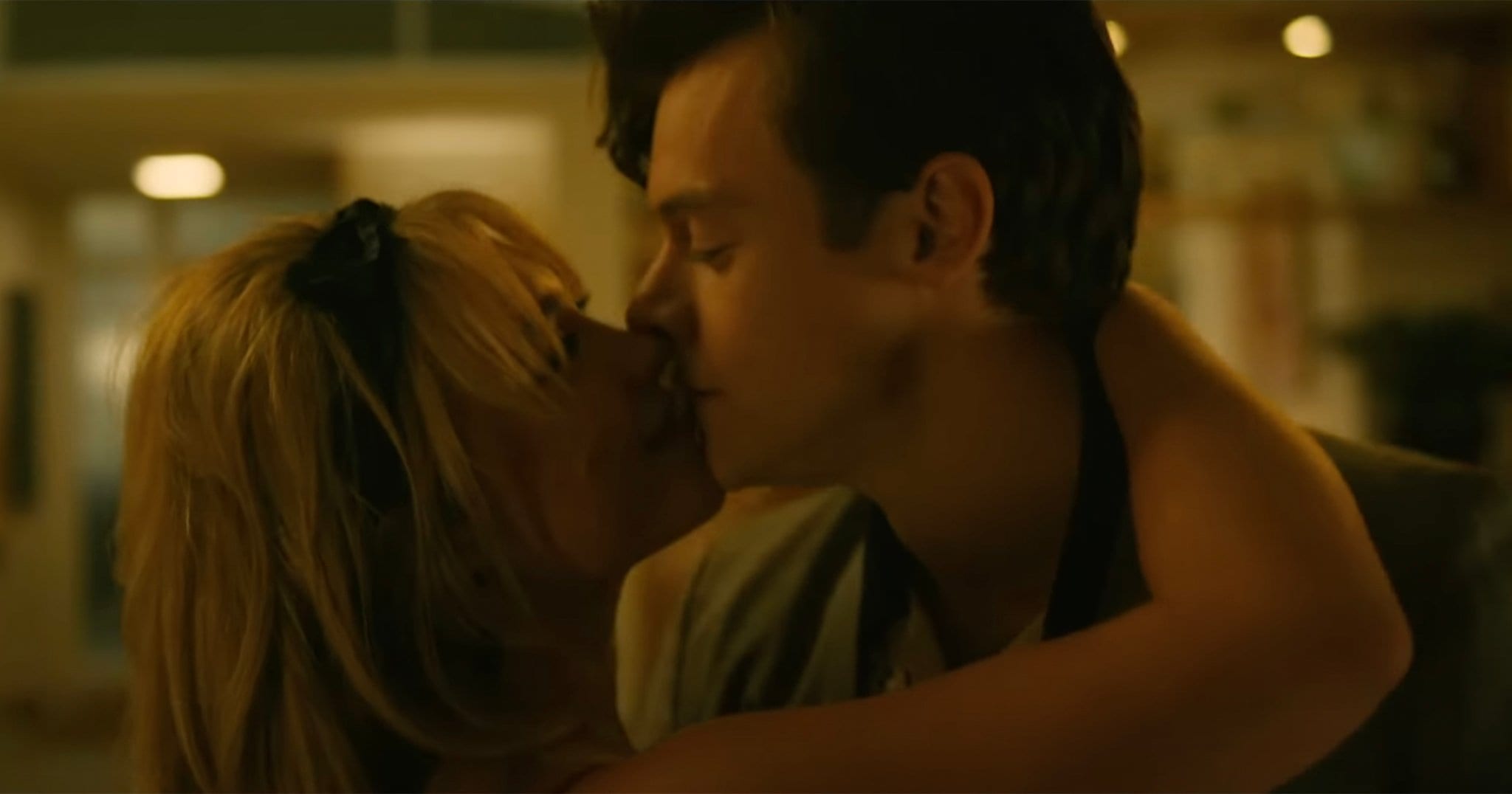 Florence Pugh and Harry Styles share steamy kiss in upcoming movie Don't Worry Darling, directed by Harry's girlfriend Olivia Wilde (Credit: Warner Bros. Pictures / YouTube)
According to Deadline, the movie "centers around a 1950s housewife living with her husband in a utopian experimental community who begins to worry that his glamorous company may be hiding disturbing secrets."
In the teaser released by Warner Bros. Pictures, the Olivia Wilde-directed movie shows Styles and Pugh in quite a lot of steamy NSFW scenes.
Wilde told Vogue she intends for her audience to "realize how rarely they see female hunger, and specifically this type of female pleasure."
In an interview on The Howard Stern Show, Harry Styles said that having trust with the director helps in this kind of scene.
"Acting is kind of very uncomfortable at times. I think you have to trust a lot. It requires a lot of trust if you want to give it everything. I think being able to trust your director is a gift. That was very helpful. It really meant for kind of a really nice experience working on that movie."
Styles and Wilde have been dating since 2021. They met on the set of their film, Don't Worry Darling, in September 2020 and stepped out as a couple while attending a friend's wedding in January 2021.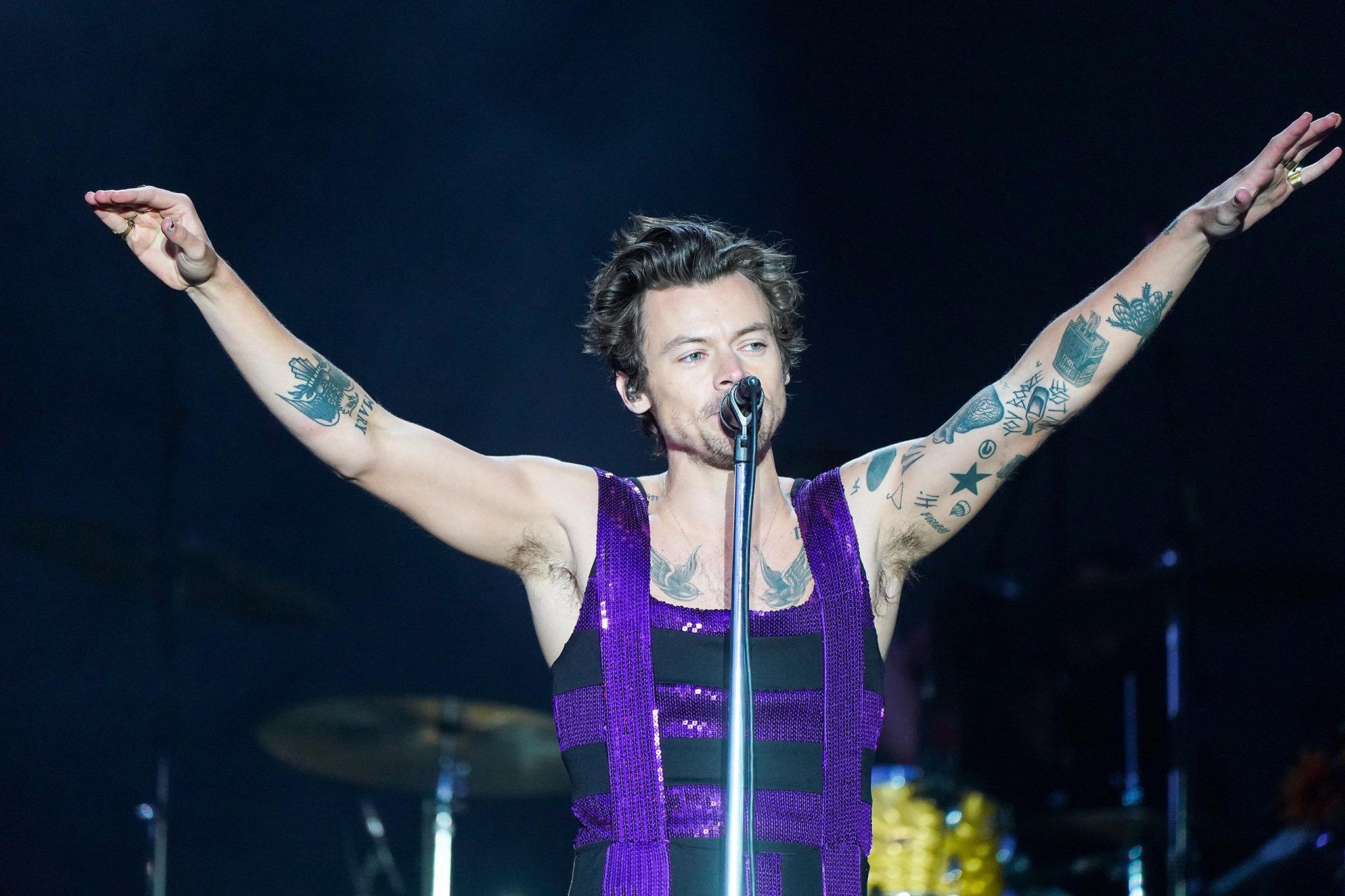 Harry Styles at BBC Radio 1's Big Weekend 2022 festival (Credit: PA Images / INSTARimages / Cover Images)