Joey King made a rare appearance with fiancé Steven Piet at the Los Angeles premiere of her latest film, Bullet Train.
The engaged couple, who first met on the set of the true-crime drama The Act, stayed close to each other as they posed for photographs on the red carpet.
Joey King and Steven Piet making their red carpet debut as an engaged couple at the Bullet Train Los Angeles premiere (Credit: BauerGriffin / INSTARimages / Cover Images)
Steven looked dapper in his navy suit, while Joey was a vision of modern elegance with a sultry edge. The pair looked loved up on the red carpet and even shared a few kisses for the cameras.
Joey King and Steven Piet sharing a kiss on the red carpet (Credit: BauerGriffin / INSTARimages / Cover Images)
Aside from the star-studded cast, several celebrities also attended the screening held at the Regency Village Theatre. Set for release on August 5, the film promises thrilling action sequences and captivating acting performances.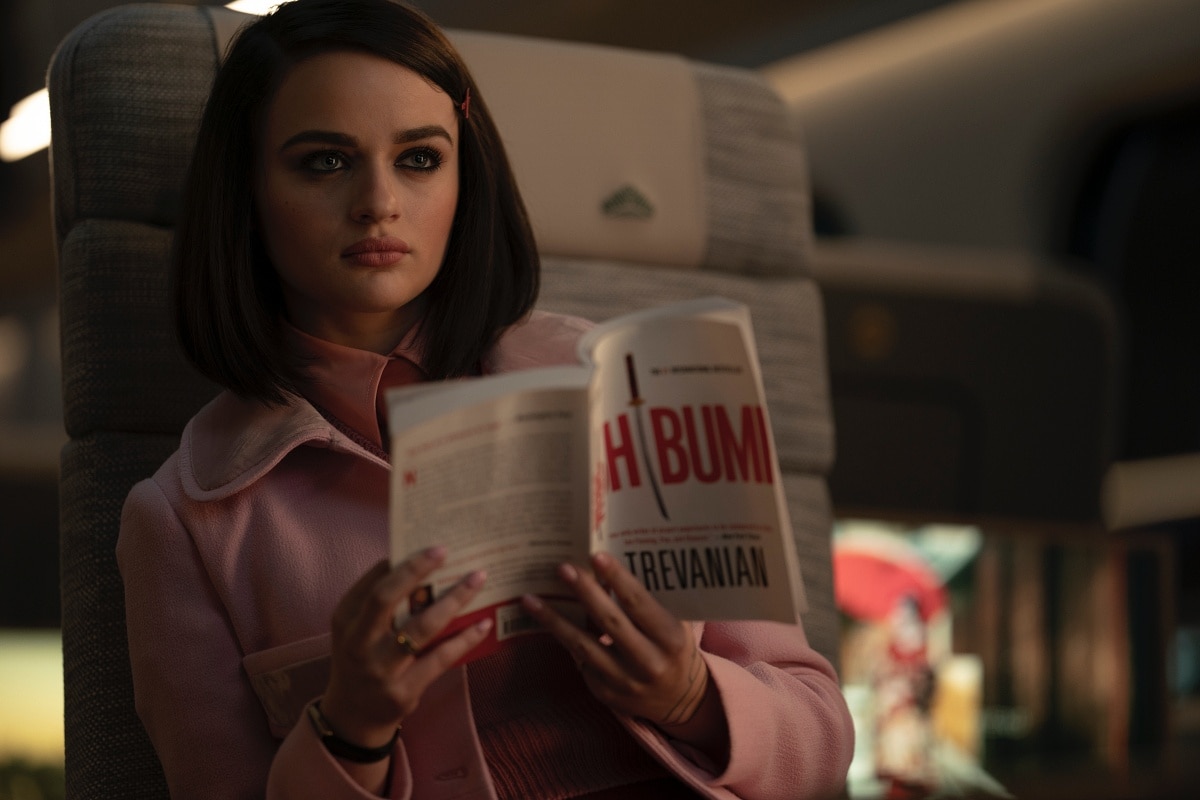 Joey King as The Prince in the upcoming action-comedy film Bullet Train (Credit: Sony Pictures Releasing)
A new form
The 23-year-old actress plays a British assassin called The Prince, who poses as a schoolgirl. In the film, Joey looks prim and proper in her all-pink ensemble.
But in real life, she joins a slew of A-list stars currently undergoing an experimental fashion phase. It has resulted in a series of bold sartorial choices for her Bullet Train press tour.
Joey King with a pink asymmetrical bob and a Balenciaga black long-sleeved jumpsuit (Credit: Frederic Kern / DDP / INSTARimages / Cover Images)
In an interview with THR, Joey shared that she's "been having so much fun with my looks, and I've been choosing them all for me, and they're making me happy."
Joey said she's "enjoying every moment of playing around with my style."
"I feel like I'm entering a new form of myself, where I am not afraid anymore to kind of just do what I want on the carpet," Joey added about her newfound sense of style. "And I'm feeling good."
The European promo tour served an array of eclectic looks from the cast, but it was Joey who caught our attention. She gave us black leather, peek-a-boo cutouts, a corset, a suit, a lot of cleavage, and even opera gloves in the summer heat.
Sultry elegance
Los Angeles was the final stop in their promotional circuit, and Joey did not disappoint with her premiere look.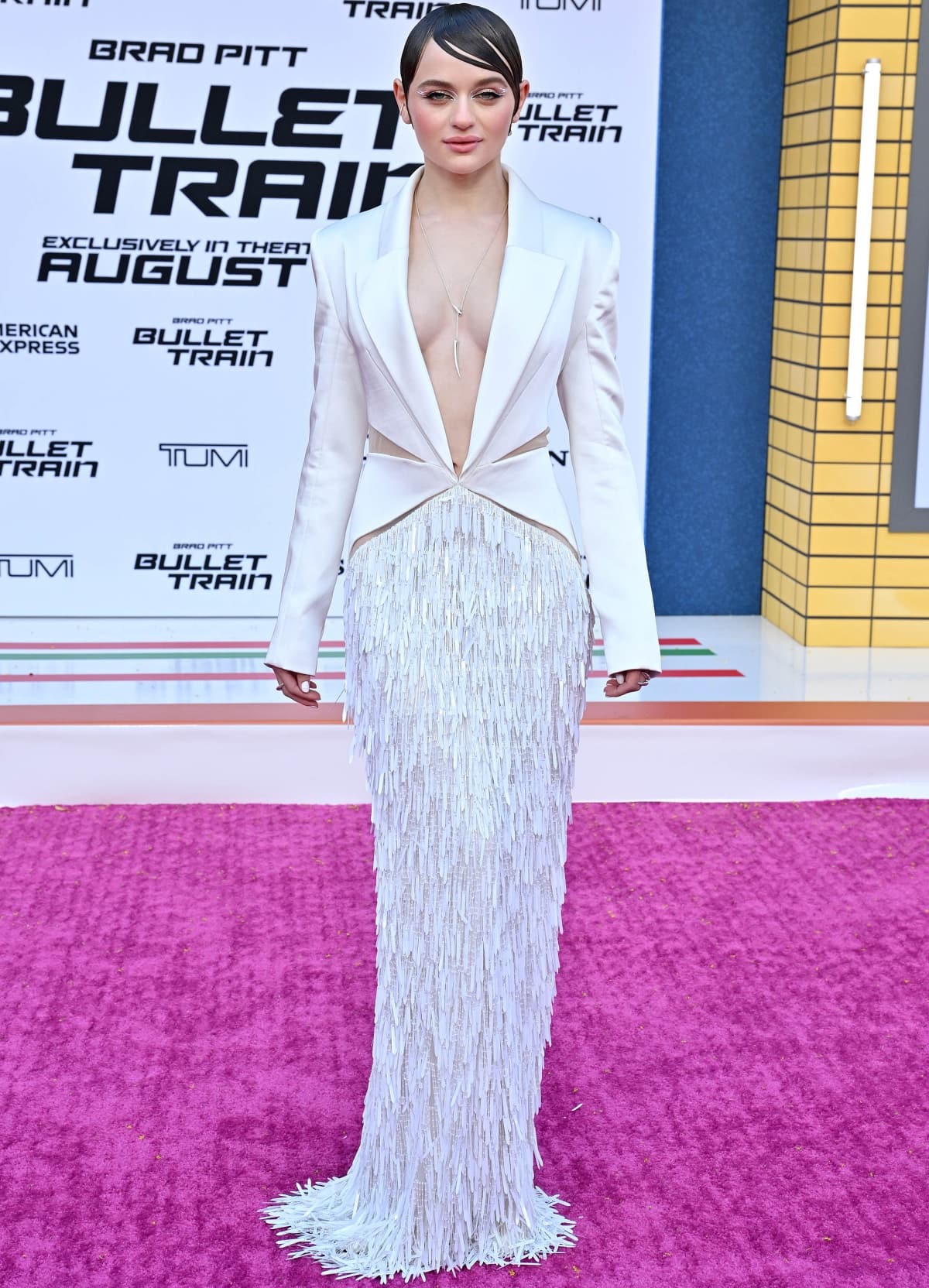 Joey King exuding sultry elegance in a Cong Tri Fall 2022 blazer dress with a plunging neckline (Credit: BauerGriffin / INSTARimages / Cover Images)
For the occasion, she wore a satin blazer dress from Cong Tri's Fall 2022 collection. It featured a dangerously low neckline that showed off her decolletage, toned midsection, and even her belly button.
The long-sleeved number also had cut-out details on the hips, illusion inserts, and a fringe-trimmed floor-length skirt.
Joey King showing a glimpse of her Azalea Wang shoes with sculpted heels (Credit: BauerGriffin / INSTARimages / Cover Images)
Meanwhile, her Azalea Wang platform heels featured an open-toed design and a strappy silhouette. They also had vegan leather uppers, wraparound ankle ties, chunky platform soles, and striking sculpted heels.
This particular pair is currently sold out, but you can choose from a variety of shoe styles from the brand at Nordstrom.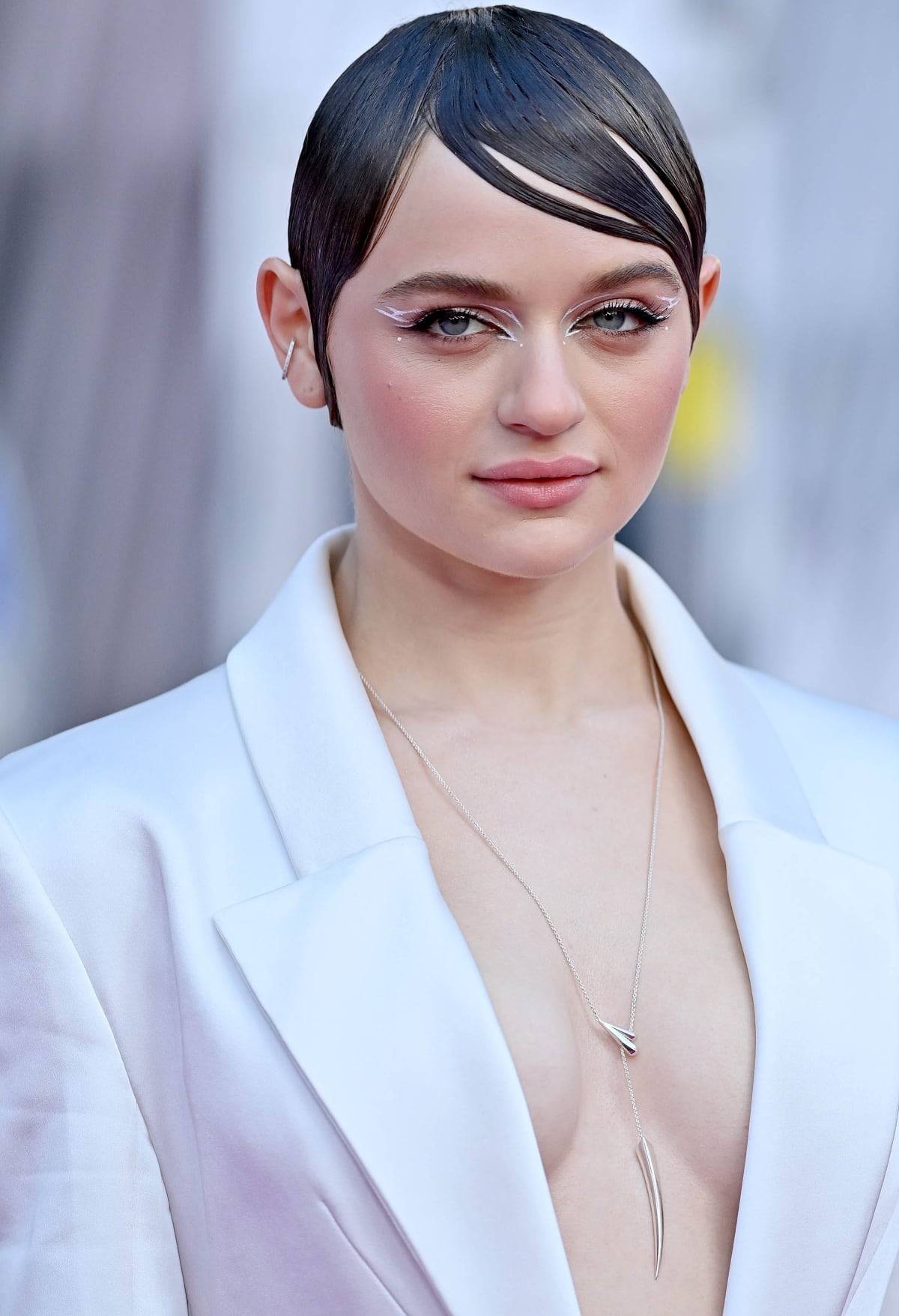 Joey King with a slicked-down hairstyle and graphic eyeliner at the Bullet Train Los Angeles premiere (Credit: BauerGriffin / INSTARimages / Cover Images)
The actress recently celebrated her 23rd birthday and tried a new hairstyle for the premiere. This time, it was a slicked-down and a side-parted bob that added a touch of modern edge to her look.
"I think that I'm really having a lot of fun with my hair," Joey told The Hollywood Reporter. "My hairdresser, Dimitris Giannetos, is amazing."
As for her gorgeous face, makeup artist Allan Avendaño gave her a rosy glow with a graphic white eyeliner for a bit of drama.
She finished off her look with a stunning Shaun Leane drop necklace, Mara Paris silver rings, and a Hirotaka diamond ear cuff.
Channeling Baby Spice
Earlier that day, Joey joined the Barbiecore trend for a press junket in Los Angeles.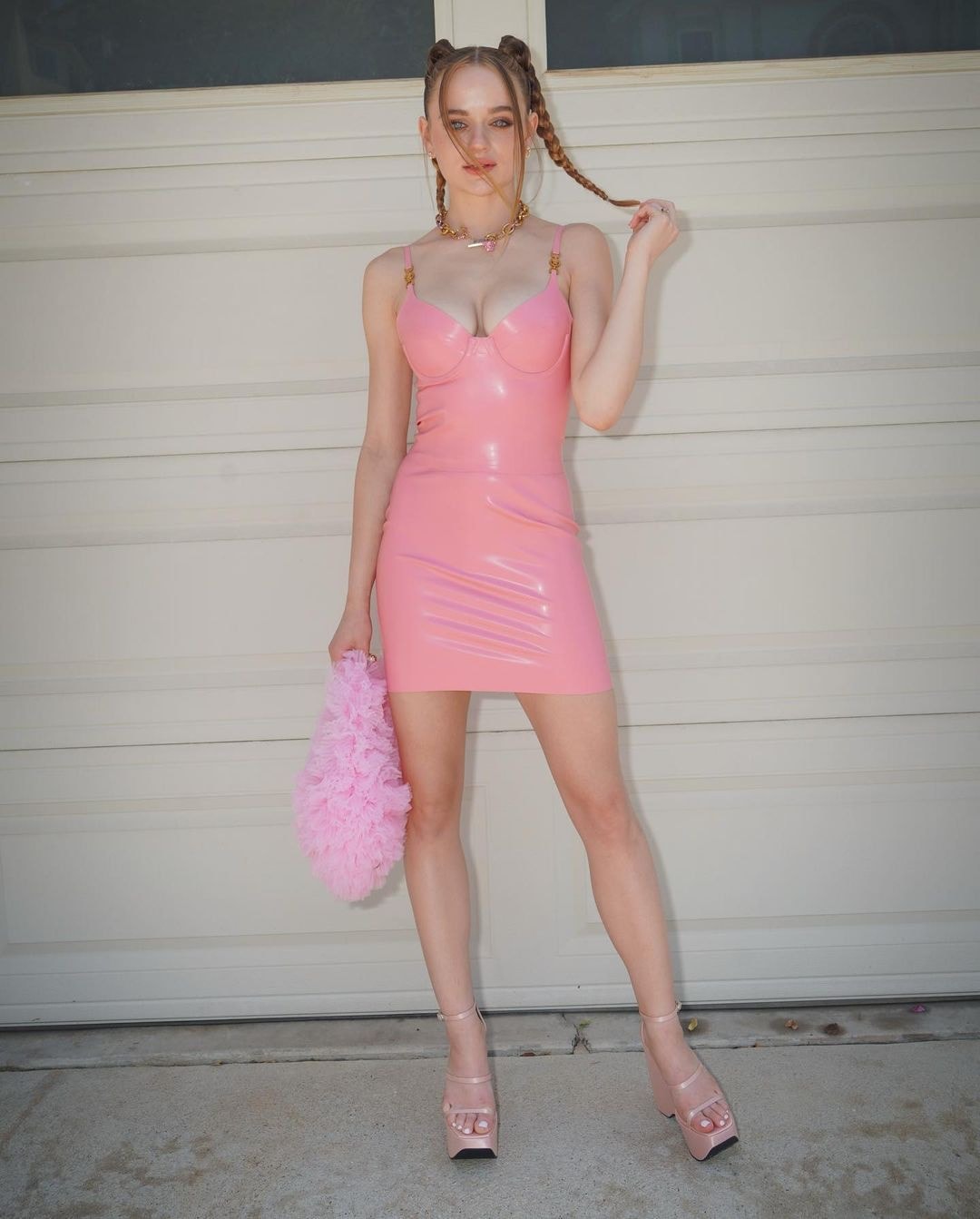 Joey King in a Barbiecore version of Baby Spice in a Versace pink latex dress and platform heels (Credit: Jared Eng's Instagram)
She wore a Versace pink latex minidress with the brand's gold Medusa motif on the shoulder straps. Joey accessorized with Hirotaka earrings, Ohliguer rings, and a Versace La Medusa chain necklace.
In true Baby Spice fashion, her hair was styled in twin braids with soft tendrils framing her face. She also carried a pink tulle bag from Selezza London.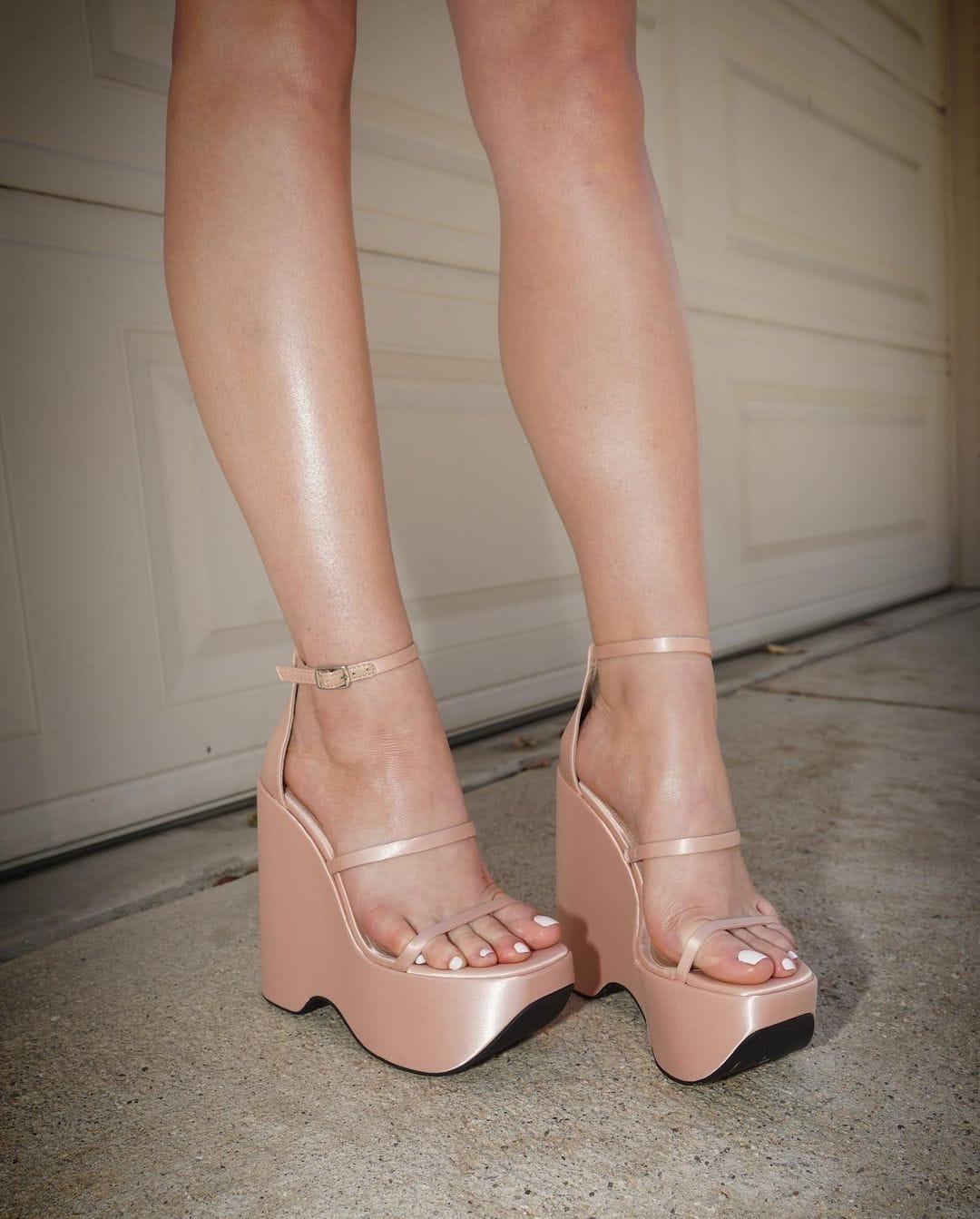 Joey King shows off her feet in Steve Madden platform sandals (Credit: Jared Eng's Instagram)
As for her footwear, Joey wore Steve Madden Varia platform heels in blush pink that you can buy at Zappos.
These shoes featured a strappy silhouette, towering platforms, and vegan leather lining. They're also available in a variety of colors such as black, fuchsia, and green. You can get your own pair for $129.95 at Revolve.
When asked to describe her style, Joey told The Hollywood Reporter that it's "youthful. Daring, maybe? A mix of classic and unique."
She also said she got "a slow-motion walk moment" in Bullet Train, adding that it's "all I could ask for, really."
90s glam in denim
Joining Joey at the premiere was co-star Zazie Beetz, who stepped out in a Fall 2022 look from Acne Studios.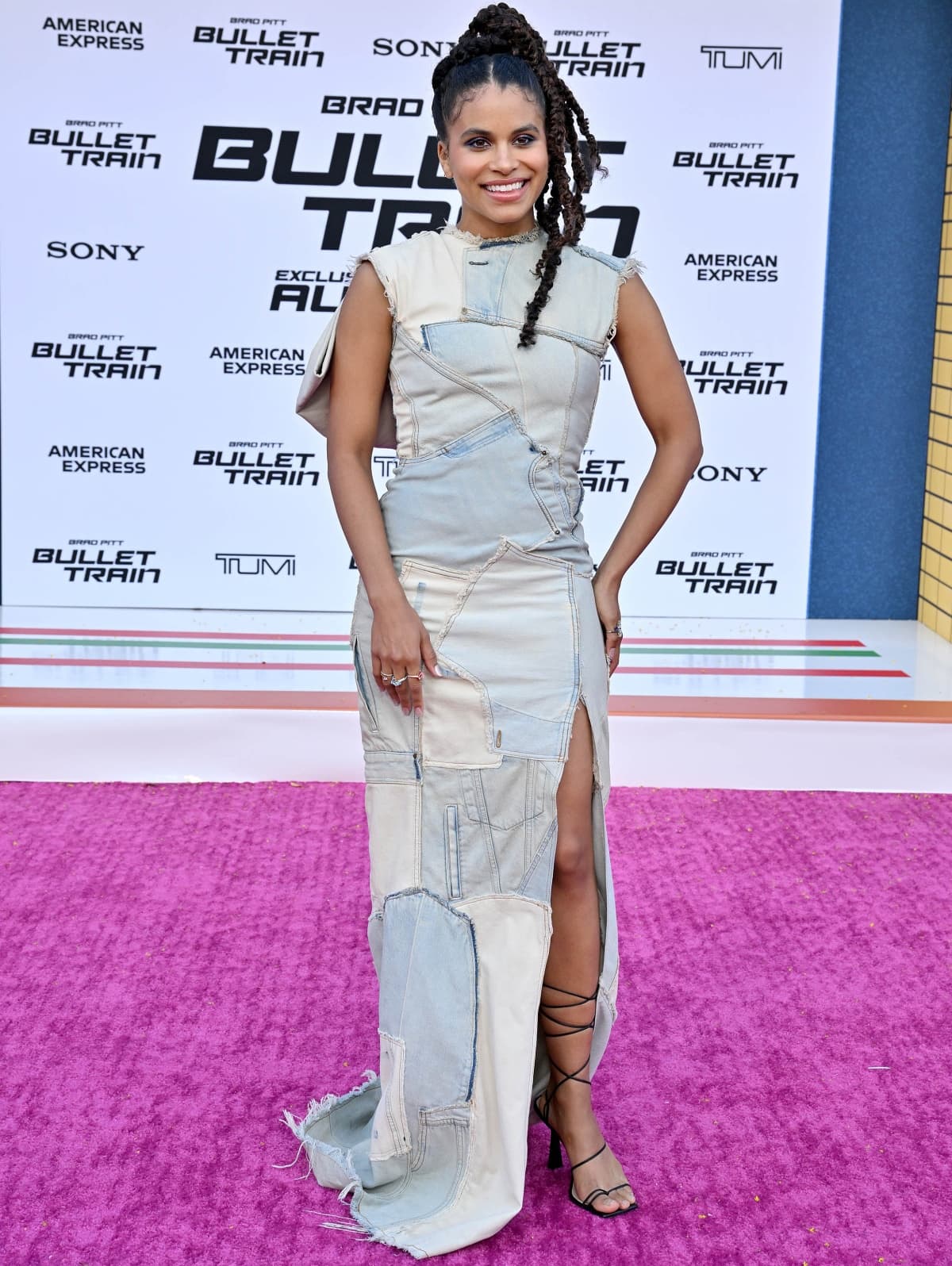 Zazie Beetz wearing an Acne Studios Fall 2022 denim patchwork dress at the Bullet Train Los Angeles premiere (Credit: BauerGriffin / INSTARimages / Cover Images)
You can always count on Zazie to serve something playful and irreverent like this denim patchwork dress. It featured a sleeveless design, a high neck, and a thigh-high slit.
The 31-year-old German-American actress swept her hair up in braids and wore black strappy heels from Sebastian Milano.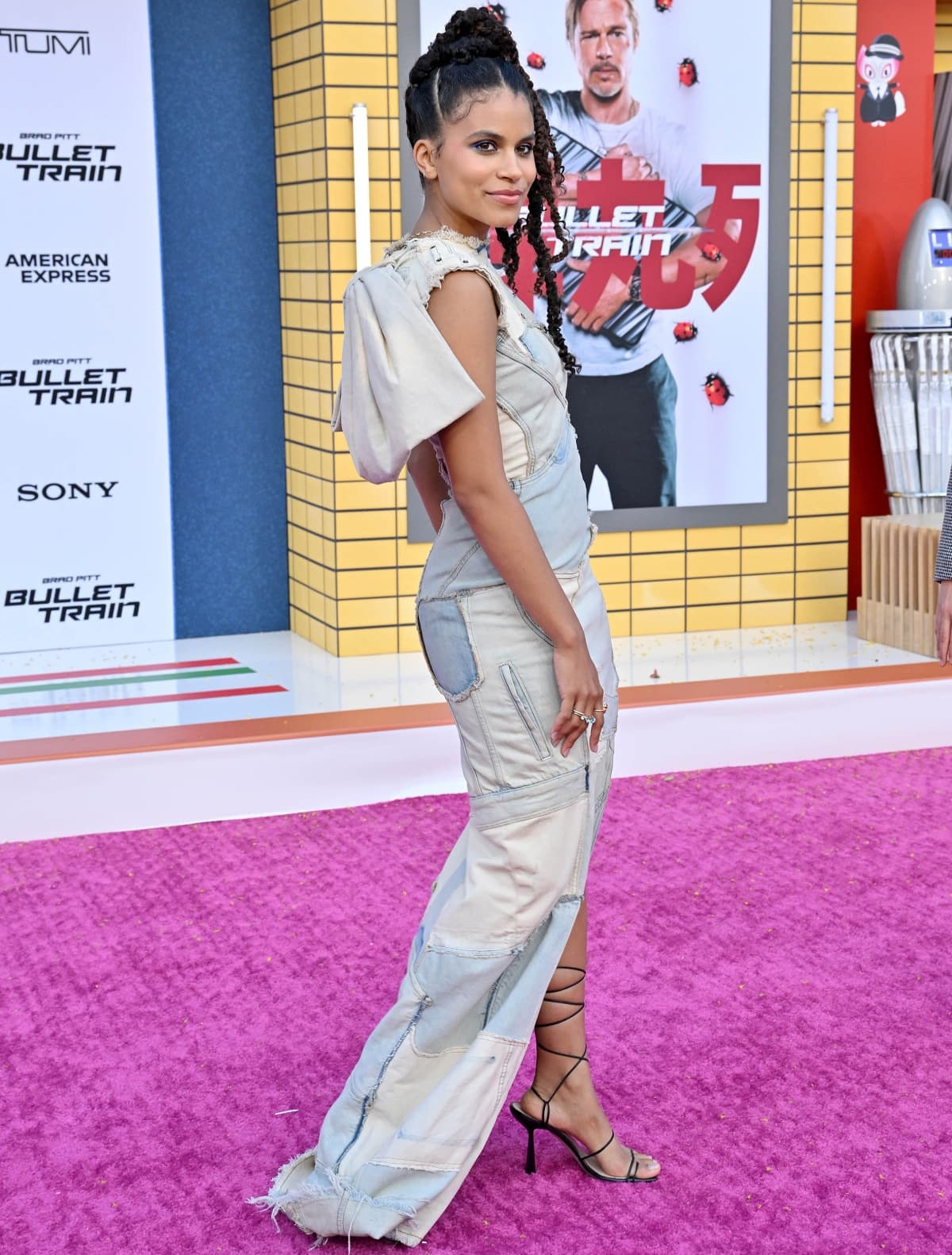 Zazie Beetz showing off her Sebastian Milano black strappy sandals (Credit: BauerGriffin / INSTARimages / Cover Images)
Casual-cool summer look
Bullet Train's main man, Brad Pitt, has been slaying the fashion game lately.
His premiere looks have been unpredictable and delightfully surprising, like his brown linen skirt in Berlin that made headlines.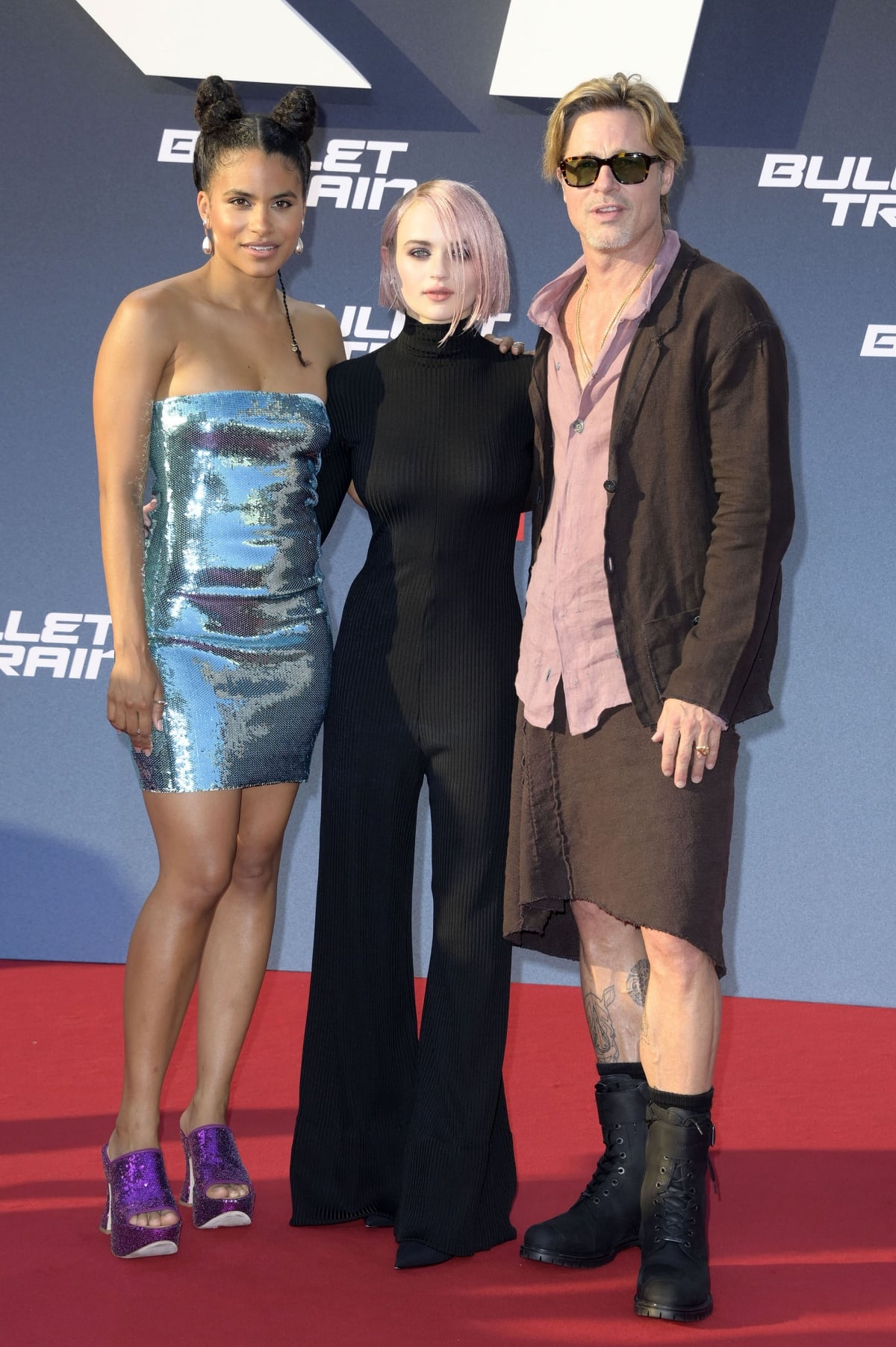 Brad Pitt with co-stars Zazie Beetz and Joey King at the Bullet Train Berlin premiere (Credit: Frederic Kern / DDP / INSTARimages / Cover Images)
This time, Brad donned another Haans Nicholas Mott creation that gave off a refreshing summery vibe. He wore a green linen suit with a loose teal shirt for contrast.
Brad Pitt wearing a custom Haans Nicholas Mott green linen suit with Gucci x Adidas yellow sneakers (Credit: BauerGriffin / INSTARimages / Cover Images)
To round out his look, he wore a pair of bright yellow Gucci x Adidas Gazelles. Crafted from yellow velvet, these sneakers featured yellow suede trim and a lace-up front.
These shoes also have the signature Adidas stripes in red, as well as the Gucci Trefoil print.
"Mr. Two Left Feet"
When asked about his recent fashion moments, Brad had a simple reply for Entertainment Tonight: "We're just gonna die, so let's have some fun before we go out."
Brad also had something to say about his "very beautiful" daughter, Shiloh Jolie-Pitt, whose dance videos recently went viral.
"It brings a tear to the eye," Brad said with evident pride in his voice. He added that he doesn't "know where she got it from" and referred to himself as "Mr. Two Left Feet."
Shiloh, who's the spitting image of her mom Angelina Jolie, has been taking dance classes at the Millennium Dance Complex in Los Angeles.
The 16-year-old showed impressive skills as she danced in sneakers and a black oversized Beatles T-shirt.
Ever the supportive dad, Brad said that he loves it "when they find their own way, find things they are interested in, find their own voice, and flourish."