Hollywood is currently enjoying a fashion resurgence from its beloved stars, and we're excited to witness it.
The pandemic brought us so much stress, so dressing up was never a priority. We saw a lot of comfy-chic outfits and luxe loungewear that it was difficult to get excited about fashion again.
But luckily, times are a-changing. The situation still isn't ideal, but at least it's a little bit better. Movies are being screened in theaters again, and red-carpet fashion is back with a vengeance.
Brad Pitt as a seasoned but unlucky American assassin and Joey King as a British assassin posing as a schoolgirl in the American action comedy film Bullet Train (Credit: Sony Pictures Releasing)
It looks like A-list stars are making up for lost time and having a ball playing dress-up.
Natalie Portman veered away from her go-to classic looks to make more fun and flirty sartorial choices. Anne Hathaway embraced her bombshell style, serving sensual elegance with every outfit.
Meanwhile, Tessa Thompson is having a blast experimenting with looks that are bold, fearless, irreverent, and so distinctly her.
Experimental fashion phase
Joey King is the latest to undergo an experimental fashion phase, trying out several looks to find out what works for her.
We've seen the young actress bring out a dose of feminine charm in a pink Bill Blass dress. She even suffered a wardrobe malfunction in a crinkly tinfoil Prada gown. Joey also made waves with her edgy and dramatic Iris van Herpen look to celebrate her 2020 Golden Globe nomination.
These days, she seems to be following the footsteps of Sydney Sweeney and Kristen Stewart in churning out edgy and sultry looks that show off some skin.
The 22-year-old actress is currently in Europe to promote her latest film, Bullet Train.
For this promotional tour, she served a number of striking looks under the direction of stylist Jared Eng. Sultry edge seems to be the goal, with pieces from a combination of prominent and up-and-coming designers.
1. Daring in black vegan leather and platform boots
The Kissing Booth actress kickstarted the Bullet Train promo tour with a daring all-black look. She joined co-stars Brad Pitt, Brian Tyree Henry, and Aaron Taylor-Johnson at a photocall in Paris.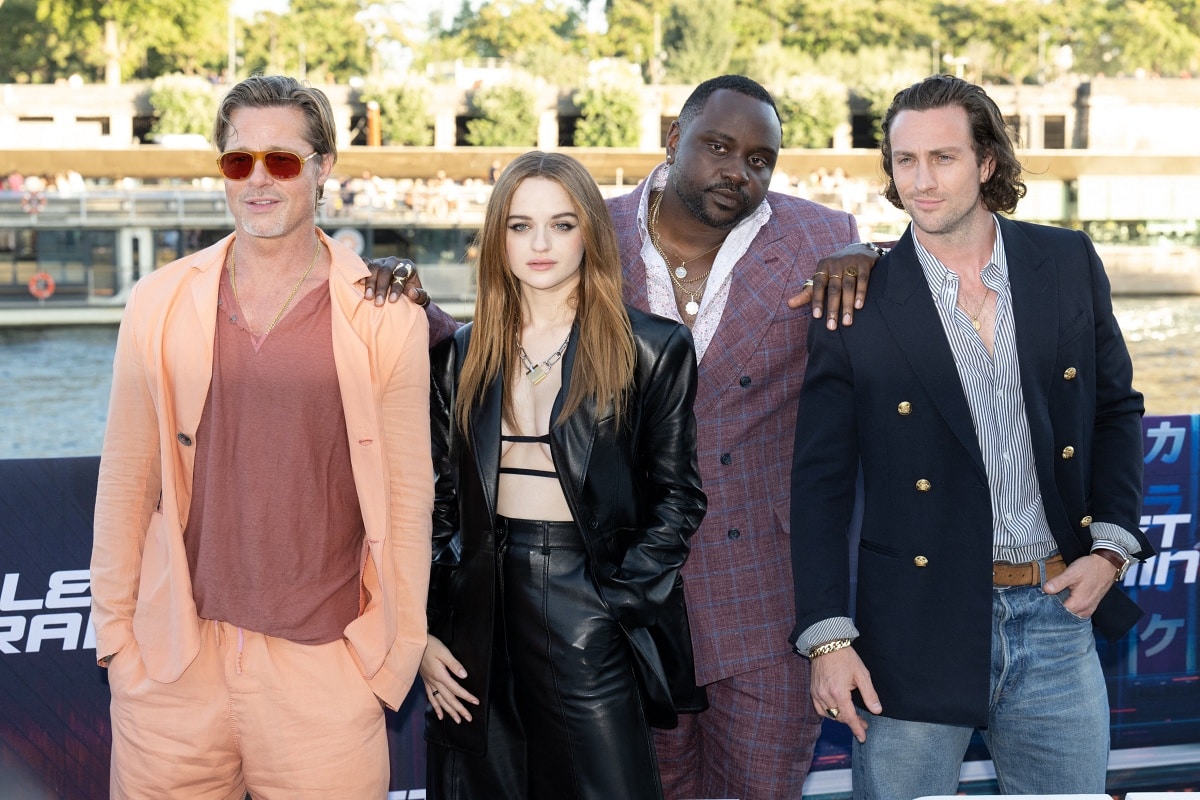 Brad Pitt, Joey King, Brian Tyree Henry, and Aaron Taylor-Johnson at the Bullet Train photocall in Paris, France, on July 16, 2022 (Credit: David Niviere / ABACA / INSTARimages / Cover Images)
Joey shared a few snaps of her with the "Bullet Train crew" on Instagram. They all looked like they had a good time in Paris, goofing off and taking in the view of the city.
View this post on Instagram
For the photocall, Joey wore a Didu bralette that left little to the imagination. It showed off her cleavage, her toned midsection, and even some underboob.
The Materiel jacket toned down the sultriness of the bra top and added a cool-girl edge with leather pants from the same brand.
Joey King leaving little to the imagination in a daring all-black look for the Bullet Train Paris photocall (Credit: David Niviere / ABACA / INSTARimages / Cover Images)
As the focal point of the look was the daring cut-out silhouette of the bralette, Joey kept her styling minimal with sleek straight hair and soft pink lips.
Joey wore an assortment of accessories such as a Vitaly chain necklace with a lock pendant and Melinda Maria earrings. She also wore several rings from Bondeye Jewelry, Rachel Katz, and EF Collection.
Stylist Jared Eng shared a few snaps from the photocall, including a full body shot with details of Joey's look.
View this post on Instagram
In the photo, Joey is seen wearing black leather boots with squared toes and towering platforms. These shoes are from one of her favorite footwear brands, Naked Wolfe.
2. Switching it up in caramel tones and glam heels
For a press junket in Paris, Joey wore a caramel-colored button-up shirt from God's True Cashmere. It's a brand created by Sat Hari Khalsa and Joey's Bullet Train co-star Brad Pitt.
She kept the buttons unfastened to reveal her Glassons bralette and KQK webbed overlay top. Joey styled it with matching caramel pants from H&M, Hirotaka jewelry, and Dolce & Gabbana heels.
As for her beauty look, she swept her hair up in an artfully messy updo to show off her gorgeous face with smoky eye makeup and a soft pink lip.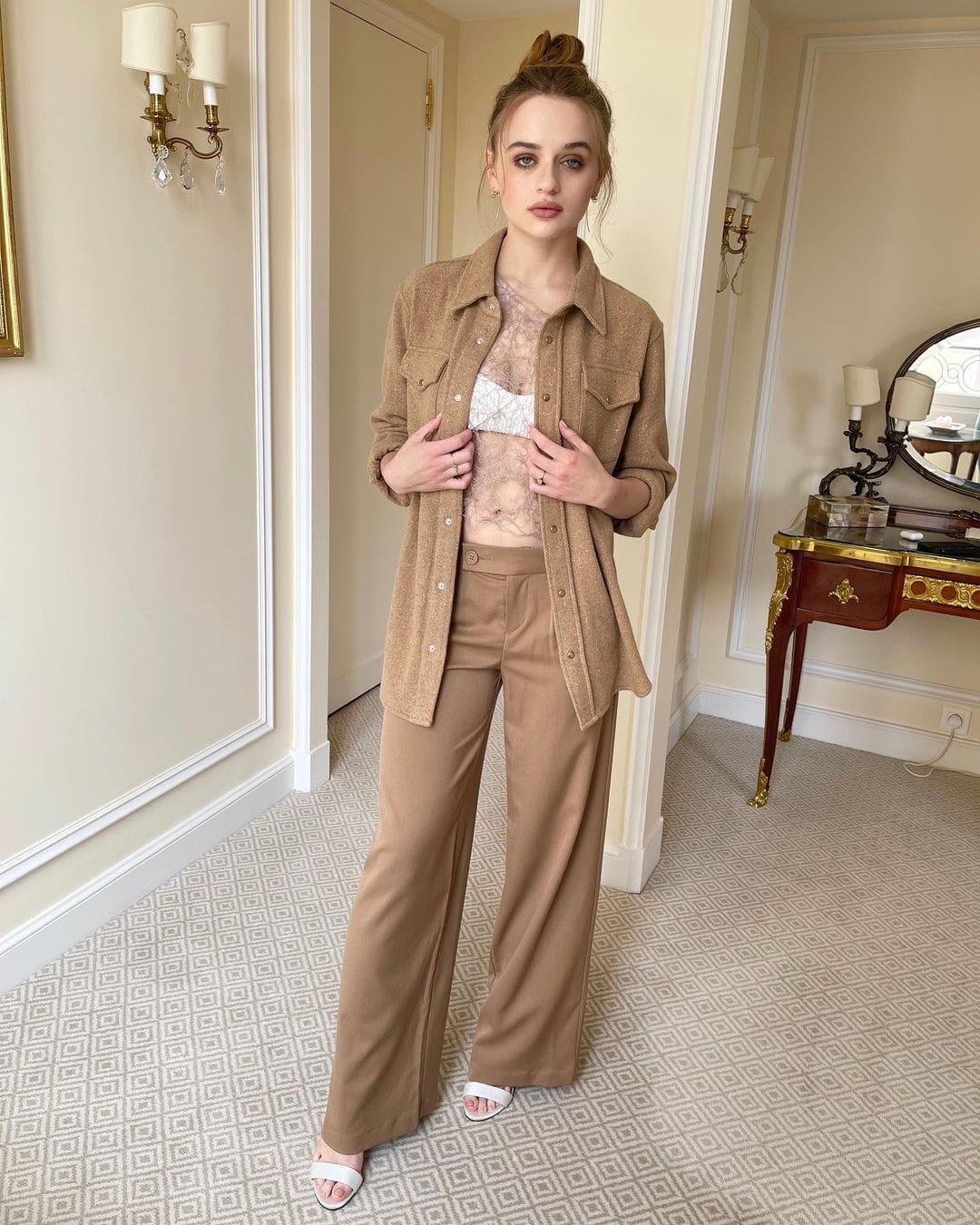 Joey King switching it up from her all-black aesthetic to a soft caramel-toned outfit for a Paris press junket (Credit: Jared Eng's Instagram)
3. Suited up in Kenzo and chunky platforms
Continuing her press tour in Paris, Joey stepped out in a Kenzo look that made us think of Diane Keaton in Annie Hall. She wore a pair of pinstripe trousers and a white button-down shirt with the sleeves rolled up to her elbows.
The newly engaged star also wore a pair of chunky platform shoes from Thom Browne to complete her menswear-inspired ensemble.
Joey King means business in a Kenzo suit with Thom Browne platform shoes for a press junket in Paris (Credit: Jared Eng's Instagram)
4. Romantic in head-to-toe Thom Browne
For the premiere, Joey switched it up once again from an androgynous aesthetic to a more romantic vibe that suited the City of Love.
She walked the blue carpet in a sheer white Thom Browne dress worn under a black corset and a pleated skirt. The sheer long sleeves and strapless neckline showed a glimpse of skin, while the long shirttail hem added a rebellious touch to Thom Browne's tailoring.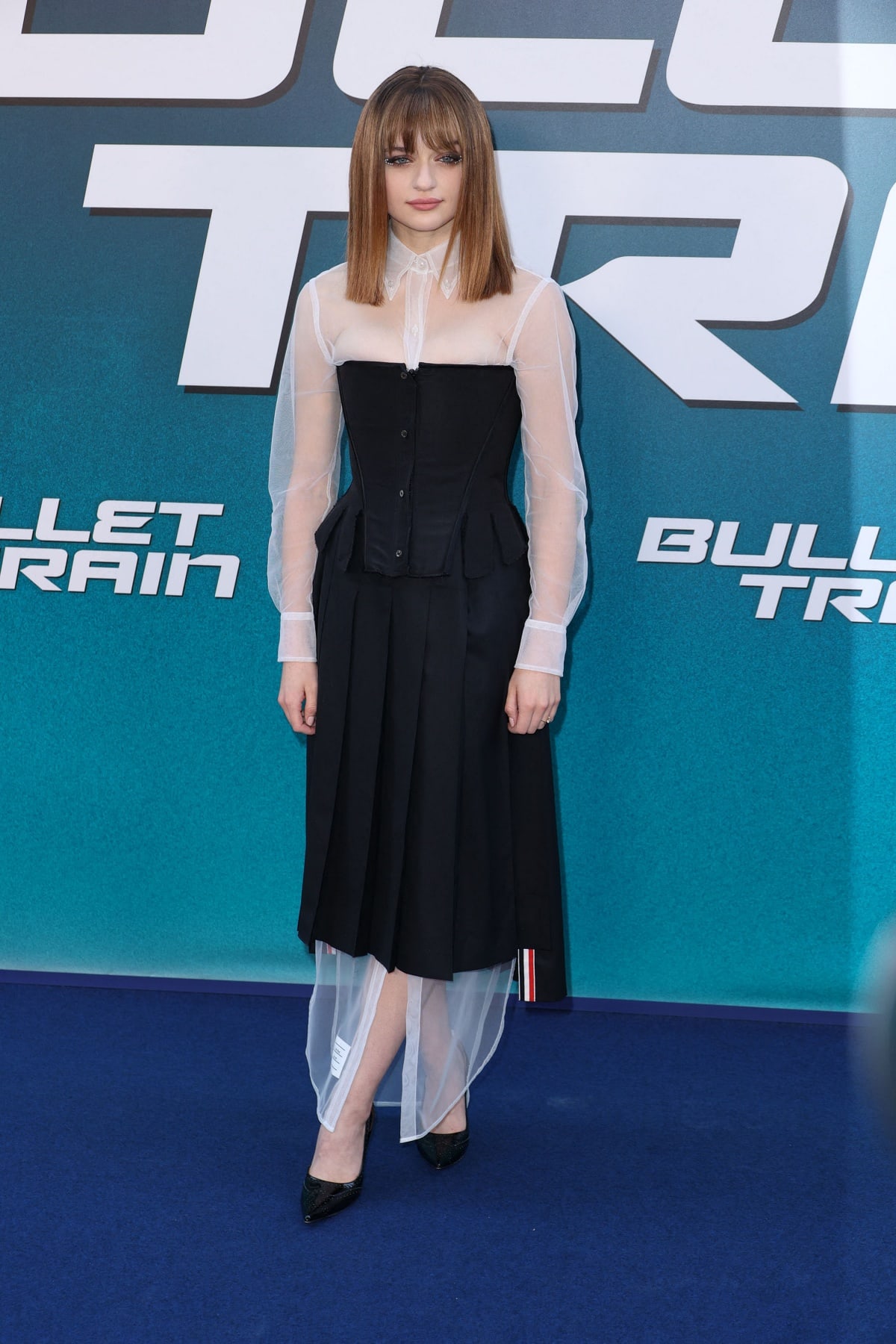 Joey King in head-to-toe Thom Browne at the Paris premiere of Bullet Train held at Le Grand Rex on July 18, 2022 (Credit: Jerome Domine / ABACA / INSTARimages / Cover Images)
Her sleek, straight hair and pearl-accented eye makeup provided some drama to her look. The footwear choice was a bit underwhelming, but it still tied the look together. She wore black leather pumps with stiletto heels and a pointy-toe silhouette.
5. Sweet and vicious in Paco Rabanne and Naked Wolfe
At the Berlin photocall, Joey wore a flirty black Paco Rabanne midi dress. It features a chain detail on the neckline, a buttoned front, and a drop waist with a thigh-high slit.
The braids and the pussy bow detail on the dress add a touch of feminine charm to her sultry look.
Joey accessorized with Mara Paris earrings and Stolen Girlfriends Club rings. She wore another pair from Naked Wolfe, this time opting for black platform sandals. They have black leather uppers, an open-toed design, a strappy silhouette, and chunky flared heels.
View this post on Instagram
6. Edgy in black Balenciaga jumpsuit and pink slanted bob
The Berlin premiere served some memorable outfits from the cast of Bullet Train. Joey and her co-stars Zazie Beetz and Brad Pitt stepped out on the red carpet in distinctly different looks.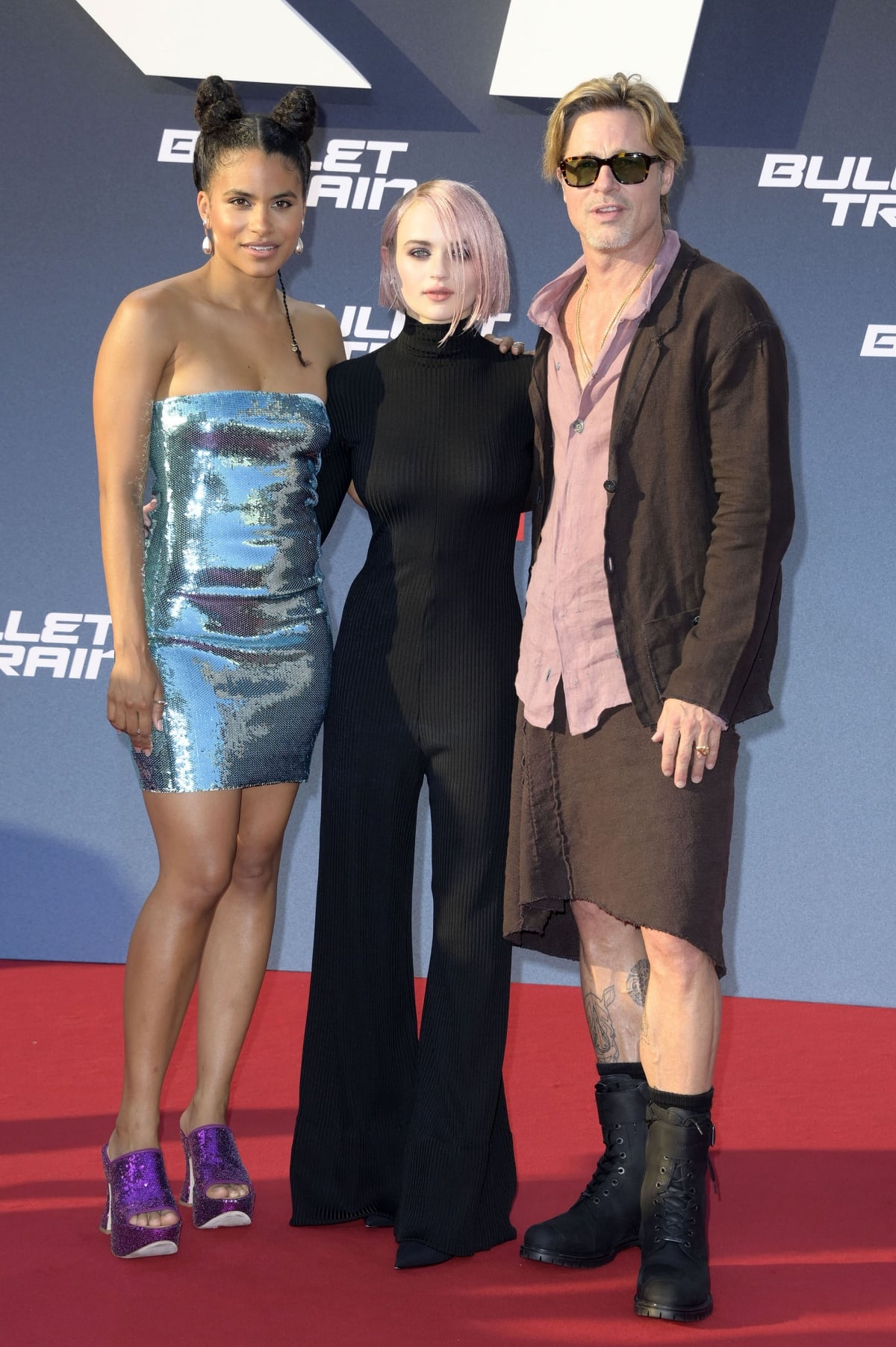 Zazie Beetz, Joey King, and Brad Pitt at the Berlin premiere of Bullet Train held at Zoo Palast on July 19, 2022 (Credit: Frederic Kern / DDP / INSTARimages / Cover Images)
German-American actress Zazie Beetz wore a sky-blue Loewe x Paula's Ibiza minidress. It features a strapless neckline and glittering sequin embellishments. She finished off her fun and flirty look with a pair of purple platforms.
Meanwhile, Brad Pitt made headlines in his Haans Nicholas Mott brown linen skirt.
The Academy Award winner enjoyed the breeze in his knee-length skirt styled with a matching jacket and a mauve button-up shirt. He rounded out his look with Stylmartin biker boots.
Joey King braving the heat in a Balenciaga black long-sleeved jumpsuit at the Berlin premiere of Bullet Train (Credit: Frederic Kern / DDP / INSTARimages / Cover Images)
It looks like Joey didn't get the heatwave memo as she arrived wearing a Balenciaga Fall 2022 black ribbed turtleneck jumpsuit. The form-fitting number also has long sleeves and wide-leg pants that hid her black pointy-toe pumps.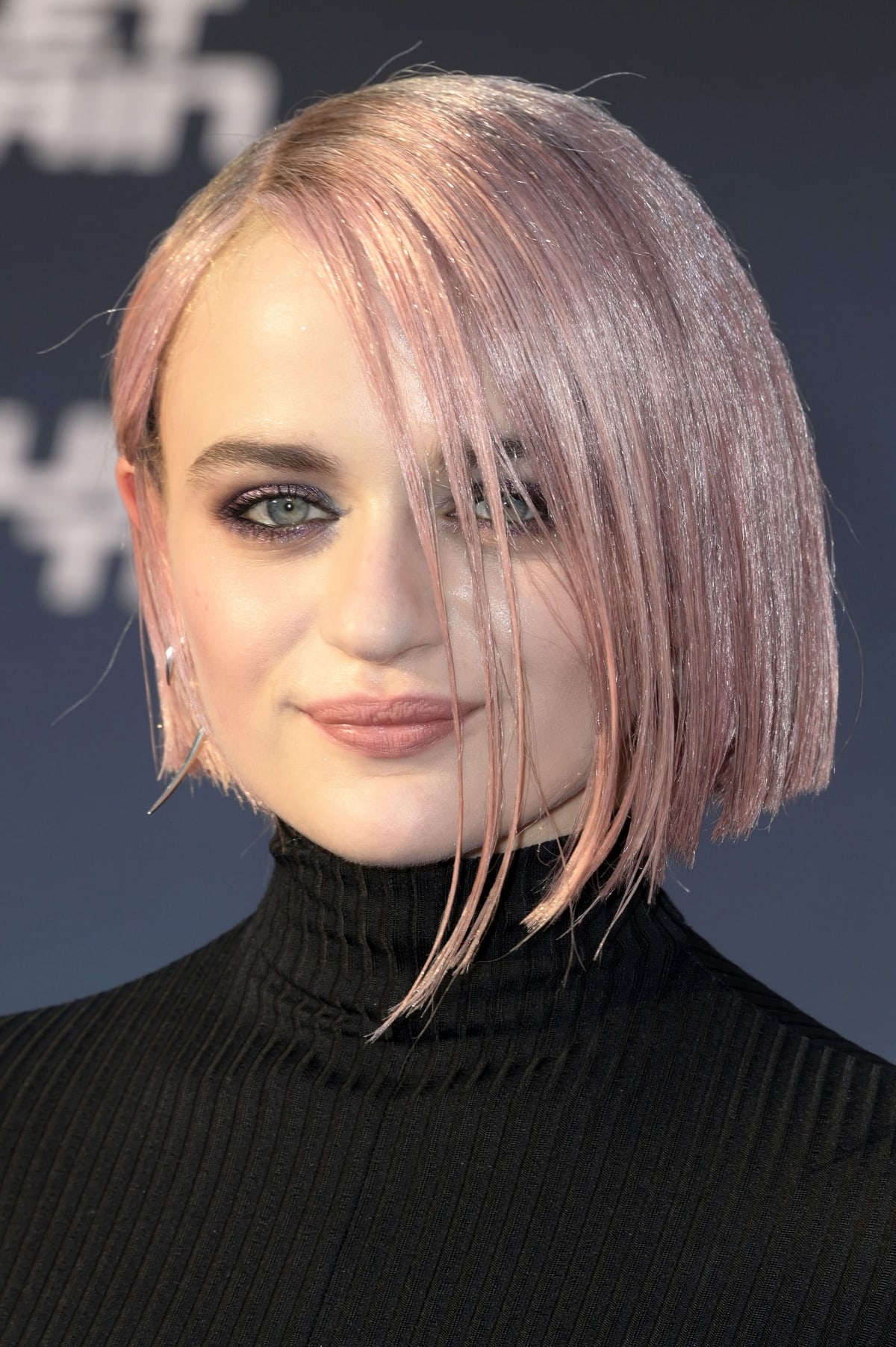 Joey King surprising everyone with a pink asymmetrical bob (Credit: Frederic Kern / DDP / INSTARimages / Cover Images)
Of course, it's not a Joey King look without a rebellious edge. She showed up with an asymmetrical bob in a cotton candy pink hue that stood out against her all-black outfit.
A smoky bronze eye, a peachy lip, and Shaun Leane earrings provided the finishing touches to her edgy premiere look.
7. Risqué in peek-a-boo cutouts and platform boots
The next day, the Bullet Train cast flew to London for another round of promo. Aside from the obligatory serious poses, the cast also took some silly ones as they goofed off at the photocall.
Aaron Taylor-Johnson, Brad Pitt, Joey King, and Brian Tyree Henry at the Bullet Train London photocall held at the Corinthia Hotel on July 20, 2022 (Credit: Yui Mok / PA Images / INSTARimages / Cover Images)
Joey showed up for the London photocall in a sexy Nensi Dojaka LBD with black platform boots – perfect for a badass assassin.
Her dress features thin straps, daring cutouts that showed off her cleavage, and sheer black lace detail. She wore them with Wolford sheer black tights, Michigan Mom Shop earrings, and Rare Romance rings.
After sporting a pink bob, Joey surprised everyone a day later with a dark blonde updo and choppy bangs.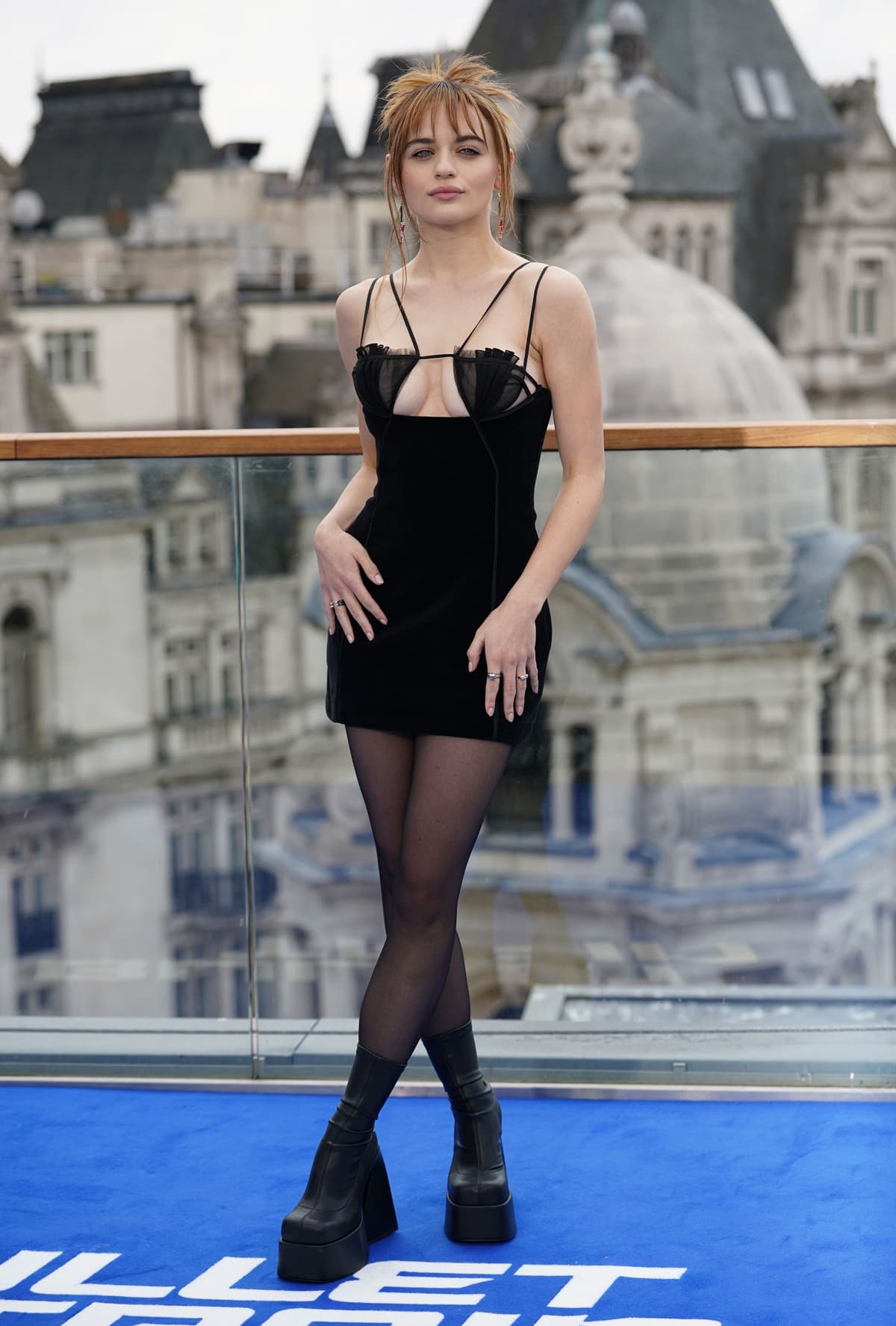 Joey King wearing a racy LBD and towering platform heels for the Bullet Train London photocall (Credit: Yui Mok / PA Images / INSTARimages / Cover Images)
As for her shoes, she turned to her favorite brand Naked Wolfe. She wore the Sugar Black Stretch platform heels, which feature vegan-friendly stretch uppers and fabric stretch lining. These boots also have a pull-on design, chunky platforms, and block heels.
You can choose from a variety of colors at Naked Wolfe and shop for other shoe styles from the brand at Farfetch.
Sugar Black Stretch Boots, $300
These boots have the signature Naked Wolfe platforms and heel construction, as well as a tiny "wolfe" head plaque on the side and a larger one on the heel
8. Dramatic in Marc Jacobs and Le Silla
Finally, Joey made a dramatic entrance at the London screening of her film in a Marc Jacobs Fall 2022 look. It features a white turtleneck top with an open back and a floor-length skirt with a retro-inspired black-and-orange graphic print.
She added more drama with black leather opera gloves from Paula Rowan and a wavy hairstyle.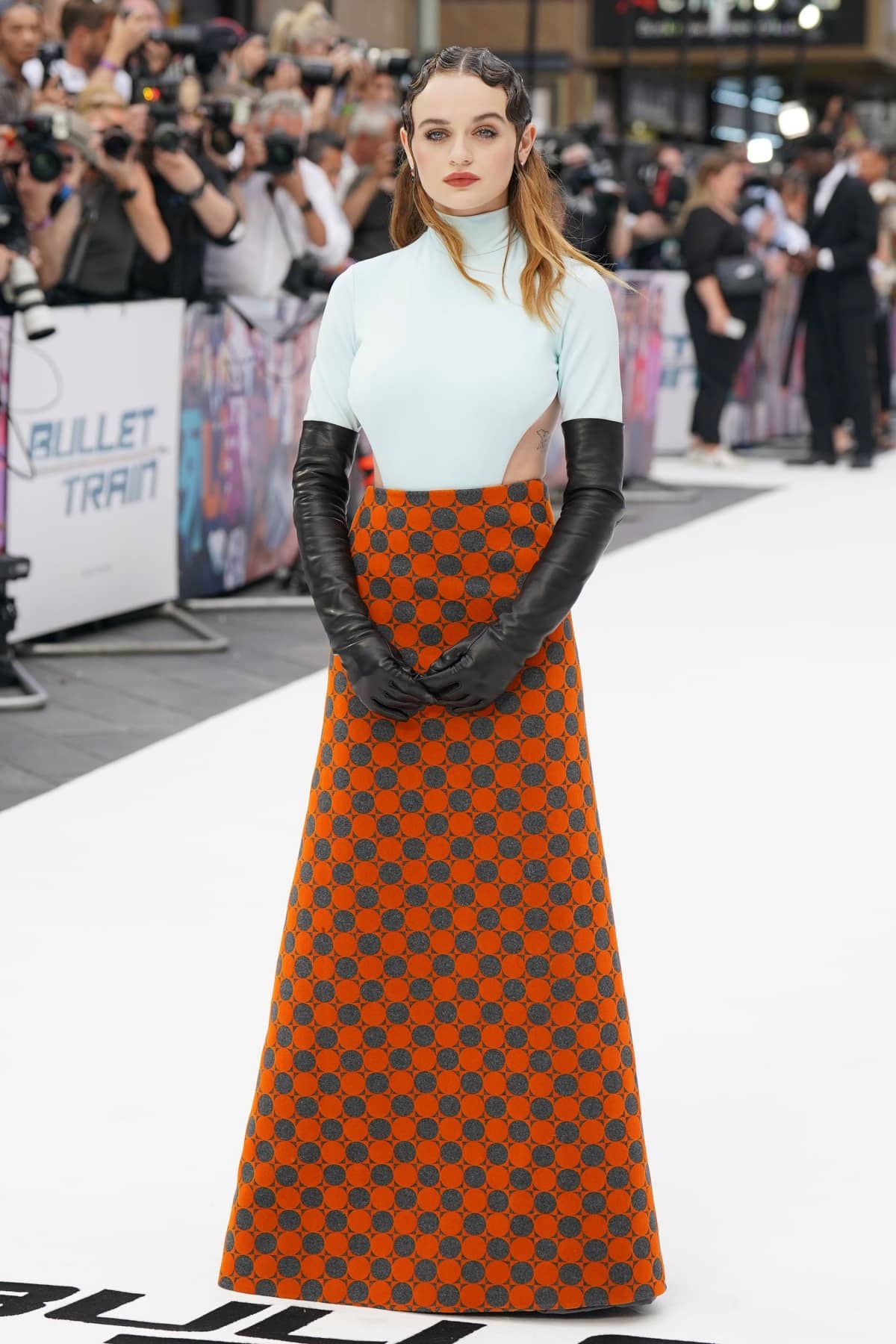 Joey King fully committing to her dramatic Marc Jacobs Fall 2022 look at the London premiere of Bullet Train held at Cineworld Leicester Square on July 20, 2022 (Credit: Jonathan Brady / PA Images / INSTARimages / Cover Images)
It looks simple and elegant from the front, but it's completely open on the back. The side cutouts also showed off a bit of sideboob and a glimpse of her tattoo.
We couldn't get a good look at her shoes due to the length of her skirt, but she's wearing boots from Le Silla. She finished off her look with earrings from Bondeye Jewelry.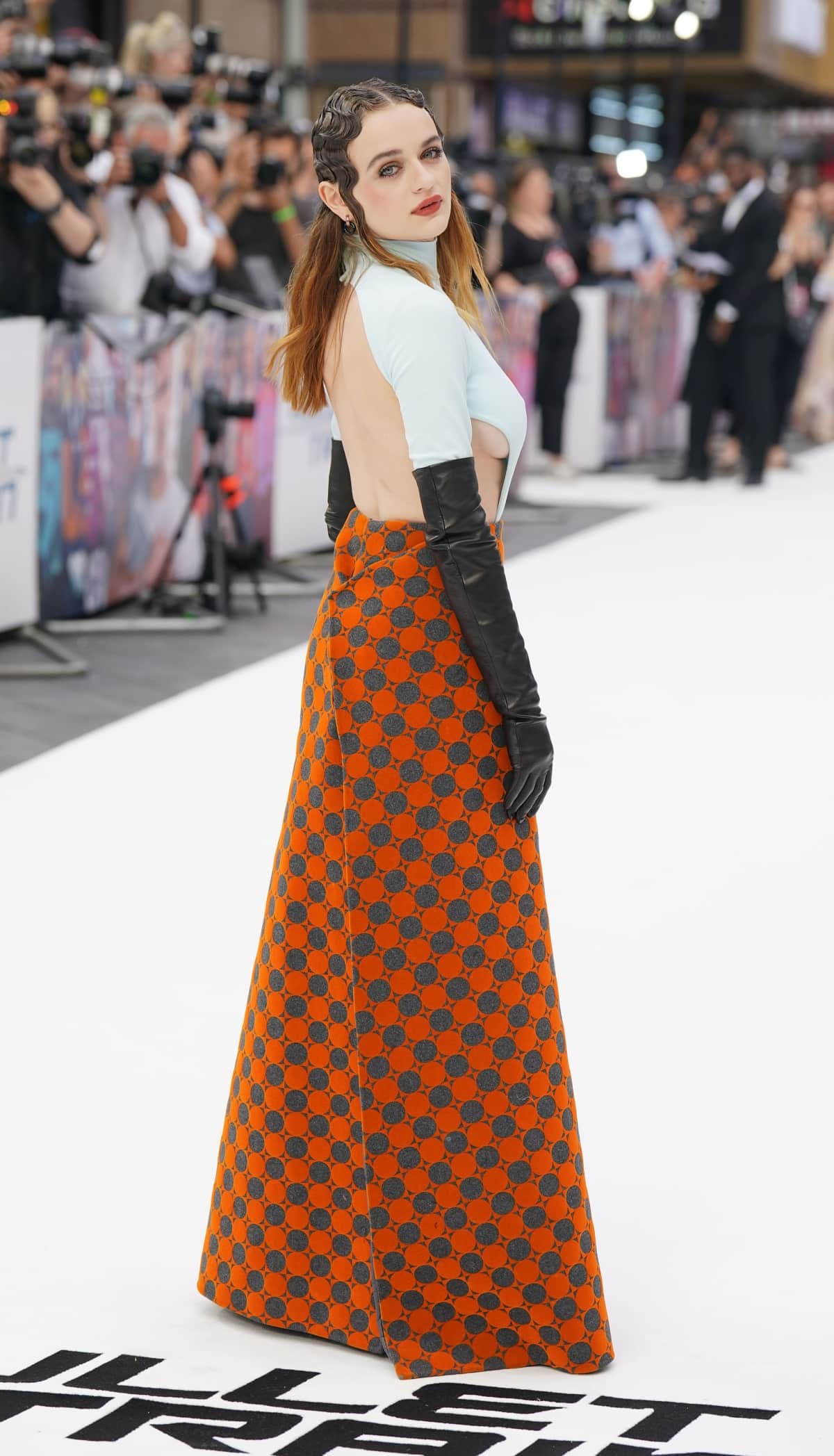 Joey King showing off her sexy open back and flashing a bit of sideboob in a Marc Jacobs Fall 2022 look straight out of the runway (Credit: Jonathan Brady / PA Images / INSTARimages / Cover Images)
A mission on a fast-moving train
Bullet Train is an upcoming action-comedy film from David Leitch, who's known for his work in Deadpool 2 and Fast & Furious Presents: Hobbs & Shaw. It's based on Maria Beetle, a Japanese novel by Kōtarō Isaka.
The film revolves around an assassin named Ladybug, who's on a final mission to secure a briefcase while inside a bullet train heading from Tokyo to Kyoto.
Unbeknownst to him, the train is packed with fellow assassins set to accomplish their own missions and deter him from completing his own.
Brad Pitt as Ladybug in the upcoming action-comedy film Bullet Train (Credit: Sony Pictures Releasing)
Set for release on August 5 of this year, the film boasts a stellar ensemble of actors. Aside from those who were present during the promo tour, the cast also includes Michael Shannon, Logan Lerman, Andrew Koji, Bad Bunny, and Sandra Bullock as Ladybug's handler Maria Beetle.
Controversy
As it is based on a Japanese novel, the predominantly American cast drew attention and led to accusations of whitewashing.
David Inoue, Executive Director of the Japanese American Citizens League, spoke to AsAmNews about the matter: "I absolutely think charges of whitewashing are accurate as this is a story based around what were originally Japanese characters and it remains set in Japan."
"Foreigners, or gaijin, remain a distinct minority in Japan," Inoue explained. He added that "to populate the movie with so many in the leading roles is ignoring the setting."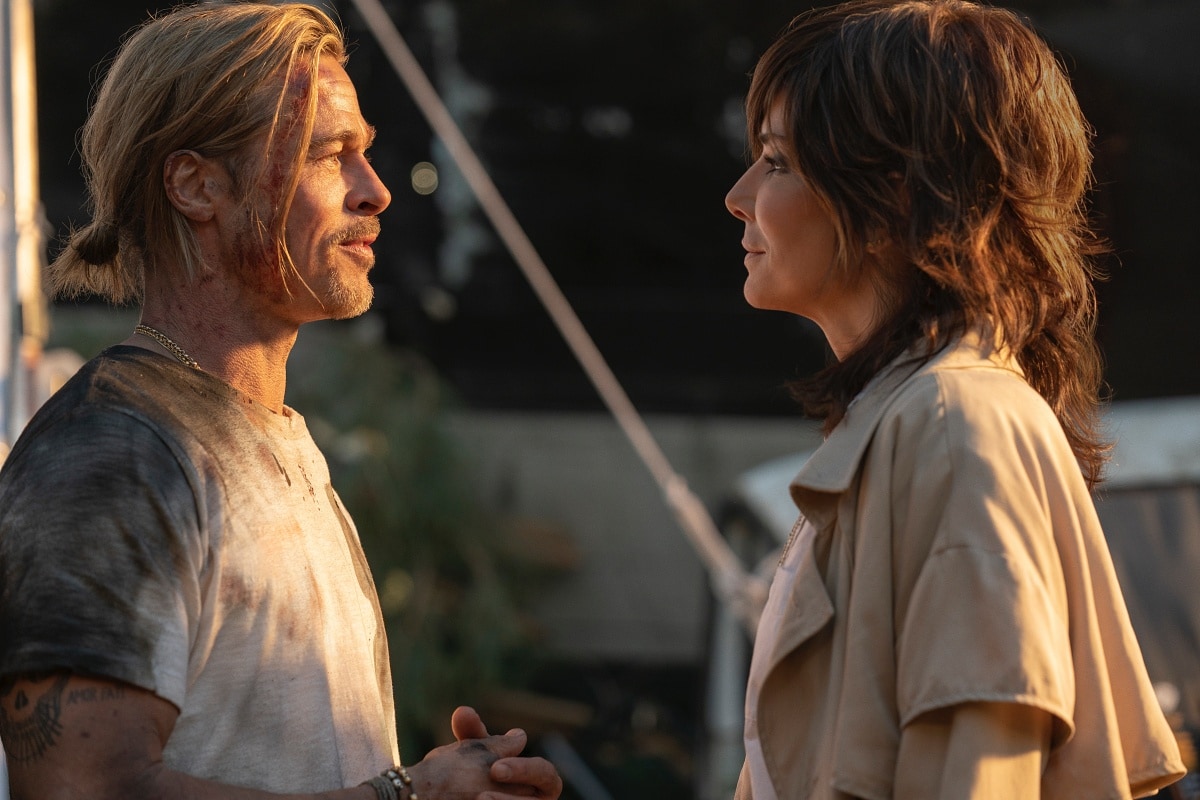 Brad Pitt as Ladybug and Sandra Bullock as Maria Beetle in the upcoming action-comedy film Bullet Train (Credit: Sony Pictures Releasing)
Inoue also noted that due to Brad Pitt's popularity in Japan, the film will still get impressive box office numbers despite the controversy surrounding it.
"This movie seeks to affirm the belief that Asian actors in the leading roles cannot carry a blockbuster, despite all the recent evidence indicating otherwise, beginning with Crazy Rich Asians and extending to Shang Chi."
A slippery slope
Milton Liu, the Interim Executive Director of the Asian American Media Alliance, gave a more diplomatic answer regarding the subject.
"Obviously, there's a slippery slope of what is whitewashing, what is not, what is racially offensive, what is story-telling or creative license, and so forth."
Liu went on to say that the novel's "author has approved of this, and the production company that licensed this deal is a Japanese company that's trying to get into using Japanese IP for the western world."
"Not to say that those two things make it okay, but at least that's the right course." He also said that "it's not some Hollywood White producer going out to Japan and finding the IP and really making it a whitewashed adaptation."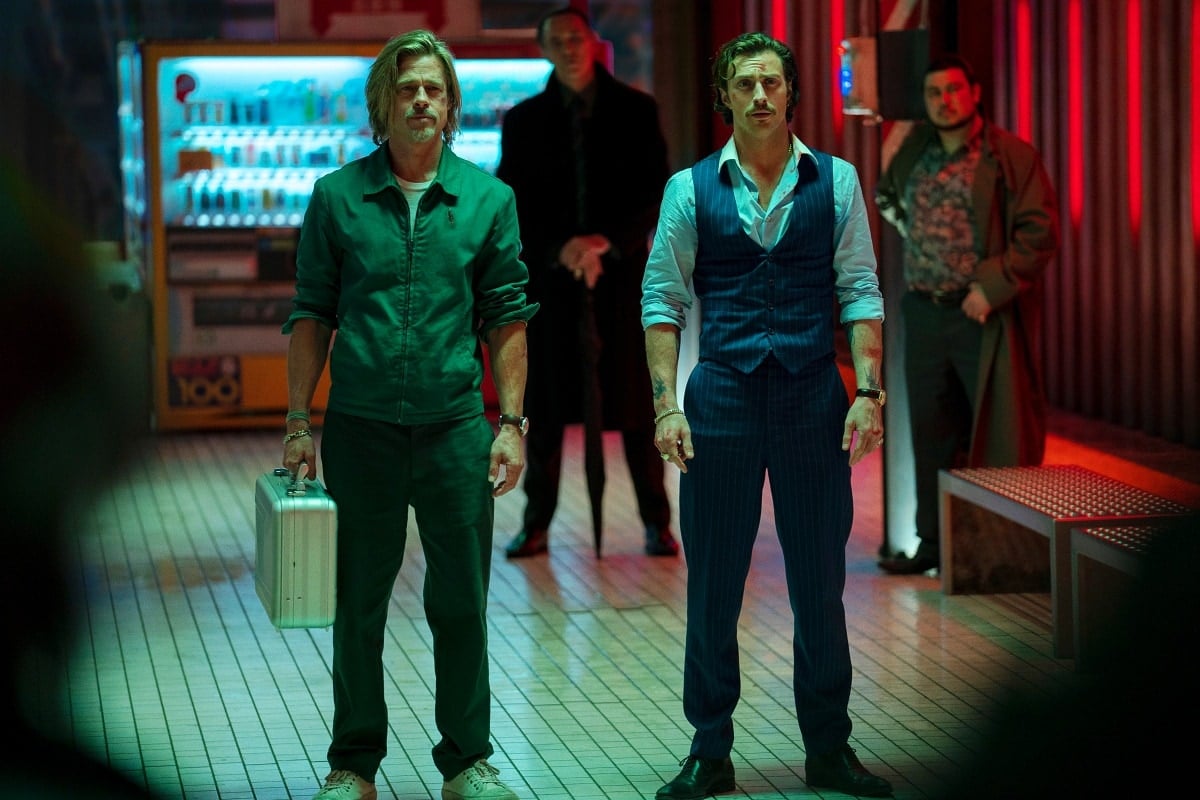 Brad Pitt as Ladybug and Aaron Taylor-Johnson as Tangerine in the upcoming action-comedy film Bullet Train (Credit: Sony Pictures Releasing)
Liu said that he needs to see the film before making a proper statement. However, upon seeing the trailer, he remarked that "there's a lot of fetishization of Asian culture and Japanese culture in particular."
Inoue added that "it is more a caricature of Japan than a Japanese setting. Based on the trailer, he noted that it "has the stereotypical neon Tokyo backdrop and the obligatory shot of ominous-looking yakuza with their swords at the ready."
"It's not just the characters who have been whitewashed; it is a whitewashed image of Japan."
King's statement
Joey plays The Prince, a British assassin posing as a schoolgirl onboard the train.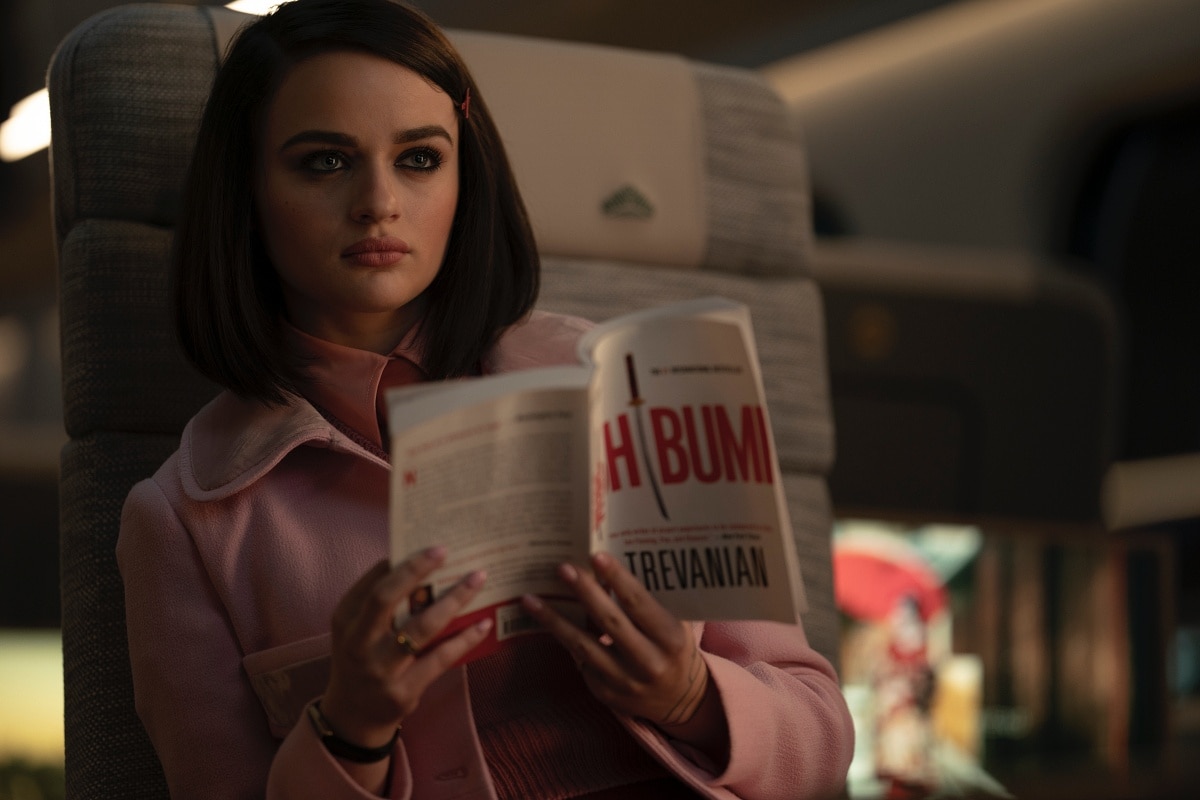 Joey King as The Prince in the upcoming action-comedy film Bullet Train (Credit: Sony Pictures Releasing)
Two years ago, when rumors of a live-action remake of Avatar: The Last Airbender were circulating around the internet, Joey King's name was thrown in as a potential member of the cast.
It prompted accusations of whitewashing and Joey getting a lot of hate online despite insisting that she has "no involvement in this project."
Seventeen reported that she claims that she "didn't know this project even existed until I logged onto twitter today and my timeline was flooded with these rumors."
Joey ended her statement by saying, "I do not believe a white woman should play a character of color. Not me or any white woman for that matter."