Ana de Armas made a stunning appearance at the premiere of Netflix's The Gray Man in Hollywood. She looked like an elegant glamazon in her custom Louis Vuitton ensemble designed by Nicolas Ghesquière.
The 34-year-old actress wore a shimmery gunmetal bodysuit embellished with mini paillettes.
Her layered floor-length skirt featured a gladiator-inspired look with a metallic finish. It gave glimpses of her toned legs and silver ankle-strap heels every time she moved.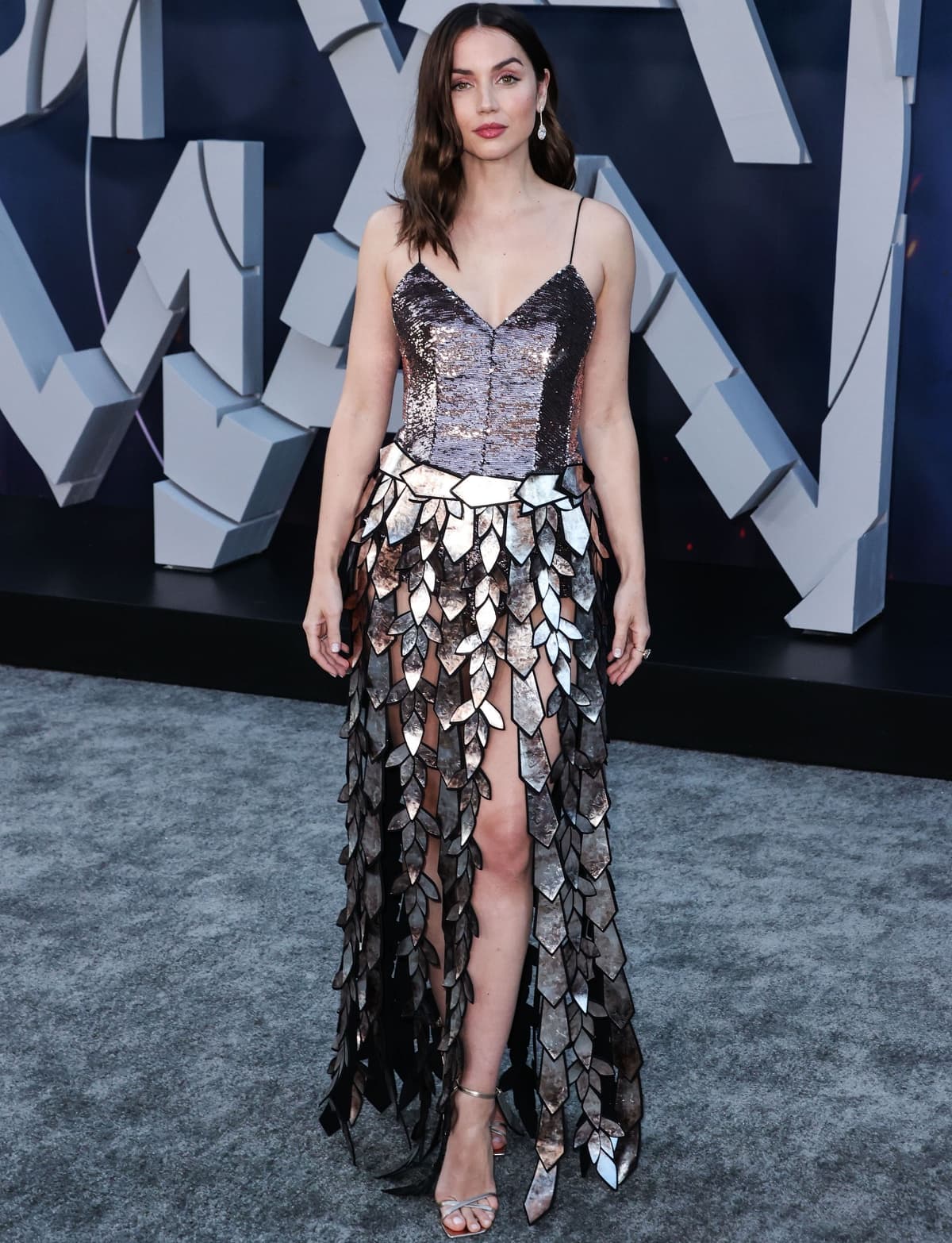 Ana de Armas wearing a custom Louis Vuitton look at the premiere of Netflix's The Gray Man held at the TCL Chinese Theatre in Hollywood, California, on July 13, 2022 (Credit: Xavier Collin / Image Press Agency / Cover Images)
This look was styled by Samantha McMillen, who also works with Brie Larson, Evan Rachel Wood, and Elle Fanning.
Ana often wears pieces from Louis Vuitton for high-profile events. This includes last year's Louis Vuitton show during Paris Fashion Week and the No Time to Die world premiere in London.
As for her beauty look, her face did all the talking. Her hair cascaded in tousled waves, and her pink lips added a pop of color. Stunning diamond jewels from Fred Leighton finished off her glamazon-inspired look.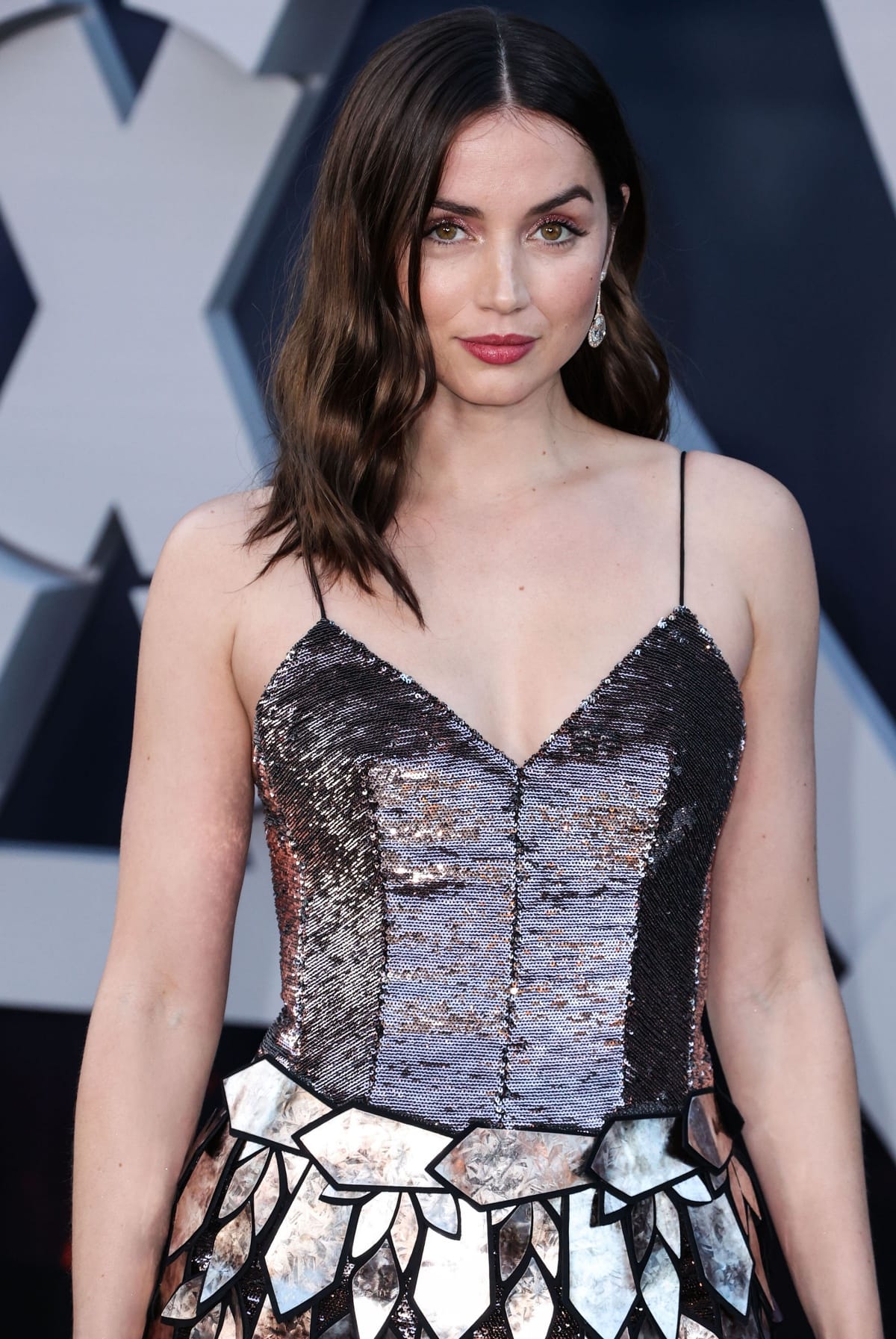 Ana de Armas looking every bit the shining superstar in Fred Leighton diamond jewels (Credit: Xavier Collin / Image Press Agency / Cover Images)
A-list star power
Co-stars Ryan Gosling and Chris Evans also joined Ana at the premiere. The A-list stars posed for photos together, and their combined star power was enough to light up all of Hollywood.
This film marks Ana's second time working with Ryan after playing his holographic A.I. girlfriend in Blade Runner 2049.
Similarly, The Gray Man is Ana's second film with Chris after starring in the 2019 murder mystery Knives Out. However, they've worked together for a third time in an upcoming movie entitled Ghosted.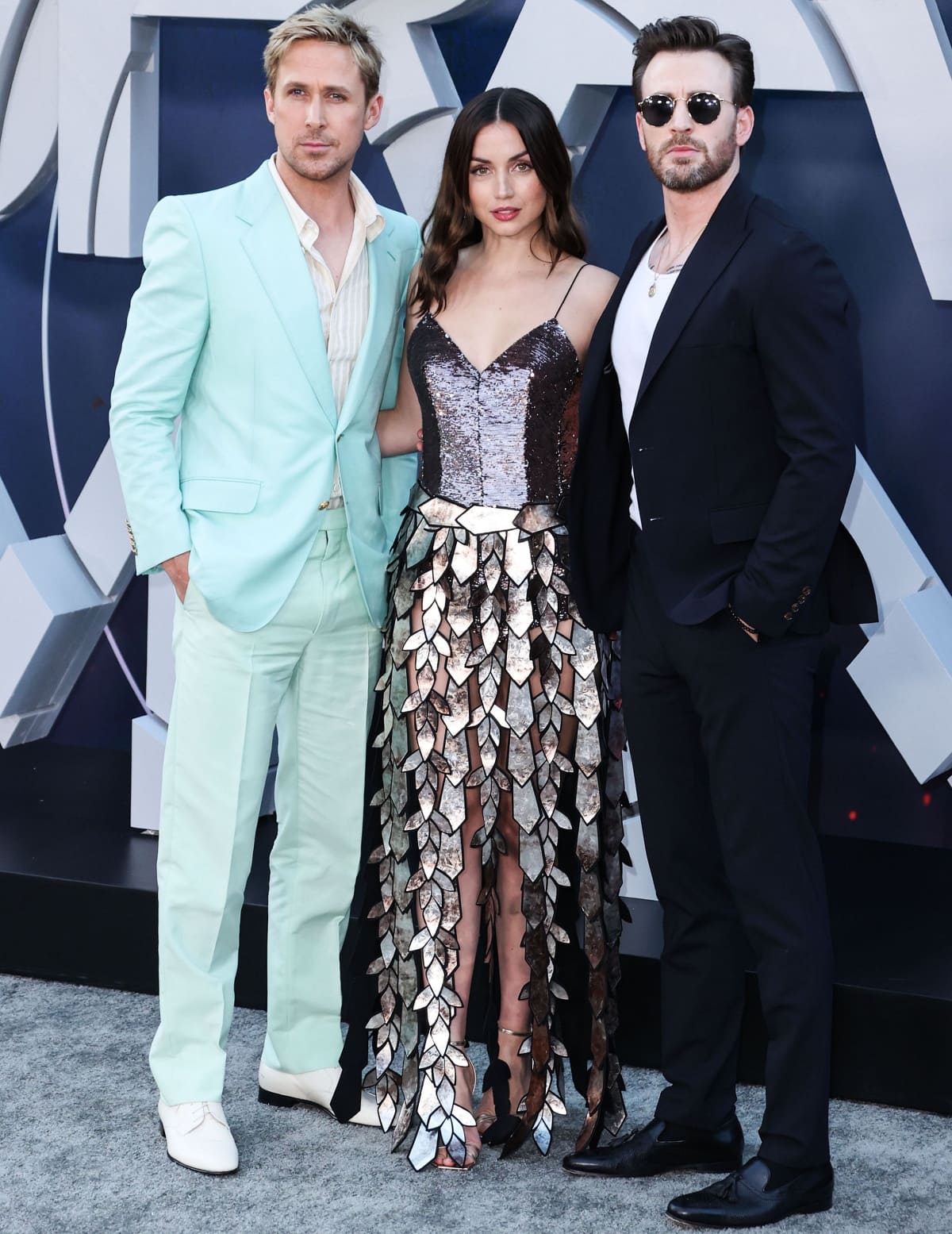 Ryan Gosling, Ana de Armas, and Chris Evans at the premiere of Netflix's The Gray Man (Credit: Xavier Collin / Image Press Agency / Cover Images)
The Gray Man follows CIA agent Court Gentry, who becomes the target of a sociopathic rogue operative after he uncovers incriminating agency secrets.
It had a limited theatrical release on July 15, but it will be available to stream worldwide on Netflix on July 22. The film's production budget is $200 million, making it one of the most expensive movies made by Netflix.
Ana de Armas as Dani Miranda and Ryan Gosling as Court Gentry in the 2022 action thriller The Gray Man (Credit: Netflix)
"A blue-collar Bond"
Ryan plays protagonist Court Gentry, a skilled CIA black ops mercenary.
In an interview with WWD, he called his character "a blue-collar Bond." Ryan added that he plays "a working-class guy," who doesn't have "any romantic ideals of what it's like to be a spy."
"He's like an analog hero in a digital world," Ryan explained. "He doesn't have tech, he doesn't have gadgets, he has ingenuity and a sense of humor."
Ryan Gosling as Court Gentry in the 2022 action thriller The Gray Man (Credit: Netflix)
For the premiere, Ryan wore a Gucci seafoam jacket with mint green wool trousers. He styled them with a cream-colored striped shirt and ivory leather brogues.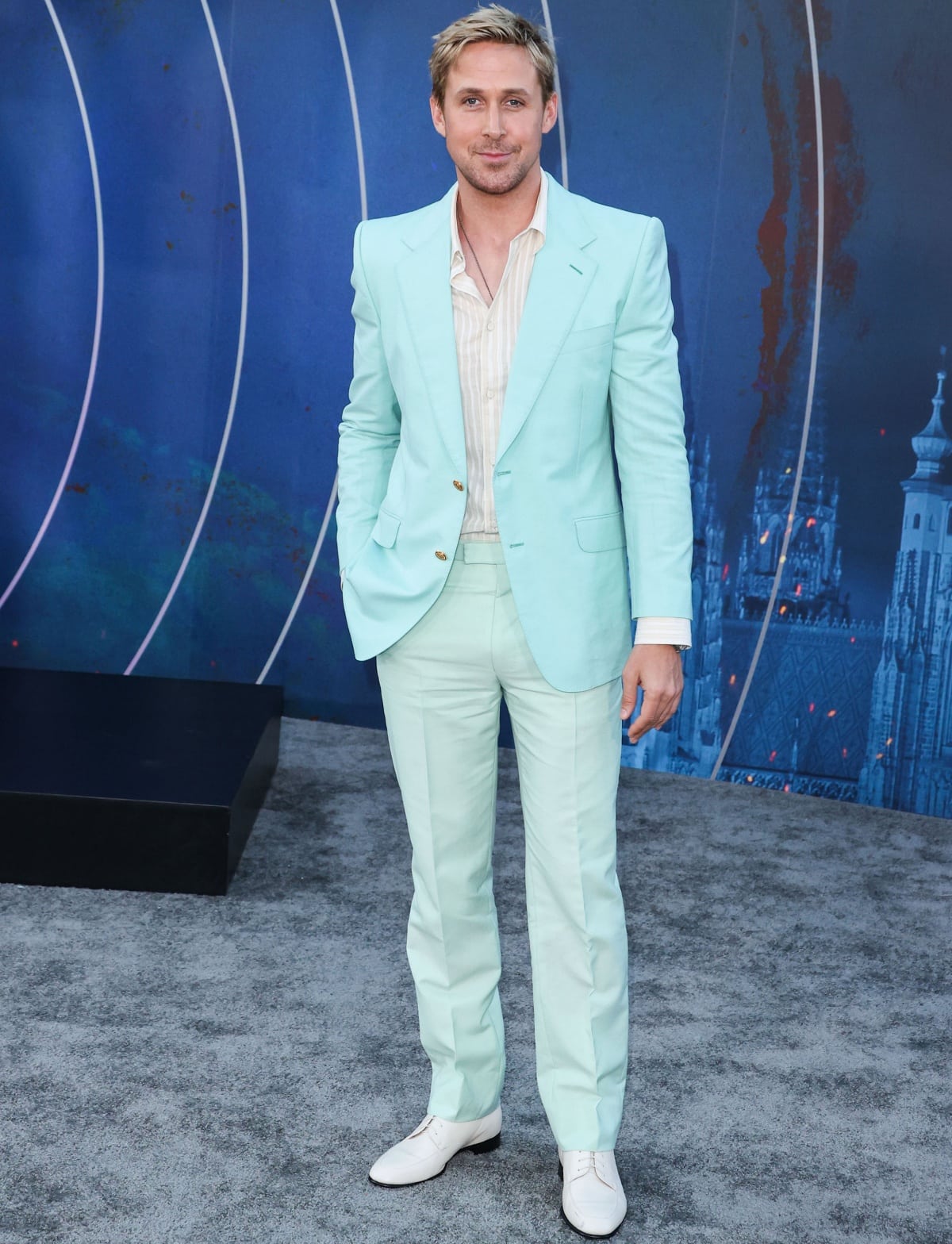 Ryan Gosling turning heads in a refreshing Gucci summer look with ivory leather brogues (Credit: Xavier Collin / Image Press Agency / Cover Images)
His newly bleached blond hair actually suits his look, as it gave off a Malibu Ken vibe. Coincidentally, he's set to star as Ken Carson in Greta Gerwig's film Barbie with Margot Robbie in the title role.
Ryan Gosling as Ken Carson in the upcoming film Barbie (Credit: Warner Bros. Pictures)
The 41-year-old actor caused quite a frenzy when photos of him as Ken surfaced on the internet. Clad in double denim, Ryan showed off his blond hair and washboard abs.
Everyone has been talking about this film, and countless memes have already been circulating online. But we have to wait until next year to see what Oscar-nominated director Greta Gerwig has envisioned for Barbie and Ken.
Harbinger of chaos
Meanwhile, Chris leaves his Captain America days behind as he takes on the role of a sociopathic villain for The Gray Man. He plays Lloyd Hansen, who is the complete opposite of America's favorite golden boy Steve Rogers.
In an interview with Empire, writer Stephen McFeely described Hansen as "a trainwreck of a human being."
The 41-year-old actor added that Hansen is "so liberated, and free, and honest." He explained that what he likes about his character "is that you should almost fear his smile more than his scowl."
"I think he understands that what he does is bad and harmful, but I think he considers himself necessary," Chris noted. "He thinks he's a disrupter."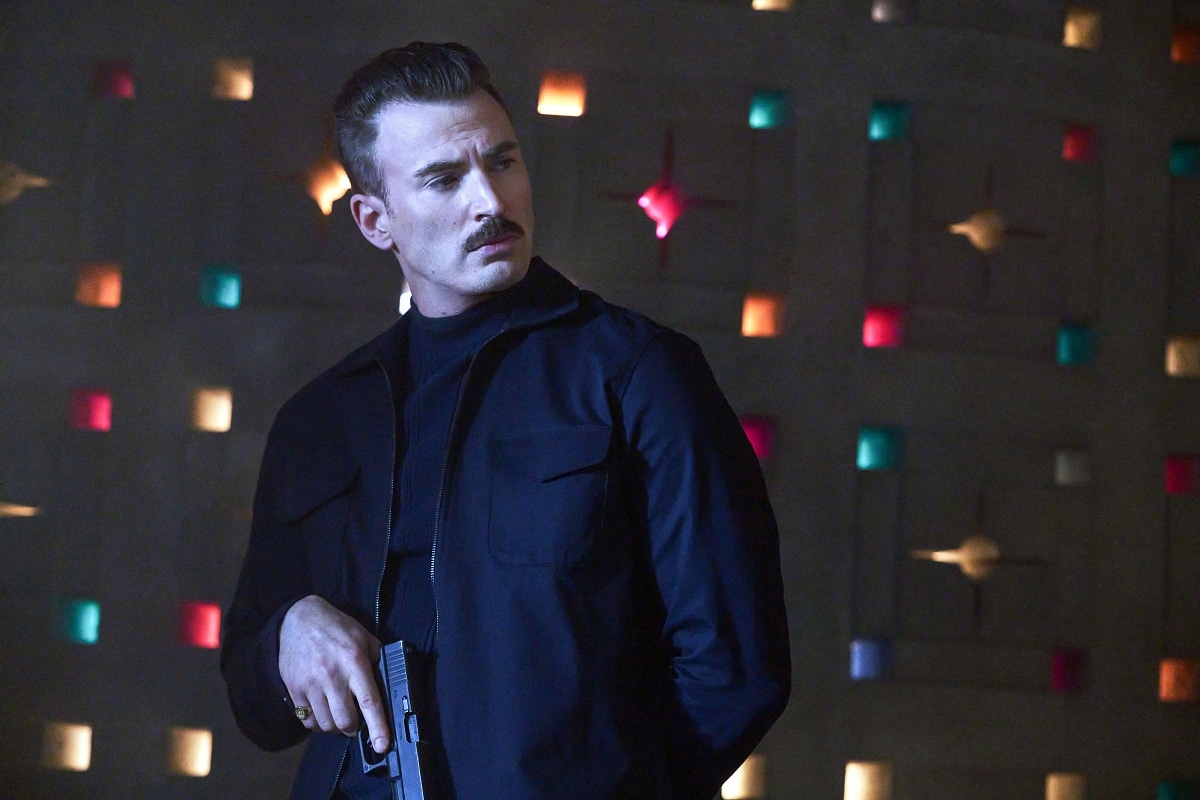 Chris Evans as Lloyd Hansen in the 2022 action thriller The Gray Man (Credit: Netflix)
During the premiere, Chris went for a classic look with a modern edge. He wore a navy suit from Eleventy Milano with a white tank top and leather loafers with tassel trim.
Ray-Ban aviator shades and a gold pendant necklace rounded out his premiere look.
Chris Evans wearing a classic navy suit with tassel-trimmed loafers (Credit: Xavier Collin / Image Press Agency / Cover Images)
Escape from LA
The Gray Man premiere marks Ana's first public appearance since recounting her split with ex-boyfriend Ben Affleck in an interview with Elle.
She admitted that she left Los Angeles to escape the relentless paparazzi and the constant media attention. Ana said that living there "became a little bit too much" because LA is "a city that keeps you anxious."
Her highly publicized romance with Ben began in 2020 after meeting on the set of their film Deep Water. Photos have been shared on Instagram, and their love story at the time of the pandemic has become everyone's favorite source of entertainment.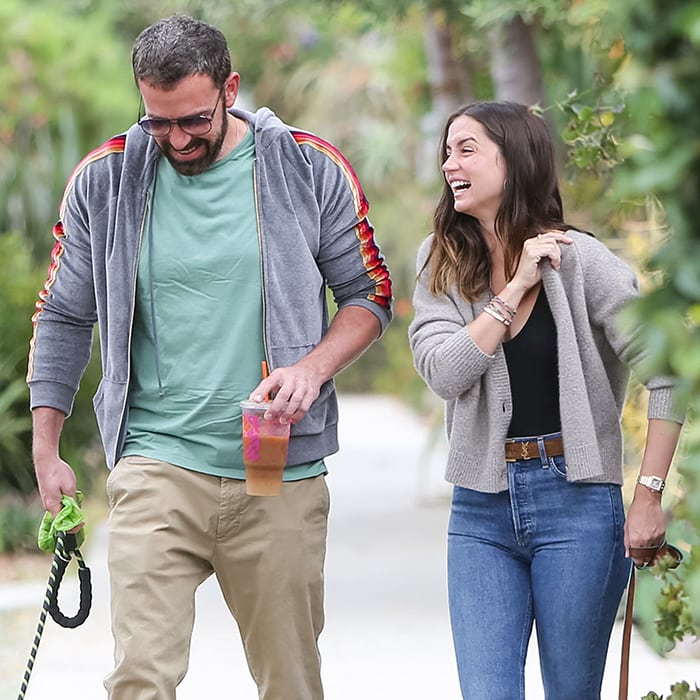 Ben Affleck and Ana de Armas enjoying their time together while out and about in Los Angeles (Credit: INSTAR / WENN)
Their relationship was serious enough that they moved in together, and Ben introduced Ana to his kids with ex-wife Jennifer Garner. Ana was photographed shopping for groceries with Violet and taking an afternoon stroll with Seraphina.
However, the pair split up after nearly a year together. Nowadays, Ben enjoys life as "the most selfless Daddy ever," according to his ex-turned-fiancée Jennifer Lopez.
Ana, on the other hand, moved to New York and now lives with her Tinder executive boyfriend, Paul Boukadakis.
Everything seems to be going well for Ana, who has a string of upcoming projects. This includes The Gray Man, where she plays CIA agent Dani Miranda.
In the August 2022 issue of Elle, she described her character as "very by-the-book." She said that it's always about the mission because "it's a big deal for her and her career and her reputation."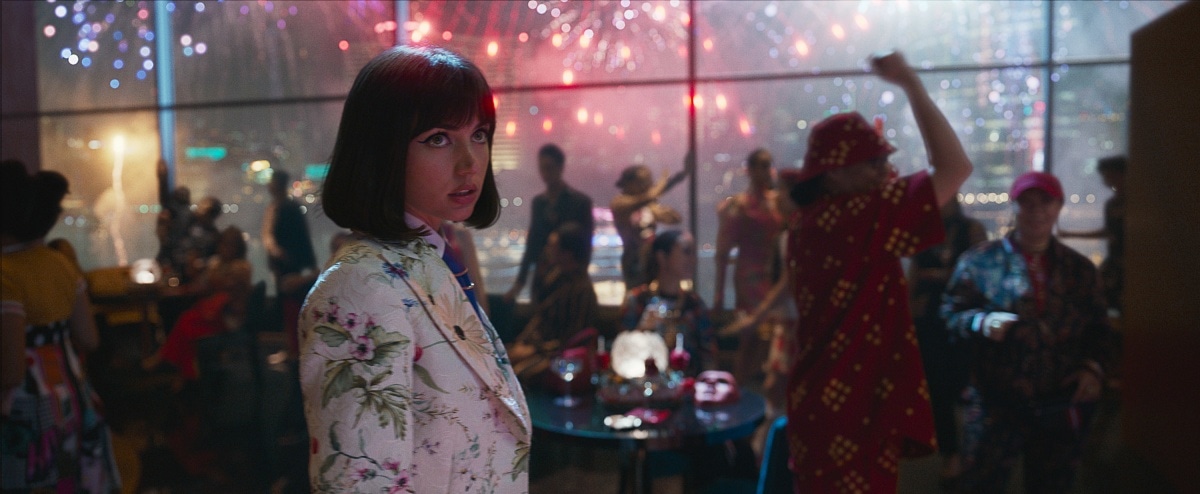 Ana de Armas as Dani Miranda in the 2022 action thriller The Gray Man (Credit: Netflix)
Blonde ambition
The Cuban actress also stars in the highly anticipated Netflix biopic Blonde, which is scheduled for release in September.
It's based on the best-selling novel of the same name by American writer Joyce Carol Oates that you can buy on Amazon. The film features a fictionalized take on the life of Marilyn Monroe.
When the teaser trailer dropped, everyone was surprised at Ana's uncanny resemblance to the iconic movie star.
Ana de Armas as Norma Jeane in the upcoming biographical drama film Blonde (Credit: Netflix)
In an interview with Netflix Queue, Ana described the amount of research and preparation that she did to take on the role. "I read Joyce's novel, studied hundreds of photographs, videos, audio recordings, films – anything I could get my hands on."
She shared that each "scene is inspired by an existing photograph." Ana added that they'd "pore over every detail in the photo and debate what was happening in it."
According to Ana, they "wanted to tell the human side of her story. Fame is what made Marilyn the most visible person in the world, but it also made Norma the most invisible."
Ana de Armas as Norma Jeane in the upcoming biographical drama film Blonde (Credit: Netflix)
Goodbye, Norma Jeane
Helmed by Andrew Dominik, Ana noted that the film aims "to present a version of Marilyn Monroe's life through her lens."
"He wanted the world to experience what it actually felt like to not only be Marilyn, but also Norma Jeane," Ana told Netflix Queue. "I found that to be the most daring, unapologetic, and feminist take on her story that I had ever seen."
Andrew Dominik is an award-winning director and screenwriter best known for the 2007 Western film The Assassination of Jesse James by the Coward Robert Ford.
Blonde is a bit of a passion project for the filmmaker, and it's evident in the way he talks about it. "The film is sincere. It's made with love. It's made with good intentions. But it's full of rage at the same time."
Ana de Armas as Norma Jeane in the upcoming biographical drama film Blonde (Credit: Netflix)
He added that his "ambition is to make you fall in love with Marilyn."
The world will surely fall in love all over again with the iconic Marilyn Monroe. With Ana stepping into the role, there's no doubt that everyone will fall in love with her as well.