Some people are just made for each other, and Jennifer Lopez and Ben Affleck are one of those couples. It's been almost 18 years since they broke off their first engagement and went their separate ways.
Round 1 and the Pink Diamond
The couple met on the set of Gigli back in 2001 and by November 2002 Ben had proposed to J.Lo with an exquisite 6.1-carat pink diamond ring by Harry Winston, rumored to have cost $2.5m.
They had initially planned to get married in 2003 but postponed their wedding, citing "excessive media attention". The couple then sadly split in 2004.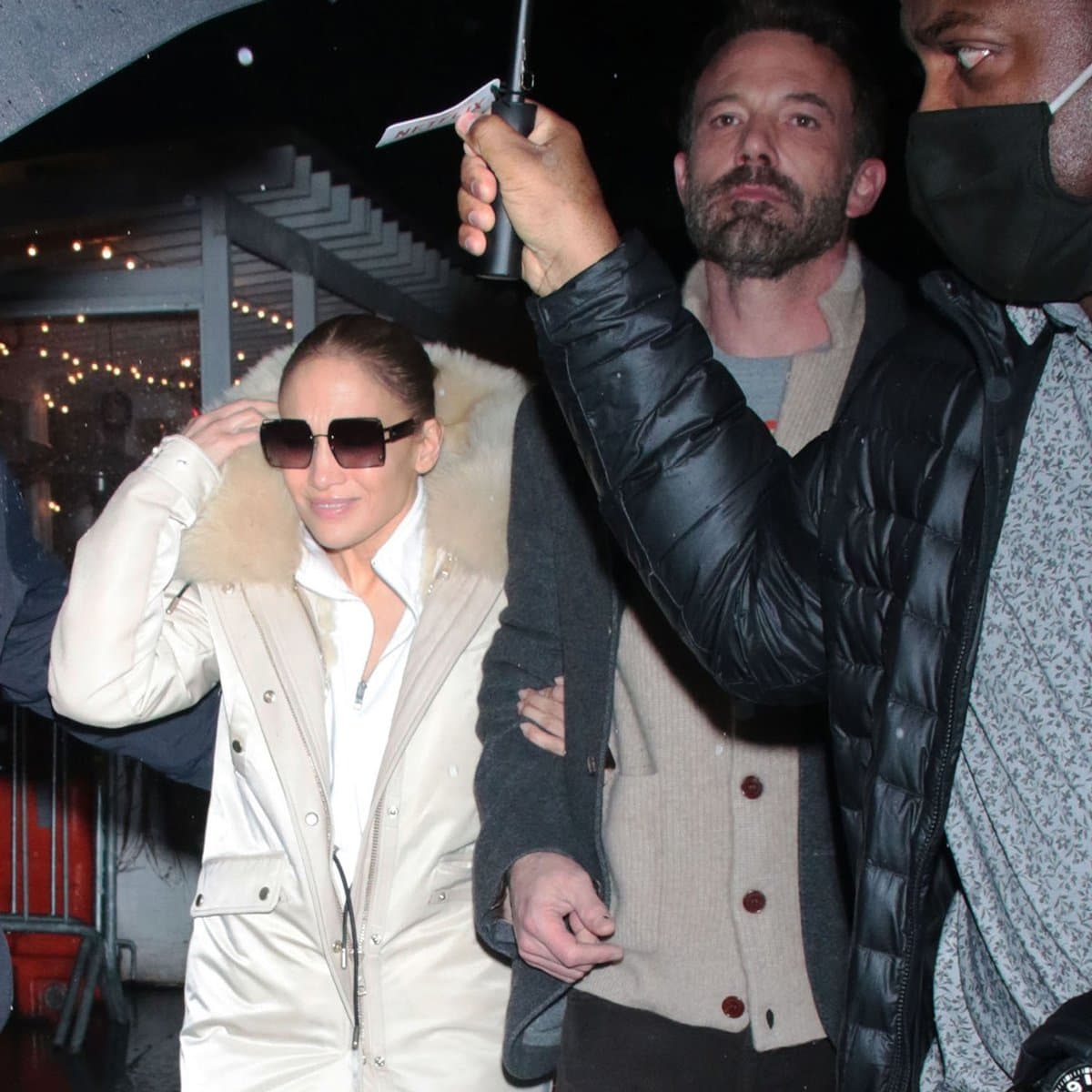 Jennifer Lopez and Ben Affleck announced their engagement on April 8, 2022 (Credit: Roger Wong / Instarimages)
But that is all water under the bridge as the couple is back and stronger than ever. The two rekindled their love in April last year and all the old 'Bennifer' fans loved seeing them together on the red carpet at the Venice Film Festival.
Is That a YES?
Jennifer shared the details of the proposal in a special edition of her 'On the JLo' newsletter.
Our newly engaged superstar wrote, "Did you ever imagine your biggest dream could come true? Saturday night while at my favorite place on earth (in the bubble bath), my beautiful love got on one knee and proposed. I was taken totally off guard and just looked in his eyes smiling and crying at the same time trying hard to get my head around the fact that after 20 years this was happening all over again, I was quite literally speechless and he said, "Is that a yes?" I said YES of course that's a YES."
Jennifer Lopez and Ben Affleck rekindled their romance in 2021 after almost twenty years of their first relationship (Credit: BauerGriffin / INSTARimages)
In a recent interview with People magazine, JLo said, "We're older now, we're smarter, we have more experience, we're at different places in our lives, we have kids now, and we have to be very conscious of those things."
She went on to add, "It's a beautiful outcome that this has happened in this way at this time in our lives where we can really appreciate and celebrate each other and respect each other. We always did, but we have even more of an appreciation because we know that life can take you in different directions."
The Ring of a Lifetime
We wondered how Ben would compete with that first incredible engagement ring, especially after JLo had said back then that it was the most magnificent thing she'd ever seen.
But we should have known he would come up with another winner as Ben is obviously a man who pays attention. Once again, he hit the mark, proposing with a green 8.5-carat diamond ring.
View this post on Instagram
In an interview by Page Six, The Diamond Pro CEO Mike Fried said, "If that is indeed a green diamond, then I am stunned. A green diamond of that size is incredibly rare and would dwarf the value of their previous engagement ring. I would value the ring well over $5 million and could be worth more than $10 million."
But as to why he is a man that pays attention, well, that's because the color green is very special to Jennifer.
In a previous newsletter, she shared, "I always say the color green is my lucky color. Maybe you can remember a certain green dress. I've realized there are many moments in my life where amazing things happened when I was wearing green."
Wedding Plans – On the Down Low?
As for wedding plans, well it depends on who you are talking to. According to People Magazine, the couple are taking things slowly and enjoying the time together and considering how their first engagement ended, that's exactly what we would do.
Hollywood Life however has reported that an inside source revealed that Ben and Jen are planning an elaborate and grand wedding and already know exactly what kind of ceremony they are looking for.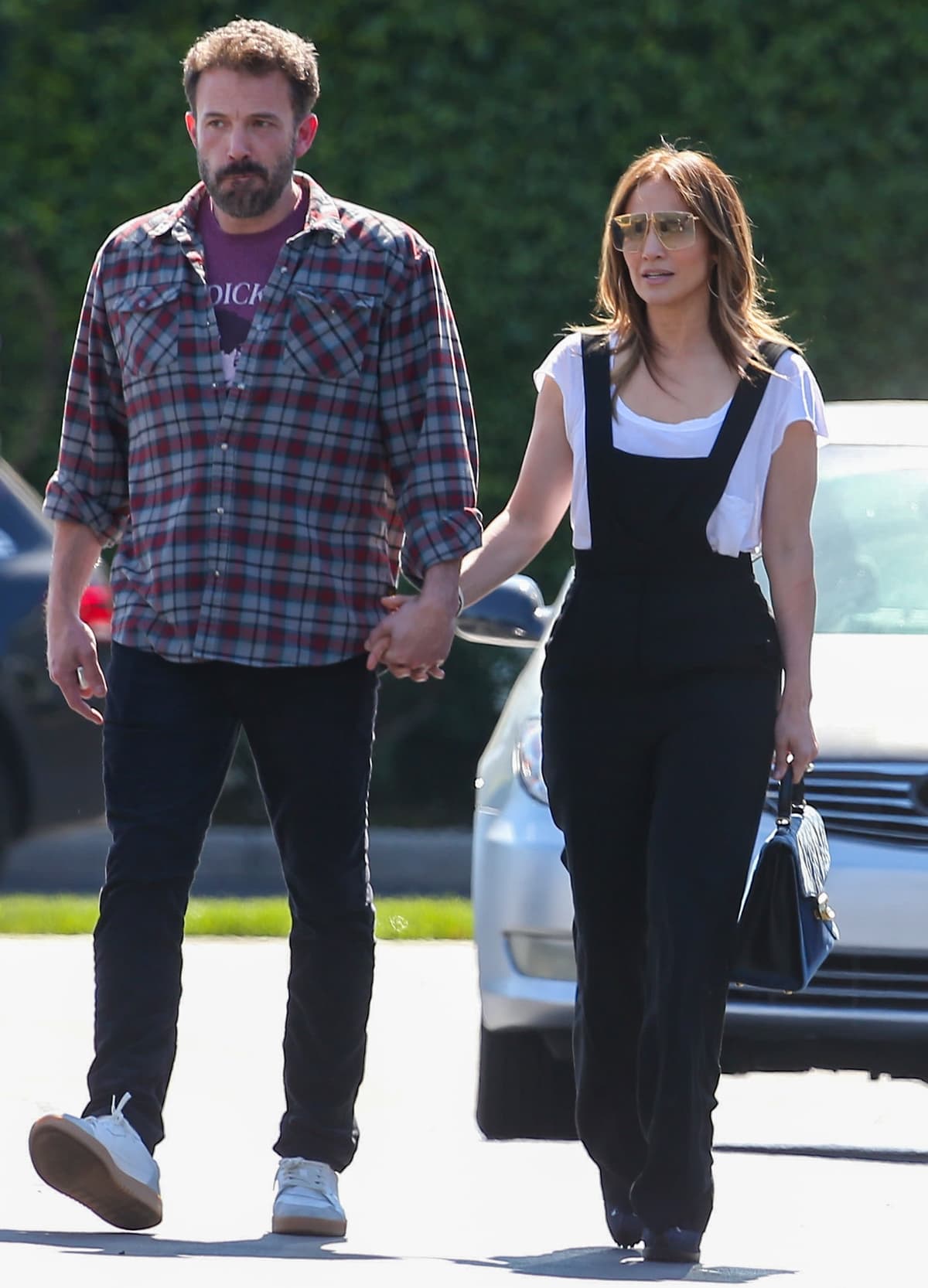 Jennifer Lopez holds hands with her latest fiancée Ben Affleck in Los Angeles on April 13, 2022 (Credit: BauerGriffin / INSTARimages)
The source went on to reveal that the couple will be including their respective children in the wedding party and that Ben's ex-wife Jennifer Garner will also be on the guest list!
As for when and where, the source shared that the ceremony would most likely be held in Los Angeles during the late summer or fall.
All we can say is we will be watching closely and wish both of them all the happiness in the world.