She has been acting since 2006 but only rose to fame after starring in the 2017 sci-fi film Blade Runner 2049 and the 2019 murder mystery Knives Out, for which she received a Golden Globe nomination for Best Actress.
During the past weeks, Ana de Armas has been making headlines, not because of her career, but because of her budding romance with actor Ben Affleck, who was previously in relationships with Jennifer Lopez and Jennifer Garner.
Most recently, the new couple was spotted arm-in-arm while walking their dogs, Hutch and Elvis, in Pacific Palisades.
Taking a break from quarantine, Ana and Ben decided to get some fresh air and stepped out in casual-chic outfits.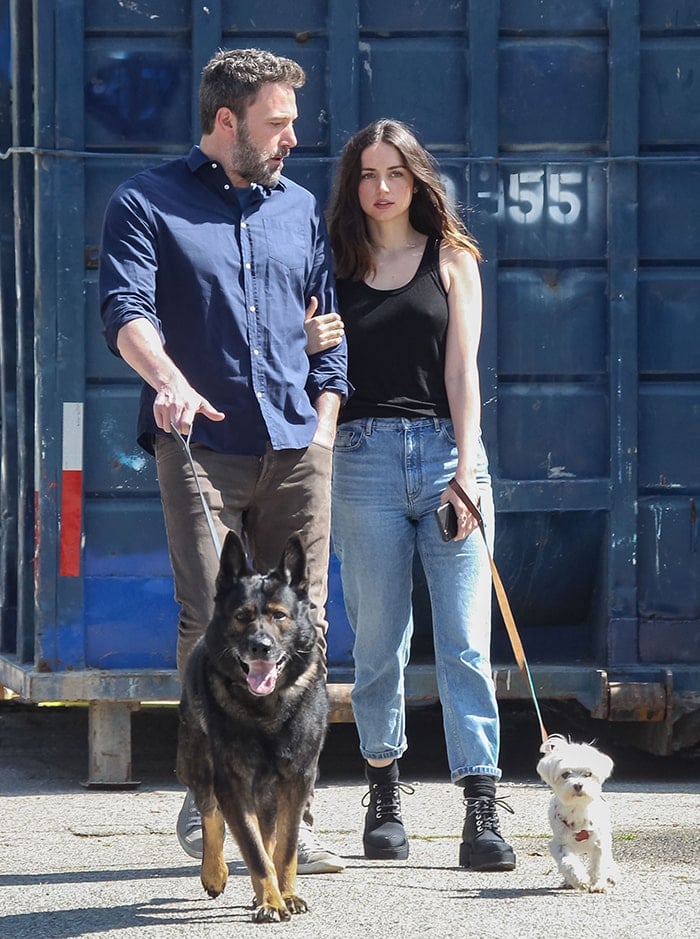 New couple Ben Affleck and Ana de Armas take their dogs out for a walk in Los Angeles on April 1, 2020
Ben wore a blue button-down shirt with brown pants and a pair of gray sneakers. Meanwhile, Ana looked summer-chic in a black tank top paired with vintage-inspired mom jeans from Citizens of Humanity ($228 at Shopbop).
The divorced Cuban-Spanish actress, who was previously married to Marc Clotet Fresquet, went makeup-free and completed the look with a pair of black lace-up boots.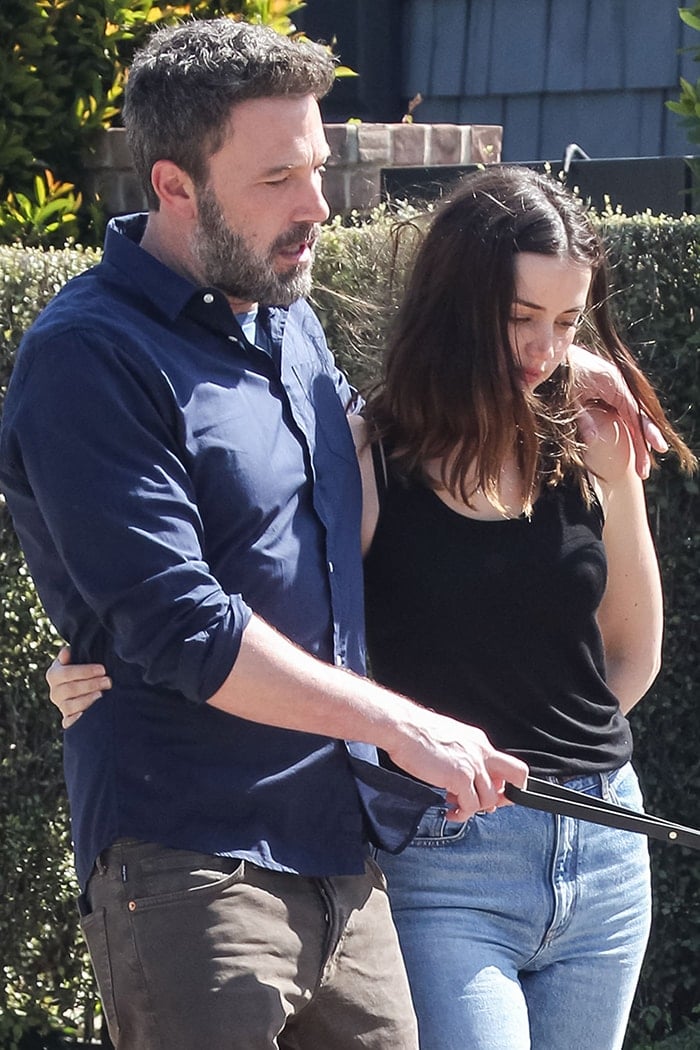 Ben Affleck and Ana de Armas look all loved up while out in Los Angeles
Just two days earlier, on March 30, Ben and Ana were seen looking all loved up while enjoying a stroll in their neighborhood with their dogs.
Ben wore a button-up dark gray shirt with rolled-up sleeves, a pair of black pants, and leather sneakers. Ana captured attention in a ruby red Zimmermann outfit, which included a frilly long-sleeved crop top with a v-neck and a wide collar and a matching shirred waist maxi skirt.
Ben Affleck and Ana de Armas arm-in-arm as they walk their dogs in Pacific Palisades on March 30, 2020
Ana simply wore her hair down and applied minimal makeup. She styled her look with a long necklace and a pair of white Saint Laurent 'Andy' sneakers.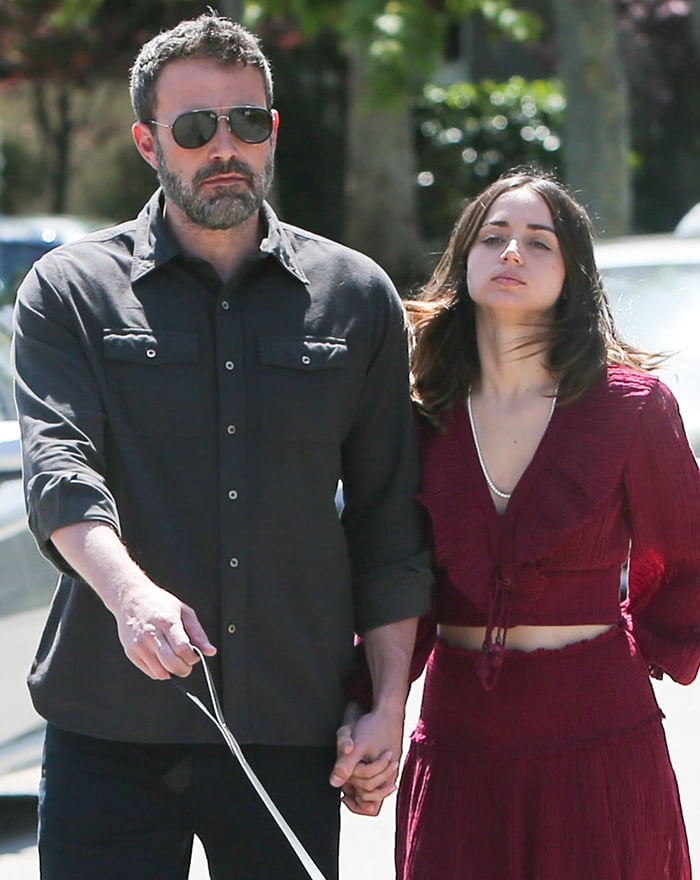 Ben Affleck wears a button-up shirt while Ana de Armas stuns in Zimmermann outfit
Saint Laurent Andy Sneakers in White Leather, $525 at Farfetch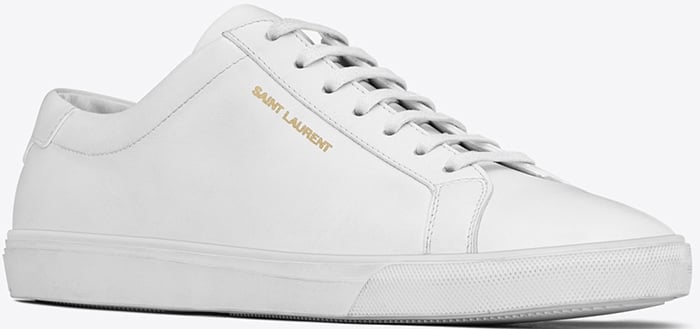 Who Is Ana de Armas?
Ana de Armas was born on April 30, 1988, in Havana, Cuba. Her dad, Ramón, worked as a bank manager, a teacher, a school principal, and a deputy mayor of a town, while her mom, Ana, worked in the human resource section of the Ministry of Education.
She grew up with food rationing and fuel shortages during the Special Period in Cuba. She didn't have access to the internet and only watched Hollywood movies in her neighbor's apartment.
When she was 14, she joined the National Theater School of Cuba and filmed three movies. She had a starring role in the 2006 romantic drama Una rosa de Francia, in the 2007 TV movie El edén perdido, and a small role in the 2007 sci-fi movie, Madrigal.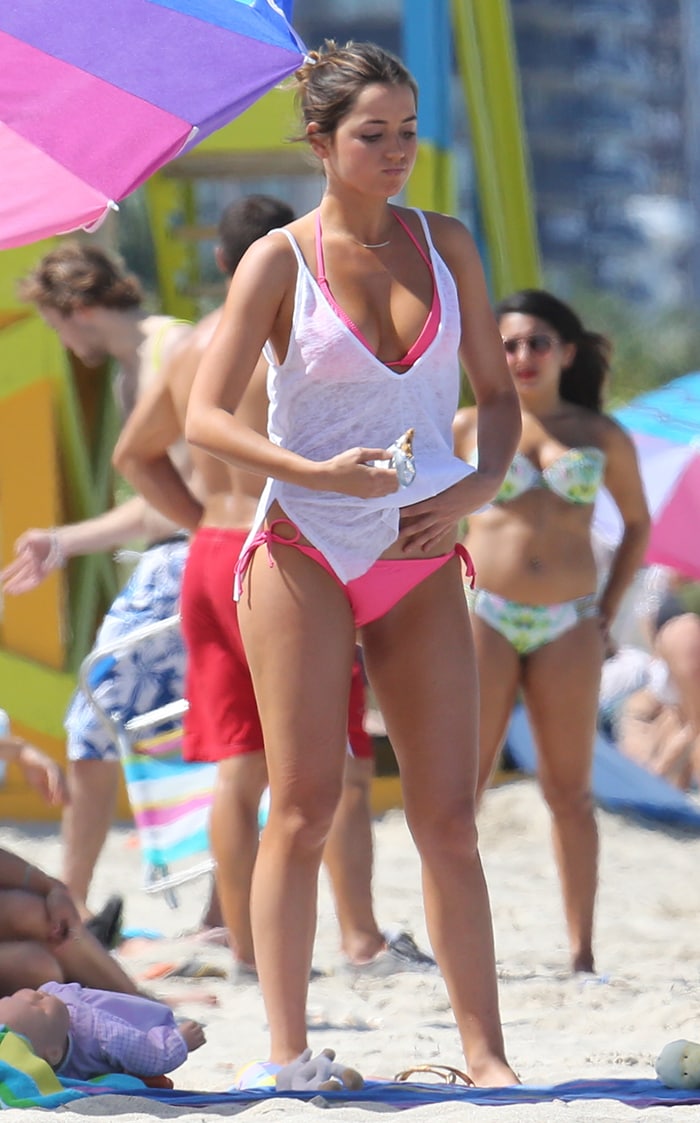 Ana de Armas shows off her bikini body while on set filming Arms and Dudes in Miami on May 9, 2015
By the time she was 18, she moved to Madrid, Spain to start a professional acting career. The Cuban actress starred for six seasons in the teen drama El Internado, which led to her popularity in Spain.
In 2014, Ana moved to Los Angeles to try her luck in Hollywood. She took English lessons, and not long after, starred opposite Keanu Reeves in the 2015 erotic horror thriller Knock Knock. Keanu then asked her to star in the 2016 thriller Exposed, which he produced and acted in.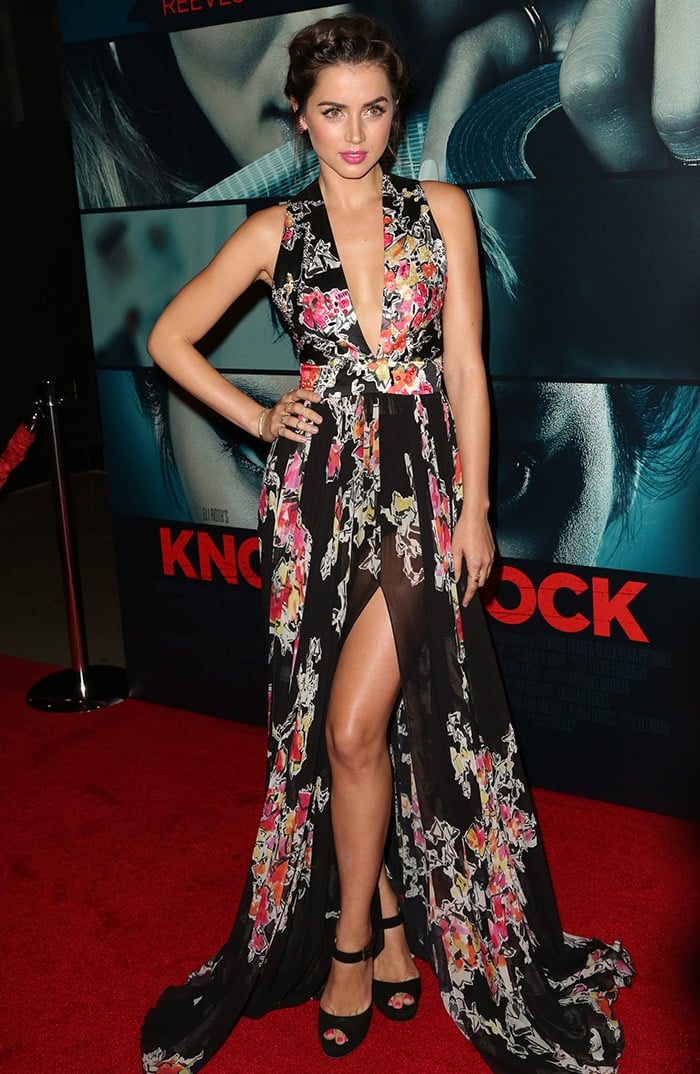 Ana de Armas flaunts her legs and cleavage in a floral gown at the premiere of Knock Knock on October 7, 2015
She also had a supporting role in the 2016 biopic dark comedy-drama War Dogs and the biopic sports movie Hands of Stone.
In 2017, she played the holographic AI, Joi, in the sci-fi thriller Blade Runner 2049. She was praised for her role as an immigrant nurse in the 2019 murder-mystery, Knives Out.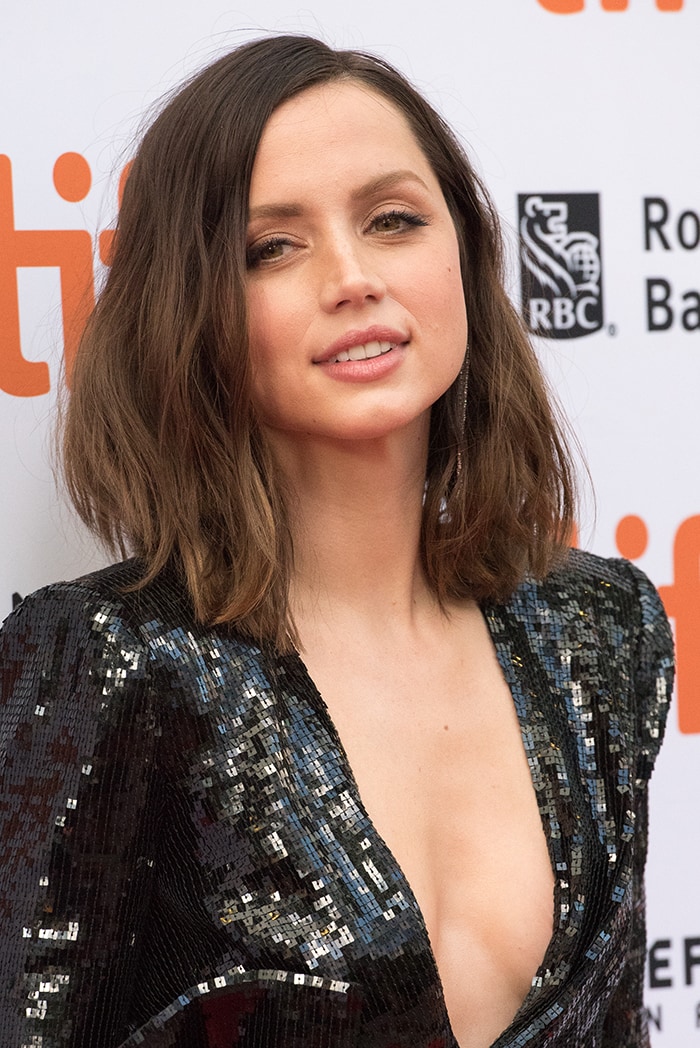 Ana de Armas wears neutral makeup at the Knives Out premiere during TIFF 2019 on September 7, 2019
How Did Ben and Ana Meet?
The two first met on the set of the psychological thriller Deep Water, which began production in November 2019.
In February, Ben spoke about his sobriety in an interview with Good Morning America. He also told Diane Sawyer that in five years, "I would love to have a relationship that is deeply meaningful and one to which I could be deeply committed… Five years from now, Ben Affleck is sober and happy, and sees his kids three and a half days a week, and has made three or four movies that are interesting to him. And directed two [movies] that he is hopefully proud of and is in a healthy, stable, loving, committed relationship."
Ben and Ana's Relationship Timeline
On March 5, Ben and Ana were spotted on a vacation in her hometown of Havana, Cuba.
An insider told Page Six that "They [Ana and Ben] were beaming. I saw Ana grab Ben's arm as they walked out together, they looked super happy. She's absolutely stunning. I think they're dating."
Several fans were also able to take pictures of the two while exploring Havana. They were seen shopping, visiting museums, and strolling around the city.
Another source told People that the pair left Havana on March 7 and were seen making out before they boarded a private jet. "They are definitely dating," the source added.
The source, who works with Ben and Ana in their upcoming movie, Deep Water, also said: "Ben and Ana had a great time in Havana. Ana was his tour guide and took him to all her favorite places."
"Ben seemed to love the trip. He was in a great mood and very friendly. He was approached by fans multiple times and happily posed for pictures. They visited several restaurants and enjoyed Cuban cuisine," the source added.
A few days later, on March 10, Ben and Ana enjoyed a beach vacation in Costa Rica.
For her Vogue Spain April cover story, Ana spoke about her fame and her thoughts about her Deep Water co-star Ben.
"The first time we read the scenes together, it became pretty clear he [Ben] was going to do something exceptional with a very complex role. His character is the engine of the story and requires him to move between tragedy and irony or between realism and the most absurd comedy. Not only does he know how to do it with ease, he also manages to surprise you in every shot. His talent is infinite," Ana said, as translated by Metro.
On March 18, Ana took to Instagram to post a series of photos that Ben took of her from their Costa Rica getaway.
View this post on Instagram

Since then, Ana and Ben have been spotted multiple times around Los Angeles amid coronavirus pandemic.
What's Next for Ana de Armas?
Ana has now become one of the hottest rising stars in Hollywood, with six films under her belt this year. She starred in the crime drama The Night Clerk, in the biopic drama Sergio, and in the drama movie Wasp Network.
The psychological thriller Deep Water, wherein she plays Ben's wife, is set to be released in US theaters on November 13.
She's also starring in No Time to Die, which is the 25th installment in the James Bond film series. It was originally scheduled to be released this month but was postponed to November 12 due to the COVID-19 pandemic.
She also got the lead role in the upcoming Netflix drama, Blonde, where she will portray the famous blonde bombshell, Marilyn Monroe.
Credit: Jaime Espinoza / Brian To / Instar / WENN