If you're a fan of fashion bloggers, there are a few brands you can probably instantly spot. Their silhouette, color scheme, and aesthetic are instantly recognizable. Zimmermann is a mid-level luxury brand that falls right into this category.
This Australian brand is a contemporary icon that counts Heidi Klum, Olivia Palermo, Jessica Alba, and Selena Gomez among its loyal followers. You'll be right at home in Zimmermann if you enjoy feminine silhouettes, intricate detailing, and floral prints.
Zimmermann is a mid-level luxury fashion brand with an influential celebrity following (Credit: Heerapix / Shutterstock)
We're deep diving into this celebrity-favorite brand to share everything that you need to know about Zimmermann.
Zimmermann: A Fashion Brand Built on Family, Creativity, and Hard Work
Zimmermann is the namesake brand of sisters Nicky and Simone Zimmermann. Their womenswear label quickly gained a loyal following amongst modern women looking for clever cutting, intricate silhouettes, and quality fabrics. Zimmermann began in Sydney with Nicky's early designs being sold in Paddington markets.
It's where the sisters experimented with aesthetics before a two-page editorial in Australian Vogue turbo-charged their growth and led to the opening of their first store in Darlinghurst.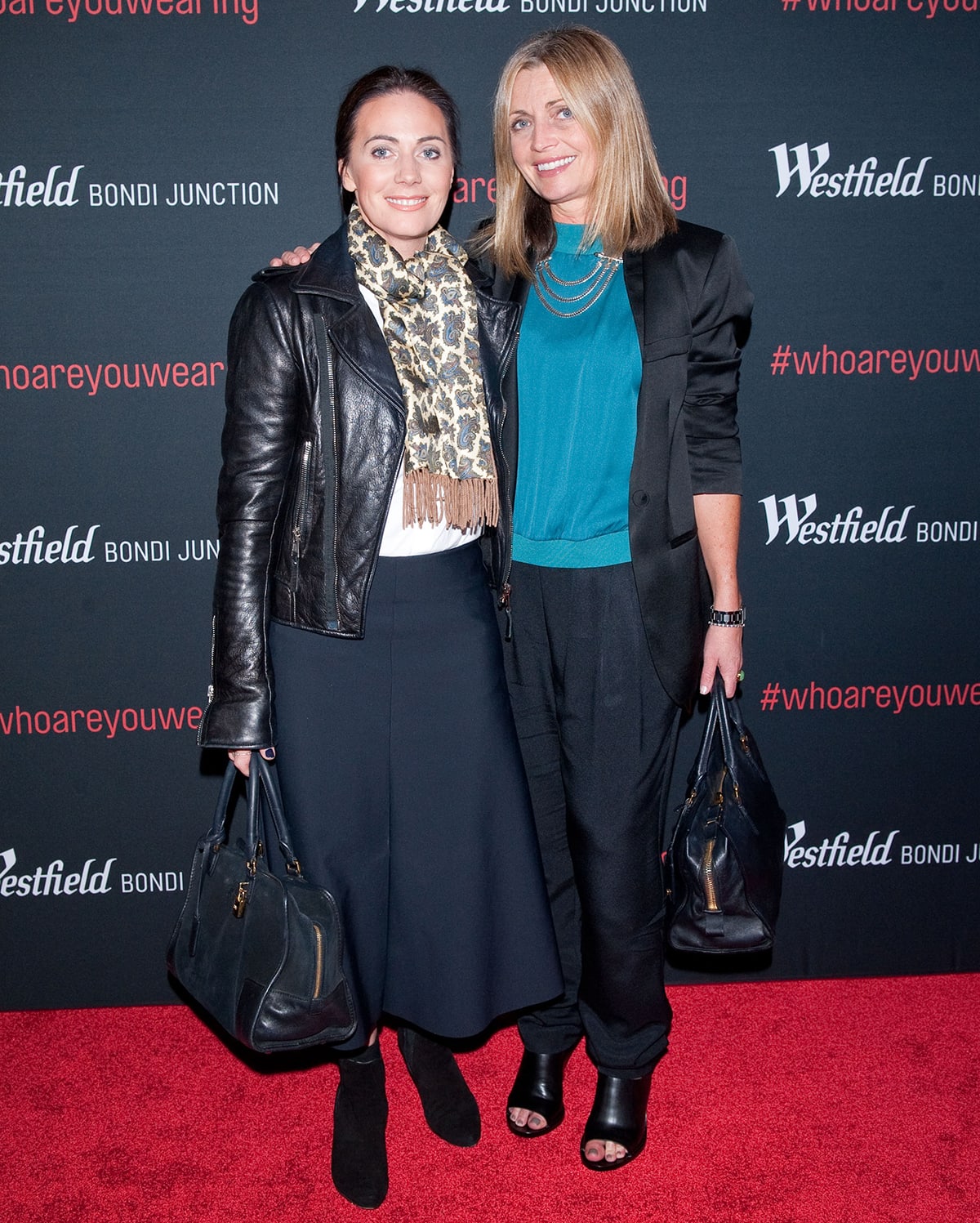 Australian siblings Simon and Nicky Zimmermann founded their namesake fashion label in 1991 (Credit: Mark Stanley / Startraksphoto)
Nicky's sister Simone joined Zimmermann in 1991 to develop the brand's growth and image. What made Zimmermann stand out in the '90s was its focus on fusing fashion with swimwear. While Zimmermann is now famous for its dresses, its swimwear is what made it a household name.
As Zimmermann has grown globally, the brand has launched several diffusion labels, including ZIMMERMANN Swim, Kids, and Accessories brands.
You'll now find Zimmermann regularly featured on the pages of the world's most infamous fashion magazines, from Vogue to Elle and Harper's Bazaar.
Zimmermann has grown globally and has launched several diffusion labels, including ZIMMERMANN Swim, Kids, and Accessories brands (Credit: Zimmermann)
Since 2011, Zimmermann has exploded on the international scene with stores across Europe and the United States. Part of Zimmermann's DNA is its commitment to "make beautiful clothes in a beautiful way" with its sustainable craftsmanship and responsible production.
Zimmermann: The Brand That Defines Beachy Chic
You can spot a Zimmermann bikini by its sculptural shape and bold prints with a flattering but stylish silhouette. Its dresses take a whimsical and ethereal aesthetic, focusing on light color palettes and feminine silhouettes.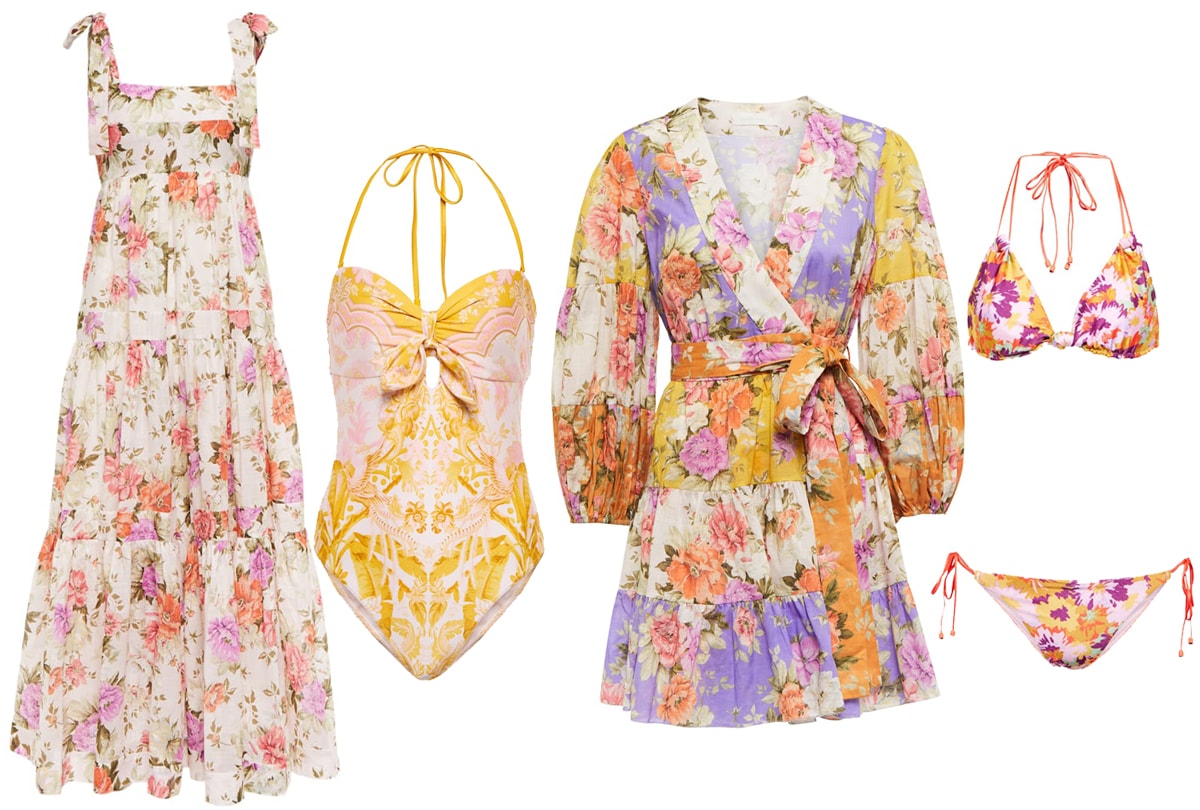 Zimmermann is known for its feminine silhouettes, bold prints, and use of light color palettes
As an Australian brand, Zimmermann leans heavily into a resort look. Its ready-to-wear collections combine bohemian romanticism with modern simplicity.
While Zimmermann's most recognizable designs are its dresses and bikinis, the brand is also known for its two-piece sets, shorts, and silk scarves.
View this post on Instagram
No spring and summer closet is complete without a capsule collection of Zimmermann pieces. If you love to jet off somewhere exotic, you'll enjoy your Zimmermann pieces 365 days a year.
Where are Zimmermann Dresses Made?
One controversy around Zimmermann is where the brand's dresses are made. Eagle-eyed fashion lovers often raise an eyebrow at the "designed in Australia, made in China" tag inside Zimmermann dresses.
Zimmermann dresses are made in China, while footwear and accessories are made in Italy, Australia, and Portugal. The brand is often criticized for manufacturing its clothing in China when it has a three and four-figure price tag.
Zimmermann manufactures its dresses in China, while its footwear and accessories are made in Italy, Australia, and Portugal
However, many brands are choosing to export their clothing production to China. Tory Burch is one of the few New York brands to find international success in recent years. It embraced the 'Made in China' potential and leveraged it to create high-quality accessories at a mid-tier price point.
Is Zimmermann a Luxury Brand?
Zimmermann is a luxury clothing, swimwear, and accessories brand founded in Australia in 1991 by Nicky and Simone Zimmermann. The brand captures the epitome of Sydney and Australian style at large with its resort wear and elegant daywear.
Zimmermann is a luxury Australian fashion brand with prices ranging from $600 to $3,000 (Credit: Zimmermann)
You can expect to pay anywhere from $600 to $3000 for Zimmermann pieces. You can purchase directly from Zimmermann stores and the brand's e-commerce website.
Alternatively, Zimmermann is stocked by all major luxury retailers, including Luisaviaroma, Nordstrom, Harvey Nichols, and Revolve.
Prefer online shopping? You can find some of the largest ranges of Zimmermann clothing at Mytheresa, Farfetch, and Matches Fashion.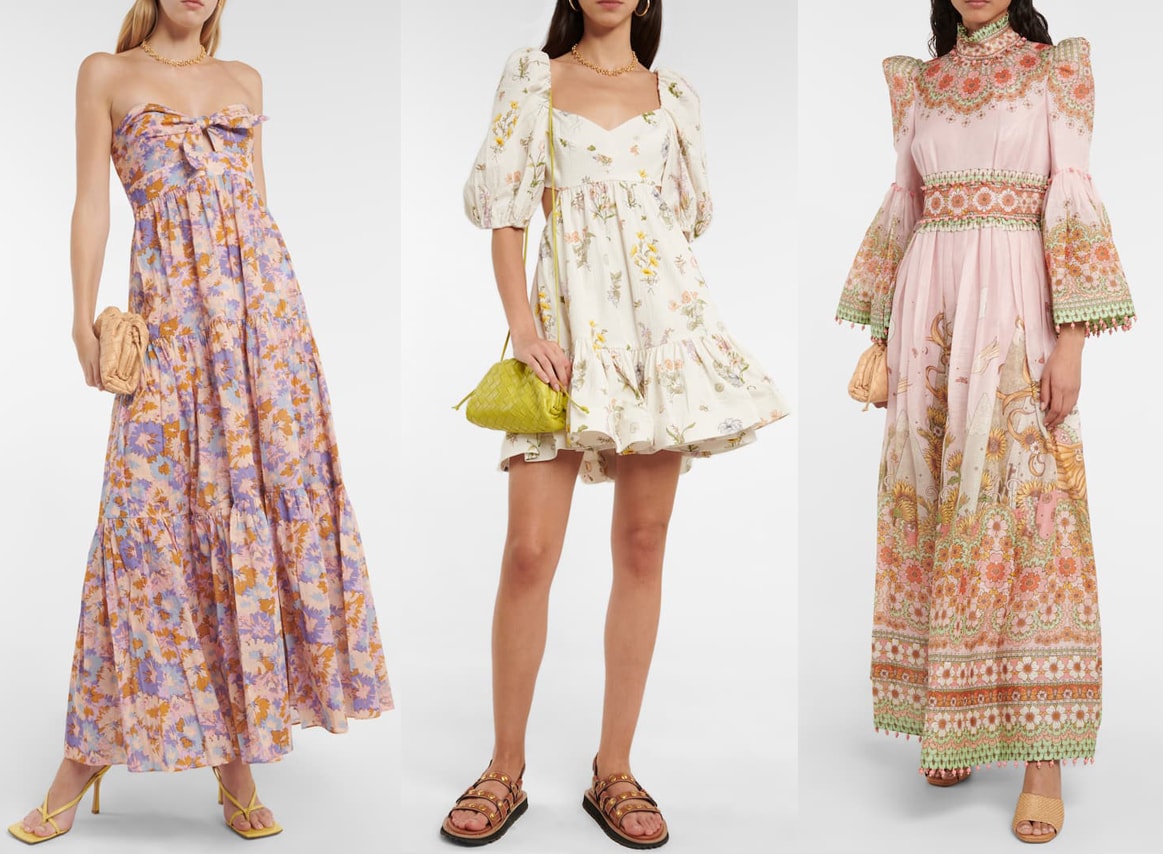 Zimmermann is a mid-luxury fashion label, with dresses priced between $600 and $3000
Zimmermann vs. Other Australian Fashion Brands
You might fall in love with Zimmermann but not want to pay the luxury price tag or prefer a less recognizable brand. If you want to capture the beauty of Australia with feminine, bohemian fashion, you're spoilt for choice.
We're sharing four Australian brands like Zimmermann to add to your closet.
Alice McCall is an eponymous Australian brand that blends romanticism with a playful sense of femineity. You'll get the same bohemian chic look of Zimmermann with an edgier twist.
Look out for playsuits and dresses that are guaranteed to turn heads. You can explore Alice McCall's ready-to-wear to expand your Australian-inspired closet.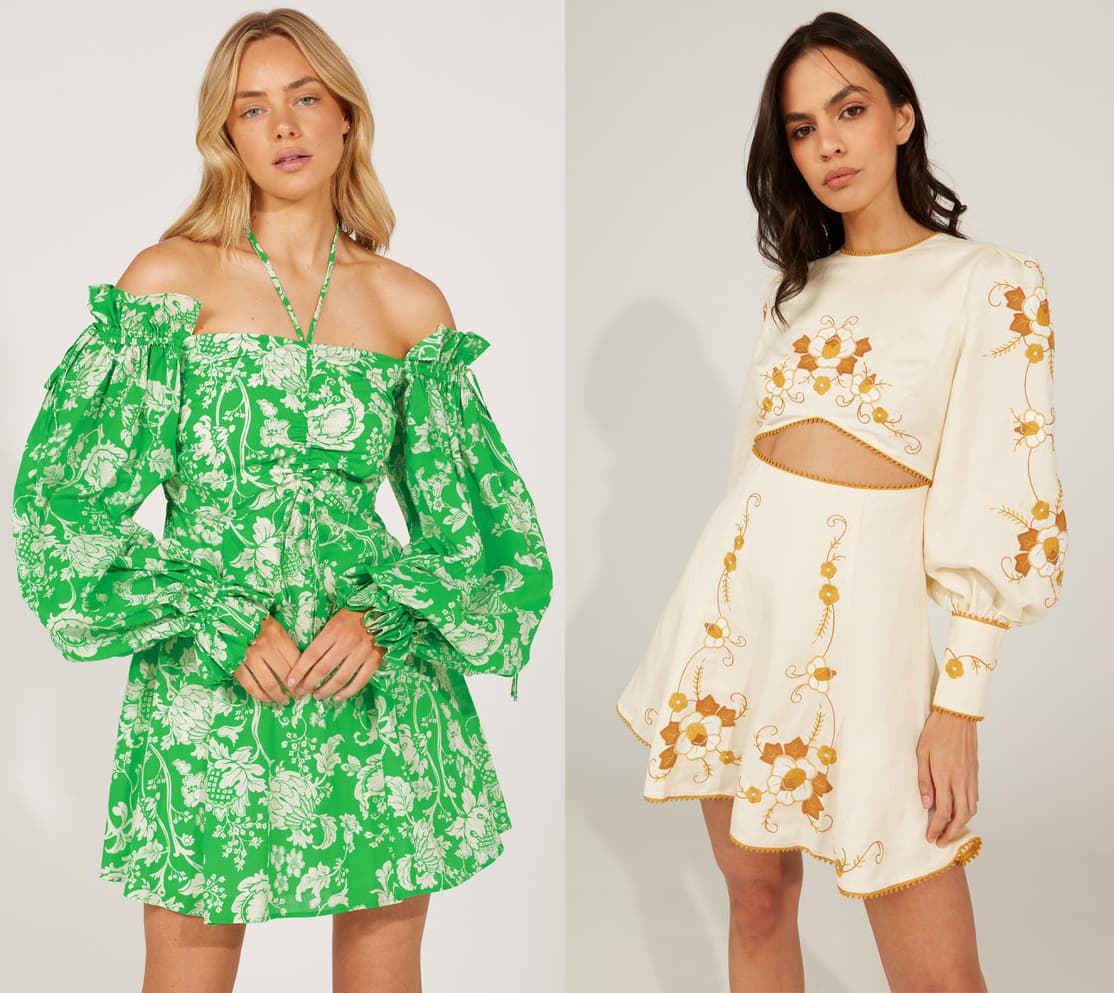 Alice McCall is an Australian brand that offers feminine and playful designs
Love the floral prints of Zimmermann but want a lesser-known brand? It's not uncommon to see the same Zimmerman dress – and lookalike styles – appearing all over your Instagram feed.
Camilla has the same distinctive floral flair as Zimmermann but sits at a slightly more attainable price point while still being a splurge. The brand was launched in 2004 by Camilla Franks and has an international community of followers.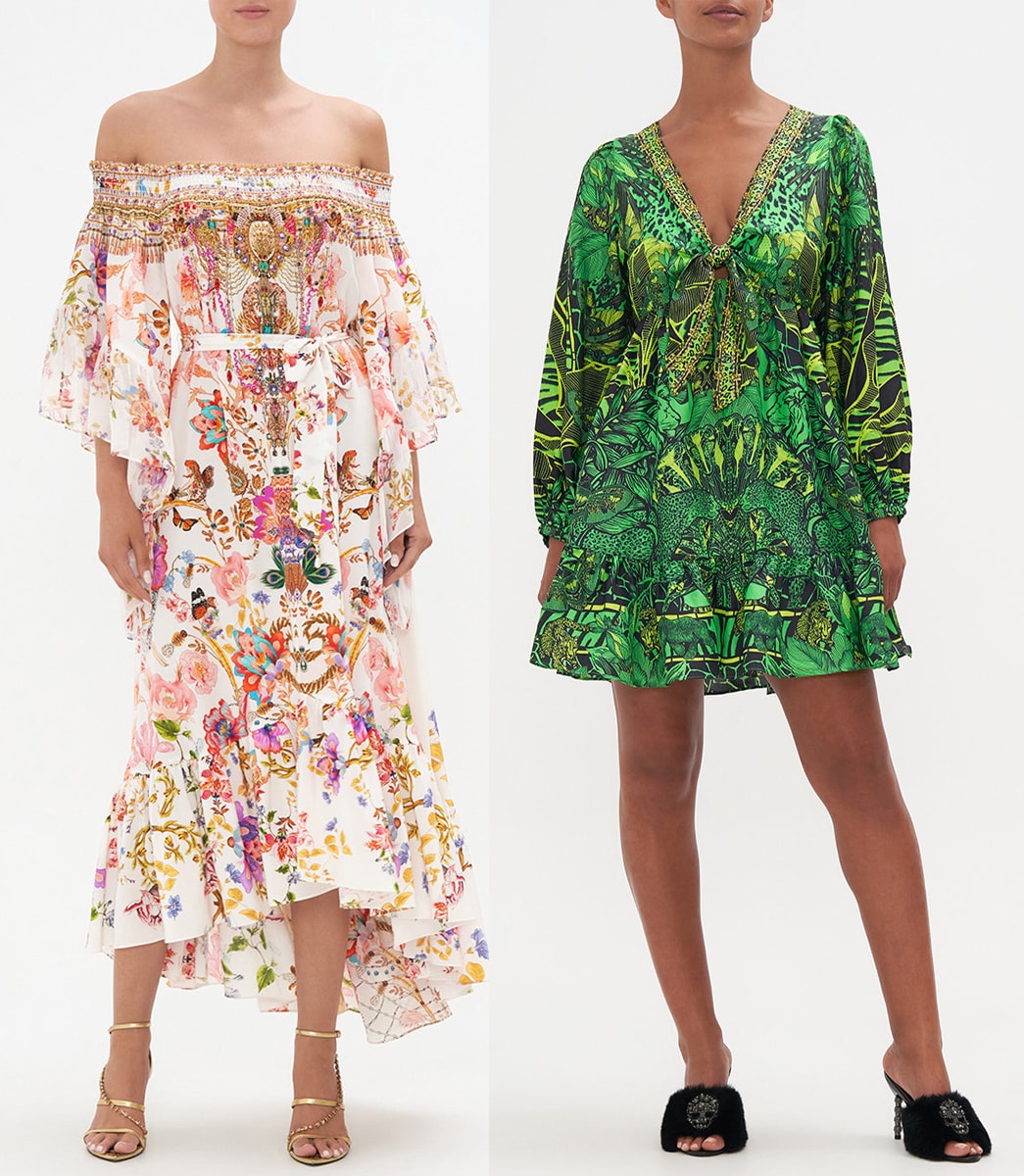 Camilla is one of Australia's leading bohemian luxury fashion labels, famous for its kaftans and dresses
La Maison Talulah explains its heritage as "local ease but with a global opinion – elegance without all the effort, fashion without all the fuss."
This brand captures the feminine but sexy feel of Zimmermann with a community of chic women, from Jennifer Hawkins to Kate Waterhouse, taking the brand global.
Talulah leans heavily into exclusive prints, bold colors, and unique textiles for its bold designs and distinctive silhouettes.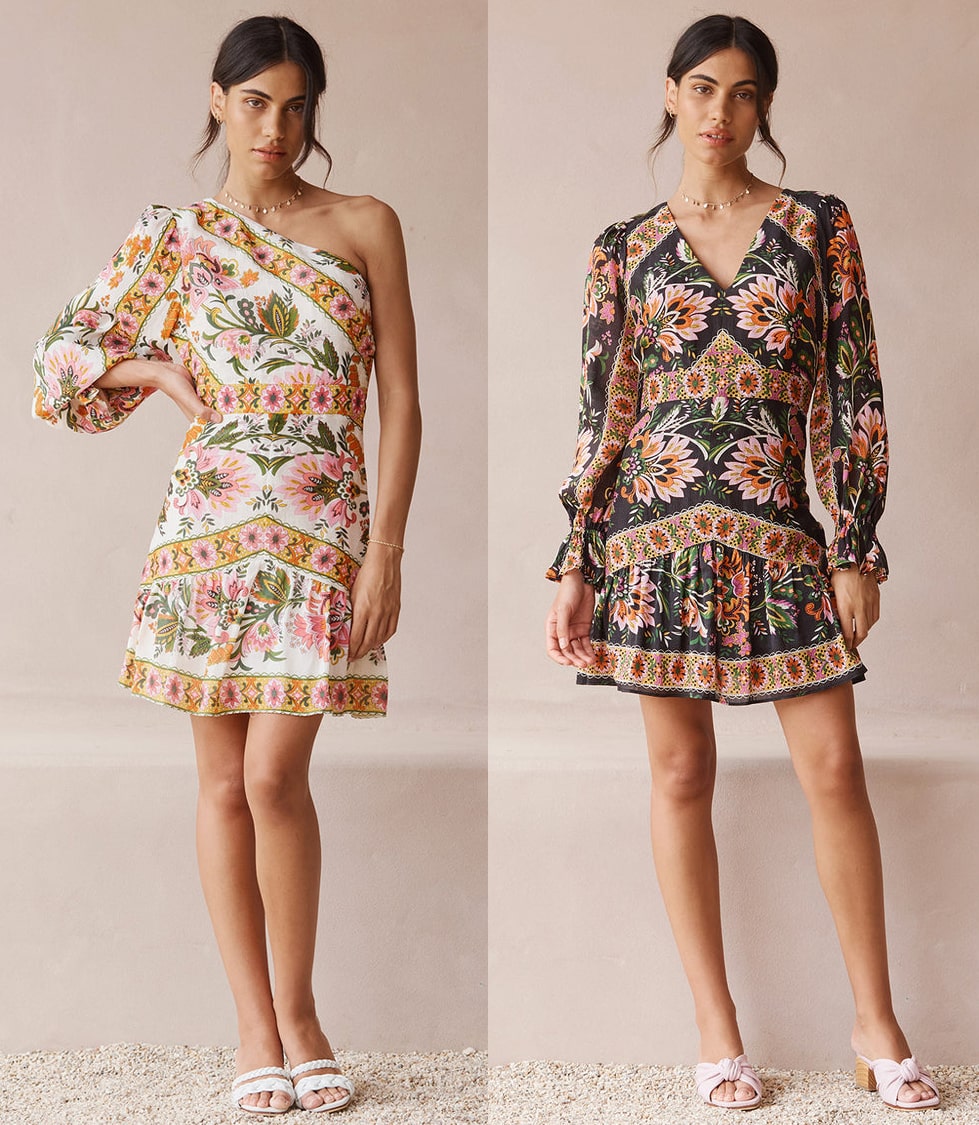 La Maison Talulah has been designing effortlessly elegant, feminine clothes for all occasions for modern women across the globe
Another Australian brand that should be on your radar is Stevie May. The brand is grown from a belief that every woman deserves clothes that match her lifestyle, 365 days a year.
Stevie May is inspired by the bohemian aesthetic of the 1970s with feminine styles that look like they could be sisters with your favorite Zimmermann dresses.
What makes this brand different is its more affordable price point. You can get the Zimmerman aesthetic without spending thousands of dollars on a dress.
Australian label Stevie May offers feminine silhouettes with bohemian aesthetics at affordable price points
Zimmermann is a contemporary luxury brand that deserves a spot in your closet. While it's a favorite amongst fashion bloggers and celebrities, Zimmermann dresses go on sale seasonally.
Look out for discounts and end-of-season sales from online boutiques like Farfetch and Saks OFF 5TH to find Zimmermann dresses on sale.