Jennifer Lopez enjoyed two casual days out in Los Angeles with her blended family.
When she's not busy winning awards or promoting her latest projects, Jennifer likes to spend her time with the people she loves the most.
Aside from co-parenting twins Emme and Max Muñiz with her ex-husband Marc Anthony, she also welcomed fiancé Ben Affleck's three children with ex-wife Jennifer Garner – Seraphina, Violet, and Samuel – into her growing family.
Last month, Jennifer posted a sweet Father's Day message to Ben on Instagram. She called him "the most caring, loving, affectionate, consistent and selfless Daddy ever." Jennifer also shared a video of her and Ben with photos and snippets of their time together over the years.
View this post on Instagram
Luxury car shopping
Earlier this month, the couple was spotted at the Rolls Royce dealership with Ben's 10-year-old son Samuel.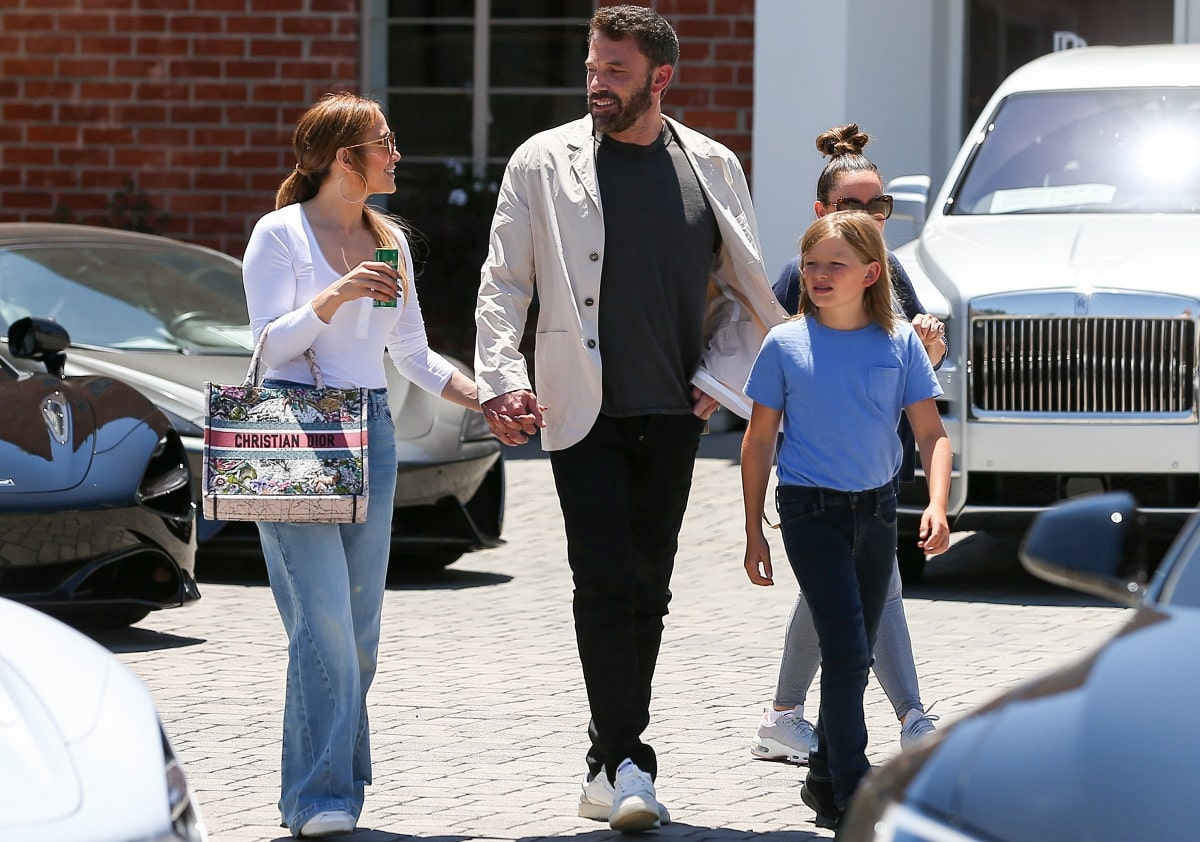 Jennifer Lopez with fiancé Ben Affleck and his son Samuel at the Rolls Royce dealership in Los Angeles, California on July 2, 2022 (Credit: BauerGriffin / INSTARimages)
The A-list stars couldn't keep their hands off each other. They were seen holding hands or wrapping their arms around each other as they looked around.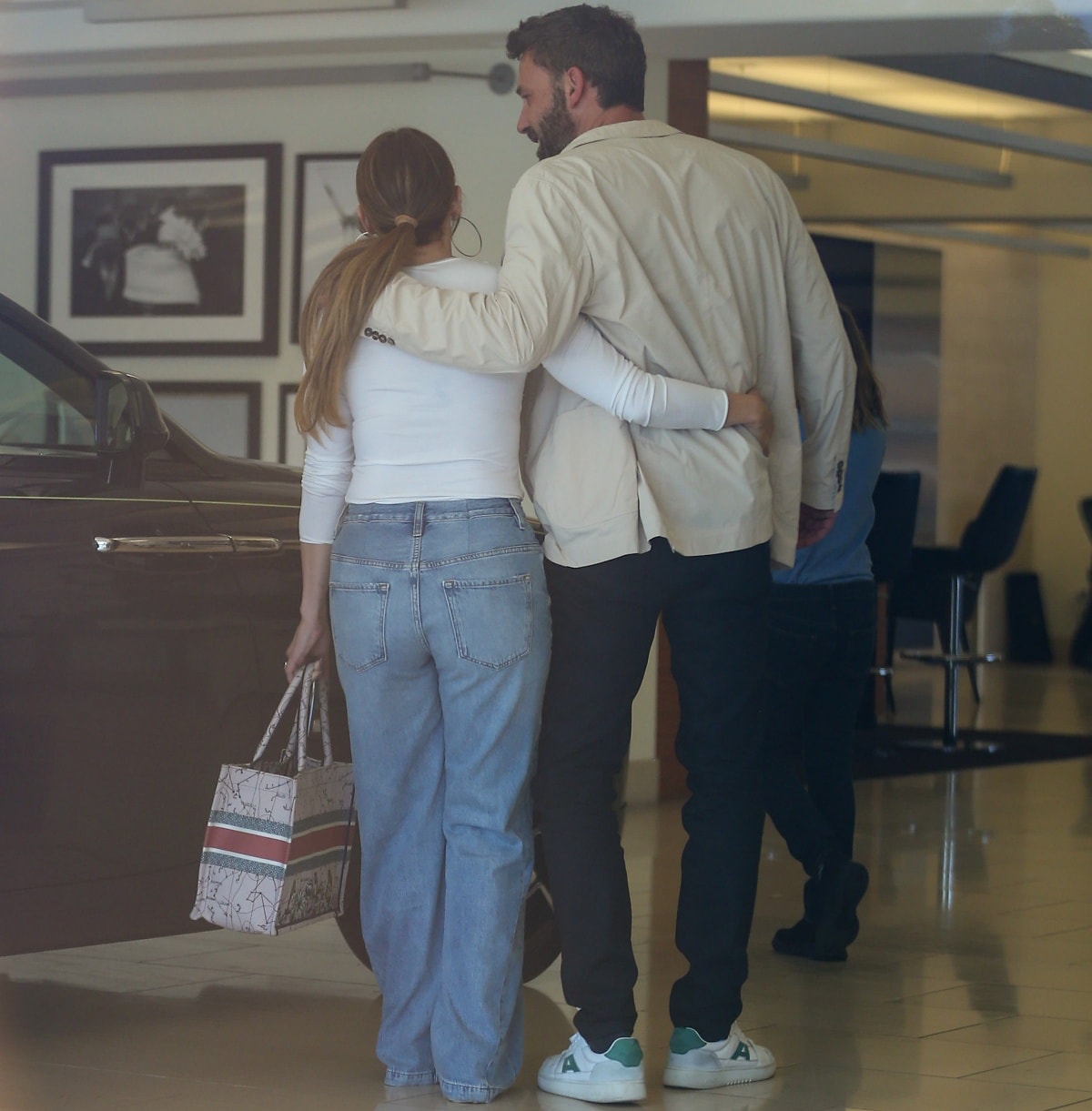 Ben Affleck wrapped his arm around his fiancée Jennifer Lopez as they looked around the Rolls Royce dealership in Los Angeles (Credit: BauerGriffin / INSTARimages)
Jennifer dressed casually in a white Wolford scoop-neck Henley bodysuit with long sleeves that you can buy at Farfetch.
She tucked it into light blue loose-fitting jeans from Flare and carried a can of Perrier mineral water to keep herself hydrated in the summer heat.
Of course, nothing's ever really casual about any of Jennifer's looks. She always has to add her signature glam touch to whatever outfit she's wearing.
This time, she accessorized with gold-tinted sunglasses, oversized hoop earrings, and her favorite floral print Dior Book tote.
The 52-year-old superstar finished off her look with white sneakers from Coach. Her shoes were mostly covered by the long hem of her jeans, but she wore C101 sneakers with ripple outsoles for traction.
Jennifer Lopez wearing a white Henley, Flare jeans, and Coach sneakers in LA (Credit: BauerGriffin / INSTARimages)
Meanwhile, Ben opted for business casual in a cream-colored jacket over a dark grey T-shirt with black jeans and lace-up sneakers.
Samuel, on the other hand, dressed comfortably in sneakers and a blue T-shirt tucked into dark denim jeans.
Taking a family stroll at a flea market
The next day, the engaged couple was seen at the Melrose Trading Post. Jennifer had her hand around Ben's arm as they walked around the open-air market in LA.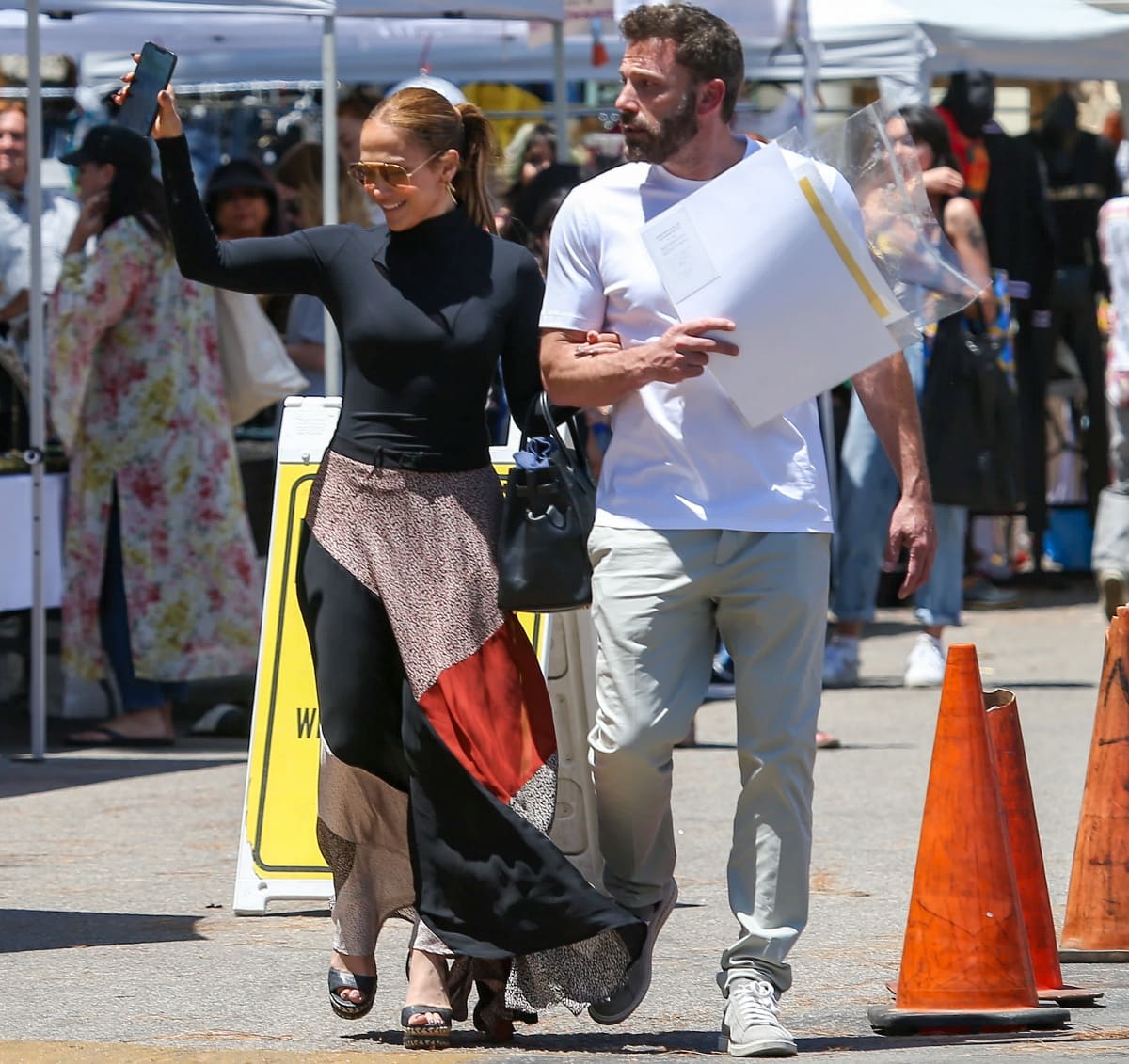 Jennifer Lopez and Ben Affleck taking a stroll at the Melrose Trading Post in Los Angeles, California on July 3, 2022 (Credit: BauerGriffin / INSTARimages)
It was a family affair as they took Ben's son Samuel and Jennifer's daughter Emme with them. Emme kept close to their mom, while Samuel held on to Jennifer's hand.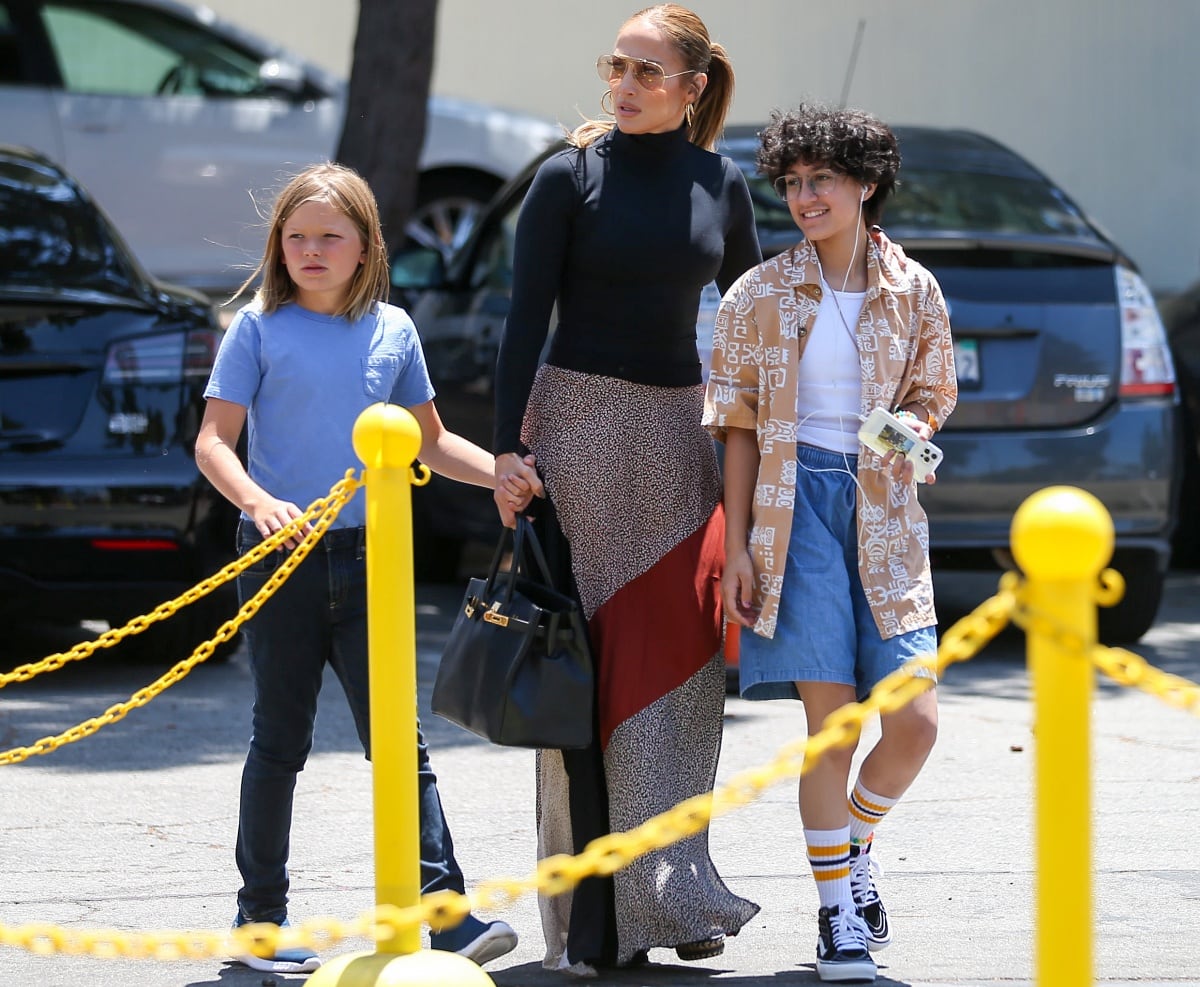 Samuel Affleck, Jennifer Lopez, and Emme Muñiz at the Melrose flea market in LA (Credit: BauerGriffin / INSTARimages)
While no one can deny that Jennifer looked fabulous, it's baffling how she managed to endure the summer heat in that long-sleeved black turtleneck.
However, the rest of her look did seem season-appropriate. She wore a flowy color-block maxi skirt and swept her hair up in a sleek ponytail. Jennifer also wore Ray-Ban Aviator shades and her favorite hoop earrings. She carried a black Hermes Birkin handbag to add a luxe touch to her outfit.
As for her footwear, Jennifer wore open-toed wedge sandals. These summer staples featured leather uppers and woven wedge heels.
Meanwhile, Ben kept it casual in a white T-shirt with khaki pants and grey lace-up sneakers.
Jennifer Lopez in wedge sandals and Ben Affleck in grey sneakers as they took a stroll around Melrose Trading Post in LA (Credit: BauerGriffin / INSTARimages)
Showing support to her fellow Latinas
The multi-hyphenate star is all about supporting her fellow Latinas and uplifting her community. She is the pride of her people with a successful career to back up that claim.
In fact, she's just been immortalized in three murals all over New York to celebrate her decades-long career and social responsibility.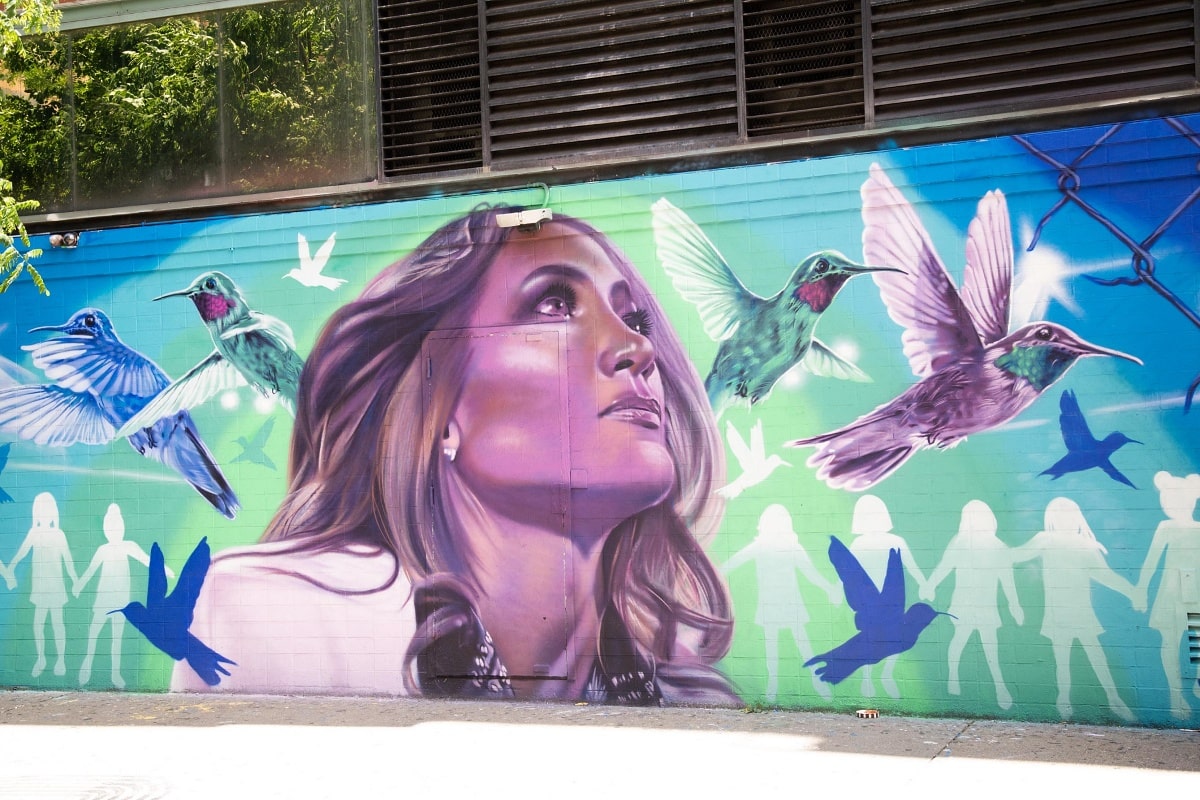 Jennifer Lopez mural created by artist Nicole "Nico" Holderbaum as seen on 100 Ludlow Street in New York (Credit: Janet Mayer / Startraksphoto)
As if that's not enough, Jennifer also aims to "change the fabric of America" for Latina entrepreneurs.
Last month, in an interview with Good Morning America, Jennifer spoke about teaming up with the non-profit organization Grameen America. The goal is to provide $14 billion dollars in loans to help low-income Latina entrepreneurs by the year 2030.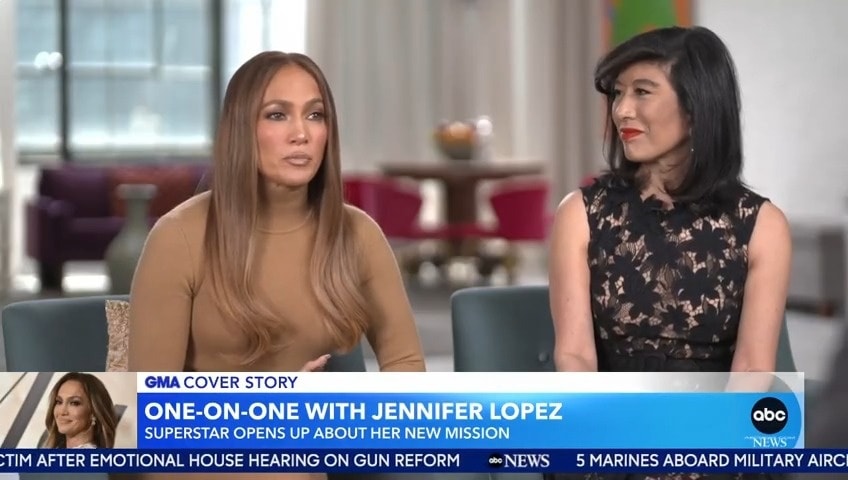 Jennifer Lopez and Andrea Jung sat down for an interview with Good Morning America (Credit: Good Morning America's Twitter)
Grameen America president and CEO Andrea Jung talked about how Jennifer Lopez is the "ultimate spokesperson" for helping people "understand that they can change their lives."
If anyone knows how to start from the bottom and work their way up to the top, it's Jennifer Lopez. From starting out as a Fly Girl to finally landing a breakout role in Selena, she did the work and successfully dominated every industry.
Spreading "more love and positivity"
When asked about the importance of Latinas in the country, Jennifer replied: "They're just tough." She went on to describe them as "entrepreneurial," "inventive," and "creative."
Jennifer also tearfully discussed why this topic was so important to her: "When you get a little bit older, you understand the meaning behind things. You've seen enough and you had your own struggle, and you've seen enough injustices."
She said that the country needs "more love and positivity." Jennifer also added that it needs "people who want to do good things and are not fighting each other and who are just giving each other a hand up."
That's what she's trying to do with this collaboration with Grameen America. She wants to reach out a hand to her fellow Latinas and give them the push that they need to improve their lives.
The best time of her life
Later on in the interview, ABC News' John Quiñones asked Jennifer about Ben and the state of their relationship.
Her answer was simple: "This is the best time of my life."
She further explained that while she loves her career, "nothing is more fulfilling to me than being able to build a family with someone who I love deeply and who is just as dedicated to family and to each other as we can be."
If that sounds familiar, it's because this was the part of the interview that was interspersed in Jennifer's video for Ben as a Father's Day gift.
Jennifer added that while she loves "the idea of the future and what we can create," what she really wants is to "savor the moment."
She ended it by saying that she just wants to "stay real present in it as much as I can."