In 1996, Salma Hayek famously turned down the role of the title character in the American biographical musical drama film Selena. Over 21,000 people auditioned for the title role, which in the end was given to Jennifer Lopez.
Jennifer Lopez was 27-years-old when filming Selena
Principal photography began in September 1996 when she was 27-years-old. Jennifer Lopez turned 28 on July 24, 1997, just over four months after Selena was released on March 21, 1997.
Did Jennifer Lopez lip-sync in Selena?
She didn't sing in the movie because it is a tribute to Selena Quintanilla-Pérez. Jennifer just lip-syncs to her tracks in the film.
"[The movie] made me realize, don't neglect parts of yourself and let people put you in a box because you're an actress. You can do this, and you can also do that," J.Lo told Billboard in 2005, for the 20th anniversary of Selena's death.
"Life is short, and you don't know what's going to happen. Go for your dreams and don't let anyone hold you back."
Jennifer Lopez didn't really sing in Selena
In January 2016, Lynda Lopez's younger sister was gearing up for a busy year. She was dividing her time between her Las Vegas residency, her new television series "Shades of Blue," her American Idol work, and parenting her then 7-year-old twins.
She also made time to stop by the ABC studios to appear as a guest on Jimmy Kimmel Live!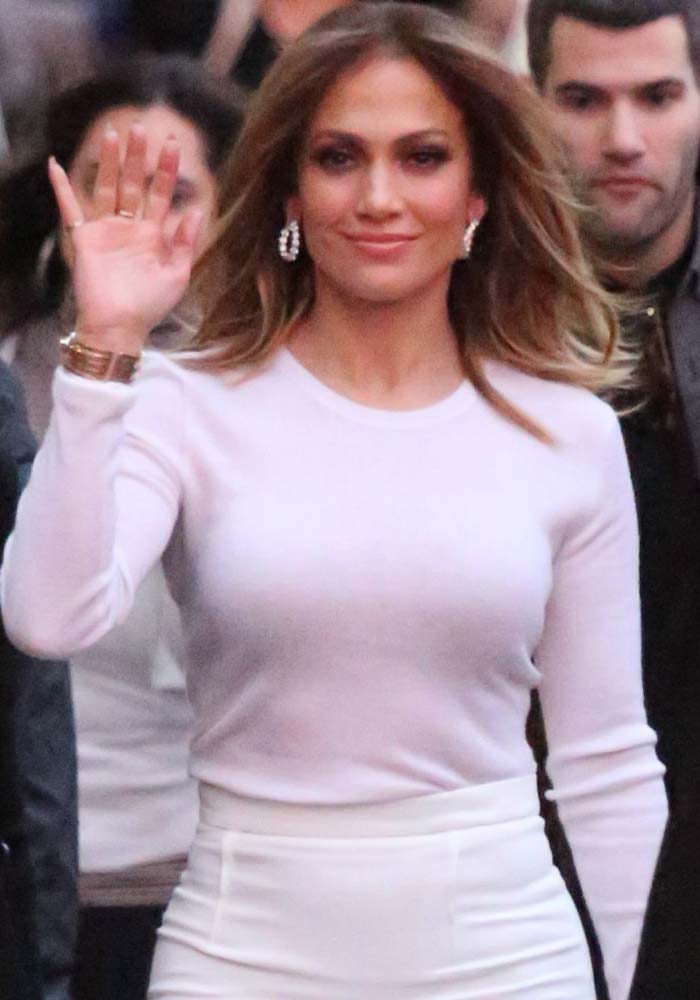 Jennifer Lopez wears her hair down as she arrives at ABC Studios in Los Angeles for Jimmy Kimmel Live! on January 4, 2016
Jennifer arrived in a long-sleeved white top, which she paired with a Roland Mouret "Arreton" wool-crepe pencil skirt.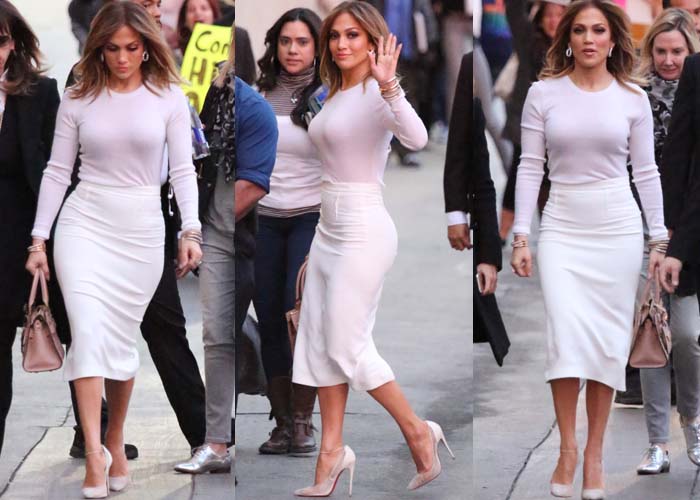 Jennifer Lopez wears a long-sleeved white shirt paired with a Roland Mouret skirt
The pop diva finished her look with the Christian Louboutin "Pigalace" heels in white and a purse from Valentino.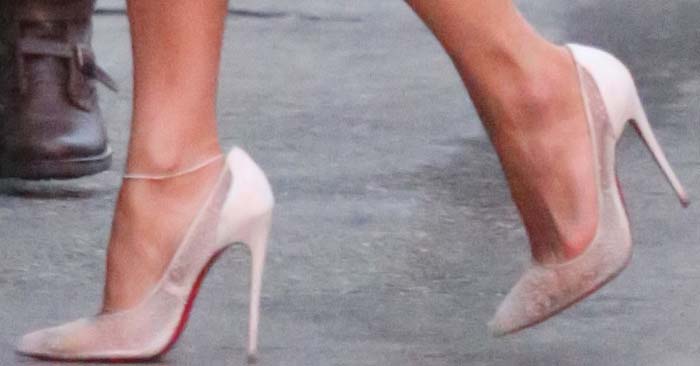 Jennifer Lopez's feet in lacy Christian Louboutin heels
J. Lo even brought a holiday gift for Jimmy as well. It was all part of the show.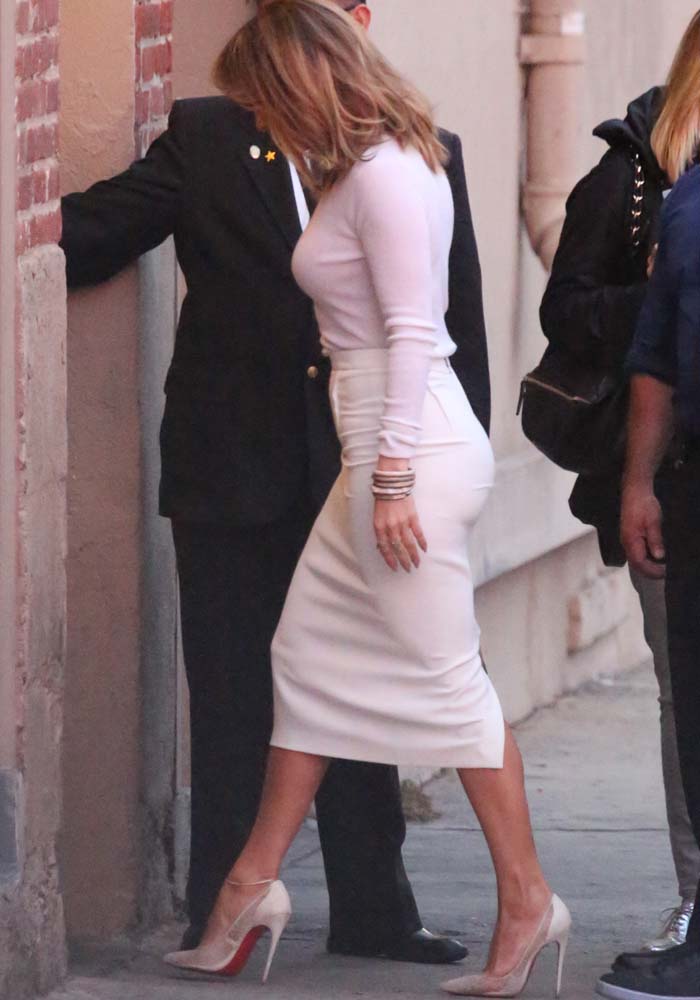 Jennifer Lopez matches her pale pink ensemble with Christian Louboutin pumps
The gorgeous Christian Louboutin "Pigalace" heels are already sold out, but you can buy a similar pair from the same designer, called "Follies," at Net-A-Porter and Nordstrom.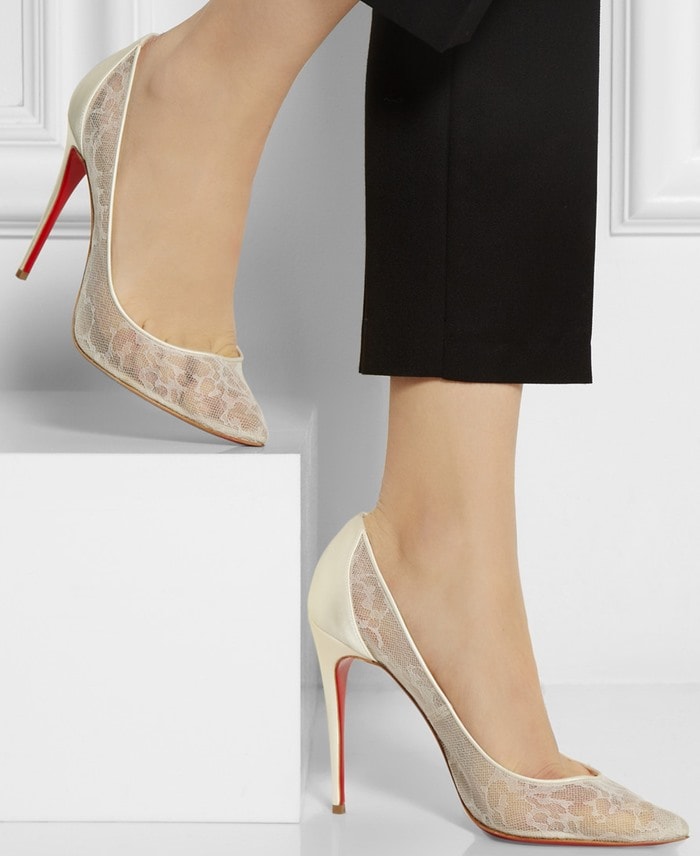 Christian Louboutin's 'Pigalace' pumps are a feminine update on the classic 'Pigalle' style
This off-white satin and lace pump is backed with mesh for structure and will look beautiful with bridal looks
Christian Louboutin "Follies" Lace Pumps, $795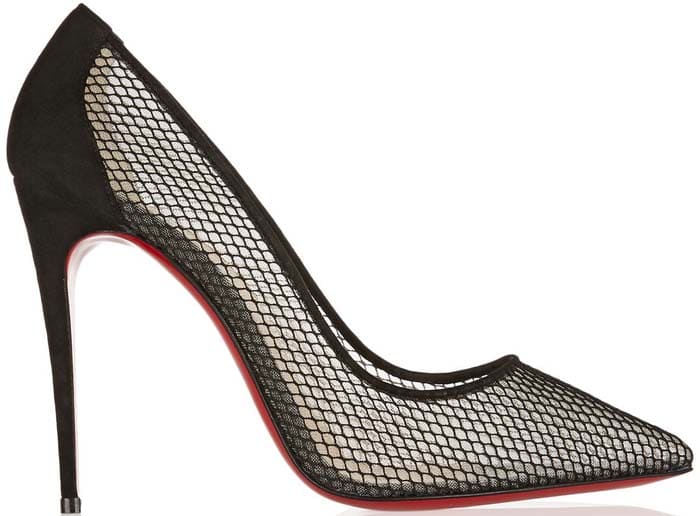 Christian Louboutin "Follies" Mesh Pumps, $745
Credit: Guillermo Proano / WENN