Elle Fanning can't contain her happiness after Tom Cruise complimented her and her sister Dakota for their acting talent.
During his speech ahead of the Cannes Film Festival premiere of his latest movie Top Gun: Maverick, Tom Cruise mentioned the Fanning siblings and praised them for their "contribution to cinema."
Seeing Elle in the audience, Cruise gave her a shout-out and said, "I've seen Elle Fanning here, whom I've known since she was a little girl." "You are a very talented actress, and it's wonderful to see you here and see your sister."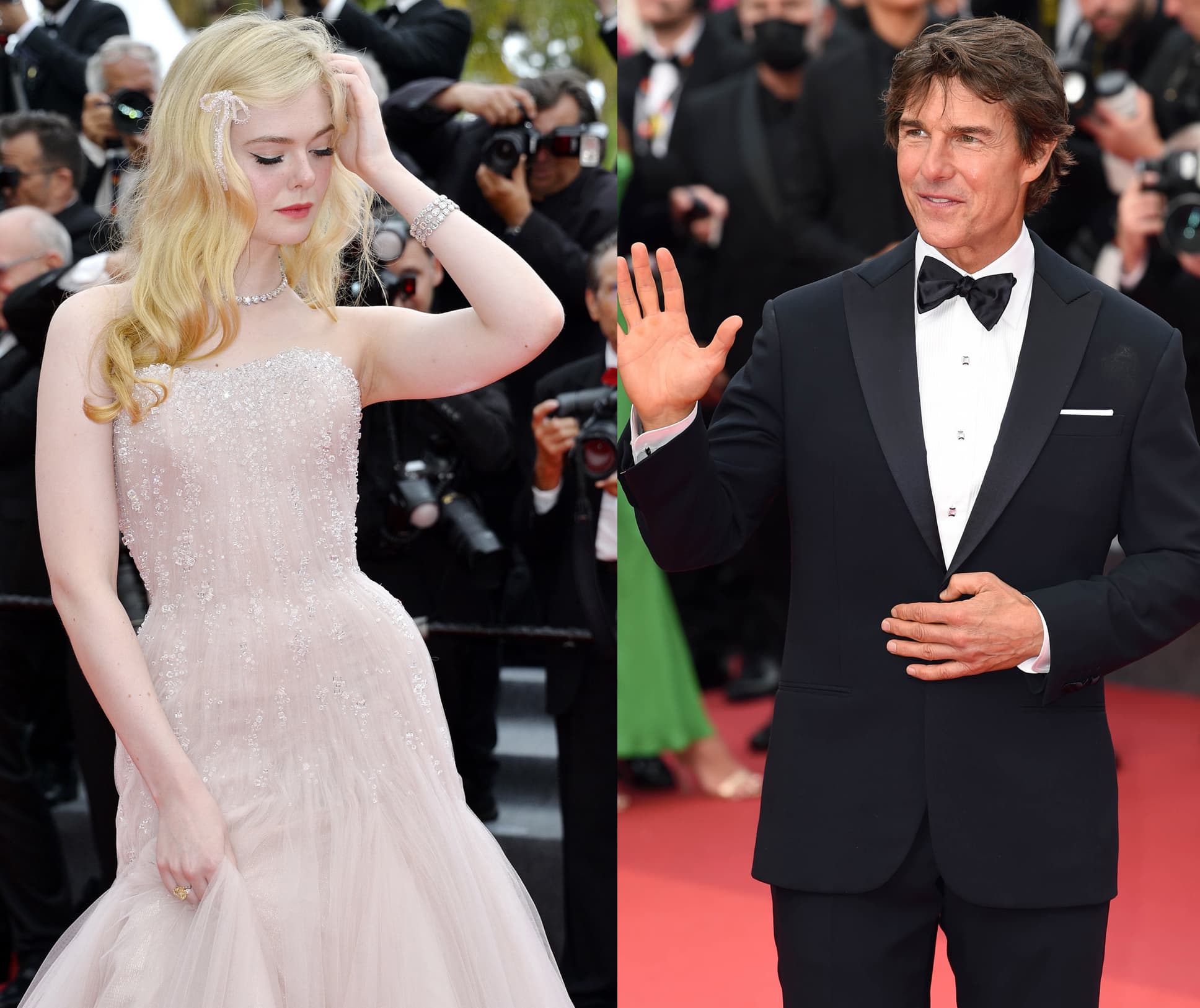 Elle Fanning receives a compliment from Tom Cruise during his speech ahead of the Cannes Film Festival premiere of Top Gun: Maverick on May 18, 2022 (Credit: DDP / PA IMAGES / INSTARimages)
He recalled how confident they were in their acting endeavors even at a young age, saying, "[Elle's] going, 'I'm an actress,' and I said, 'I know you are.'"
"I was working with Dakota, who's a genius, and I was there with Elle, so I said, 'What are you gonna do?' She was like, 'I'm an actress, too.' I was like, 'Yes, you are.'"
"It's so beautiful to see the generations and all of these actors and your contribution to cinema. So, thank you," he added.
How old was Dakota Fanning in War of the Worlds?
Katie Holmes' ex-husband worked with Elle's big sister Dakota Fanning on the Steven Spielberg movie War of the Worlds in 2005.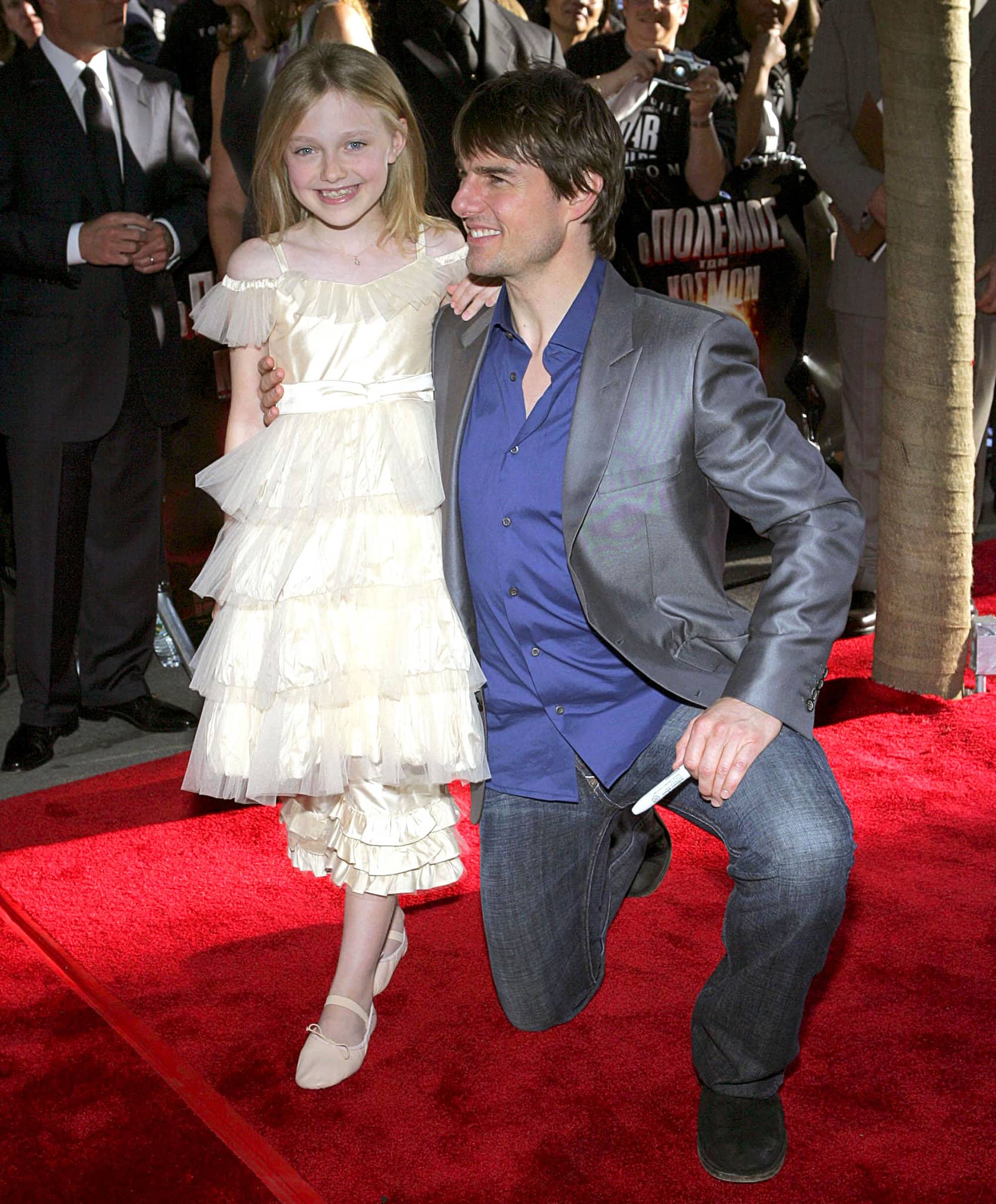 Dakota Fanning with Tom Cruise at the US premiere of War of the Worlds on June 23, 2005 (Credit: Everett Collection / Shutterstock)
Playing Rachel Ferrier, the daughter of Tom Cruise's character Ray Ferrier, Dakota was 11 years old when the 2005 American science fiction action film War of the Worlds was released in North America on June 29, 2005.
Filming started on November 8, 2004, when she was 10 years old. She turned 11 on February 23, 2005, just days before filming wrapped on March 7, 2005. Tom Cruise, who played her father in the movie, was 42 when filming the fourth most successful film of 2005.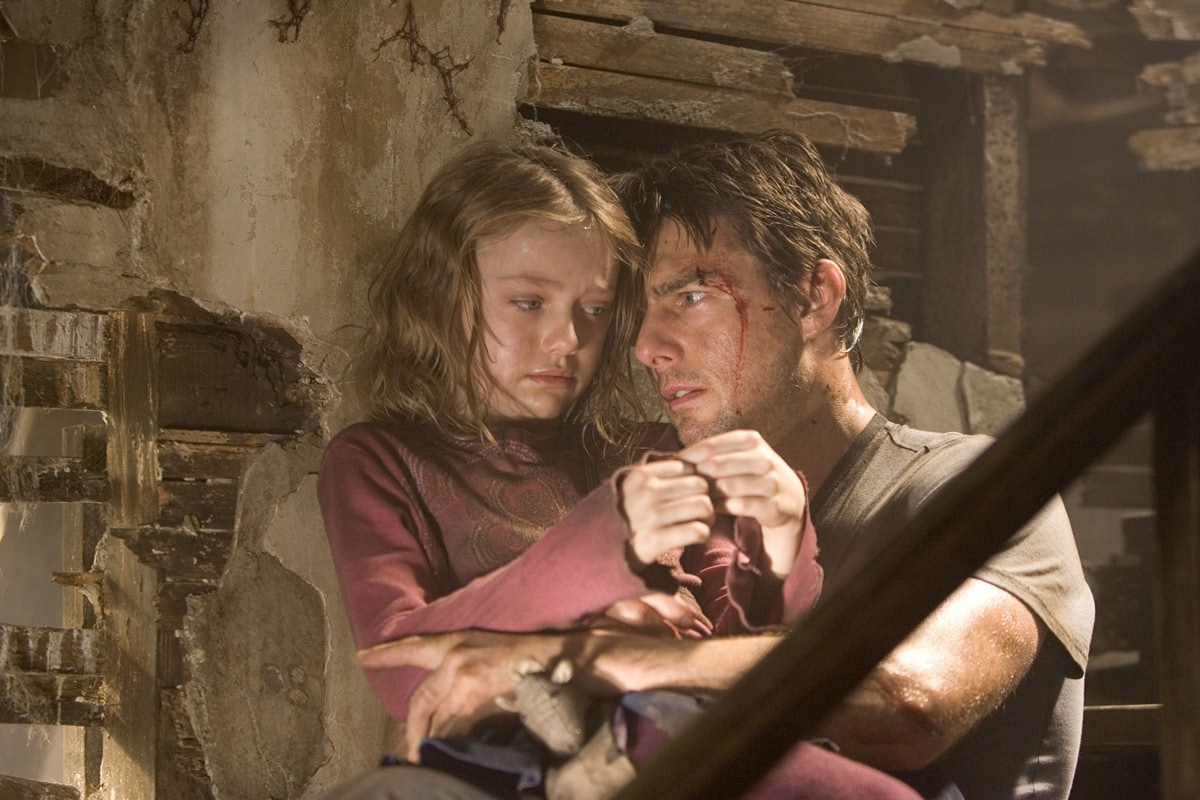 Dakota Fanning was 10 years old and Tom Cruise was 42 during the filming of War of the Worlds (Credit: Paramount Pictures)
Following the event, Elle told People she "was freaking out" and "sort of crying/blushing" during Tom's speech.
"I was waking up pinching myself. Did that really happen last night? Was I dreaming?"
She added that the actor "made it a point to kind of stay in [Dakota's] life" even after filming War of the Worlds, "which was so kind."
"He sends her a birthday gift every single year still. We get the coconut cake that he sends, which I know Kirsten Dunst said she gets one, as well, from working with him in Interview with the Vampire," she shared.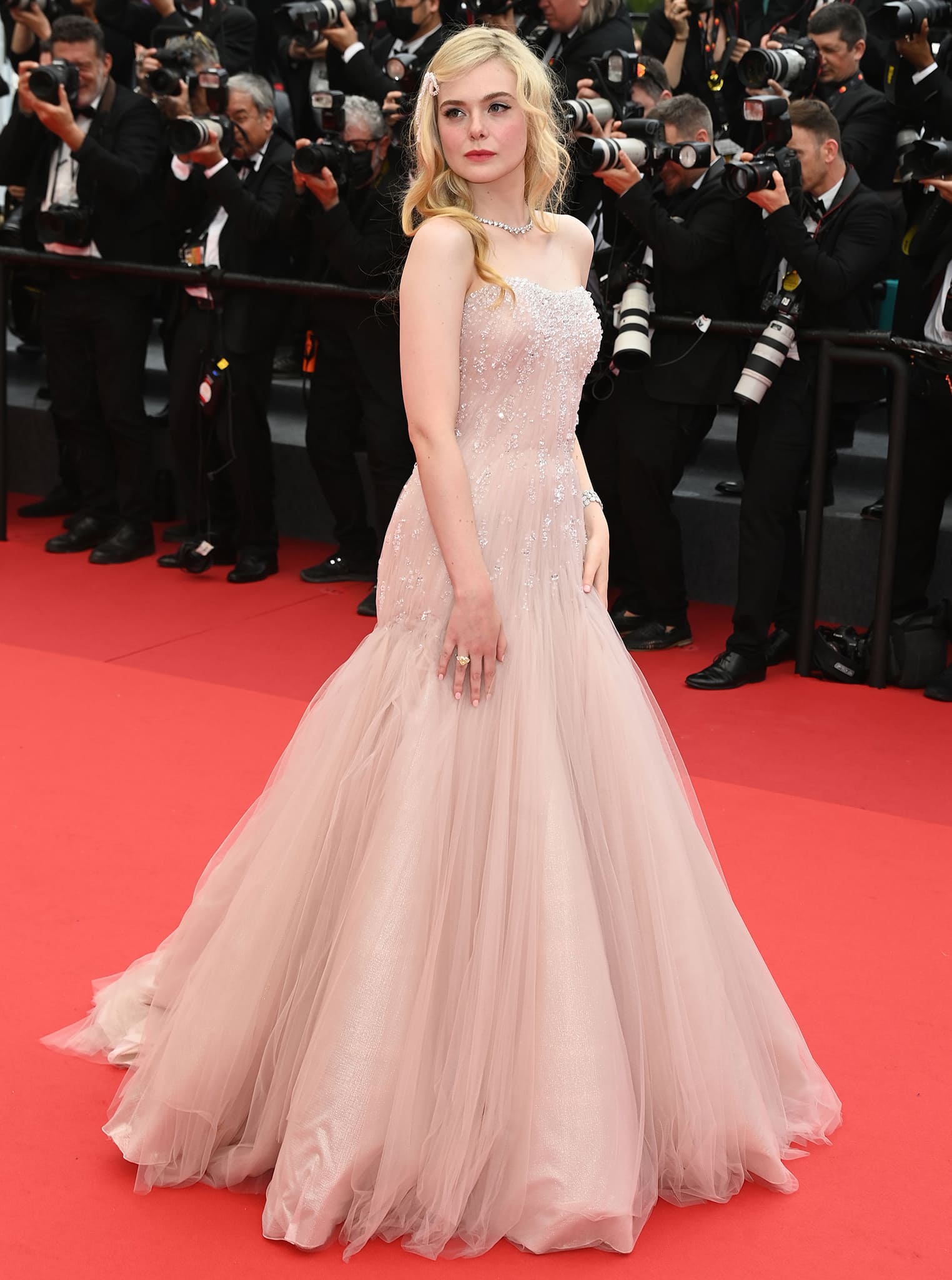 Elle Fanning wows in a custom Armani Prive powder pink gown (Credit: PA IMAGES / INSTARimages)
The Great Season actress constantly wows on the red carpet, and it was no different at the 75th Cannes Film Festival.
Elle brought out her inner princess in a stunning powder pink gown by Armani, whom she thanked for making her "dreams come true with this custom dress."
It's a strapless gown embellished with crystal beads on the fitted bodice and features a cinched-in waist that flares out into a flattering mermaid tulle skirt.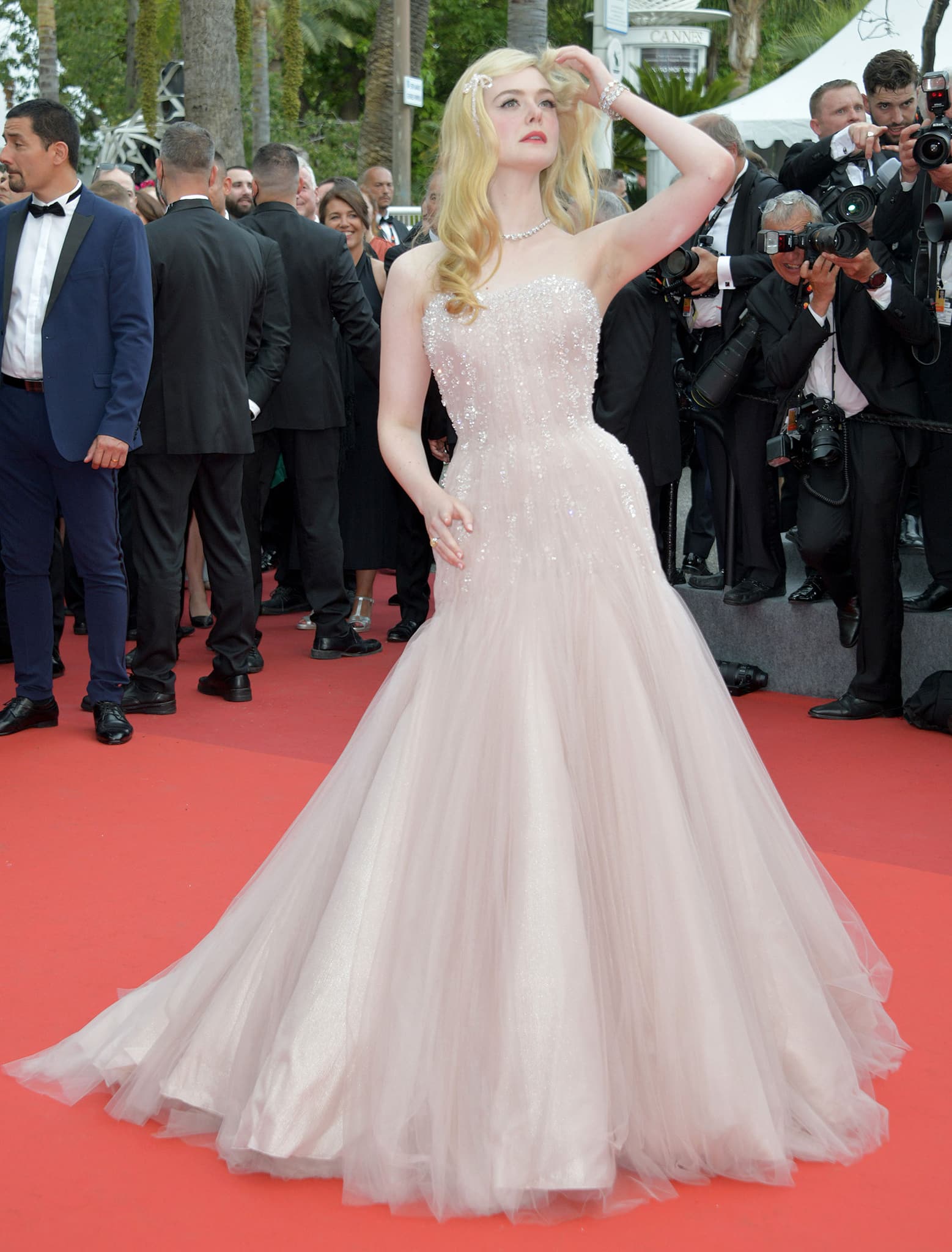 Elle Fanning's Armani gown features an embellished bodice and a fishtail tulle skirt (Credit: IPA / INSTARimages)
Styled by Samantha McMillen, the Super 8 actress accessorized her ethereal look with Chopard jewelry that included a string of diamond hearts necklace, a bracelet, and a yellow heart ring.
Her hairstylist Jenda Alcorn styled her blonde tresses in side-parted loose waves secured with a crystal-embellished bow clip.
The L'Oreal Paris spokesperson made sure to use L'Oreal products for her beauty look with the help of her makeup artist Erin Monroe.
She wore True Match Mineral blush in Pinched Pink, Flash Cat Eye Waterproof Liquid Liner, Definer Waterproof Eyebrow Pencil in Dark Blonde, and Infallible Pro-Matte Liquid Lipstick in Pink Soiree.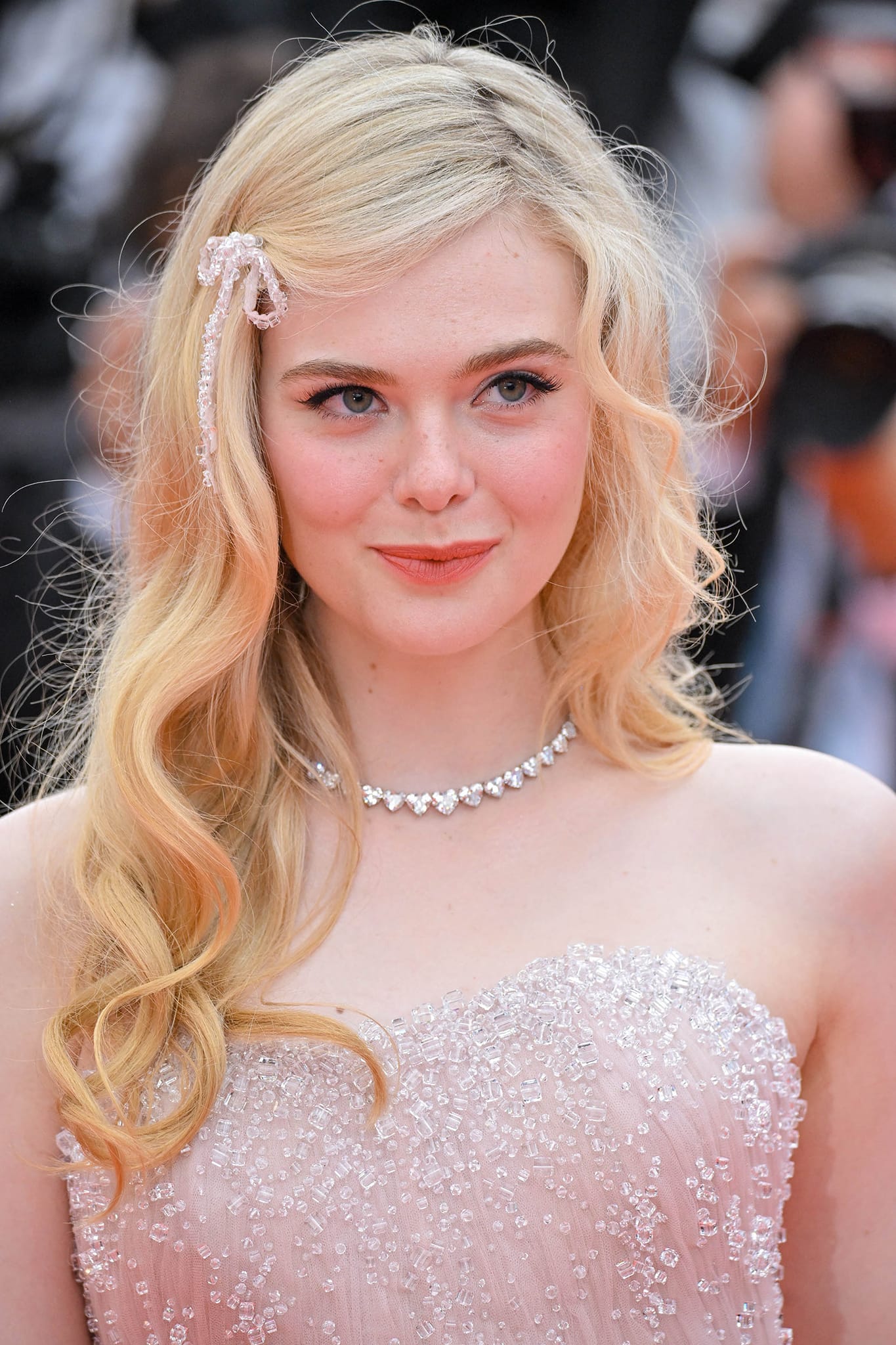 Elle Fanning accessorizes with Chopard jewelry and wears L'Oreal Paris makeup (Credit: ABACA / INSTARimages)
Later in the day, Elle Fanning traded in her feminine fairytale gown for an elegant black midi dress as she celebrated L'Oreal Paris' 25th anniversary as the Cannes Film Festival official partner.
The $4,300 off-the-shoulder dress hails from Giambattista Valli's Pre-Fall 2022 collection and features a slim fit with an A-line midi skirt.
Elle Fanning celebrates L'Oreal Paris' 25th anniversary as the Cannes Film Festival official partner in a Giambattista Valli Pre-Fall 2022 off-the-shoulder black midi dress (Credit: ABACA / INSTARimages)
She styled the look with the same Chopard jewelry and swapped her crystal hair clip for a black velvet bow.
Elle Fanning pairs her elegant midi dress with Piferi Tiana crystal mesh mules (Credit: ABACA / INSTARimages)
For her footwear, Elle chose a pair from the luxury vegan footwear label Piferi, which was launched in 2020 by former Jimmy Choo and Burberry designer Alfredo Pīferi.
Also available in silver and pink at Harvey Nichols, the "Tiana" mules feature mesh detailing, tiny crystal embellishments, open toes, and 2.6-inch sculpted heels.
Piferi 'Tiana' Crystal Mesh Mules, $602 at Farfetch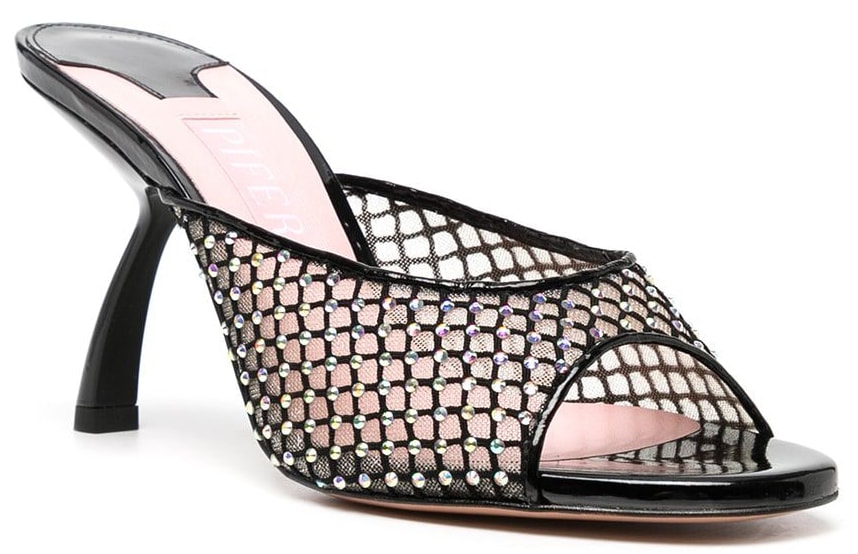 The Tiana mules from vegan label Piferi feature crystal mesh upper and sculpted heels
The next day, Elle was pictured leaving the 5-star art deco Hôtel Martinez Cannes by Hyatt in a summery white dress from The Row.
Available at Nordstrom, the $1,950 full-length "Ellita" dress features a relaxed column silhouette in fluid cady, a deep keyhole opening at the neckline, long sleeves, and a back slit.
Elle Fanning leaving The Hotel Martinez in a white The Row Ellita column dress on May 19, 2022 (Credit: IPA / INSTARimages)
She styled the look with a red Gucci Spring 2022 bag, finished with The Row "Constance" slingback sandals with square toes and sculptural comma heels.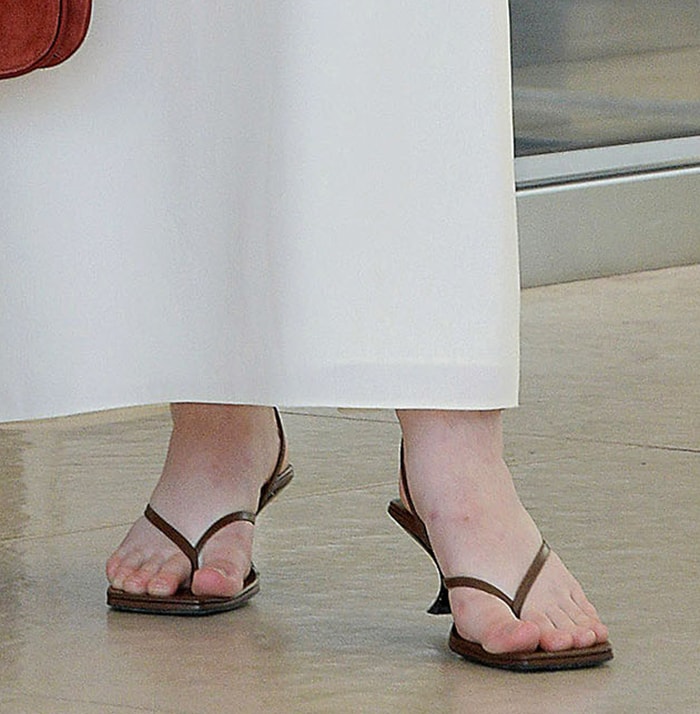 Elle Fanning shows off her feet in The Row Constance slingback sandals (Credit: IPA / INSTARimages)
In March 2014, Elle Fanning attended the Miu Miu fashion show during Paris Fashion Week Womenswear Fall/Winter 2014–2015.
The then-15-year-old American actress also appeared in the brand's Spring 2014 campaign along with Lupita Nyong'o, Elizabeth Olsen, and Bella Heathcote.
Elle Fanning styled a Miu Miu coat with a pleated houndstooth mini skirt, a matching sweater, and a white Madras bag (Credit: WENN)
Dressed in head-to-toe Miu Miu, we can't decide which part of her outfit we like better. The gorgeous baby blue coat? Or perhaps the stunning handbag?
For the Paris show, Elle opted for a pair of sophisticated leather pumps featuring artfully painted pointy toes.
Elle Fanning on her way to the Miu Miu fashion show during Paris Fashion Week Autumn/Winter 2014–2015 in France on March 5, 2014 (Credit: WENN)
Did Dakota Fanning's younger sister dress age-appropriately, or was the ensemble too mature for Elle? Her Italian-made floral-painted pumps can be purchased at Saks Fifth Avenue.
Miu Miu Painted Flower-Toe Leather Pumps, $695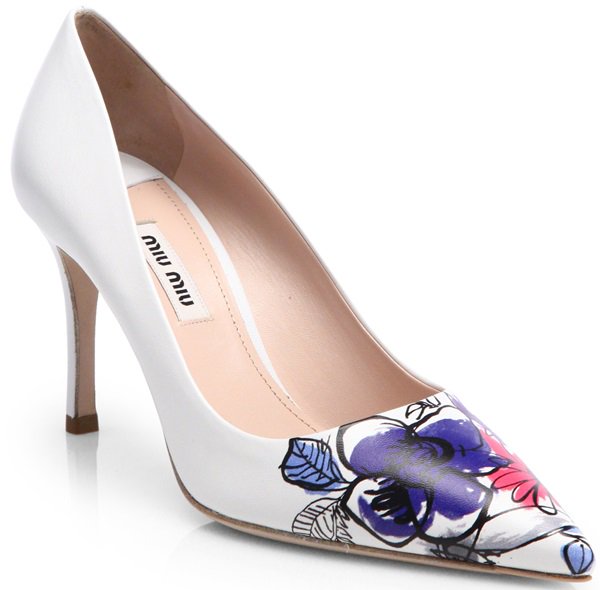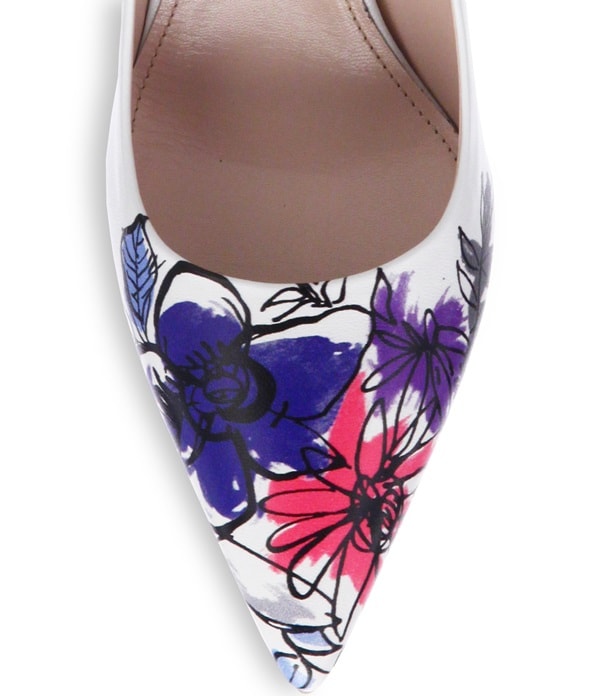 Miu Miu's painted flower-toe leather pumps