With a net worth of $6 million, Elle Fanning had millions of reasons to celebrate at the jury photocall during the 2019 Cannes Film Festival in Cannes, France.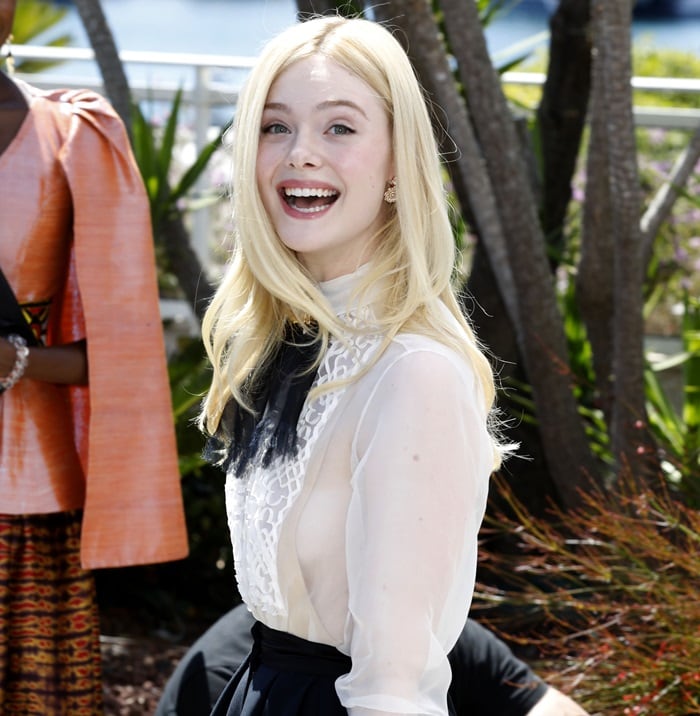 Elle Fanning was thinking about all her money while stepping out for the jury photocall during the 2019 Cannes Film Festival in Cannes, France, on May 14, 2019
In May 2019, the 21-year-old actress wore a monochromatic Dior Spring 2019 Haute Couture ensemble featuring an embroidered organza shirt and full pants. She styled the look with some really frumpy pumps.
Elle Fanning's monochromatic Dior Spring 2019 Haute Couture ensemble
It's not known how much the young actress was paid to be the youngest member of the Cannes jury, ever. However, she reportedly made $1.5 for her breakthrough role as Alice Dainard in J. J. Abrams' 2011 American science fiction monster thriller film Super 8, for which her performance was praised by critics and earned her a Spotlight Award at the Hollywood Film Festival.
Elle Fanning, whose net worth is estimated to be $6 million, at the premiere of Paramount Pictures' "Super 8" at Regency Village Theatre on June 8, 2011, in Westwood, California
How much is Elle Fanning worth?
Who is richer, Elle or Dakota Fanning?
Dakota Fanning is richer with an estimated net worth of $12 million compared to Elle's, which is $6 million.
Full Name:
Mary Elle Fanning
How old is Mary Elle Fanning?
She was born on April 9, 1998, in Conyers, an Atlanta suburb, the county seat of and only city in Rockdale County, Georgia, United States.

Elle Fanning celebrated her 25th birthday on April 9, 2023.
Dating:
In 2019, she confirmed she was dating her Teen Spirit director, Max Minghella, an English actor and screenwriter. He is 12 years older than her and much shorter.

In April 2023, Elle Fanning confirmed her split from Max Minghella, revealing that they have ended their relationship. Despite the breakup, Fanning expressed that she still maintains her belief in love and romance, describing herself as a "hopeless romantic."
Kids:
None
Weight:
123 lbs / 56 kg
Shoe Size:
Elle Fanning's shoe size in the United States is 9.
Is Elle Fanning tall?
Yes, she is. Elle Fanning, with a height of 5 feet 8 ½ inches (174 cm), is taller than the average American woman.

According to data from the National Health and Nutrition Examination Survey (NHANES) conducted by the Centers for Disease Control and Prevention (CDC), the average height of adult women in the United States is approximately 5 feet 4 inches (162.5 cm).

Therefore, Elle Fanning is significantly taller than the average American woman.
Nationality:
American
Source of Wealth:
Professional Actress, Fashion Model
What ethnicity is Elle Fanning?
She has German, English, Irish, French, and Channel Islander ancestry.
How are Dakota and Elle Fanning related?
Dakota Fanning and Elle Fanning are sisters. Dakota is the older sister, born on February 23, 1994, and Elle is the younger sister, born on April 9, 1998. Both sisters have pursued successful acting careers in Hollywood.
What skin condition does Elle Fanning have?
In an interview with Glamour, Fanning discussed her struggle with a skin condition, specifically mentioning her "severe eczema."

She shared that she experiences intense itching on a regular basis, particularly when she is stressed or feeling excited.

However, Fanning has developed a modified nightly bathing routine that helps her manage the symptoms of her condition.
Does Elle Fanning have naturally blonde hair?
Yes, Elle Fanning has naturally blonde hair. She is known for her signature blonde locks, which is her natural hair color. Throughout her career, she has occasionally dyed her hair for specific roles in films, but her natural hair color is blonde.
The other jury members were actress Maimouna N'Diaye, filmmakers Pawel Pawlikowski, Kelly Reichardt, Enki Bilal, Yorgos Lanthimos, Robin Campillo, and Alice Rohrwacher, and president Alejandro Gonzalez Iñárritu.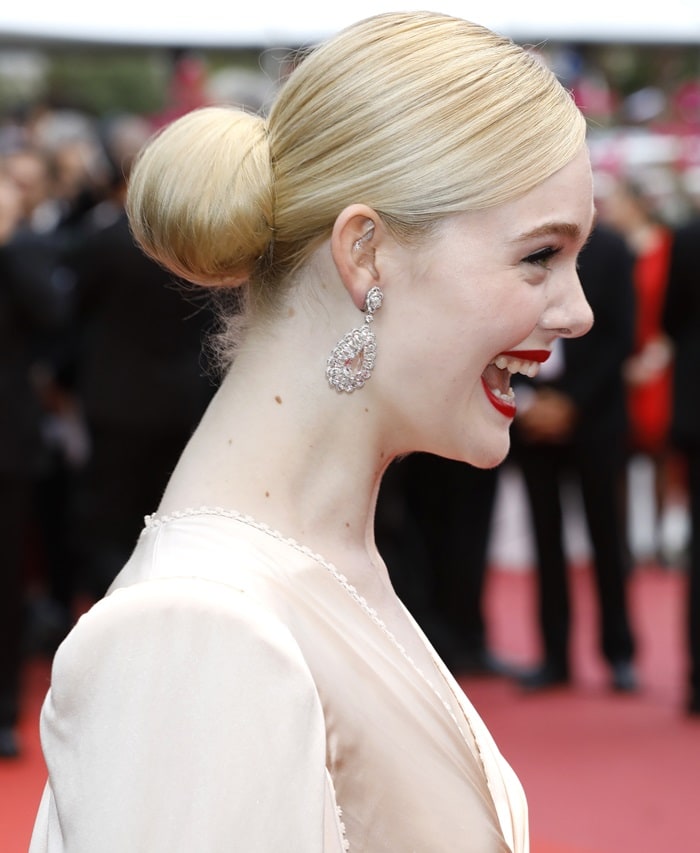 Elle Fanning accessorized with jewels from Chopard at the 2019 Cannes Film Festival opening ceremony in Cannes, France, on May 14, 2019
The same day, the Twilight actress took to the red carpet for the opening ceremony and premiere of 'The Dead Don't Die' in a peach gown from Gucci featuring structured shoulders. She completed her look with Gucci shoes with a 2.5-inch platform and a soaring 6-inch heel.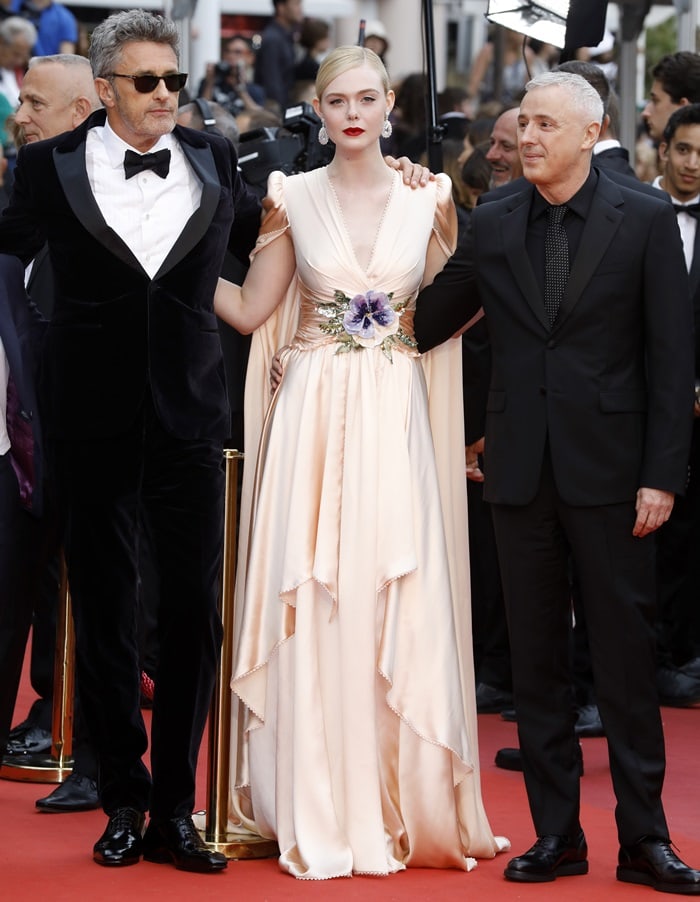 Elle Fanning with fellow jury members Kelly Reichardt and Pawel Pawlikowski
Earlier the same month, Elle also attended the 2019 Met Gala in an unmistakenly I Dream of Jeannie-inspired Miu Miu outfit with Tiffany & Co. rings and earrings.
Elle Fanning's I Dream of Jeannie-inspired look at the 2019 Met Gala held at the Metropolitan Museum of Art in New York City on May 6, 2019
Elle Fanning is one of the rare celebrities who are on good terms with the paparazzi, but then again, the girl is in a class all on her own. If you saw her play Aurora in "Maleficent", you would be quick to point out that the bubbly and eternally-positive role is not that far off from her normal self. Hence making her a paparazzi favorite.
In November 2015, Elle was spotted chatting it up with the paparazzi at the Los Angeles Airport before jetting out.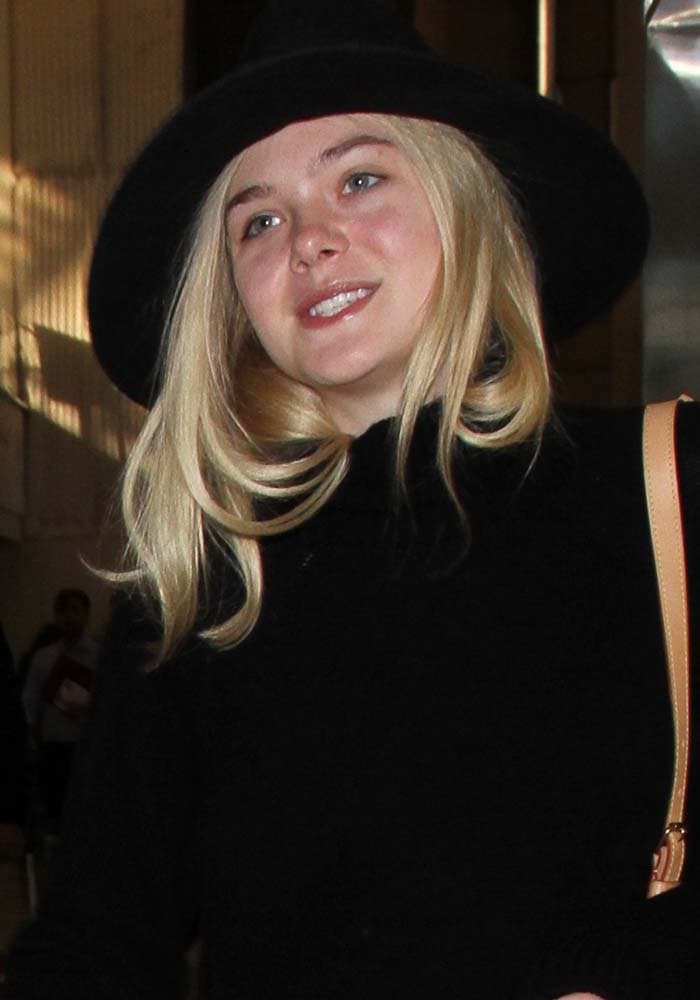 Elle Fanning departs on a flight from Los Angeles International Airport (LAX) on November 4, 2015
The cameraman asked Elle what it was like when she got into sisterly fights with her older sibling Dakota, and if she had one favorite fashion item. Elle responded as much as she could before getting on an escalator for her departure.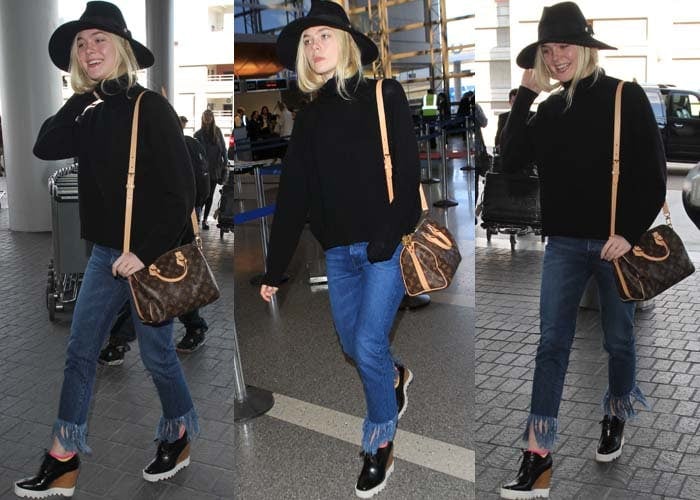 Elle Fanning's black sweater with fringed hem jeans
Elle wore a black sweater with fringed hem jeans, which she paired with Stella McCartney oxford wedges. The eclectic dresser put on a pair of neon pink and yellow socks that peered out from her shoes.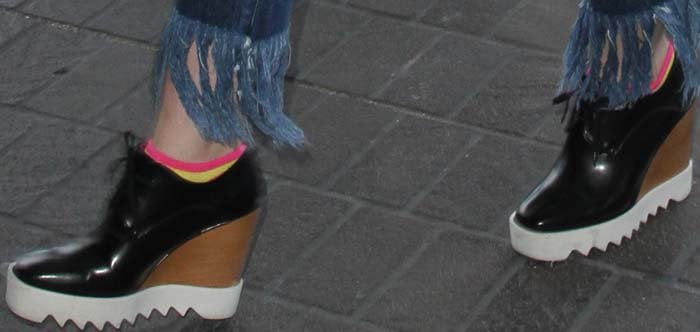 Elle Fanning's neon pink and yellow socks
Elle Fanning rocked platform wedges from Stella McCartney
Normally, we wouldn't condone this kind of fashion, but knowing Elle's unicorn-and-rainbow personality means we'll let this one slip.
Stella McCartney Faux-Leather Wedge Oxford in Black, $995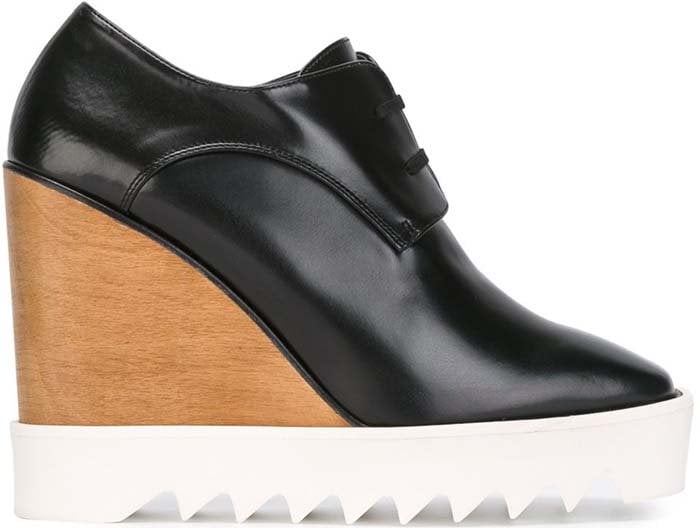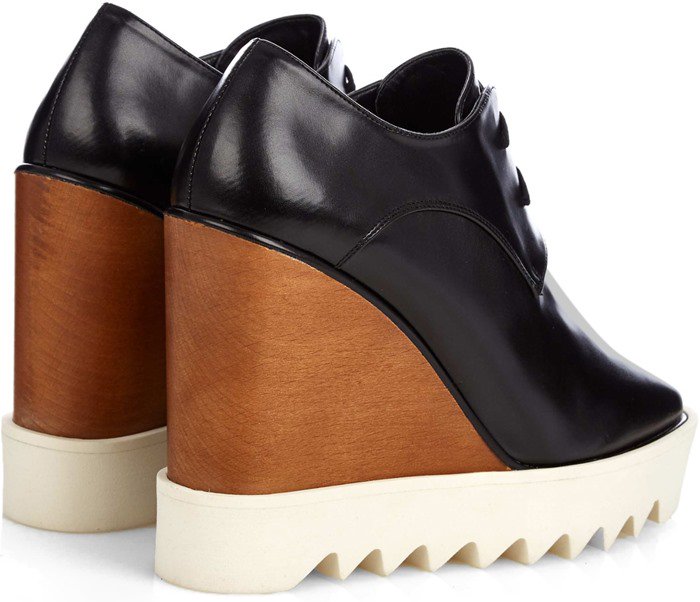 Credit: WENN / Dave Bedrosian / Future Image / Andres Otero / Adriana M. Barraza