Megan Fox has been one busy lady!! This beautiful model and actress first shot to fame back in 2004 when she starred in Confessions of a Teenage Drama Queen.
She was just 17 when she made her theatrical film acting debut in the 2004 American teen musical comedy film that was released on February 17, 2004. She turned 18 on May 16, 2004.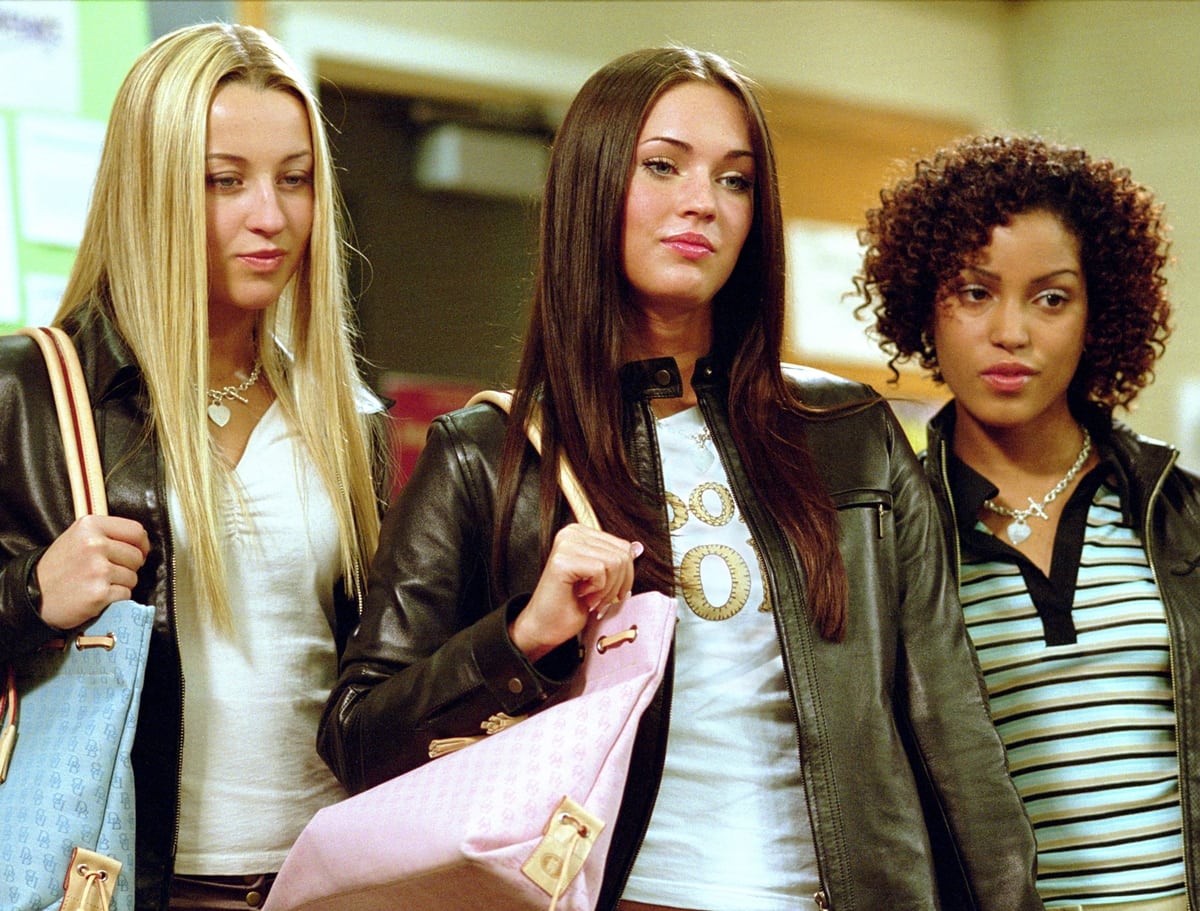 Megan Fox was just 17-years-old when making her film debut as Carla Santini with Ashley Leggat as Marcia and Barbara Mamabolo as Robin in the 2004 American teen musical comedy film Confessions of a Teenage Drama Queen (Credit: Buena Vista Pictures Distribution)
But her real success came along when she joined the blockbuster Transformers franchise in 2007.
Why Transformers stopped using Megan Fox
Transformers was a great success grossing an impressive $709.7 million and Megan was nominated for an MTV Movie Award and for three Teen Choice Awards for her incredible performance.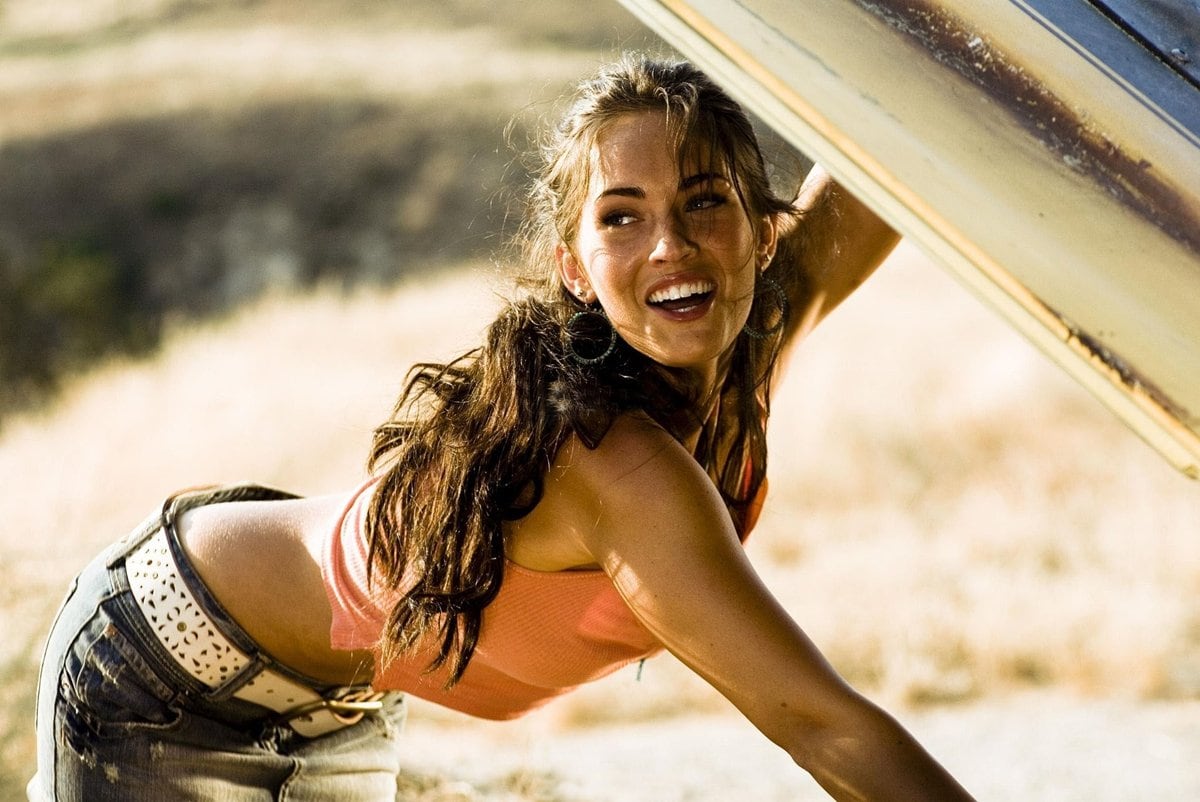 Megan Fox became famous starring as Mikaela Banes in the first two Transformers films directed by Michael Bay (Credit: Paramount Pictures)
She starred in the 2009 sequel, Transformers: Revenge of the Fallen which was even more successful than the first movie, grossing $835.2 million.
Transformers wasn't without its controversy and although Megan was due to star in the third Transformers movie, she didn't make the cut.
She had compared working for director Michael Bay to working for Adolf Hitler in an interview with Wonderland and that was the end of that.
Actress Megan Fox posing with director Michael Bay, whom she has compared to Adolf Hitler, and actor Shia LaBeouf at the German premiere of 'Transformers: Revenge Of The Fallen' at the Sony Center CineStar on June 14, 2009, in Berlin, Germany (Credit: Vipflash / Shutterstock)
"He's like Napoleon and he wants to create this insane, infamous mad man reputation. He wants to be like Hitler on his sets, and he is. So he's a nightmare to work for but when you get him away from set, and he's not in director mode, I kind of really enjoy his personality because he's so awkward, so hopelessly awkward," she told Wonderland Magazine in 2009.
"He has no social skills at all. And it's endearing to watch him. He's vulnerable and fragile in real life and then on set he's a tyrant. Shia and I almost die when we make a Transformers movie. He has you do some really insane things that insurance would never let you do," she added.
Perhaps it's not surprising that Michael Bay decided not to cast Megan Fox in the 2011 American science fiction action film Transformers: Dark of the Moon, the third installment in the live-action Transformers film series. She was replaced by Rosie Huntington-Whiteley as Carly Spencer.
Megan, the hottest $ multi-millionaire
Megan's net worth is estimated to be around $8m and the majority of her wealth was accumulated through her acting career.
This was definitely helped by the Transformers franchise, as well as the likes of the Teenage Mutant Ninja Turtles franchise where she starred as April O'Neil.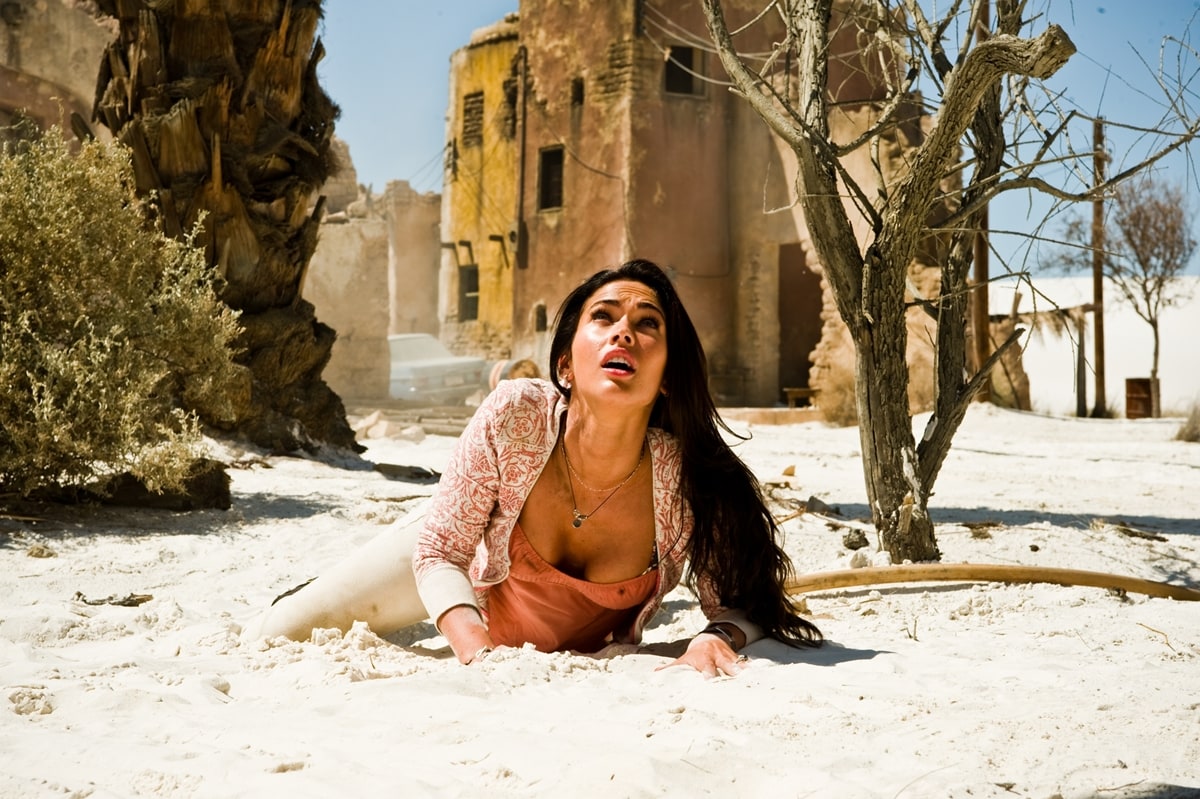 Megan Fox was reportedly paid $100,000 for Transformers and $800,000 for Transformers: Revenge of the Fallen (Credit: Paramount Pictures)
It is reported that Megan received $100,000 for the first Transformers movie and $800,000 for the sequel, Transformers: Revenge of the Fallen.
And if she hadn't been cut from the third movie, it was rumored that she would have been paid around $2.2m.
2022 is going to be a great year with 4 movies up and coming
But if this year is anything to go by, her wealth is on the up and up as she is set to feature in 4 movies this year alone!
The movie Big Gold Brick was released in February this year and Megan stars alongside Andy Garcia, Emory Cohen, Lucy Hale, and Oscar Isaac.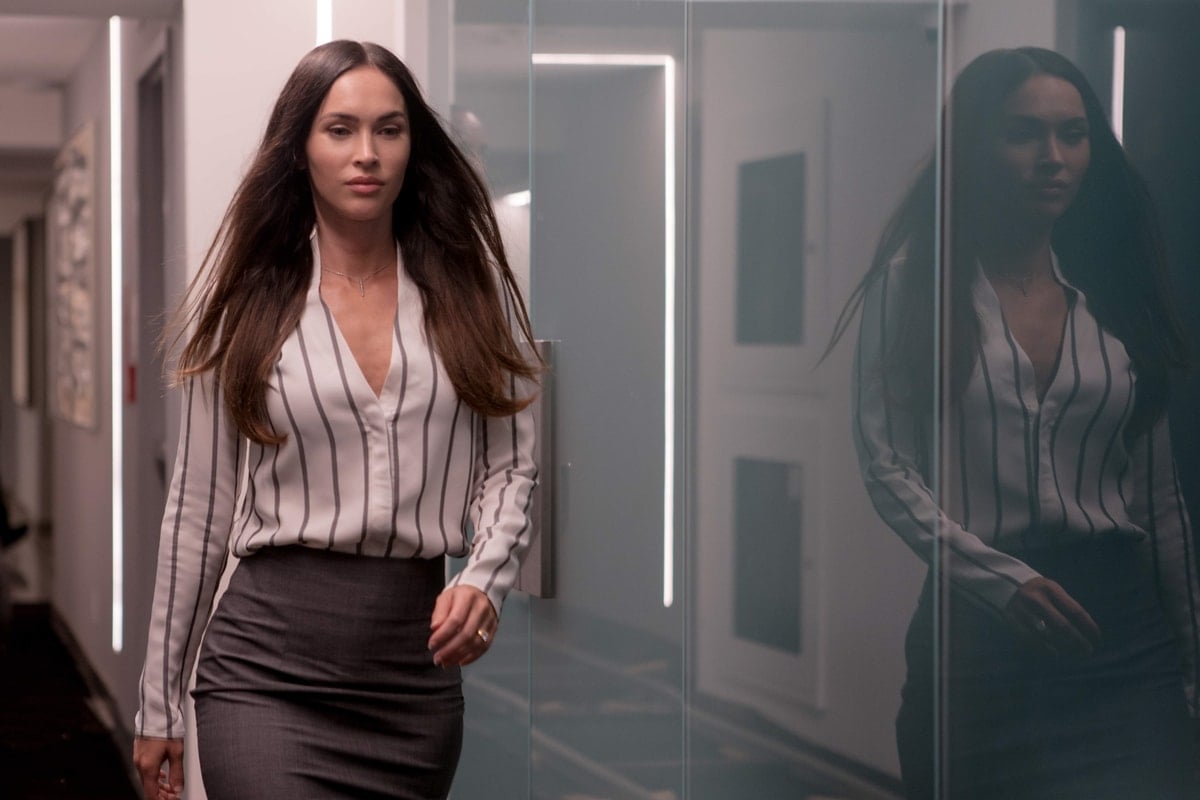 Megan Fox as Jacqueline Deveraux in the 2022 American dark comedy film Big Gold Brick (Credit: Samuel Goldwyn Films)
She has also been working on The Expendables 4 which we can't wait to see after the producer called it "the biggest, most badass adventure yet". And movie number 3 is Johnny & Clyde, where she plays a casino owner/crime boss.
But perhaps one of her more interesting movies for this year will be the 2022 American romantic stoner comedy film Good Mourning.
Considering the movie is co-written and directed by Machine Gun Kelly, Megan's fiancé, it's probably not the biggest surprise that she has a key role. She will be starring alongside Pete Davidson and Whitney Cummings.
While she was engaged to Brian Austin Green at the time, Megan Fox and Shia LaBeouf were in a romantic relationship while filming Transformers (Credit: Tinseltown / Shutterstock)
Yes, we're sure you picked up those few Kardashian connections! Away from starring with Pete Davidson, Kim's partner in Good Mourning, MGK and Travis Barker are also close friends and musical collaborators.
And let's not forget the wedding of the month – Megan and MGK attended Kourtney and Travis' wedding, where we have to say, Megan looked absolutely stunning in a black Zuhair Murad gown.
View this post on Instagram
The face of Emporio Armani
After her success in Transformers, 2009 saw Megan become the face of Emporio Armani, and let's be honest, we're unlikely to forget that iconic picture of her and Ronaldo.
We're not sure exactly how much she made from the endorsement but according to an NBC report, it was around the 7-figure mark.
Megan Fox in an intimate photoshoot for Armani with Cristiano Ronaldo (Credit: Giorgio Armani)
Megan has also been featured on a multitude of magazine covers and on plenty of 'those' lists like Maxim's Hot 100 list, FHM's 'Sexiest Woman in the World', and People Magazine named her the 'Most Beautiful at Every Age' in 2012 and 2017.
She's often referred to as Hollywood's "hottest" actress but looks aside, we love that she isn't letting herself be typecast and is starring in diverse roles, proving she isn't just that "Transformers girl"!!
In July 2013, the brunette bombshell was busy shooting scenes for Teenage Mutant Ninja Turtles in New York City.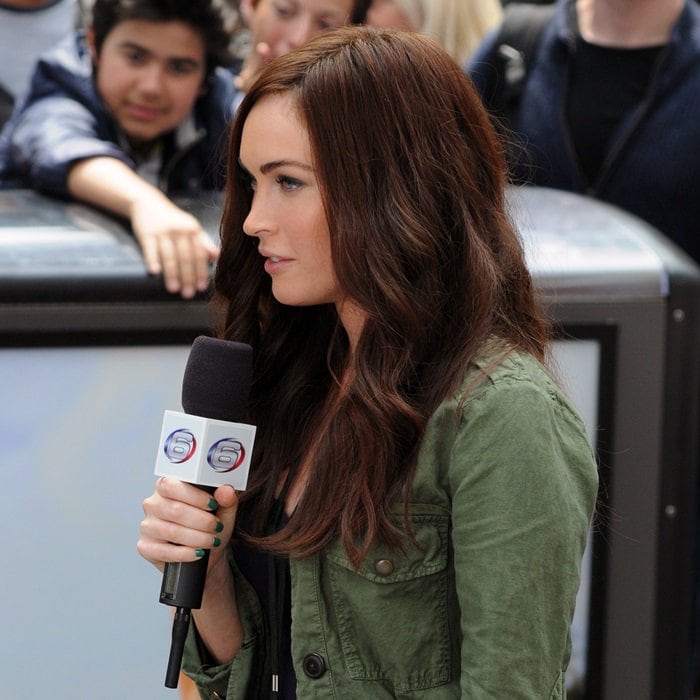 Megan Fox plays April O'Neil, a reporter for Channel 6 News, in the 2014 American superhero film Teenage Mutant Ninja Turtles (Credit: WENN)
"They were my favorite movies as a kid," Fox said about the franchise in an interview with MTV. "That was my thing. Way, way more so than 'Star Wars' or in later years, still more than 'Lord of the Rings.' It was always 'Ninja Turtles.'"
"My first crush, and everyone thinks this is really weird, but little girls have crushes on animated characters, and my first crush was Michaelangelo," Fox added. "So I'm super excited."
Playing the role of a reporter in the TMNT reboot, Megan looked gorgeous as she filmed a scene for the movie while clad in a casual getup that included a pair of boots we've seen many times over on celebrities — the Rag & Bone Classic Newbury.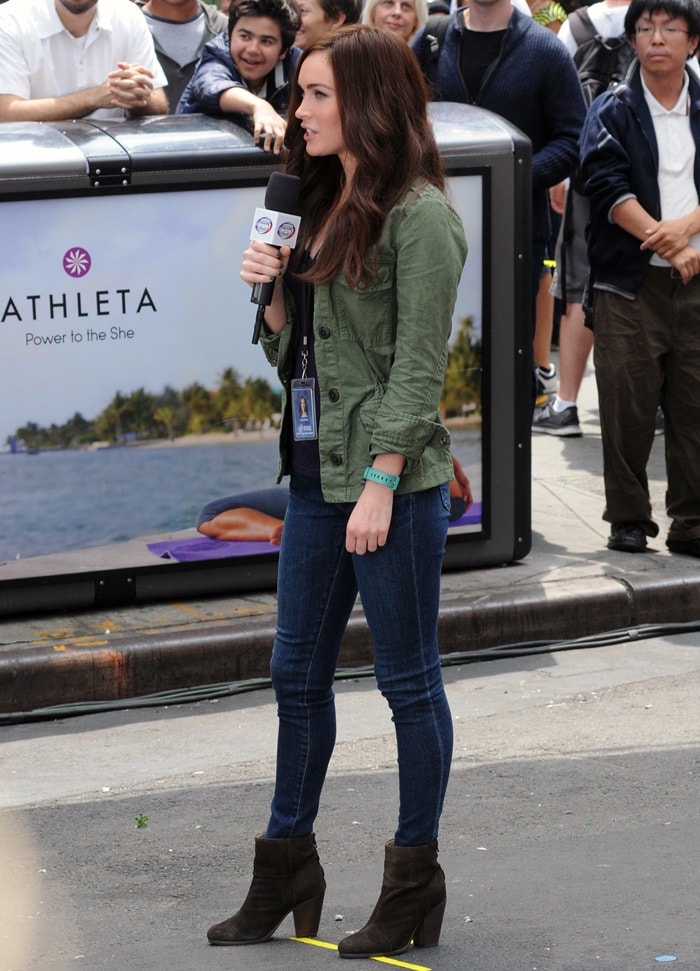 Megan Fox wears AG Jeans Aubrey skinny jeans with Rag & Bone Classic Newbury booties (Credit: WENN)
Megan's character wore the dark brown suede pair and mixed it with tight blue jeans and a khaki green army jacket.
Megan Fox filming scenes for 'Teenage Mutant Ninja Turtles' while clad in the Rag & Bone Newbury boots in Manhattan, New York City, on July 22, 2013 (Credit: Ivan Nikolov / Dennis Van Tine / Future Image / WENN)
It was a perfectly chic, fool-proof combination that was simply lookbook-worthy.
Megan Fox shows off her Rag & Bone "Newbury" boots (Credit: WENN)
As for the outfit, well, let's just say it's one of those looks you can rely on when you're feeling too lazy to dress up.
Just make sure you have the perfect pair of skinny jeans and the coolest army jacket to work the style. And, of course, be sure to grab these brown suede Rag & Bone boots at Zappos or Shopbop.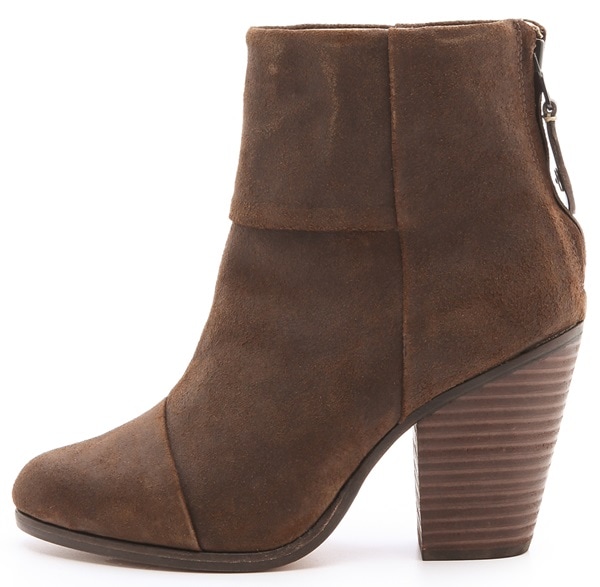 Artful seaming contours these signature leather Rag & Bone booties perfectly to the foot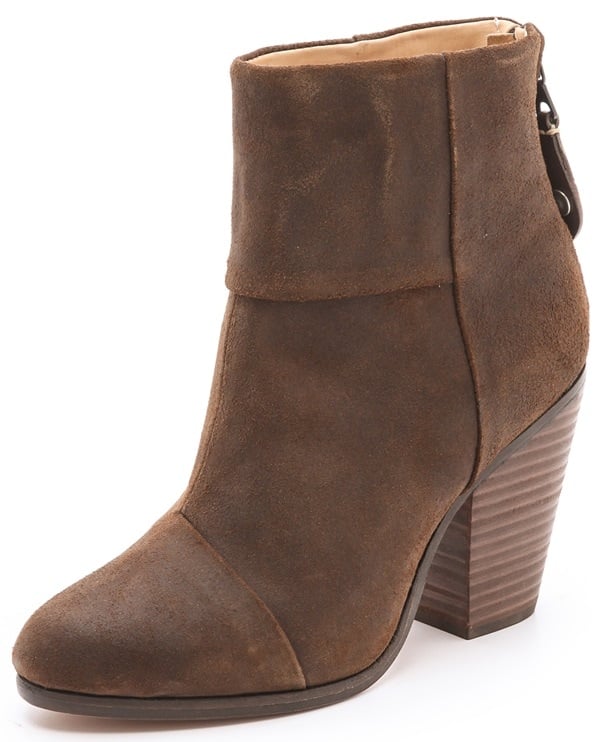 Rag & Bone Classic Newbury Boots in Brown Suede, $495
They also come in burgundy if you like a darker pair: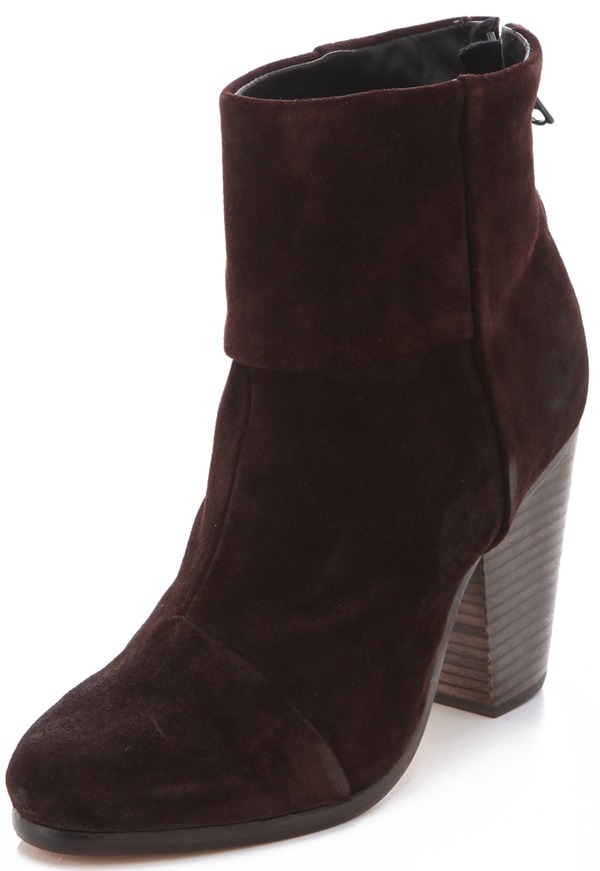 Rag & Bone Newbury Boots in Burgundy Suede, $495