Machine Gun Kelly held a surprise rooftop concert at Venice Beach in Los Angeles last Saturday in celebration of his fifth studio album, Tickets to My Downfall, going platinum.
Machine Gun Kelly celebrate his album going platinum with a rooftop performance in Venice Beach on June 19, 2021 (Credit: Mega / WENN)
MKG, whose real name is Colson Baker, performed a 13-song set with his live band together with Blink 182 drummer Travis Landon Barker, who produced and co-wrote songs on the pop-punk album.
Machine Gun Kelly performs a 13-song set with Blink 182 drummer Travis Barker (Credit: Mega / WENN)
Also in attendance at the impromptu concert were MKG's girlfriend Megan Fox and Travis' new girl Kourtney Kardashian, who brought along her best friend, Addison Rae.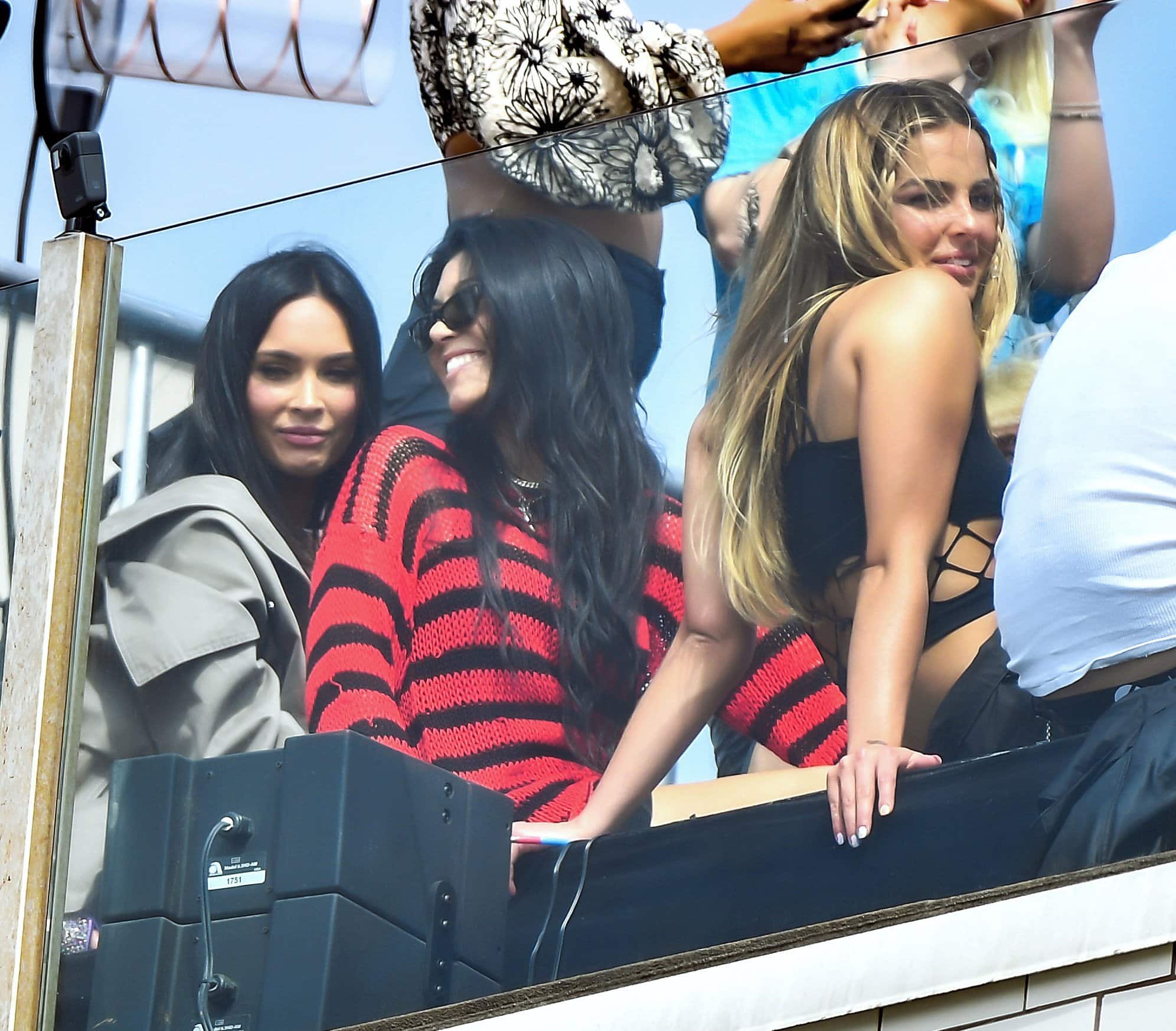 Megan Fox and Kourtney Kardashian show support for their boyfriend's rooftop concert with Addison Rae (Credit: Mega / WENN)
Looking every inch the supportive girlfriend, Megan was all smiles as she joined MKG on the rooftop stage.
For the occasion, she went with her signature sultry style and showed off her cleavage and toned abs in a beige Alexander Wang cropped corset bra paired with Ksubi Chlo Wasted Overkast Khaos jeans.
For some coverage, she layered her look with an oversized beige trench coat from Acne Studios.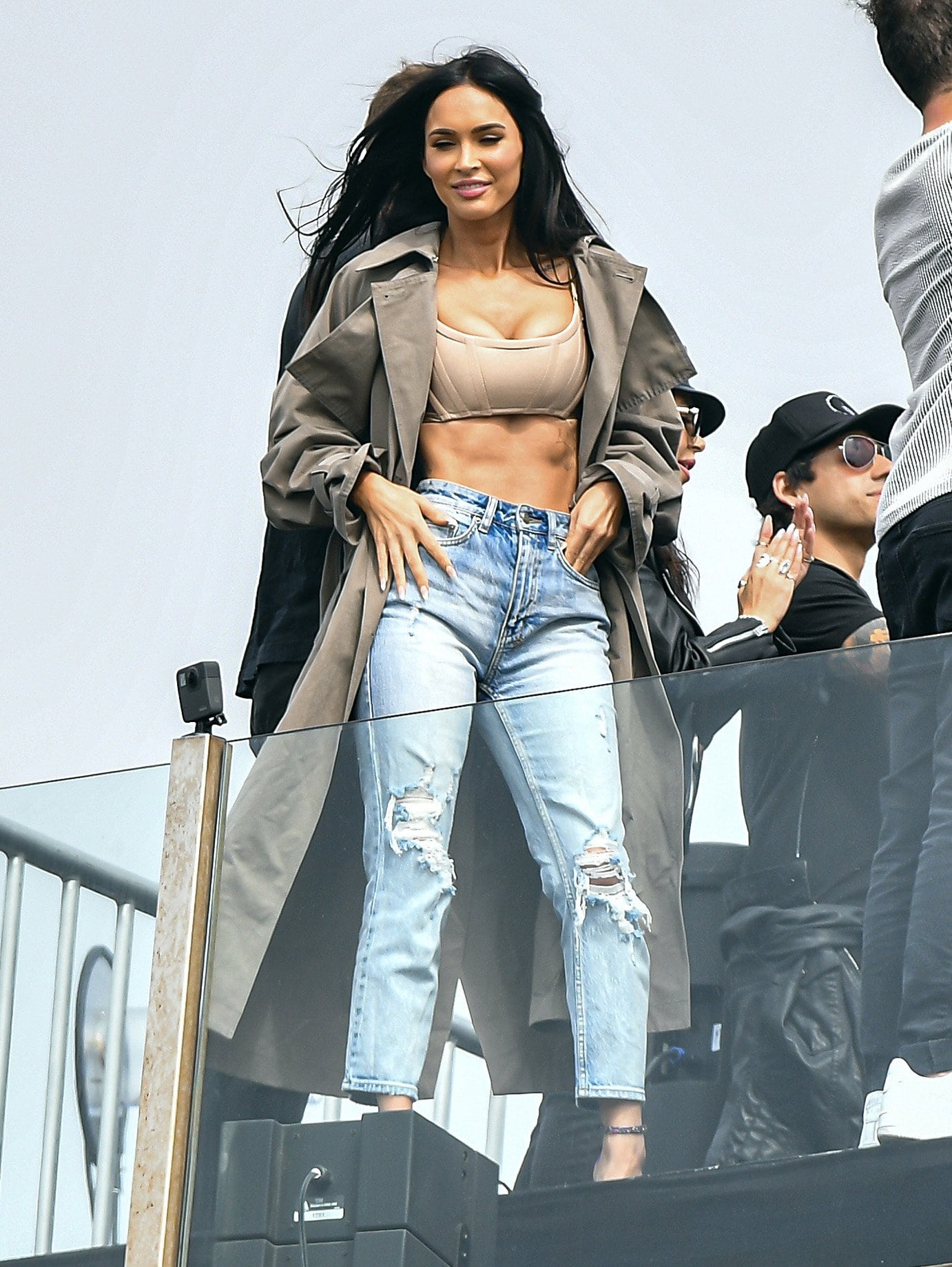 Megan Fox shows off her cleavage and abs in Alexander Wang cropped top and Ksubi distressed jeans with Acne Studios trench coat (Credit: Mega / WENN)
The "Jennifer's Body" star skipped wearing jewelry and instead jazzed up her sexy outfit with a By Far Bougie bag in wild tiger-print pony hair.
She wore her signature dark locks sleek straight with a center parting and furthered the sultriness of her look with eyeliner, mascara, and a swipe of pink lipstick.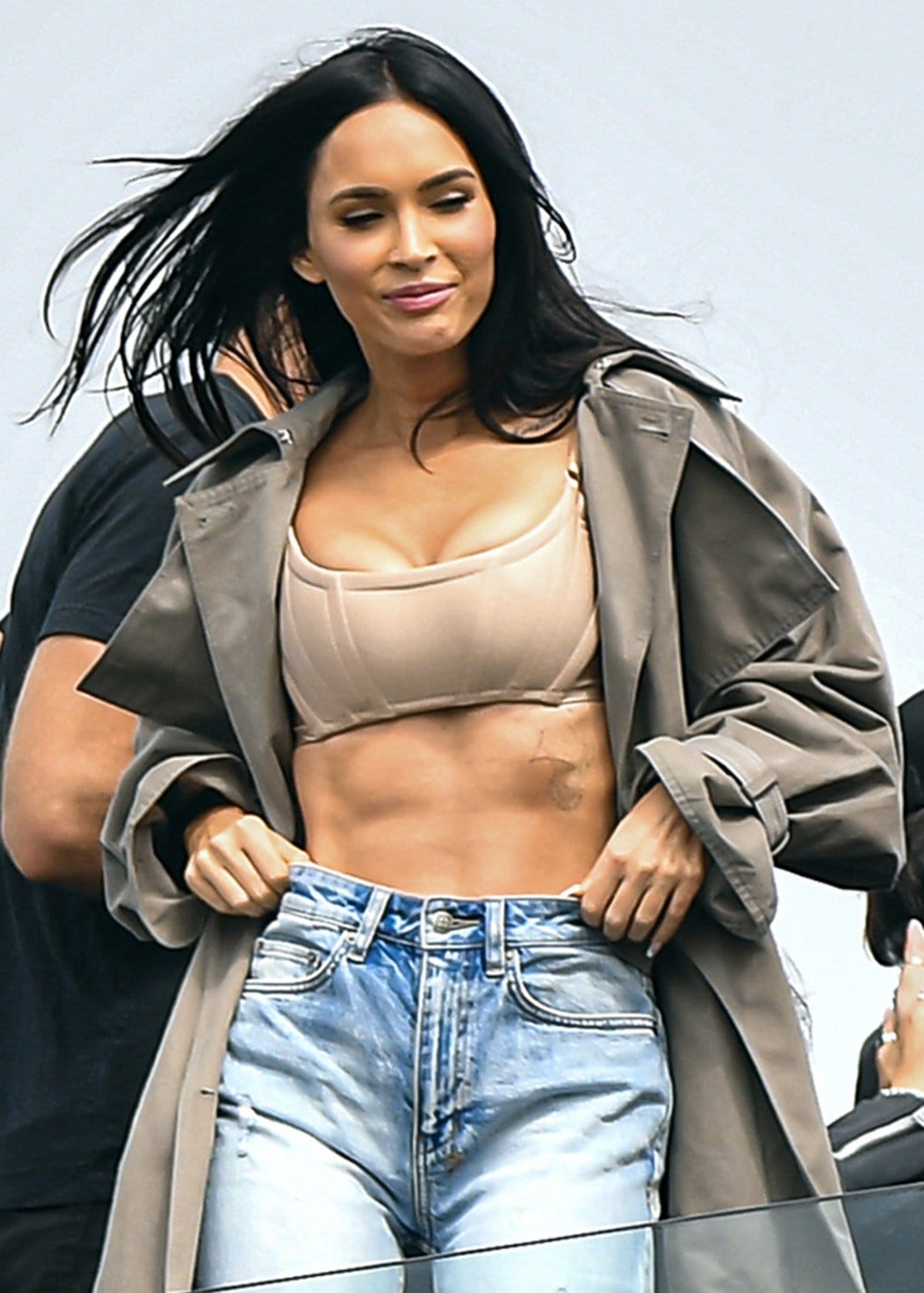 Megan Fox wears her signature middle-parted straightened hair with a subtle smokey eye-makeup look (Credit: Mega / WENN)
Giving her neutral look a dose of sparkle, the mom-of-three slipped into a pair of Amina Muaddi "Bianca" platform sandals.
They are covered with multicolored glitters and have an open-toe design with slender ankle straps, 1.5-inch platforms, and 4-inch signature flared heels.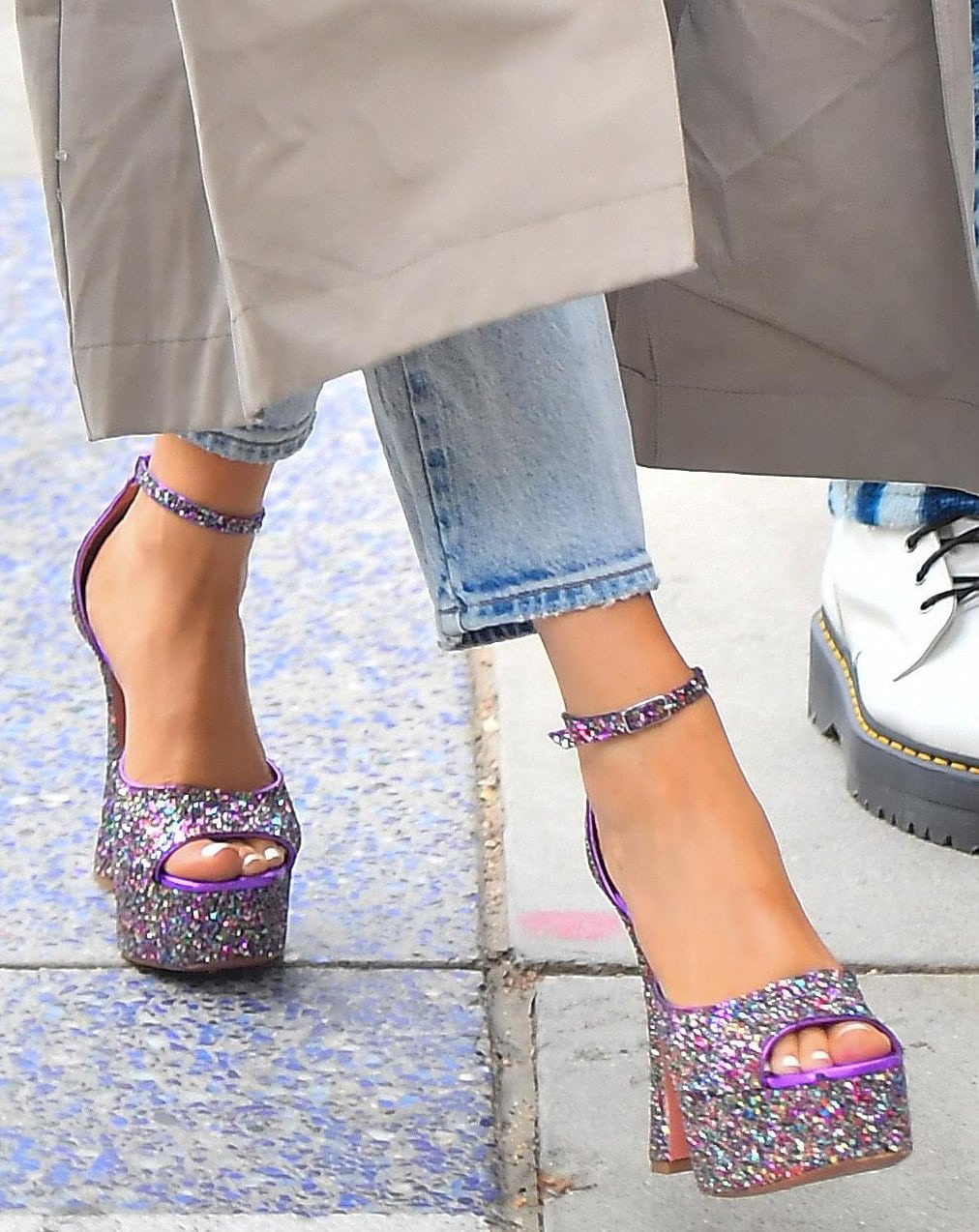 Megan Fox adds sparkle to her outfit with Amina Muaddi Bianca glitter platform sandals (Credit: Mega / WENN)
Meanwhile, MKG was hard to miss in his white top paired with a blue and white tie-dye-style jacket and matching pants.
He styled with an oversized pearl bead necklace, a crystal pendant necklace, a nose ring, and a pair of white Dr. Martens boots.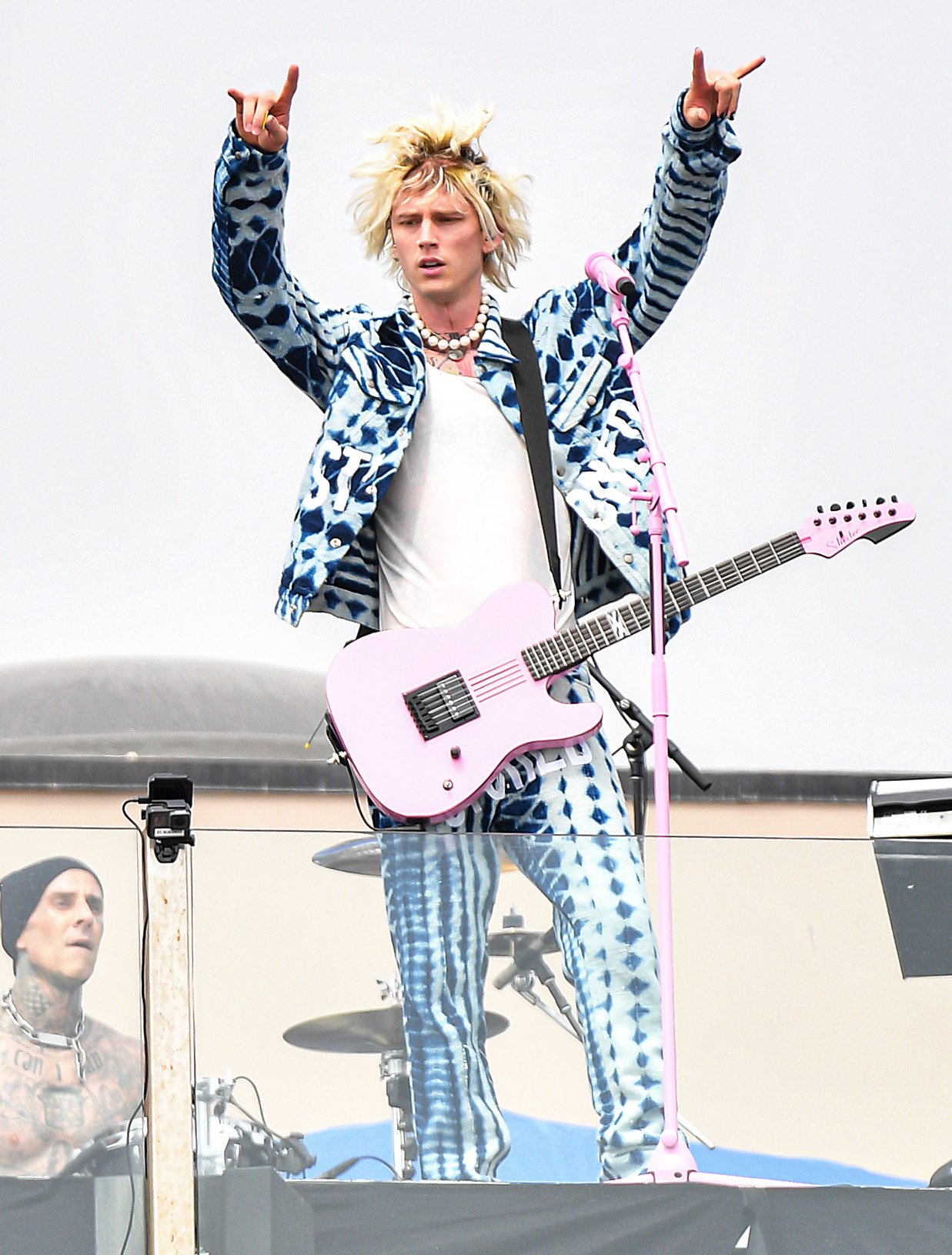 Machine Gun Kelly wears a blue and white tie-dye-style jacket and matching pants (Credit: Mega / WENN)
After the mini-concert, the couple went to dinner with MKG's daughter Cassie, who wore a pink tee with black biker shorts and furry slides.
Megan Fox and Machine Gun Kelly head to dinner with his daughter Cassie in Santa Monica after the rooftop show (Credit: Mega / WENN)
During the show, Megan was seen chatting with Kourtney Kardashian, who turned up to support her new boyfriend, Travis Barker.
The 42-year-old socialite opted for a punk-inspired look, most likely influenced by his rockstar boyfriend.
She covered up in a Raf Simons black-and-red striped open-knit sweater, available for $654 at Matches Fashion, but put her legs on display in a black mini skirt.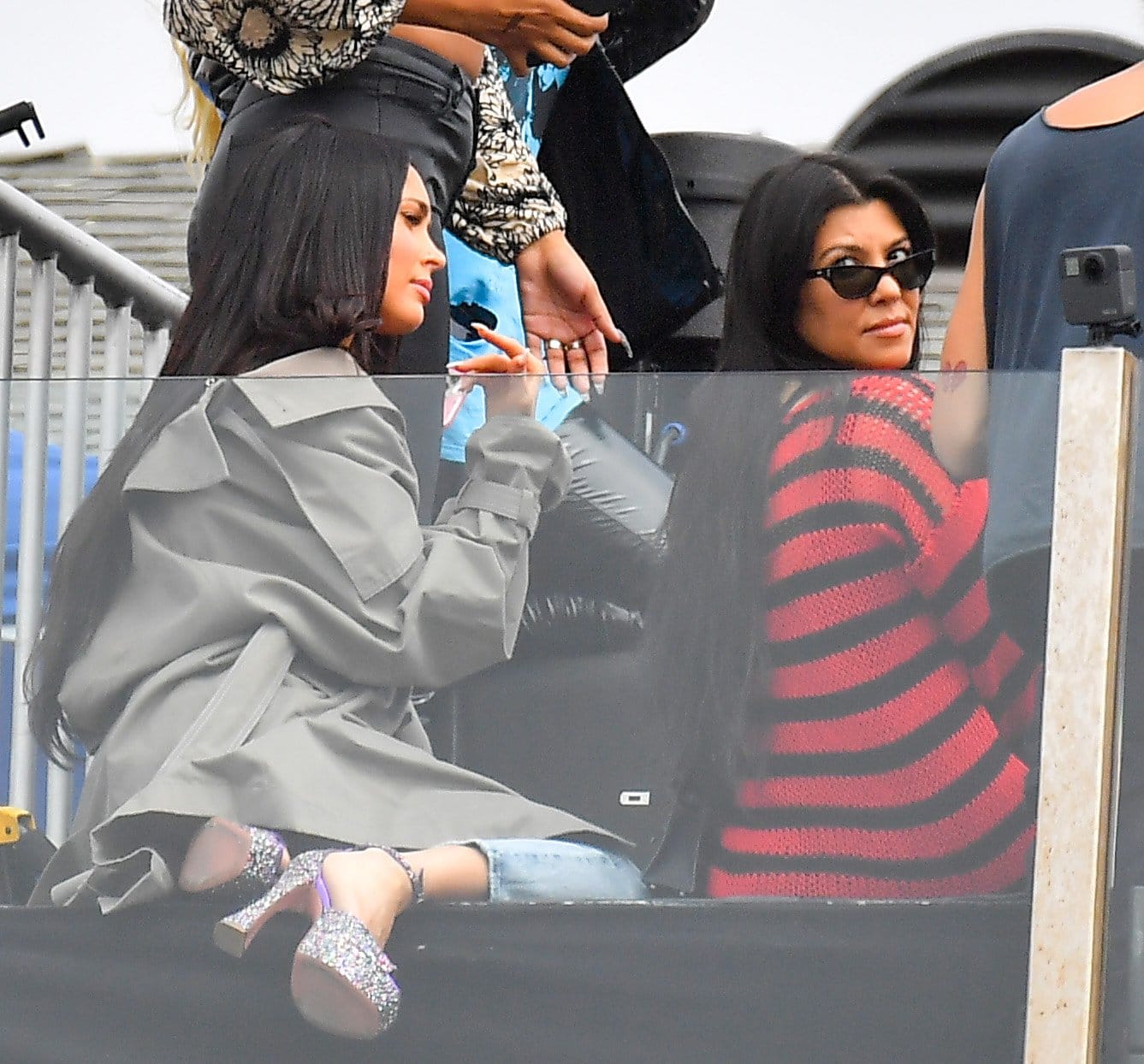 Kourtney Kardashian attends the rooftop concert to support her boyfriend Travis Barker (Credit: Mega / WENN)
The KUWTK star wore her long raven tresses down and shielded her eyes with a pair of black sunglasses.
Continuing with the punk-rock theme of her look, the mom-of-three accessorized with layered gold chain necklaces and slipped into a pair of Prada Monolith combat boots.
These military-inspired boots are characterized by a lace-up construction and chunky rubber lug sole. They are made from smooth leather and have buckled cuff straps and a detachable logo-plaque nylon pouch.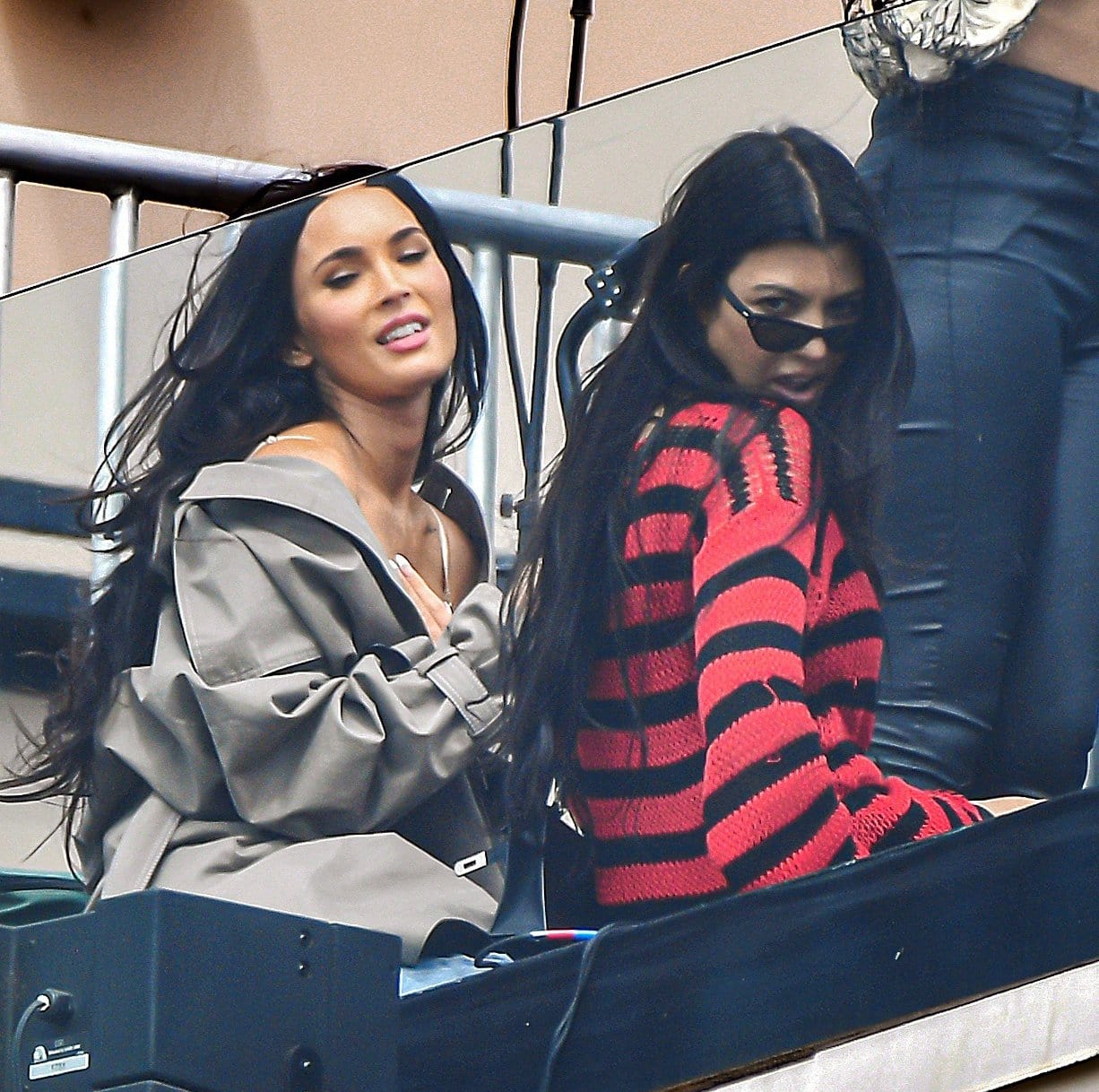 Kourtney Kardashian teams her red and black Raf Simons sweater with Prada chunky boots (Credit: Mega / WENN)
Prada Monolith Chunky-Sole Leather Ankle Boots, $1,190 at Matches Fashion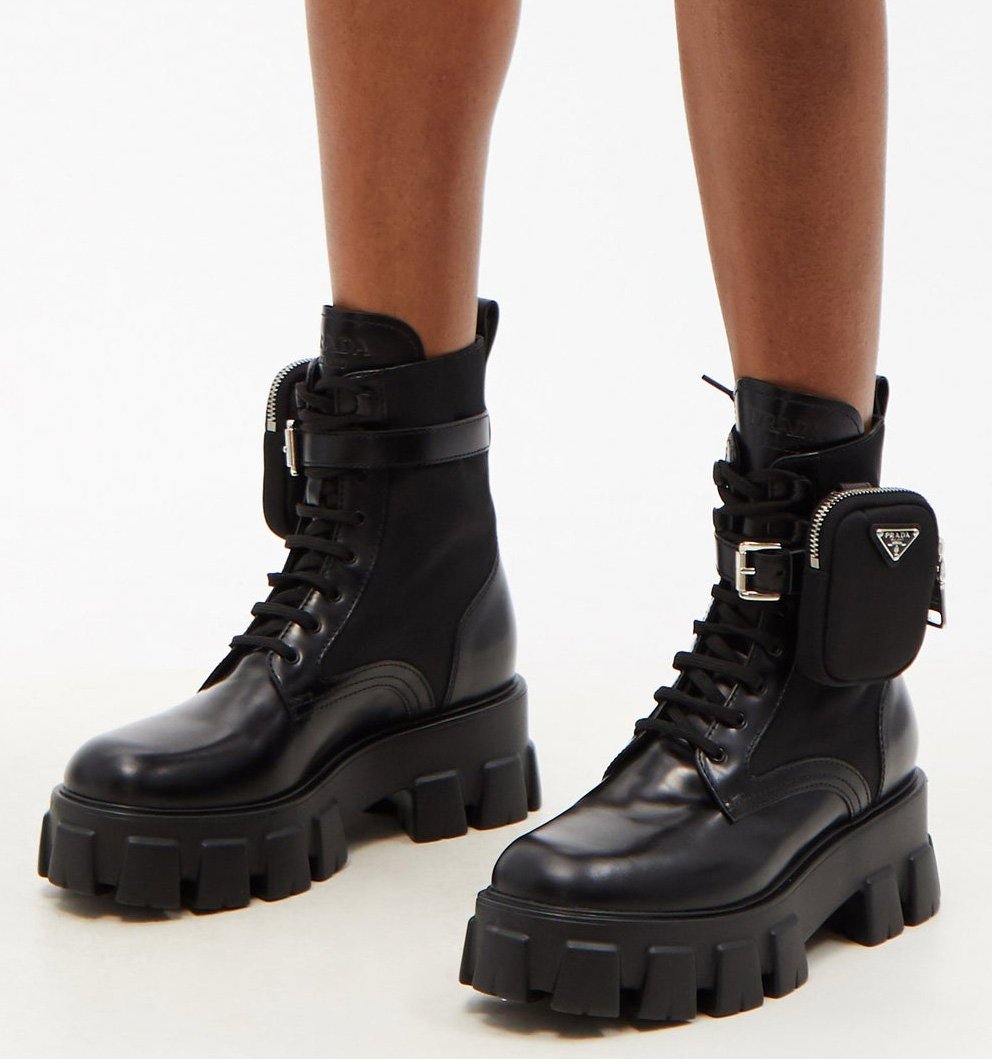 A pair of military-inspired boots with a detachable pouch and chunky lug soles
TikTok star Addison Rae tagged along with her best friend, Kourtney.
The 20-year-old social media influencer seemed all-set to party in her racy ensemble that included a black Palmer cropped cami top with a sheer netted underbust that showed a glimpse of her underboob.
She paired the revealing top with cargo pants and added a pop of color to the look with purple Converse sneakers.
Addison Rae flashes underboob in Palmer bra top with cargo pants and purple Converse shoes (Credit: Mega / WENN)