TikTok is one of the most popular social media platforms among today's generation, with over 2 billion downloads and 850 million monthly active users.
The rise of TikTok has given birth to a slew of stars and influencers that have amassed millions of followers, even surpassing Hollywood A-listers' followings.
While the most-followed account belongs to Charli D'Amelio, the 16-year-old TikTok star isn't the highest-paid influencer on the app.
In August, Forbes named Addison Rae—the second most-followed individual on TikTok—the highest-earning TikTok personality, generating an estimated income of $5 million between June 2019 and June 2020.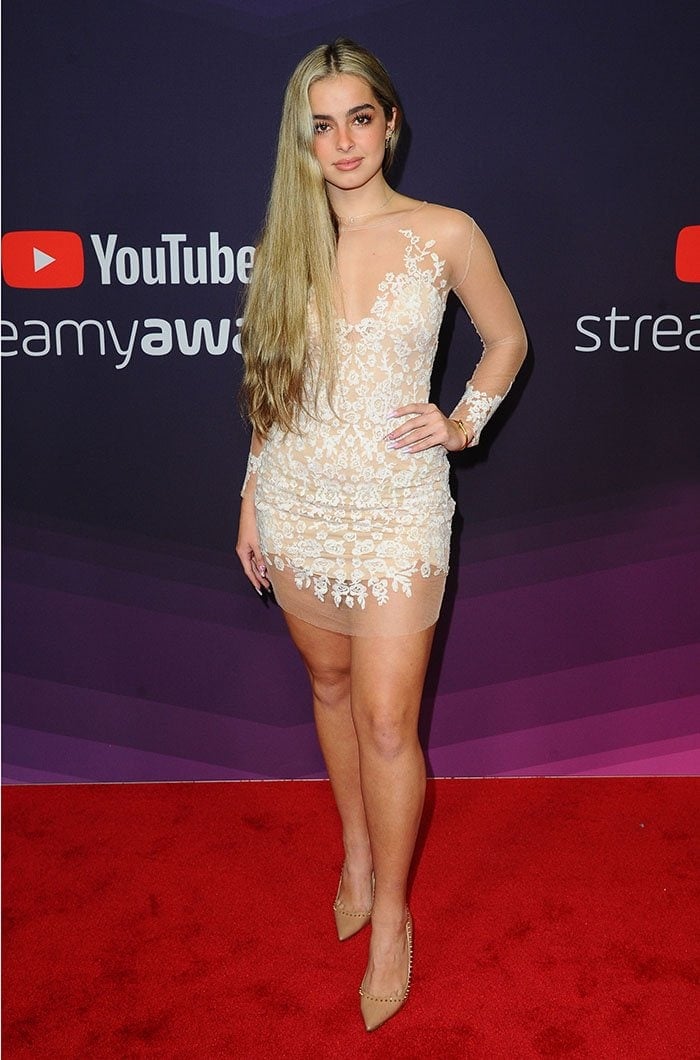 Addison Rae, pictured at the Streamy Awards 2019, is named the highest-paid TikTok star (Credit: Instar / Avalon / WENN)
Who Is Addison Rae?
While she's now living in Los Angeles, Addison is originally from Lafayette, Louisiana. She was born on October 6, 2000, to Monty Lopez and Sheri Easterling.
Addison Rae, a Louisianan, attends the Spotify Best New Artist 2020 Party in Los Angeles on January 23, 2020 (Credit: Instar / Avalon / WENN)
Her parents occasionally appear in her TikTok videos, but they each have their own TikTok account as well. Her dad currently has 3.9 million followers, while her mom, who's a photographer and an engineer by profession, has 12.1 million.
She also has two younger brothers, named Enzo and Lucas, who also share a TikTok account.
A professionally trained dancer, Addison started competitive dancing when she was six and became a member of the Shreveport Dance Academy in 2019.
The 5'6" internet star finished high school at Calvary Baptist Academy in 2019 and went to Louisiana State University to become a journalist or a sports broadcaster. However, when she rose to fame, she left her studies to focus on building her TikTok career.
How Did Addison Rae Become Famous on TikTok?
Thanks to Mariah Carey, Addison Rae is now enjoying her newfound fame.
In July 2019, Addison filmed a TikTok video with her mom, Sheri, dancing to the Songbird Supreme's 2009 hit, Obsessed. Luckily, Mariah noticed the video and liked it. That "like" went viral and catapulted Addison to fame.
In an interview with Stephen Laurel "tWitch" Boss on The Ellen DeGeneres Show in September, Addison shared how she got into TikTok and how she became an overnight sensation.
"I actually started it, because in high school there were people—like younger people, so I'd say the freshman in my high school when I was a senior—doing TikToks. And I was like, 'Okay, I'll be in them, but I'm not going to get it, because I'm a senior, so I'm cool…' I ended up actually getting it in July of last year."
She added: "So I just randomly was like, 'you know what? I'm in my friends' videos, why do I not just look at them and see them?' And then I ended up doing the video later on with my mom, and it was my mom and I to a Mariah Carey song. And Mariah Carey liked it. I was like, 'what?' That was the first time I'd ever been noticed by someone that I loved and listened to their music."
Addison and The Hype House
Addison left college after meeting the Hype House crew, which is a group of TikTok content creators, in late 2019.
Her following grew further after joining the gang, who's known to collaborate on videos in a Spanish-style mansion in Los Angeles.
In May, however, following D'Amelio's departure from the collective, rumors surfaced that Addison will also be leaving the group.
While she has not confirmed anything yet, fans concluded that she has already left after noticing that she has not appeared in the Hype House's social media posts in a long time.
Addison Wants to Become an Actress
Addison dreams of becoming an actress. She told ET she's "pushing to get into acting really hard right now" and said she wants to appear on Stranger Things.
Addison Rae at the Los Angeles Special Screening of Netflix's All The Bright Places on February 24, 2020 (Credit: Instar / Avalon / WENN)
In September, she scored a starring role in the gender-swapped remake of the 1999 rom-com She's All That, making her the first TikTok star to land a major acting role in a huge Hollywood movie.
The upcoming movie, titled He's All That, will be directed by Mark Waters.
She Hosts a Podcast with Her Mom
Addison runs a weekly Spotify-exclusive podcast with her mom, named Mama Knows Best, where they provide "an intimate and authentic look" into their lives.
View this post on Instagram
In the first episode, Addison revealed why she decided to leave college and move to LA.
She said: "After a while [my dad] was like, 'You know what, whatever. If you really believe that you're going to do this and you're going to make it work and you have a plan, do it. I believe in you, I trust you.'"
She then moved out of her house in Louisiana and stayed with a friend in LA. She later realized that she needed her family with her. And being the supportive parents, her family joined her in Los Angeles, and "that's when things really started skyrocketing."
Addison Has a Lot of Famous Friends
The famous TikTok star has made friends with several famous celebrities. She hangs out with vlogger James Charles, singer Jason Derulo, socialite Kourtney Kardashian, and model Karlie Kloss.
Addison and Kourtney became friends through her son Mason, who is a huge fan of the TikTok star. They have made TikTok dance collabs and since then, she's often seen hanging out with the socialite at her house.
View this post on Instagram
Addison also modeled for Kim Kardashian's SKIMS anniversary campaign in September. She appeared on a billboard in New York City wearing a black bra and shorts set from Kim's shapewear line.
Addison's Relationship with Bryce Hall
Addison is also famous for her on-and-off relationship with Bryce Hall, who is also a TikTok star and a member of the TikTok collective Sway House.
The two never confirmed their relationship and insisted that they are just friends.
However, in an interview with Entertainment Tonight, Addison opened up about her relationship with the TikTok influencer.
"There were a lot of times when we were on, we were off and it was kind of just a confusing situation. Right now, we're just kind of both deciding that there are a lot of things going on in both of our lives that we really need to focus on at the end of the day, we're both still wishing the best for each other and still friends."
Just last week, the two stepped out to attend a workout session in Los Angeles.
Bryce donned a black Tupac tank top with camo shorts and white Air Force 1 sneakers with Louis Vuitton monogram print.
Addison, on the other hand, took the sexy route in a red cropped tank top from Stax and a pair of Onzie high-rise leopard-print leggings.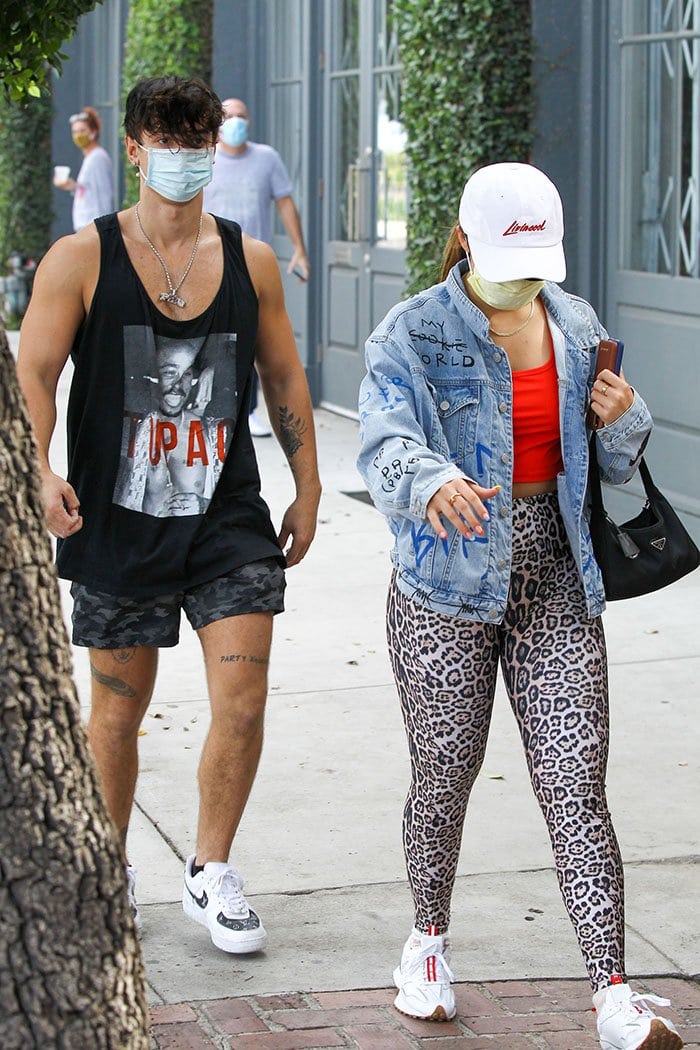 Bryce Hall and Addison Rae heading to a gym in Los Angeles on November 3, 2020 (Credit: Instar / Avalon / WENN)
She styled the look with a Peace Bird Fall 2019 denim jacket, a gold necklace from Martha Calvo, and a Prada nylon bag.
Keeping a low-profile, Addison wore a white LivinCool Lolita cap, Dmy Preston sunglasses, and a yellow face mask.
A pair of the newly released Aries x New Balance 327 completed Addison's athleisure look.
Addison Rae in Stax red crop tank top, Onzie leopard leggings, and Aries x New Balance 327 shoes (Credit: Instar / Avalon / WENN)
Cult streetwear brand Aries added some '90s style to New Balance's '70s-inspired 327 silhouette. These leather shoes feature reflective detailing, red highlights, and gum soles.
Addison's Beauty Line
Aside from being a famous TikTok star, Addison is also an entrepreneur. She has her own makeup line, called Item Beauty, which she created in partnership with beauty brand incubator Madeby Collective.
It is a cruelty-free, vegan-friendly line, with products formulated using plant-based extracts and dermatologically tested, science-backed ingredients.
"I work with the team to create the brand and products focused around just loving yourself and expressing who you are," she told ELLE in August.
Addison's Other Ventures
In January 2020, Addison signed with talent agency WME to further build her career. The agency, which also signed her parents, will represent her in all areas of her career, including modeling, TV, film, and music.
Like other social media stars, Addison also has her sponsors. According to reports, she charges $1,000 to $2,000 per sponsored post.
As for brand endorsements, Addison has worked with various brands, including Reebok, Fashion Nova, American Eagle, Uptown Cheapskate, Chantilly Boutique, and McCary Jewelers.
As reported by Forbes, Addison earned $5 million over the past year "thanks to her 54.1 million followers, her new makeup line (Item Beauty), and deals with American Eagle and Spotify."