Measuring 6ft 1 ½ (186.7 cm), Karlie Kloss is much taller than the average American woman and has even made fun of Lady Gaga's height.
Karlie Kloss wears a shoe size 9 (US), which is slightly above average for women in the United States. The average shoe size for women in the US is between 7.5 and 9. Considering your height, you would think she'd have much bigger feet.
In various international shoe sizing systems, Karlie Kloss's shoe size 9 in the United States corresponds to approximately a size 39-40 in Europe, 7-7.5 in the United Kingdom, and 25-25.5 in Japan.
At the "Indiana Jones And The Dial Of Destiny" screening during the Cannes Film Festival on 18 May, 6ft 1 ½ (186.7 cm) tall Karlie Kloss, who announced her pregnancy at the 2023 Met Gala, dazzled in a custom Dior olive green gown, complemented by matching stiletto heels and a headpiece (Credit: IPA / INSTARimages)
Given Karlie's height, her shoe size is proportional to her body or perhaps even on the small side. Therefore, it is unfair to say that she has "big feet."
"Ballet training not only teaches you posture but also movement and body awareness. I'm 6ft 1in and a half – in ballet, my height worked against me, but luckily it works in my favor for modeling," she said about her height in an interview with InStyle.
Karlie Kloss flaunts her legs in a Peter Do Spring 2022 ensemble at the WSJ. Magazine 2022 Innovator Awards at the Museum of Modern Art on November 2, 2022, in New York City (Credit: Janet Mayer / Startraksphoto / Cover Images)
"I'm six feet, one-and-a-half inches—at least, last time I checked. I live in my ballet flats because they don't add any height. Flat-footed, I'm not taller than my boyfriend, but with heels, absolutely—and he's about 6'3," she told Into The Gloss in 2014.
"If someone calls you a giraffe, that's okay too," she said on her YouTube channel in 2015.
"I feel like I can conquer the world in a pair of flats," Kloss told PeopleStyle in 2016.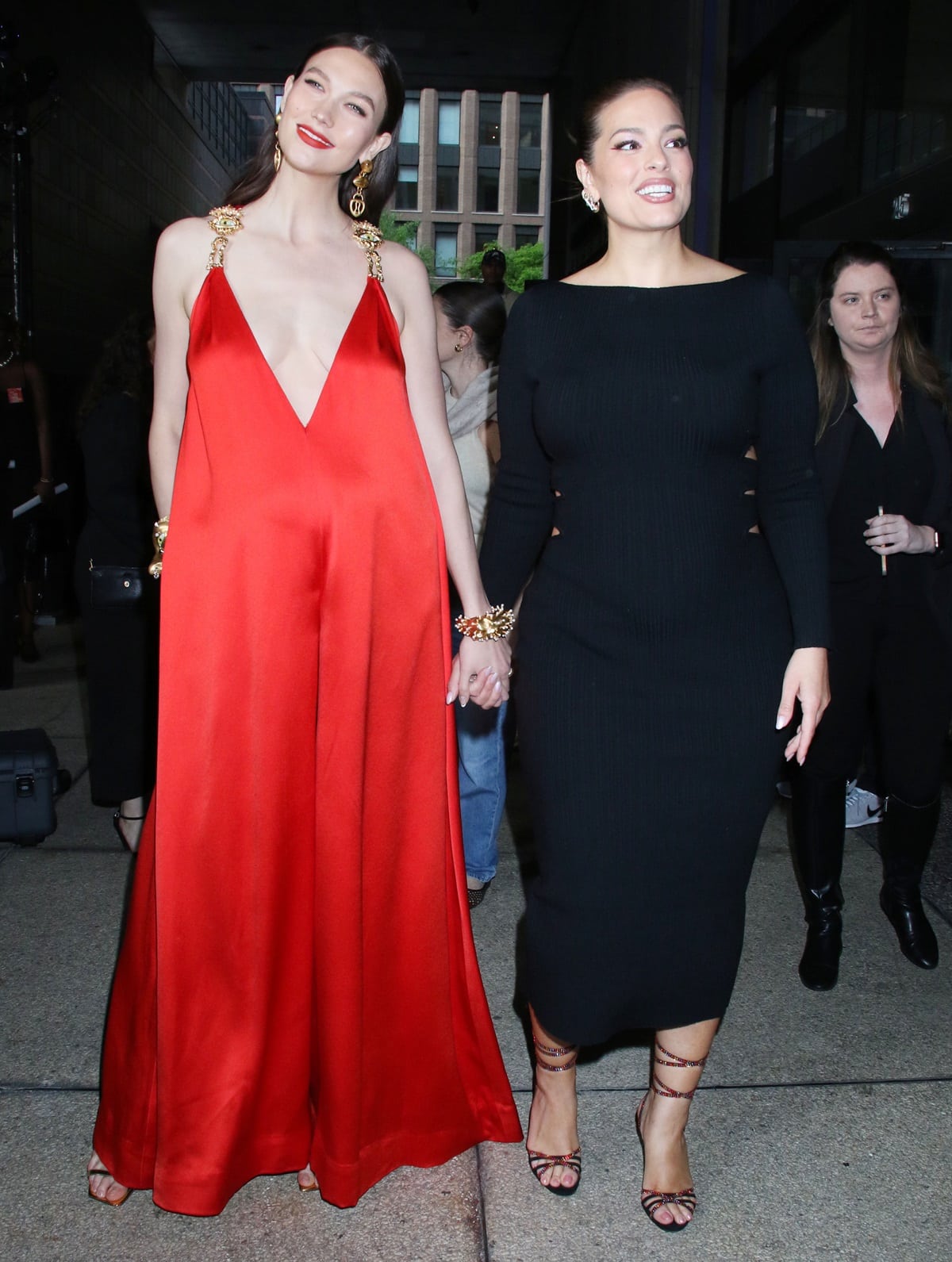 Standing at 6ft 1 ½ (186.7 cm), Karlie Kloss, alongside Ashley Graham, who is 5ft 9 (175.3 cm) tall, attended the 2023 Future Of Fashion celebration and honors at The Fashion Institute of Technology on May 10, 2023, in New York City (Credit: Roger Wong / INSTARimages)
"I think I would look like a crazy woman walking around N.Y.C. in heels since I'm 6'1″ and 6'4″ in heels. Plus, I take the subway, so I'd stand out even more!"
"Learning what works for me was a challenge as a kid, especially with my height. But now I use it to my advantage," she added. "Like I love wearing high-waisted trousers to make my legs look even longer."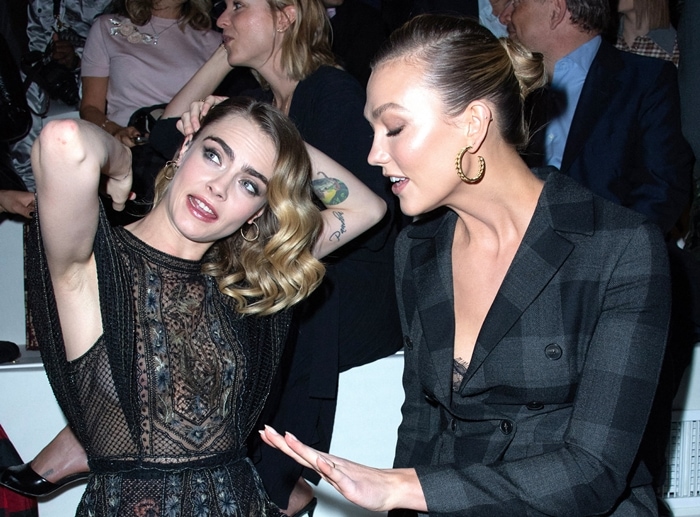 Cara Delevingne and Karlie Kloss attend the Dior show as part of the Paris Fashion Week Womenswear Fall/Winter 2020/2021 on February 25, 2020, in Paris, France (Credit: Instar / WENN)
"I love being super-tall because I can wear flats on the red carpet," she shared. "And I get to wear amazing gowns at a runway show that nobody else could pull off because it's so long. There are definitely upsides to it."
"If you're really tall, I think you should own it. I think it's great to find what makes you different and accentuate it, and use them to stand out even more."
With her 6 foot 1 inch frame, she is one of the most famous faces in the modeling industry and has a net worth of $40 million as of 2023.
Model Karlie Kloss shows off her feet in Gucci ankle-strap heels at the 2013 MTV Movie Awards at Sony Pictures Studios on April 14, 2013, in Culver City, California (Credit: DFree / Shutterstock)
Karlie Kloss: Facts, Rumors, and Everything in Between
What is Karlie Kloss's net worth?
Karlie Kloss is a successful model and entrepreneur with a net worth of $40 million.
Full Name:
Karlie Elizabeth Kloss
Born:
Karlie Elizabeth Kloss was born on August 3, 1992, in Chicago, Illinois, U.S.
Husbands:
She married Joshua Kushner, an American businessman and investor, on October 18, 2018.

His brother is Jared Kushner, the son-in-law and senior advisor of U.S. President Donald Trump.
Kids:
Karlie Kloss has two children with her husband, Joshua Kushner.

Their first son, Levi Joseph, was born in March 2021. Their second son, Elijah Jude, was born in July 2023.
Weight:
Karlie Kloss weighs 61 kg (134 lbs).
Does Karlie Kloss have big feet?
A shoe size of 9 (US) for women is slightly above average. Given Karlie Kloss's height, it's proportionate.

However, in general terms, size 9 is not considered particularly "big", but it's on the higher end of average for women's shoe sizes.
Is Karlie Kloss tall or short?
Karlie Kloss, standing at 6ft 1 ½ (186.7 cm), is considerably tall, especially when compared to the average American woman's height of approximately 5ft 4in (162.5 cm). In fact, she stands about 9.5 inches or 24.2 cm taller than the typical American female.
Nationality:
Karlie Kloss is an American citizen.
Source of Wealth:
Karlie Kloss has earned her wealth through her modeling career, endorsements, and business ventures.
Ethnicity/Race:
Karlie Elizabeth Kloss hails from a diverse ethnic background comprising German, one eighth Danish, one eighth Bohemian Czech, and potentially one eighth Polish.
How old was Karlie Kloss when she became a mother for the first time?
Karlie Kloss was 28 years old when her first child, Levi Joseph, was born in March 2021. She turned 29 on August 3, 2021.
What happened to Taylor Swift and Karlie Kloss?
Taylor Swift and Karlie Kloss were once best friends, but their friendship has reportedly cooled in recent years. There are a few theories about what happened, but the exact reason for their rift is unknown.

One theory is that the friendship ended because of Swift's feud with Scooter Braun, Kloss's manager. Braun acquired the master recordings of Swift's first six albums in 2019, which Swift has been very vocal about opposing. Kloss has not publicly commented on the feud, but some fans have speculated that she may have sided with Braun.

Another theory is that the friendship ended because of Kloss's marriage to Joshua Kushner, the brother of Jared Kushner, a close advisor to former President Donald Trump. Swift is a vocal critic of Trump, and some fans have speculated that she may have distanced herself from Kloss because of her husband's political views.

It is also possible that the friendship ended simply because Swift and Kloss grew apart. They are both busy with their own careers and families, and they may not have as much time for each other as they used to.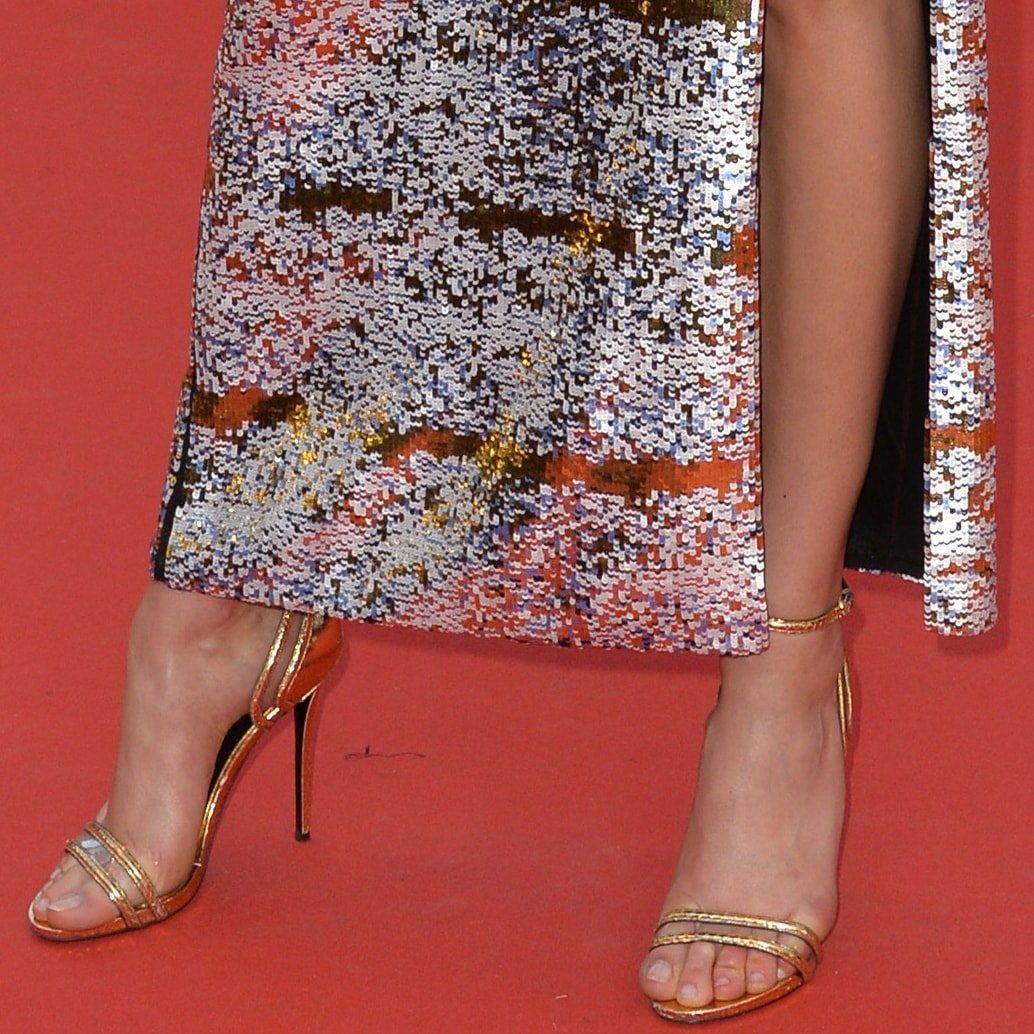 Karlie Kloss shows off her feet in metallic sandals paired with a Louis Vuitton dress at the 'Julieta' premiere during the 69th annual Cannes Film Festival at the Palais des Festivals on May 17, 2016, in Cannes, France (Credit: Featureflash Photo Agency / Shutterstock)
Karlie Kloss Elevates Casual Tee and Jeans With Swarovski Jewels
In May 2016, Karlie Kloss was named the new ambassador for Swarovski, replacing her fellow Victoria's Secret Angel alum, Miranda Kerr.
"Karlie is someone young women look up to—her use of social media makes her accessible to a broad audience," said Nathalie Colin, Swarovski's creative director, in a statement.
"As a brand, accessibility has always been part of our DNA, and we take every opportunity to get closer to our consumers."
Karlie Kloss exuded effortless style, donning a simple white v-neck tee from Z Supply paired with classic Levi's jeans (Credit: FayesVision / WENN)
A few months later, the then-24-year-old model arrived at The Grove in Los Angeles to promote her new campaign with the luxury crystal manufacturer.
Karlie looked chic in a basic white v-neck tee by Z Supply and a pair of straight-cut Levi jeans. She gave the rather casual outfit a hint of class with a black tuxedo jacket and a pair of python pumps.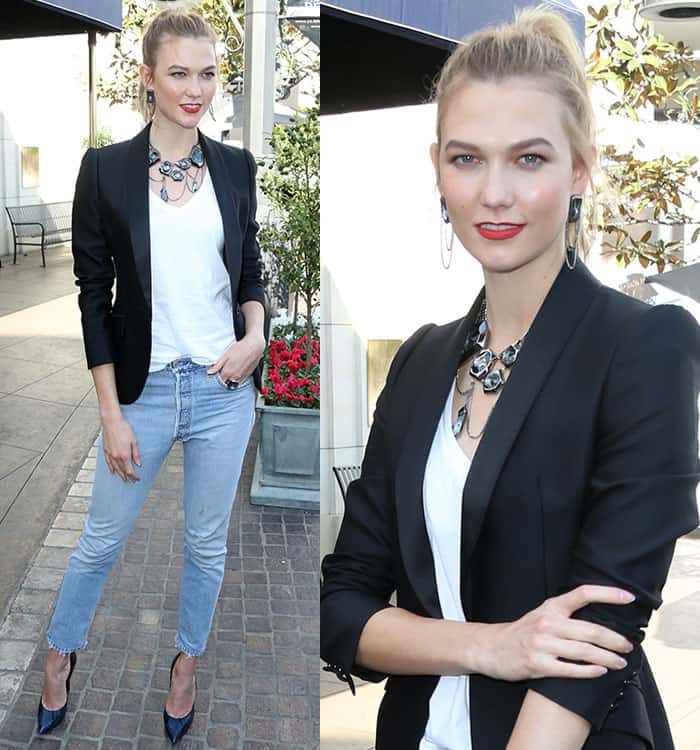 Karlie Kloss promotes a new campaign with Swarovski at The Grove in Los Angeles on October 25, 2016 (Credit: FayesVision / WENN)
Karlie styled the laid-back look with statement accessories from the Atelier Swarovski by Jean Paul Gaultier collection. She glammed up with a ring, a necklace, and a pair of earrings, which featured chains and dark crystals with modern ruthenium plating.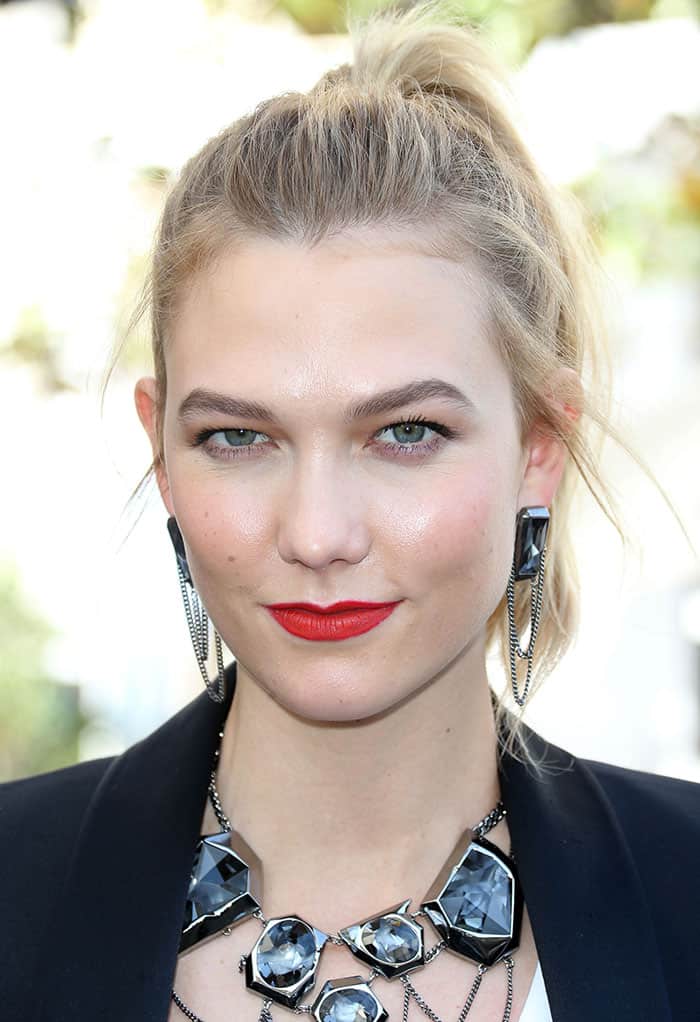 Karlie Kloss completed her outfit with exquisite accessories from the Atelier Swarovski by Jean Paul Gaultier collection (Credit: FayesVision / WENN)
The 6ft 1 ½ (186.7 cm) model wore a high ponytail and a slick of red lipstick for a pop of color.
To elevate her laid-back attire, Karlie Kloss added a touch of sophistication with a black tuxedo jacket and a pair of python pumps (Credit: FayesVision / WENN)
Karlie boosted her already statuesque frame with a pair of Casadei pumps. These python-embossed leather pumps have pointed toes and about five-inch blade heels.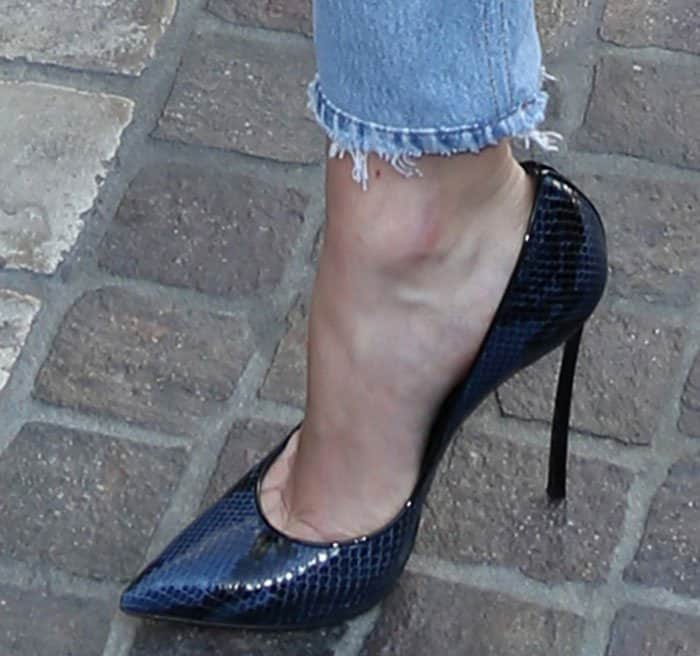 Karlie Kloss elevates her already remarkable stature by donning towering Casadei pumps (Credit: FayesVision / WENN)