Our intent is not to beat the same drum over and over again. However, enough cannot be said about the military's influence on the world of fashion.
Like many of you, I proudly have a closet full of army green pieces. Trench coat, pea coat, bomber jacket, army caps; you name it, I've got it!
Over the past few years, we have witnessed an influx of camo prints on jackets, coats, pants, and accessories. With the arrival of fall, fashion has seen the re-emergence of pieces like the pea coat, trench coat, and bomber jacket.
I chose the word "re-emergence" carefully as I firmly believe the military trend has never formally left and will never really leave the fashion world. Do you agree?
We are totally getting inspiration from the following fashion bloggers and celebrities who are also smitten with the military jacket trend:
1. Blac Chyna in Camouflage Coat With Leggings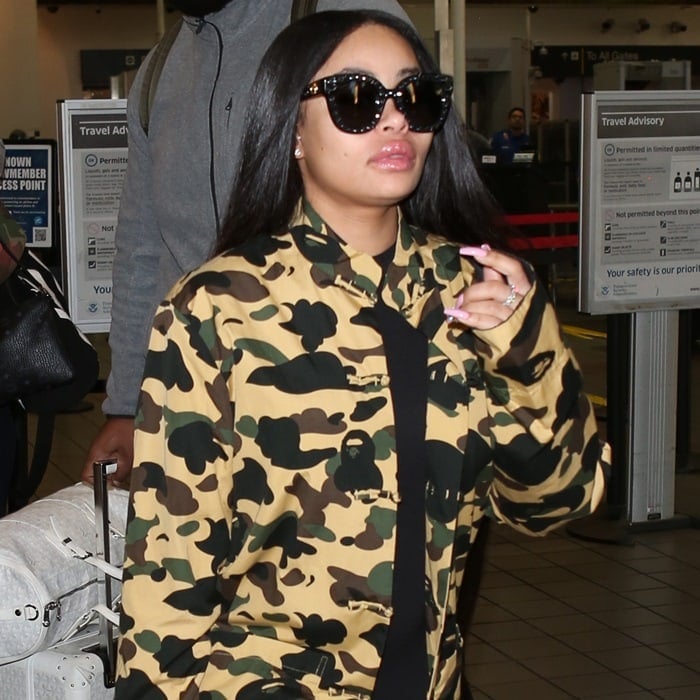 Blac Chyna wears an oversized camouflage jacket at Los Angeles International Airport arrivals, in Los Angeles, California, on February 3, 2018
The controversial American model, entrepreneur, and former stripper touched down at LAX wearing an athleisure-inspired look consisting of an oversized camouflage jacket, black leggings, Givenchy's iconic 'Antigona' bag, and black and white sneakers.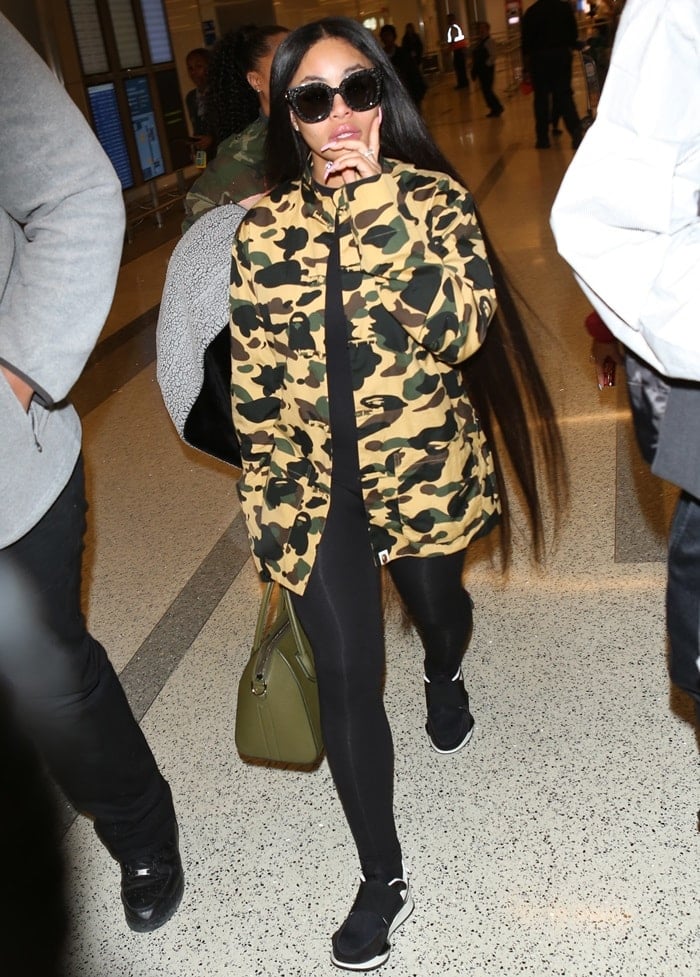 Blac Chyna styled her military jacket with black leggings and black/white sneakers
2. Aika in Green Camo Jacket
Aika managed to make the camo jacket look chic by wearing it with denim shorts and a layered top. It also takes good accessories to make this look work. Aika threw in a pop of red with her bag and a little Perspex with her pair of shoes.
Aika paired a camo jacket with denim shorts
3. Flavia in Army Jacket
I suspect Flavia can wear a flour sack and make it look stylish. She looks polished from head to toe in an army-style jacket and a leather ensemble.
Flavia's polished army-style jacket and a leather outfit
4. Marilyn in Army Jacket
Marilyn layered a floral dress over a denim one and capped off the look with an army-style jacket. Very clever. It works, too!
It's a wonderful summer style to covet if you are feeling a tad adventurous. Her blog, Messages on a Napkin, is unfortunately no longer available online.
Marilyn styled a floral dress with an army green jacket
5. Meri in Army Vest
Are army jackets too warm for the summer? Try army vests like what Meri is wearing in this photo. She definitely had spunky and grungy in mind when she came up with this outfit as there are a lot of tough elements in it.
Pile on accessories like statement necklaces and bracelets for a more street-style vibe to your army-inspired ensemble.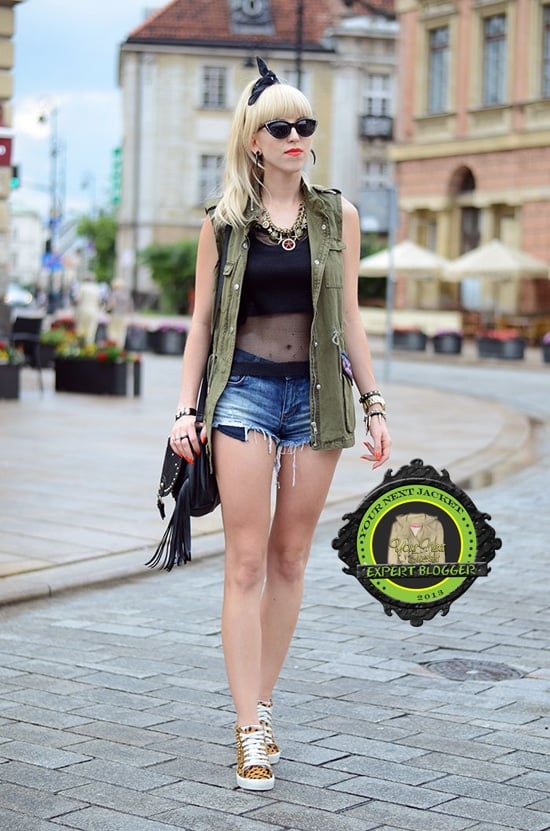 Meri shows how to wear a military-inspired vest while flaunting her sexy legs
6. Ashley Tisdale in Olive Green Cargo Jacket
Ashley Tisdale was photographed sporting a mid-thigh-length olive green cargo jacket with beautifully studded and metallic-embroidered sleeves.
Ashley Tisdale wears an oversized forest green toque while grabbing a coffee from Urth Caffé in West Hollywood, Los Angeles, California, on December 21, 2012
While clearly acting as the centerpiece, the American actress, singer, and producer accessorized her military jacket stylishly by combining it with a gray top, black distressed denim jeans, studded moto boots, and an oversized forest green toque.
Ashley Tisdale rocked a military jacket with a gray top, black distressed denim jeans, and studded moto boots
7. Kendall Jenner in Camo Bomber Jacket
The American fashion model and television personality bared her toned midriff in a camouflage bomber jacket from Amiri over a black crop top and mesh "Mila" leggings by Fabletics.
Kendall Jenner bares her belly button in a camouflage bomber jacket at Los Angeles International Airport on July 19, 2016
She accessorized with Ahlem Eyewear sunglasses, a medium leather tote from Givenchy, and Adidas "Tubular Defiant" sneakers.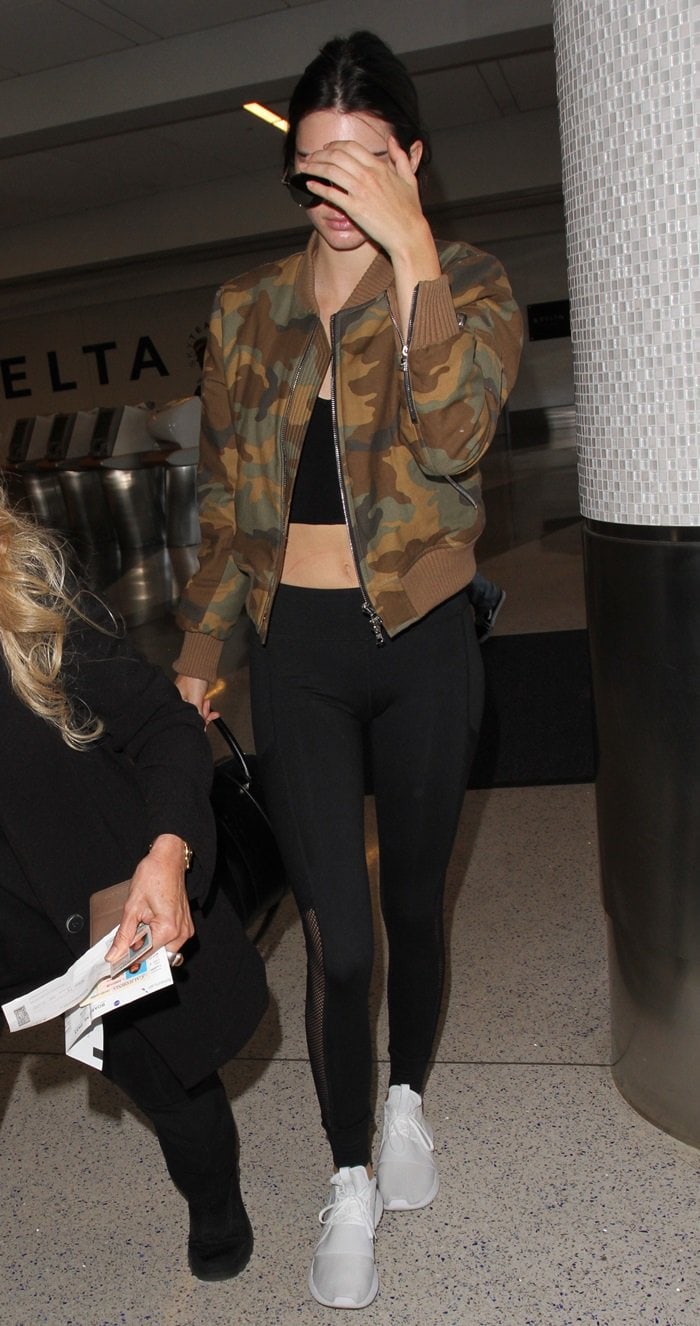 Kendall Jenner wore her Amiri jacket over a black crop top and leggings by Fabletics
8. Madison Beer in Army Camo Jacket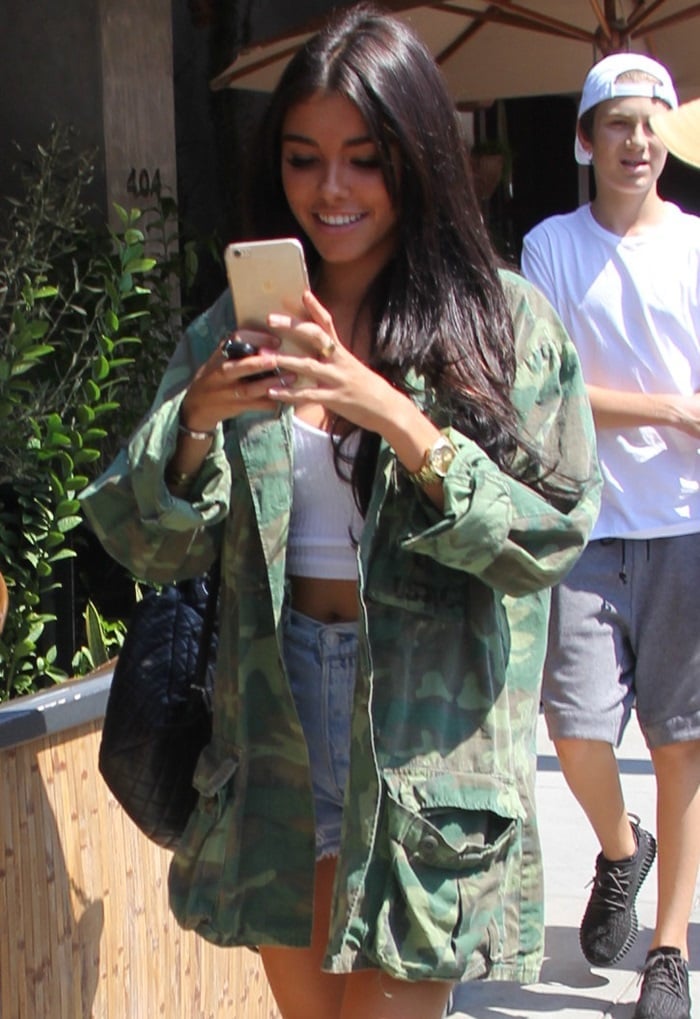 Madison Beer bared her sexy stomach in denim hot pants
The American singer and actress, who gained media attention after pop star Justin Bieber tweeted a link to a video of her singing, styled her army camo jacket with denim hot pants and black leather boots.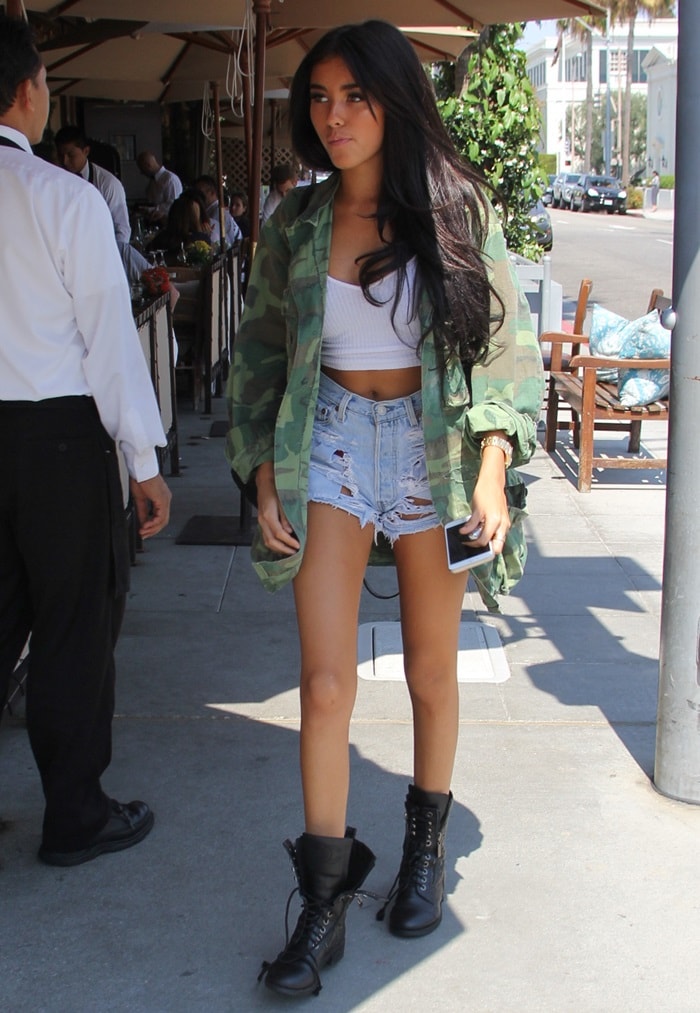 Singer Madison Beer goes to Il Pastaio in Beverly Hills wearing an army camo jacket, denim hot pants, and black leather boots on August 23, 2016
9. Karla in Military Jacket
It's easy to love Karla's ingenious play on the military jacket trend. You can tell she took inspiration from it, but her look is not overly masculine.
She paired her army jacket with earth-tone pieces to keep the look cohesive but threw in a hat for that extra edgy look.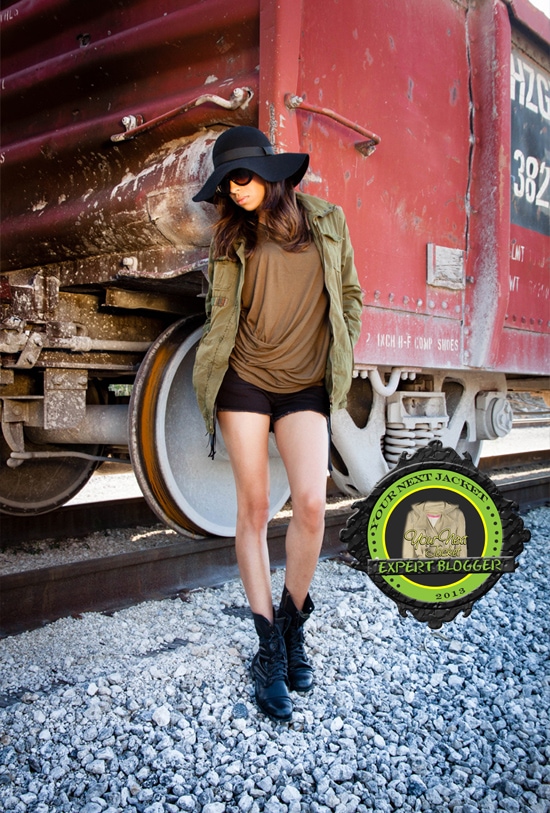 Karla's ingenious play on the military jacket trend
You may also want to check out this great video by Naomi Boyer showing 6 ways to wear and style military/utility-inspired outfits.
Inspired by these bloggers and celebrities? You, too, can rock the army trend. Here are some pieces to snap up from Shopbop and Nordstrom:
Kelly Wearstler Burrow Denim Blazer, $135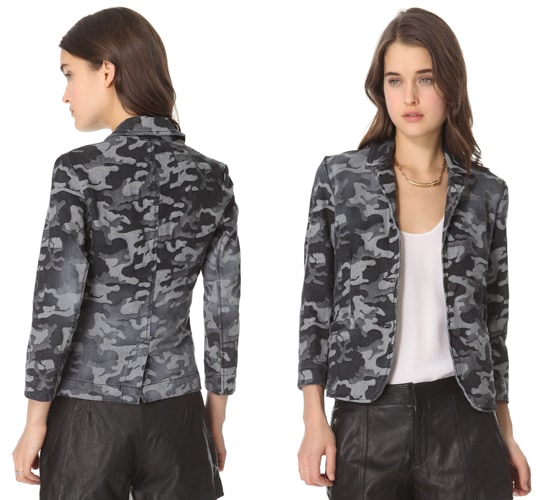 One Teaspoon Cry Tough Duffle Jacket, $152
Rag & Bone M15 Moto Jacket, $795
MINKPINK Patrol Anorak, $124
April, May Cami Camouflage Jacket, $198.80
Free People Printed Blazer, $64
Credit: WENN