Brie Larson made a superhero landing with her custom cape and washboard abs at the Marvel Avengers Campus in Paris.
She attended the opening ceremony of the Avengers-themed attraction in Disneyland to introduce a new ride called Avengers Assemble: Flight Force.
It's the latest rollercoaster adventure, where guests team up with Captain Marvel and Iron Man to save the world. It's a replacement for Rock 'n' Roller Coaster Starring Aerosmith.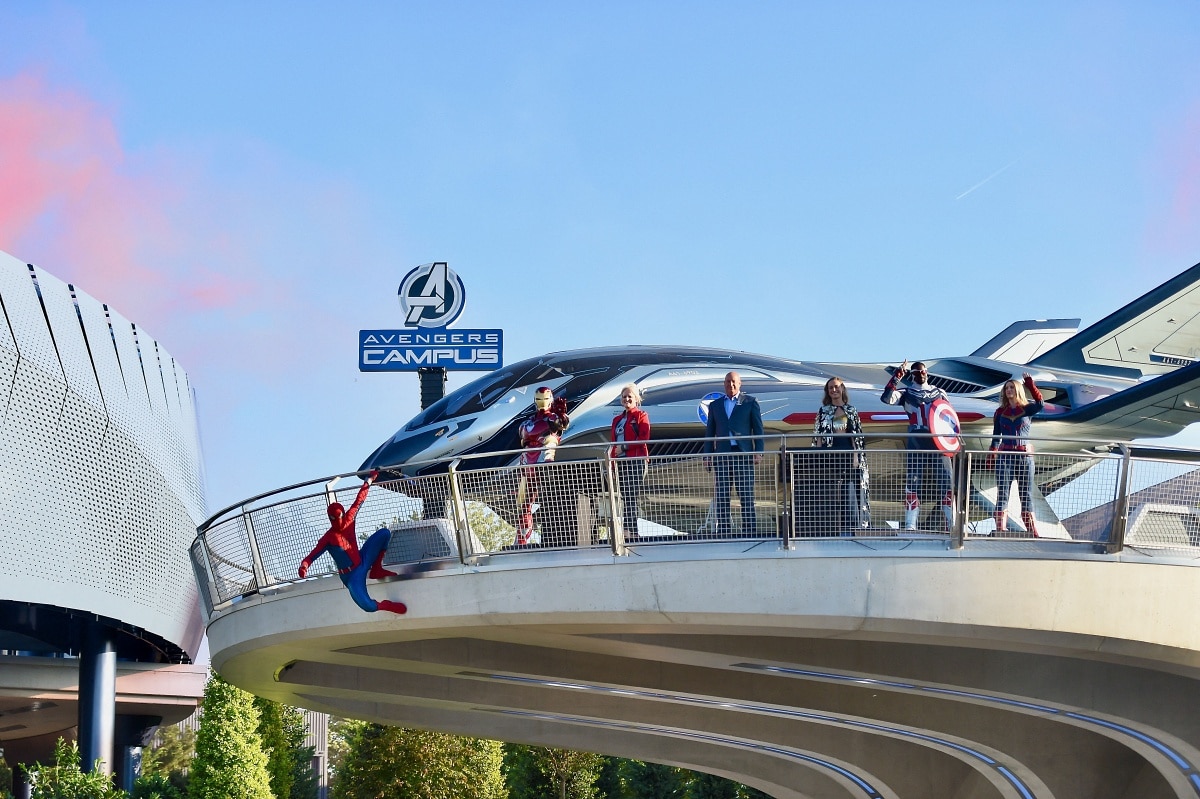 Brie Larson at the Marvel Avengers Campus opening ceremony at Disneyland Paris on July 9, 2022 (Credit: Franck Castel / ABACA / INSTARimages / Cover Images)
Originally scheduled to open in 2021 at Disneyland Paris, the opening of the steel roller coaster attraction was postponed following the closure of the park due to the COVID-19 pandemic.
"Higher, further, faster, baby"
The 32-year-old actress also gave a speech that highlighted the importance of representation and the impact of storytelling.
"When I joined the Marvel Cinematic Universe as Captain Marvel, I was ecstatic to be able to portray a character whose strength, courage, and values could resonate with audiences around the world." Brie added that "you don't necessarily get to see the impact" of the movies they create "because you're on the opposite side of the screen."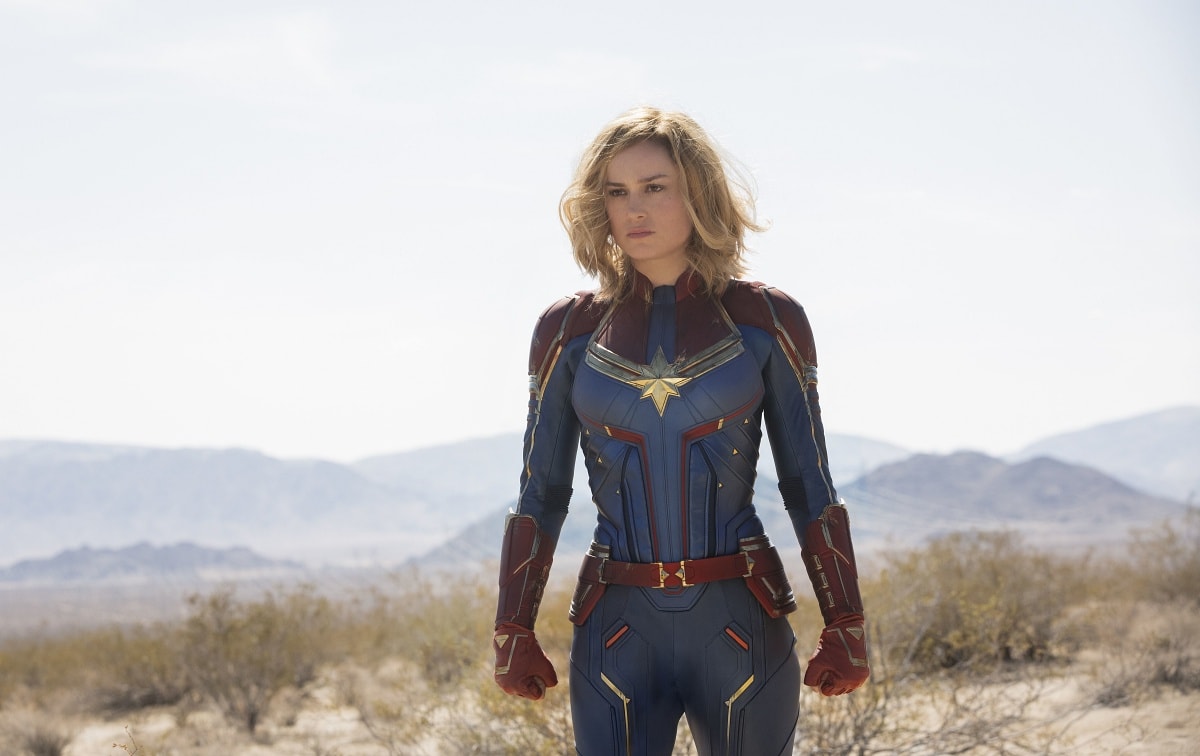 Brie Larson as Carol Danvers / Vers / Captain Marvel in the 2019 superhero film Captain Marvel (Credit: Marvel Studios / Walt Disney Studios Motion Pictures)
However, "being here at Avengers Campus, its stories and characters have a place to come to life where fans can interact with them every single day." According to Brie, that's what makes it "so special and significant."
Of course, Brie named Flight Force as her favorite attraction at the Avengers Campus.
Ever the superhero, she also said: "I know I can count on all of you to help Iron Man and Captain Marvel successfully complete their mission. Higher, further, faster, baby."
Brie Larson wearing an Oscar de la Renta Fall 2022 look with a custom celestial-themed cape (Credit: Franck Castel / ABACA / INSTARimages / Cover Images)
A cape worthy of a celestial being
The Academy Award winner dressed up for the occasion, looking like the coolest superhero in her sequined cape.
This custom piece from Oscar de la Renta featured a hand-embroidered celestial sequin design that took 400 hours to make. It also had a floor-sweeping hem that added a dramatic effect to her look.
View this post on Instagram
Brie wore it over a Fall 2022 sleeveless crop top that flaunted her washboard abs. It came in a shimmering gold color with sequin embroidery and a feathered trim.
The Room actress paired it with high-waisted black wool pants from the same Fall 2022 collection. It featured a wide-leg silhouette and a long hem that barely gave us a glimpse of her heels.
She finished off her look with tousled blonde waves, minimal makeup, and jewelry from Djula and Graziela Gems.
Brie Larson showing off her abs in a gold sequined crop top and high-waisted wool pants from Oscar de la Renta (Credit: Franck Castel / ABACA / INSTARimages / Cover Images)
After the ceremony, Brie ditched the cape and slipped into a much more comfortable outfit to explore the Avengers Campus. She wore sneakers and a dark green collared dress from HVN with a crystal belt.
On her Instagram, the Nissan spokeswoman expressed her excitement and gratitude over the new Captain Marvel ride at a place that has brought her so much joy as a kid. She thanked everyone from the Oscar de la Renta team to her mom for her encouragement.
In the caption, she also wrote: "Thank you to the imagineers and all the cast members creating magic everyday." She ended her note by thanking Marvel "for choosing me to be your Captain Marvel. It has been the ride of a lifetime."
View this post on Instagram
Avengers Assemble
Two of Brie's fellow superheroes joined her at the opening ceremony: Iman Vellani and Pom Klementieff. Clad in all-black outfits, they posed for photos with Disney CEO Bob Chapek, and Disneyland Paris President Natacha Rafalski.
Natacha Rafalski, Iman Vellani, Brie Larson, Pom Klementieff, and Bob Chapek at the Marvel Avengers Campus opening ceremony at Disneyland Paris (Credit: Franck Castel / ABACA / INSTARimages / Cover Images)
Iman Vellani wore a shimmery sheer black top with black pants and black lace-up shoes with towering platforms.
The 19-year-old star plays Kamala Khan in the Disney+ miniseries Ms. Marvel. A Canadian actress of Pakistani origin, Iman proudly took on the role of the first female South Asian superhero in the Marvel Cinematic Universe.
Iman Vellani as Kamala Khan / Ms. Marvel in the 2022 television miniseries Ms. Marvel (Credit: Disney+)
Last month, Brie shared a snap on Instagram of her Zoom call with Iman. In the caption, she wrote: "From our first Zoom, I knew she'd be the best Marvel."
Both superheroes are set to star in the upcoming film The Marvels, which is scheduled for release next year.
View this post on Instagram
Meanwhile, Pom Klementieff stepped out in a blazer dress that showed off her legs. She also wore statement jewelry and glossy patent leather ankle boots.
The 36-year-old actress plays Mantis in Guardians of the Galaxy. She reprises her role in the fourth installment of the Thor films, starring alongside Tessa Thompson and Natalie Portman.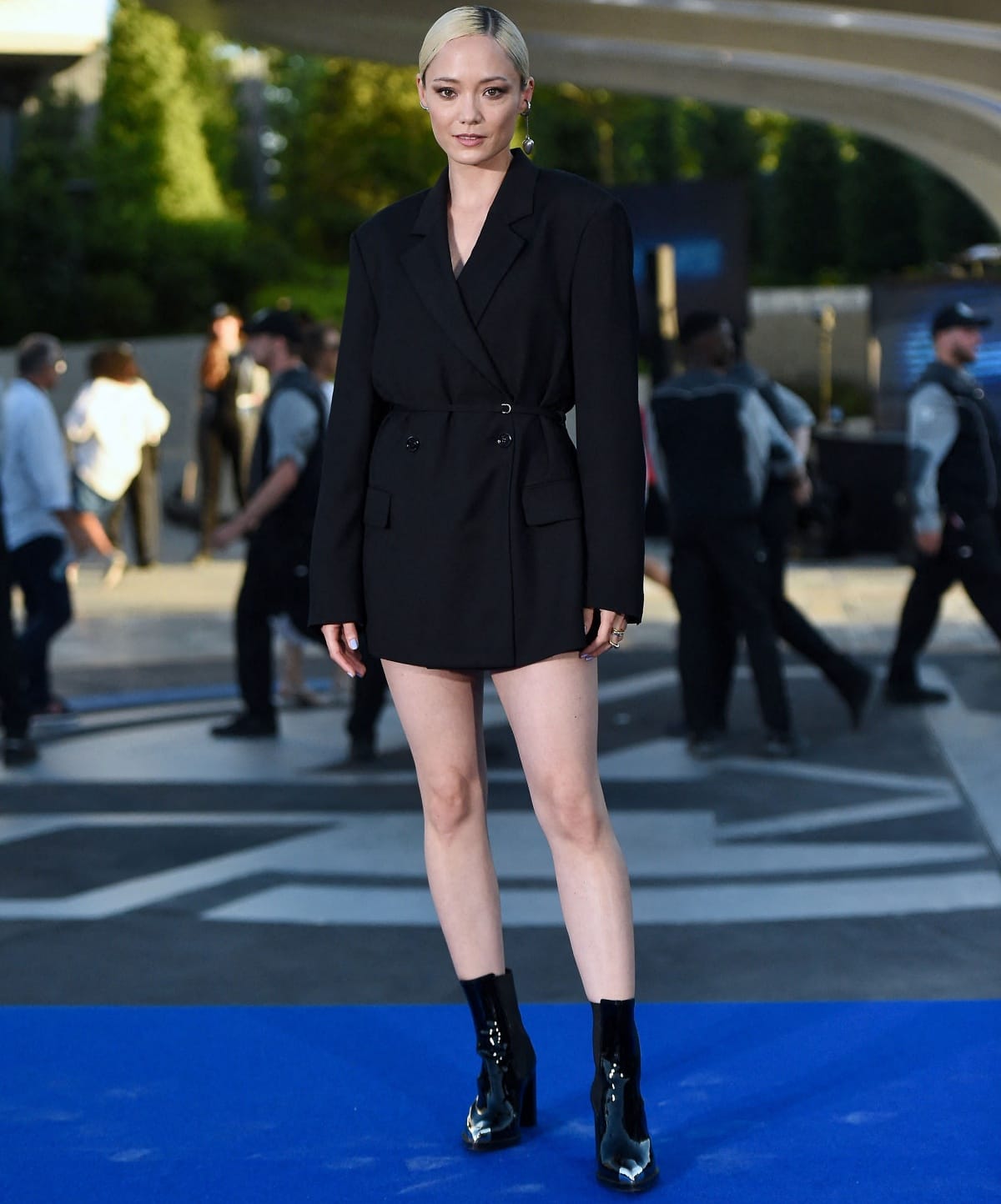 Pom Klementieff in an all-black look with a blazer dress and patent leather boots (Credit: Franck Castel / ABACA / INSTARimages / Cover Images)
Fresh from the Thor: Love and Thunder promotional circuit, Pom shared her excitement over visiting Disneyland Paris on her Instagram.
She wore a look from Acne Studios with alien shades and Amanda Pearl Quill Climber earrings.
View this post on Instagram