As one of the most sought-after and successful models in modern times, Candice Swanepoel has certainly made her mark in this industry, bagging a whopping net worth of around $25 million.
Candice Swanepoel in a Reve Riche Jasmina top paired with white Stella McCartney pants and a pink velvet Giuseppe Zanotti crystal clutch at the #REVOLVEawards on November 15, 2019, at Goya Studios in Los Angeles (Credit: Kathy Hutchins / Shutterstock)
With a flawless smile and driving ambition, Swanepoel is most famous for her work as a Victoria's Secret Angel.
Putting modeling aside, Swanepoel is also fluent in 3 different languages, English, Afrikaans, and Portuguese, and even proudly mothers 2 beautiful boys.
How Candice Swanepoel Was Discovered
Swanepoel was discovered in modeling when she was only 15 years old. At the time, she was residing in a harbor city in South Africa called Durban.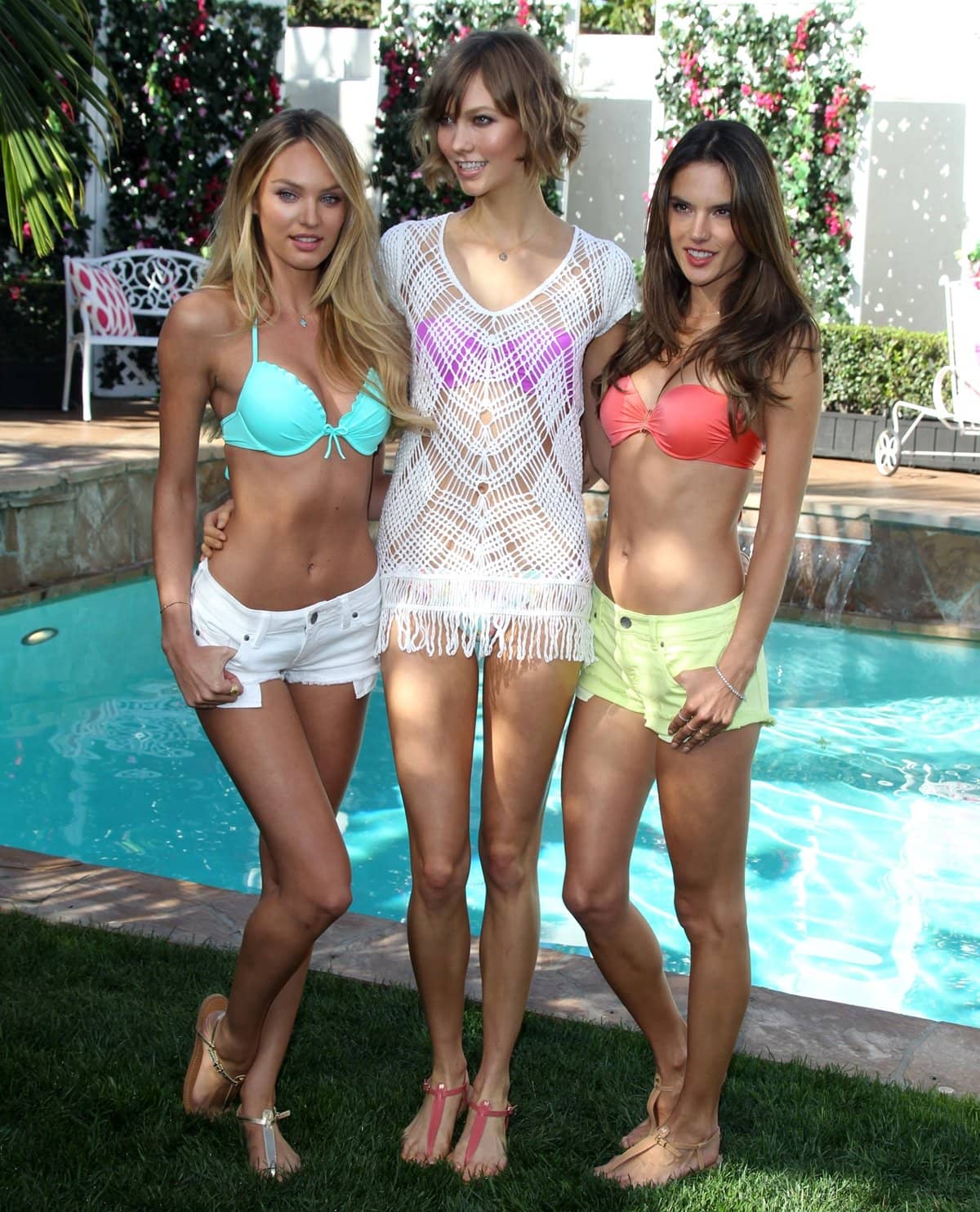 Candice Swanepoel, Karlie Kloss, and Alessandra Ambrosio at the Victoria's Secret 2013 Swim Collection Debut on March 12, 2013, in Los Angeles, California (Credit: Kathy Hutchins / Shutterstock)
When walking around a Durban flea market, a model scout spotted Swanepoel, prompting her entrance into modeling as a full-time career.
Since then, the model moved to Europe, allowing her risk to pay off and her career in modeling to blossom.
Swanepoel's Major Accomplishments
Swanepoel has made magnificent contributions to the modeling industry. Appearing in countless editorials of Vogue, Elle, and GQ, this model has also flashed her smile across the pages of other creative works such as Allure and Harper's Bazaar.
She has also walked the iconic runway for multiple brands including Fendi, Michael Kors, and Tommy Hilfiger amongst a long list of others!
On top of this, Swanepoel has contributed to a wide range of advertising campaigns, including those belonging to Victoria's Secret starting from 2007. Perhaps one of Swanepoel's biggest achievements was becoming a Victoria's Secret Angel in 2010.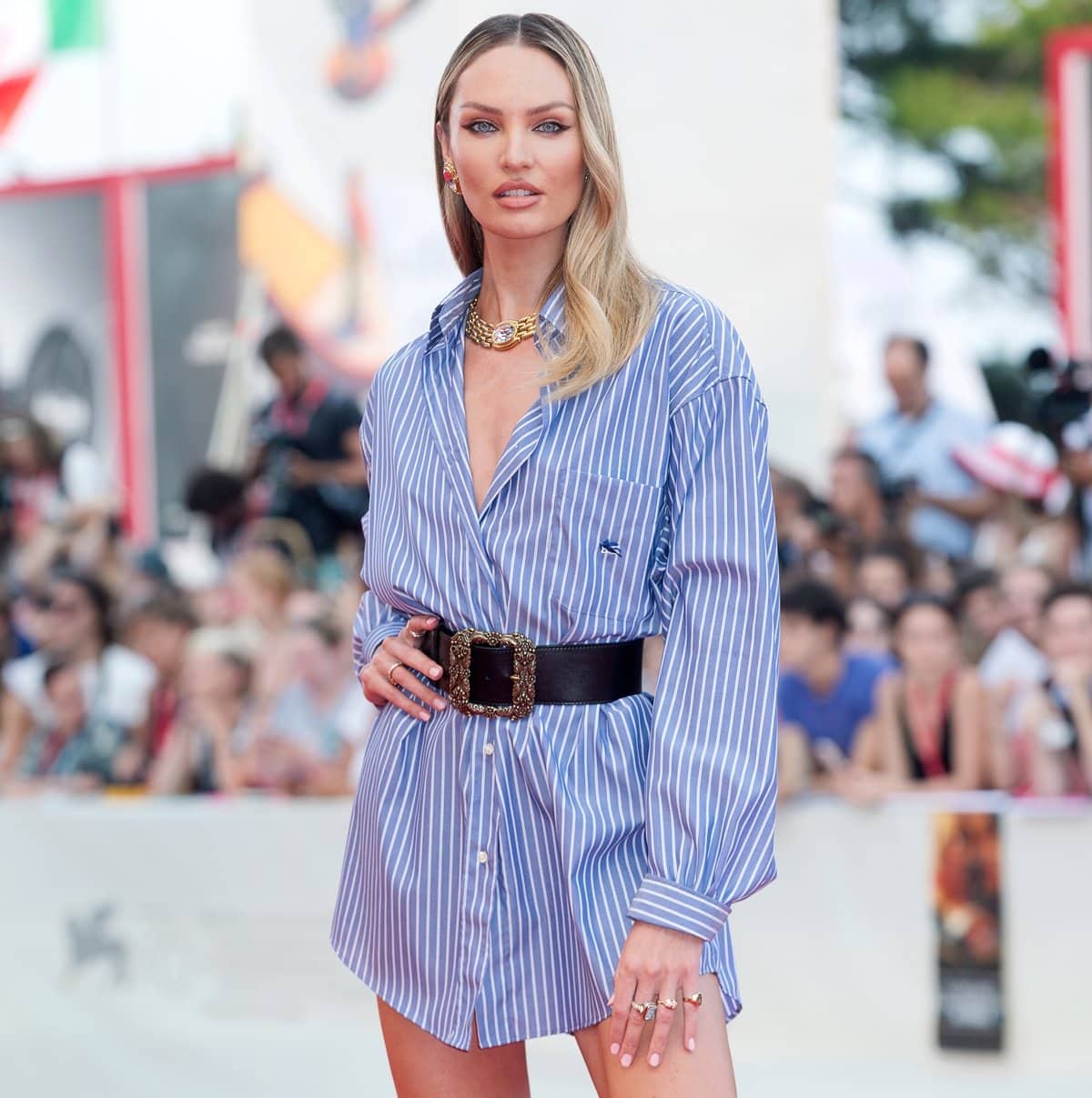 Candice Swanepoel in an Etro classic striped GE01 cotton poplin shirt paired with a buckled belt at the premiere screening of Marriage Story held during the 2019 Venice Film Festival at the Sala Grande on August 29, 2019, in Venice, Italy (Credit: Andrea Raffin / Shutterstock)
As well as modeling for a 2010 Kardashian swimwear line, Swanepoel officially opened Canada's first-ever Victoria's Secret retail store in the same year. Moving on to 2013, she was named the coveted Victoria's Secret Swim Catalogue's cover model.
In the same year, Swanepoel had the honor of wearing the Fantasy Bra in the infamous Victoria's Secret Fashion Show, a privilege that is highly sought-after by models across the globe.
Tropic of C
In 2018, Swanepoel continued to create major accomplishments by launching her personal swimwear collection named Tropic of C. For this, the model received the 5th Annual Daily Front Row Awards' Launch of the Year award.
Candice Swanepoel received the award for Launch of the Year for her ethical and sustainable swim line, Tropic of C, at the 5th annual Fashion Los Angeles Award (Credit: Ovidiu Hrubaru / Shutterstock)
With this sustainable brand, Swanepoel aims to reinvest in our world, creating programs and partnerships which help to support women all over the world.
Candice Swanepoel in a white Ralph & Russo dress and matching Christian Louboutin Optichoc red sole pumps at The Daily Front Row's 7th annual Fashion Media Awards on September 5, 2019, in New York City (Credit: Ovidiu Hrubaru / Shutterstock)
By commissioning items from artisan groups and dedicating time and effort to groups such as mothers2mothers, Swanepoel embodies female empowerment in the collection's main mission.
Swanepoel has in fact been interested in sustainable values since being a young age, prompted by the nature surrounding her whilst growing up.
It is, therefore, no surprise that Tropic of C utilizes sustainable textiles in its garments, in which all products are either biodegradable, renewable or have the ability to reduce energy and water consumption.
Candice Swanepoel in a black dress walks the runway at the Versace show at Milan Fashion Week Autumn/Winter 2019/20 on February 22, 2019, in Milan, Italy (Credit: FashionStock / Shutterstock)
To make this even better, Swanepoel has ensured that the products' shipping materials are fully compostable, completely wiping out unnecessary waste in this area.
Real Estate
Following the birth of her first son, Swanepoel listed her New York penthouse. This two-bathroom, two-bedroom penthouse is situated in Manhattan's East Village neighborhood and cost this model a whopping $1.35 million in 2010.
Model Candice Swanepoel walks the runway at the 2013 Victoria's Secret Fashion Show at Lexington Avenue Armory on November 13, 2013, in New York City (Credit: FashionStock / Shutterstock)
However, this can now be rented for $6,200 per month. This sleek, modern pad oozes style and sophistication, making it no wonder that the South African model had her eye on it in the first place.
After all, boasting top-quality facilities such as a lounge, bicycle storage, and gym makes this place all the more tempting.
Social Media
As one of Instagram's most-followed people, Swanepoel takes pride in her social media. With millions of followers being able to see regular stunning snapshots of the Victoria's Secret model, she has been able to drive her career with online posts too.
South African model Candice Susan Swanepoel became a Victoria's Secret Angel in 2010 (Credit: FashionStock / Shutterstock)
The interaction Swanepoel receives from her fans is impressive. Getting hundreds of thousands of likes more than other Victoria's Secret models, Swanepoel is estimated to earn around a mind-blowing $70,000 per post.
Conclusion
It's clear that Swanepoel's career is not yet over, with this model's driving determination to make a sustainable difference in the world ever-presently existing.
Victoria's Secret model Candice Swanepoel walks the runway during the 2010 Victoria's Secret Fashion Show on November 10, 2010, at the Lexington Armory in New York City (Credit: FashionStock / Shutterstock)
As an incredibly beautiful model with big dreams, Swanepoel has been able to rise to fame in a way that can inspire countless others wanting to pursue modeling.
To stay up to date with Swanepoel's career and what she decides to tackle next, keep an eye on her flawless Instagram page!
Candice Swanepoel wears her hair back as she heads to the 2013 Victoria's Secret Fashion Show Viewing Party in New York City on December 10, 2013 (Credit: Alberto Reyes / WENN)
Candice Swanepoel is known for keeping busy. In December 2013, the Victoria's Secret Angel was spotted wearing a hot pair of Gianvito Rossi thigh-high boots while heading to the 2013 Victoria's Secret Fashion Show Viewing Party in New York City.
Just one day before, she appeared on "Extra" for a promotional stunt for the lingerie brand.
Candice Swanepoel wears a black mini dress and a black coat (Credit: Alberto Reyes / WENN)
The South African model, who came in 10th on Forbes' list of top-earning models in 2012, wore an all-black outfit consisting of a black mini dress and a luxe black coat.
The short dress showed off Candice's tall boots perfectly.
Candice Swanepoel shows off her thighs in a pair of tall Gianvito Rossi boots (Credit: Alberto Reyes / WENN)
Candice's suede Gianvito Rossi boots feature a series of diamond cutouts on the front and at the back, from top to bottom.
Sadly, they're not available online, but you can check out this similar-looking style from ZigiNY, which is actually a bestseller at Zappos:
ZigiNY "Piarry" Thigh-High Boots, $229.90
They're also available in a nude colorway at Nordstrom.
ZigiNY "Piarry" Thigh-High Boots in Nude, $229.90