Just over 9 years ago Kelly Clarkson announced her engagement to Brandon Blackstock saying it was the happiest night of her life. Her obvious delight and infectious happiness had us all enchanted.
They married in 2013 in a private ceremony after having changed their minds about having one of those big, crazy over-the-top weddings we all love to read about.
Seth Blackstock (son of Brandon Blackstock and Melissa Ashworth), Remington Alexander Blackstock, Savannah Blackstock (daughter of Brandon Blackstock and Melissa Ashworth), Kelly Clarkson, River Rose Blackstock, and Brandon Blackstock arrive at the STX Films World Premiere Of "UglyDolls" at Regal Cinemas L.A. Live on April 27, 2019, in Los Angeles, California (Credit: DFree / Shutterstock)
Less than a year later, their daughter River Rose was born, followed 2 years later by Remington Alexander and it appeared that the picture-perfect happy family was now complete.
Kelly and Brandon's social media had seen them gushing over their love for each other and the happiness they shared as a family.
Kelly is known for her openness, and her love and support for Brandon came shining through in each and every interview. And so come June 2020, and the announcement that they were getting divorced shocked us all.
How Did It All Fall Apart?
This is the question we've all been asking ourselves. Kelly and Brandon reputedly signed a contract saying they would not defame each other in the media or in front of the children so speculation has been rife. Looking back there may have been signs that they were having problems.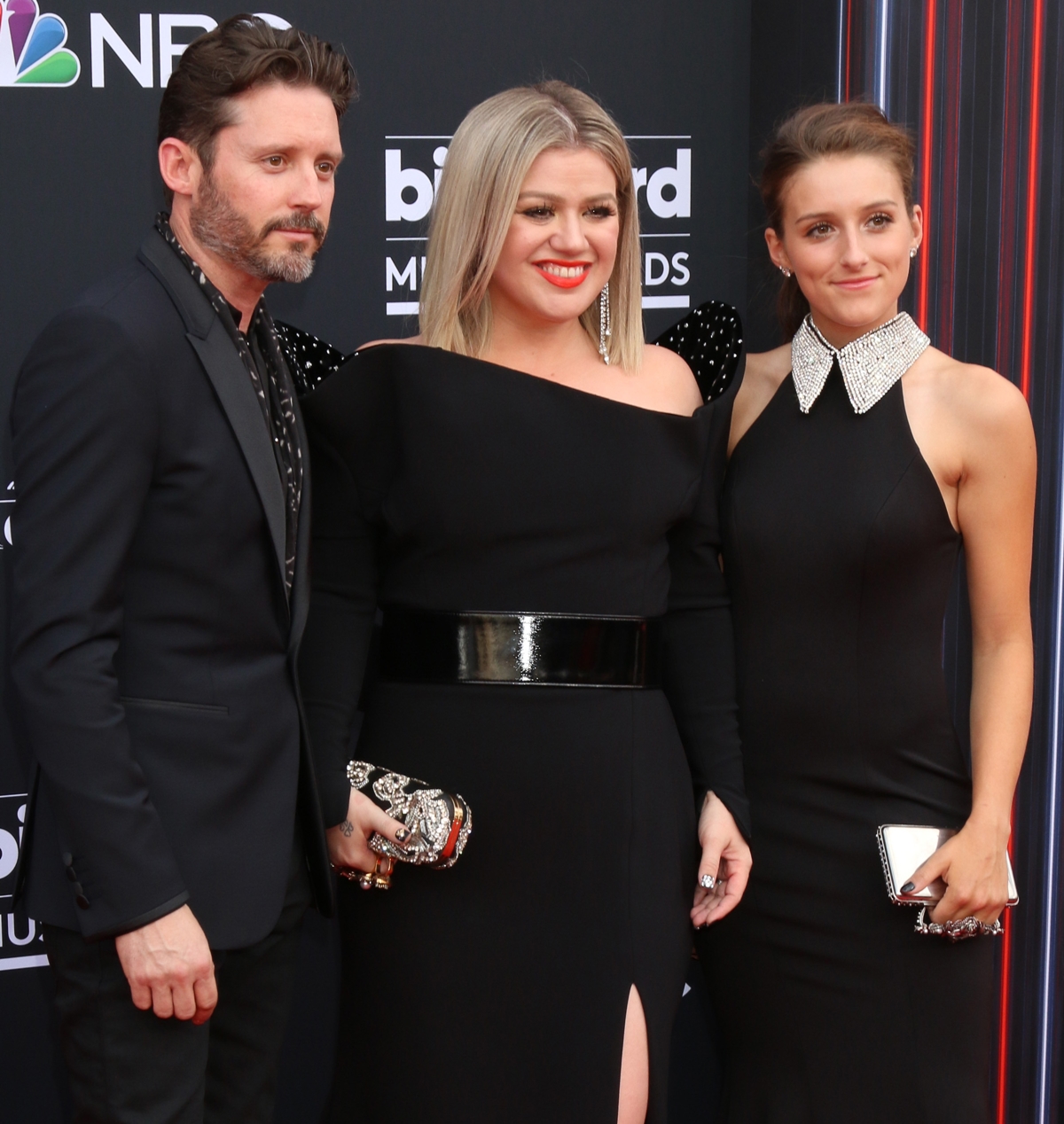 Host Kelly Clarkson (C), Brandon Blackstock, and Savannah Blackstock attend the 2018 Billboard Music Awards at MGM Grand Garden Arena on May 20, 2018, in Las Vegas, Nevada (Credit: Kathy Hutchins / Shutterstock)
Shortly after their marriage in 2013, there were rumors that Brandon had been cheating but Kelly was quick to come to his defense, tweeting, "Keep hearing random rumors of me & Brandon splitting or that's he's cheating on me. Stop with all the lying please #aintnobodygottimeforthat."
In one of her interviews, Kelly said that her and Brandon try and make each other better and call each other out. She ended by saying, "We're different, we try and work on that, we're two different worlds coming together."
Towards the end of 2020, Kelly said on her show, "You want to make sure you're surrounded by people that also want to be the best versions of themselves and also want a good common goal for everyone, not just themselves, right?" And so we can only speculate that their differences and lack of a common goal lead to the breakdown in their relationship.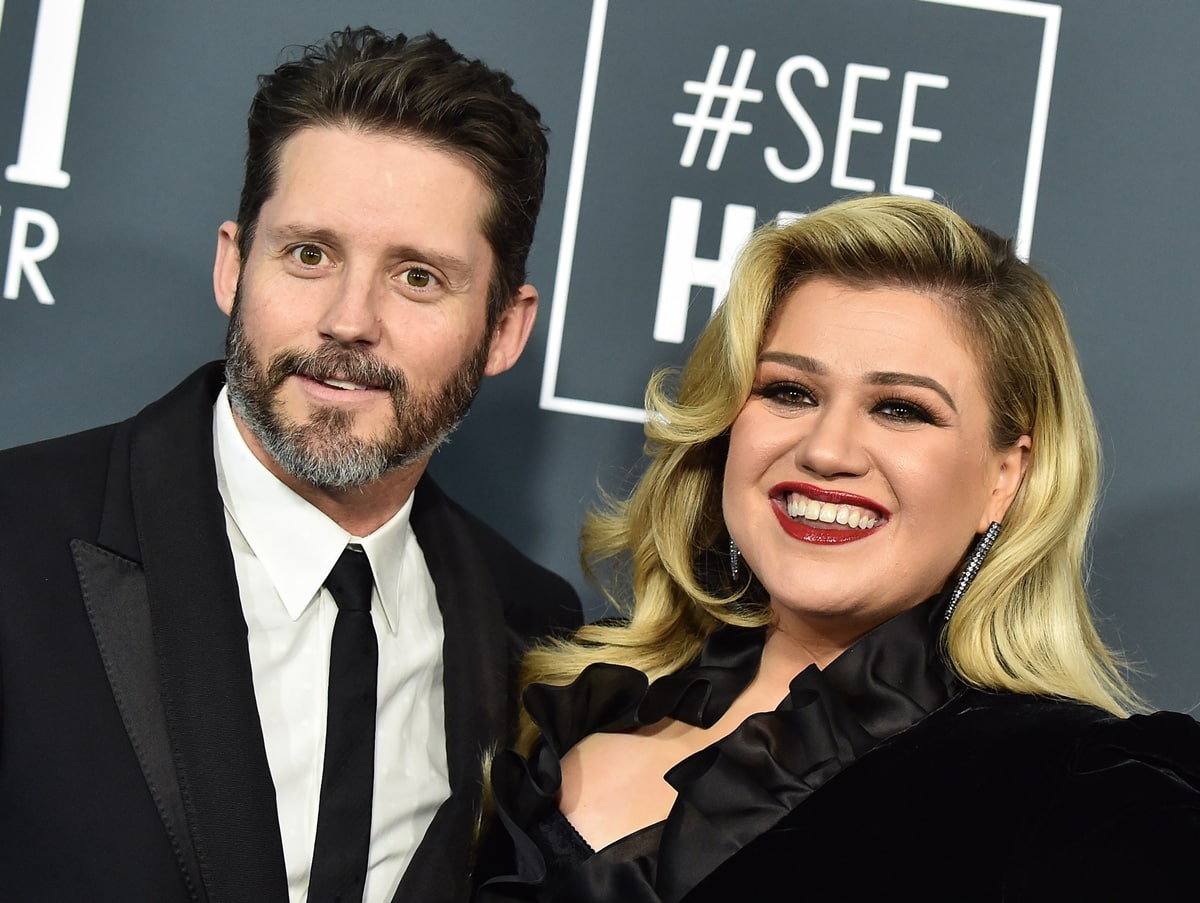 Kelly Clarkson filed for divorce from Brandon Blackstock in June 2020 after nearly seven years of marriage (Credit: DFree / Shutterstock)
They had been trying to work out their differences during Covid when they were quarantined in Montana and had hoped that the time together would lead to some form of resolution. But unfortunately, the constant time together appeared to have made the situation worse.
Post the quarantine they announced their divorce citing "irreconcilable differences" and the settlement battle began.
Show Me the Money
Our first indication that this was not going to be smooth sailing was in September 2020, when Starstruck Entertainment, Brandon's family's business sued her for $1.4m in unpaid commissions.
Kelly countersued them for violating the California Labor Code, claiming they had defrauded her out of millions of dollars by charging her higher fees when she worked with them.
Brandon then challenged their prenuptial agreement with his eyes on that Montana ranch. He was also looking to receive a monthly amount of $301,000 in spousal support and $135,000 in child support plus $2 million to cover his legal fees.
Kelly Clarkson and Brandon Blackstock share two children, River Rose Blackstock and Remington Alexander Blackstock, and he has two kids from a previous marriage, Savannah Blackstock and Seth Blackstock (Credit: Kathy Hutchins / Shutterstock)
And now nearly 2 years later the divorce agreement has been finalized, so let's look at what that means for the couple.
Kelly has agreed to make a once-off settlement payment of $1.3m to Brandon and in addition, will pay him $115 000 a month for spousal support until the end of January 2024.
Although Kelly and Brandon have joint custody of their 2 children, primary custody lies with Kelly, with Brandon having the children for one weekend each month. She has agreed to pay $45 601 a month in child support to Brandon until River and Remington turn 18, graduate high school, or become self-supporting.
Kelly Clarkson has a cross tattoo with the words "Love Them More" inscribed on her right wrist (Credit: Lev Radin / Shutterstock)
The court upheld their prenuptial agreement and Kelly was awarded the Montana ranch where Brandon is currently living. The court has allowed him to remain at the ranch until June 2022 and he has been ordered to pay a monthly amount of $2 000 for use of the property.
Kelly is also retaining ownership of their other Montana property on Cattle Drive, as well as her home in California. Brandon was also awarded all the livestock from their farm.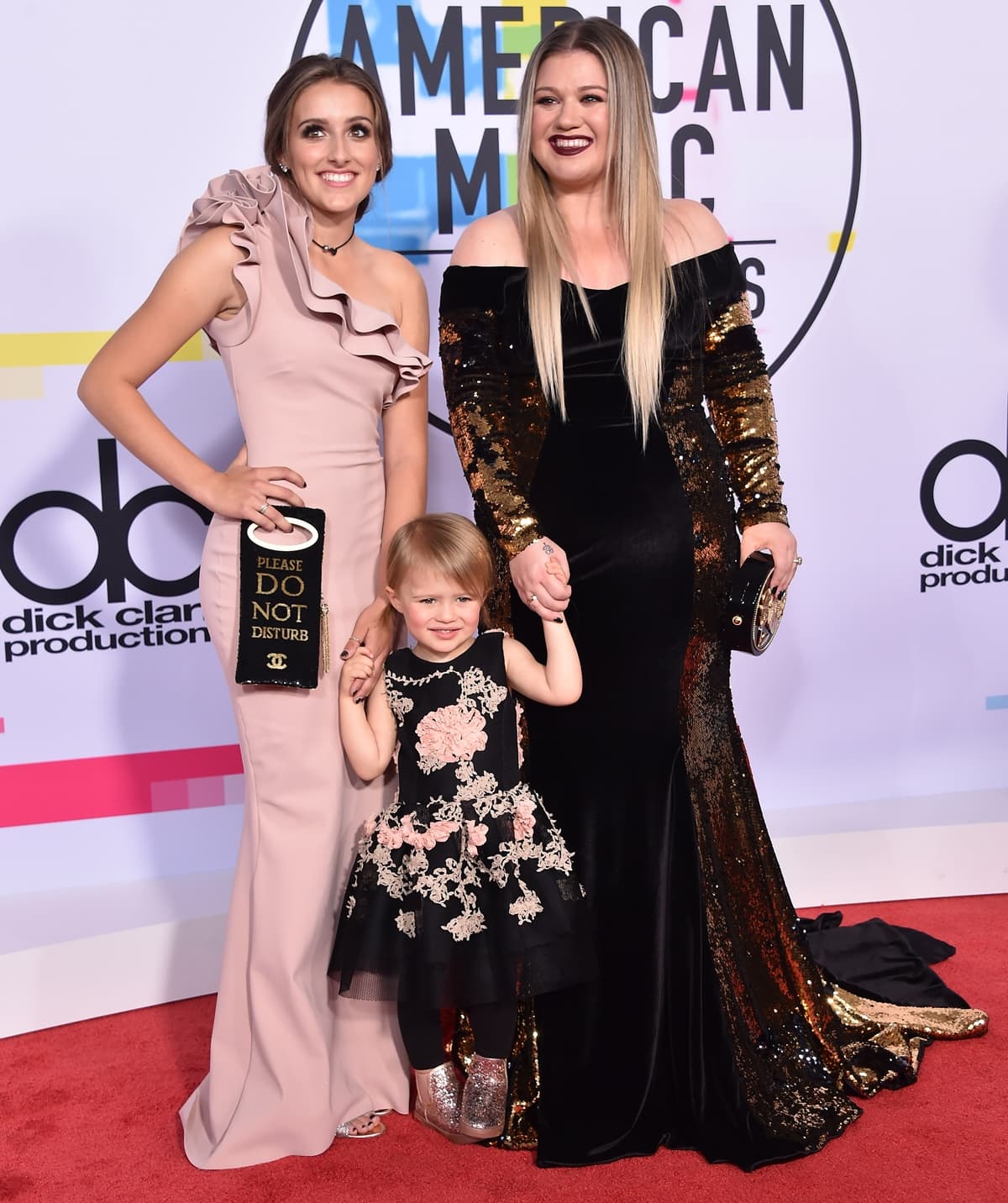 Kelly Clarkson with her stepdaughter Savannah Blackstock and her daughter River Blackstock at the 2017 American Music Awards held on November 19, 2017, at the Microsoft Theater in Los Angeles, California (Credit: DFree / Shutterstock)
Now finally, the couple can focus on parenting their two children and moving forward with their lives.
Sparkling crystal ladder straps in a lovely rainbow of hues define a statement cage sandal from Christian Louboutin.
Raynibo 100 Beaded Slingback Sandals, $2,395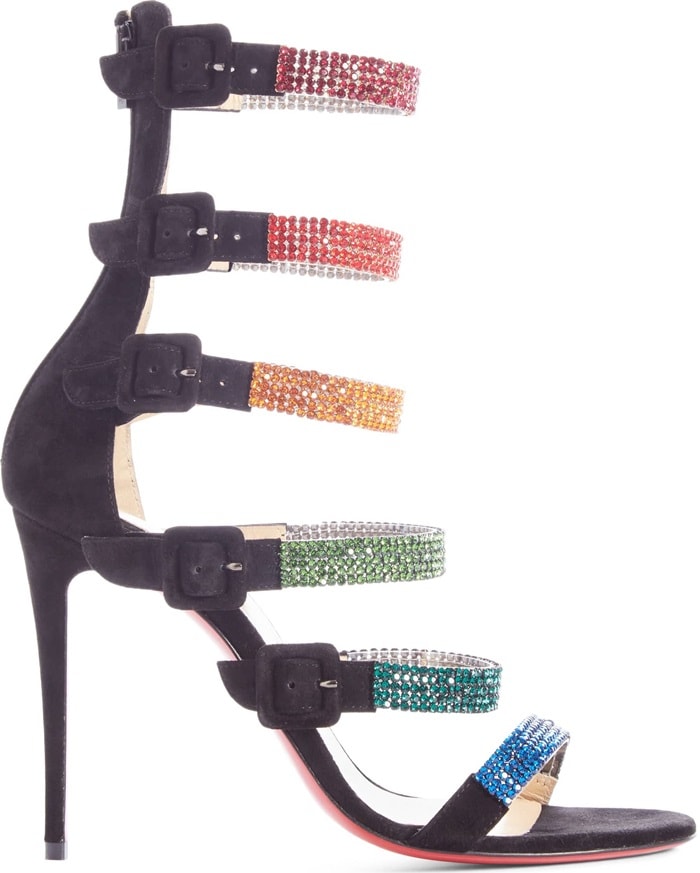 Iridescent beads lend a versatile visual to Christian Louboutin's Raynibo 100 crystal-embellished suede sandals
Crafted in Italy of black supple suede and clear PVC, it is designed with a leg-lengthening stiletto heel and features buckle straps embellished with multicolored Swarovski crystals.
Black suede Raynibo sandals are encrusted with rows of multicolored crystals across the straps
Available at Nordstrom, Matches Fashion, Saks Fifth Avenue, and Mytheresa, scroll down to see how Cheryl and Kelly Clarkson styled them!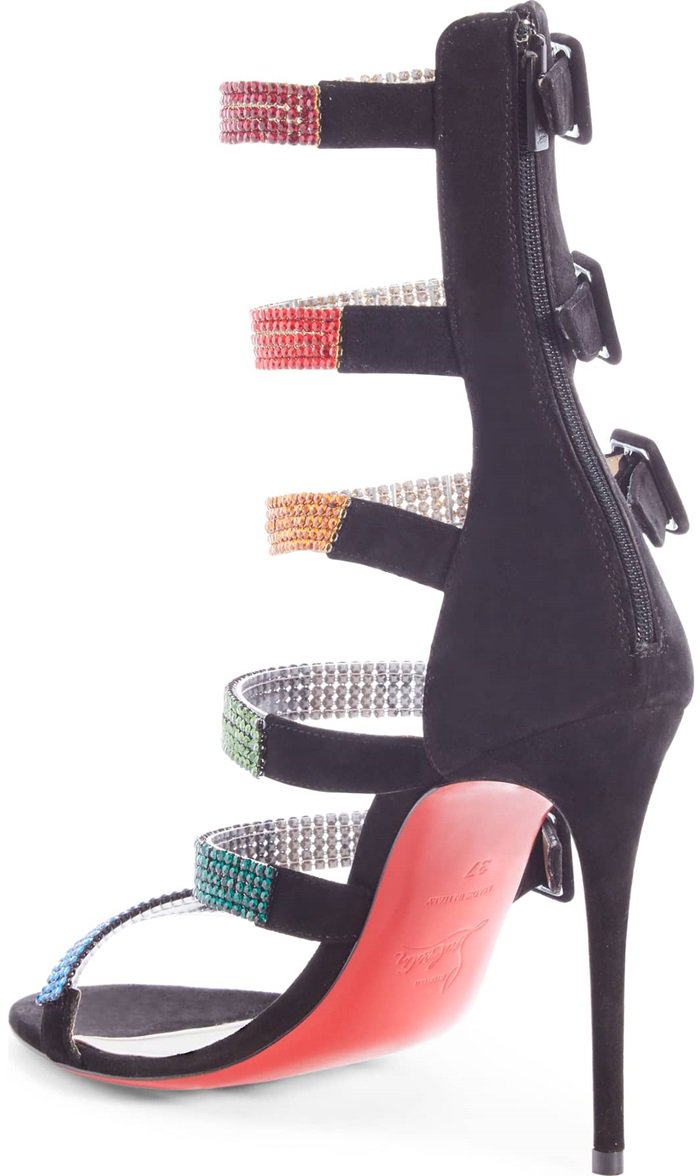 This sandal is made in Italy with buckled sides, has a high stiletto heel for a leg-lengthening effect, and is set on the signature red lacquered sole
1. Cheryl in Raynibo Cage Sandals
Cheryl, previously known as Cheryl Cole, attended the 2019 Global Awards at Eventim Apollo in London, England.
The then 35-year-old entertainer walked the blue carpet in a colorful dress from Lebanese American fashion designer Rami Kadi's Spring 2019 Couture Collection inspired by the Burning Man festival.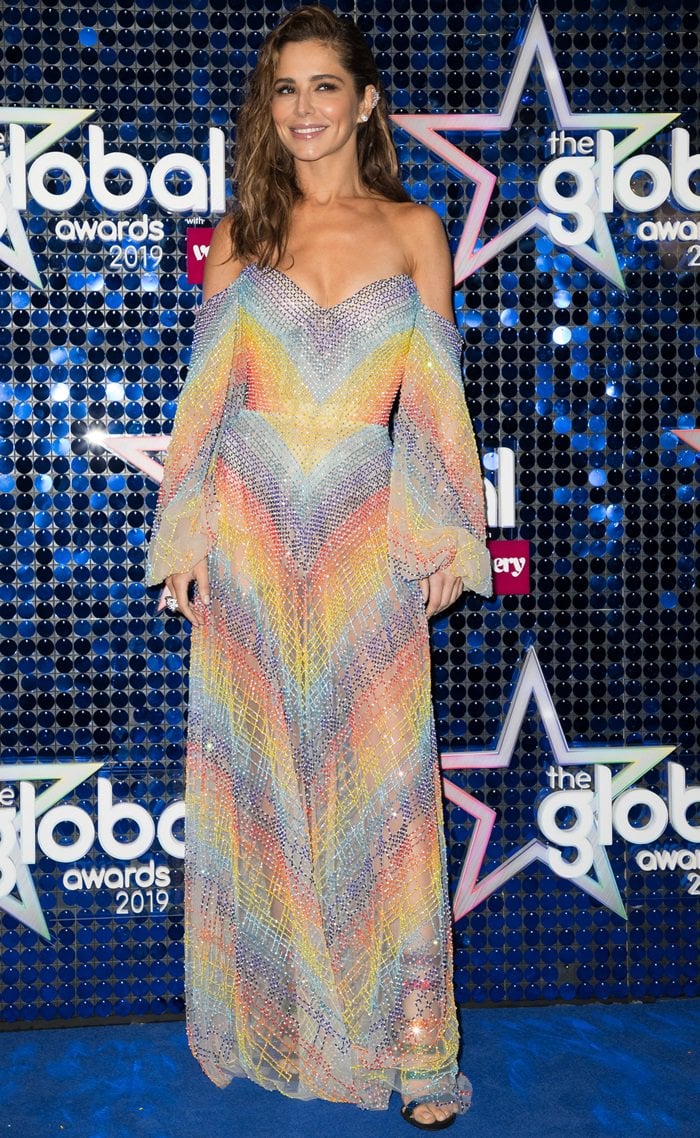 Cheryl Cole wore Christian Louboutin's Raynibo sandals at the 2019 Global Awards at Eventim Apollo in London, England, on March 7, 2019 (Credit: WENN / Phil Lewis)
Her glittering off-the-shoulder dress is embellished with multi-colored beads and Swarovski crystals. Her outfit was styled by Anna Hughes-Chamberlain.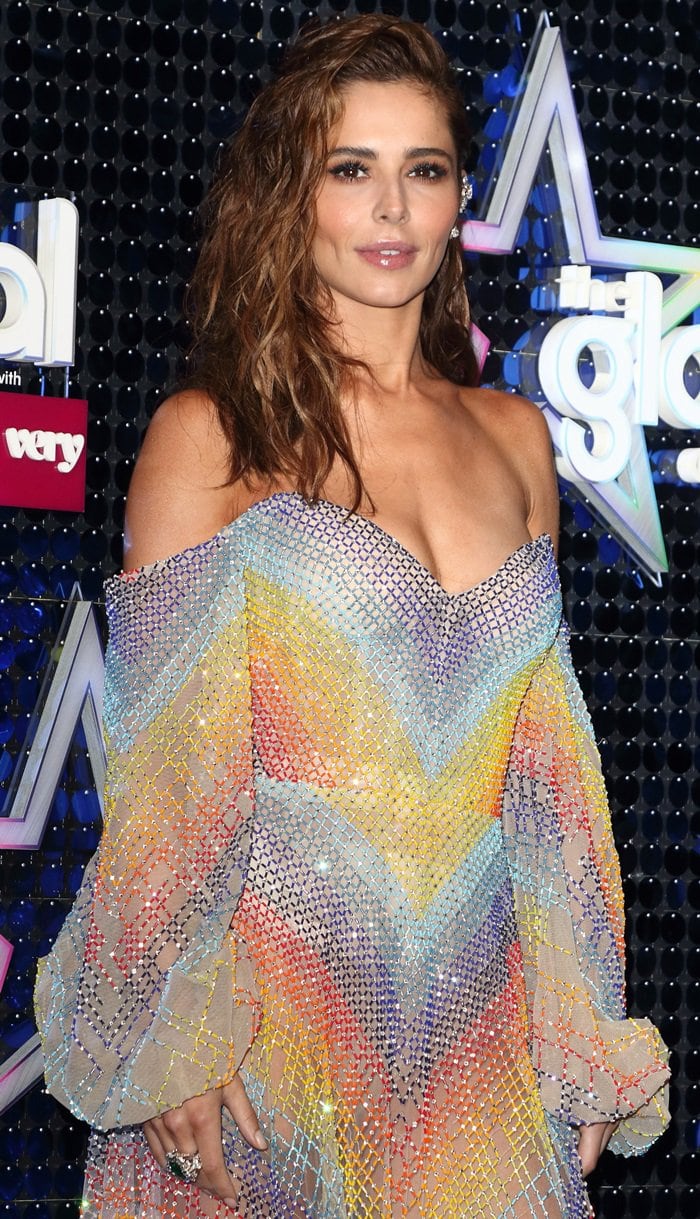 Cheryl's glittering off-the-shoulder dress from Lebanese American fashion designer Rami Kadi (Credit: WENN / Phil Lewis)
The Raynibo sandal is crafted from black suede calfskin and borrows details from the Egyptian shoe with rows of straps saturated in multicolored rhinestones. Do you like how Cheryl styled her pair?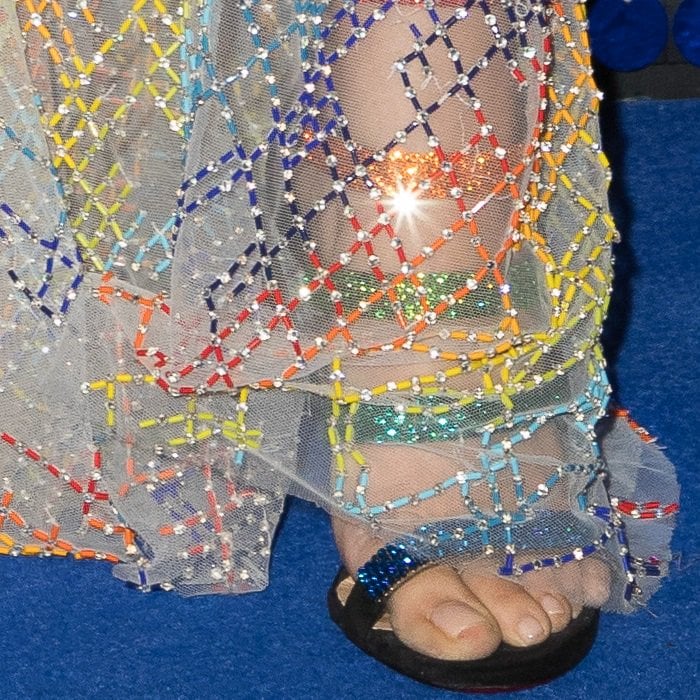 Cheryl showed off her feet in Christian Louboutin's Raynibo sandals (Credit: WENN / Phil Lewis)
2. Kelly Clarkson in Sequined In The Mood For Love Dress
Kelly Clarkson hosted the 2019 Billboard Music Awards held at the MGM Grand Garden Arena in Las Vegas.
The American Idol alum joined Taylor Swift and Cardi B in a black Josefina long-length dress from In The Mood For Love featuring a turtleneck, structured shoulders, long sleeves, a rear zip fastening, and sequin embroidery.
Kelly Clarkson in a dress from In The Mood For Love at the 2019 Billboard Music Awards held at the MGM Grand Garden Arena in Las Vegas on May 1, 2019 (Credit: WENN / Judy Eddy)
In addition to hosting the show, Kelly performed her latest single "Broken & Beautiful" from the UglyDolls soundtrack.
She accessorized with YSL earrings and a Dena Kemp ring. Do you like her strappy beaded sandals?
Kelly Clarkson's hot feet in Christian Louboutin's Raynibo sandals (Credit: WENN / Judy Eddy)