In September 2020, Kelly Clarkson talked openly about her divorce from her husband Brandon Blackstock. Three months earlier, they announced their divorce after almost seven years of marriage.
Kelly Clarkson filed for divorce from Brandon Blackstock after almost seven years of marriage in June 2020 (Credit: WENN / Avalon)
The popular singer kicked off her monologue on The Kelly Clarkson Show by revealing details about how challenging a divorce can be. Sharing two children, Blackstock and Clarkson put their nearly 10,000-square-foot LA family home on the market for sale for $10 million.
"Let's just get this out of the way. 2020 has been a dumpster fire. Yup just all the words that I can't say on this show just piled together and it's on fire. That's really what it's felt like," Clarkson said in her monologue.
"Definitely didn't see anything coming that came," she said. "What I'm dealing with is hard because it involves more than just my heart. It involves a lot of little hearts. We have four kids. Divorce is never easy. We're both from divorced families so we know the best thing is to protect our children and their little hearts. So, I'm usually very open and I usually talk about everything. But in this case, I will talk a little bit here and there about how it affects me personally," Clarkson added.
"But I probably won't go too far into it, because I'm a mama bear and my kids come first. Although, I do love you all. But I am okay. Everybody keeps asking and I am. The answer is yes."
"It's OK because it matters. It was something important," she said. "I know a lot of you at home unfortunately have probably been through it, either as a kid or just as yourself in your own relationships. I feel you! And it is a bad connection to have with people."
On July 2, 2020, Kelly Clarkson's lawyer Laura Wasser filed legal documents for the judge to officially sign off on declaring the American Idol singer single.
Brandon Blackstock is the father of Savannah Blackstock and Seth Blackstock from his previous marriage to Melissa Ashworth. He has two children, River Rose Blackstock and Remington Alexander Blackstock, with Kelly Clarkson.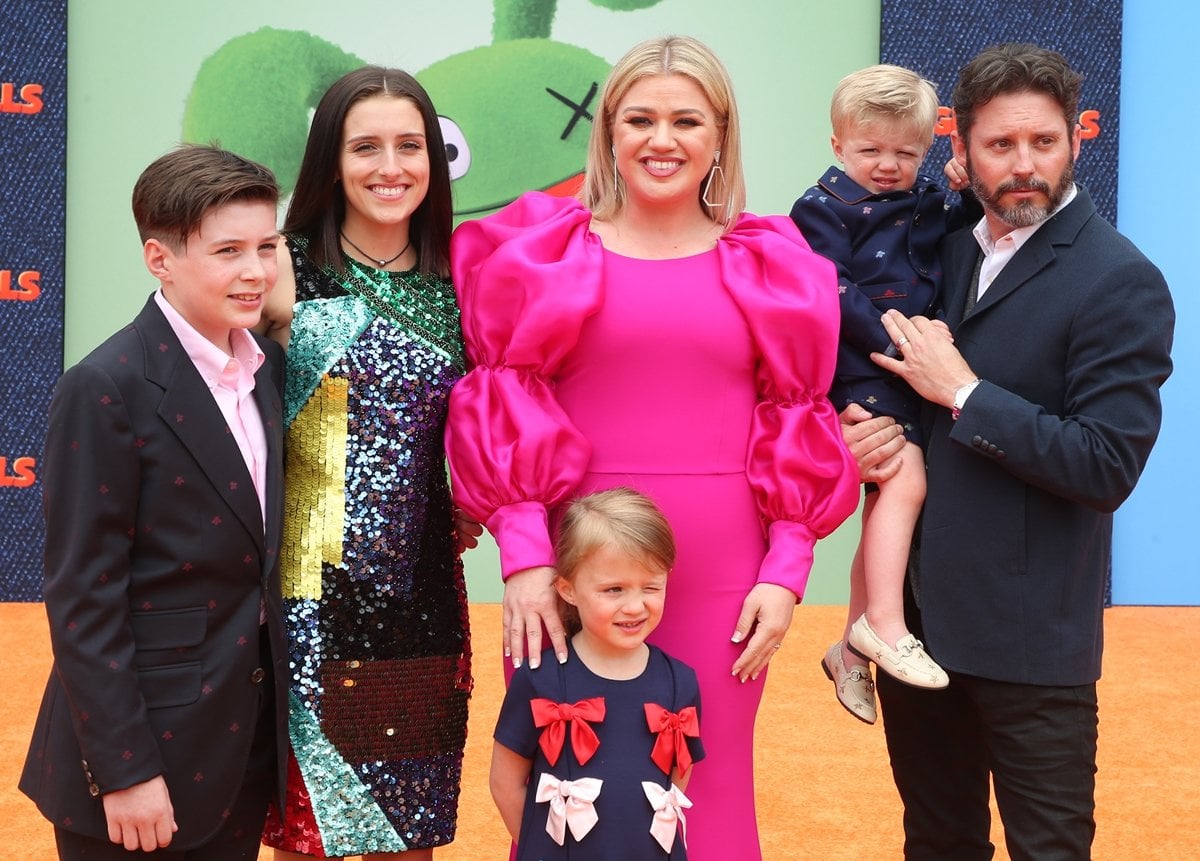 Kelly Clarkson, Brandon Blackstock, Savannah Blackstock, River Rose Blackstock, Remington Alexander Blackstock, and Seth Blackstock attend STX Films World Premiere of "UglyDolls" at Regal Cinemas L.A. Live on April 27, 2019, in Los Angeles, California (Credit: FayesVision / WENN)
Why did Kelly Clarkson and Brandon Blackstock split?
"They clashed on so many levels, and being in quarantine together heightened their problems to the point of no return. So she filed for divorce," a source close to Clarkson told Us Weekly in June 2020.
"Everyone thought Kelly and Brandon had the perfect marriage, but they definitely didn't. Brandon's very laid-back, whereas Kelly's pretty high-strung."
"When she went to Hollywood, it changed things," the source added, noting that Blackstock "prefers their quiet life in Nashville." According to the divorce filing, Blackstock has "made a very deliberate choice to change his life and become a rancher full-time."
"It just came out of nowhere. Their marriage was so strong," another source close to the couple told People. "It was a stressful time. Quarantining in Montana exacerbated any issues," the source added about the stress caused by the Coronavirus quarantine.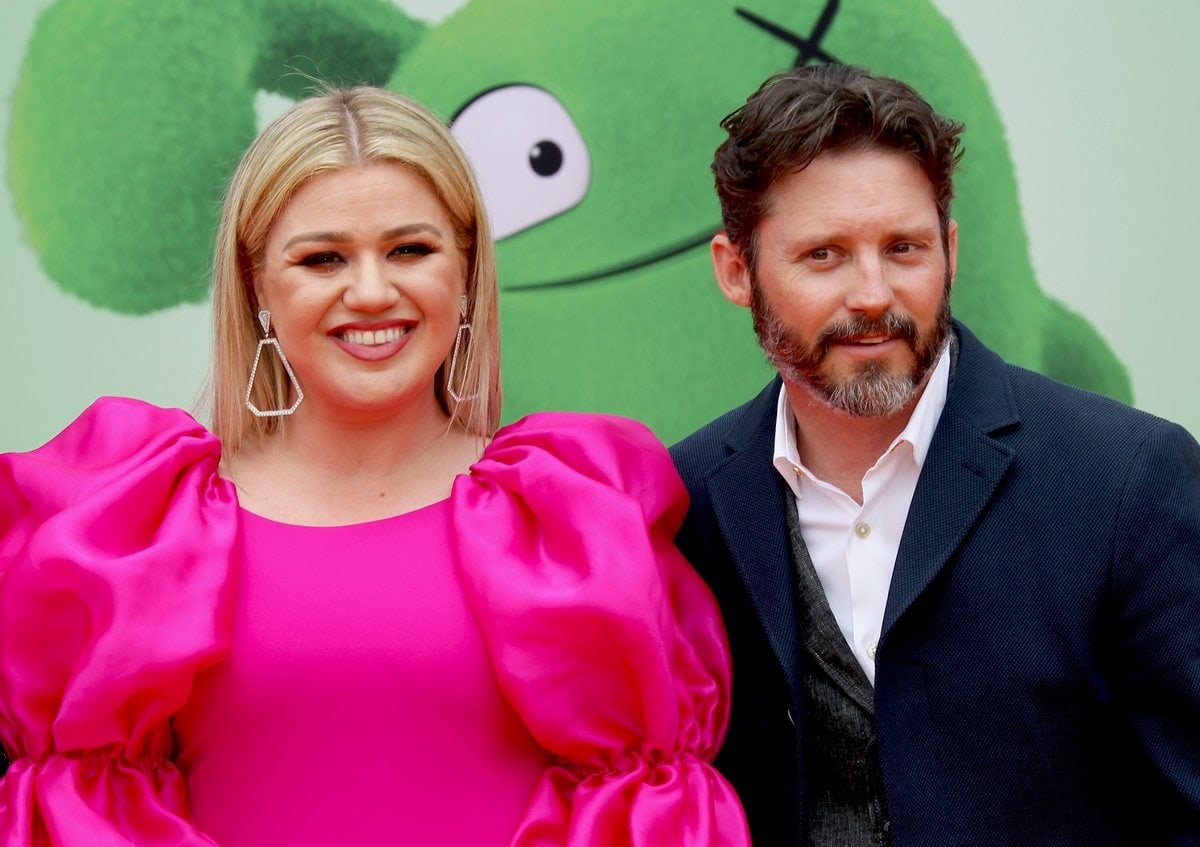 Quarantine reportedly took a major toll on Kelly Clarkson and Brandon Blackstock's relationship and led to their divorce (Credit: Adriana M. Barraza / WENN)
"Things had changed in their marriage and the split was a while coming," yet another insider chimed in and insinuated the couple didn't prioritize their marriage over work.
"They both work so hard. It's nearly impossible to enjoy each other, especially with the children needing constant attention."
According to The Blast, a LA County judge has ordered Kelly Clarkson to pay nearly $200,000 a month in spousal and child support fees to Brandon Blackstock. $150,000 per month is designated for spousal support and $45,601 per month is for child support.
Singer Kelly Clarkson has splashed out $5.4 million on a Toluca Lake, California, home, amid her ongoing divorce from Brandon Blackstock (Credit: Mega /WENN)
She has also been told to pay $1.25 million for Brandon's attorney fees and costs. The filings list Clarkson's monthly earnings as over $1.5 million.
The Kelly Clarkson Show host is believed to have a net worth of $45 million while Blackstock has a net worth of $10 million. Since 2007, he has worked as her manager.
Kelly Clarkson makes $1.5 million per month and has been ordered to pay Brandon Blackstock nearly $200,000 a month in spousal support and child support (Credit: FayesVision / WENN)
"It's weird how life kind of puts you in certain situations. We're taking it slow, and we're enjoying each other. I'm from a family of broken marriages, but we will definitely break that trend one day," Clarkson told Ryan Seacrest in 2012 of her relationship with Brandon.
Her parents, Jeanne Ann Taylor (née Rose) and Stephen Michael Clarkson, divorced when she was six years old.
"We are totally going to get married. We love each other. We are totally going to get married one day. No, he has two children and I'm new…You know you want to like…I mean he's got to put it a ring at some point," she said on Ellen in 2012.
Singer Kelly Clarkson in a form-fitting leather midi PVC dress by Alex Perry at the 2020 Hollywood Beauty Awards held at the Taglyan Complex on February 6, 2020, in Hollywood, Los Angeles, California (Credit: Avalon / WENN)
"You know what and this is going to sound like I'm making a joke but it is so not. It is serious. I am not alone for the first time for Thanksgiving and Christmas and I am very happy. So, yeah. Seriously, I've been praying for so long and he's so great. So I can just spend it with someone… my boyfriend's so going to make fun of me."
How did Kelly Clarkson and Brandon Blackstock meet?
The son of her former manager Narvel Blackstock, they met at the American Country Music Awards in 2006.
"This guy walks by, making everybody laugh. I said, 'I'm gonna end up with him. I know it,' " she told People in 2013. They started dating in 2012 following his divorce from Melissa Ashworth.
"We didn't really know each other, I had just met him that one time. Just from that one time, even six years later, I had never really dated anyone. I honest to God thought, 'Is this what it's like to be asexual?' I was just not attracted to people," Clarkson said during a private concert for SiriusXM listeners.
Kelly Clarkson and Brandon Blackstock met for the first time when she was rehearsing before the American Country Music Awards in 2006 (Credit: Ivan Nikolov / WENN)
"This isn't a downer to anybody I dated before him, but I'm just going to be real: I never felt like, honesty, sexually attracted to anybody before him," Kelly added. "And I'm not downing my exes. You know, everybody's different. But there was something about him."
"I honestly thought I was asexual – I'd never been turned on like that in my whole life," she said. "I was like, 'Oh that's that feeling… okay! That's what they were talking about in Waiting to Exhale.' I just got it. I just didn't have a clue."
"One of my superhero idols is Whitney Houston, and the day she died was our first date," she told Cosmopolitan about her first date with Brandon Blackstock in 2013. "I was like 'This is a bad omen.'" Kelly Clarkson and Brandon Blackstock married in October 2013.
If you haven't seen Kelly Clarkson's emotional performance of her song "Piece by Piece" on "American Idol" yet, then you probably don't have Facebook — or the Internet, for that matter.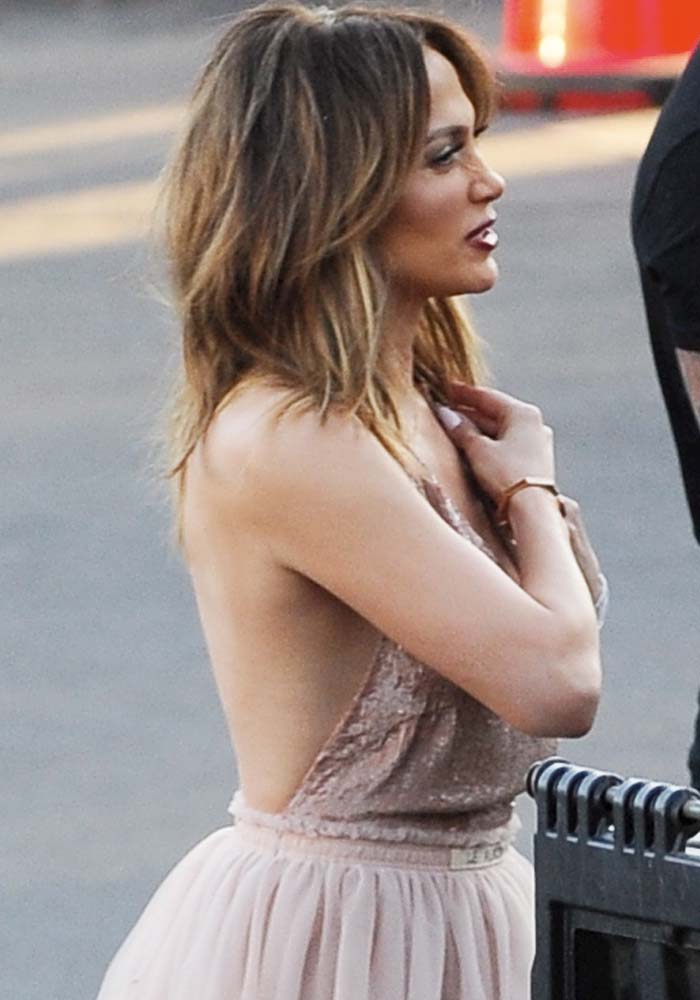 Jennifer Lopez wears her hair down as she arrives at the "American Idol" finale show on February 26, 2016, in Los Angeles (Credit: Cousart / JFXimages / WENN)
The performance went viral right after it was aired in June 2016, and you can see why based on judge Jennifer Lopez's reaction.
J.Lo was in a good mood outside the studio right before American Idol opened its finale show. The Out of Sight actress opted for a soft and feminine look in a blush-toned halter tulle dress by the whimsical Valentino.
Jennifer Lopez wears a soft pink Valentino dress as she arrives at the "American Idol" finale (Credit: Cousart / JFXimages / WENN)
The singer paired the dress with the Giuseppe Zanotti "Coline" Sandals in nude patent.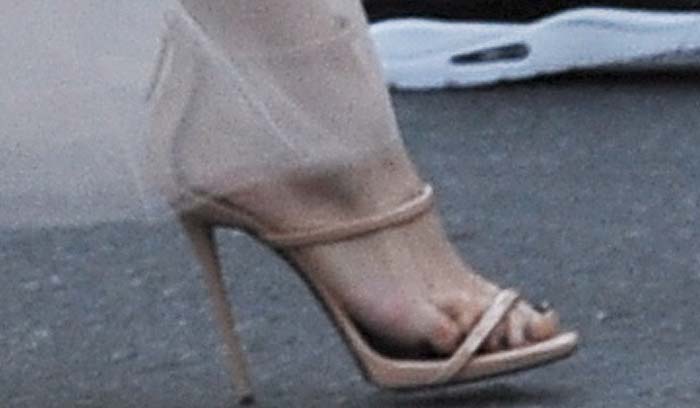 Jennifer Lopez's feet in nude patent Giuseppe Zanotti sandals (Credit: Cousart / JFXimages / WENN)
Not only did the emotional song get to J.Lo, but it also brought her co-judge Keith Urban to uncontrollable tears, who later hilariously wondered if he was "also pregnant" (Kelly Clarkson was pregnant with her second child) given the waterworks show he put on.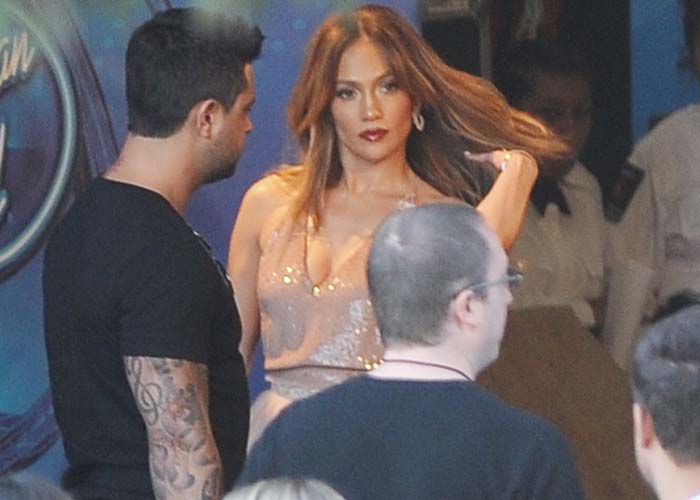 Jennifer Lopez mills around backstage at the "American Idol" finale show in Los Angeles (Credit: Cousart / JFXimages / WENN)
See the full performance below:
You can order J.Lo's classy Giuseppe Zanotti 'Coline' Sandals at Farfetch and Amazon.
Giuseppe Zanotti 'Coline' Patent Leather Strappy Sandals, $795 – $850
Giuseppe Zanotti 'Coline' Patent Leather Strappy Sandals, $615.22 – $845
Giuseppe Zanotti 'Coline' Patent Leather Strappy Sandals, $845