In November 2014, Out of Sight actress Jennifer Lopez sported yet another amazing look while showing off her toned tummy for an appearance on "Late Show with David Letterman" in New York City.
Jennifer Lopez flashes her toned tummy in black-belted wide-leg pants
The then 45-year-old superstar was busy promoting her book "True Love." The previous day, she gave interviews on the Today Show and for Huffington Post. You can buy her bestselling page-turner on Amazon.
16 years earlier, she starred opposite George Clooney in the crime comedy film "Out of Sight," Steven Soderbergh's adaptation of Elmore Leonard's novel of the same name that you can buy on Amazon.
Out of Sight stars George Clooney as Jack Foley and Jennifer Lopez as Karen Sisco
Portraying Karen Sisco, a deputy federal marshal who falls for a charming criminal, Lopez was praised for her performance. According to an interview with Steven Soderbergh, Sandra Bullock was originally considered for the role.
Filming ended on January 12, 1998, when Jennifer Lopez was 28 years old. Born on July 24, 1969, in Castle Hill, New York, she turned 29 on July 24, 1998. "Out of Sight" was released on June 26, 1998.
Jennifer Lopez was 28 years old when filming Out of Sight as Karen Sisco
"I have this attitude, and it won't change no matter how big I get, that you have to fight for things you want. You can't expect things to be handed to you on a platter, even if you can fill theatres week in and week out," she said in an interview with Movieline in 1998 about beating out Sandra Bullock for the lead role.
"Because there's always somebody like me ready to kick down the door and steal the job right out from under you," she added.
"One of the smart things George did was to screen-test everybody because he knew he'd had trouble with the women in his movies, where maybe there wasn't as much chemistry as there could have been."
"Universal was pushing for Sandra Bullock because they said she'd put people in seats. George and the director met with her, but they were like, 'If Sandra really wants it, she's gonna have to test for it.' She wouldn't test, and her agent, who is also my agent, supported that."
"If I was Sandy, I'd say, 'Well, I'm gonna show them that I can do it. I'll read with them, make them offer me the part, then make them pay out the a**.'"
Jennifer Lopez beat out Sandra Bullock for the lead role in Out of Sight
For her appearance on David Letterman's show, Jennifer donned black-belted wide-leg pants from the Paula Ka Resort 2015 collection paired with a crossover strappy halterneck top by Milly.
She completed the ensemble with a black Noon by Noor jacket and matching shoes by Giuseppe Zanotti.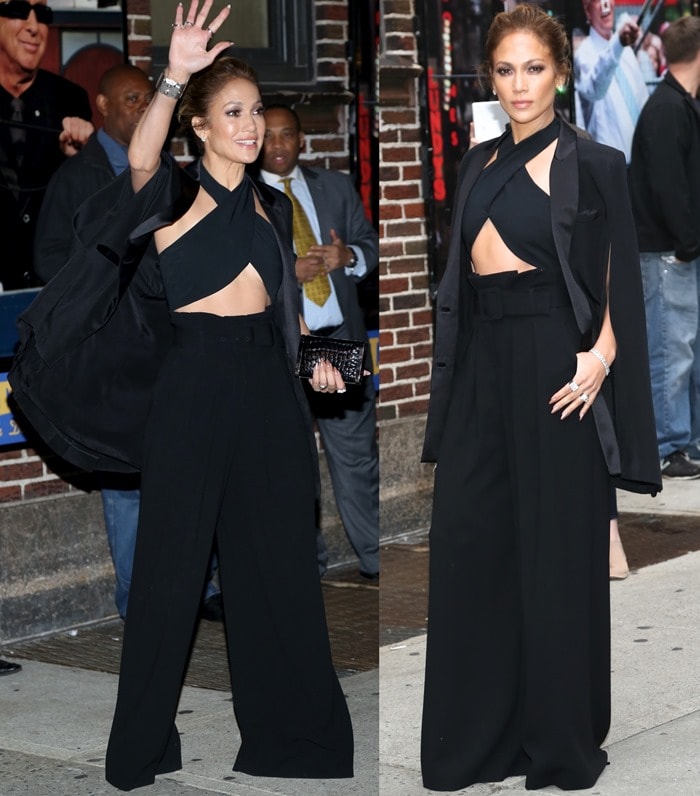 Jennifer Lopez wearing a crossover strappy halterneck top by Milly at the Late Show with David Letterman in New York City on November 5, 2014
Would you dare to flaunt your stomach like Jennifer Lopez?
While her pumps cannot be seen underneath her wide-leg pants, she sported the same black suede Giuseppe Zanotti pumps that we saw her wearing the previous day. They are available at Farfetch and feature pointy-toes and thin ankle straps.
Giuseppe Zanotti Suede Ankle-Strap Platform Pumps, $750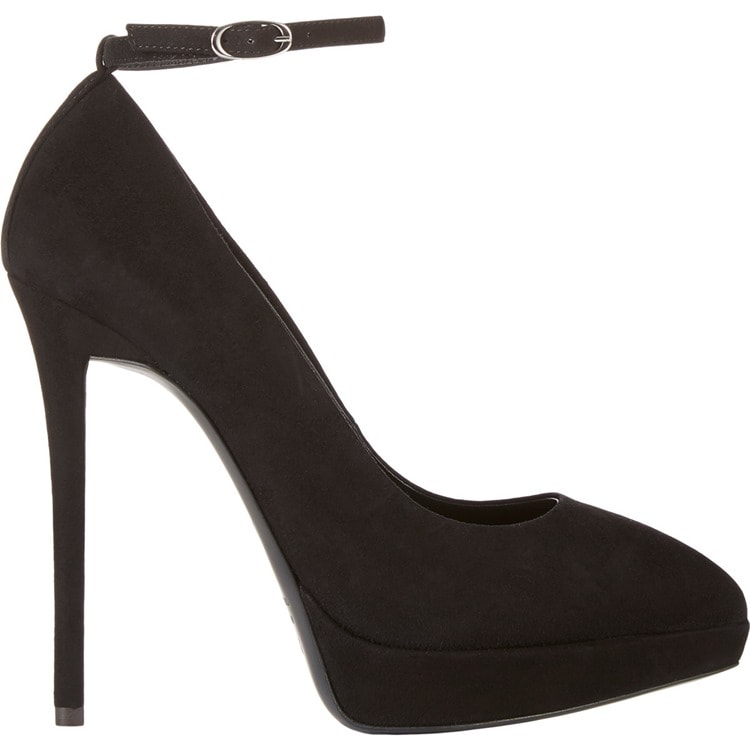 Credit: Andres Otero / WENN