Of all the statement shoes in the world, there are none as daring as the cage heel. This distinctive style relies on intricate sculptural detailing rather than embellishments to make it stand out.
Cage heels, or caged heels, are bold and edgy no matter what fabric or color they come in. They add an eye-catching twist to any outfit, which is why they've become staples for parties and special occasions. Learn all about this audacious style below!
What Are Cage Heels?
As the name suggests, cage heels create the illusion of an enclosed space with their latticed or cut-out uppers. Most shoes have uppers made of solid material, but cage heels offer glimpses of the foot with their unique design.
They have a sleek, contemporary feel that elevates any outfit. Cage heels are most often associated with party or special occasion wear, but lower heels can be used for more casual settings.
Caged heels are believed to have started by YSL in 2009 with the release of their caged ankle boots
The cage heel became prominent in 2009. It's believed that YSL started the trend after sending models down the runway in striking caged ankle boots.
Their version of the shoe was completely caged, including the hollow heel. YSL's futuristic creation inspired an onset of cage heel varieties that catered to many different aesthetics.
Cage Heel Varieties
Although this shoe style has some defined characteristics, it can come in many different forms.
It can be subtle with a small caging detail on one part of the upper. It can be bold and feature all-over caging like YSL. It can have a more feminine feel with caging in a floral or swirled pattern.
Shoe designers have certainly had fun experimenting with different caged varieties over the years.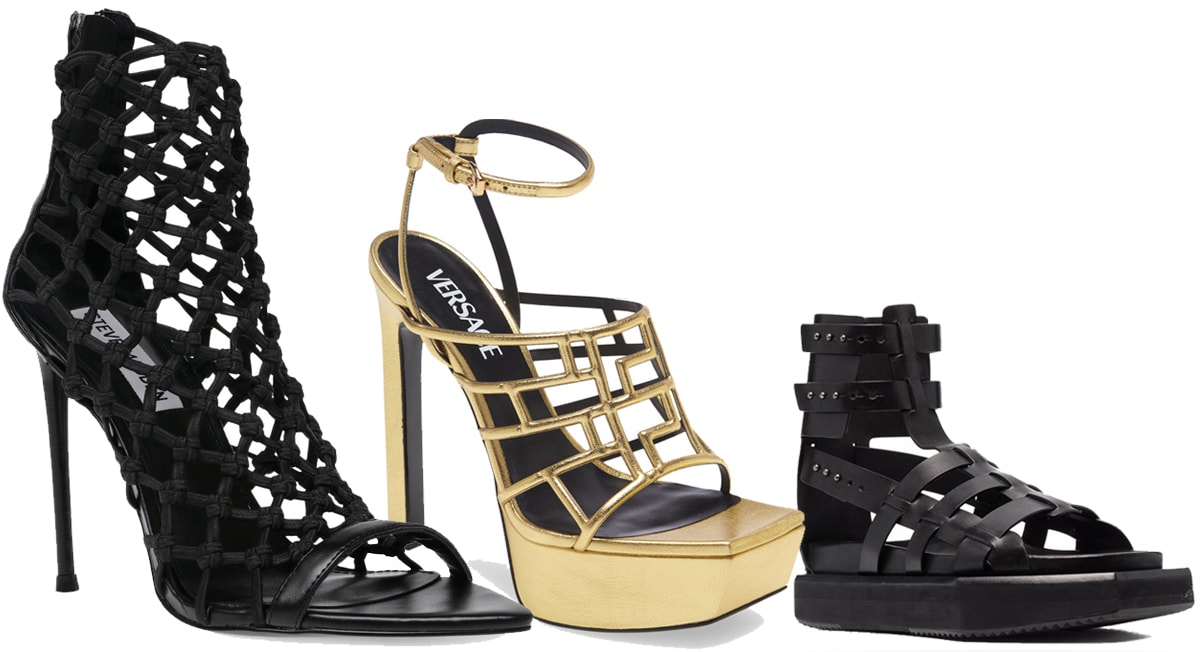 Cage heels can come in different forms, colors, and materials
Cage heels can come in almost any color or fabric. Leather is the preferred choice of many designers since its rigidity makes an excellent foundation for caging.
However, caged heels can also be found in suede, vinyl, or even canvas. They come in a rainbow of colors, though black and nude are the most popular variations.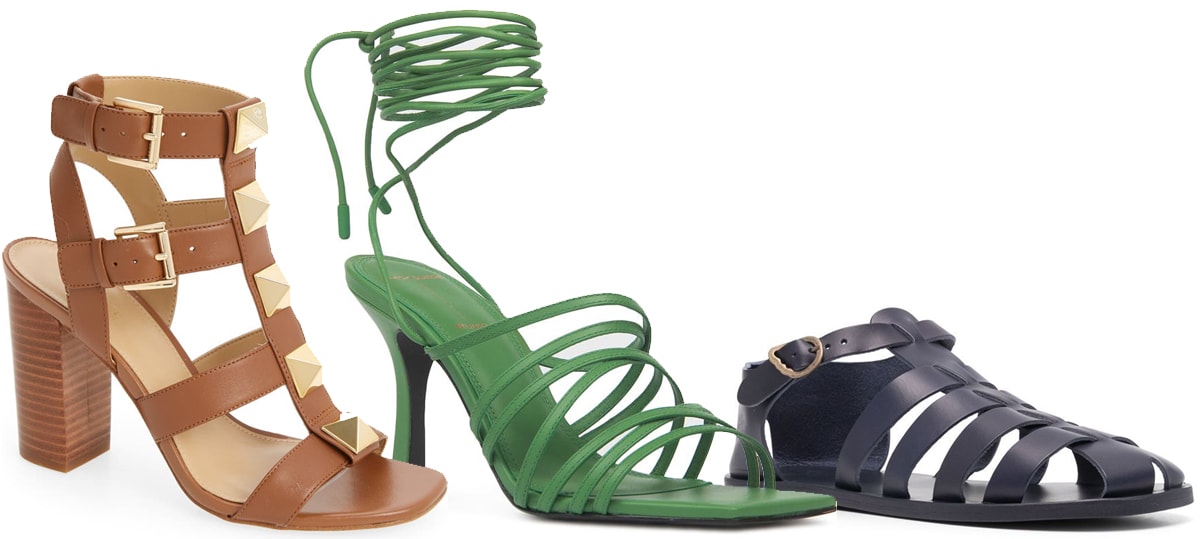 Gladiator sandals have become synonymous with cage heels as they share similar features
Gladiator shoes are often considered a variety of cage heels since they share similar features.
Defined by their central tongue and a tall row of straps that run from the toes to the ankle or calf, gladiator shoes also create a caged effect. Gladiator shoes and cage heels have almost become synonymous over the years.
Cage Shoes In Sportswear
Long before the caged trend entered the fashion shoe world, the term was coined in the sportswear industry.
Nike first released their Vapor Cage tennis sneaker in the early 2000s. Their version featured all-over mesh detailing that also resembled a cage but in a more technical way.
Caged shoe was first coined in the sportswear industry with the release of Nike's Vapor Cage tennis sneakers in the early 2000s
Nike claimed the name was given to the sneaker because it protected feet like a cage during workouts and tennis games. The style is still going strong—Nike has made numerous versions of the Vapor Cage since its initial release.
The 5 Most Iconic Cage Heels
1. YSL Cage Heels SS 2009
The shoes that started it all. These cutting-edge ankle boots launched a sea of replicas and new variations of the caged heel.
YSL's caged booties from the Spring/Summer 2009 collection started the cage heel trend
2. Valentino Rockstuds
This chic studded shoe has become one of Valentino's most iconic designs. Famous for cage straps adorned by pyramid-like studs, the Rockstud has been recreated in many different options of pumps, sandals, and flats.
Valentino's Rockstud is one of the label's most famous designs, featuring a strappy caged upper adorned with pyramid studs
3. Gucci Ursula Cage Sandals
These sleek sandals proved that Gucci's signature horsebit detail doesn't just look good on loafers and classic pumps.
The Gucci Ursula boasts a strappy design and the fashion house's signature horsebit detail
4. Giuseppe Zanotti Raquel Cage Heels
Already famous for his extravagant, sculptural shoes, it's no surprise that Giuseppe Zanotti managed to make cage heels even more jaw-dropping with metallic embellishments.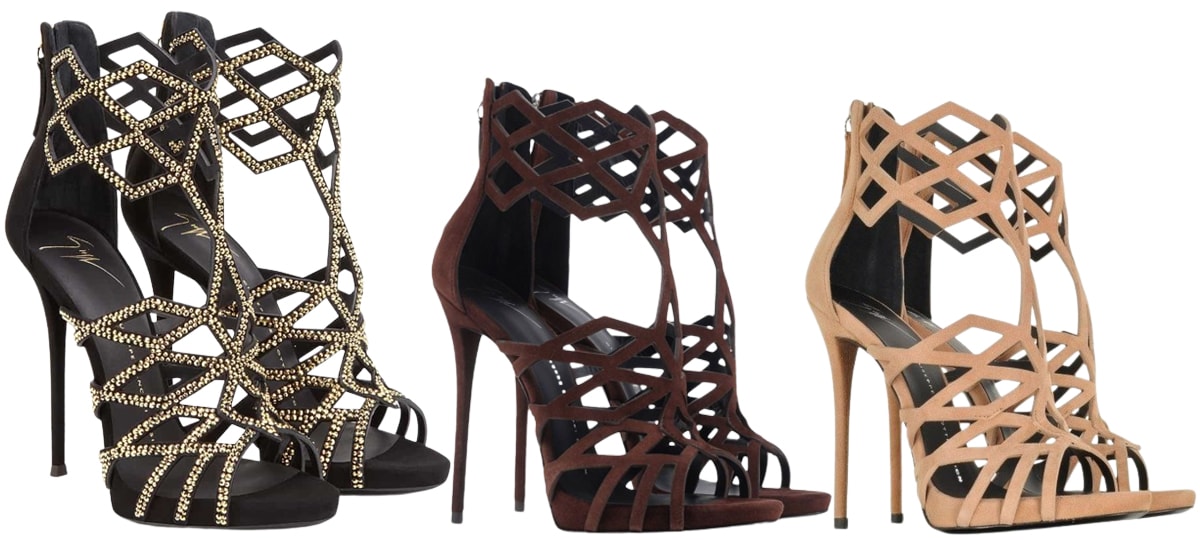 The Raquel cage heels feature a laser-cut upper, creating its caged silhouette
5. Alaia Black Suede Cage Heels
The legendary couturier was considered both a designer and a sculptor, so it's no surprise that Alaia jumped on the cage heel wagon. His varieties offered stunning shapes and textures.
Alaia has a variety of caged heel designs that incorporate various shapes and textures
Would you dare to wear caged heels?