Look who was spotted taking the much-talked-about Louboutin red nail polish out for a test drive: Megan Fox who looked as hot as her fire-engine-red nails at the German premiere of 'Teenage Mutant Ninja Turtles' on Sunday.
Megan was a brunette bombshell in a David Koma Spring 2014 black gown with laced leather details at the collar, bust, and waist. Opting to keep her makeup in understated nude tones and her jewelry down to a single ruby ring, she let her crimson claws do all the talking.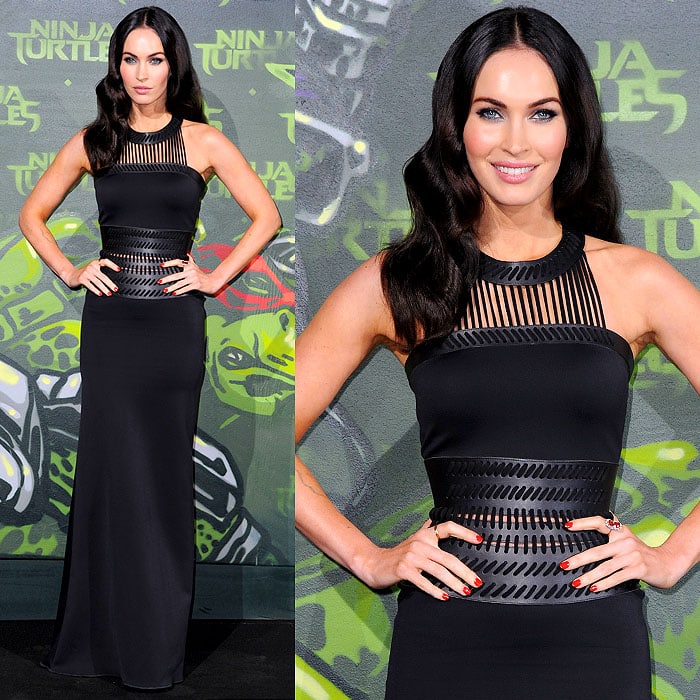 Megan Fox at the German premiere of 'Teenage Mutant Ninja Turtles' at UFO Sound Studios at Musikbrauerei in Berlin, Germany, on October 5, 2014
There's no mistaking the Pantone-18 shade of Red on Megan's nails. They could be none other than the Rouge Louboutin color that headlines the entire line of Christian Louboutin nail polishes and retails for a pricey $50 a bottle at Net-A-Porter.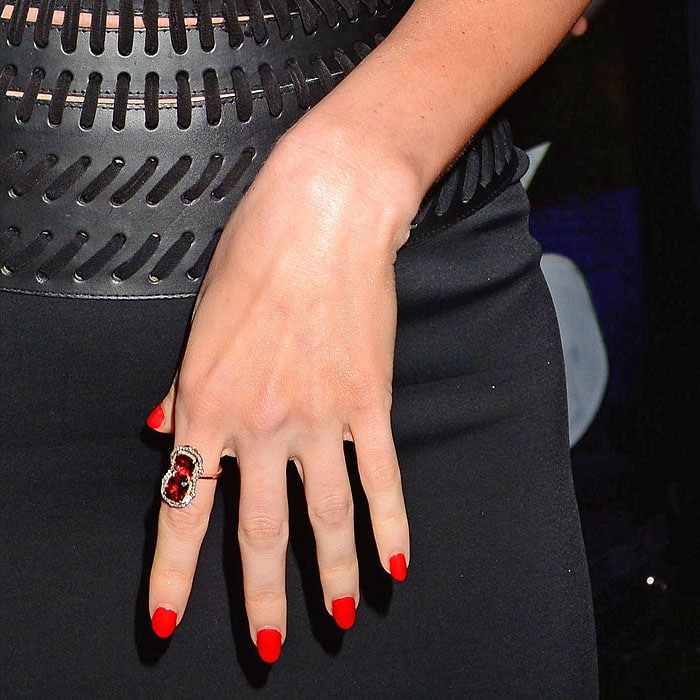 Megan Fox's ruby ring and bright Rouge Louboutin red nails
Nail Polish Rouge Louboutin
Nail Color – Rouge Louboutin, $50 at Net-A-Porter
Christian Louboutin Beauty's nail color in 'Rouge Louboutin' is a richly pigmented red in the same shade as the brand's iconic lacquered soles. Inspired by calligraphy and paintbrushes, the long tapered bottle top is a reference to the 'Ballerina Ultima', the highest heel Louboutin has ever designed. Just one or two coats ensures the most glossy, opaque shade.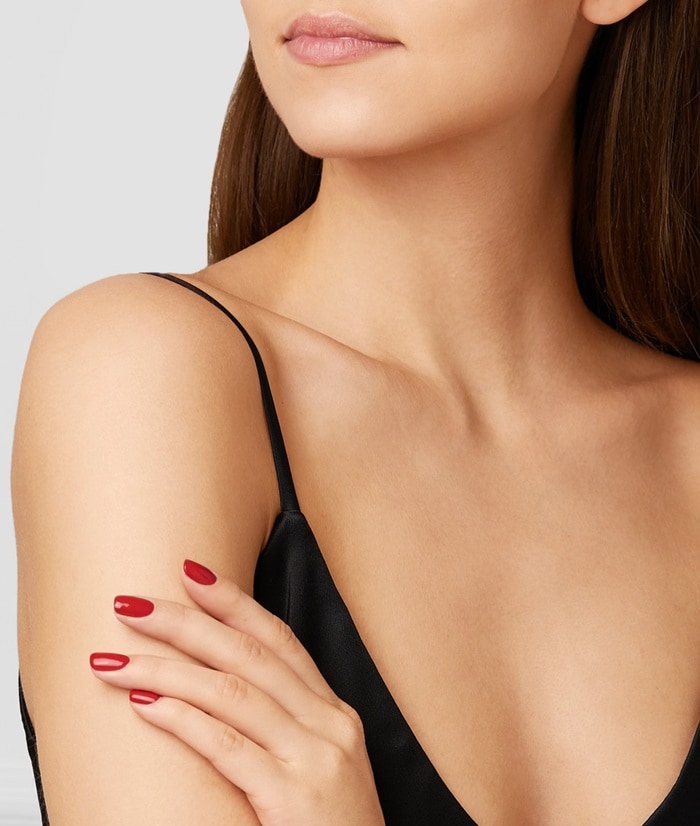 The nail polish picked up the red soles on the actress' black satin peep toes each time they peeked out from under the gown. We don't think we've ever featured anything like this before; matching your nails to your soles is definitely one very unique way of highlighting and drawing attention to your shoes.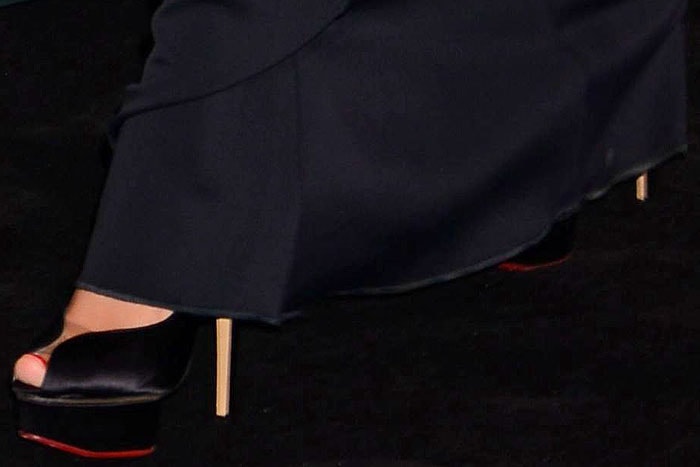 Charlotte Olympia "Daphne" platform pumps peeking out from under the hem of Megan Fox's David Koma dress
Megan's red-soled shoes with clear straps across the toes are, surprisingly, not Christian Louboutin. They are the Charlotte Olympia "Daphne" platform pumps, which we have spotted on numerous celebrities, including Anne Hathaway, Sandra Bullock, Olivia Wilde, and Eva Longoria.
"Daphne" Strap-Peep-Toe Platform Pumps in Animal-Print Calf-Hair, $995 at Farfetch
In some pictures, Megan posed next to her husband, Brian Austin Green, who was similarly dressed in head-to-toe black. We kind of wish BAG also had some pop of Louboutin red on him so he would really be a perfect style-match to his wife.
Megan Fox posing on the black carpet with husband Brian Austin Green
If you're disappointed that Megan Fox didn't match her Louboutin nails with a pair of Louboutin shoes, don't worry — she did exactly that at the 'Teenage Mutant Ninja Turtles' photo call and at a guesting on a German TV show earlier in the day.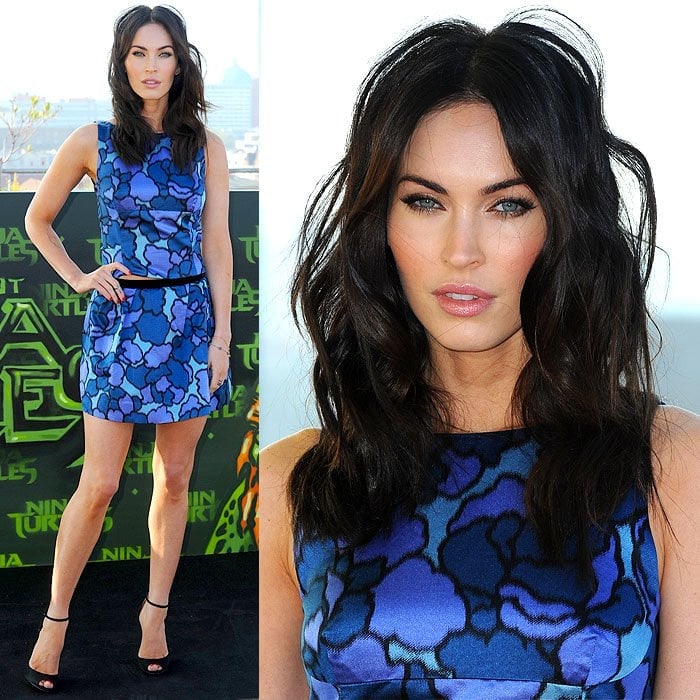 Megan Fox at the Teenage Mutant Ninja Turtles photo call held on the roof of the Backfabrik (bakery factory) in Berlin, Germany, on October 5, 2014
Megan's first choice of Louboutins were simple ankle-strap peep-toe sandals with slim stiletto heels. We don't have an exact ID on them yet, but they do appear to be the "Gardnera" style, which also seems to serve as the base shoe design for the "Pensamoi" and "Dos Noeud" styles.
Black Christian Louboutin satin ankle-strap peep-toe sandals on Megan Fox
"Gardnera" Satin Ankle-Strap Sandals in Eveque, $825 at Saks
On the German TV show Wetten, dass…, Megan switched to Christian Louboutin "Just On" sandals from the brand's new Fall 2014 collection. Although similar in style, the Just On peep-toes have clear straps that make it seem as if the top black straps are merely floating above the footbeds. They also have gold painted heels with a distinctive cracked finish.
Megan Fox guesting on the German ZDF TV show "Wetten, dass…" at Messe Erfurt in Erfurt, Germany, on October 5, 2014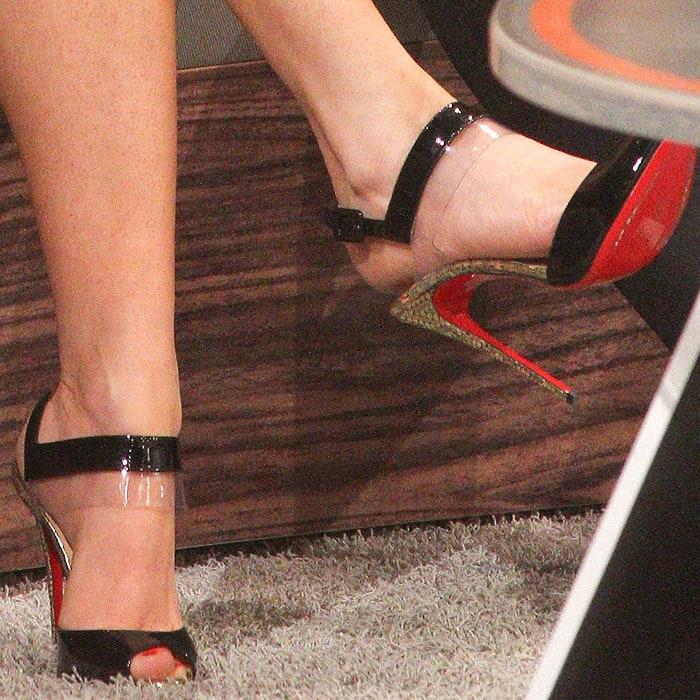 Closeup of the Christian Louboutin "Just On" sandals on Megan Fox
Side-view of the Christian Louboutin "Just On" sandals on Megan Fox
Christian Louboutin "Just On" Sandals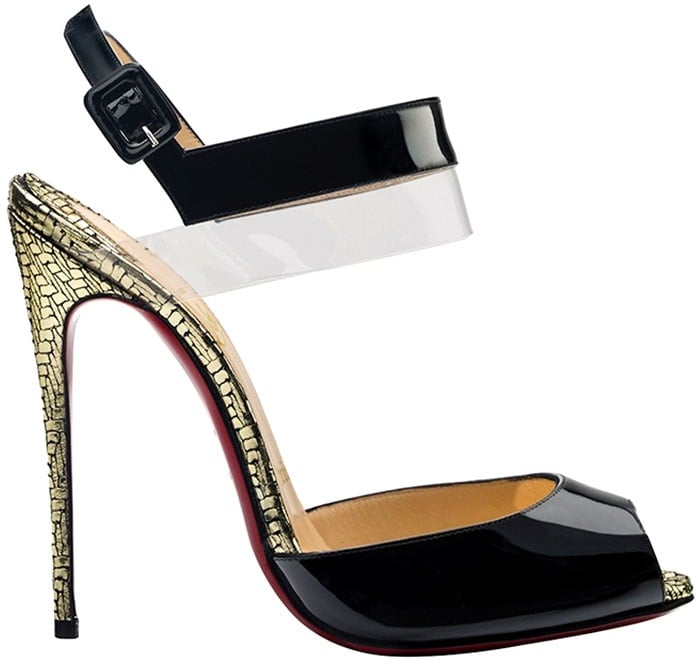 Credit: Dave Bedrosian / Franco Gulotta / Marcus Golejewski / Patrick Hoffmann
Credit: AEDT / Future Image / gbrci / WENN