Unfortunately for Kevin Hart, his height is a hot topic of conversation among, well, pretty much everyone. His height has been searched on Google millions of times.
So, are there disadvantages to his height? How has it affected his career, and how does he feel about it? We'll dive into all that and more in this article.
Kevin Hart's Height and How It Has Affected Him
Kevin Hart states he is 5'2 ½ (158.8 cm), and he gets a lot of grief for it. He is much shorter than many of his male counterparts in the film industry. And as far as celebrities go, it's no secret that fans usually rave about tall, muscular actors.
Kevin admits that when he was younger, he was bullied because of how short he was, and because of this, he supports anti-bullying messages and movements.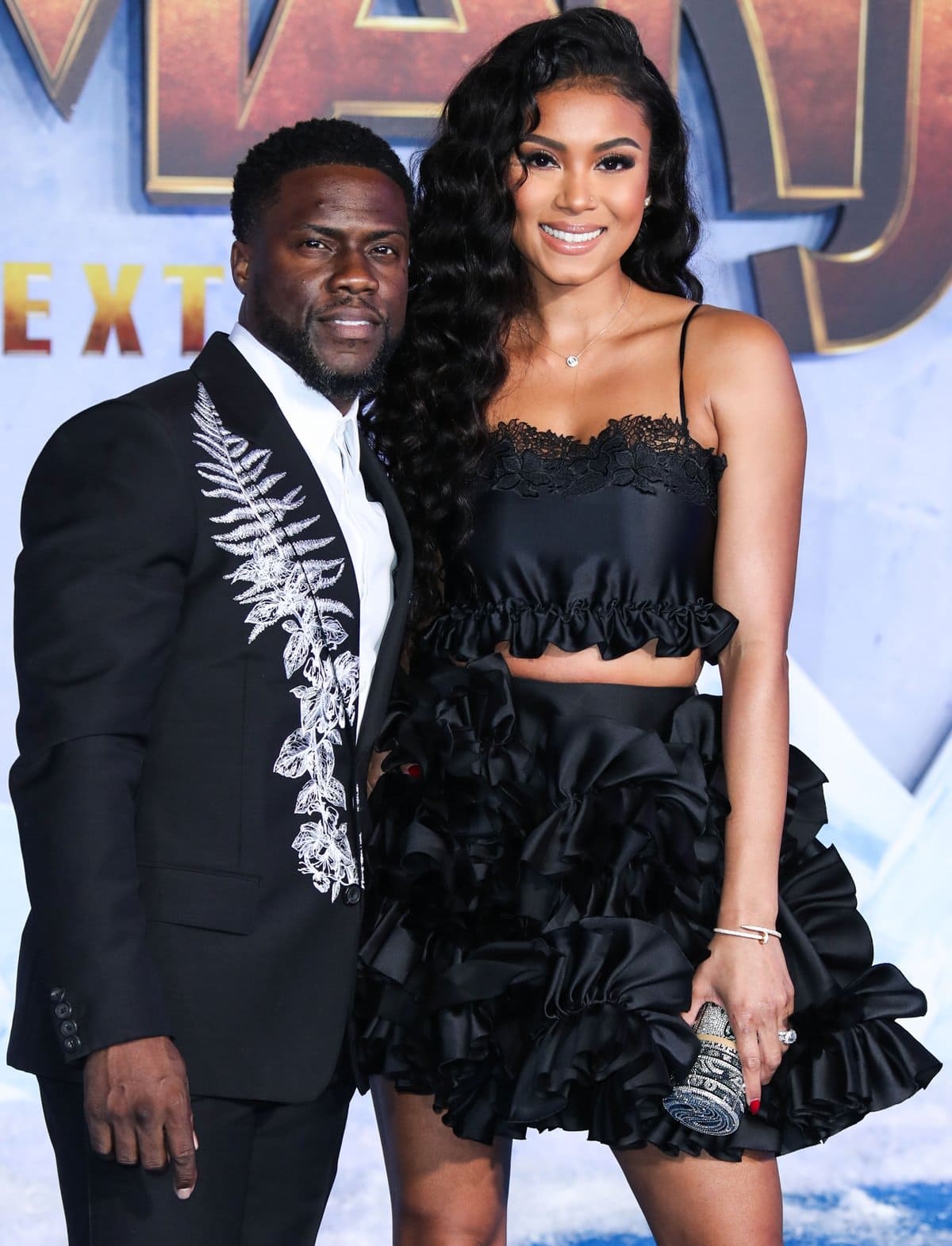 Kevin Hart and his much taller wife, Eniko Parrish, who reportedly is 5′7″ without heels (Credit: Avalon / WENN)
When he appeared on Oprah, he stated he made fun of himself and his height so that other kids wouldn't do it first.
But he also said, "I don't believe in doing things to manufacture my body to appeal to what I think people might like. This is it. This is what I was given. This is my playing cards. If we were playing poker, I've got to make this hand work. This is it for me. And this is what I'm going to ride out. So how do you not embrace it? You get one life. One. You get one life. I'm going to embrace mine."
Kevin Hart Facts
How much is Kevin Hart's net worth?
He is American comedian and actor with a net worth of $450 million
Full Name:
Kevin Darnell Hart
Born:
July 6, 1979, in Philadelphia, PA
Kids:
Heaven Hart, Hendrix Hart, Kaori Mai Hart, and Kenzo Kash Hart
Wives:
Kevin Hart has been married twice.

His first marriage was to Torrei Hart, whom he wed in 2003. They have two children together, a daughter named Heaven and a son named Hendrix. The couple separated in 2010 and their divorce was finalized in 2011.

In 2016, Kevin Hart married his second wife, Eniko Parrish. They had been dating since 2009 and got engaged in 2014. They have two children together, a son named Kenzo Kash, who was born in 2017, and a daughter, Kaori Mai, who was born in 2020.
Feet/Shoe Size:
9 (US)
How tall is Kevin Hart?
According to a lie detector test taken for Vanity Fair's celebrity YouTube series, Kevin Hart stands at 5 feet 2 and a half inches tall
Nationality:
American
Source of Wealth:
Comedy, film and television
Ethnicity/Race:
African-American
Average American Male Height
According to the CDC, the average height of men in the United States is about 5'9. Many people think that tall people are more successful and tend to have more self-confidence.
The average height also differs by race. While white and black men average around 5'9, Asian and Hispanic men average about 5'7.
Short actors Jack Black and Kevin Hart posing with their tall Jumanji co-stars Dwayne Johnson and Karen Gillan (Credit: Avalon / WENN)
American men aren't the tallest internationally. The average male heights in other countries (that are taller than those in the U.S.) are as follows:
Denmark – 5'11 ½
France – 5'11
Norway – 5'11
Germany – 5'11
Australia – 5'10 ½
U.K. – 5'10
How Has Kevin Hart's Height Impacted His Career?
It might seem odd that a person's height could affect their career, but for Kevin Hart, his successful acting jobs, raw talent, and knack for comedy all come second to the discussion over how "short" he is.
It's odd how much people value height in our society when no one can control how tall they are.
Sure, one can control their level of confidence, how hard they work for their career, or what they're passionate about, but sometimes people choose not to focus on any of those things.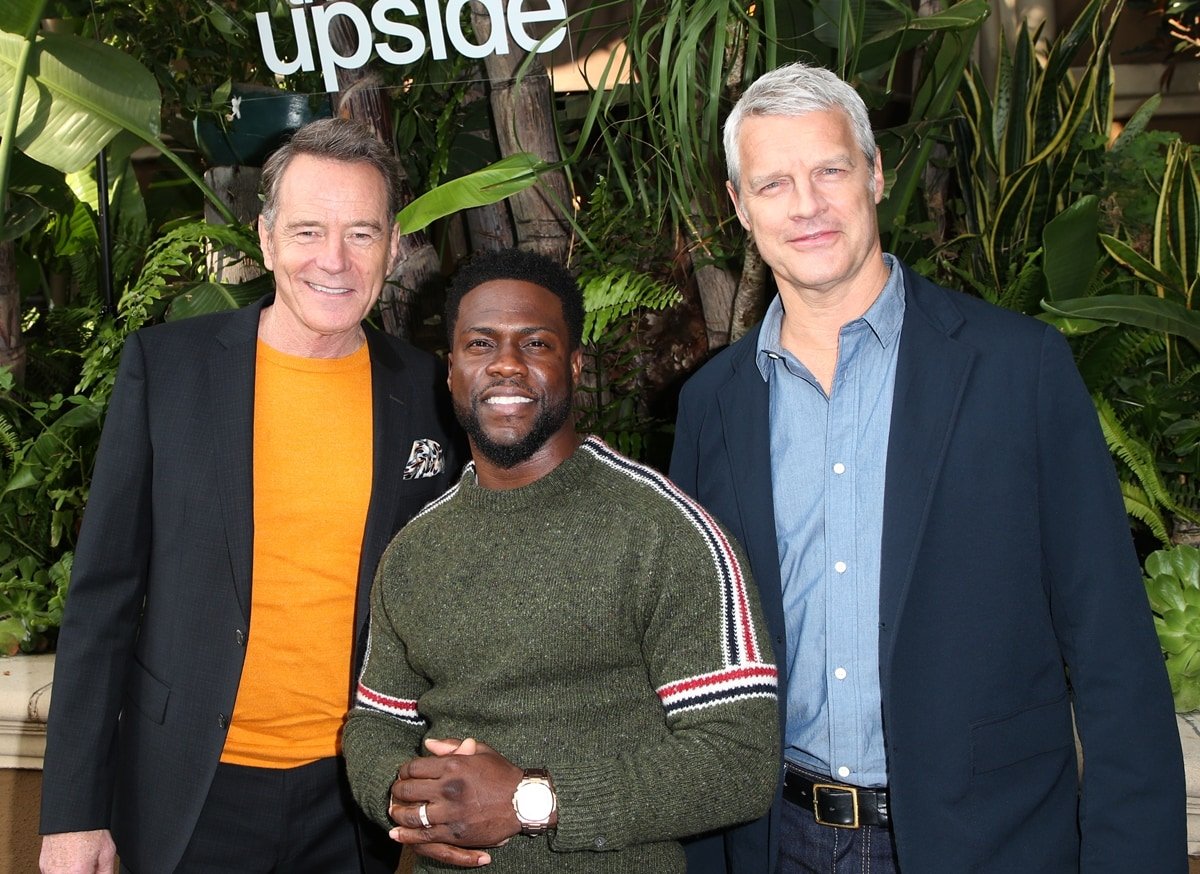 Kevin Hart looks short next to Bryan Cranston and Neil Burger (Credit: FayesVision / WENN)
Generally, those who tear someone down for something as trivial as their height are insecure in their own ways (possibly even about how tall they are).
Some think he deserves it because of his controversial past of homophobic comments on Twitter that resurfaced. Because of these tweets, he stepped down from hosting the 2019 Oscars.
Of course, he faced a lot of backlash for his remarks, so maybe instead of bringing up the specific things he's said in the past, people talk about the one thing he can't change – his height.
Kevin Hart measures 5ft 2 ½ (158.8 cm) but claims his short height has some advantages (Credit: Brian To / WENN)
Thankfully he's admitted to his fault and states he is now extremely aware of what he says and the type of content he performs as a comedian. He states he's learned and evolved from his past mistakes.
Kevin also talks about his height…frequently. Granted, he's a wealthy comedian, and it's an easy target to joke about himself, but it also makes it seem like he's encouraging other people to joke about it as well.
It could be his defense mechanism, or he really doesn't care what people think. Although he has used it to his advantage at times. For example, his first comedy tours included an act called "I'm a Grown Little Man" and "Laugh at My Pain."
Overall, Kevin is proof that your height doesn't have to define you or your success.
How Does Kevin Hart's Height Compare to His Ex-Wife and Current Wife?
Kevin's ex-wife, Torrei Hart, is also a comedian and actress. She's 5'2 but looks much taller than Kevin when wearing high heels.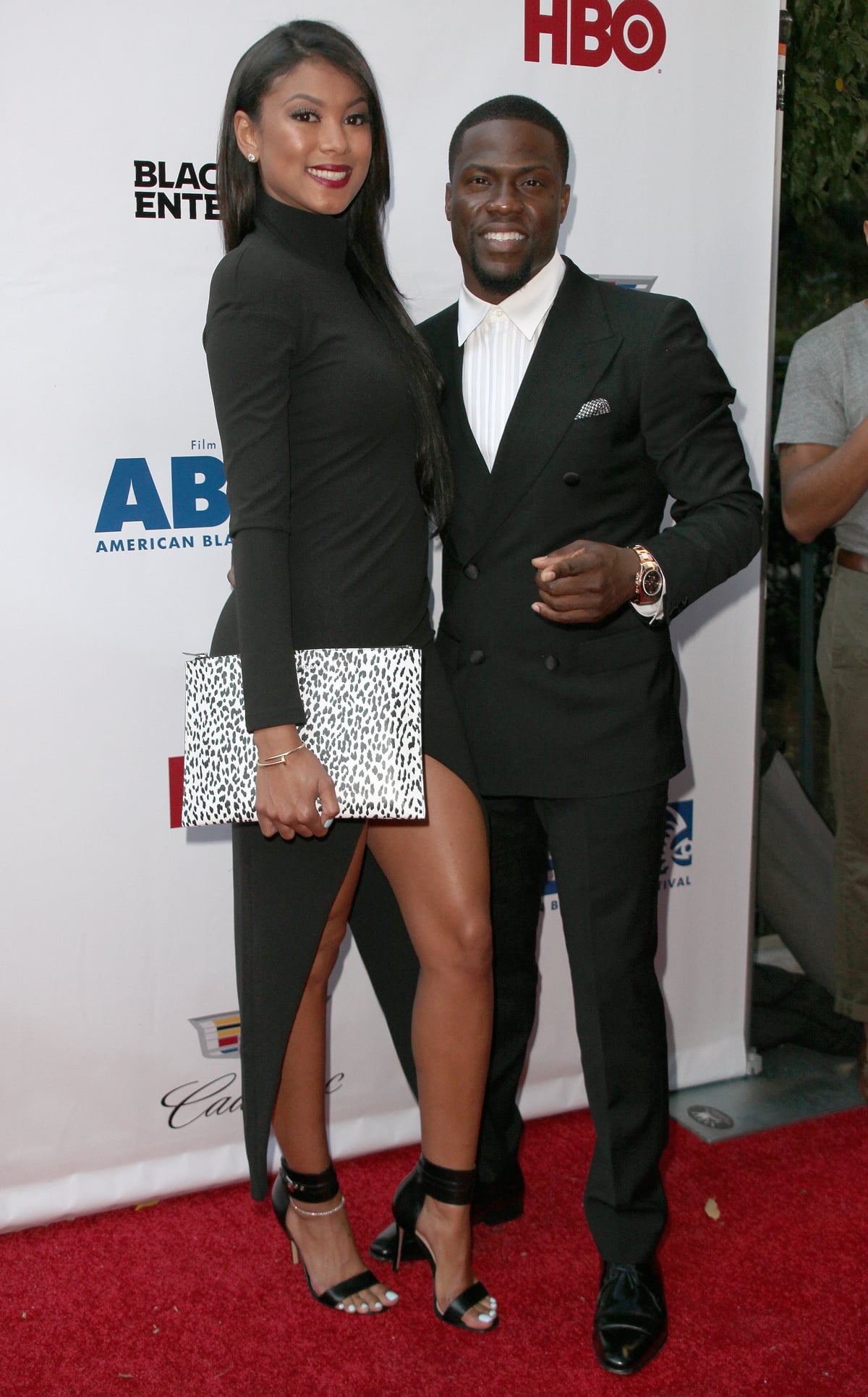 Torrei Hart and comedian Kevin Hart married in 2003 and finalized their divorce in 2011 (Credit: PNP / WENN)
His current wife and model, Eniko Parrish, is taller than him and stands at 5'7. Kevin states that their height difference doesn't affect their love for one another.
Torrei Hart shows off her feet and boosts her height with high heels (Credit: PNP / WENN)
He exudes self-confidence, says he loves who he is, and frequently tells his wife how sexy he is. Instead of conforming to society's standards, Kevin stays true to himself.
3 Advantages of Being Short
In an interview with Dwayne Johnson (who's 6'5), Kevin states the following comedic advantages of being less than average height:
1. Tall people are stupid. We rock. Little guys rock. Little men rock.
2. The best thing about being small? Good clothes.
3. There's nothing that comes with being tall. Little guys rock.
He also reveals how he manages to get a good seat at the movie theater. "How do I get a good view at the cinema? When I do go to a theater, honestly, me and my wife love to go to like the 11:30 or 12 o'clock showing."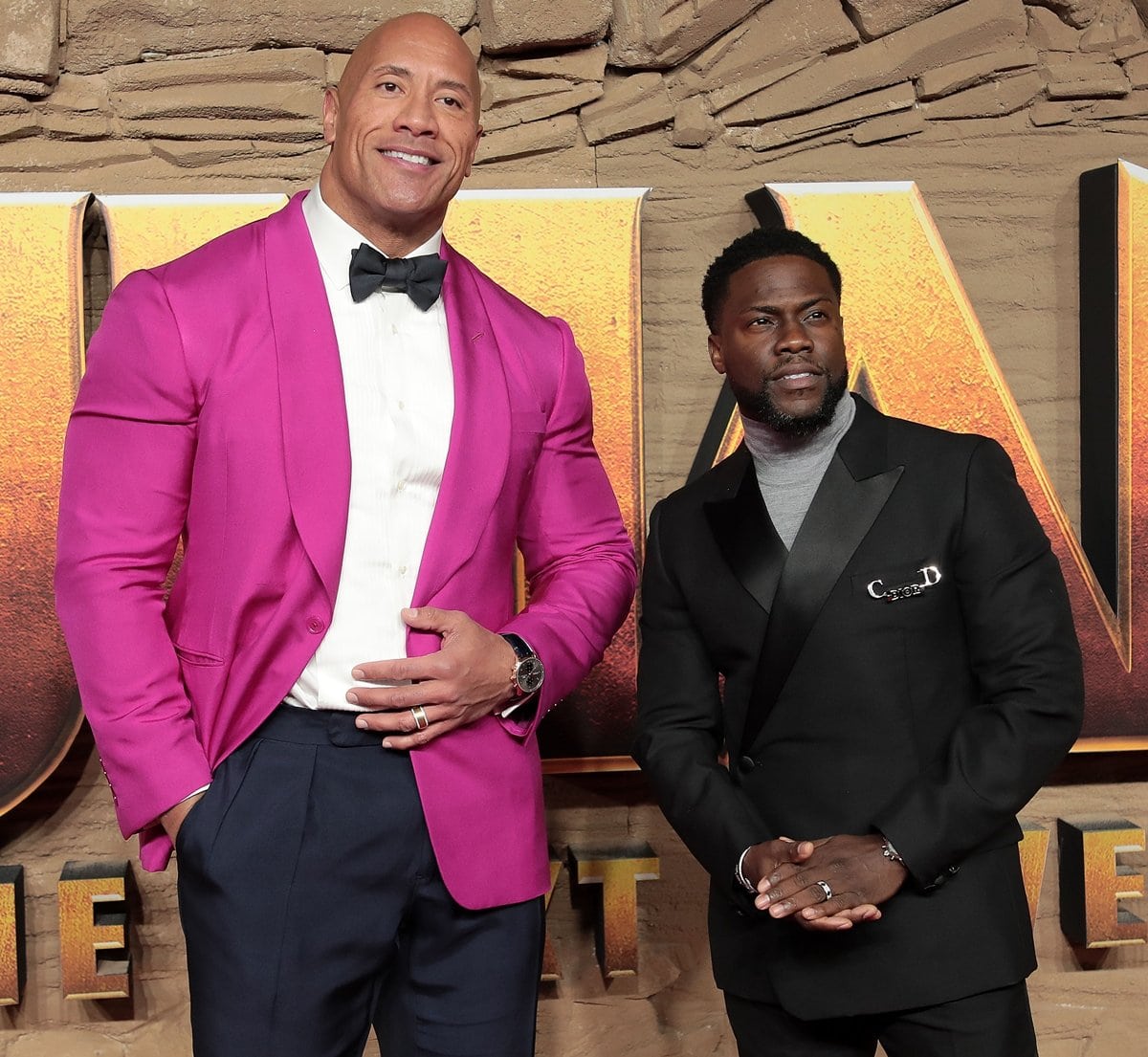 Dwayne Johnson is 6′ 5″ (196 cm) and towers over and Kevin Hart who is 5'2 ½ (158.8 cm) (Credit: Avalon / WENN)
"Nine times out of ten on a Tuesday or a Wednesday you have a very good shot at having a light theater and that way you get the pick of the litter from seats, no heads in front of you," he added.
When asked what he would do if he woke up in Dwayne Johnson's body with a height of 6'5, Kevin states, "Pray to God to get back to myself. I don't want this."
Halle Berry starred as Money Berry in the 2016 American stand-up comedy concert film Kevin Hart: What Now? (Credit: FayesVision / WENN)
Halle Berry may be a global superstar, but she definitely doesn't forget her friends.
In October 2016, the actress made some time in her busy schedule to appear at her co-star Kevin Hart's star unveiling at the Hollywood Walk of Fame, albeit taking a very low-key role in the event.
The Catwoman actress was all smiles as she arrived in Hollywood to honor her dear friend.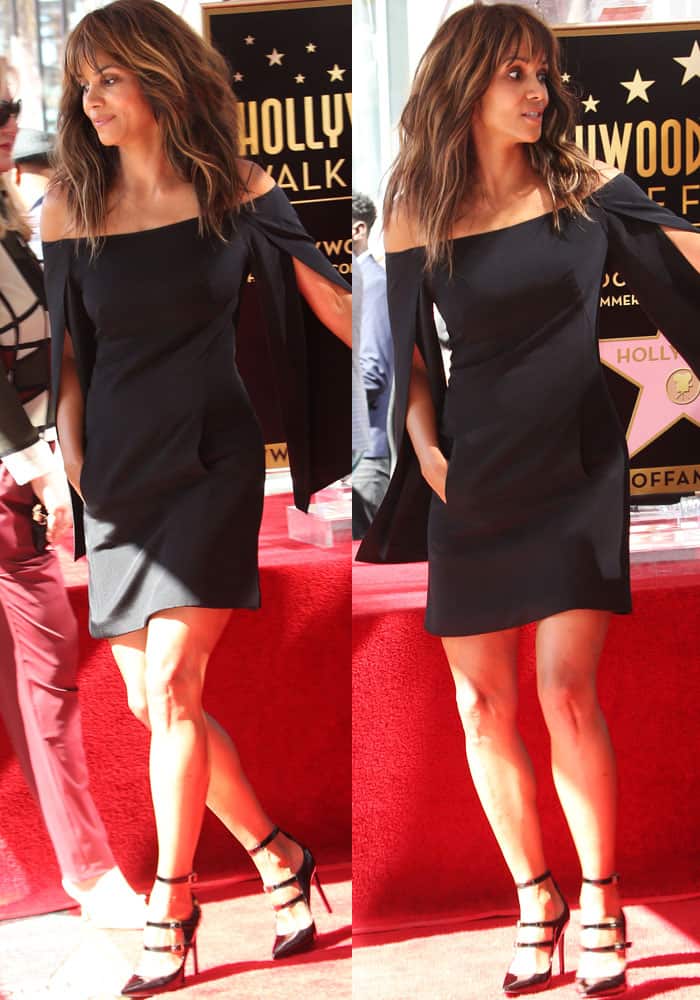 Halle Berry is a special guest as comedian Kevin Hart is honored with a star on the Hollywood Walk of Fame in Hollywood on October 10, 2016 (Credit: FayesVision / WENN)
Halle appeared in a cape-sleeved off-shoulder mini dress from KaufmanFranco, which showed off the then-50-year-old's impressive figure.
Halle Berry is a show-stopper in the sexy Tamara Mellon "Pistol" pumps (Credit: FayesVision / WENN)
The actress put the oomph into her outfit with a pair of sexy Tamara Mellon "Pistol" heels. The shoes are classic Mary Jane pumps with a twist, featuring a sleeker silhouette and two additional straps.
You can order the sexy Tamara Mellon "Pistol" pumps at Tamara Mellon.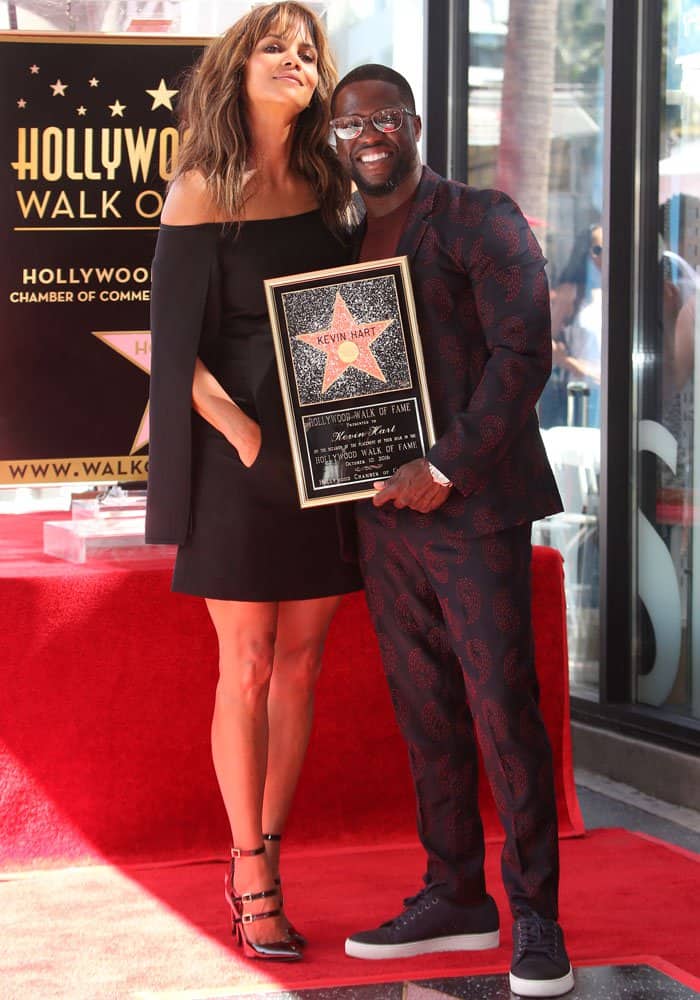 Halle Berry poses with her much shorter friend and co-star Kevin Hart (Credit: FayesVision / WENN)
Halle, who was promoting "What Now?" with Kevin Hart, was not asked to give a speech but made an appearance as a spectator anyway.
Hilariously, Kevin stood up Halle just the day before his star was unveiled, prompting the actress to post a suggestive photo on Instagram.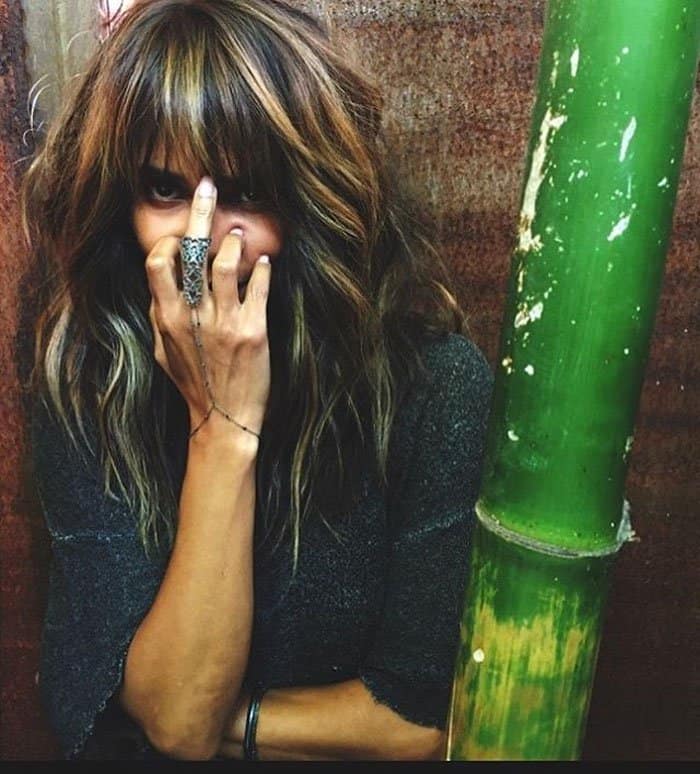 Halle posts a suggestive photo on Instagram after being stood up by Kevin Hart (Credit: Instagram / Halle Berry)
Her caption read, "I guess stand-up comedian means you get stood up by a comedian? Just waiting on Kevin. This begs the question… #WHATNOWKEVIN!?!?"
Tamara Mellon Pistol Patent Pumps, $475