Emily Ratajkowski put on a brave face as she made her first red carpet appearance on Monday after accusing Robin Thicke of sexual assault on the set of Blurred Lines video in 2013 in her upcoming book, My Body, which you can buy on Amazon.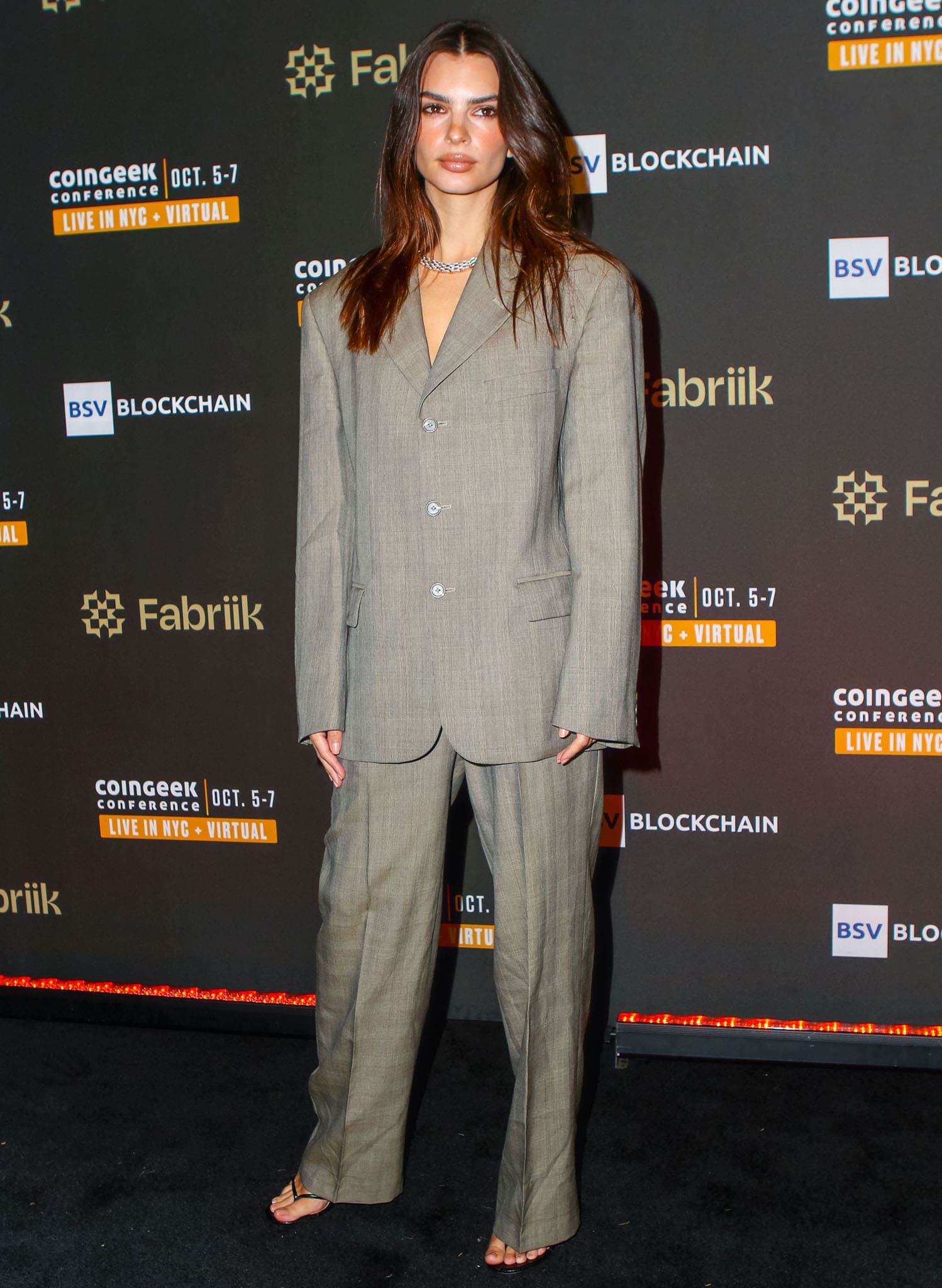 Emily Ratajkowski attends Coin Greek cocktail party at Gustavino's in New York City on October 4, 2021, after accusing Robin Thicke of groping her breasts (Credit: Mega / WENN)
Keeping her famous curves under wraps, the 30-year-old model graced the Coin Greek cocktail party in a menswear-inspired gray suit from Ralph Lauren's Havre Studio.
Giving off a vintage appeal, the oversized plunging blazer features padded shoulders while the pants have a slouchy fit.
Emily Ratajkowski looks chic in a menswear-inspired Ralph Lauren Havre Studio gray suit (Credit: Mega / WENN)
Sebastian Bear-McClard's wife kept things simple as she styled her chic outfit with just a chunky silver necklace.
She then injected her signature sultry look by wearing subtle smokey eye-makeup with mascara, heavy blush, and nude lipstick and styling her tresses down in tousled waves around her shoulders.
Emily Ratajkowski wears her signature sultry look with tousled hair and smokey eye-makeup (Credit: Mega / WENN)
Continuing with the '90s-inspired theme of her ensemble, Emily showed off her feet in a pair of minimalist thong-toe heels from Steve Madden.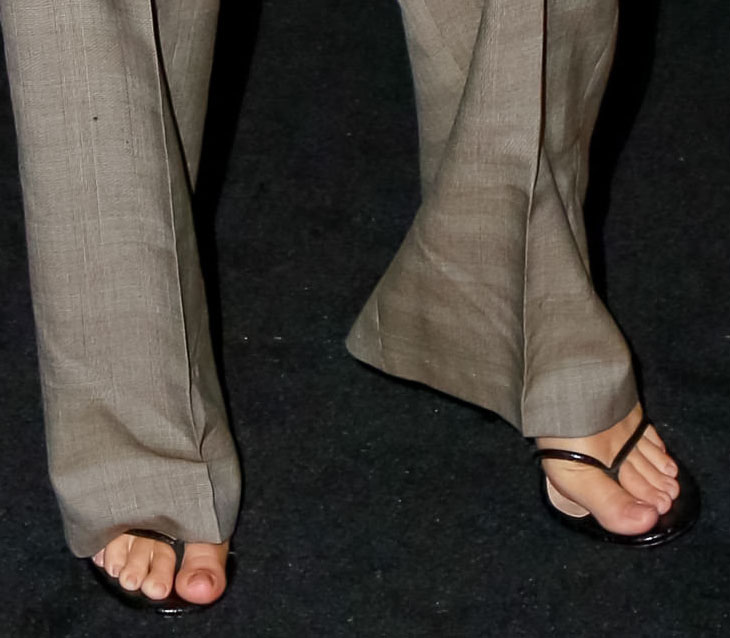 Emily Ratajkowski shows off her feet in Steve Madden Vada heels (Credit: Mega / WENN)
She wore the "Vada" sandals with svelte snake-embossed laces that wrap around the ankle. They also have a thong-toe post and a 4.75-inch tapered heel.
Steve Madden 'Vada' Sandal
The Steve Madden Vada is defined by the thong toe post and wrap-around ankle straps
Emily Ratajkowski Accuses Robin Thicke of Sexual Assault
In an excerpt from her upcoming book, My Body, reported by The Sunday Times over the weekend, Emily revealed that Robin Thicke had groped her boobs from behind while they were on the set of the singer's Blurred Lines music video in 2013.
While she had no issues about being topless for the uncensored version of the video along with two other models, things took a turn when Robin "returned to the set a little drunk to shoot just with me," Emily writes in her book, out on October 19.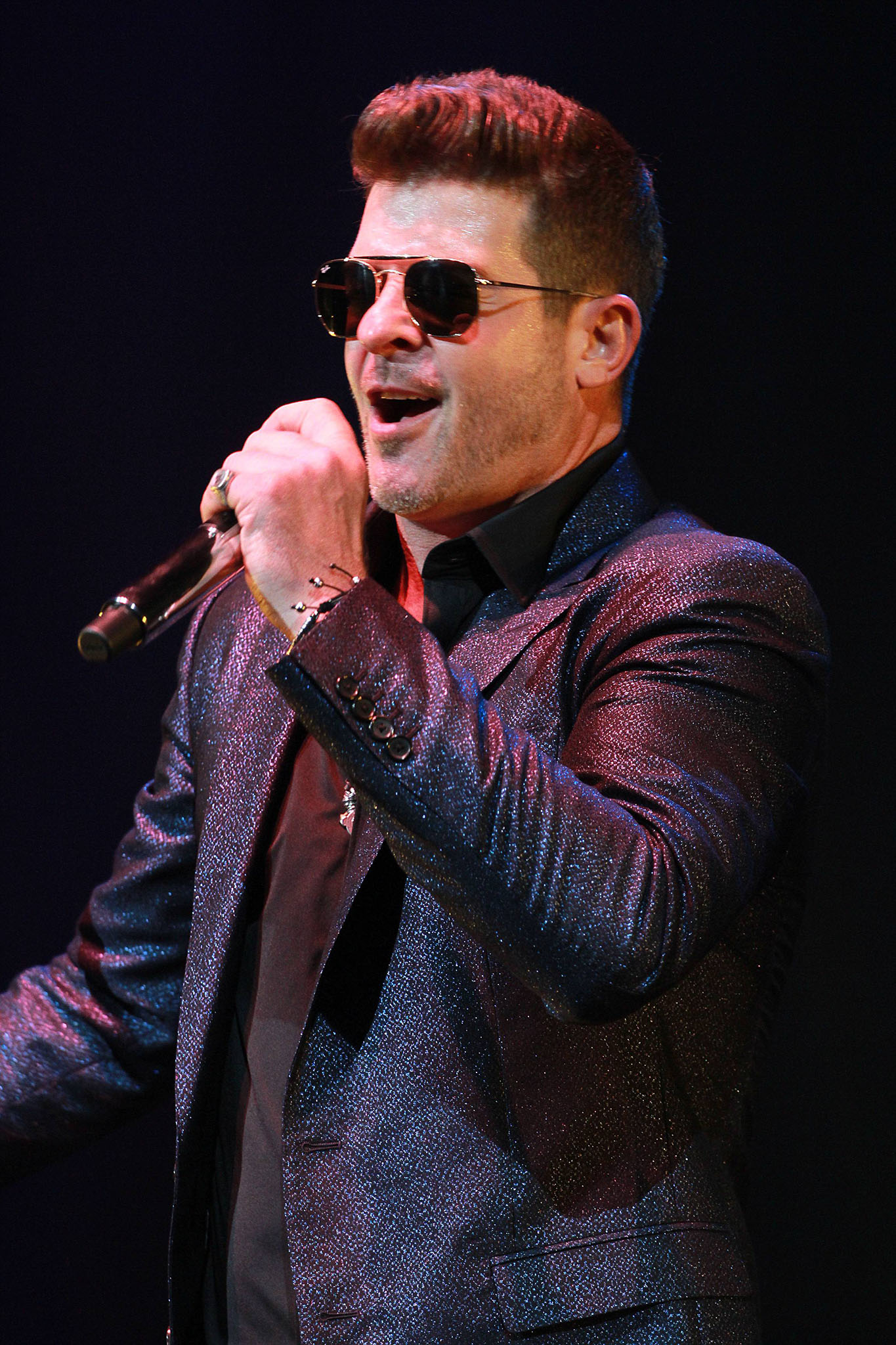 Robin Thicke, pictured performing at the 2019 Sketchbook Tour, is accused of groping Emily Ratajkowski's boobs (Credit: Avalon / WENN)
"Suddenly, out of nowhere, I felt the coolness and foreignness of a stranger's hands cupping my bare breasts from behind. I instinctively moved away, looking back at Robin Thicke."
"He smiled a goofy grin and stumbled backward, his eyes concealed behind his sunglasses. My head turned to the darkness beyond the set. [The director, Diane Martel's] voice cracked as she yelled out to me, "Are you okay?'"
"I pushed my chin forward and shrugged, avoiding eye contact, feeling the heat of humiliation pump through my body. I didn't react – not really, not like I should have," she adds.
Why Emily Didn't Vocalize Her Allegations Against Robin Sooner
In a quick interview with People at the CoinGreek Conference party, Emily said: "I was an unknown model, and if I had spoken out or complained, I would not be where I am today; I would not be famous."
Emily Ratajkowski says in her memoir My Body that she was sexually harassed by Robin Thicke during the recording of the music video for his single "Blurred Lines" (Credit: YouTube)
She added: "I wrote a book about the evolution of my politics and that includes a lot of different experiences from my career and my life and the way that I felt and thought about those experiences have evolved. I hope people are able to read the essay and understand the nuance behind these kinds of situations.
This isn't the first time Emily accused someone of sexual assault. Last year, the iCarly star opened up about the sexual harassment she experienced with photographer Jonathan Leder when she was just starting out in the modeling industry.