Suns out. Toes out. No summer closet is complete without a trusty pair of thongs. They're a step up from your classic flip-flops and the perfect investment shoes for summer or hotter climates.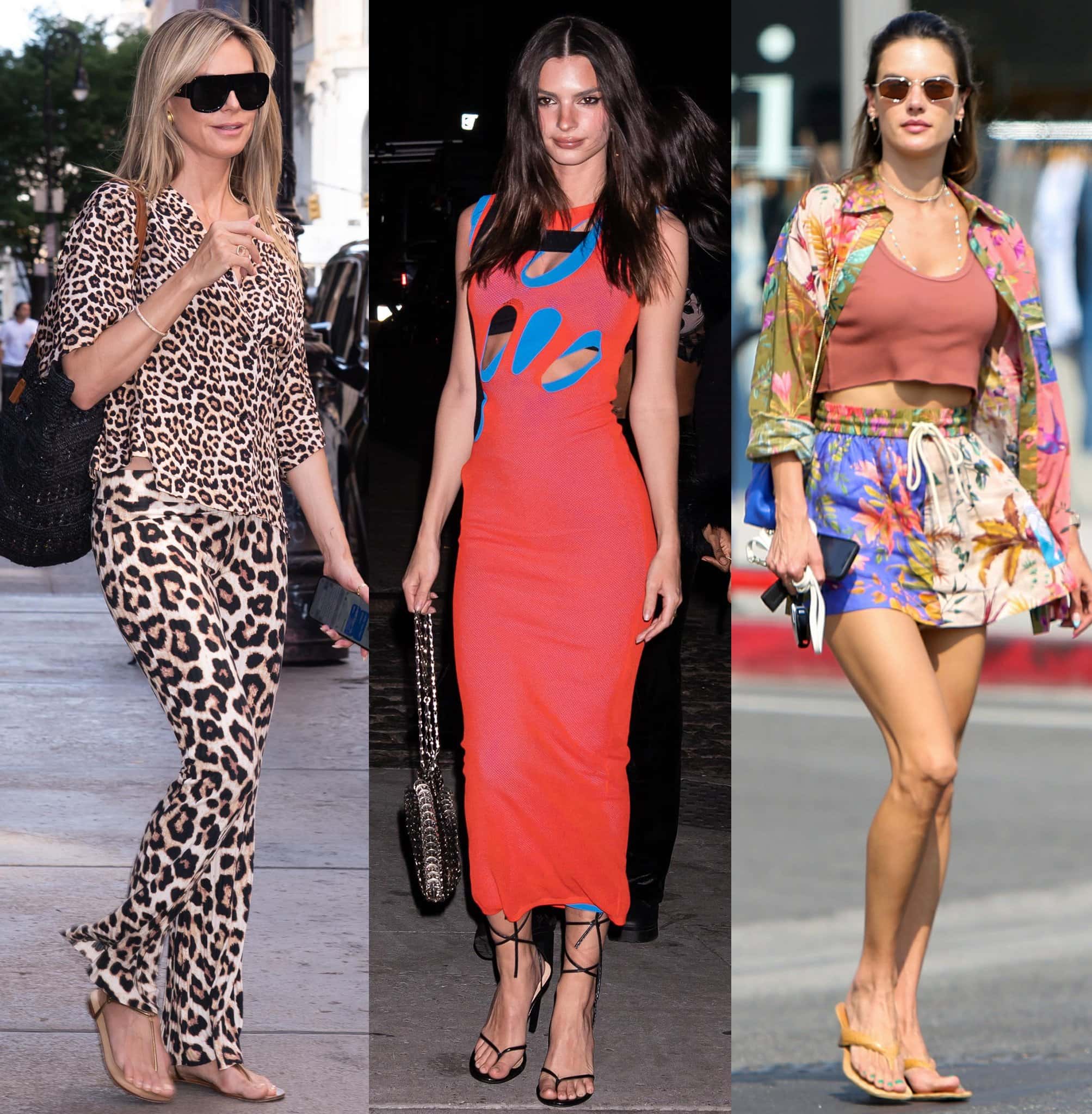 Models Heidi Klum, Emily Ratajkowski, and Alessandra Ambrosio show how to wear thong sandals (Credit: Janet Mayer / BauerGriffin / INSTARimages / Cover Images)
This signature '90s shoe is making a comeback after appearing in the collections of luxury fashion houses like Bottega Veneta and Saint Laurent. These shoes are an elevated alternative to flip flops and come with different soles to suit every occasion.
We're sharing everything you need to know about these classic shoes, how to make thong sandals more comfortable, and the styles that are top of our shopping list.
What are Thong Sandals?
A thong sandal is a backless shoe with a rubber foam sandal that uses a single piece of leather at the big toe to hold the shoe together.
This feminine and minimalistic silhouette can come either as a slip-on shoe or with an adjustable buckle strap.
Thong sandals are defined by the strip of leather between the toes connected to the strap across the top or around the sides of the sandals (Credit: TravnikovStudio / Shutterstock)
Thong sandals are casual everyday shoes that will take you from the beach to a garden party and dinner with your girlfriends.
You'll find these stylish and comfortable summer shoes from high-street and luxury brands, making them accessible for every budget.
How to Make Thong Sandals Comfortable
There's a common misconception that thong sandals aren't comfortable. While it can take a little time to get used to the y-strap of these shoes, there are ways to make them more comfortable.
If you're new to thong sandals, choose a style with an adjustable strap as a backless style can create friction. The most important tip to make thong sandals comfortable is to buy shoes that fit your feet correctly.
It may mean buying two sizes to find the one that will prevent your feet from sliding around.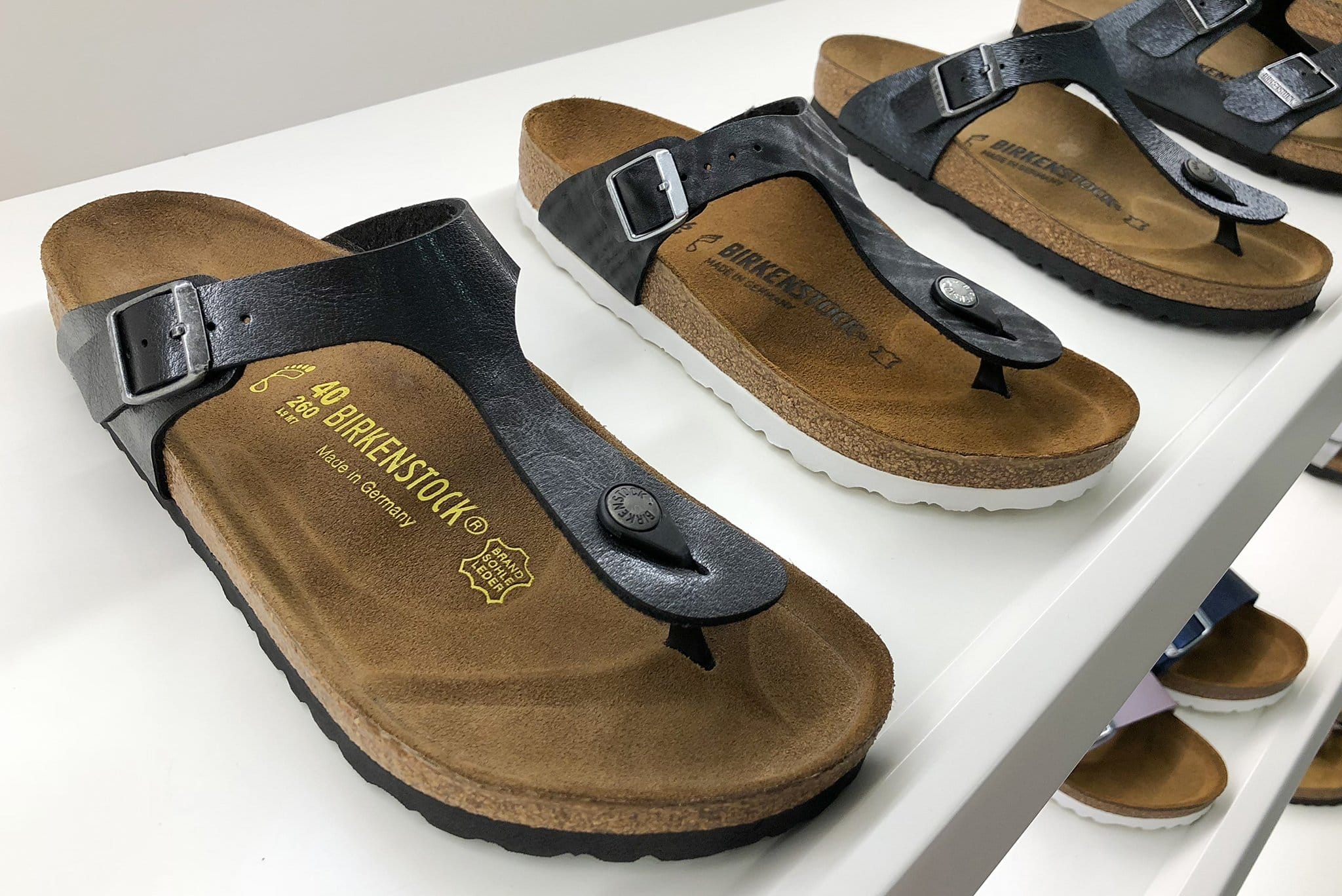 Birkenstock's Gizeh thong sandals feature arch support designed for all-day walking (Credit: Kevin Khoo / Shutterstock)
Thong sandals can be an ideal choice of summer shoes. If you're planning to wear your thong sandals all season long, choose a style with arch support. Brands like Birkenstock design their thong sandals with all-day walking in mind.
It's almost best to be prepared. Blister plasters and gel pads can be a lifesaver when wearing thong sandals. Keep a few spare plasters in your bag to support any problem areas.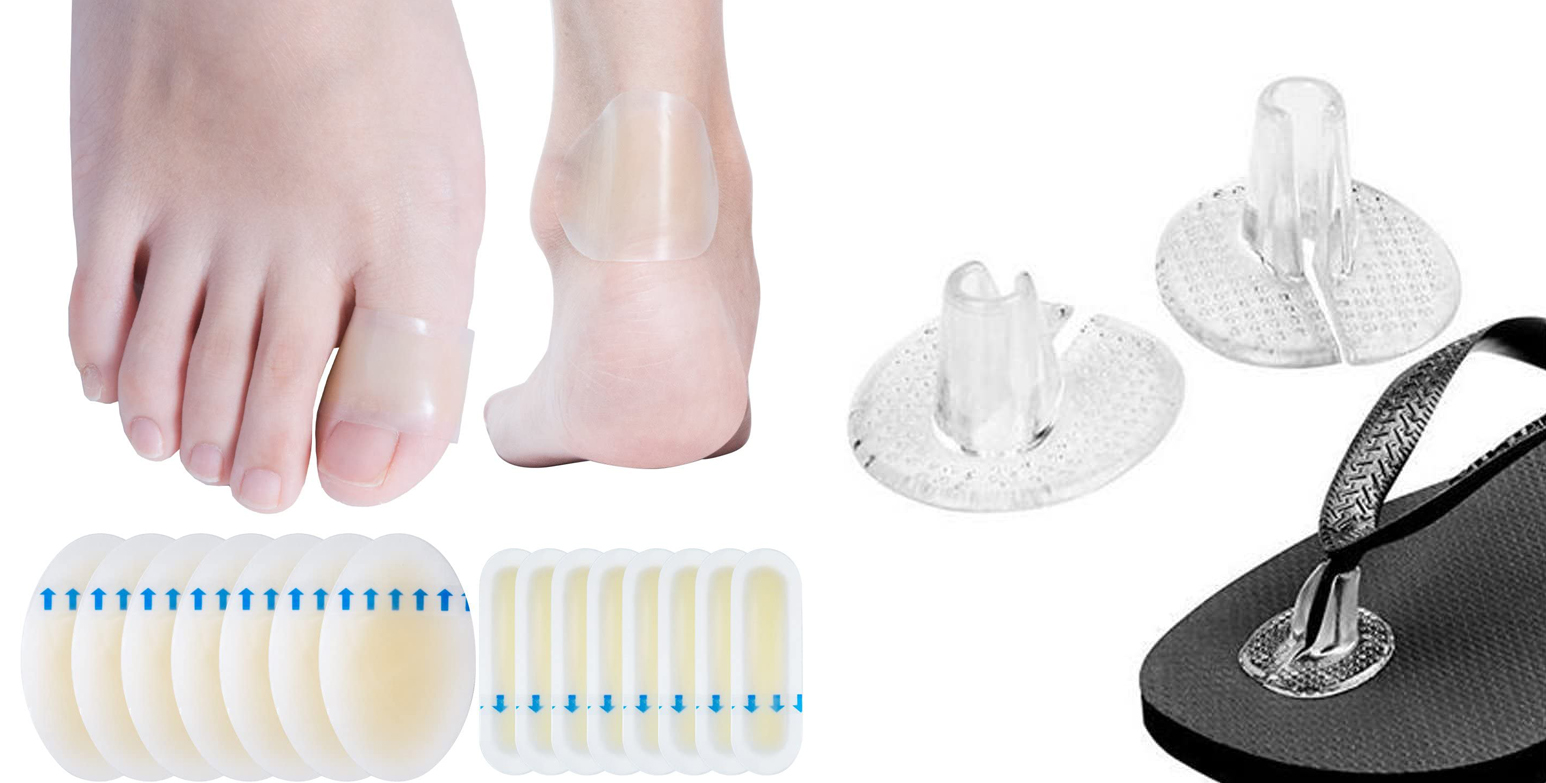 Sumifun Blister Pads, $9.99 at Amazon; Soft Silicone Flip Gel Cushions Pad Toe Protectors for Thong Sandals, $9.99 at Amazon
Another tool that can help make your thong sandals comfortable is an insole. You can choose a style that is the full length of your shoe or a smaller one for the ball of your feet.
These insoles will give you extra support and make it easier to walk for longer periods.
Thongs vs. Flip Flops
Thong sandals and flip-flops look similar to the naked eye. Both shoes use the y-shaped strap at the big toe and typically have a flat sole.
The main difference is that flip-flops use rubber instead of the leather used for thong sandals.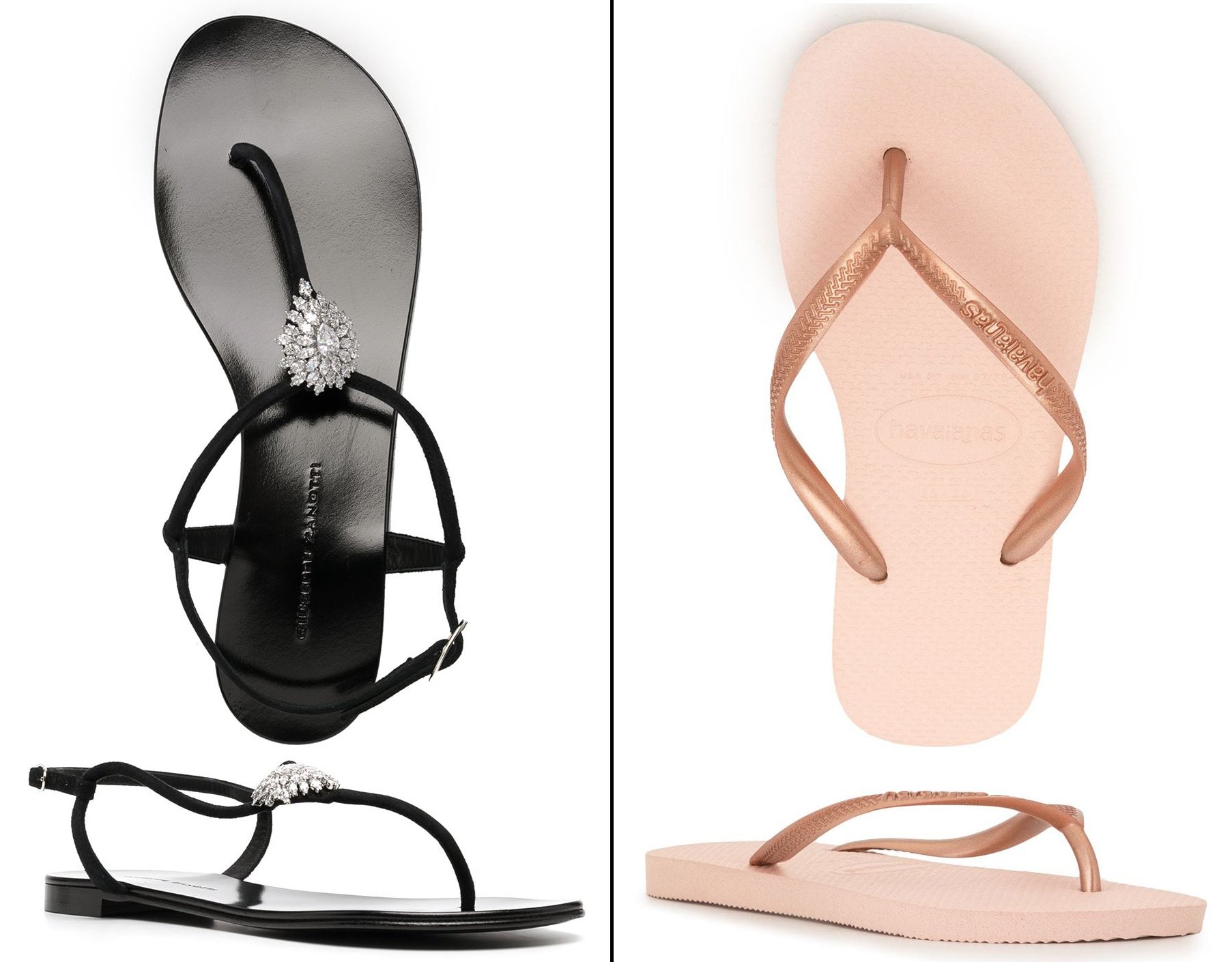 Thongs are usually made of leather, whereas flip-flops are typically made from rubber, foam, or plastic
If you're planning on walking around, you want to slip into a pair of thong sandals. Flip-flops are best reserved for the beach or when you're heading for a pedicure. These shoes aren't comfortable for long-term wear due to their rubber material.
While you'll want a pair of flip-flops in your summer closet, thong sandals will be your ride or die.
The 6 Best Thong Sandals
The popularity of thong sandals means that you can find a pair at any price point. Brands like Nike, Gucci, Birkenstock, and Valentino offer thong sandals as part of their permanent collection.
You can choose a thong sandal with a flat sole or go from day to night with a block heel. We're rounding up the most popular styles of thong sandals from brands at every price point.
1. Gucci Marmont Logo-Embellished Leather Sandals, $590 at Net-A-Porter
Don't overlook thong sandals as your first pair of designer shoes. Many of them sit at a more attainable price point and can give you a subtle way of incorporating designer logos into your closet.
The Marmont sandals are instantly recognizable by the iconic GG hardware
Gucci's Marmont logo-embellished leather sandals feature the brand's synonymous 'GG' hardware. These slip-on thong sandals have a slight heel and a slim tapered strap.
2. Tory Burch Miller Sandals, $228 at Saks Fifth Avenue
Thong sandals are amongst Tory Burch's best-selling styles. The American brand is a popular choice for those who want the look of luxury shoes at a lower price without compromising on quality.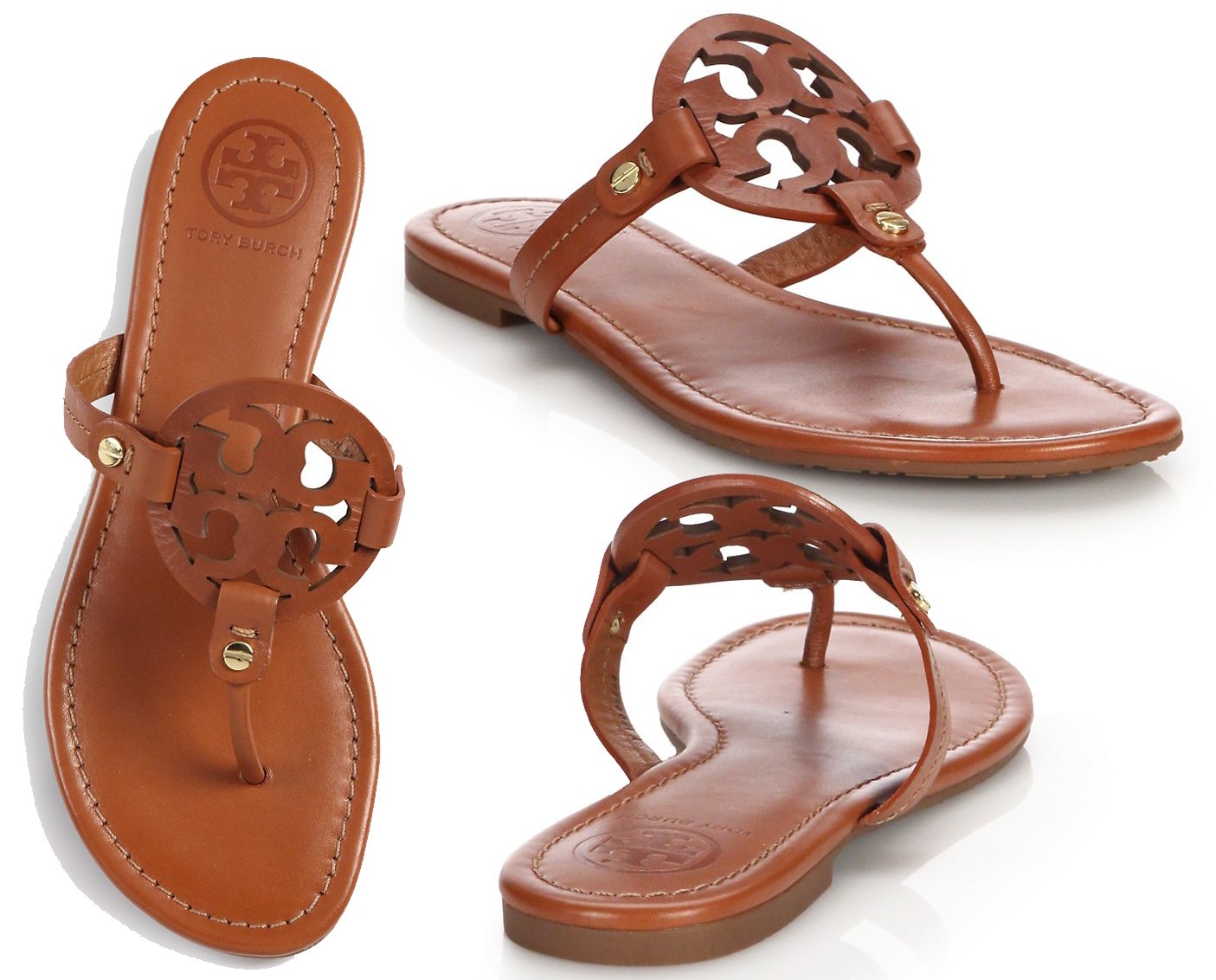 The Tory Burch Miller features a laser-cut logo vamp and comes in an array of neutral colors
Tory Burch's Miller sandals come in an array of neutral shades with a cushioned footbed. These thong sandals feature a laser-cut logo and gold rivets that are part of the brand's signature look.
The Miller sandals typically run slightly smaller, so we recommend ordering ½ size up.
3. Tory Burch Capri Strap Sandals, $217 (from $271) at Farfetch
Are Tory Burch's Miller sandals not for you? Try the brand's Capri strap sandals instead. These minimalistic sandals are chic and elegant with a delicate buckle and the brand's double T logo.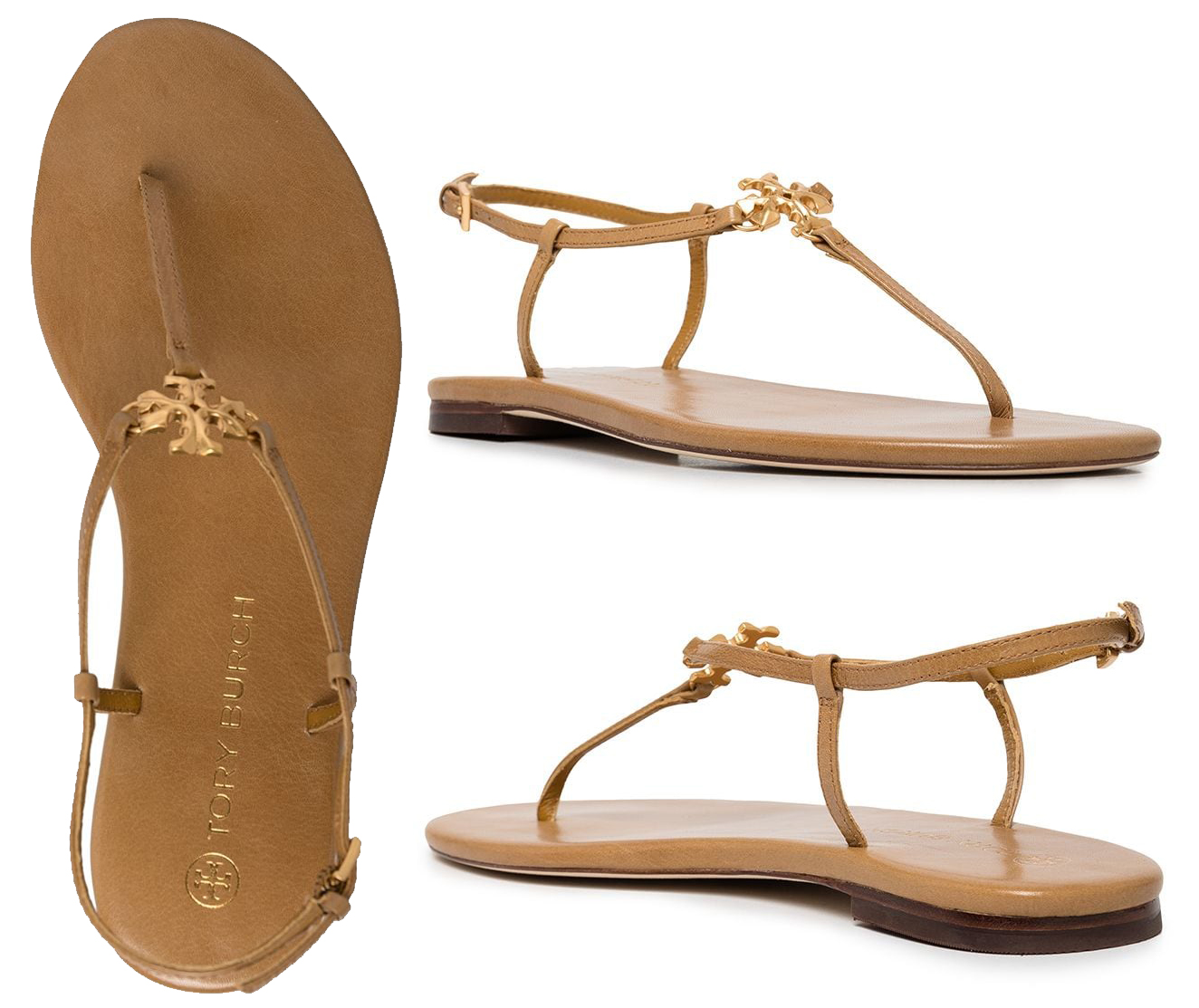 Minimalist yet chic, the Capri sandals feature a delicate buckle and carved Double T on the vamp
They're a more understated alternative to the Miller sandals and can be worn with a maxi dress or a workwear look.
4. Michael Kors Logo Plaque Saffiano Leather Sandal, $94.95 at Zappos
Michael Kors is the go-to brand for designer dupes. The Logo Plaque thong sandals are similar to Tory Burch's Capri strap sandals with a Saffiano leather finish.
These Michael Kors thong sandals are versatile and available in a variety of uppers
The buckle fastening adds extra comfort with a subtle block flat heel. They're stylish and functional, whether you're styling them with jeans or a chic summer dress.
5. Birkenstock Gizeh Thong Sandals, $91 (from $121) at Farfetch
When it comes to summer shoes, Birkenstock is in a league of its own. The stylish 'dad shoe' brand offers a 'Gizeh' thong sandal. These all-around sandals combine an elegant thong silhouette with a minimalistic design.
A comfy pair of thongs, the Gizeh boasts an additional foam layer and soft footbed for extra comfort
In classic Birkenstock style, they feature an additional foam layer and soft footbed for extra comfort. You can add a pop of color to your summer closet with a pastel Gizeh thong sandal.
6. Valentino V Logo Signature Flat Thong Sandals, $619 at Harrods
Want to splurge on your thong sandals? Look no further than this classic style by Valentino. They incorporate the contemporary Valentino 'V' logo with a sling-back silhouette for extra comfort.
The grainy calfskin leather gives the sandals a classic look, making them a timeless addition to your closet.
Inject sophisticated appeal to your summer outfit with the Valentino Vlogo sandals
Get your closet ready for summer by exploring our list of the best thong sandals and using our tips on making them more comfortable.