She recently opened up about her sexual harassment experience with photographer Jonathan Leder when she was just starting out in the modeling industry.
But prior to releasing her essay for New York Magazine's The Cut, Emily Ratajkowski put on a vibrant display while out in downtown Manhattan last Friday.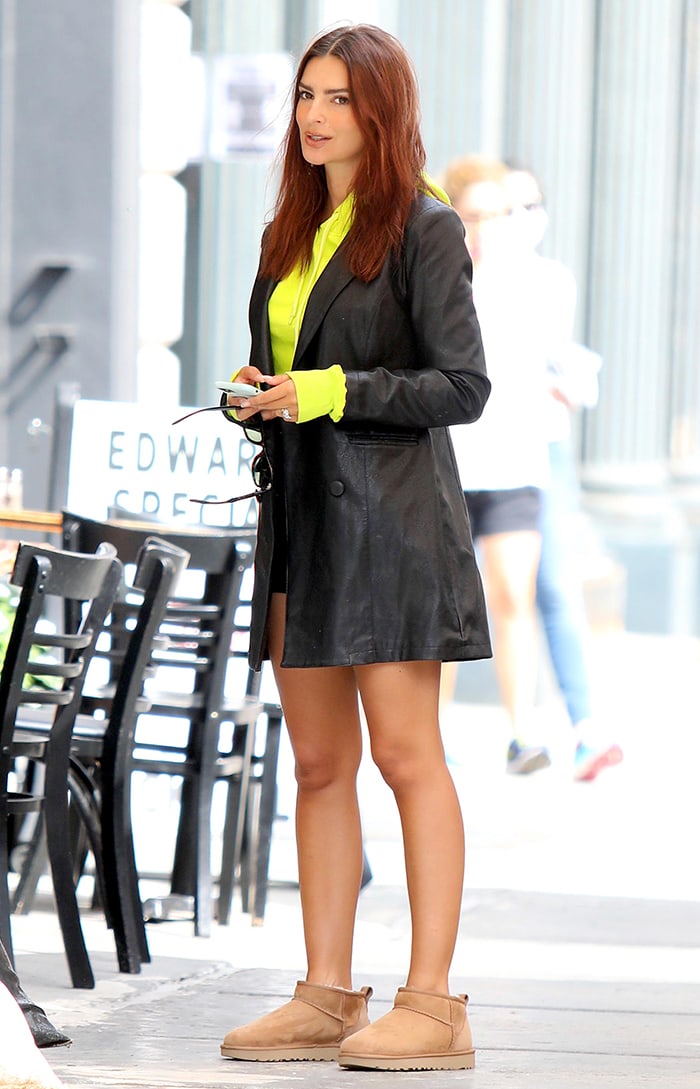 Emily Ratajkowski wears a shock neon yellow cropped Alo Bae hoodie in downtown Manhattan on September 11, 2020
The 29-year-old model looked cheery in a neon green Alo Yoga Bae crop hoodie, which you can buy for $88 at Nordstrom.
She wore it underneath a long, black leather jacket, paired with tight black shorts that showcased her toned legs.
Emily Ratajkowski puts on a vibrant display in a neon green hoodie and long black jacket
Sebastian Bear-McClard's wife accessorized her athleisure, daytime chic look with a pair of gold hoop earrings.
Pictured without a face mask, Emily looked fresh with her hair down and loose and with peachy blush and lipstick. She also shielded her eyes behind a pair of Ray-Ban Wayfarer sunglasses for added style.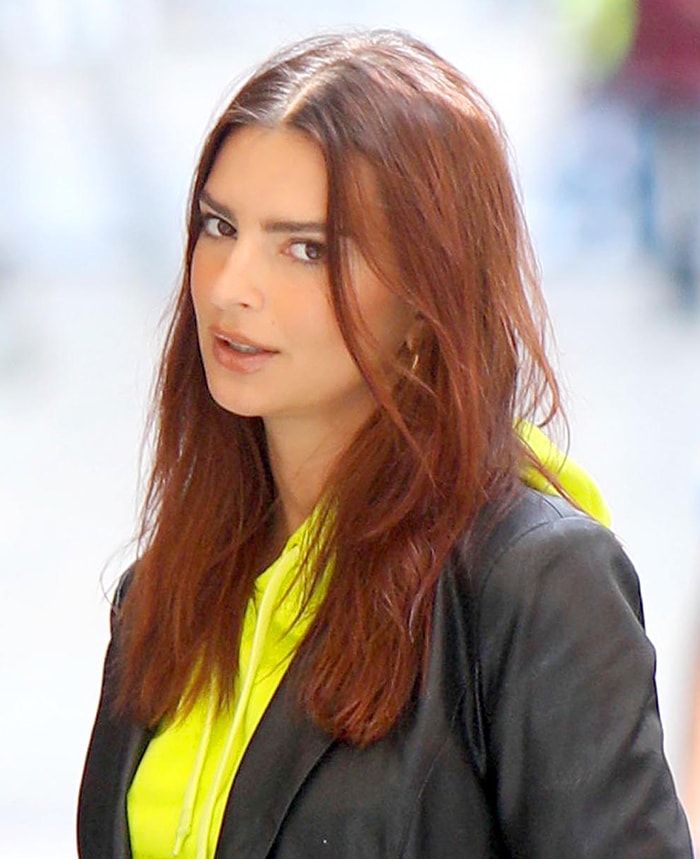 Emily Ratajkowski wears her hair loose and glams up with peachy blush and lipstick
Emily traded her go-to white sneakers for a pair of Classic Ultra Mini UGG boots, which are popular among counterfeiters as well.
Made from water-repellent Twinface sheepskin suede, these updated cozy boots feature lower shafts, genuine shearling plush lining, and Treadlite by UGG soles that provide increased traction, cushioning, durability, and flexibility.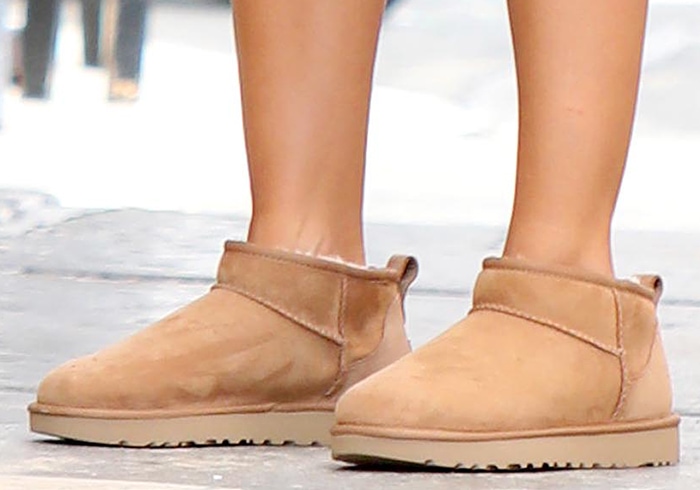 Emily Ratajkowski teams her athleisure lounge look with UGG boots
UGG Ultra Mini Classic Boots, $139.95 at Zappos and Nordstrom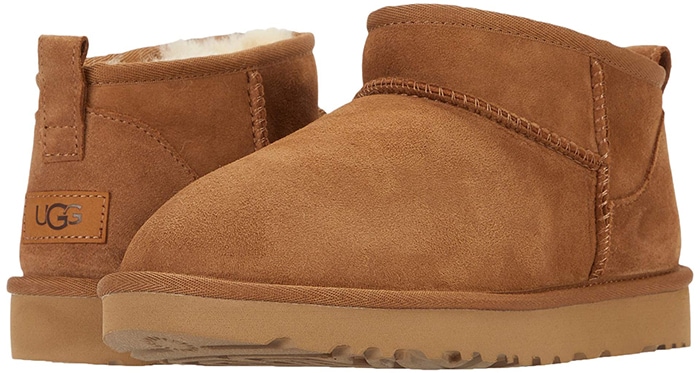 An ultra-short shaft adds a twist to this abbreviated version of a classic UGG boot
On Wednesday last week, the SI swimsuit model paraded her legs as she embraced the pantless trend in an oversized black sweater.
She amped up her casual look with a pair of gold dangling earrings and a gold necklace. To give her black ensemble a splash of color, she carried an orange Laval utility bag over her shoulder.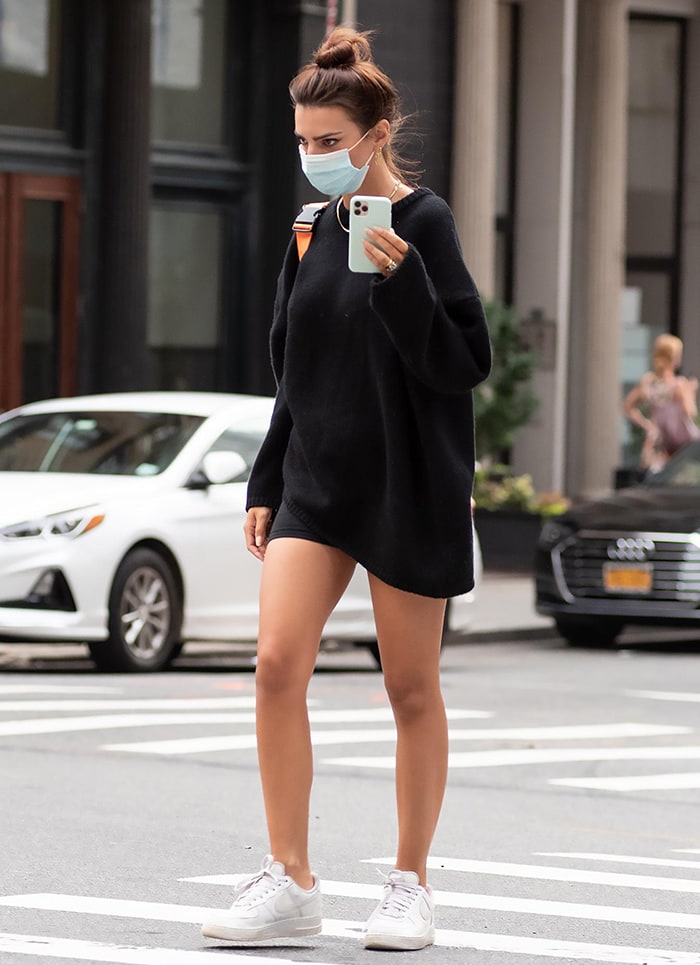 Emily Ratajkowski goes for a pantless look in long black sweater and biker shorts
While her face was partially covered with a surgical face mask, Emily decided to put on a winged eyeliner for some glam. She also wore her chestnut tresses up into a messy top knot.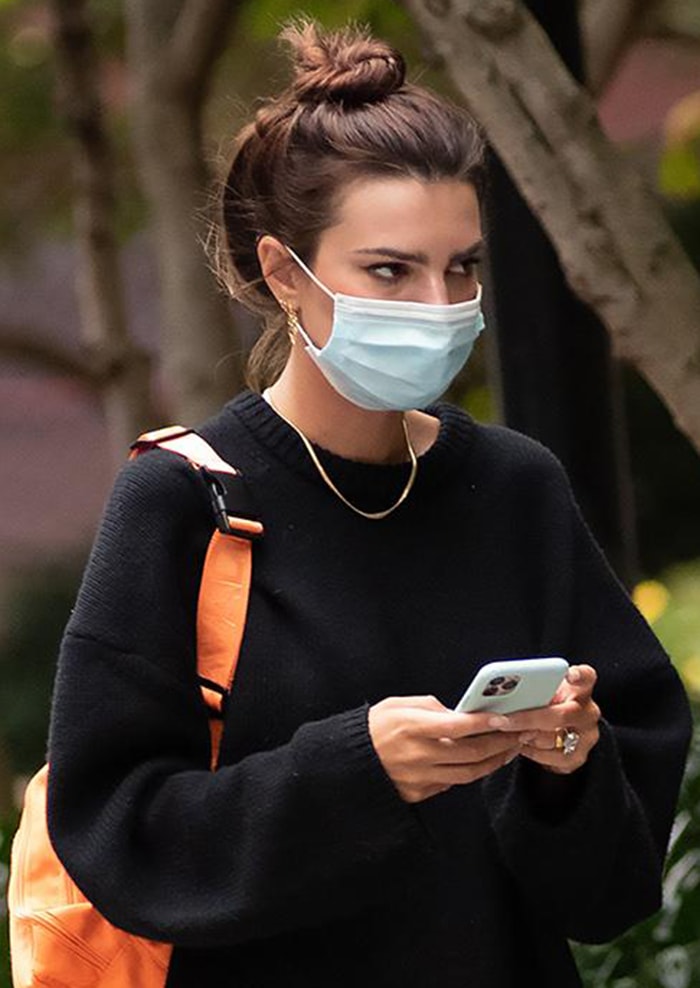 Emily Ratajkowski styles her hair in a top knot and wears winged eyeliner
A pair of classic favorite Nike Air Force 1 sneakers rounded out her relaxed look.
Emily Ratajkowski completes her look with classic Nike Air Force 1 sneakers
Emily Ratajkowski accuses Jonathan Leder of sexual assault
In her essay, Emily detailed how her photoshoot with photographer Jonathan Leder in 2012 turned physical.
The model, who was only 20 at that time, recalled going to Jonathan's home for an unpaid editorial arranged by her agent. She said she was "very, very drunk" after drinking wine as Jonathan kept on refilling her glass.
"I was cold, shivering, and huddled under a blanket. Jonathan and I were on his couch, and the rough texture of his jeans rubbed against my bare legs."
She added: "Most of what came next was a blur except for the feeling. I don't remember kissing, but I do remember his fingers suddenly being inside of me."
Jonathan Leder denies the allegation
A fact-checker from The Cut reached out to Jonathan but he denied the allegations, saying they were "too tawdry and childish to respond to."
"You do know who we are talking about right? This is the girl that was naked in Treats! magazine, and bounced around naked in the Robin Thicke video at that time. You really want someone to believe she was a victim?"
On Wednesday, Heather Tynan, the editorial director of Jonathan's Imperial Publishing company, released a statement to USA Today, saying Jonathan "completely denies her outrageous libelous allegations of being 'assaulted.'"
"We were all deeply disturbed to read Ms. Ratajkowski's latest false statements to NY Magazine. It is disheartening to us that NY Magazine would publish such tawdry and baseless article, yet not surprising."
Jonathan published a book of Emily's photos "without consent"
A few years after the said photoshoot, Jonathan released a book, titled Emily Ratajkowski, which contains never-before-seen explicit photos of the model.
Emily claimed that the book was published without her permission and said she had "consented only for the photos to be printed in the magazine they were intended for."
Jonathan's team countered Emily's claim, saying: "We have every legal right to publish our books of Ms. Ratajkowski – despite what she has tried to maintain to the press. Ms. Ratajkowski knows that, and her lawyers know that. She knows she has no legal recourse to stop publication, so bad-mouthing the photographer (again) with false and salacious, baseless accusations seems to be her newfound answer."
In December 2016, Emily posted a series of Tweets about the book, which she said was a violation.


Emily Ratajkowski opposes the publication of Jonathan Leder's book containing her photos
Credit: Instar / WENN