In February 2016, Twilight actress Anna Kendrick had not received any of the main nominations at the Grammy Awards, but that certainly didn't stop her from enjoying the show.
Anna Kendrick wears her hair back at the 2016 Grammy Awards held on February 15, 2016, at Staples Center in Los Angeles
The funny gal took to her Twitter to specifically applaud Lady Gaga's David Bowie tribute. 8 years earlier, she rose to prominence with her role as Jessica Stanley, a friend of protagonist Bella Swan (played by Kristen Stewart), in The Twilight Saga.
Appearing in the first four of the five vampire-themed romance fantasy films from Summit Entertainment, she played a rather minor role in the movies.
Twilight, the first film in The Twilight Saga film series, was theatrically released on November 21, 2008, when Anna was 23 years old.
Anna Kendrick almost forgot she had a small role in Twilight
"Holy (expletive). I just remembered I was in 'Twilight," the actress tweeted in November 2018.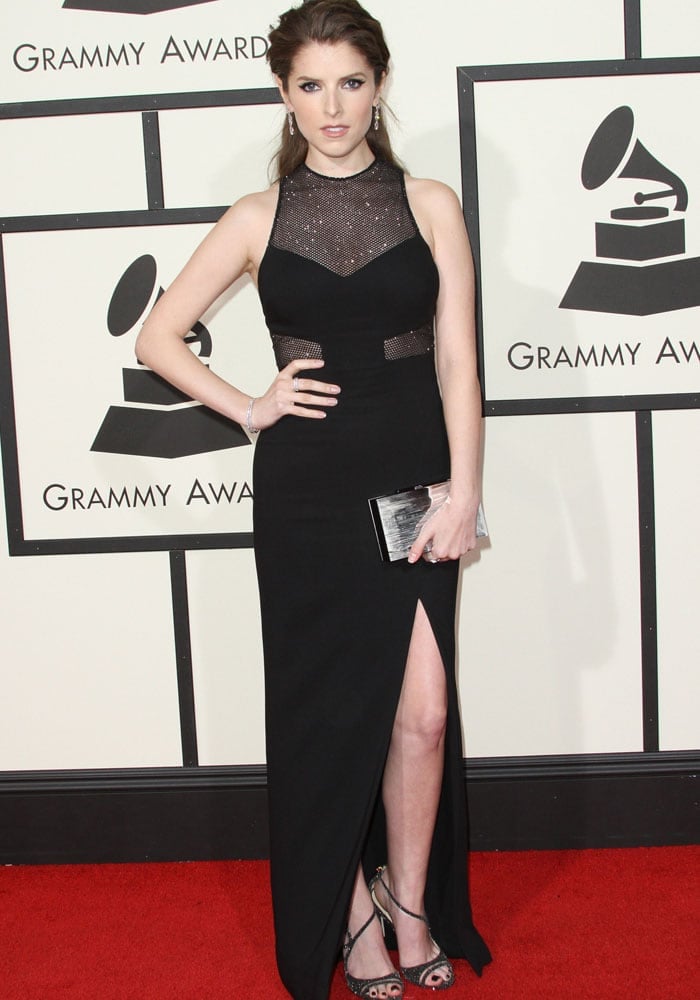 Anna Kendrick shows off some leg in a black Emanuel Ungaro dress
"I auditioned for Twilight because Katherine Harvick had seen me in a film at Sundance called Rocket Science," Anna revealed in a video interview with Vanity Fair.
"I really thought it was such a blow-off audition. I just thought, 'well, I'll you know, do as well as I can so that the casting director thinks of me for other stuff. I actually saw my friend Mae Whitman at that audition and we were both like, 'What are we doing here? We're obviously not going to be this like mean girl character.'"
"I just remember my converse being completely soaked through and feeling like, you know, this is a really great group of people and I'm sure that we would be friends in a different time, but I want to murder everyone," she recalled, adding that filming in Portland, Oregon, was "cold and miserable."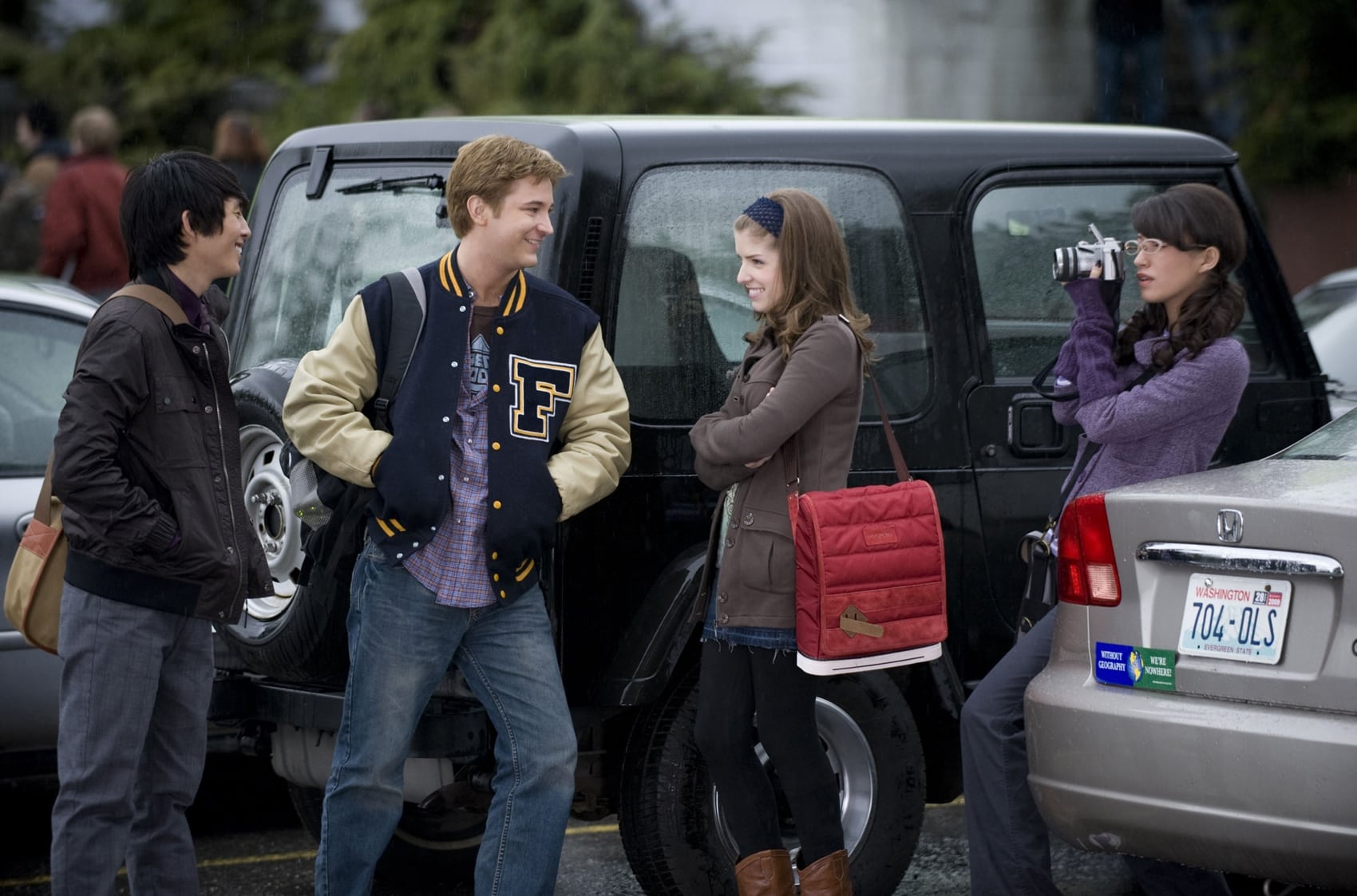 Justin Chon, Michael Welch, Anna Kendrick, and Christian Serratos in The Twilight Saga: New Moon
"There was like something about it that was like, you know, like you go through like some trauma event, like people who survive like a hostage situation. You're kind of bonded for life."
Filming the second movie, New Moon, was luckily more pleasant because "the weather wasn't quite as intense."
"They rearranged a lot of scheduling stuff. It would have been a real d*ck move, but you know, legally they had the right to stop me from doing Up In the Air so shout out to those guys," Anna said about being nominated for an Academy Award for the 2009 American comedy-drama film Up in the Air.
"They all start to blend into one at some point because my whole job was just to go to like this family of very pale people who we never see eating," Anna said about filming the third and fourth installments, which she can barely remember.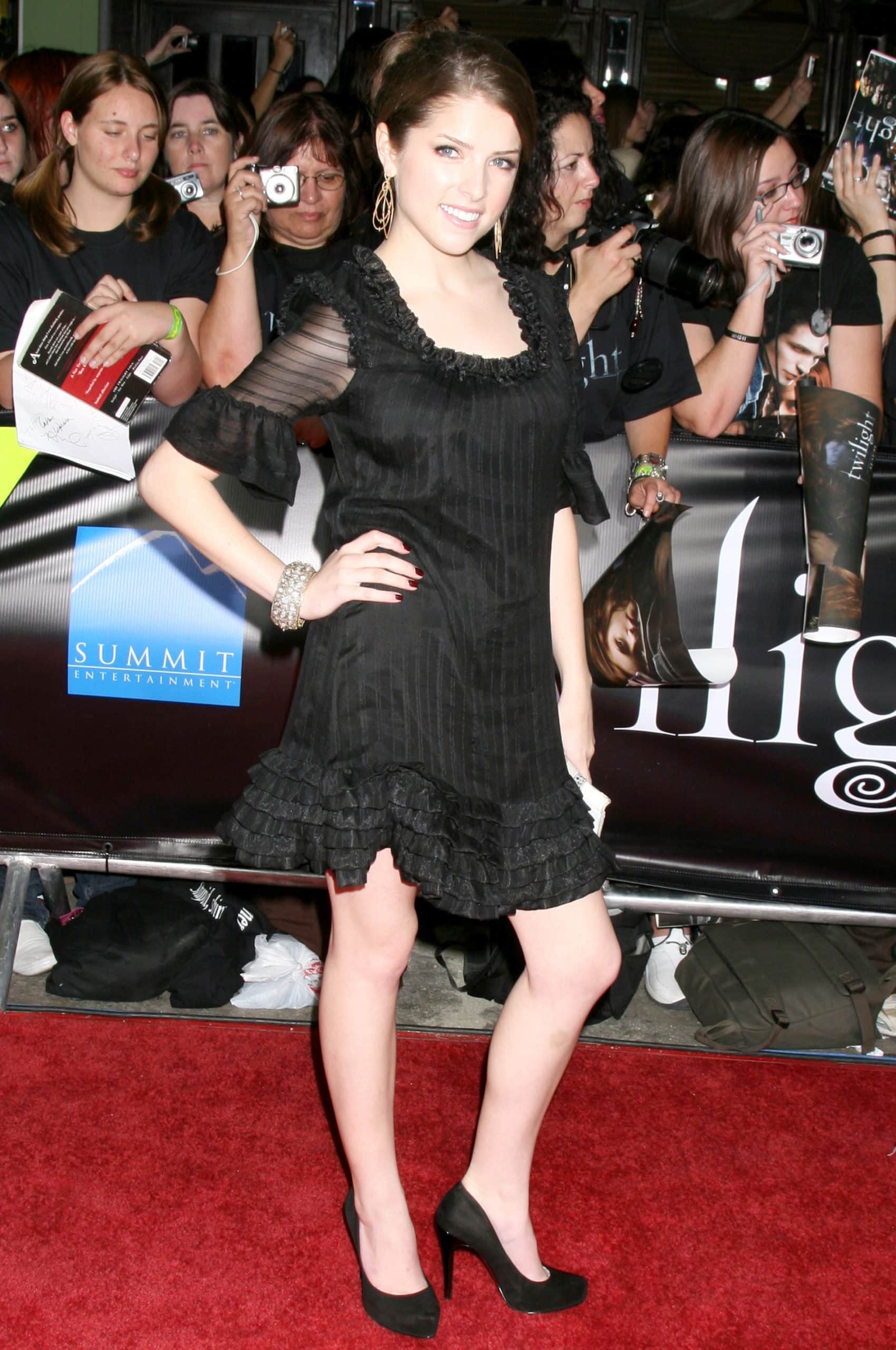 Actress Anna Kendrick was 23 years old when attending the premiere of Summit Entertainment's "Twilight" at The Mann Village and Bruin Theatres on November 17, 2008, in Westwood, California
"Anyway, what did I do in the third movie? Oh, I did the graduation speech in the third movie. That's right and I remember thinking like, 'Oh, why did they make my character the valedictorian?' She's very obviously not a good student. But you know, they just wanted me to like have something to do."
"I was in the fourth movie and it was just like a wedding scene where again, I'm like, 'Mmm, these people are so weird,'" Anna recalled.
"Everybody else has been like giving their blood, sweat, and tears to the project for months. I show up at the end and I'm like, 'Guys, we did it's over.'"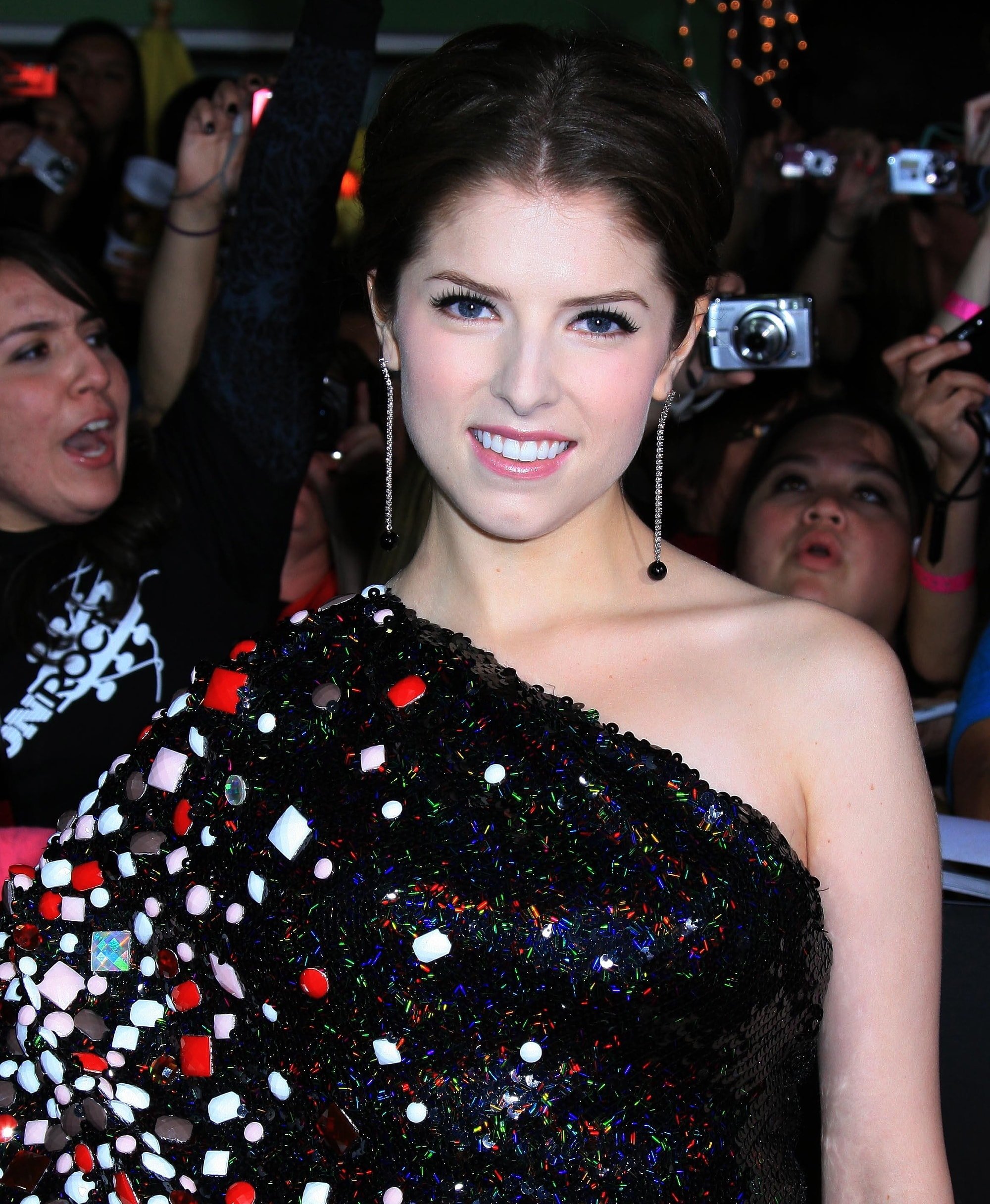 Actress Anna Kendrick smiling at the premiere of Summit Entertainment's "The Twilight Saga: New Moon" on November 16, 2009, in Westwood, California
Anna showed up on the red carpet of the 2016 Grammy Awards to represent "Pitch Perfect 2" for Best Compilation Soundtrack for Visual Media.
Anna Kendrick's feet in glittery Jimmy Choo heels
Anna looked beautiful in a black mesh dress by Emanuel Ungaro. The actress accessorized her look with a pair of glittery black heels from Jimmy Choo, a Rauwolf clutch, and jewelry from Harry Kotlar.
The Pitch Perfect star wore her hair back in a half ponytail to create a classic but youthful red carpet look.
We were blown away by Lady Gaga's performance through our laptop screens, so we can only imagine what it was like to see the actual performance in person.
Get Jimmy Choo glitter heels similar to Anna's at Mytheresa and Nordstrom.
Jimmy Choo 'Lance' Glitter Sandals, $850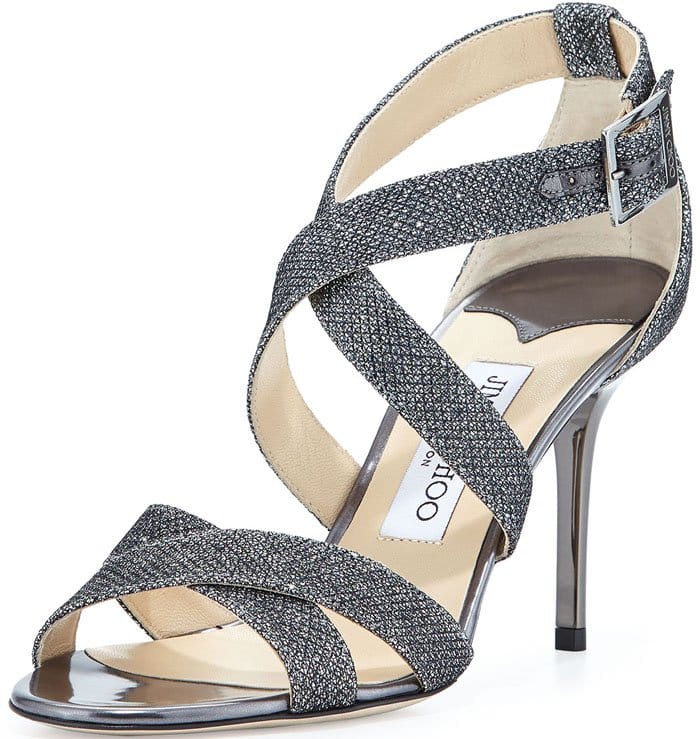 Jimmy Choo 'Louise' Glitter Fabric Crisscross Sandal in Gray, $750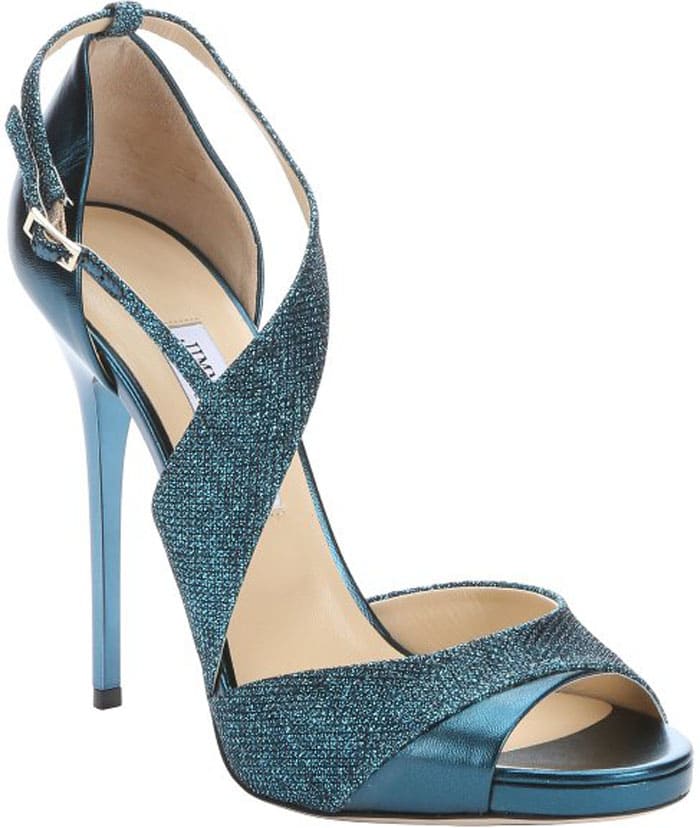 Jimmy Choo Ocean Metallic Leather And Glitter Lamé 'Tyne' Stiletto Sandals, $895
Credit: Adriana M. Barraza / WENN / Nikki Nelson / Adriana M. Barraza