Few designers are as synonymous with Italian fashion as Roberto Cavalli. This fashion innovator is famous for his use of exotic prints and for reinventing denim jeans as a luxury fashion staple.
Celebrity fans include Tyra Banks, Kerry Washington, Chloë Grace Moretz, Ciara, Jennifer Aniston, and Heidi Klum.
The Roberto Cavalli brand is a fashion powerhouse, extending to include products like perfume and leather accessories.
Roberto Cavalli was established in Florence in the 1970s with a focus on patchwork designs
Roberto Cavalli is a brand that's had its ups and downs, now planning to rebuild itself following an acquisition.
The brand was established in Florence during the 1970s, becoming famous for its animal prints and haute couture. Some of the world's most famous luxury hotels feature interior design by Robert Cavalli.
We're deep diving into this high-end Italian brand to help you decide whether Roberto Cavalli deserves a spot in your closet.
What is Roberto Cavalli?
Roberto Cavalli is the eponymous fashion label of Italian designer Roberto Cavalli. The designer is famous for approaching womenswear with an "Italian man's sensibility," embracing the idea of unapologetic glamour.
He was born in Florence and studied at a local Art Institute specializing in textile print. Cavalli invented and patented a revolutionary leather printing procedure that led to him working with Pierre Cardin and Hermes.
Robert Cavalli debuted its first collection in 1970, focusing on leather patchwork designs that were made in collaboration with Mario Valentino. The first Roberto Cavalli runway collection debuted in Florence in 1972, applying patchwork designs to jeans.
Roberto Cavalli is an Italian fashion designer and inventor of a revolutionary leather printing procedure that led to him working with Pierre Cardin and Hermes (Credit: Dara Kushner / INFGoff)
It took until 1994 for the brand to find global success. Its 1994 collection at Milan Fashion Week encapsulated the brand's DNA with a focus on wildlife and tiger motifs across everyday garments, including jeans. Animal prints have remained a focal point of the brand's design portfolio ever since.
The collection also included the first sand-blasted jeans that would become a signature for the brand.
Denim is a core part of the Roberto Cavalli brand, the first brand to showcase Lycra stretch jeans. It led to the launch of several diffusion brands, including Just Cavalli, Angels & Devils (now Roberto Cavalli Junior), and Class Cavalli.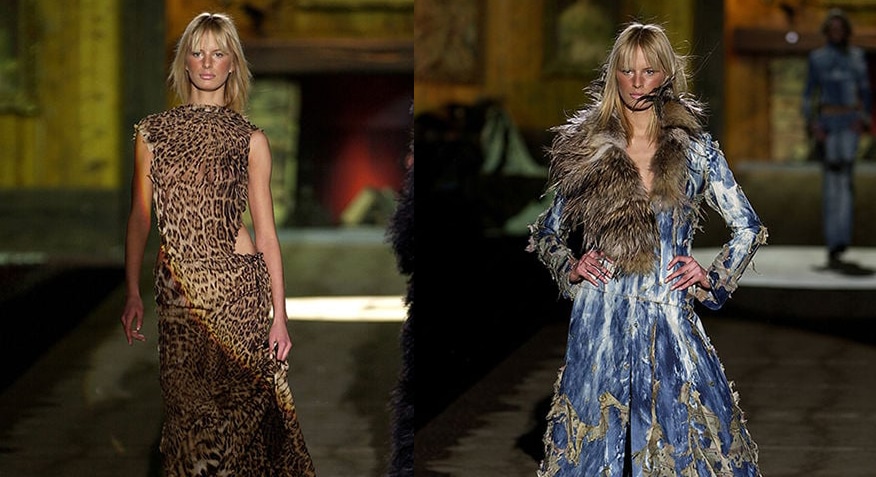 Roberto Cavalli found global success in the 1990s after showing animal prints in its collection and revolutionizing denim by introducing techniques that create lived-in effects (Credit: Roberto Cavalli)
Brands within the Roberto Cavalli Fashion House
Roberto Cavalli has several sister brands and diffusion labels that sit within the fashion house. The main 'Roberto Cavalli' line focuses on occasion wear, ready-to-wear, and accessories.
The main Roberto Cavalli line offers ready-to-wear, occasion wear, and accessories
Its most popular diffusion brand is 'Just Cavalli', which was launched in 1998 and distributed and developed by OTB following a license agreement in 2011.
Another diffusion brand is 'Cavalli Class', which focuses on outerwear for men and women, with Swinger International holding the distribution rights.
Cavalli Class is Roberto Cavalli's classy line with "rooted versatile daily elegance"
The only sister brand that continues to be produced in-house is 'Roberto Cavalli Junior,' a childrenswear brand that caters to sizes from newborns to 16-year-olds.
The fashion house also launched 'Roberto Cavalli Home' in 2012, creating interior collections made in partnership with companies that manufacture in Italy.
Roberto Cavalli also offers interior collections, including furniture, lighting, wallpapers, rugs, and complements
How to Pronounce Roberto Cavalli
Robert Cavalli is pronounced as "ruh-buh-tow kuh-vaa-lee"
What Does the Roberto Cavalli Logo Represent?
Roberto Cavalli uses a minimalistic and contemporary logo with the brand's name. It occasionally uses an interlocking RCC logo that appears across its denim and accessories ranges.

Aside from its minimalistic logo name, Roberto Cavalli also uses an interlocking RCC logo that appears across its denim and accessories ranges
The Just Cavalli logo switches between sleek name branding and an oversized 'C' logo with JUSTcavalli in the middle of the letter's loop.
Ownership of Roberto Cavalli
Roberto Cavalli returned to the brand to become Creative Director for menswear in 2014, taking over from his son. At the same time, Cavalli approached Persian Gulf, an investment firm, about buying his stake in the brand.
Following his return to the brand in 2014 as the menswear Creative Director, Roberto Cavalli approached Investcorp as a potential buyer of his stake in his fashion brand (Credit: INFevents)
Clessidra SGR, an Italian private equity company, took a 90% stake in Robert Cavalli and named Gian Giacomo Ferraris as CEO. The brand switched its focus to re-discovering its Tuscan heritage, with women's pre-a-porter, menswear, and accessories becoming their top priority.
In 2019, Roberto Cavalli's US stores were shut, and its North American operations were liquidated by Hussain Sajwani, an Emirati billionaire with a private investment company, who acquired the brand.
Paul Surridge, a former creative consultant for Acne Studios, became Creative Director of Roberto Cavalli in May 2017, succeeding Peter Dundas. Hussain Sajwani is now reportedly restructuring the company with three new vice presidents as the Roberto Cavalli brand seeks to rebuild itself.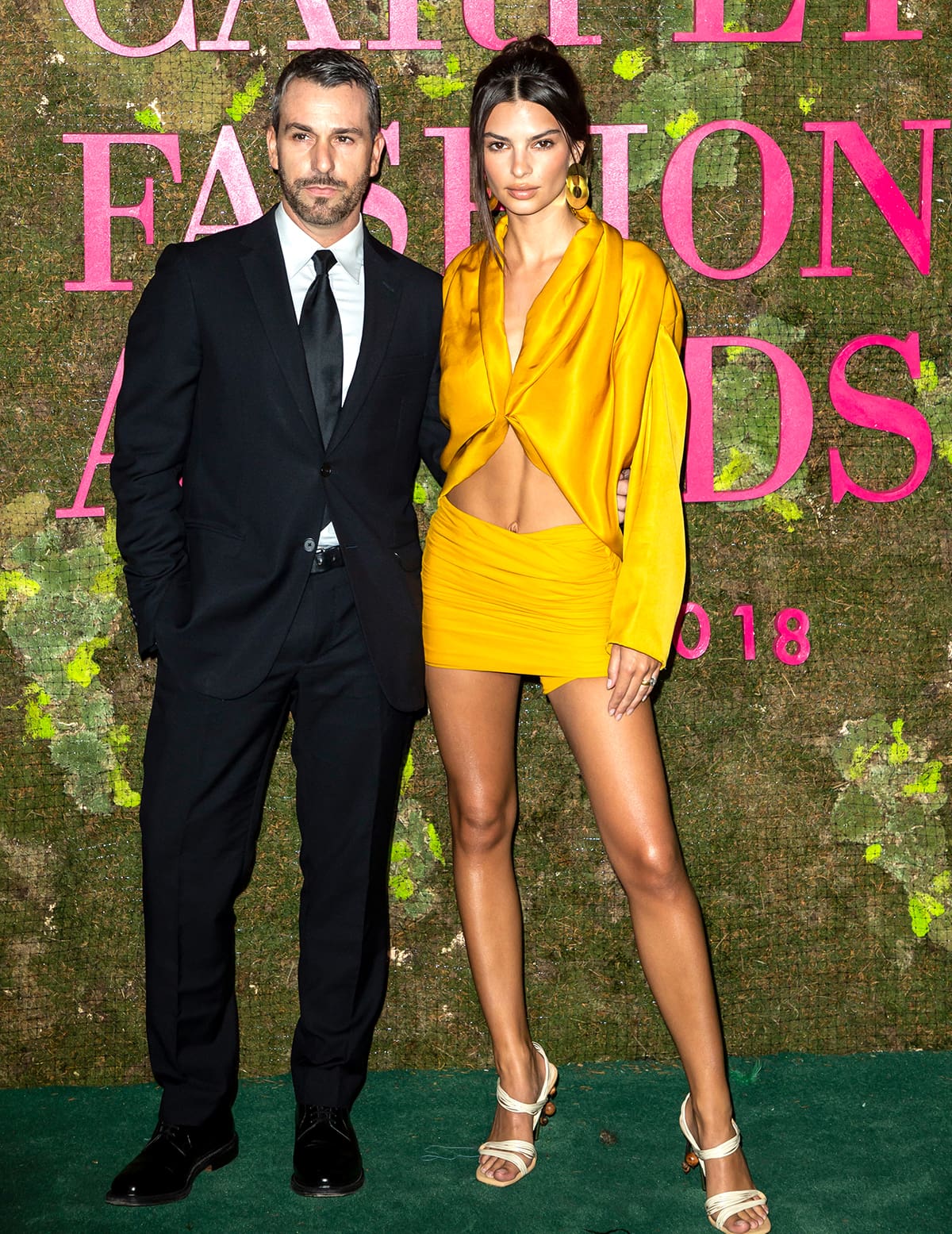 Paul Surridge, pictured with Emily Ratajkowski in 2018, is the current Creative Director of Roberto Cavalli (Credit: Piovanotto Marco / ABACA / INSTARimages)
The brand now is focusing on its e-commerce stores while maintaining its existing physical stores in Asia, Europe, and the Middle East. Roberto Cavalli has now moved its headquarters to Milan from Sesto Fiorentino.
Are Roberto Cavalli and Just Cavalli the Same Brand?
Just Cavalli is a diffusion brand associated with the Roberto Cavalli fashion house. However, products within the Just Cavalli range are not manufactured in-house by Roberto Cavalli.
You can think of Just Cavalli as the affordable, trendy younger sibling of the Italian fashion house. It embraces the Roberto Cavalli brand DNA but offers it at a more accessible price point.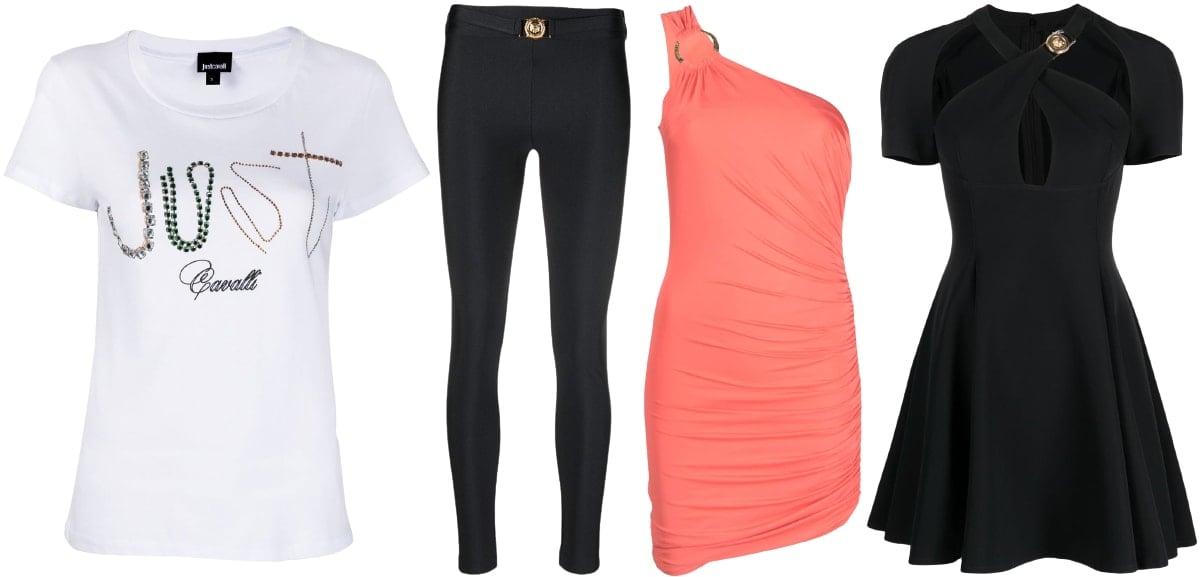 Just Cavalli is a more affordable and accessible diffusion label created by Roberto Cavalli
Just Cavalli is currently undergoing a revamp as part of a multi-year partnership with Swinger International, with part of the company coming in-house again.
As it is a diffusion brand, you can expect the quality and price point to both be lower than the mainline.
Is Roberto Cavalli a High-End Designer?
Roberto Cavalli is a luxury Italian fashion brand that specializes in ready-to-wear and accessories. Its bold prints and exotic skins have earnt the brand an international reputation for reinventing classic silhouettes with a contemporary and seductive look.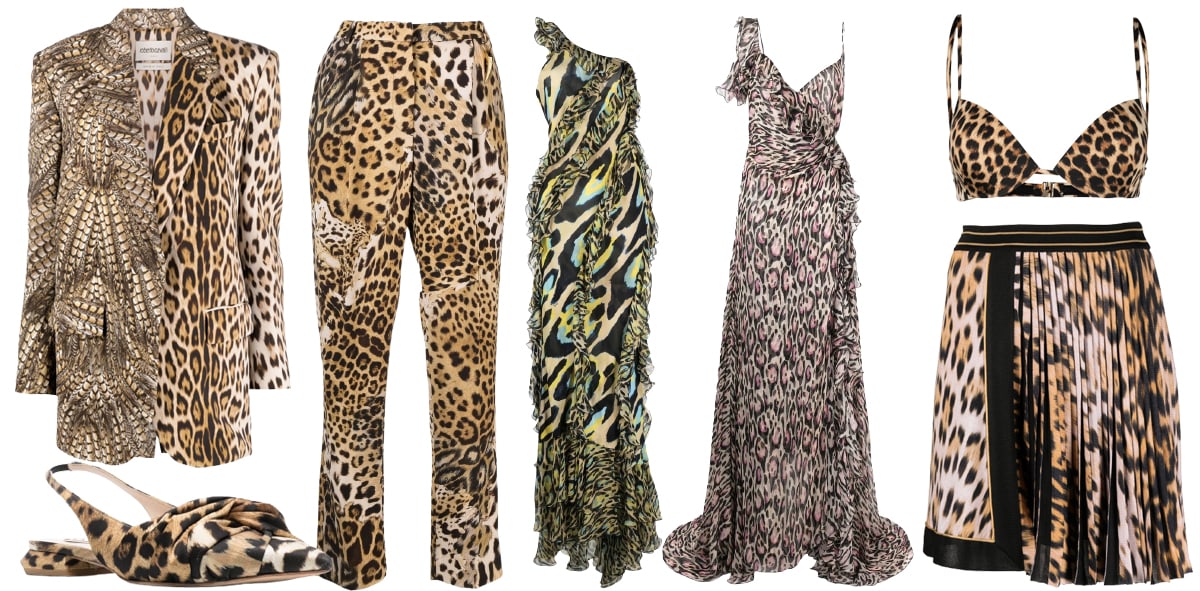 Roberto Cavalli is a high-end designer famous for its use of bold prints and exotic skins
Is Just Cavalli a Good Brand?
Just Cavalli is an ideal brand for those who want to start exploring luxury and high-end fashion without the price tag of the main Roberto Cavalli.
The brand describes itself as having a "young, magnetic and uncontainable esthetic." Its womenswear focuses on "highlighting the sensual and rowdy spirit of the Just Cavalli tribe."
Where to Buy Roberto Cavalli
Roberto Cavalli opened its first boutique in Saint-Tropez in 1972. There are almost 50 direct Roberto Cavalli stores and less than 30 franchisee stores across the globe in the fashion capitals of New York, Paris, and London.
The brand is available internationally at luxury department stores and online from e-commerce boutiques, including Farfetch and the brand's online store.