The second daughter of Richard Hilton, a hotel heir of the Hilton family who works as a businessman in real estate, Nicky Hilton, has an estimated net worth of $100 million dollars as of 2023.
Her wealth is a combination of her inheritance from the Hilton family fortune and her own business ventures. Nicky's grandfather, Conrad Hilton, founded the Hilton Hotels Corporation in 1919.
By his death in 1969, the company had grown to operate over 300 hotels in 40 countries. Nicky's father, Richard Hilton, is a successful businessman in his own right, with interests in real estate and other investments.
Did Nicky Hilton marry a Rothschild?
Wearing a dream wedding dress from Valentino, she married financier James Rothschild, the only child of Amschel Mayor James Rothschild, on July 10, 2015, in a non-denominational ceremony at The Orangery in Kensington Palace Gardens in London, England.
Nicky Hilton and James Rothschild attend the Fashion Institute Of Technology's 2016 FIT Gala at the Grand Ballroom at The Plaza Hotel on May 9, 2016, in New York City (Credit: Ivan Nikolov / WENN)
How did Nicky Hilton meet her husband?
According to The New York Times, Nicholai Olivia Hilton and James Amschel Victor Rothschild met in 2011 at the wedding of Petra Ecclestone and James Stunt in Rome.
Nicky Hilton and James Rothschild met during the cocktail hour of Petra Eccleston's wedding to James Stunt in Italy (Credit: PA Images / INSTARimages / Cover Images)
"We didn't meet till after the reception during the cocktail hour. I was standing there with my sister, talking to some boy who was chatting up Paris. And he walked over and introduced himself. And I was like, "He's cute, too." [Laughs] And then we didn't see each other till after dinner. I was living in L.A. at the time, he was in London. So it was L.A./London long distance for about a year," Nicky told W in an interview.
How much money does James Rothschild have?
A member of one of the richest families in the world, according to Forbes, it's not possible to estimate his net worth as the family's wealth is managed by a Swiss-based holding company named Rothschilds Continuation.
While the Rothschild family possessed the largest private fortune in the world during the 19th century, it is unknown what stake James Amschel Victor Rothschild has in the family fortune.
Some sources claim James Rothschild has a net worth of around $60 million, which includes the proceeds from the sale of a $37 million farm that he put on the market in 2015.
The 1,700-acre estate, located near Bury St Edmunds in Suffolk, England, had been in the Rothschild family's possession since 1938.
Nicky Hilton: Fun Facts, Fashion Secrets, and Family Life
Net Worth:
Nicky Hilton is an American model, socialite, and designer with an estimated net worth of $100 million as of 2023.
Full Name:
Nicholai Olivia Rothschild (née Hilton)
Born:
Nicholai Olivia Hilton, commonly known as Nicky Hilton, was born in New York City, New York, on October 5, 1983.
Dating/Husband:
In 2004, Nicky Hilton was married for a few months to New York businessman Todd Andrew Meister. Their marriage was annulled in November, 2004.

In 2015, she married James Rothschild, a grandson of Victor Rothschild, 3rd Baron Rothschild.

She dated David Katzenberg from 2006 to 2011, Kevin Connolly between 2004 and 2006, had a brief relationship with Ian Somerhalder in 2004, was with Brian McFayden from 2002 to 2003, and also dated Marcus Schenkenberg from 2001 to 2002.
Kids:
Nicky Hilton has three children with her husband, James Rothschild: Lily-Grace Victoria Rothschild (born in 2016), Theodora "Teddy" Marilyn Rothschild (born in 2020), and James Rothschild III (born in 2022).
Weight:
Nicky Hilton's rumored weight is 115 pounds (52 kg).
Shoe Size:
Nicky Hilton's shoe size is 10.5 US. In European sizing, this is typically around a size 41. In the UK, it's approximately a size 8, and in Australia, it's around a size 9. In centimeters, the foot length corresponding to this size is usually about 26.5 to 27 cm.
Height:
Nicky Hilton's height is 5ft 7 (170.2 cm), which is considered average to tall for a woman.
Nationality:
Nicky Hilton is a US citizen.
Source of Wealth:
Nicky Hilton Rothschild, commonly known as Nicky Hilton, has multiple sources of wealth. As a member of the famous Hilton family, she initially inherited a portion of the immense Hilton family fortune, which was built on the globally renowned Hilton Hotels chain.

Beyond her inheritance, Nicky has carved out her own niche in the world of fashion and business. She's a successful fashion designer with her own clothing and accessory lines.

Additionally, Nicky has worked as a model and has had several brand endorsements and collaborations. Moreover, her marriage to James Rothschild, a member of the influential Rothschild banking family, has also likely contributed to her wealth.
Ethnicity/Race:
Nicholai Olivia Hilton, commonly known as Nicky Hilton, possesses a rich blend of ethnicities, including Italian, Irish, Norwegian, German, English, Scottish, and Welsh, with Italian making up one eighth of her heritage.
Nicky Hilton Bonds With Family in NYC Wearing Her Own Sustainable French Sole Flats
Just a few weeks after releasing her new footwear collection with French Sole, Nicky Hilton took time out of her busy schedule to bond with her family in New York City.
Taking advantage of the warm spring weather in May 2021, the then-37-year-old hotel heiress and her European banking heir husband, James Rothschild, treated their daughters Lily Grace and Theodora Marilyn to cupcakes in a rare family outing.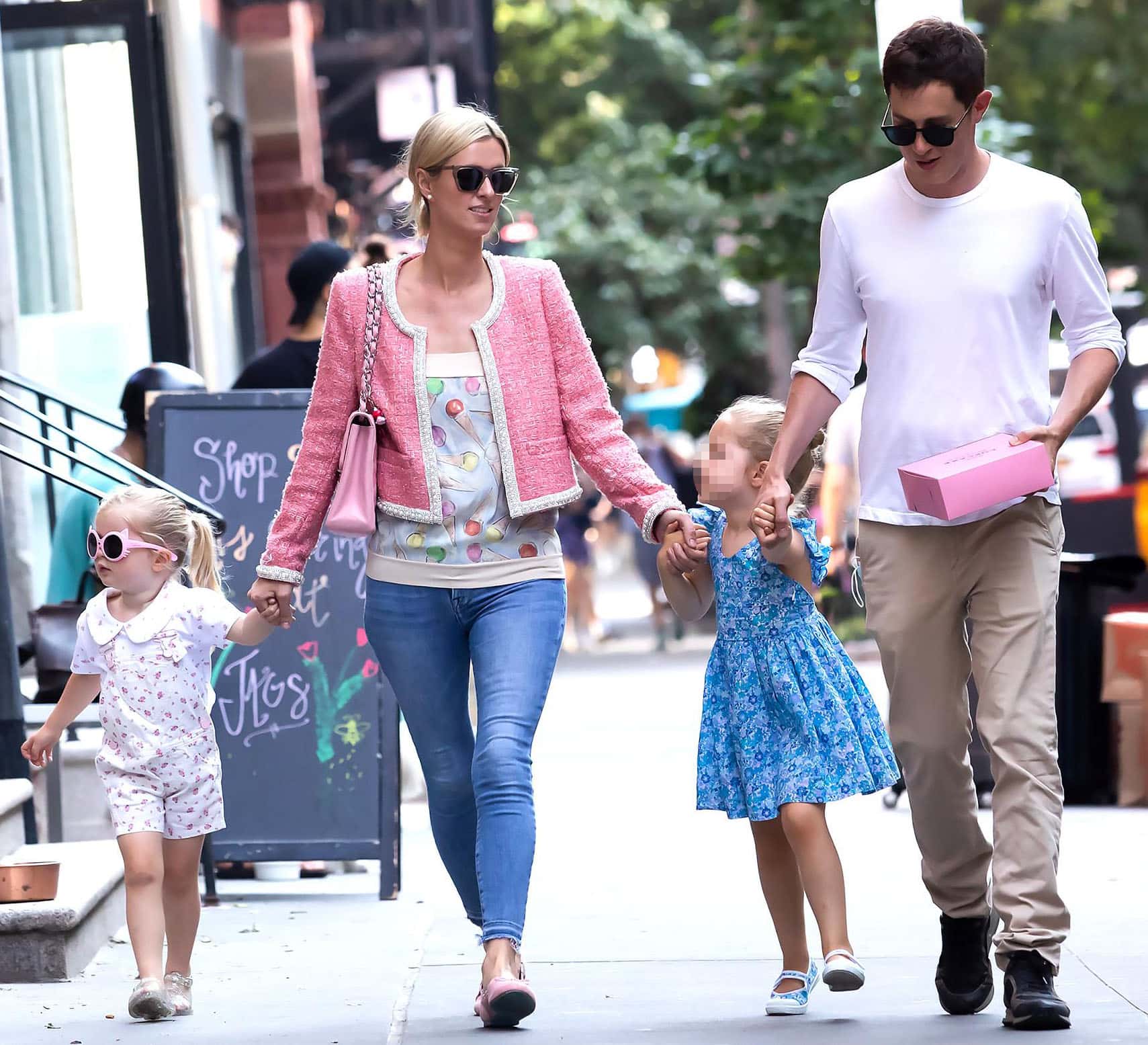 Nicky Hilton and James Rothschild head to Little Cupcakes Bakeshop with their kids Lily-Grace and Teddy in New York City on May 26, 2021 (Credit: Instar / WENN)
The family of four headed to Little Cupcakes Bakeshop in Soho with their hands clasped together. Looking chic and feminine, Nicky teamed a cute ice cream cone-printed top with skinny blue jeans.
She layered her outfit with a girly pink "Gwyneth" boxy jacket from Alice + Olivia. It's made from tweed fabric with lurex threading and features pearl and crystal embellishments.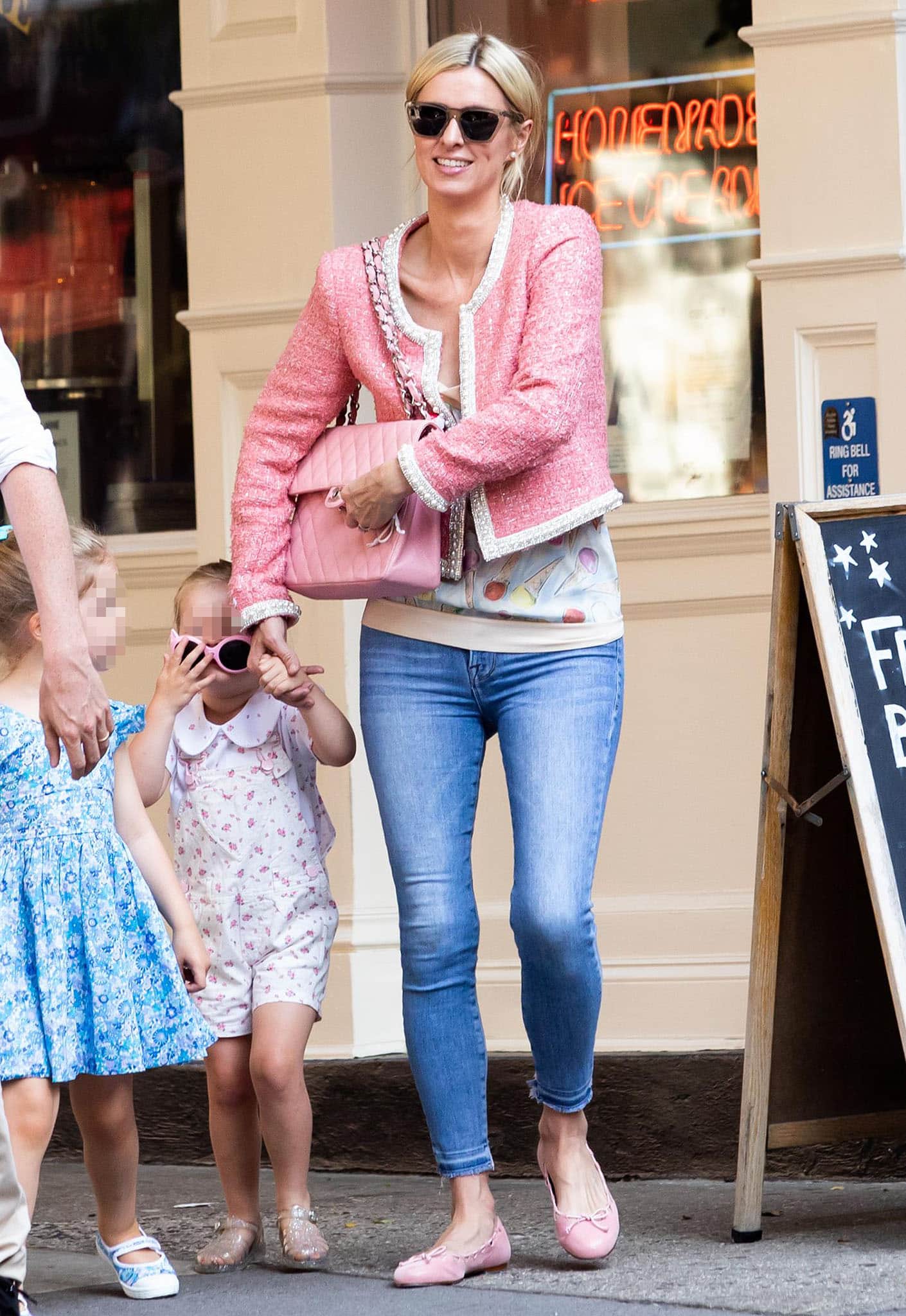 Nicky Hilton looks girly in her ice cream cone-print top and Alice + Olivia pink tweed jacket (Credit: Instar / WENN)
Wearing her blonde hair in a low bun, the socialite accessorized with classic pearl stud earrings and a ring.
She wore barely-there makeup and hid her blue eyes behind her Illesteva Lisbon sunglasses.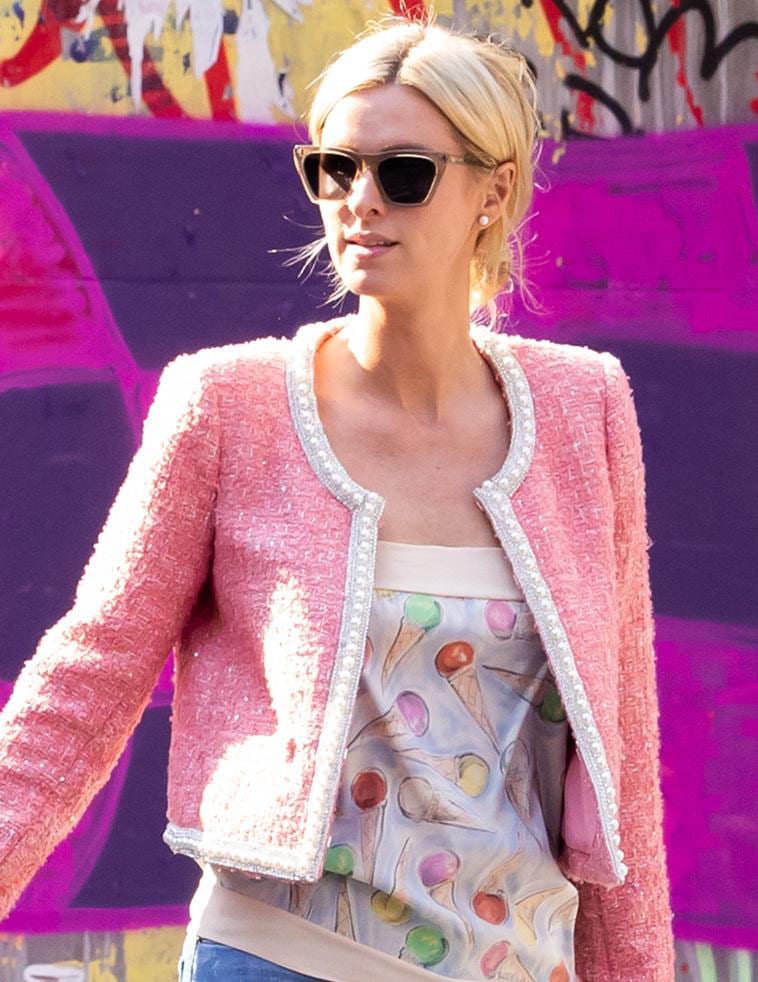 Nicky Hilton wears a low bun hairstyle and hides her blue eyes behind Illesteva sunglasses (Credit: Instar / WENN)
Continuing with the girly theme of her look, Nicky carried her essentials in a Chanel pink caviar jumbo classic flap bag and slipped her feet into a pair of "Charlott" ballet flats from her French Sole collection.
These comfy yet modern chic flats feature an embossed leather finish with laced geometric cutouts and the collar and bow-detailed vamps.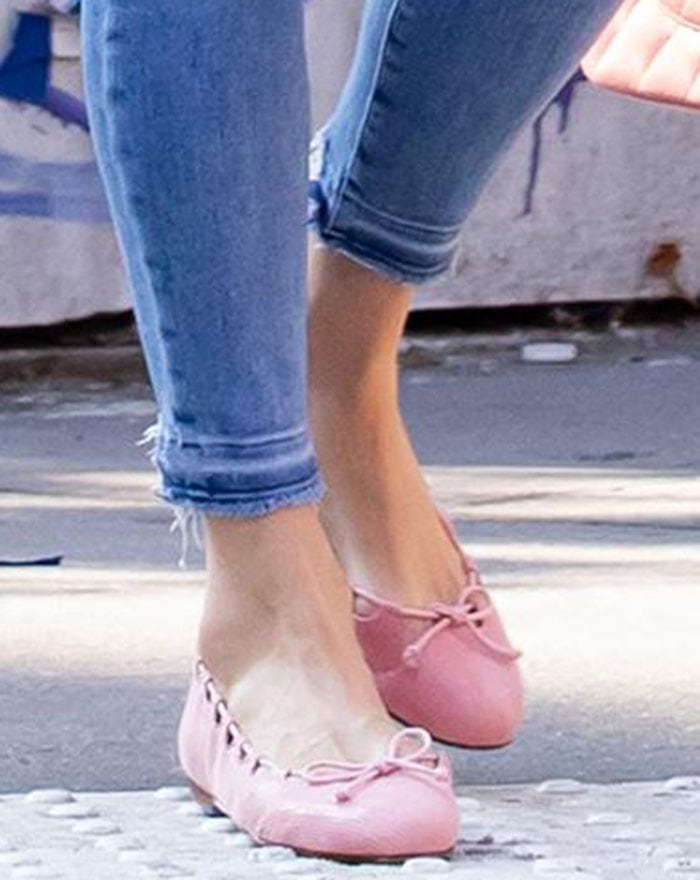 Nicky Hilton matches her feminine pink jacket with pink French Sole Charlott flats (Credit: Instar / WENN)
Available at Zappos, they also have breathable leather linings, lightly cushioned footbeds, and rubber outsoles.

A modern ballet flat made from embossed leather with laced geometric cutouts and bow vamps
Looking as chic as their fashionista mom, Lily and Teddy also dressed for spring in their floral outfits.
Teddy, 3, looked cute in her white floral overalls with a matching Peter Pan-collared blouse underneath.
Styling her hair into a ponytail, she accessorized with pink-framed sunglasses and finished her look with glitter jelly shoes.
Nicky Hilton's youngest daughter, Teddy, wears floral overalls with a Peter Pan-collar blouse and jelly shoes (Credit: Instar / WENN)
Lily-Grace, 4, was equally pretty in her blue floral dress that fell above her knees. She wore her hair in a neat bun with a blue bow and rounded out her look with matching blue floral shoes.
Allowing her girls to take center stage, James kept things simple with a white tee and a pair of khaki pants.
James Rothschild keeps it simple in a white tee and khaki pants combo as he holds hands with daughter Lily Grace in a floral blue dress and matching shoes (Credit: Instar / WENN)
Nicky Hilton Spotted Running Errands in Sustainable French Sole x Nicky Hilton 'Amanda' Sneakers
Prior to their family outing, Nicky was spotted running errands in a more muted outfit in Tribeca on Tuesday.
She covered up in a black chunky-knit turtleneck sweater with white chevron prints on the front from Tory Burch, paired with Jen7 straight crop rolled white jeans.
Nicky Hilton runs errands in Tory Burch chunky knit sweater and Jen7 white jeans on May 25, 2021 (Credit: Instar / WENN)
Keeping the rest of her look simple, the mom-of-two skipped wearing jewelry and neutral makeup with Garrett Leight Hampton X round sunglasses.
She wore her shoulder-length tresses down with an off-center parting and carried a straw-woven basket tote with her initials on the front and brown leather straps.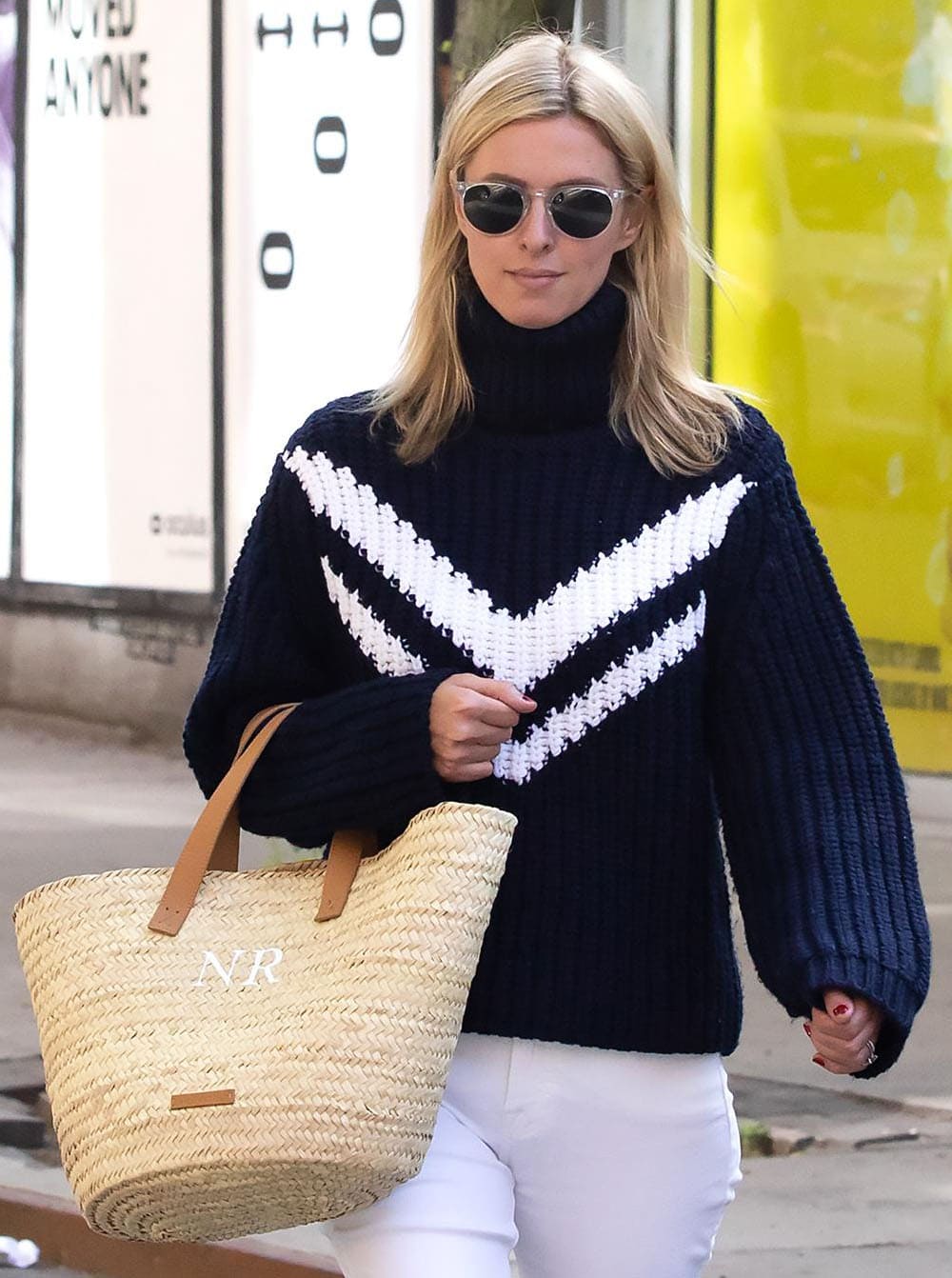 Nicky Hilton hides her eyes behind a pair of Garrett Leight sunglasses and carries a custom large basket woven tote (Credit: Instar / WENN)
Low-key advertising her latest footwear collection, Nicky completed her look with the French Sole "Amanda" plimsolls you can buy at Zappos.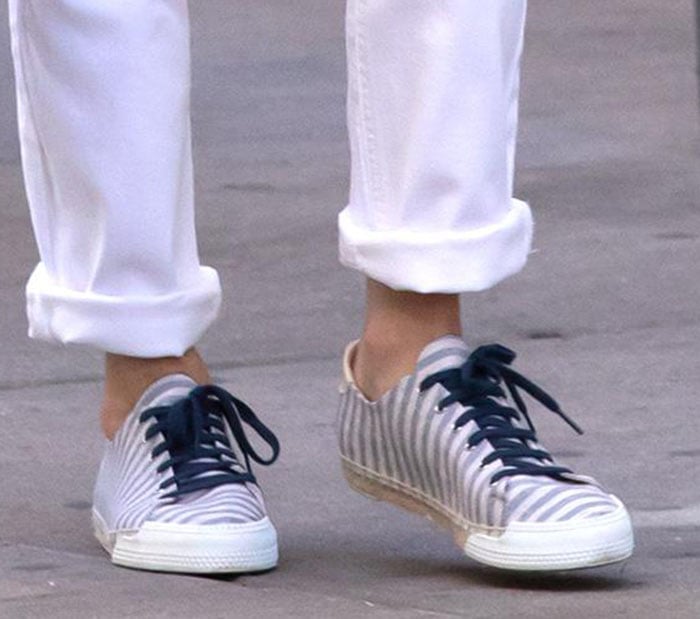 Nicky Hilton promotes her French Sole Amanda striped plimsolls (Credit: Instar / WENN)
Handcrafted in Spain, these sustainable canvas sneakers feature a recycled polyester striped upper with vegan microfiber insoles and linings and recycled rubber and natural jute soles.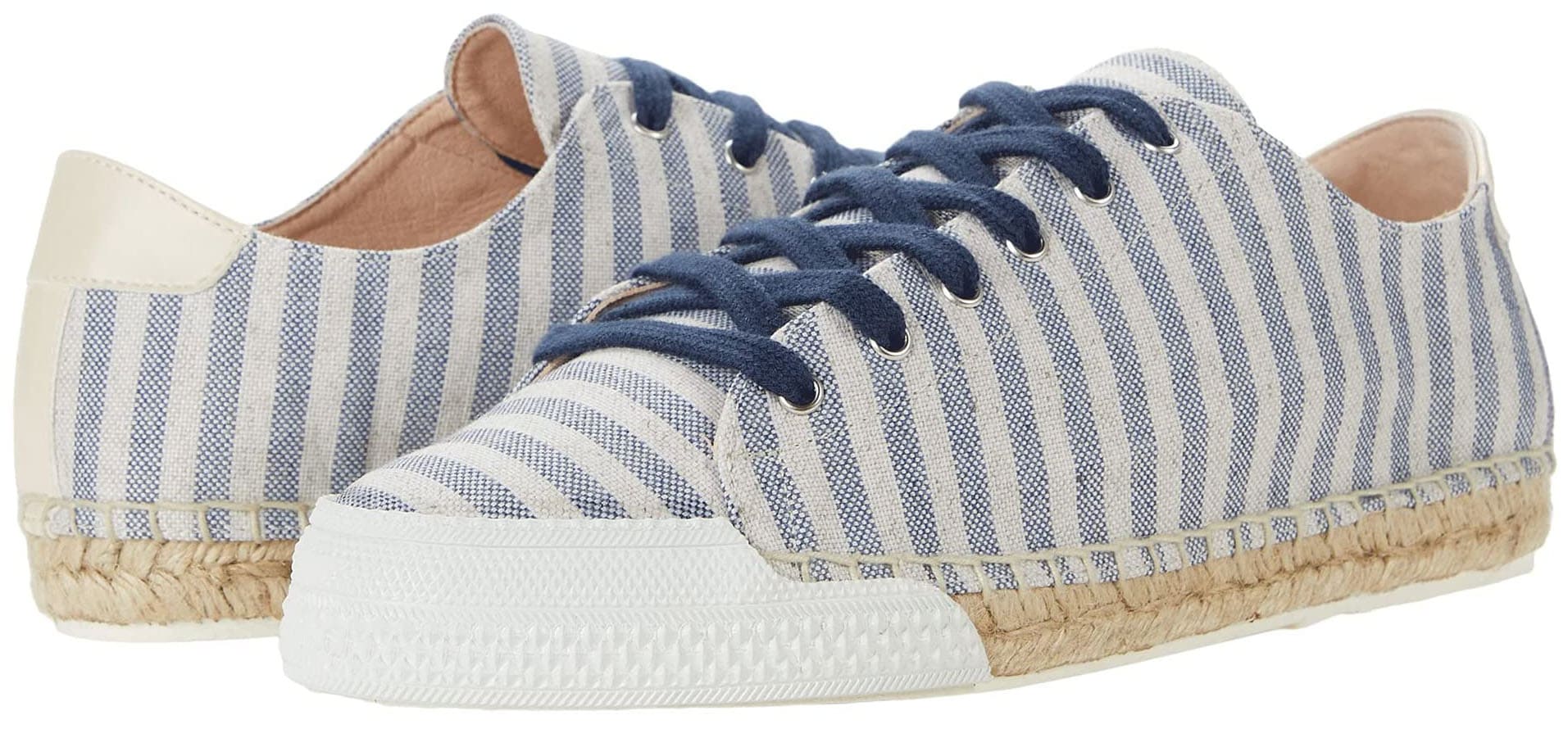 A pair of handcrafted, hand-dyed sneakers with reinforced toe bumpers and jute-wrapped soles