Weddings hardly ever go as planned. That couldn't be truer for Nicky Hilton, who had not one but two major disasters happen on her wedding despite having the world's best wedding stylists, planners, and suppliers at her disposal.
The 31-year-old hotel heiress, who tied the knot with British banking heir James Rothschild, started off her big day looking calm and radiant. She stunned the crowd outside of Claridge's Hotel in her dream wedding dress: a high-neck, long-sleeve, balloon-skirt guipure lace gown custom-made by Valentino, whom she had chosen to be her designer "ever since [she] was a little girl." Nicky kept her bridal makeup soft and feminine, and wore her blond hair in a side-swept updo neatly tucked underneath a 3 meter long veil.
Nicky Hilton in her Valentino Couture wedding gown at Claridge's hotel and heading to her wedding to James Rothschild at Kensington Palace in London, England, on July 10, 2015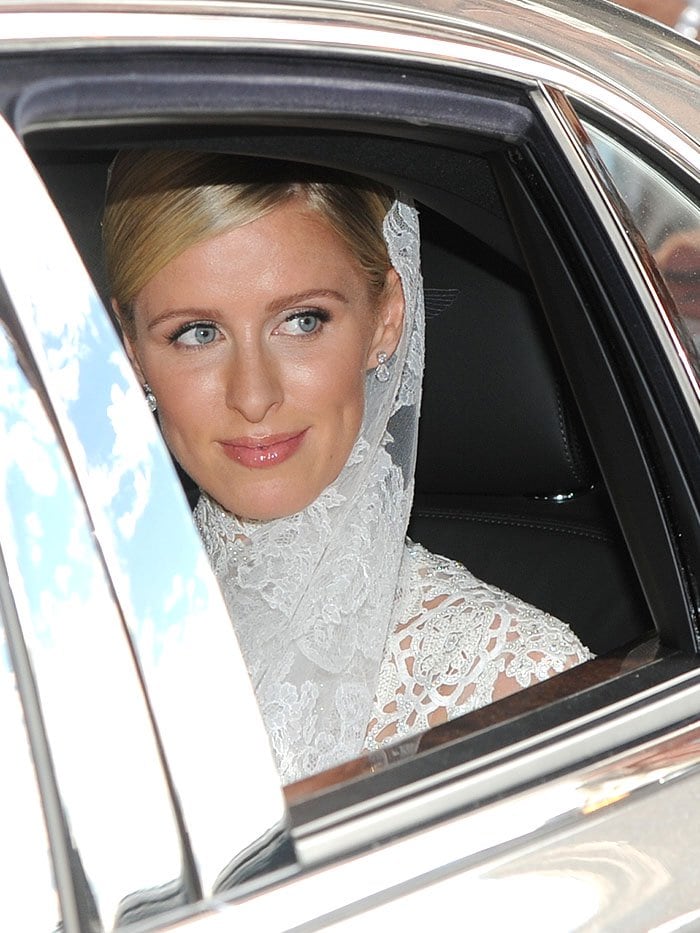 A radiant Nicky Hilton on her wedding day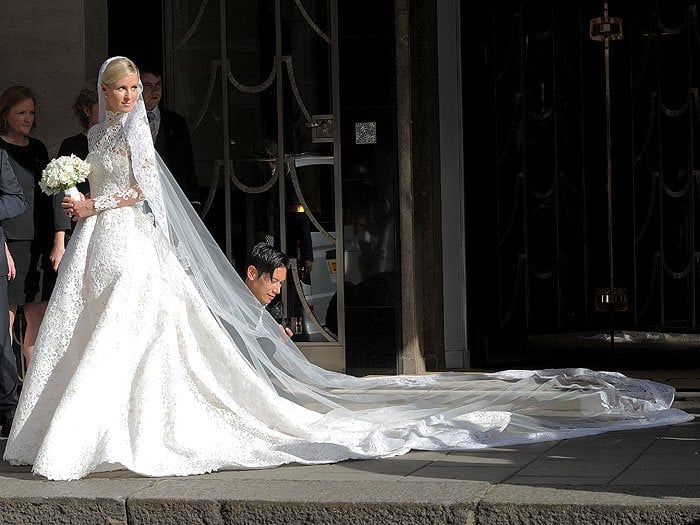 Nicky Hilton in her Valentino Couture wedding gown made of guipure lace, embellished with crystals, and topped off with a 3 meter long train
Nicky really looked majestic, didn't she? Unfortunately for her, the wedding mishaps started happening as soon as she stepped out from her bridal preps at Claridge's Hotel. As she turned the corner to get inside an awaiting Bentley, Nicky got the end of her veil caught under the front tire. She was trapped awkwardly in place as a male wedding guest pulled at the delicate lace veil to get it unstuck.
The lace veil of Nicky Hilton's $77,000 Valentino Couture wedding gown getting caught on the front tire of the Bentley that was to take her to her wedding at Kensington Palace 
The disasters didn't stop there. Perhaps being careful about not getting her veil caught on anything again, Nicky carried the bottom of her dress as she arrived at Kensington Palace. However, she lifted the hem a tad too high, and inadvertently flashed her underwear and wedding garter to photographers.
Nicky Hilton inadvertently flashing her underwear and garter to the cameras as she adjusts her wedding gown
Oh, well, at least we got to see full views of Nicky Hilton's wedding shoes. They are custom-made Christian Louboutin white satin pumps with "Mrs. Rothschild" inscribed on the sides of the heels. The shoes are rumored to be one of three pairs the famed French shoe designer designed especially for Nicky's wedding day.
Nicky Hilton's custom Christian Louboutin wedding shoes inscribed with "Mrs. Rothschild" on the heels
While we can only dream of Monsieur Louboutin designing a pair just for us, we can customize our own wedding shoes. One way is to use shoe decals that read "Mrs. New Last Name," the wedding date, or cute his-and-her sayings like "I Do" and "Me Too."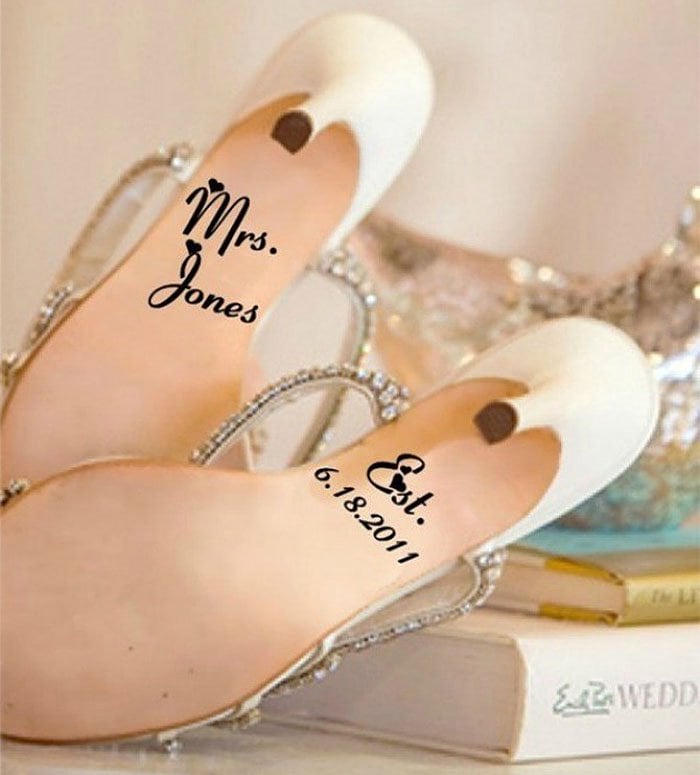 Kreative Decals Last Name and Wedding Date Shoe Stickers, $10 at Amazon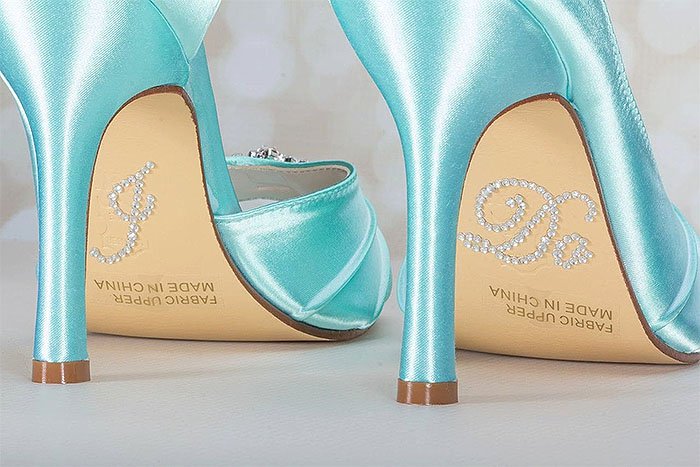 Parisxox by Arbie Goodfellow "I Do" Wedding Shoe Stickers, $10 at Amazon
Credit: Will Alexander/WENN