Demi Lovato's newest album, Holy Fvck, features the song "29," which fans believe is about her ex, Wilmer Valderrama.
In 2016, the couple broke up after almost six years of dating. The lyrics of the song seem to indicate that the star has done some reflecting on the 12-year age gap between her and her then-boyfriend.
"Petal on the vine / Too young to drink wine / Just five years of bleeders, student and a teacher / Far from innocent / what the f–k's consent? / Numbers told you not to / but that didn't stop you."
Demi Lovato and Wilmer Valderrama dated from 2010 to 2016 despite their 12-year age gap (Credit: PapJuice / INFphoto)
"Finally 29 / Funny, just like you were you at the time / Thought it was a teenage dream / just a fantasy / But was it yours or was it mine?"
"Seventeen, 29 / Oh, oh, oh, oh, oh / 17, 29."
The song appears to reflect on how she has reached the age Valderrama was when they first met. Lovato was just 18 when she started dating the then 30-year-old in 2010.
A fan posted a snippet of the song on TikTok, and fans have flooded the comments section on the TikTok video about the parallels between the song and her on and off again relationship with Valderrama.
How did Lovato and Valderrama start dating?
While the pair were dating, she told Complex about their relationship and the controversial age gap during an interview in 2015.
"We shot a PSA together for the 2010 Census forms for Voto Latino. We shot them at his house, so we actually met there. Of course, I was like, 'Oh my god. You're so attractive.' And he was like, 'You are not 18. Get away from me.' Then we became really good friends, and he was there for me through a number of situations and breakups and whatever. Then as I got older and we grew closer, it was like, 'Hey, maybe we should try this thing out.' We did, and we've basically been together ever since.'"
Demi Lovato and Wilmer Valderrama met when she was 17 and he was 29, but they didn't start dating until she was 18 (Credit: Dara Kushner/INFphoto)
In 2017, after the pair had broken it off for the final time, Lovato elaborated on her first meeting with Valderrama and how they began dating. She spoke on the topic during the Simply Complicated documentary, which documented her life and career.
"When I first met Wilmer he was 29. I met him on January 11 of 2010, and it was at a PSA shoot at his house for the 2010 census forms. To be honest, I only did it because I heard it was at his house and I thought he was really cute. I didn't really care about the census forms. But [when] I met him and I laid eyes on him for the first time, I was in hair and makeup and he came in and sat down and I was like 'I love this man' and 'I have to have him.' But I was only 17, so he was like, 'Get away from me.' After I turned 18, we began dating."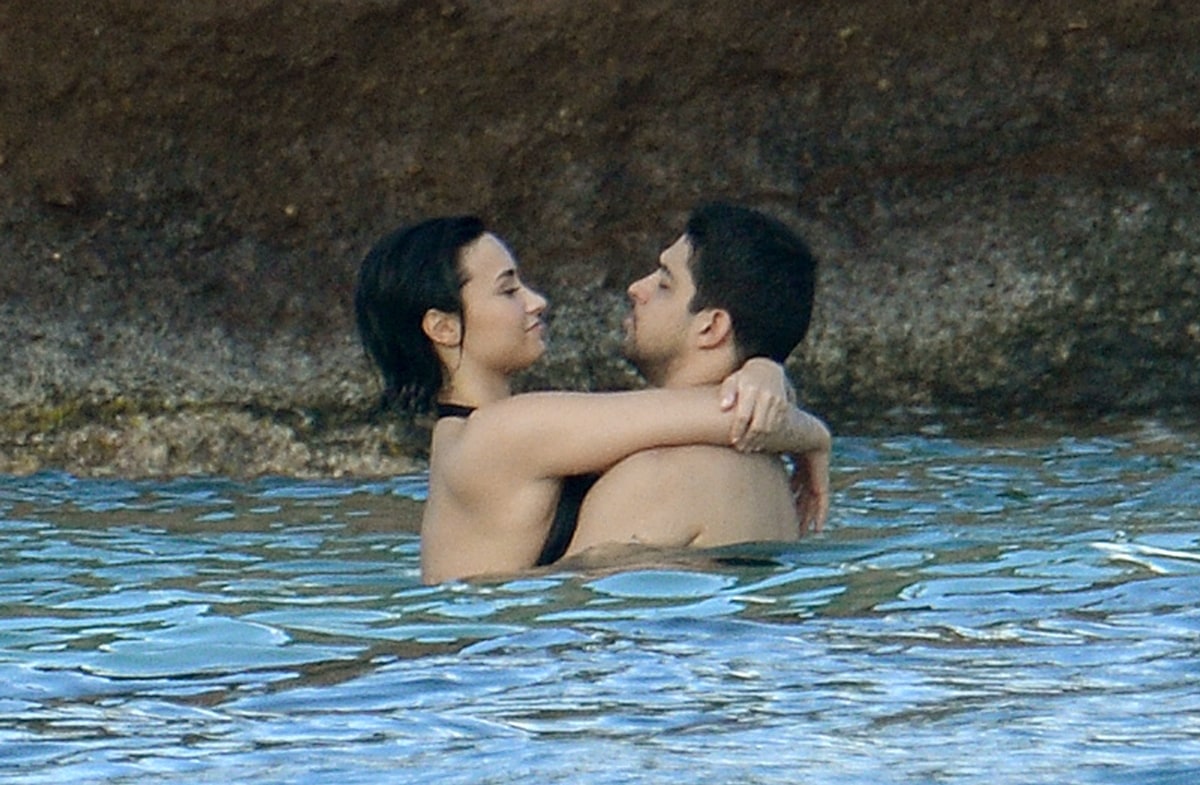 Singer Demi Lovato and boyfriend Wilmer Valderrama seem happy and relaxed as they hug and kiss in the ocean in St. Bart's on December 16, 2015 (Credit: INFphoto)
Last year, a source told ET that "Demi and Wilmer are still in touch. They still love each other as friends and will always be supportive of one another. They both just want each other to be happy, whatever that might entail."
The Substance music video features Paris Hilton
The hitmaker released a music video for another song from the Holy Fvck album, Substance. The song features perfect pop lyrics like:
"So I ask myself / 'Am I the only one looking for substance?' / Got high, it only left me lonely and loveless / Don't wanna end up in a casket, head full of maggots / Body full of jack s–t, I get an abundance / Am I the only one looking for substance?"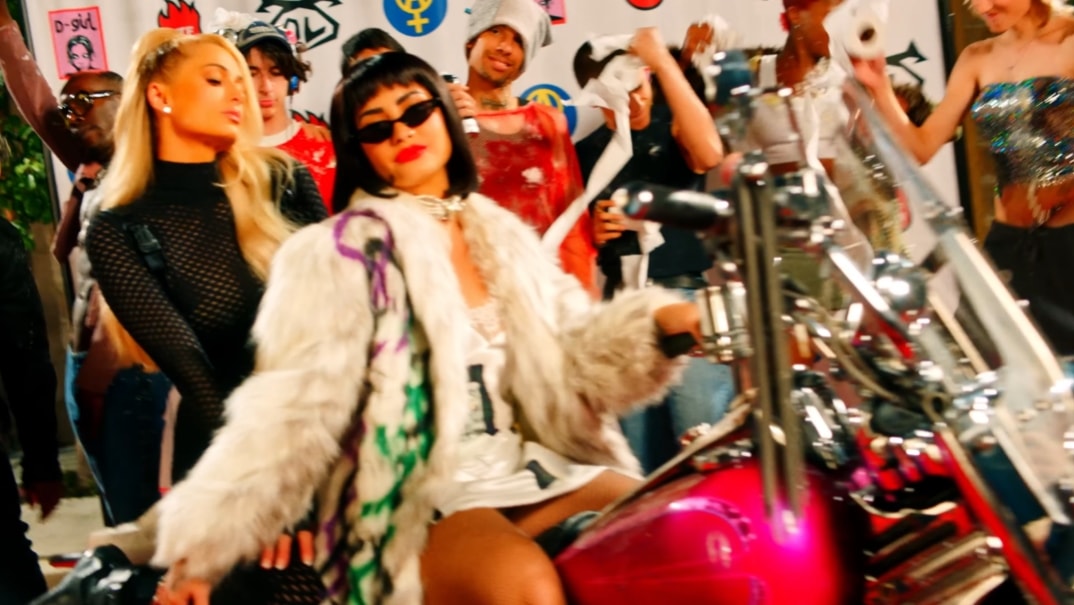 Demi Lovato and Paris Hilton are sitting together on the back of a motorcycle in the music video for "Substance," a single from her album Holy Fvck (Credit: YouTube)
The music video starts with Lovato hanging off the side of a building and storming into a boardroom via a window, wearing an Edna Mode-style wig and bright red lipstick.
Her close friend Paris Hilton makes an appearance in the music video. The end of the video sees Lovato and Hilton sitting on the back of a motorcycle holding a stick of dynamite after crashing a red carpet event.
"After sharing my ups, putting up with my downs and supporting my recovery… he still never takes credit and I want the world to know how incredible his soul is," Lovato wrote in a now-deleted Instagram post about the role Valderrama played in her recovery.
"I really wouldn't be alive today without him…. I love you Wilmer."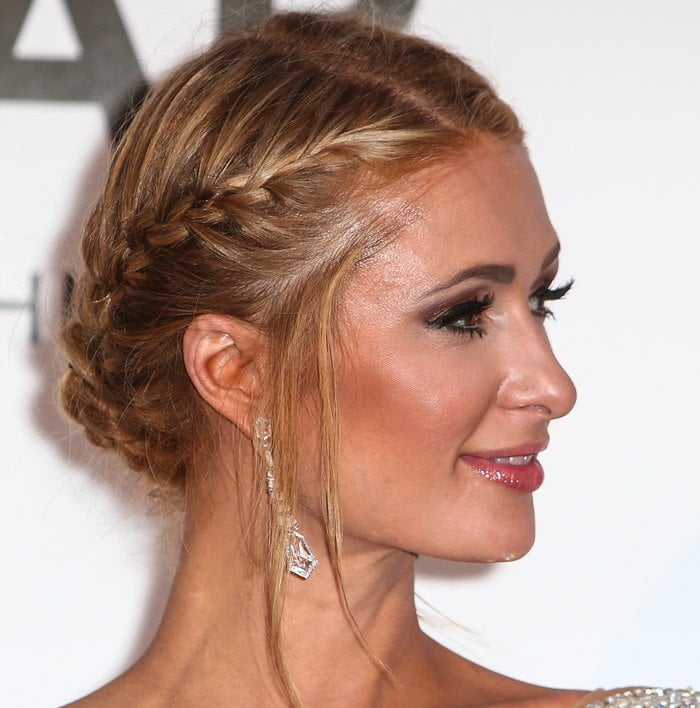 Paris Hilton braids her hair for the 2016 amfAR Cinema Against AIDS Gala held on May 19, 2016, at the Hotel du Cap-Eden-Roc in Cap d'Antibes (Credit: WENN)
In May 2016, Paris Hilton glittered on the carpet at the 2016 amfAR Cinema Against AIDS Gala held at the Hotel du Cap-Eden-Roc in Cap d'Antibes, France.
The then-35-year-old American businesswoman, socialite, television personality, model, actress, singer, DJ, and author dazzled in a silver and nude floor-length gown.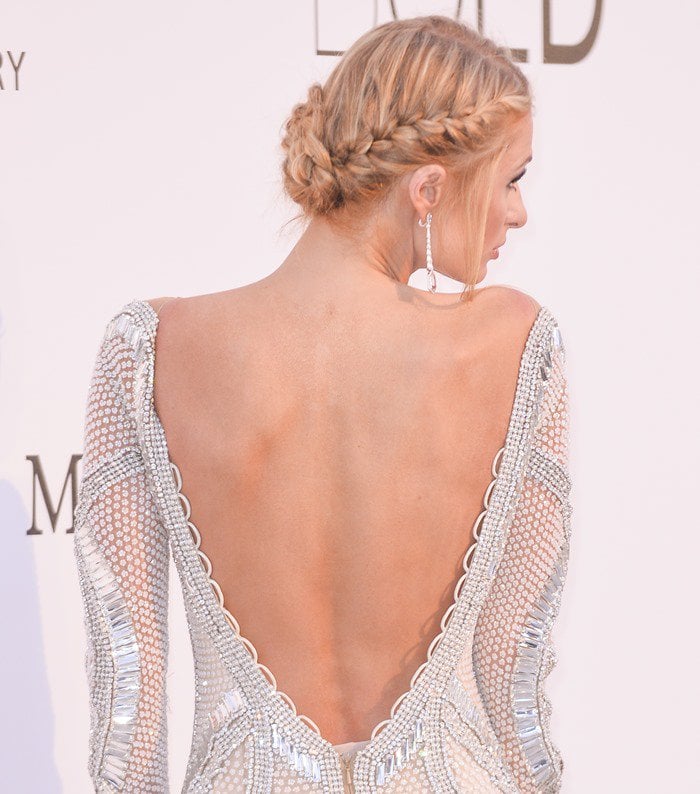 Paris Hilton shows off her back in a sparkling silver gown (Credit: WENN)
She styled the backless form-fitting jewel-encrusted dress with a gorgeous pair of heels from Charlotte Olympia.
The sparkling frock featured a high neck and long sleeves. It layered silver and clear crystals in a geometric pattern over a nude underlay.
Paris Hilton wears silver earrings to match her bejeweled silver gown (Credit: WENN)
Given Paris's tendency to wear completely sheer garments that show off her underwear, we're glad this sheer dress was rather conservative and classy.
Paris Hilton shows off her back and legs in a silver floor-length dress (Credit: WENN)
Paris finished her ensemble with a pair of mixed-metal Charlotte Olympia sandals. These silver platform heels feature crisscrossing gold straps across the closed toes.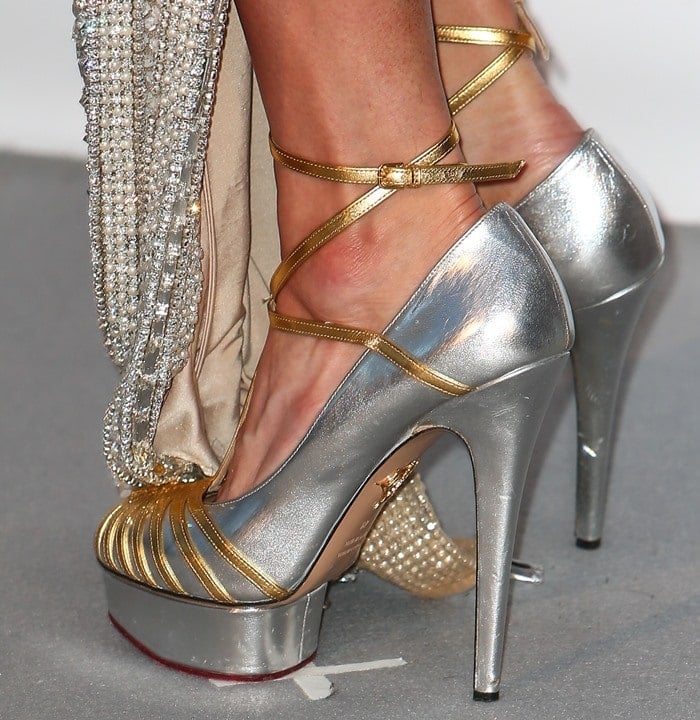 Paris Hilton's fete in towering Charlotte Olympia heels (Credit: WENN)