Wilmer Valderrama, who dated Demi Lovato for six years until splitting in 2016, announced his engagement to his model girlfriend Amanda Pacheco earlier this month.
Best known for the role of Fez in the sitcom That '70s Show (1998–2006) and as Carlos Madrigal in From Dusk till Dawn: The Series (2014–16), he got down on one knee to propose at a beach in San Diego, California, on January 1, 2020.
View this post on Instagram
In her 2017 documentary Simply Complicated, Demi revealed that she fell in love with Wilmer Valderrama the moment she saw him. He initially hesitated due to the age difference.
I've never loved anybody like I loved Wilmer, and like, I still love Wilmer. When I first met Wilmer he was 29. I met him on January 11 of 2010, and it was at a PSA shoot at his house for the 2010 census forms. To be honest, I only did it because I heard it was at his house and I thought he was really cute. I didn't really care about the census forms. But [when] I met him and I laid eyes on him for the first time, I was in hair and makeup and he came in and sat down and I was like 'I love this man' and 'I have to have him.' But I was only 17, so he was like, 'Get away from me.' After I turned 18, we began dating. I think it was love at first sight, and I don't really believe in that, but I believe that it happened.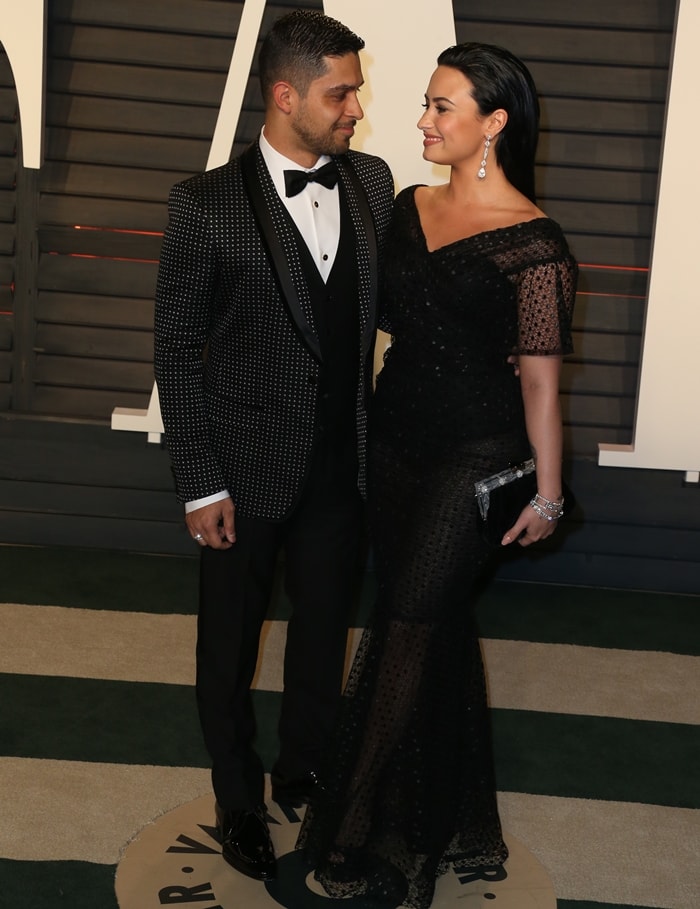 Demi Lovato and her boyfriend Wilmer Valderrama attend the 2016 Vanity Fair Oscar Party Hosted By Graydon Carter at the Wallis Annenberg Center for the Performing Arts on February 28, 2016, in Beverly Hills, California
In a joint statement to their fans, they announced their breakup in 2016.
After almost 6 loving and wonderful years together, we have decided to end our relationship. This was an incredibly difficult decision for both of us, but we have realized more than anything that we are better as best friends. We will always be supportive of one another. Thank you to everyone who has offered us kindness and support over the years.
Wilmer Valderrama made a cameo in the music video for Demi Lovato's song Really Don't Care
Despite the end of their romantic relationship, Valderrama and Lovato have remained close friends. According to E! News, she "wants the best" for her ex-boyfriend.
"She's happy for Wilmer if he's happy. She always wants the best for him in life and is glad he has found love."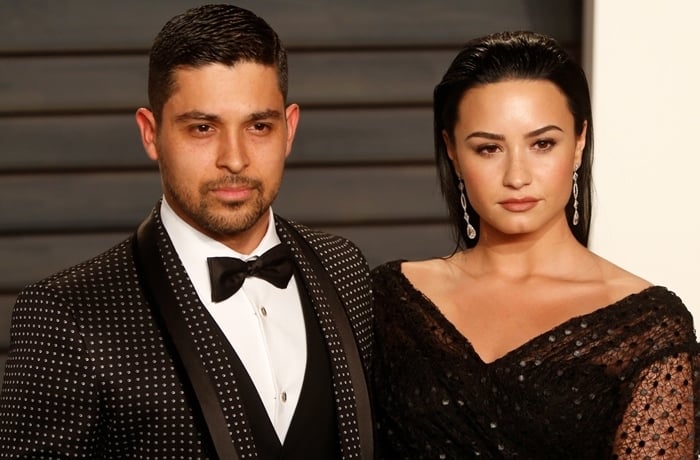 Demi Lovato and Wilmer Valderrama dated for six years
"They will always be friends and have a special place in each other's hearts. But she also realized he wasn't going to be her life partner and she's known that for a while," an insider shared with the entertainment news website. "She moved on from that and has been going in a different direction. She wishes him all the best though."
Demi Lovato's confidence just might be contagious. In September 2015, the singer oozed poise and style as she visited NRJ Studios in Paris.
Demi Lovato promotes her new album, "Confident," at NRJ Radio Studios in Paris, France, on September 7, 2015
The then 23-year-old made the visit as part of a promo run for her aptly-named fifth studio album "Confident," which released on October 16, 2015.
Paparazzi trail Demi Lovato as she struts through Paris in a two-piece ensemble from Vesace
During her studio visit, Demi flaunted her curves in an outfit from Versace's Spring/Summer 2015 collection.
The two-piece ensemble featured a light blue halter-neck crop top and a thigh-skimming miniskirt, both worn underneath black cage overlays.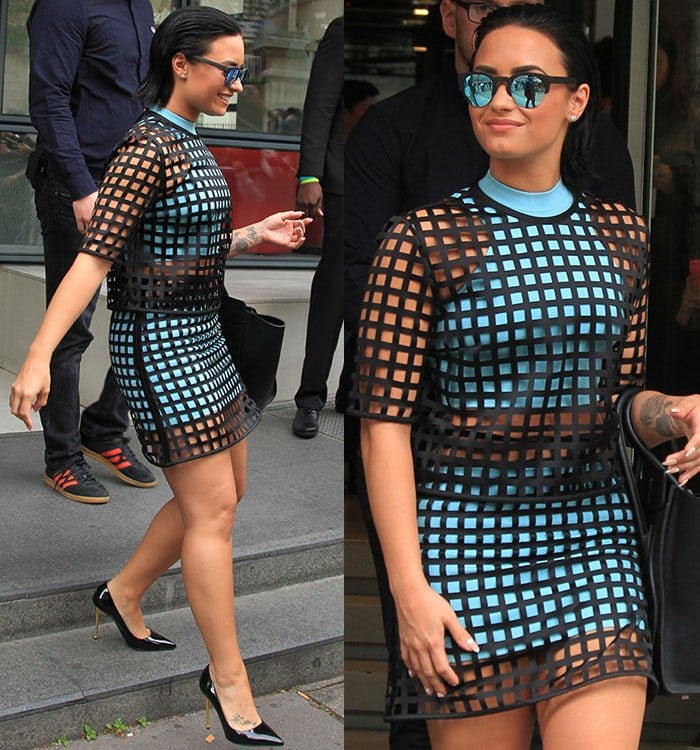 Demi Lovato shows off her slicked-back hairstyle as she navigates down a set of stairs
She styled the outfit with black pumps, Woodys Barcelona mirrored sunglasses and a Celine handbag. You can get these pumps in black and nude versions at Bergdorf Goodman.
Demi Lovato smiles as she struts through Paris with all the self-confidence in the world
She amped up the edgy vibe with a slicked-back hairstyle and neutral-toned makeup.
A foot tattoo peeks out from the patent leather of Demi Lovato's Tom Ford pumps
Demi's pumps are by Tom Ford. They are made of glossy black patent leather and feature pointed toes and 4.3-inch golden pin heels.
Tom Ford Patent-Leather Pin-Heel Pumps, $890 at Bergdorf Goodman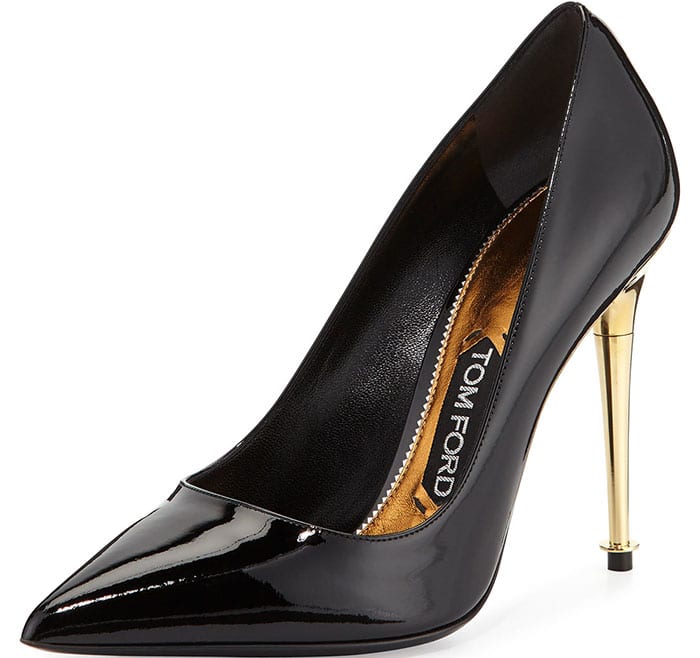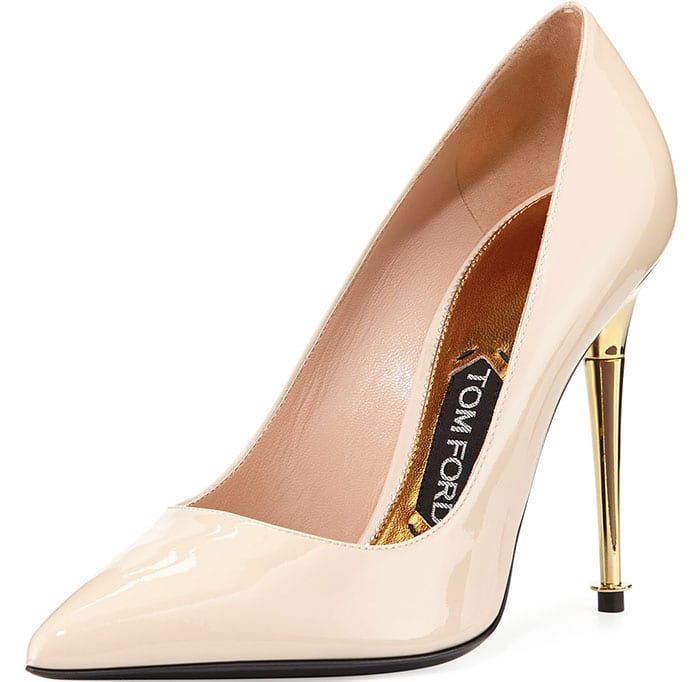 Credit: WENN / FayesVision