Always on the go, the talented and stylish Turistas actress Olivia Wilde was spotted departing the Los Angeles International Airport on a January day in 2016.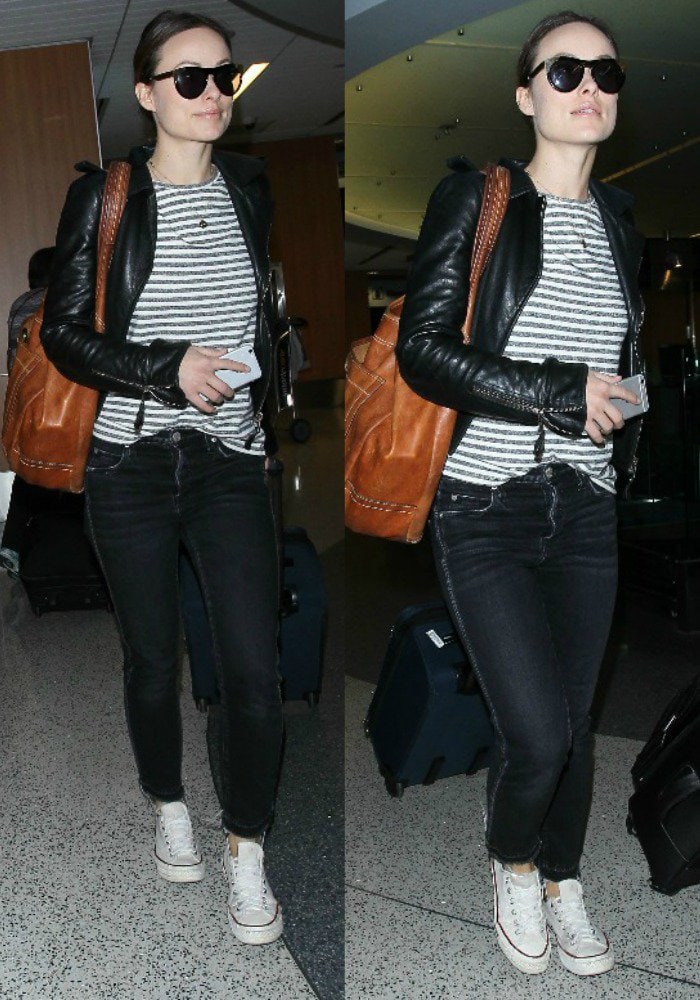 Olivia Wilde wears her hair back as she departs Los Angeles International Airport on January 27, 2016
10 years earlier, she portrayed Bea Tribituan in the 2006 American horror film Turistas (released in the United Kingdom and Ireland as Paradise Lost).
Directed by John Stockwell and a failure at the box office, the film also starred Josh Duhamel, Melissa George, Desmond Askew, Max Brown, and Beau Garrett. It was filmed in the Chapada Diamantina, a mountainous in the Northeast of Brazil, and in the Litoral Norte, a microregion in the easternmost coastal part of São Paulo State that is famous for its beaches.
Beau Garrett, Olivia Wilde, Josh Duhamel, and Melissa George in Turistas
Focusing on a group of international backpackers who find themselves in the clutches of an underground organ harvesting ring, Turistas is the first American film to be exclusively shot in Brazil.
Not based on a true story, the screenplay was written by Michael Arlen Ross. Director John Stockwell, who had previously directed Blue Crush (2002), Crazy/Beautiful (2001), and Into the Blue (2005), told The Los Angeles Times he was inspired to direct the film upon reading the screenplay after returning from Peru.
"I had been robbed by a group of 13-year-old, glue-sniffing kids and gotten shot at," the American director revealed.
"I went to the cops, and they basically told us, 'If you give us $300, we'll let you kill these kids.' And I thought, if that kind of [stuff] is possible…. I came home and read the script and it resonated."
"John would do anything that he would ask you to do," Olivia Wilde said in the same interview about filming a scene with scary spiders in Brazil.
"He knew I was uncomfortable, so he jumped in there instead of me for the [shot setup]. He said: 'This is great, this is great! It looks really real! Look at all these spiders over here; I hope they crawl on you!'"
The first American film to be exclusively shot in Brazil, Turistas is completely fictional and based on a screenplay written by Michael Arlen Ross
Born on March 10, 1984, in New York, Olivia Wilde was 22 years old when Turistas was released on December 1, 2006.
10 years later, between her Elle cover photoshoot and red carpet Women in Television Celebration, the premiere of her new TV show, and parenting her new baby boy, the new year for the then 31-year-old beauty was off to a busy beginning.
Olivia Wile wears a striped shirt and skinny jeans as she strolls through LAX
We have to hand it to Olivia for always managing to add a bit of glam to even the most casual of outfits.
Hustling her way through the airport to her next destination, the actress looked comfy in a loose striped shirt, dark skinny jeans, and bold sunglasses. She added some edge with a zippered black leather jacket.
The "House" star has been stepping out in some punk-inspired fashions lately, and whether on the red carpet or at the airport, Olivia sure knows how to rock them.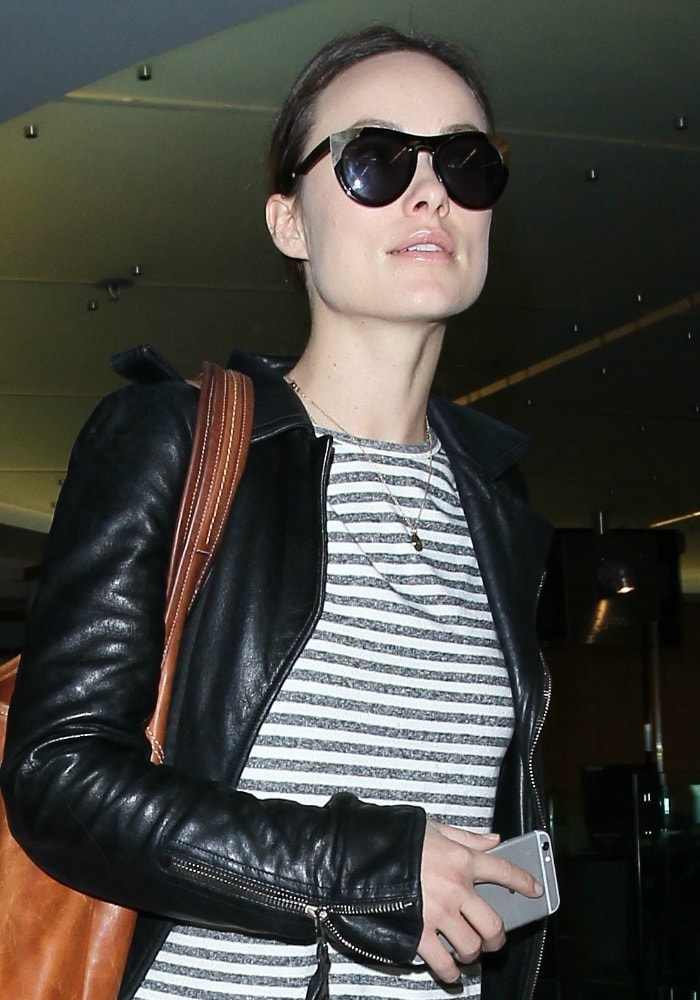 Olivia Wilde covers her eyes with a pair of big sunglasses as she strolls through LAX
Olivia wore minimal makeup underneath her big sunglasses. She carried a large distressed brown leather tote bag on one shoulder and pulled a dark blue suitcase in the other hand.
On her feet, Olivia went with a stylish and comfy classic: Chuck Taylor All Stars. These white low top Converse sneakers rounded out the cool and casual vibe of her ensemble and had Olivia looking fashionably prepared to jet-set off to her next adventure.
Olivia Wilde wears a pair of white Chuck Taylor All Stars at LAX
You can shop for Olivia's white sneakers or any number of these iconic sneakers at Zappos and Nordstrom.
Chuck Taylor All Star Classic Low Top Sneaker in Optical White, $50.00-$55.00
Credit: WENN