The classic Timberland boots are made to be lived in. They are meant to be taken out to explore cities, taken on off-road adventures, or worn on a casual day.
Such a lifestyle can't keep the boots in pristine condition. Classic Timberland boots are made out of nubuck and smooth leather, which means that they demand a special kind of upkeep.
Cleaning your Timberland nubuck boots is easier than you think
1. Classic Nubuck Timberland Boots
Nubuck is sensitive to humidity therefore direct contact with water should be minimized. The best way to slow down wear-and-tear is to invest in a suede or nubuck cleaning kit.
A typical kit includes three things: a brush, an eraser, and a water-based cleanser that you can find on Amazon.
Timberland Travel Kit Plus – Balm Proofer, Renewbuck & Dry Cleaning Kit, $28.65
We've put together a simple how-to for getting your Timberlands to look brand spanking new.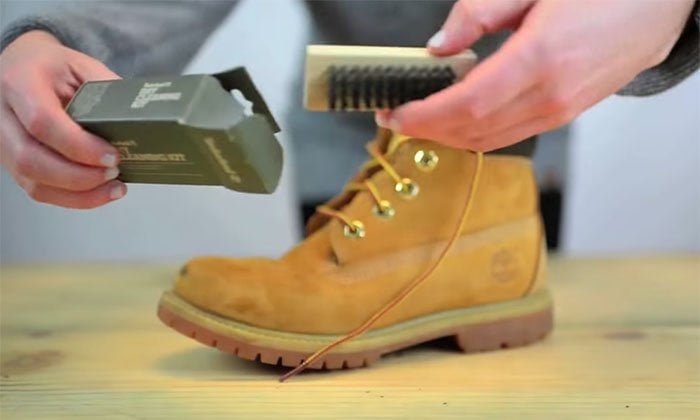 Use a soft-bristled brush to dislodge dirt in the nap
1. Brush off particles and scrape off chunks of dirt from the nubuck surface
Take the brush and clean off dirt stuck to the boots. Brush gently to raise the nap and dislodge smaller particles. Don't be scared to go against the nap direction but do so with a light hand.
Use a butter knife or a nail file for bigger chunks of dirt. When dealing with mud, allow it to completely dry before attempting to pry it off.
Home hack: Use a toothbrush or any soft-bristled brush to gently remove sediments trapped in the nap.
For small scuffs and stains, gently use an eraser until the blemishes are gone
2. Get rid of marks and scuffs by lightly erasing them
Gently rub the eraser against the nubuck to remove small scuffs, stains, and marks. Refrain from rubbing too hard as this may damage the nap. Continue to do this until visible blemishes are completely gone.
Use the brush to restore the nap to its original look.
Home hack: You can replace a dry cleaning eraser with a regular pencil eraser. We recommend an eraser with the same shade as the nap to avoid stains.
Wipe the boot thoroughly with a water-based cleanser
3. Use a water-based cleanser to wipe the entire shoe surface
For stains that are a bit harder to get rid of, refrain from going straight to the tap. Spray a water-based nubuck cleanser onto a clean rag and wipe the entire surface of the shoe. Do not spot clean as this may leave water stains.
Home hack: Use baby wipes in place of the cleanser.
If a stain still refuses to come out, use water as a last resort. Grab a wet sponge and slowly work on the affected area. Absorb excess water with a newspaper.
If nothing seems to be working, dilute white vinegar in water and apply on the boot surface in conservative doses.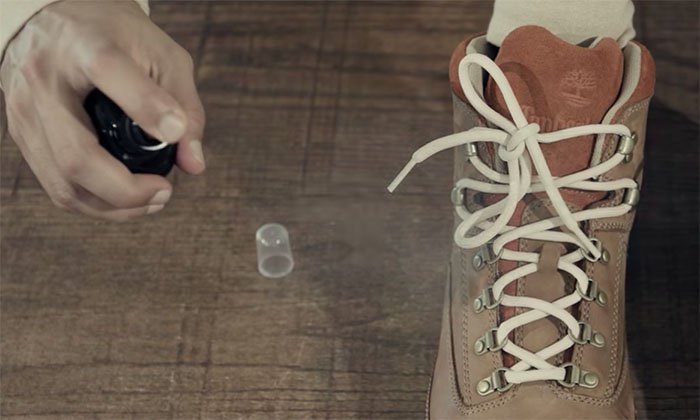 Spray at least six inches away from the shoe
4. Protect the nubuck by using a proofing spray
Prevention is better than cure. Invest in a proofing spray to restore water repellency and to protect the shoe surface from dirt and stains.
Uncap the bottle and spray the contents directly on the shoe. Make sure to spray from a distance of six inches or more to prevent water stains.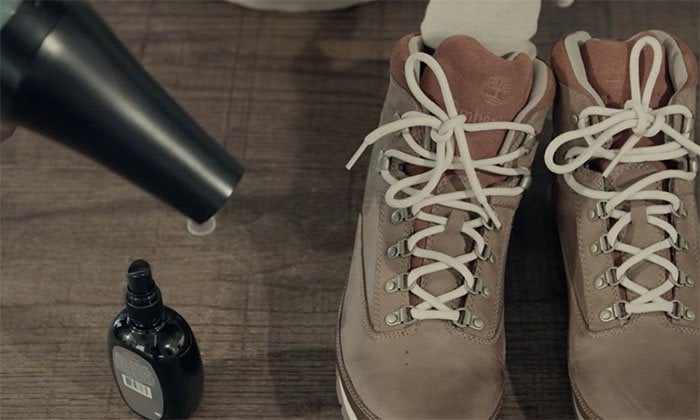 Use a hairdryer to dry the leather quicker
Use a hairdryer to expedite the drying process. Check that the temperature is not too hot to prevent singeing the nubuck.
2. Smooth Leather Timberland Boots
Cleaning Timberland smooth leather boots is just as easy. We recommend investing in a cleansing gel, conditioner, and a protective balm.
You can find the cleaning products that are recommended by Timberland at Timberland.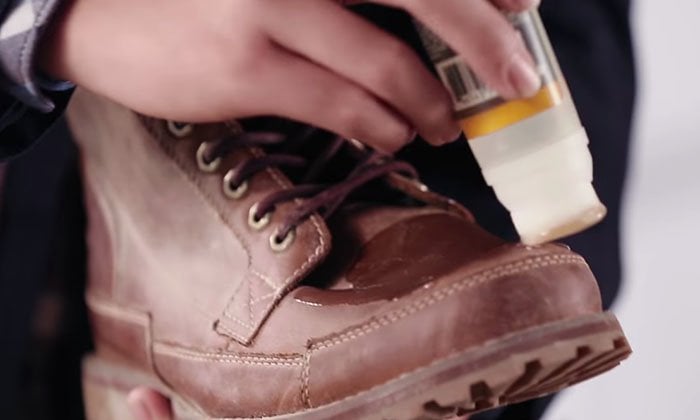 Apply a small amount of gel cleanser to the surface of the leather shoe
1. Use a cleansing gel to remove dirt and salt stains
Squeeze a small amount of cleansing gel onto a sponge and lather all over the boot surface. Make sure all areas are covered. Wipe away excess gel with a clean, dry cloth. Allow the boot to dry.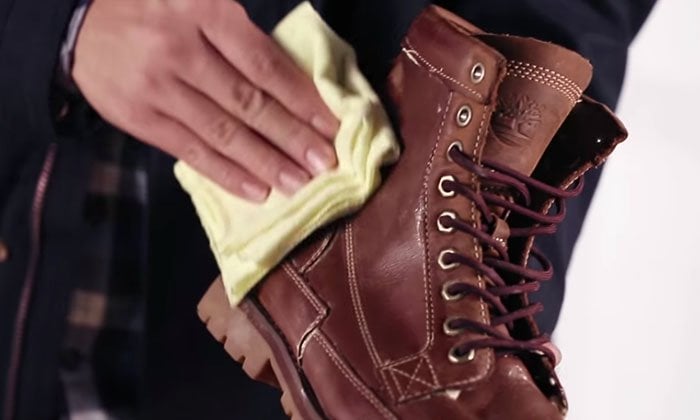 To get your desired shine, buff with a dry cloth
2. Buff the boot using a cream conditioner
Work a small amount of cream conditioner on the surface of the boot, covering all areas. Buff with a clean, dry cloth until desired shine.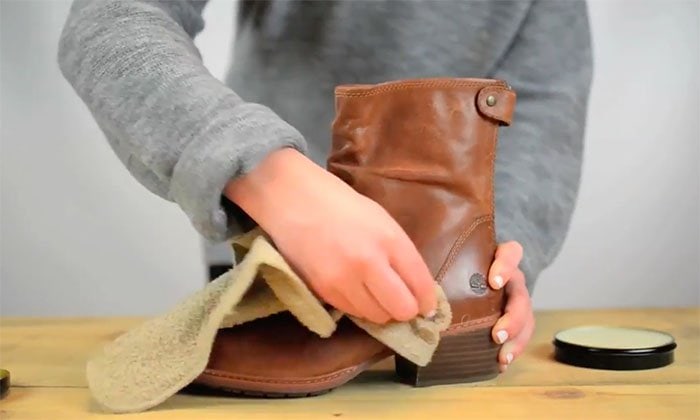 Use circular motions to work the wax into the leather
3. Restore lost oils by using a protective balm or wax
Use a protective wax or balm to restore lost oils into the leather. Swipe a moderate amount of wax onto a clean, dry cloth. Work the product onto the boot surface. Make sure that the leather is thoroughly dry before applying wax.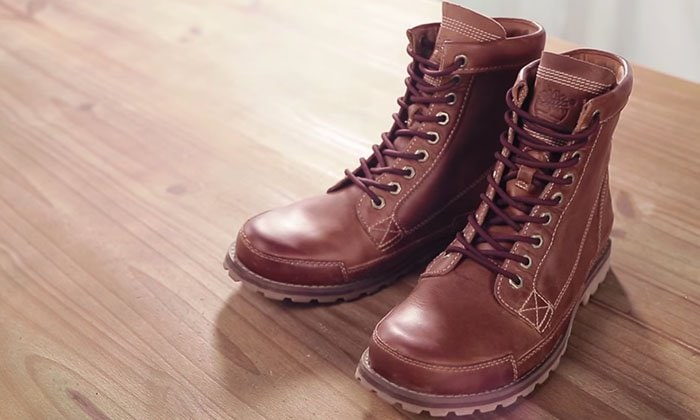 Consistent care is key to prolonging the life of your Timberland boots
Proper cleaning, preservation, and storage of the Timberland boots are essential to prolonging its life. We recommend cleaning with a dry kit once a month.
Use boot shapers or crumpled paper on the insides to hold up the shape. A bit of consistent care goes a long, long way.
If you need more help, check out this video that will show you how to keep your suede, nubuck, and canvas Timberland boots looking like new.