From workwear to streetwear, Timberland boots are now making their way into girls' wardrobes everywhere.
We've also observed that it seems like it doesn't matter what a girl's style is. Whether she's hip-hop, bohemian, tomboy, or a full-blown fashionista, the tough-and-hardy work boots are usually styled like basic wardrobe staples.
It's easy to explain why. Timberland boots' clunky and chunky style mimics that of ugg boots and Doc Martens, both of which are considered basic shoe closet essentials.
But don't make the mistake of thinking that the classic shoes can be interchanged. Timberland boots have a certain look all on their own, though that doesn't stop counterfeiters from making fakes.
Scroll through for 12 tips on how to wear Timberland boots and to see how celebrities make them work with their varied styles.
1. Style Timberland Boots With Workwear
Bring Timberland boots back to their roots and style them with a workwear-inspired look.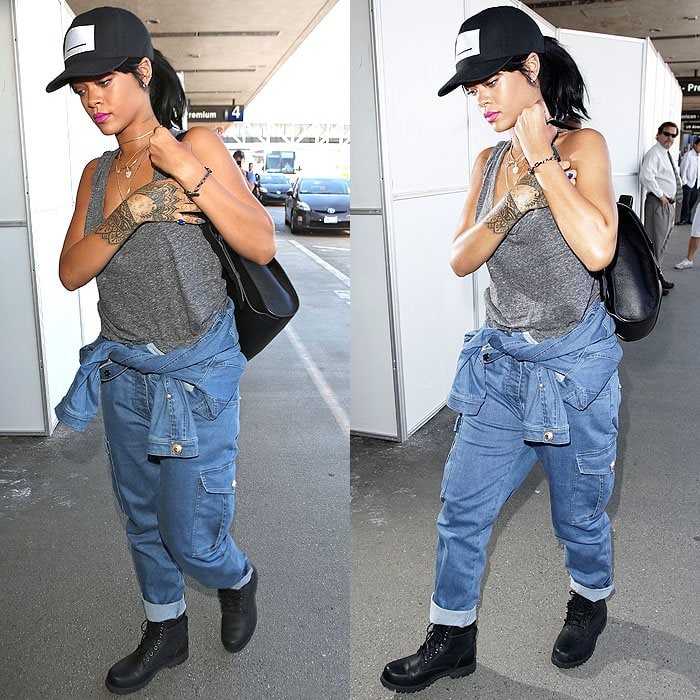 Rihanna in Timberland boots catching a flight out of the Los Angeles International Airport in Los Angeles, California, on September 30, 2014
Rihanna stayed comfy in her Timberlands paired with a snapback, a gray tank, and overalls. She added a touch of chic with a designer leather backpack.
2. Use Their Street-Style Cred
Cara Delevingne's off-duty model style is undeniably streetwear-inspired.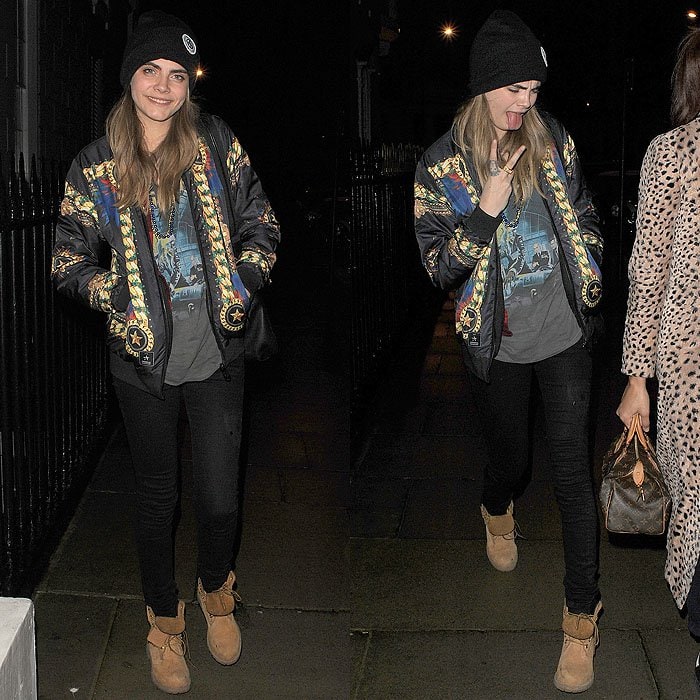 Cara Delevingne heading home after a night out with friends in London, England, on January 17, 2014
A beanie, a stadium jacket, a graphic tee, and skinny jeans are practically her uniform with Timberland boots.
3. Go Utilitarian
Amber Rose amped up the utilitarian look of her Timberlands with a standard-issue white tee, cargo pants, and an army backpack.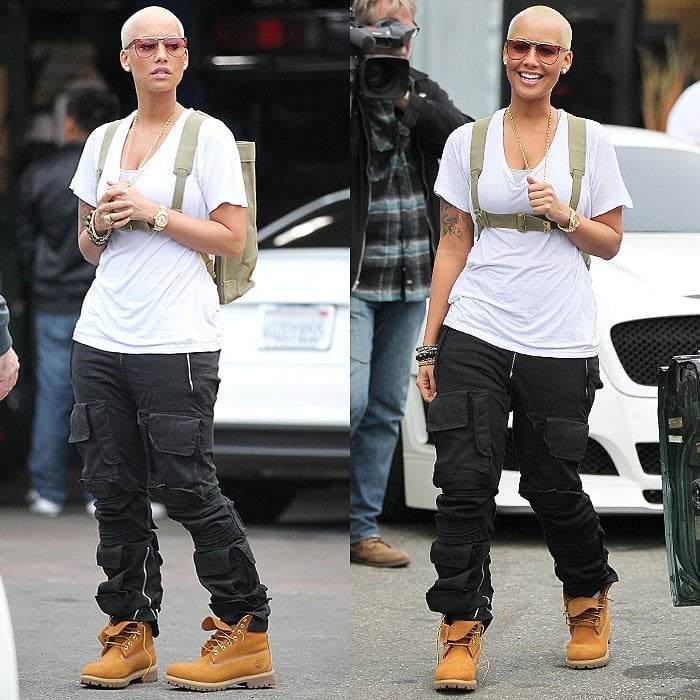 Amber Rose at Platinum Motorsports in Hollywood, California, on January 11, 2011
4. Bundle Up and Pile On the Layers
Why obsess with slimming down layers when you can just make all the bulk look instantly cooler with Timberlands?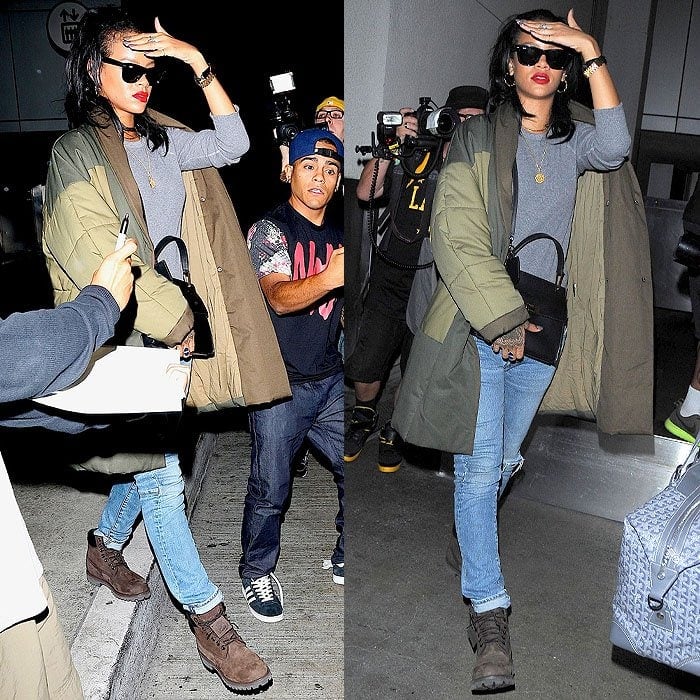 Rihanna arriving at Los Angeles International Airport on September 27, 2014
Fearlessly pile on puffer coats, parkas, and thermals when you've got the boots on. If you feel like your look needs a touch of femininity, do as Rihanna did and swipe a bold red color on your lips.
5. Be a Lumberjane
A plaid shirt and distressed denim — jeans or jorts, your choice — are all you need. A favorite variation is tying the shirt around your waist.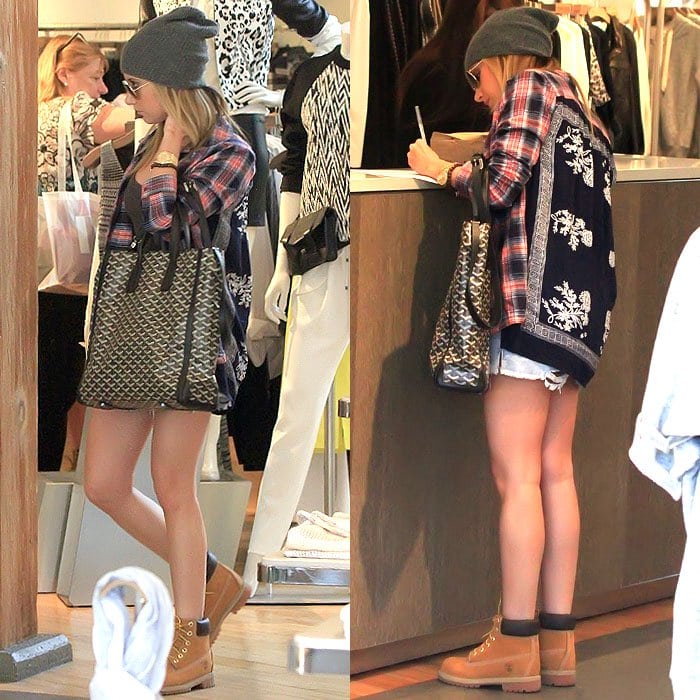 Ashley Tisdale shopping at Intermix in Beverly Hills, California, on January 17, 2014
6. Go Sporty
Who said track jackets only go with sneakers? When chosen in a bold color, Timberlands can look as good with sportswear as they do with plaid jackets.
Gwen Stefani apparently couldn't choose which looked better, so she wore both in one outfit!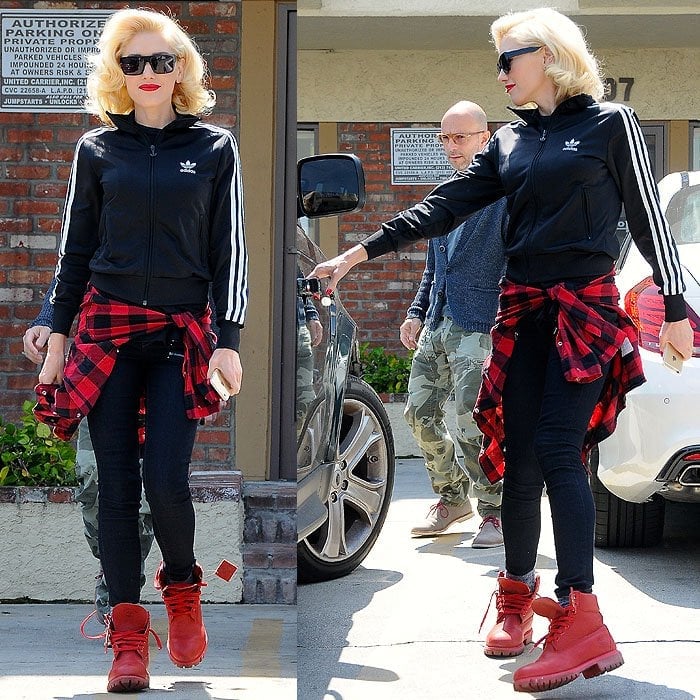 Gwen Stefani leaving after a session at Jesun Acupuncture Clinic in Los Angeles, California, on April 10, 2015
7. Rock Them Out
Gwen Stefani showed us how to use the same red boots to complement a rocker-chic look — that is, with a holey tee, ripped boyfriend jeans, and a garrison belt.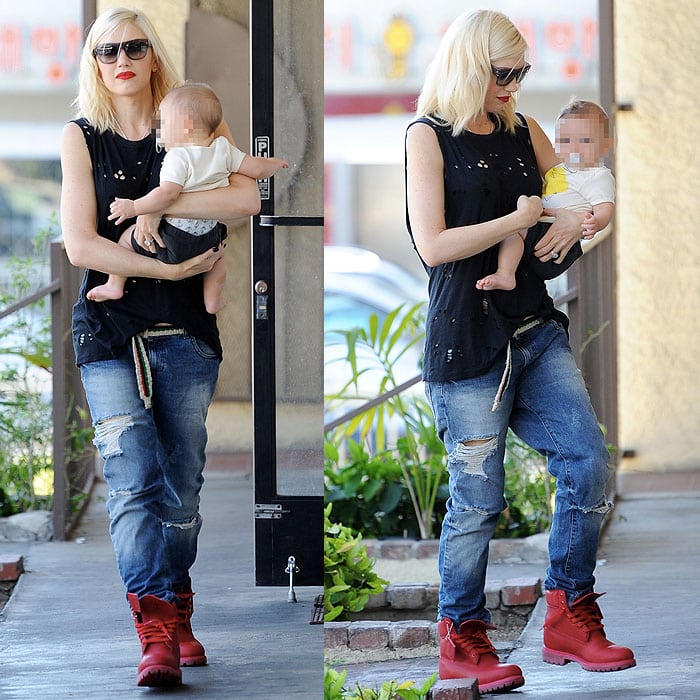 Gwen Stefani carrying her son, Apollo, to her weekly acupuncture visit in Los Angeles, California, on September 15, 2014
8. Style Them Preppy
While Pharrell Williams personalized his red Timberlands with scribbles, his equally funky-cool wife, Helen Lasichanh, styled hers preppy with a striped sweater and a navy blue jacket.
Pharrell Williams and wife Helen Lasichanh leaving their hotel in Manchester, England, on September 10, 2014
9. Contrast With a Tailored Look
It looks like the Kardashian-Jenner matriarch, Kris, took some well-heeded advice from her daughters and made her usually impeccably tailored ensemble look infinitely chicer with Timberland boots. The letter socks were a nice touch.
Kris Jenner and Kourtney Kardashian out shopping while filming their reality TV show, "Keeping Up with the Kardashians," in Los Angeles, California, on February 27, 2013
10. Suit Up
Like the previous number, what you want to highlight is the sharp contrast between the tailoring and the ruggedness of Timberlands. Cara Delevingne took it one step further and chose a suit in a delicate lace embroidery.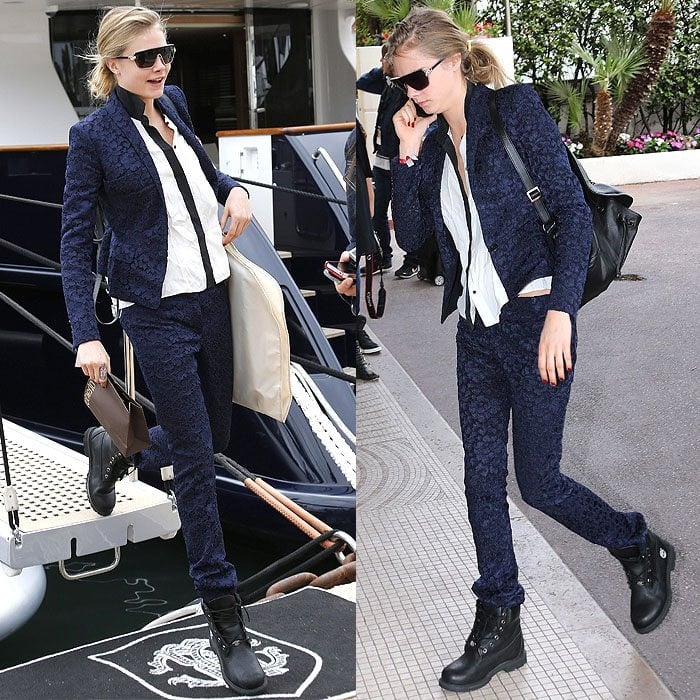 Cara Delevingne leaving Roberto Cavalli's yacht during the 66th Cannes Film Festival in Cannes, France, on May 16, 2013
11. Wear With a Dress
This is a favorite. Like floral slips and Doc Martens in the '90s, Timberlands with dresses is an instant classic.
Khloe Kardashian effortlessly jumped from a cat-eared jumpsuit to a sexy sheer-paneled tuxedo dress in the same pair of Timberlands.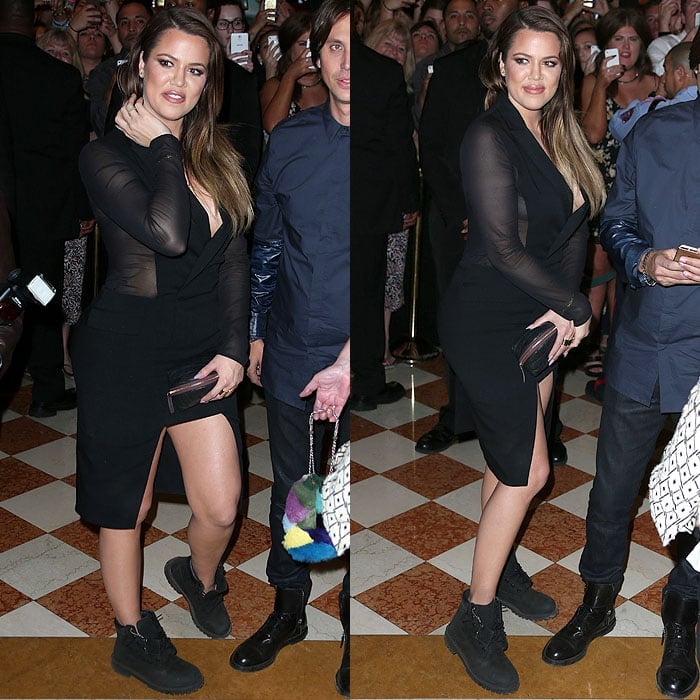 Khloe Kardashian at Kim Kardashian's birthday celebration at Tao Nightclub in Las Vegas, Nevada, on October 25, 2014
12. Play Up Their Sexy Side
Kylie Jenner knows how to tone down the sexiness of her attention-grabbing ensembles with Timberland boots.
She's used her off-white pair with all manner of skin-baring clothes, including crop tops, hot shorts, flesh-tone granny panties, and bodycon dresses.
Kylie Jenner and Kendall Jenner at week 1, day 3 of the 2015 Coachella Valley Music and Arts Annual Festival in Indio, California, on April 11, 2015
You can never go wrong with a classic like these Timberland 6″ premium boots in wheat nubuck.
Timberland 6″ Premium Boots, $160–$179.95 at Nordstrom and Zappos
We also love the Limited Release Green Jade men's 6-inch boots that you can buy at Timberland. They are inspired by the luxurious tones and sheen of jade gemstones.
Limited Release Green Jade Timberland Boots, $190
Credit: Cousart / FayesVision / JP / JFXimages / News Pictures / Steve Searle
Credit: WENNCHELLA / Will Alexander / Winston Burris / WENN