Stumped on what to get your shoe-crazed loved one for her birthday, Mother's Day, or Christmas? You've come to the right place for shoe lover gifts!
If you ask us — and we say this with all bias — shoe lovers are the easiest people to shop gifts for. Barring actual shoes and shopping gift cards, here are 26 cute, cool, and chic stocking stuffers guaranteed to make your footwear fanatic friend go head over heels.
All are shoe-themed, of course, and most are just $100 and under. If you need even more gift ideas, check out these shoe wine bottle holders and high heel cell phone stands!
1. Chuck Sneaker Shoe Keychains, $13.99 at Amazon
If you are a fan of Converse shoes, you can't go wrong with these colorful high-top sneaker keychains!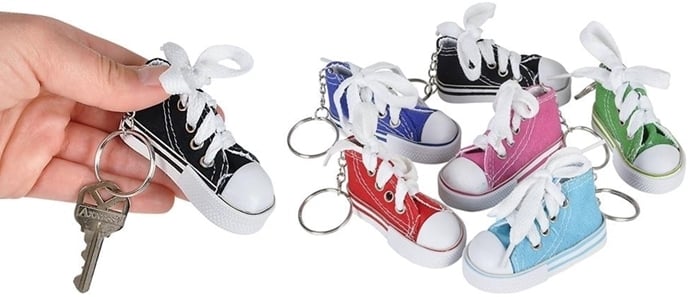 This keychain collection features high-top sneakers as the main attraction
2. Solemates High Hee Protectors, $12.00 at Solemates
Your gift receiver won't ever have to worry about navigating grates, grass, and pebblestone floors in stilettos with these Solemates high heel protectors.
Beach weddings, garden parties, soccer games — these nifty little inventions allow heels to be worn to any event as pleased.
The Solemates heel protectors prevent heels from damage and make your life easier if you like wearing stilettos
They are mechanically engineered to prevent heels from sinking into the grass. We love these so much, we wish we thought of it ourselves.
TV personality Luann de Lesseps attends the 'Meteor Shower' Broadway opening night at the Booth Theatre on November 29, 2017, in New York City (Credit: Joseph Marzullo / WENN)
Luann de Lesseps, who is best known for the reality television series The Real Housewives of New York City, could have used them when she attended the opening night for the new Broadway comedy 'Meteor Shower'.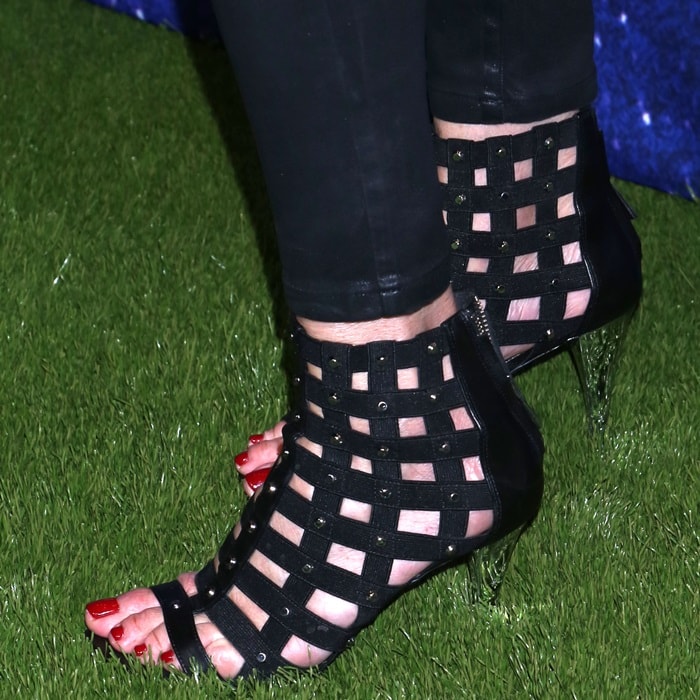 Luann de Lesseps could not stop her high heels from sinking into the grass (Credit: Joseph Marzullo / WENN)
3. Waterproof Travel Shoe Bags, $11.99 at Amazon
A waterproof shoe bag for travel is a must-have for every shoe lover. This set accommodates 4 pairs of shoes and features a convenient carrying handle perfect for the woman on the go.
Organize your favorite shoes away from getting dusty in the closet
4. LHN 16GB High Heel USB 2.0 Flash Drive, $7.25 at Amazon
Gift this stiletto flash drive as a work tool and as a reminder of what you love most!
The fashionable design makes it easily distinguishable from everyone else's flash drive
5. Vans Waffle Sole iPhone Case, $17.99 at Amazon
For the smartphone-using sneakerhead, here's a phone case that's textured like Vans soles.
Waffle phone case made of high-quality rubber material
6. Shoe Money Jars & Piggy Banks
If you need help saving money for shoes, check out our guide to see the best money jars and piggy banks for shoe lovers!
A piggy bank is commonly used to save change and bills for shoes
7. Fun Holiday Socks for Women at Amazon
Who doesn't love the feeling of wearing a new pair of socks? How about these fun novelty socks with designs for wine, chocolate, beer, pizza, Christmas, tea, Hallmark, tacos, gaming, pickles, ice cream, cocoa, and coffee lovers!
Funny 'If You Love Me, Bring Me Some Wine' novelty socks
8. Shoes Page-A-Day Gallery Calendar, $15.99 at Amazon
We'd gift this shoe-a-day calendar ourselves as a supplement to a Your Next Shoes daily shoe fix. Don't miss the best shoe calendars to get this year!
365 Days of Shoes features footwear ranging from the sexy to the prim, the flashy to the polished—kitten heels from Manolo Blahnik
9. Oktoberfest Style Glass Beer Boot, $19.99 at Amazon
We just couldn't resist this boot-shaped glass. And it'll fit perfectly in a Christmas stocking, too!
World War I German generals would drink from their boots if a battle was won to inspire their men and ignite loyalty and camaraderie
10. Coffee Table Shoe Books at Amazon
There are tons of books on shoes to choose from, but we know a shoe lover would really appreciate this hardbound book by Christian Louboutin featuring an elaborate foldout cover and stunning still-life photography. Not exactly inexpensive but most definitely WORTH IT.
An extraordinary monograph created by Christian Louboutin, renowned for his beautifully handcrafted red bottom shoes
11. Decorative Shoe Clips at Amazon
We always recommend shoe clips as a gift for shoe lovers.
One of our favorites is the chain style like this Erica Giuliani heel chain shoe clip, which you can attach either to the front or to the back of shoes.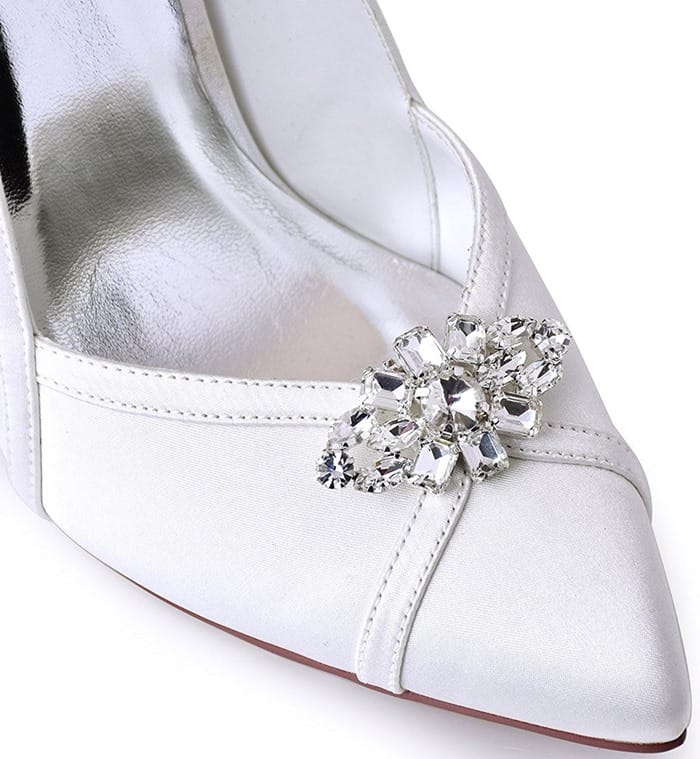 Shoe clips can transform a pair of simple flats or pumps
Shoe clip jewelry can be used to decorate your shoes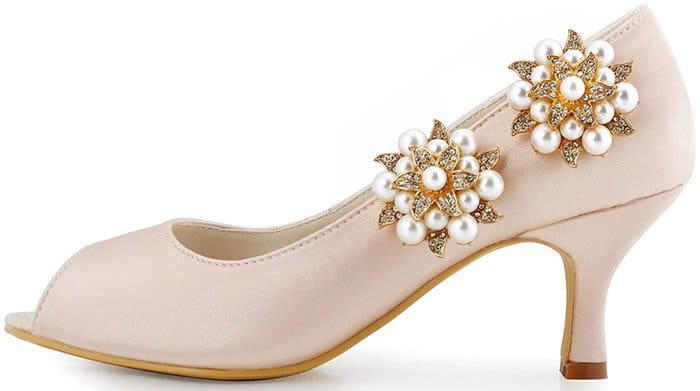 Pearl shoe clips are popular for weddings and special occasions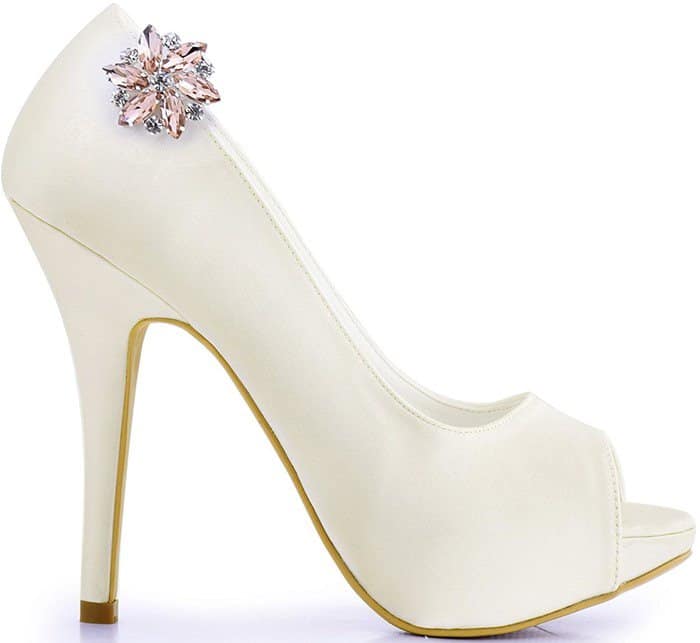 Shoe clips add elegance and style to any pair of shoes
12. Solemates Shoe Essentials, $10.00 at Amazon
We're staunch advocates of adjusting your heels so they're more comfortable to wear. All high-heel-wearing women should discover the wonders of inserts, cushion gels, and pads.
Protect your feet from blisters and the discomfort they bring
13. Jeweled High-Heeled Shoe Keychain, $19.99 at Amazon
Lucky rabbit's foot? No, we shoe lovers have stilettos as our lucky charms.
Beautiful and different crystal shoe keychain
14. High Heel Design License Plate Frame, $16.93 at Amazon
Give the gift of a fabulous license plate frame complete with a single row of large faux diamonds and two fabulous high heels.
License plate with two high heels and faux diamond accents
15. CedarFresh Boot Shaper Form Inserts, $10.42 at Amazon
Blow your loved ones away with these reusable boot shapers designed to keep their favorite boots from getting unwanted cracks and maintaining their shape.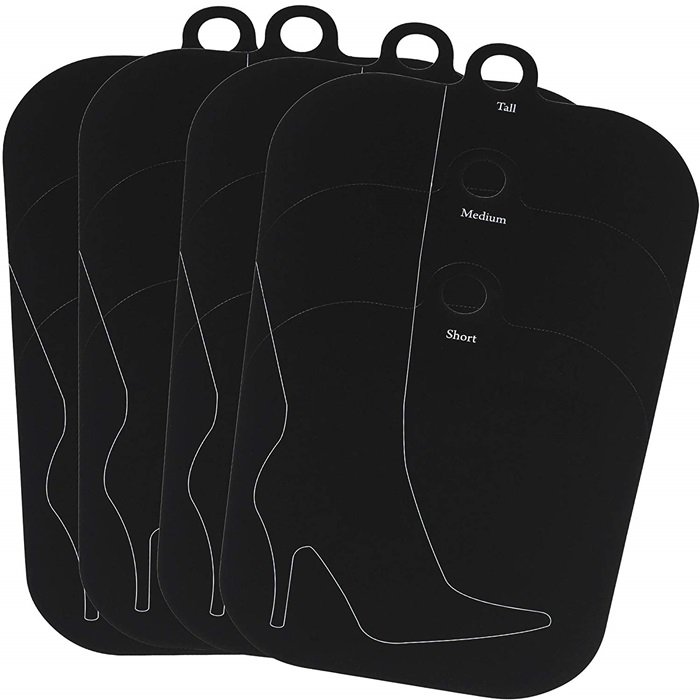 Versatile boot shaper inserts that fit any size and style of boot to reduce cracking and sagging
16. Elegant High Heels Cork, $13.99 at Amazon
Preserve your alcohol's flavor for weeks even after opening the bottle
17. Marilyn Monroe's "Give a Girl the Right Shoes…" Wall Decal at Amazon
One of the most famous shoe-related quotes, this Marilyn Monroe "Give a girl the right shoes…" quote wall decal should be prominently displayed in every shoe lover's shoe closet.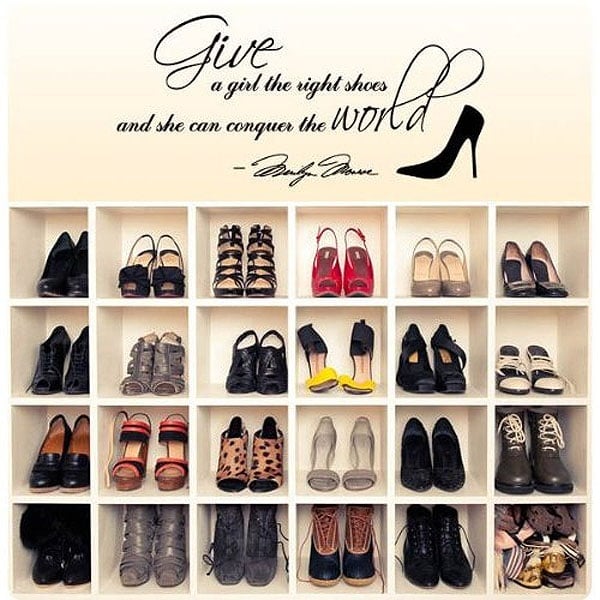 Marilyn Monroe is believed to have said, "Give a girl the right shoes and she can conquer the world."
18. Reusable Ruby Slipper Ice Cubes at Amazon
Here's a quirky one for the shoe lover who loves to entertain. These Fred and Friends Tipsy Toes reusable ice cubes cool down drinks without watering them down.
Keep your drinks cold with these high heel ice cubes
19. Sole Decals and Stickers at Amazon
Heard of that girl who has made a business out of red decals that you stick to the soles of your shoes for that coveted red-bottomed look? Archys has taken that further and has made these cute Archys high-heel fashion decals.
Below are some of our favorites. They're $7 a pack, and each one is enough to style two pairs of shoes.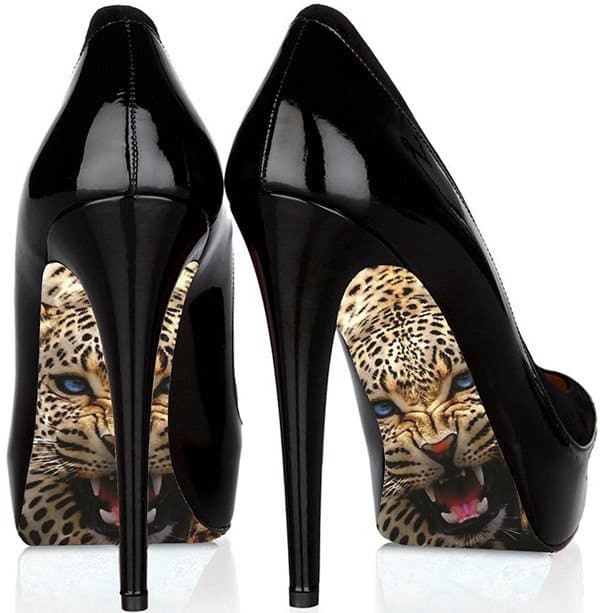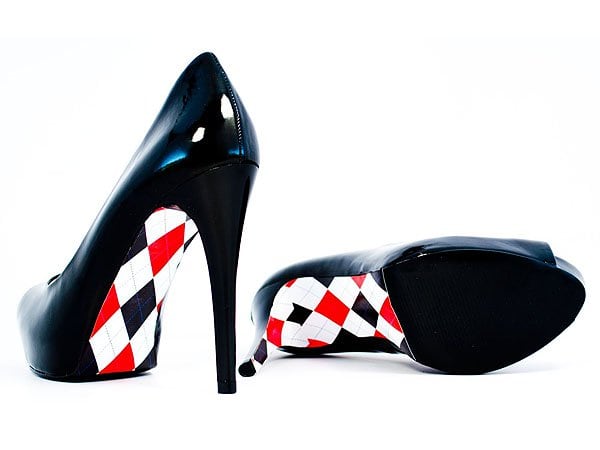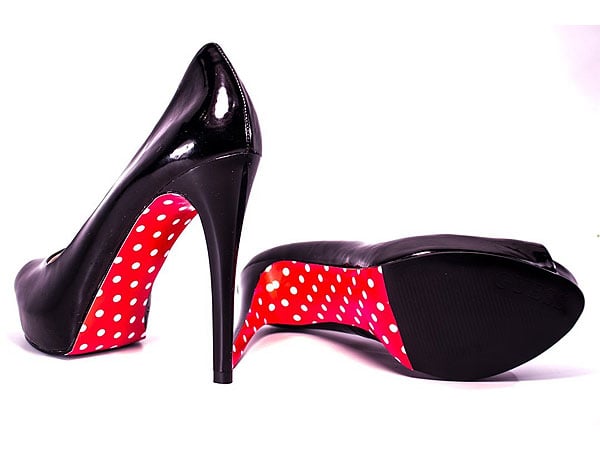 20. Shoe Coffee Mugs
Everyone likes coffee and tea. While not the most exciting gift in the world, you can't go wrong with a fun shoe coffee mug or high-heeled cup.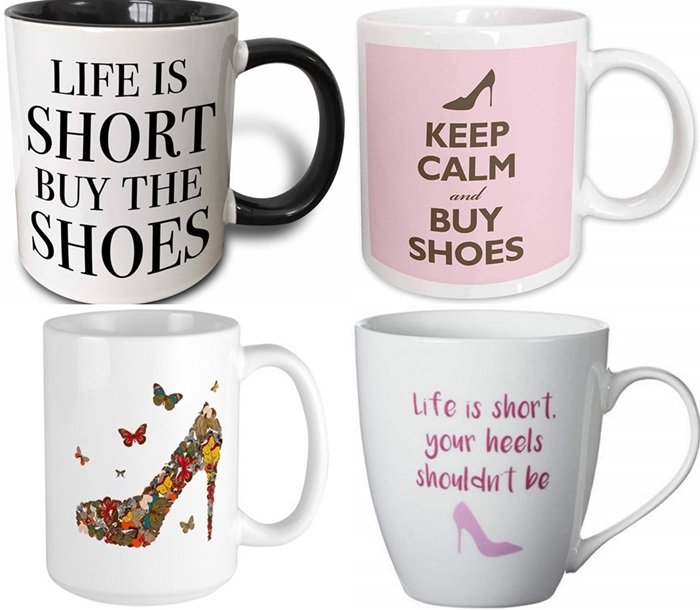 21. Charbonnel Et Walker Handbag & Heels Collection, $11.25
Stylish as well as tasty, this treat from one of Britain's oldest chocolatiers is a great gift for any lady who loves shoes.
It includes mouthwatering milk chocolate heels and a gold-embossed box designed to look like a handbag.
Stylish as well as tasty, this treat is a great gift for any lady who loves shoes
22. Travel Shoe Cleaning Kit by Jason Markk, $27.99 at Amazon
No matter where your travels take you, keep your kicks fresh with this kit containing a premium shoe cleaner, a mini brush, a microfiber towel, and three quick wipes.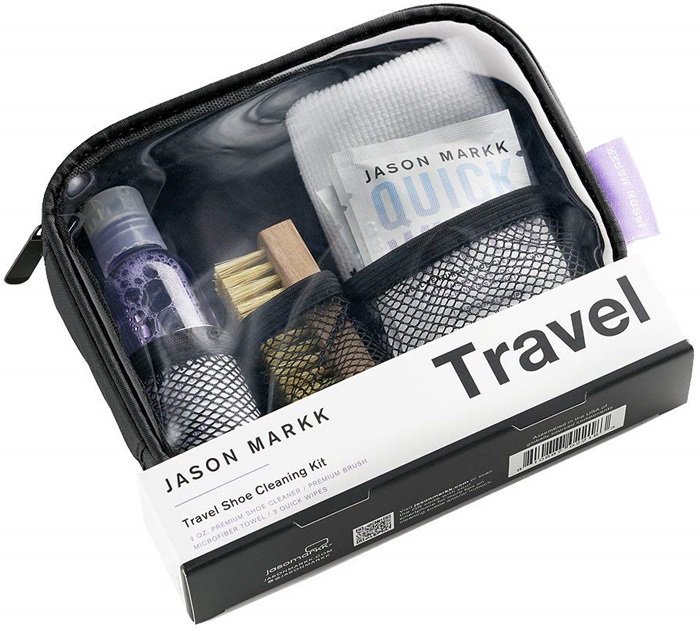 The Jason Markk travel shoe cleaning kit is perfect for shoe enthusiasts on-the-go
23. High Heel Shoes Jigsaw Puzzle, $13.43 at Zazzle
High heel shoe jigsaw puzzles offer hours of enjoyment
24. High-Heeled Shoe Cushion Cover, $10.98 at Amazon
Perfect decoration for sofa or bed with hidden zipper design
25. Stiletto Decanter with an Airtight Diamond Stopper, $69.99 at Amazon
Offered in three great colors, this 750-milliliter decanter is a must-have for the fashionably chic or anyone that just wants to add more luxury to their home décor. It holds the right amount of wine or liquor for a standard-sized bottle.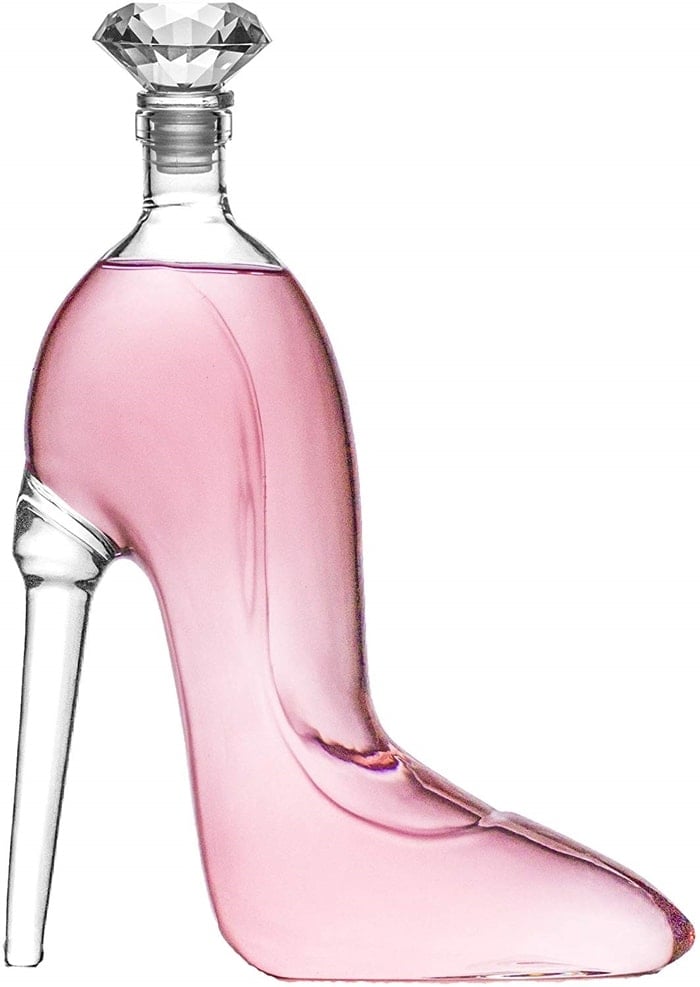 Beautiful stiletto decanter with an airtight diamond stopper
26. Draizee Heel Shoe Spa Gift Set, $23.95 at Amazon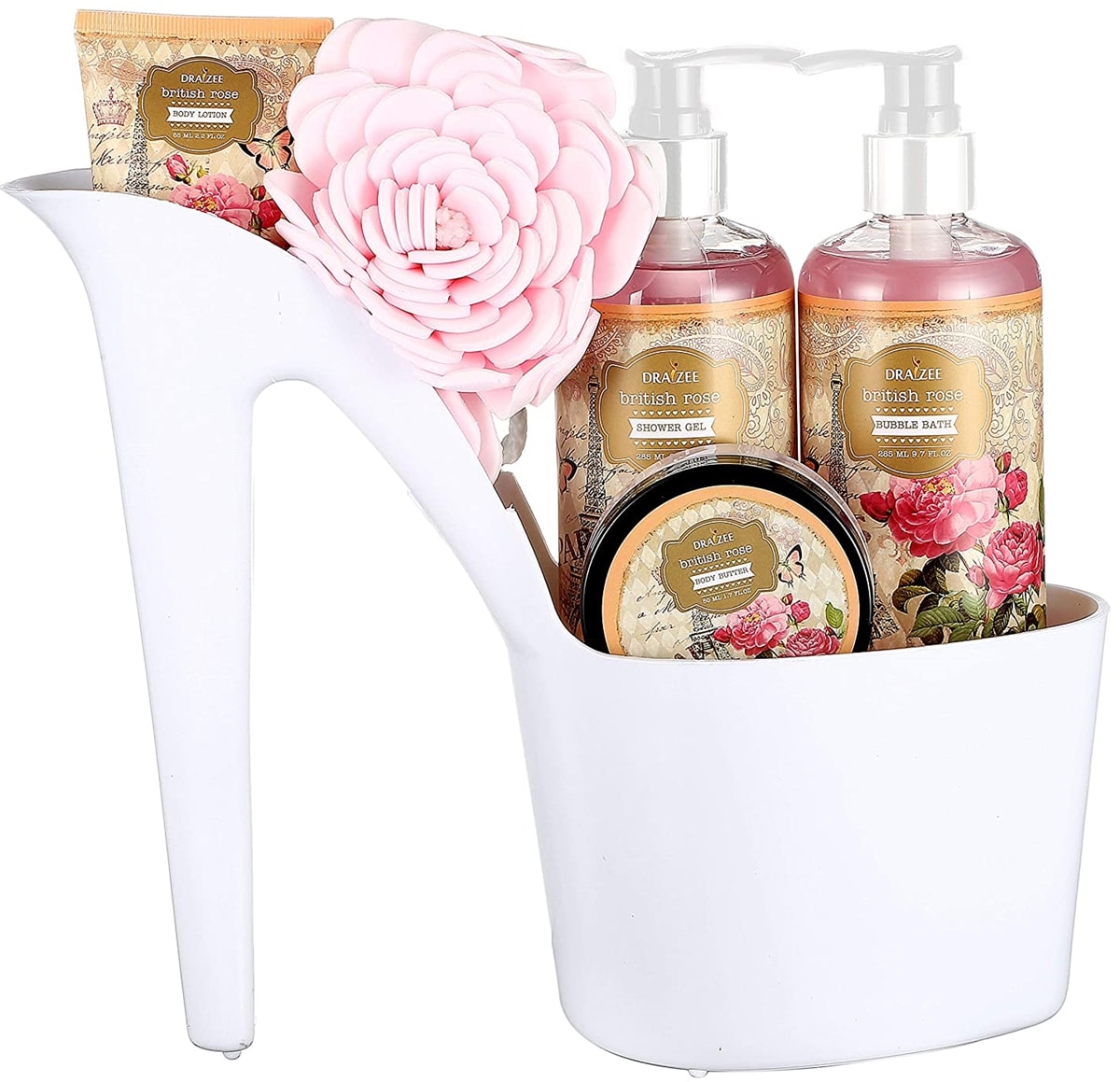 This stunning bath gift set includes 4 amazing rose scented bathing essentials and a rose-shaped bath puff