Packing clothes for vacation is always a painstaking task, and shoes are often the worst part. Shoes are bulky and often smell bad, so they require a little bit more attention than the rest of your travel commodities.
What is a shoe bag?
Since packing shoes can be tricky, a shoe bag is typically a small, flat, rectangular bag with a thickly-padded interior. Most will have space for either one or two pairs of shoes, with a little wiggle room.
A packing cube for shoes is a small compressed bag designed to organize and compartmentalize footwear inside your luggage.
Nike Orange Nylon Shoe Box Bag, $35 at Nike
This orange and white bag features a classic shoebox silhouette with a full-zip closure for easy access and an eyelet for ventilation
How to pick the right shoe travel bag
The key to organizing kicks in your luggage is having the right set of shoe bags and cases. There are three important qualities to look for: label, waterproof ability, and compression.
Labeled bags are important if you are packing multiple shoes. Waterproof fabric will protect your expensive shoes from moisture that can cause irreparable damage, and compression cubes are essential when you are packing shoes in with your clothes.
Compression packing cubes help seal the unpleasant shoe smell and ensure that the clothes inside your luggage will still be fresh and clean.
Fill your suitcase with a little more ease using one of these 10 shoe bags for travel!
1. Nike Shoe Box Bags, $35 at Nordstrom
This shoe box bag from Nike is available in Provence purple/iridescent and black/University red colors.
Store and carry your shoes in style with this shoe box bag designed with an easy flap opening and interior pockets to keep extra laces organized

2. Kenneth Cole 20″ Carry-On Suitcase, $89.99 on Amazon
Easy to push along the narrow aisles on the plane, this durable carry-on suitcase from the American fashion designer is big enough to fit a week's worth of clothing, your favorite shoes, a towel, and other necessities.
The interior main compartment is fully lined with a tear-resistant lining and features double-sided packing, a zippered organization pocket, and garment restraint straps to hold your clothes and shoes in place
3. Waterproof Travel Shoe Bags, $9.99 on Amazon
If you're looking for a convenient way to transport your shoes, these light shoe bags don't take up a lot of space. The zipper prevents your shoes from falling out and touching your clothes.
This lightweight shoe bag will keep your shoes separated from clothes in the luggage
4. Tumi Travel Accessories Shoe Bags, $55 at Zappos
A set of 2 connected extra-durable bags designed with drawstring closures to store a pair of shoes securely.
Each shoe bag will fit a pair of high heel shoes or a pair of flat shoes
5. Bag-all Shoe Organizing Bag Set, $59 at Shopbop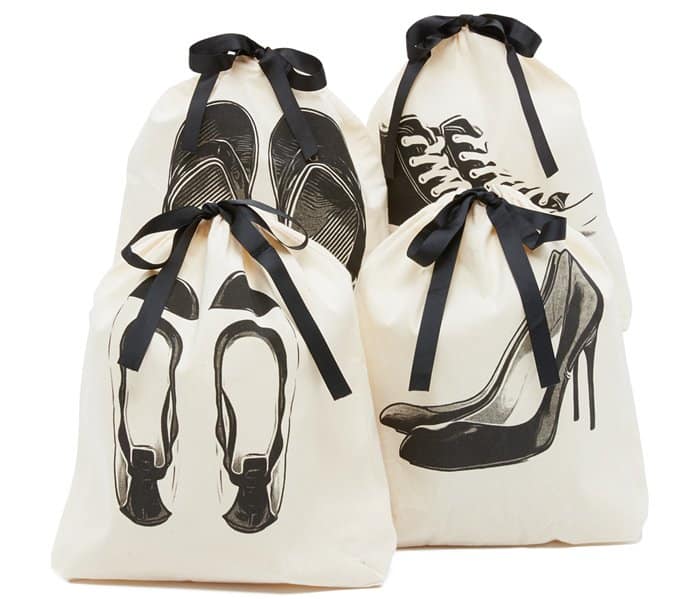 A set of 4 drawstring Bag-all pouches keeps your shoes organized for a weekend trip
6. Baggu 3D Zip Large 3 Pack Bags, $36 on Amazon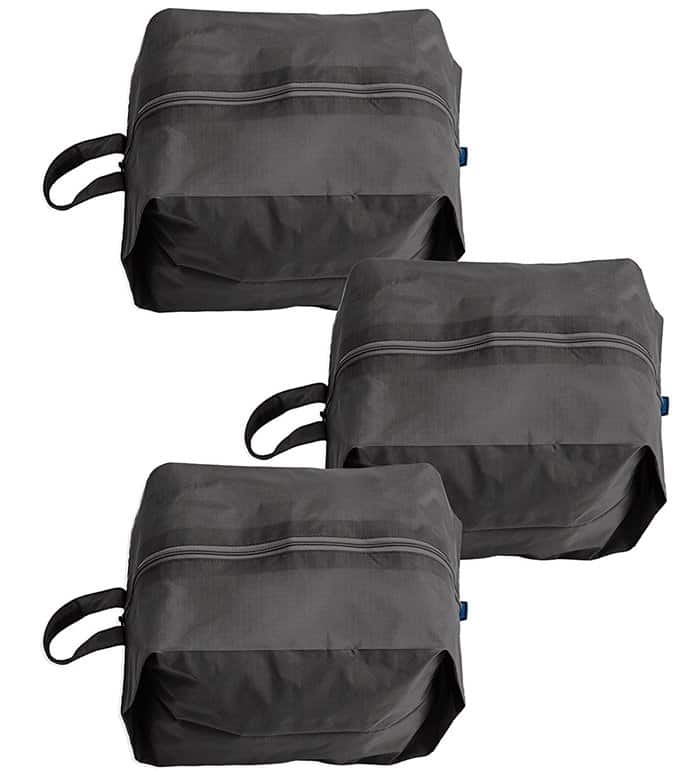 A set of three zippered pouches for travel and organization
7. MoreTeam Shoe Storage Bag Holds 3 Pair of Shoes, $14.99 on Amazon
Available in three colors, this shoe bag can hold one pair of regular shoes and two pairs of sandals or flat shoes.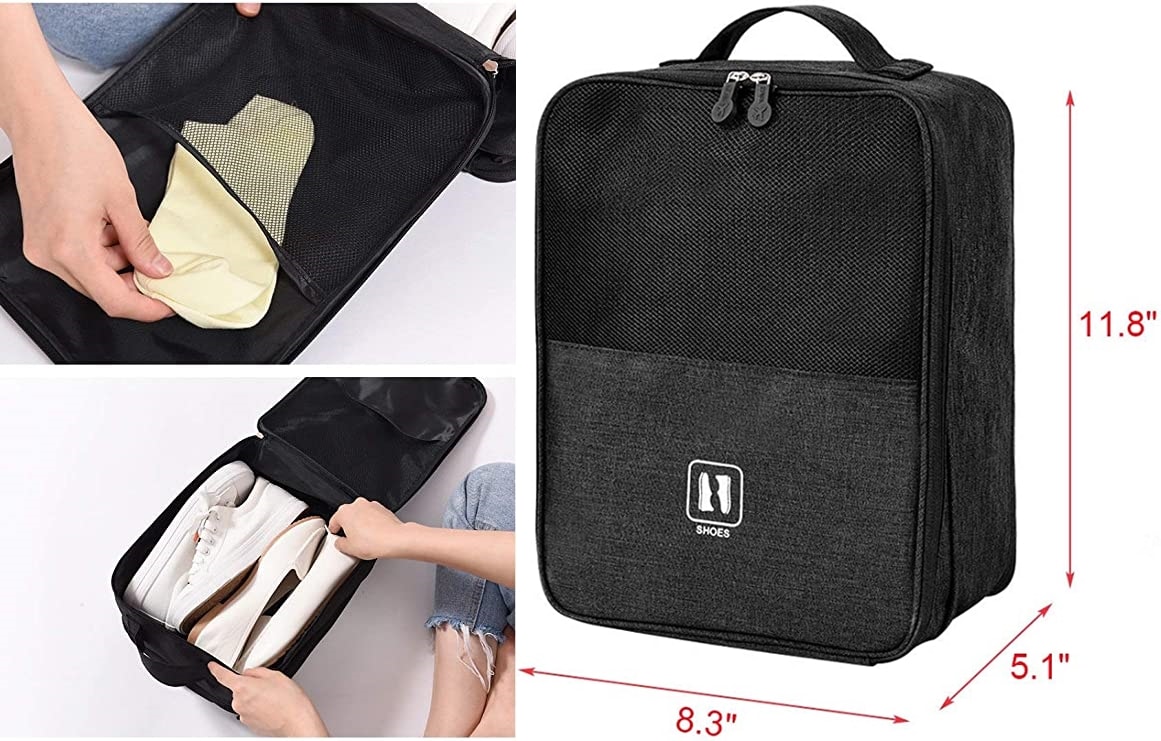 You can also use this shoe storage bag for your bras, underwear, and socks
8. Tumi Lightweight Packing Cube, $55 at Zappos
Popular among frequent flyers, organize your travels with this lightweight packing cube that allows you to organize daily outfits or simply keep your delicates separate from heavier items.
This black Tumi cube is perfect for keeping delicate items or shoes separate from the rest of your clothes
9. Adidas Stadium Team Shoe Bag, $20 on Amazon
The stadium team shoe bag is a versatile gear storage bag with a lined main pocket and a webbing loop haul handle
10. Waterproof Nylon Shoe Bags, $8.49 on Amazon
You can store clean or dirty shoes with these bags
Also, make sure to check out our guide on how to store shoes at home and under the bed.