Packing clothes for vacation is always a painstaking task, and shoes are often the worst part. Shoes are bulky and often smell bad, so they require a little bit more attention than the rest of your travel commodities.
What is a shoe bag?
Since packing shoes can be tricky, a shoe bag is typically a small, flat, rectangular bag with a thickly-padded interior. Most will have space for either one or two pairs of shoes, with a little wiggle room.
A packing cube for shoes is a small compressed bag designed to organize and compartmentalize footwear inside your luggage.
Nike Orange Nylon Shoe Box Bag, $35 at Nike
This orange and white bag features a classic shoebox silhouette with a full-zip closure for easy access and an eyelet for ventilation
How to pick the right shoe travel bag
The key to organizing kicks in your luggage is having the right set of shoe bags and cases. There are three important qualities to look for: label, waterproof ability, and compression.
Labeled bags are important if you are packing multiple shoes. Waterproof fabric will protect your expensive shoes from moisture that can cause irreparable damage, and compression cubes are essential when you are packing shoes in with your clothes.
Compression packing cubes help seal the unpleasant shoe smell and ensure that the clothes inside your luggage will still be fresh and clean.
Fill your suitcase with a little more ease using one of these 10 shoe bags for travel!
1. Flight 001 'Spacepak' Compression Packing Set, $98 at Amazon
This award-winning packing system lets you compress more clothes and shoes into a carry-on or checked bag. To keep your belongings organized and tidy while you're traveling, each bag is water-resistant and wipes clean.

2. Flight 001 'Avionette' Rolling Carry-On Suitcase, $195 at Amazon
In addition to containing two shoe bags, this retro-modern carry-on suitcase also features an add-a-bag strap that lets you easily attach any handbag, tote, or duffel.

3. Flight 001 Go Clean Shoe Bag Set in Pink, $24 at Amazon
This clever set of two drawstring bags protects shoes packed in a travel bag or purse.

4. Tumi Travel Accessories Shoe Bags, $55 at Zappos
A set of 2 connected extra-durable bags designed with drawstring closures to store a pair of shoes securely.
5. Bag-all Shoe Organizing Bag Set, $52 at Shopbop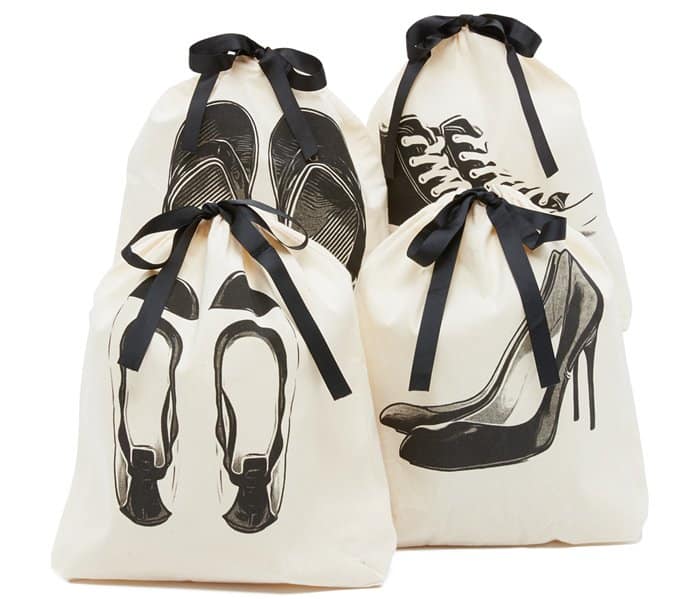 6. Baggu 3D Zip Large 3 Pack Bags, $36 at Amazon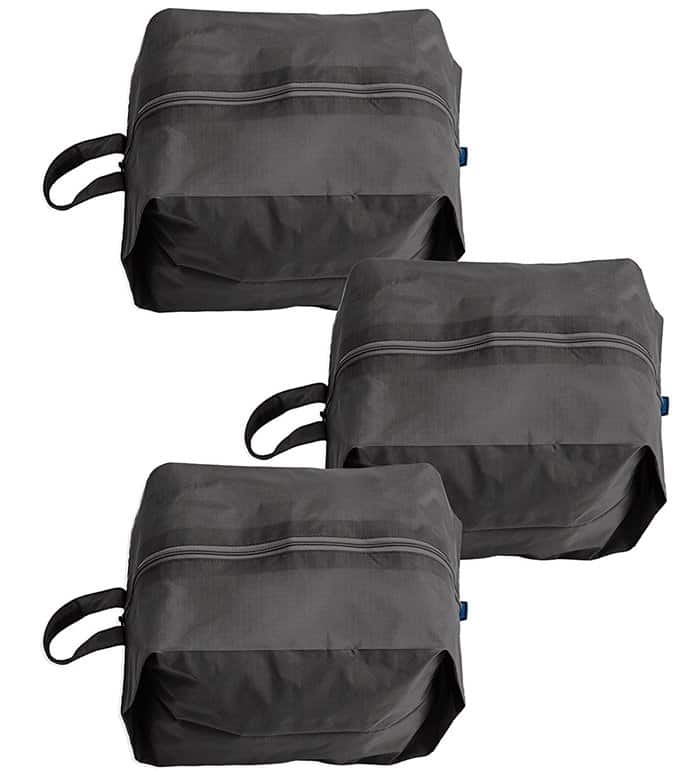 7. MoreTeam Shoe Storage Bag Holds 3 Pair of Shoes, $13.99 at Amazon
Available in three colors, this shoe bag can hold one pair of regular shoes and two pairs of sandals or flat shoes.
8. Herschel Supply Co. Shoe Bag, $19.94 at Zappos
Never misplace your heels or sneakers again while traveling with this convenient bag that keeps footwear separate from the rest of your belongings.
9. Adidas Stadium Team Shoe Bag, $20 at Amazon
10. Waterproof Nylon Shoe Bags, $8.49 at Amazon
Also, make sure to check out our guide on how to store shoes at home and under the bed.