Red bottom Louboutin shoes are very likely the most treasured, most coveted, and the most expensive in a woman's shoe closet.
So it really, really, really hurts when something bad happens to them, like the time when:
1. Carrie Bradshaw Stepped in Dog Poo While Wearing White Louboutin Pumps
The infamous scene happened in the very last episode of 'Sex and the City'. Carrie had to use a Parisian fountain to clean off the red bottoms of her shoes.
Sarah Jessica Parker as Carrie Bradshaw in the scene where she's about to walk in dog poo in Sex and the City's final episode entitled "An American Girl in Paris, Part Deux"
2. Sienna Miller Got Her Calf Hair Louboutin Pumps Ruined in the Rain
Given London's perpetually rainy weather, we wouldn't even think of wearing calf-hair anything in that city.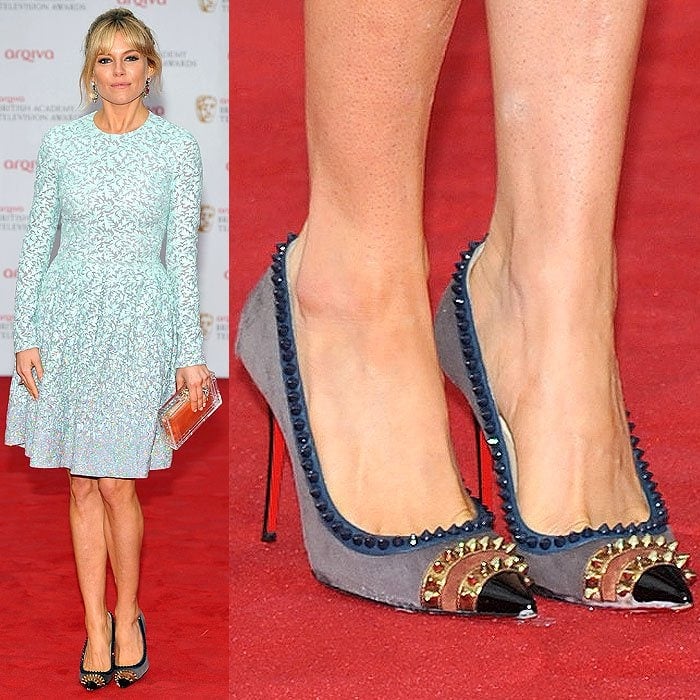 Sienna Miller stepping onto a rain-soaked red carpet and consequently ruining her Christian Louboutin "Malabar Hill" pumps at the Arqiva British Academy Television Awards held at the Royal Festival Hall in London, England on May 12, 2013
3. Bodyguard Stepped on Kim Kardashian's Be-Louboutin'ed Toe
A well-meaning bodyguard, out only to stop paparazzi from taking pictures, took one back-step too close and landed right on the pointy toe of Kim Kardashian's Christian Louboutin "Un Bout" ankle-strap pumps.
We can only imagine how sorry he was. You can check out the pictures at Daily Mail.
4. Ashley Olsen Wore Louboutin Pumps That Were Way Too Big for Her
Celebrities wearing shoes that are too big for them are a common sight here on Your Next Shoes, but Ashley Olsen's dark blue Christian Louboutin "Pigalle" croc pumps at the 2011 Met Gala takes the crown.
Not only were the pumps very obviously one or two sizes too big for her, but she was also standing right next to Monsieur Christian Louboutin himself while wearing them.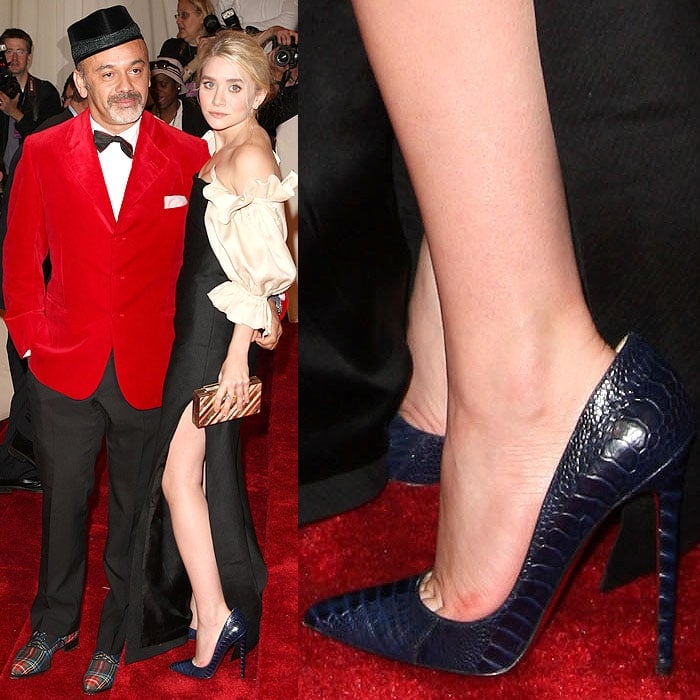 Ashley Olsen posing with Christian Louboutin in too-big Christian Louboutin "Pigalle" crocodile pumps at the "Alexander McQueen: Savage Beauty" Costume Institute Gala 2011 at The Metropolitan Museum of Art in New York City on May 2, 2011
5. Coleen Rooney Forgot to Remove the Price Stickers From the Soles of Her Louboutin Pumps
We have a whole gallery of celebrities who forgot to remove the sticky labels from the bottom of their shoes but seeing stickers still covering red bottoms has got to be the most tragic.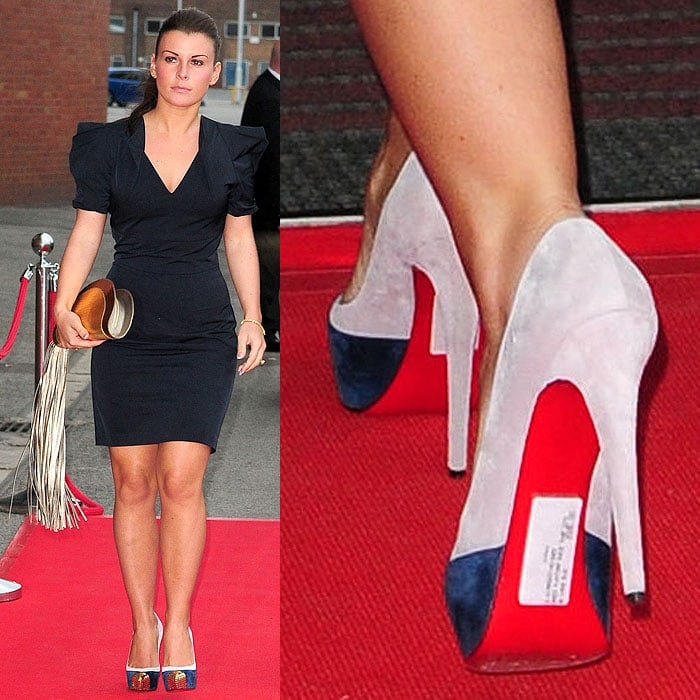 Coleen Rooney forgetting to take off the price tags from the soles of her Louboutin "Maggie" pumps before wearing them to the Manchester United Player of the Year Awards held at Old Trafford in Manchester, England, on May 4, 2010
6. A Shoe Cobbler Completely Butchered YouTuber Phoenix1018's Brand New, Haven't-Been-Worn Louboutin Booties
YouTuber Phoenix1018 only wanted to get protective soles for the Louboutin booties she got for Christmas.
What she got back instead were her brand new booties smeared with glue, the leather all damaged, and the protective soles completely covering the Christian Louboutin logos.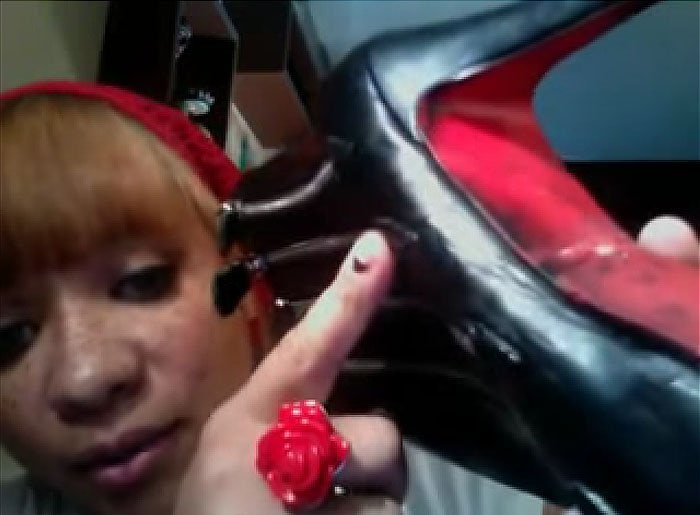 YouTuber Phoenix1018 showing the damages the professional shoe cobbler did to her brand new Christian Louboutin booties
7. Lisa Vanderpump Wore Out the Red Soles and the Leather on her Louboutin Booties
Lisa Vanderpump loves her Christian Louboutin "Taclou" booties so much that she wore out the soles until they weren't red anymore.
You can also see the parts where she scuffed the leather on the inside of the booties in the picture below. Well, at least we know that she really got her money's worth.
Lisa Vanderpump wearing Christian Louboutin "Taclou" booties with scuff marks on the inner sides and the red soles worn-down while shopping at Barneys New York in Beverly Hills, California, on December 22, 2013
8. Someone's Dog Ate Her Louboutins
This dog from Dog Shaming has got an expensive taste. He completely destroyed his owner's red bottom shoes!
Just another excuse to buy a new pair of red bottom shoes
9. Tyler Shields Sawed, Drilled, and Burned a Pair of Louboutin Pumps
This was done all in the name of art. Tyler Shields said it took 7 saws, 4 blades, and 20 minutes of drilling to get through the shoes.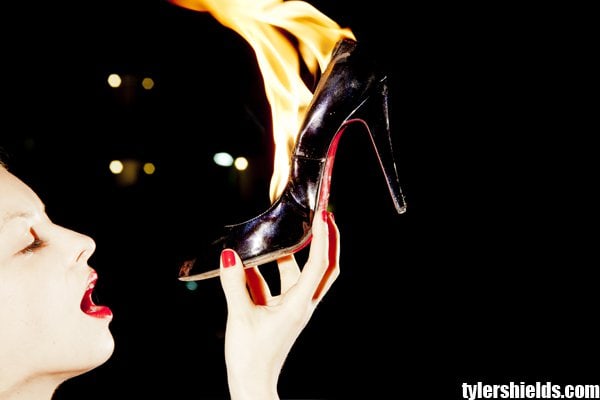 After 10 minutes of burning, he said the shoes were still wearable.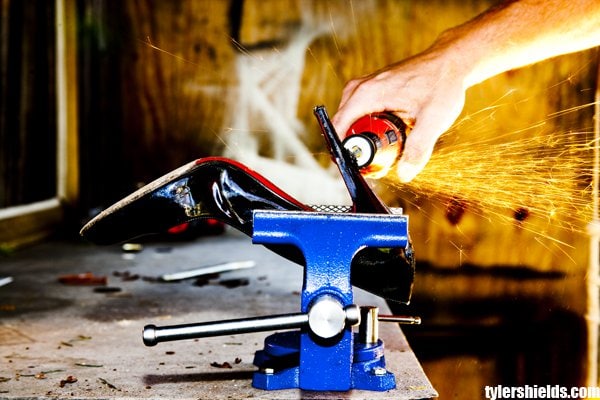 10. Louboutin Shoes Were Used as a Weapon
Tyler Shields just proved how tough Louboutins are, but to be actually used as a weapon?
According to ABC News, a pedestrian in San Francisco got punched in the face after he accidentally kicked one of the Louboutin shoes a woman had taken off while switching her black Louboutins for flip flops.
When another man came and said, "whoa! Take it easy! Kicking a shoe doesn't equal a punch in the face, Louboutins or not!" the woman told him, "yes, it does!" and proceeded to hit him with her heels until he started bleeding.

11. Nicole Kidman Walked in Rain Puddles in Leather Louboutin Sandals
Good thing Nicole Kidman's Christian Louboutin "Franca" sandals were leather, unlike Sienna Miller's calf hair shoes. But Nicole's red carpet was so much wetter; she was practically wading through the puddles that had formed.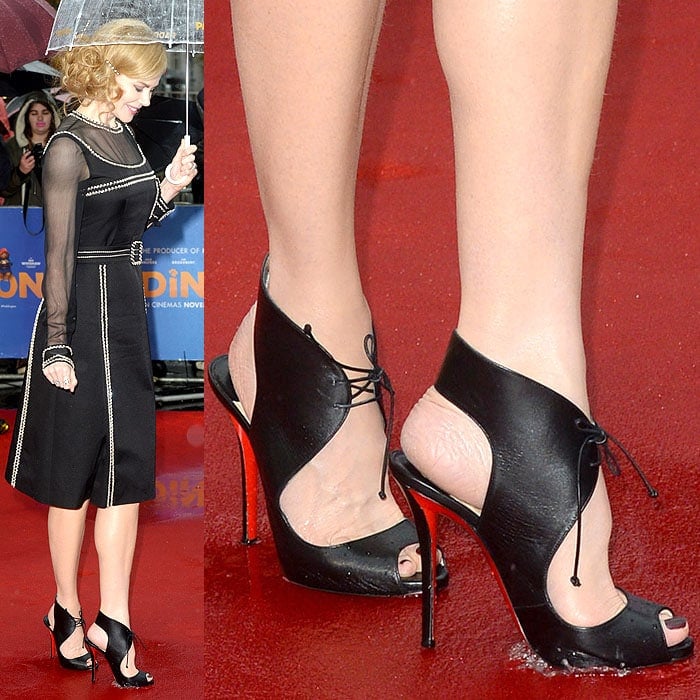 Nicole Kidman walking on a very wet red carpet at the world premiere of "Paddington" held at Odeon Leicester Square in London, England, on November 23, 2014
12. Martha Stewart Painted the Soles of Her Louboutin Pumps Black
When asked about her black-soled Louboutin pumps at the first annual American Made Awards, Martha said, "I don't like them red, even though they're his trademark. But he doesn't mind. He said it's okay if I do that—I asked him!"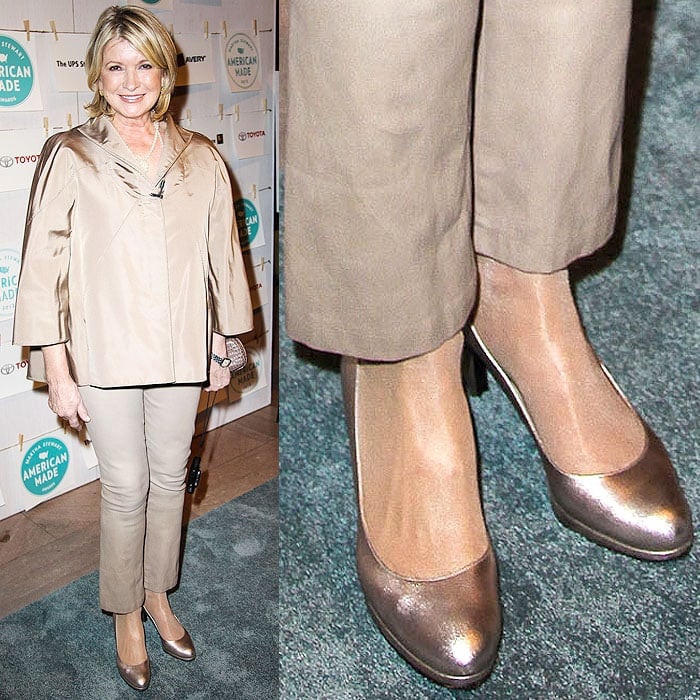 Martha Stewart wearing metallic Christian Louboutin pumps with the soles painted black at the first annual American Made Awards held in the Vanderbilt Hall at Grand Central Terminal in New York City on October 16, 2012
Credit: Daniel Deme / Kyle Blair / WENN / Taylor Shields / Dog Shaming