In October 2012, Easy A actress Emma Stone was still rocking her blonde phase, and we were loving it!
While she has worn a number of hair colors over the years, she's actually a natural blonde. Emma attended the 19th annual ELLE Women in Hollywood Celebration held at the Beverly Hills Four Seasons Hotel and absolutely stopped the show in a hot pink and houndstooth look.
Emma Stone sports blonde hair at the 19th annual ELLE Women in Hollywood Celebration held on October 15, 2012, at the Four Seasons Hotel in Beverly Hills (Credit: Adriana M. Barraza / WENN)
Two years earlier, she starred as Olive Penderghast in the 2010 American teen romantic comedy film Easy A. The film was released on September 17, 2010, when Emma was 21 years old. She celebrated her 22nd birthday on November 6, 2010.
The film was shot in Ojai, California, during the summer of 2009. Emma Stone was 20 years old when filming the movie.
Emma Stone was 20 years old when filming Easy A as Olive Penderghast (Credit: Sony Pictures Releasing)
Jennifer Lawrence also auditioned for the same role. "I auditioned for Easy A. I wanted it so bad," Lawrence said during a THR roundtable.
"Well, guess what?" Stone laughed. "You didn't get it. You didn't get it because you suck!" "Outside," Lawrence responded.
Stone, who in real life only attended one semester at a Catholic high school, could not attend the audition in person and got the role after auditioning online.
When she was selected for the part of Olive Penderghast, Stone decided to drop out of the 2011 American psychological fantasy action film Sucker Punch. Jamie Chung ended up replacing Emma Stone as Amber in Sucker Punch.
During the filming of a sex scene in the movie, Emma suffered an asthma attack. "I had a little asthma attack, without any prior knowledge that I had asthma," Stone recalled in an interview with MTV, "during the scene where we had to jump up and down for hours and hours screaming and yelling on the bed."
Director Will Gluck and actress Emma Stone promote Easy A at the Hopes Hotel on October 28, 2010, in Madrid, Spain (Credit: INFevents)
"It was humiliating," Stone added, "because it was the second day of shooting. Here's what it's going to be like the whole movie, as I'm breathing into an oxygen tank."
"The crew was like, 'She's going to be a real blast. Wow. Amazing. A 20-year-old having an asthma attack.' "
Showing the lasting impact of the movie, Ariel Winter dressed as Olive Penderghast for Halloween in 2016.
Emma Stone shows off the crisp white collar of her retro pink Valentino dress (Credit: Adriana M. Barraza / WENN)
Emma arrived at Elle's 2012 Women In Hollywood Celebration in an ultra prim and pink Valentino frock. The knee-length dress featured floaty sheer sleeves, a crisp white collar, and a flowing a-line skirt.
The Favourite actress paired the retro dress with some equally-fabulous black-and-white houndstooth pumps by Salvatore Ferragamo.
Emma Stone pairs a retro-inspired pink Valentino dress with retro-inspired Houndstooth pumps (Credit: Adriana M. Barraza / WENN)
The combination was not only catchy but retro-fabulous as well.
Emma Stone accessorizes with pastel pink nails, gold rings, and an embellished black clutch (Credit: Adriana M. Barraza / WENN)
Emma accessorized with a pastel pink manicure, an embellished black Valentino clutch, gold Irene Neuwirth rings, and studded Neil Lane earrings.
She sported heavy bangs in her blonde hair, pink lips, and heavy eye makeup.
Emma Stone's feet in houndstooth-print Salvatore Ferragamo pumps (Credit: Adriana M. Barraza / WENN)
These pointy stilettos are made of genuine python leather and come with four-inch heels.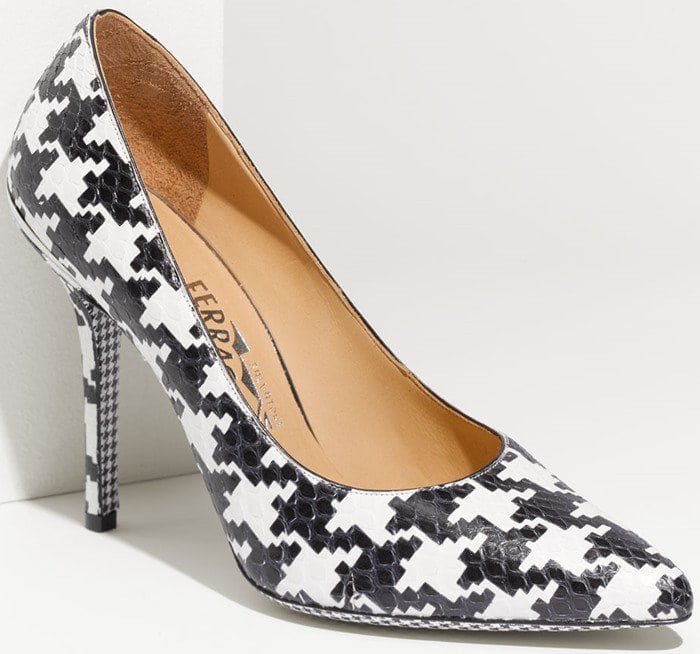 Salvatore Ferragamo Houndstooth Genuine Python Pump, $950
Of course, you don't have to spend $950 to steal Emma's style. You can find affordable houndstooth heels at Shopbop and Zappos.
Or, you can try these fresh styles: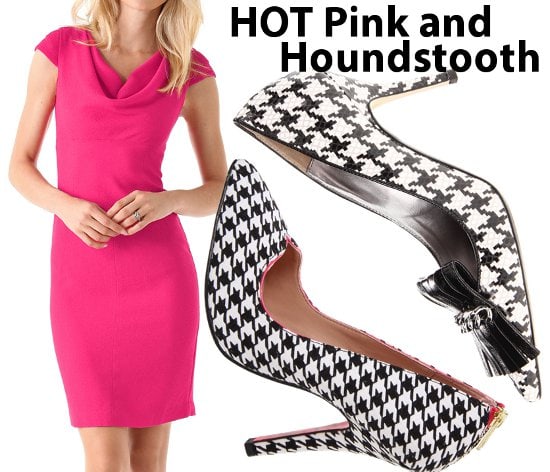 Black Halo Gretchen Dress, $345 / J. Renee Thrill Loafer Pump, $100 / Betsey Johnson Taylr Pump, $120