In February 2012, The Other Woman actress Nicki Minaj went head-to-toe gold glitter at the 21st annual Elton John AIDS Foundation's Oscar Viewing Party in West Hollywood.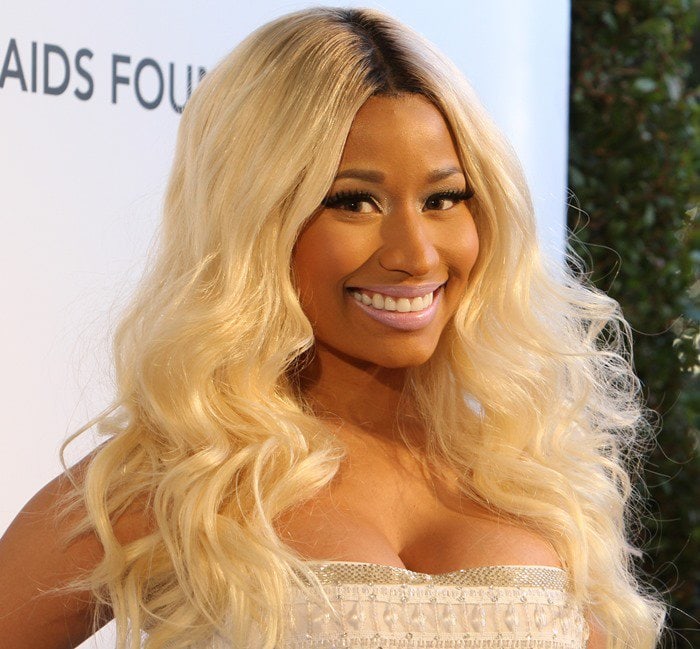 Nicki Minaj wears her blonde hair in loose curls at the 2013 Elton John AIDS Foundation Academy Awards Viewing Party held on February 24, 2012, at the Pacific Design Center in West Hollywood (Credit: FayesVision / WENN)
Just over a year later, she started filming her scenes for the 2014 American romantic comedy film The Other Woman, in which she made her acting debut as Lydia, the opinionated personal secretary of Carly Whitten (Cameron Diaz).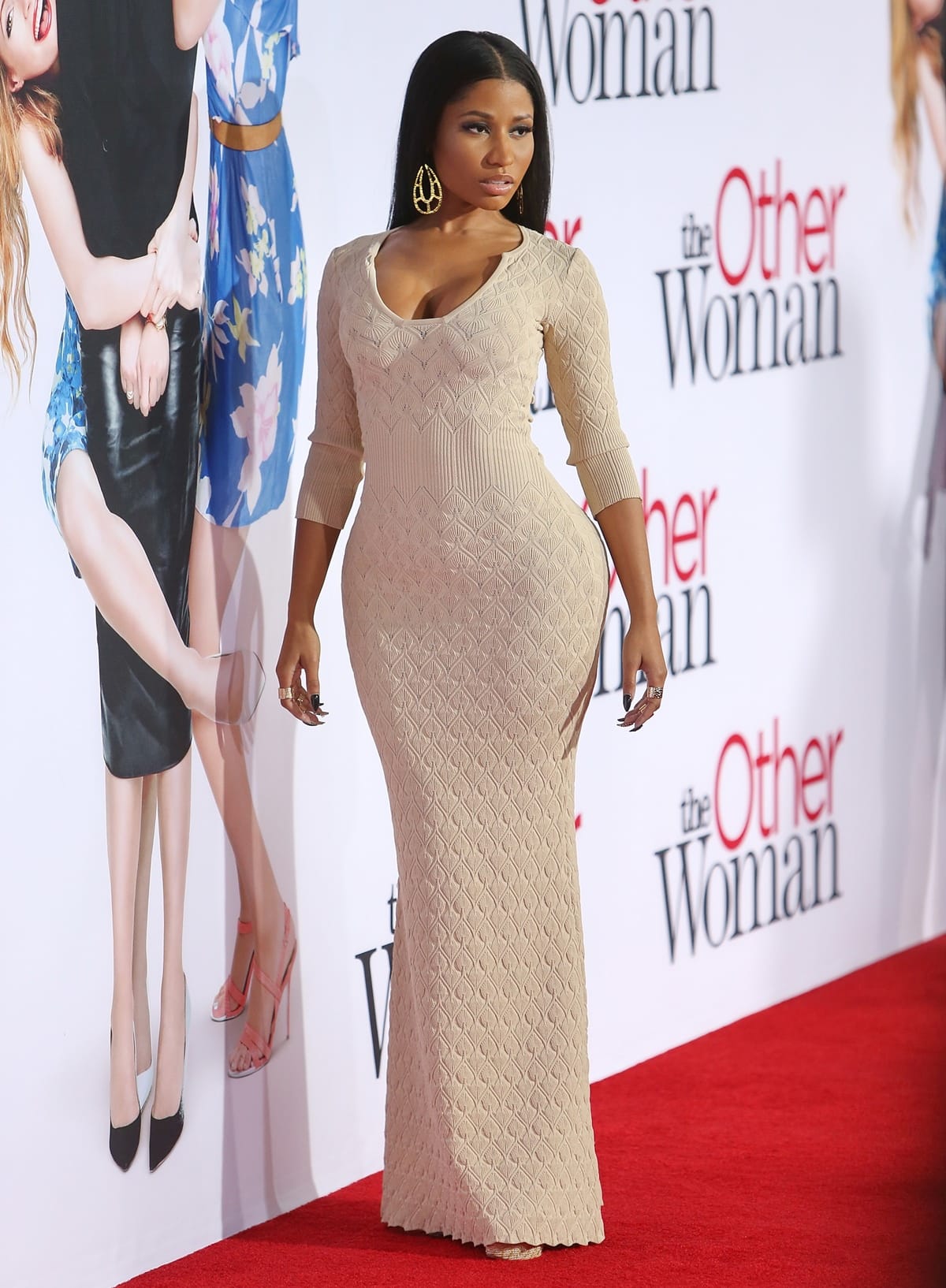 Recording artist Nicki Minaj in an Alexander McQueen ribbed leaf knit gown at the Los Angeles premiere of 'The Other Woman' at Regency Village Theatre on April 21, 2014, in Westwood, California (Credit: Karl Larsen / INFphoto)
Director Nick Cassavetes decided to cast Nicki Minaj after seeing her on American Idol and deciding she'd be perfect for the role. The role of Lydia was originally written for a Jewish girl.
Nicki Minaj made her live-action-movie debut as Lydia in the 2014 American romantic comedy film The Other Woman (Credit: 20th Century Fox)
Nicki Minaj was spotted filming for the movie in the spring of 2013 when she was 30 years old. Celebrating her 31st birthday on December 8, 2013, Nicki Minaj was 31 years old when the film was released on April 25, 2014, in the United States.
"I was so nervous," Nicki said on GMA. "I felt a lot of pressure 'cause I am sitting this close to Cameron Diaz and I know if I don't get my lines right, she has to do her lines over. That pressure was scary."
"Before my first album even came out, I said on my third album, I would wear my natural hair," she added. "I did the wigs, I did the colors, I did the heavy makeup and all that stuff, and now I guess I'm more confident in myself."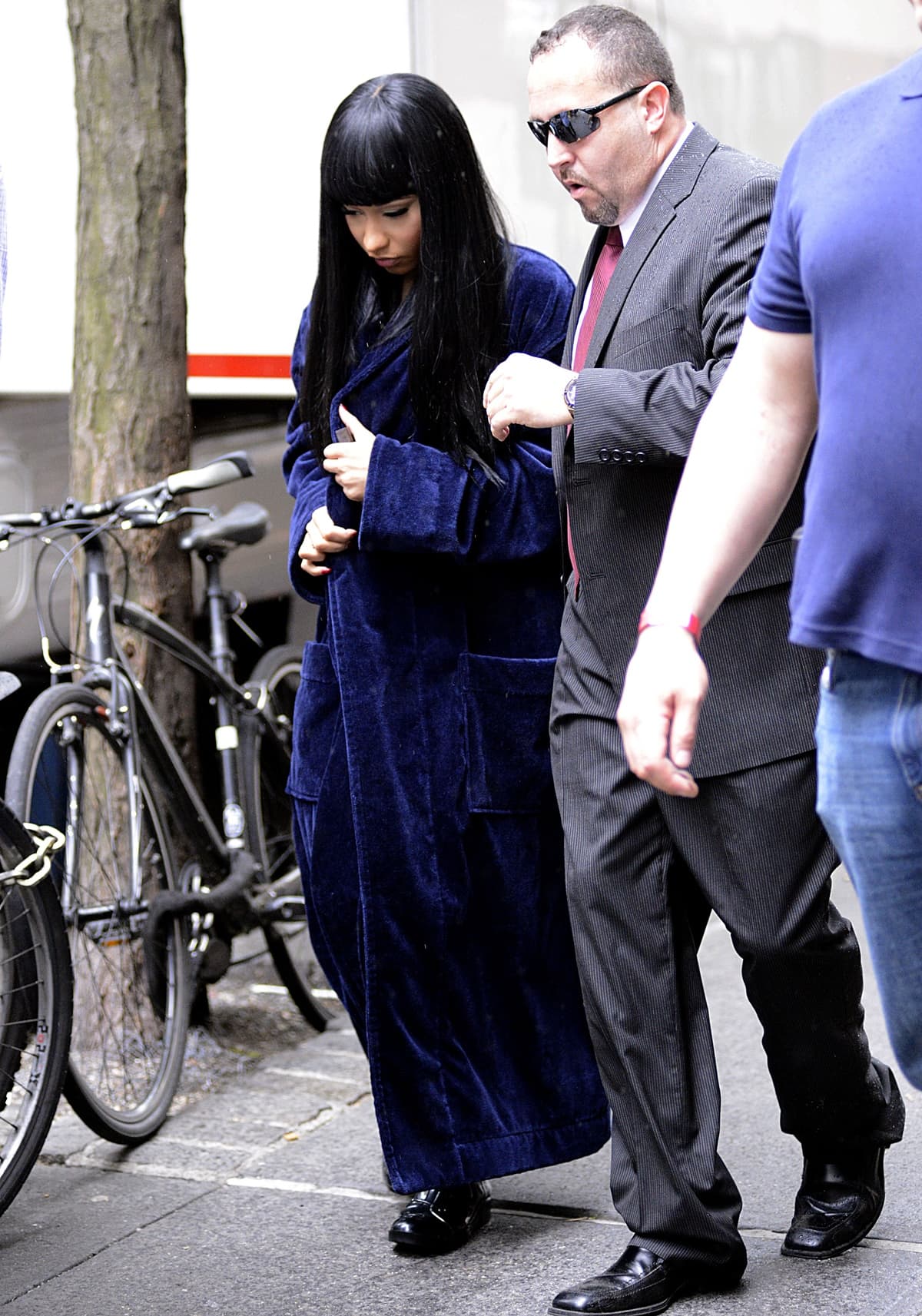 Singer Nicki Minaj is seen on the set of "The Other Woman" in Manhattan on May 21, 2013, in New York City (Credit: ACE / INFphoto)
During a Twitter takeover for Yahoo Celebrity, Leslie Mann revealed that Nicki never remembered her name. "Nicki Minaj never remembered my name. She just referred to me as 'lady.' She would just say, 'Come, lady.' And I was like, 'OK!'"
"You know why she probably didn't remember your name? It's because she was really overwhelmed," Kate Upton responded.
"You remember I had that big mark on my back and you had both your heads in my dress. Because I hurt myself and you were checking me out and she was like 'I have a feeling they're going to do that to me next!'"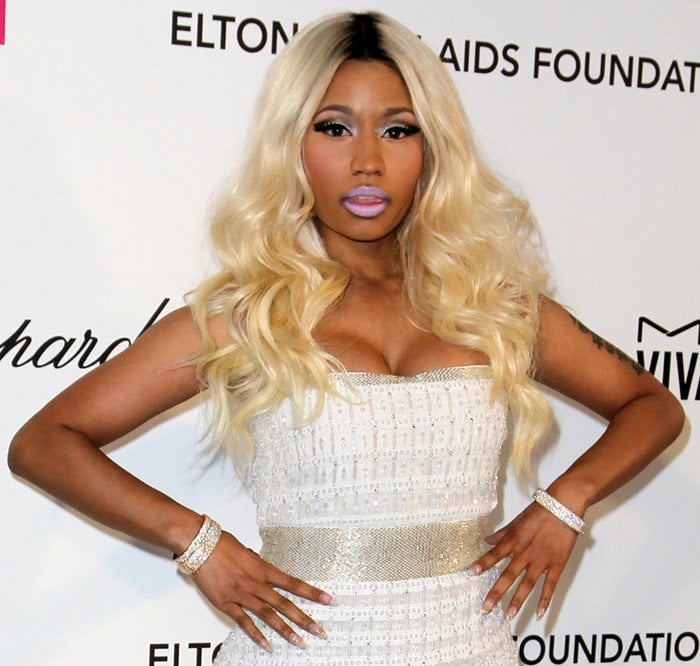 Nicki Minaj wears a Roberto Cavalli mini-dress at a West Hollywood event (Credit: FayesVision / WENN)
To Elton John's star-studded Oscar viewing party, the Trinidadian-born American rapper, singer, and songwriter wore a strapless dress by Roberto Cavalli.
Her white mini-dress featured a thick gold band at the waist and gold embellishments all over.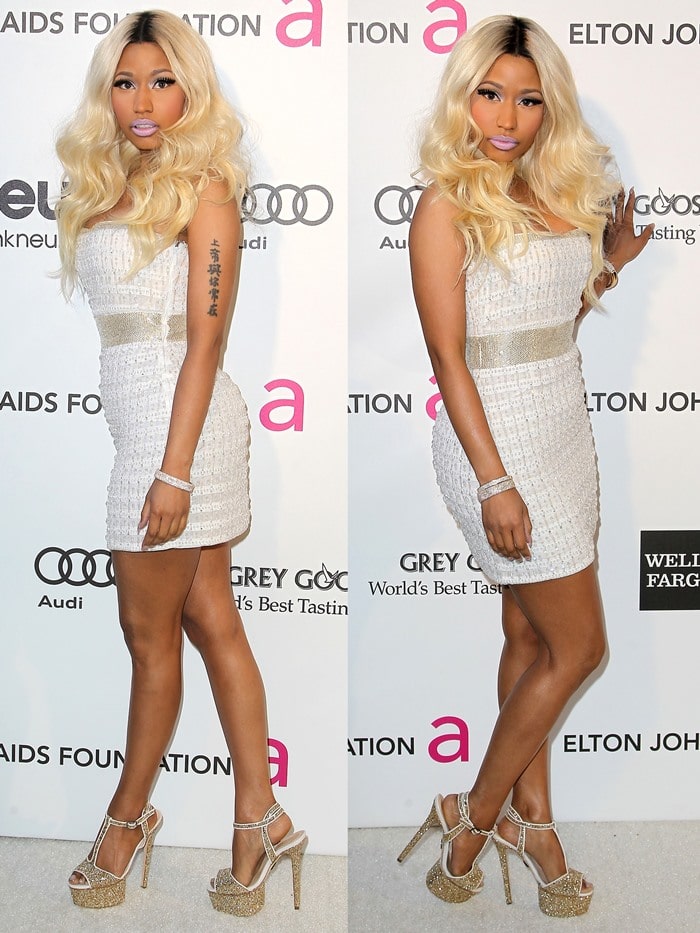 Nicki Minaj shows off her long legs in a white mini-dress from Roberto Cavalli paired with towering gold pumps (Credit: FayesVision / WENN)
Nicki sported heavy eye makeup with false eyelashes and MAC lavender lipstick.
Nicki Minaj's feet in glittery gold Olcay Gulsen pumps (Credit: FayesVision / WENN)
Nicki completed her sexy outfit by showing off her feet in a glittering pair of sky-high sandals by Olcay Gülşen, also known as OJ Gulsen, a Dutch fashion designer.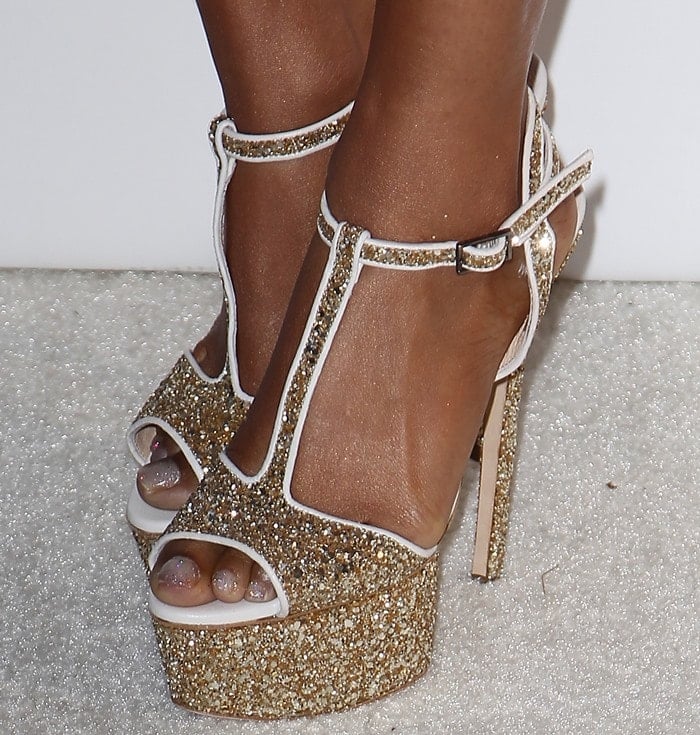 Nicki Minaj's feet in glittering open-toed Olcay Gulsen heels (Credit: FayesVision / WENN)
These t-strap pumps feature white trim contrasted against all-over gold glitter.
Olcay Gulsen Glitter Strap Sandals, $325
While we have some strong positive opinions on Nicki's ensemble, the internet has some strong negative comments about the rapper herself.
Check them out below: