Cameron Diaz was 41 years old, Leslie Mann was 42 years old, Kate Upton was 21 years old, Nikolaj Coster-Waldau was 43 years old, Nicki Minaj was 31 years old, Taylor Kinney was 32, and Don Johnson was 64 years old at the time of The Other Woman's release on April 25, 2014, in the United States.
The Other Woman initially received an R rating due to the use of the word "vagina." However, after a petition and without any edits to the movie, the rating was eventually reduced to PG-13.
The Other Woman is a 2014 American romantic comedy film that centers around Carly (Cameron Diaz), Kate (Leslie Mann), and Amber (Kate Upton), three women who discover they are involved in romantic relationships with the same man (Nikolaj Coster-Waldau) (Credit: 20th Century Fox)
The film features Cameron Diaz, who twisted her leg while chasing Kate Upton. In one scene, when Carly Whitten (Cameron Diaz) meets Kate's (Leslie Mann) brother Phil (Taylor Kinney), she introduces herself as Carmela.
When Kate walks Carly out, she remarks, "Carmela? Really? Did you and Tony have fun living in Hong Kong? Or did Big Pussy and Meadow miss you too much?" All of these names mentioned are main characters from the television series The Sopranos (1999).
Cameron Diaz portrays Carly Whitten, Kate Upton portrays Amber, and Leslie Mann portrays Kate King in the film The Other Woman (Credit: 20th Century Fox)
Also, Lydia's role was originally written for a Jewish girl, but Nicki Minaj caught the attention of the director, Nick Cassavetes after he saw her on American Idol.
The movie also includes a nod to John Tucker Must Die, as Carly says to Kate, "What, is this high school? Of course we slept together. We're adults!"
Furthermore, during a scene where the three women spend the night together, Amber's dance is reminiscent of Kate Upton's viral video, "Kate Upton: Cat Daddy."
Kate Upton, Cameron Diaz, Leslie Mann, and Taylor Kinney attend The Cinema Society & Bobbi Brown With InStyle screening of "The Other Woman" at The Paley Center for Media on April 24, 2014, in New York City (Credit: Jennifer Graylock / INFphoto)
Notably, this film is one of several that cast Cameron Diaz as part of a female trio, including The Sweetest Thing and Charlie's Angels. It marks the second collaboration between Cameron Diaz and director Nick Cassavetes, following My Sister's Keeper.
Julian McMahon auditioned for the role of Mark, and the movie draws inspiration from the 2011 Indian Hindi-language romantic comedy film Ladies vs. Ricky Bahl.
The Other Woman also reunites Cameron Diaz and Leslie Mann from their previous film, the 1996 American romantic comedy film She's the One. Furthermore, it serves as Olivia Culpo's debut, while Margot Robbie lost out on the role of Amber to Kate Upton.
Kate Upton, Cameron Diaz, and Leslie Mann attend the premiere of The Other Woman" held on April 2, 2014, in London (Credit: Joe Alvarez / LiaToby / WENN)
In April 2014, Cameron Diaz, Leslie Mann, and Kate Upton attended the UK premiere of their new movie "The Other Woman" in London. As expected, all three ladies looked fabulous.
Interestingly, they all finished their outfits with pointy pumps — Cam and Kate in nude d'Orsay pumps and Leslie in classic black court shoes.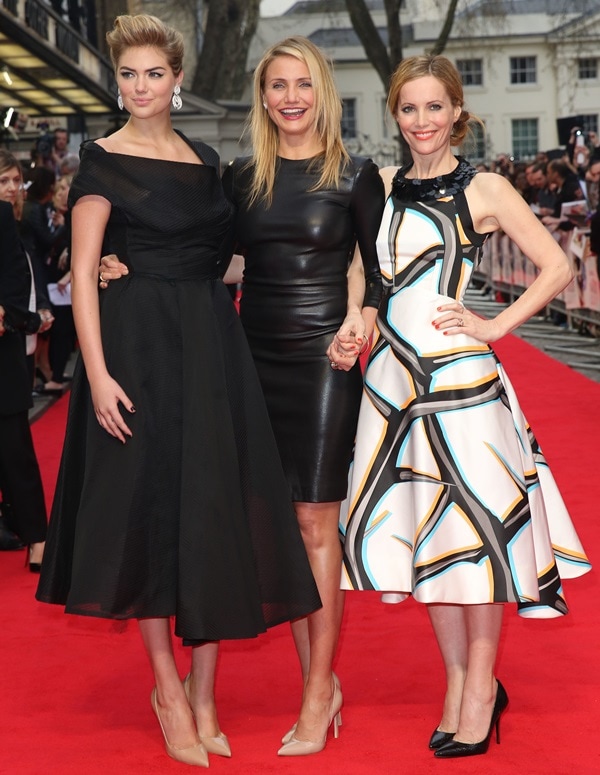 Kate Upton, Cameron Diaz, and Leslie Mann wear pointed-toe heels on the red carpet of the premiere of "The Other Woman" (Credit: Joe Alvarez / LiaToby / WENN)
Let's start with Cameron's ensemble.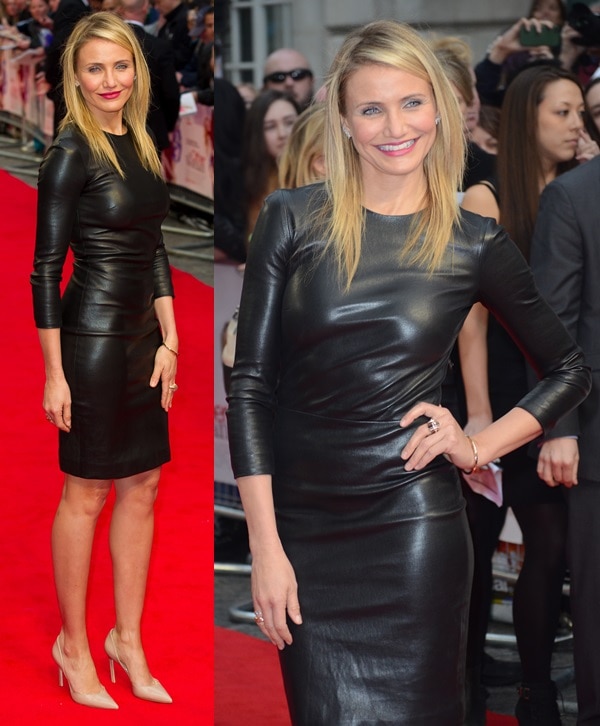 Cameron Diaz wears a skintight leather dress on the red carpet (Credit: Joe Alvarez / LiaToby / WENN)
The on-again, off-again actress went sleek and sexy in a tight leather dress from The Row that featured a knee-length hem and three-quarter-length sleeves.
She finished her look with simple nude d'Orsay heels from Manolo Blahnik. Her "Tayler" pumps are made of nude patent leather and feature 4-inch-tall extra-slim heels.
Cameron Diaz's feet in nude patent d'Orsay pumps (Credit: Joe Alvarez / LiaToby / WENN)
While Cameron went skin-tight and sleek, Leslie and Kate opted for fit 'n flare tea-length frocks that were elegant and ultra-feminine.
Kate wore a cinched-at-the-waist black dress with a draping off-one-shoulder sleeve design — a vintage piece from William.
Kate Upton wears a black tea-length dress to the red carpet premiere of "The Other Woman" (Credit: Joe Alvarez / LiaToby / WENN)
Justin Verlander's wife wore her hair in a dramatic vintage-style updo and accessorized with oversized silver earrings and heavy eye makeup.
Like Cameron, Kate opted for nude d'Orsay 4-inch-tall heels from Christian Louboutin called the "Iriza."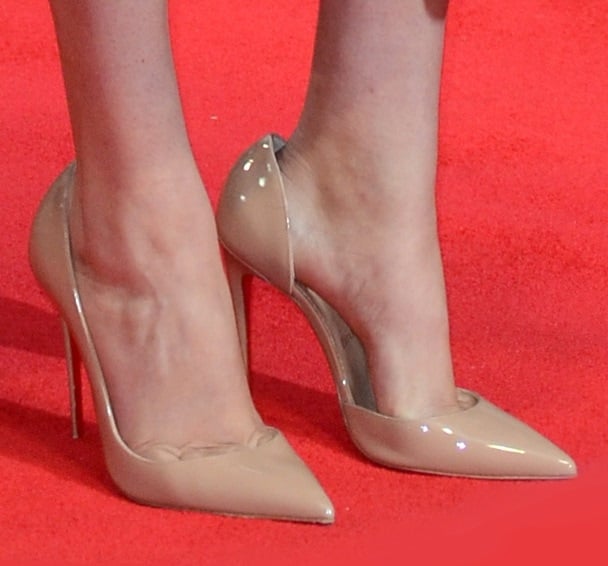 Kate Upton's feet in nude patent Christian Louboutin d'Orsay pumps (Credit: Joe Alvarez / LiaToby / WENN)
Like Kate, Leslie Mann opted for a tea-length dress from Giles.
Leslie's black-and-white dress featured a sequined halter neckline and an all-over geometric pattern with orange and blue accents.
Leslie Mann wears a geometric-patterned fit-and-flare dress on the red carpet (Credit: Joe Alvarez / LiaToby / WENN)
The "17 Again" actress wore a simple pair of textured black pumps from Roger Vivier with her interesting and eye-catching dress.
Leslie Mann's feet in textured black pointy-toe pumps (Credit: Joe Alvarez / LiaToby / WENN)
We initially thought the shoes were from Giuseppe Zanotti because of the shape of the heels. It turns out we were wrong.
Which outfit do you like most? Or, perhaps most importantly — which pair of shoes do you prefer?
Manolo Blahnik "Tayler" d'Orsay Pumps in Nude Patent, $735
Christian Louboutin "Iriza" d'Orsay Pumps, $625
We couldn't find Leslie's heels online, but similar styles are available on Mytheresa for you to consider if you fancy them.