After eight years in retirement, Cameron Diaz is returning to acting. She will star in the Netflix action-comedy Back in Action alongside Jamie Foxx.
The actress got her start in the acting biz with films like The Mask alongside Jim Carrey and her Golden Globe-nominated performance in Ben Stiller's rom-com, There's Something About Mary.
Diaz Un-retires from Acting.
Back in Action comes eight years after Diaz and Foxx appeared in the Annie remake in 2014, where she starred as Miss Hannigan.
Jamie Foxx as William "Will" Stacks and Cameron Diaz as Miss Colleen Hannigan in the 2014 American musical comedy-drama film Annie (Credit: Sony Pictures Releasing)
Foxx teased the actress's return to acting when he released a recorded phone call between himself, Diaz, and the GOAT of un-retiring, football player Tom Brady. Brady returned to the NFL just six weeks after retiring in March 2022.
"I was talking to Jamie, and he said you need a few tips on how to un-retire," Brady said to Diaz on the recorded phone call, "I'm relatively successful at un-retiring."
"Honestly, exactly what I needed," Diaz answered.
Back in Action will begin filming later this year, according to Netflix. It is the latest in a series of Netflix films featuring big Hollywood names, which the streaming platform is using to curb the loss of subscribers.
Jamie Foxx, Quvenzhané Wallis, and Cameron Diaz promote Annie on Good Morning America in New York City on December 4, 2014 (Credit: INFphoto / Roger Wong)
Previous Netflix films with big names include Red Notice starred Ryan Reynolds, Dwayne Johnson, and Gal Gadot. Don't Look Up featured Leonardo DiCaprio, Jennifer Lawrence, and Timothée Chalamet.
Horrible Bosses creator Seth Gordon will direct the Back in Action alongside Brendan O'Brien.
What has Diaz been up to for the last eight years?
Diaz officially retired from acting in 2018. She told Gwyneth Paltrow on the star's wellness podcast that she wanted to take a step away to focus on herself because "it's so intense to work at that level and be that public and put yourself out there."
In 2019, Diaz and her husband, Benji Madden, welcomed a daughter via surrogate.
Cameron Diaz at the CinemaCon Convention receiving the CinemaCon's Female Star of the Year Award at Caesar's Palace in Las Vegas on March 30, 2011 (Credit: Nikki Nelson / WENN)
In early 2011, Lanvin was on a roll. Day in and day out, we would see the label churn out shoes that could make any woman sigh with wanting.
At the official convention of the National Association of Theatre Owners, Cameron Diaz showed off her feet in a pair of ankle cuff plexi wedge sandals from Lanvin.
Cameron Diaz wearing an Elizabeth & James distressed blazer (Credit: Nikki Nelson / WENN)

And while it may be worth mentioning that she bagged the Female Star of the Year award at the convention, what truly made our shoe headlines were those cuffed sandals on her feet.
She wore them with a blazer from Elizabeth & James, a black Roland Mouret 'Cascada' dress from the Spring 2011 collection, a gold Gemma Redux bangle, and a wide gold buckled black leather belt.
From afar, they look like your normal stiletto heels, right? But check them out up close and be surprised:
Cameron Diaz's feet in ankle-cuff plexi wedge sandals (Credit: Nikki Nelson / WENN)
It's actually a pair of wedge sandals! As you can see, the inner part of the wedge is all made of plexiglass, while the visible "heel" part is a steel bracket that supports the whole shoe.
Lanvin Vegetable Calf Ankle Cuff Plexi Wedges, $1,487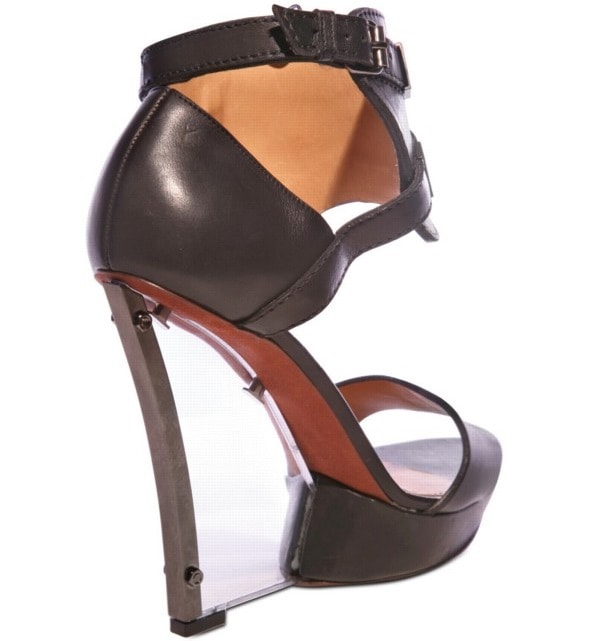 Very interesting, right? It's actually not our first time to see this type of wedge from Lanvin. Rachel McAdams and Gwyneth Paltrow have shown off their feet in Lanvin's Spring 2011 mesh ankle strap wedge pumps.
Of course, aside from the wedge, we also didn't miss the interesting criss-cross decorated cuff, as well as the extended and curved platform. Altogether, we think this pair from Lanvin is undeniably sexy.