Lanvin is on a roll. Day in and day out, we see the label churn out shoes that could make any woman sigh with wanting. Just the other day, we obsessed about Hilary Duff's 'Puzzle' ankle wrap wedge pumps. Today, our fixation is set on a pair of ankle cuff plexi wedge sandals from the same brand.
They were spotted on tall and leggy Cameron Diaz last Wednesday, while the 'Bad Teacher' star attended CinemaCon. And while it may be worth mentioning that she bagged the Female Star of the Year award at the convention, what truly made our shoe headlines were those cuffed sandals on her feet. She wore them with a blazer from Elizabeth & James, a black Roland Mouret 'Cascada' dress from the Spring 2011 collection, a gold Gemma Redux bangle, and a wide gold buckled black leather belt.
Cameron Diaz at the CinemaCon Convention receiving the CinemaCon's Female Star of the Year Award at Caesar's Palace in Las Vegas on March 30, 2011
Cameron Diaz wearing an Elizabeth & James distressed blazer

From afar, they look like your normal stiletto heels, right? But check them out up close and be surprised:
Cameron Diaz's feet in ankle cuff plexi wedge sandals
It's actually a pair of wedge sandals! As you can see, the inner part of the wedge is all made of plexiglass, while the visible "heel" part is a steel bracket that supports the whole shoe.
Lanvin Vegetable Calf Ankle Cuff Plexi Wedges, $1,487 at Luisaviaroma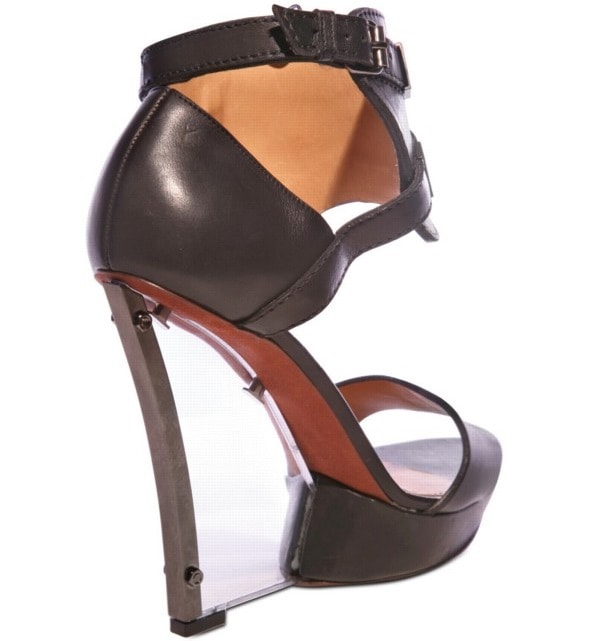 Very interesting, right? It's actually not our first time to see this type of wedge from Lanvin. We saw it on Rachel McAdams and Gwyneth Paltrow last year, when they wore Lanvin's Spring 2011 mesh ankle strap wedge pumps.
Of course, aside from the wedge, we also didn't miss the interesting criss-cross decorated cuff, as well as the extended and curved platform. Altogether, we think this pair from Lanvin is undeniably sexy.
Credit: Nikki Nelson / WENN