If you're looking for everything you need to know about Emma Stone and her role as Cruella, then you're in the right place! Read on to delve into the actress behind this notorious Disney villain!
Who is Emma Stone?
Emma Stone is a famous American actress who has been praised for her efforts with an array of accolades, such as a Golden Globe Award, an Academy Award, and a British Academy Film Award.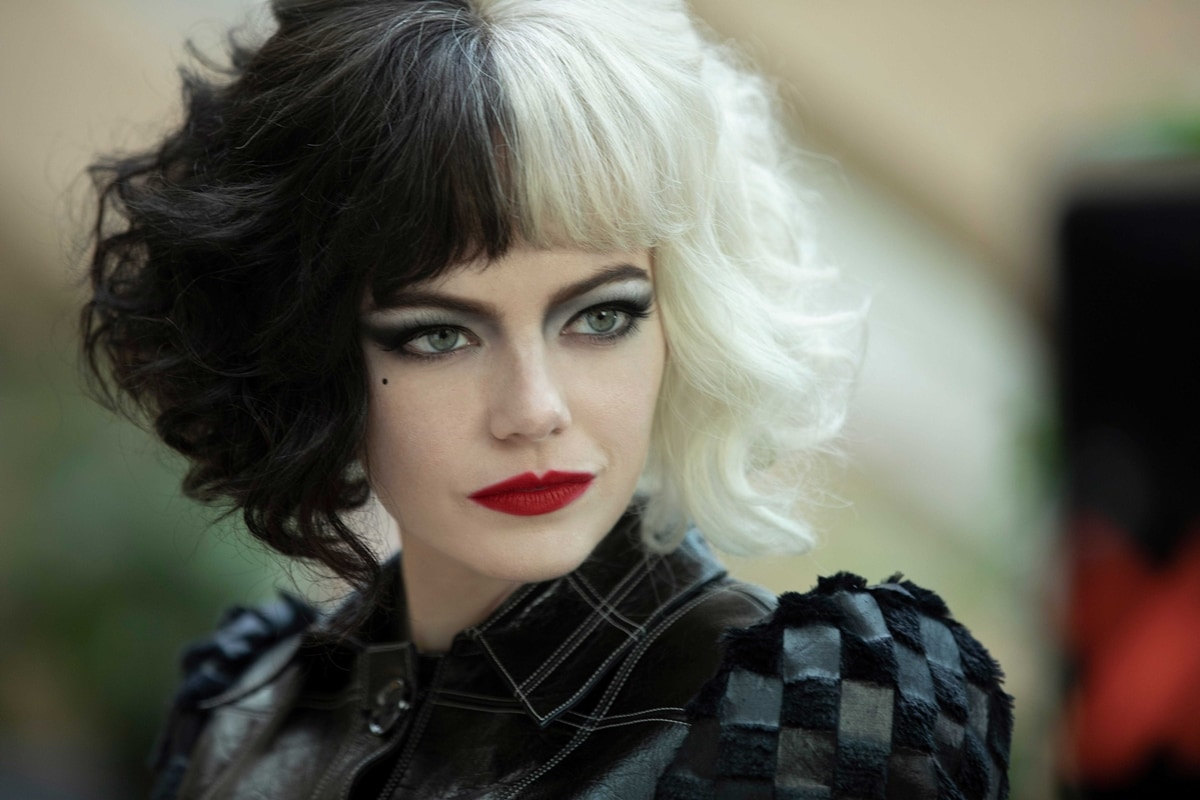 Emma Stone plays an ambitious grifter and aspiring fashion designer in the 2021 American crime comedy film Cruella (Credit: Walt Disney Studios Motion Pictures)
Stone was claimed to be the highest-paid actress on the planet in 2017, being named as one of the hundred most influential individuals in the world in Time magazine.
How was Emma Stone cast as& Cruella?
During the filming of the hit La La Land, the American actress discovered the making of Cruella. Emma became affixed with the project in 2016, pursuing roles elsewhere in The Favourite and Maniac before proceeding to take on this iconic Disney baddie.
Filming of the movie was delayed when Emma dislocated her shoulder. "I broke my shoulder in June of 2019. We were supposed to start shooting Cruella in August, or maybe even July, of 2019," Stone revealed during an episode of The Ellen DeGeneres Show in June 2021.
"I broke my shoulder in two places. But for some reason, the story became that I broke my shoulder at the Spice Girls concert. That I was on somebody's shoulders and fell and broke my own shoulder."
The filming of Cruella was delayed due to Emma Stone dislocating her shoulder (Credit: Walt Disney Studios Motion Pictures)
"That's just not true. It's not true," she added. "I wasn't on anybody's shoulders! I had already broken my shoulder. I couldn't get on anyone else's."
"It was a waxed floor in this house and I slipped and my arm went back behind me and I broke my shoulder," Stone explained about her injury.
"I went to the Spice Girls concert the next day and wore one of those little cuffs that they have. I didn't know yet that my shoulder was broken," she said.
"I was in England and they did an X-ray. They were like, 'There's a shadow on the X-ray. What could it be?' And we were like, 'Gotta go to the concert.' And they were like, 'Come back.' So I came back the next day and I found out about my shoulder."
Emma Stone flaunts her legs in a red sleeveless Louis Vuitton mini dress at the 21st British Independent Film Awards (BIFAs) at Old Billingsgate on December 2, 2018, in London, United Kingdom (Credit: Cubankite / Shutterstock)
As the first film to obtain a red-carpet premiere following the 2020 Covid-19 pandemic, this was said to be a career-high for Stone and added a hefty $8 million to her bank account.
Why Emma Stone didn't pursue a lawsuit against Disney
It appears that this actress isn't suing Disney concerning Cruella's release because of her desire to feature in Cruella sequel films. It has been confirmed that Stone had signed on to return to her starring role as Cruella in Cruella 2.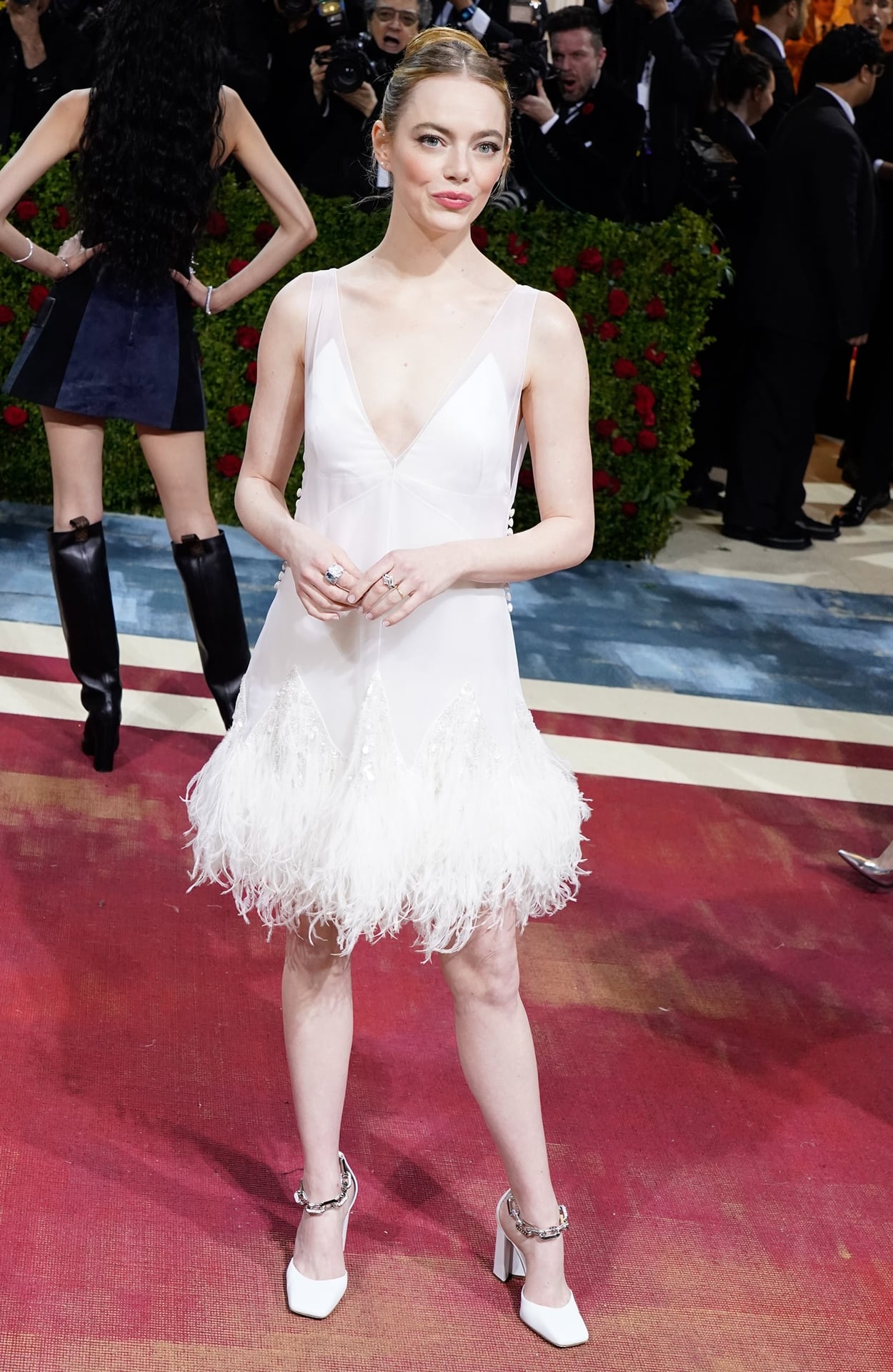 Emma Stone rewore a white-feathered dress from her 2020 wedding reception at the 2022 Met Gala Celebrating "In America: An Anthology of Fashion" at The Metropolitan Museum of Art on May 2, 2022, in New York City (Credit: Jennifer Graylock / INSTARimages)
This is a sequel to the initial story concerning the iconic villain. The sequel deal was created less than one month after Scarlett Johansson had filed a lawsuit against Disney for allegedly breaking the contract concerning the release of Black Widow.
Scarlett Johansson stated that the simultaneous release of Black Widow in both movie theatres and on the online platform Disney+ broke the contract made by the company and denied her potential earnings due to her salary being closely tied to box office profits. Johansson claimed that Disney did not mention the Black Widow hybrid release in her contract.
It's believed Emma Stone was paid around $8 million upfront for the first Cruella film (Credit: Walt Disney Studios Motion Pictures)
Since this breach, the legal battle has become relatively heated and is reported to have triggered Stone to consider suing Disney concerning Cruella's release.
Despite this, her plan to feature in later Cruella films stopped her from pursuing any possible lawsuit against Disney. After all, with the possibility of more collaboration, a hostile legal battle would have made it very difficult to maintain a working relationship!
What do we know about Cruella 2?
While it hasn't yet been confirmed whether Cruella 2 will be a hybrid release or exclusive to movie theatres, the new deal will indeed work to both Disney and Stone's advantage.
Paul Walter Hauser as Horace, Joel Fry as Jasper, and Emma Stone as Estella / Cruella (Credit: Walt Disney Studios Motion Pictures)
Following Johansson's lawsuit and the first Cruella film's instant success, Stone has been able to create a better position for herself before the sequel's production begins.
How Stone felt about her role in Cruella
Stone admitted to loving the villainous character she took on, explaining that whilst she obviously didn't align herself with Cruella's evil nature, she found her character incredibly interesting and something she could really throw herself into.
Despite Stone's readiness for the role, she confirmed that she slipped and fell shortly before filming was set to commence, breaking her shoulder in two places.
Emma Stone wears a cropped black jacket with a quilted handbag, boots, and a mini skirt at the Louis Vuitton Womenswear Fall/Winter 2022/2023 show as part of Paris Fashion Week on March 7, 2022, in Paris, France (Credit: Aurore Marechal / ABACA / INSTARimages)
The filming of Cruella was delayed whilst the actress went through physical therapy. Luckily, this didn't hold up the film for too long!
Why is Cruella's hair black and white?
Moving away from Stone's role, fans may be wondering more about Cruella herself – including why her memorable appearance is what it is.
Cruella's black and white hair may seem fictional, yet it does actually have some foundation within reality.
As a real-life hereditary condition that encompasses a lack of pigmentation in a patch of hair, poliosis results in hair being wholly white.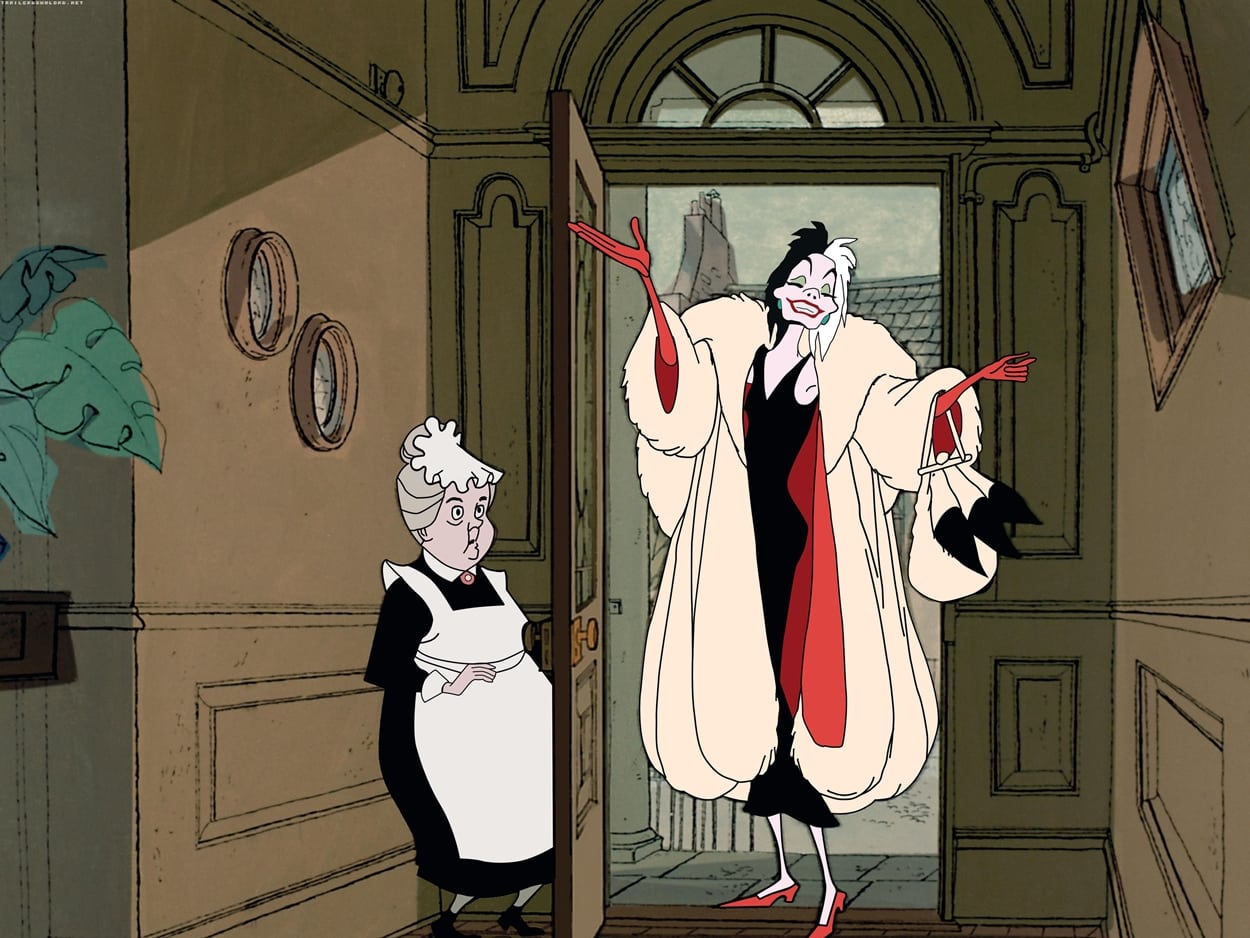 Cruella first appears in the 1961 American animated adventure comedy film One Hundred and One Dalmatians, which is based on the 1956 novel The Hundred and One Dalmatians by Dodie Smith (Credit: Walt Disney Productions)
This condition frequently occurs in people suffering from Waardenburg syndrome, which sometimes causes the hair to be affected on only one side of the scalp.
Cruella de Vil has become a fashion icon thanks to her black and white hair (Credit: Zety Akhzar / Shutterstock)
As a fun fact, you may be interested to know that Stone directly called Nadia Stacey, her personal hair stylist for The Favourite, asking her to construct Cruella's iconic wigs for this new movie.
Final thoughts
Undoubtedly, Cruella was the character who helped Stone get rich and expand her acting career further.
Now that we've all viewed the true artistic talent of Cruella, we can't imagine anyone else taking on this villainous role now that Stone has placed her unique and talented twist on it!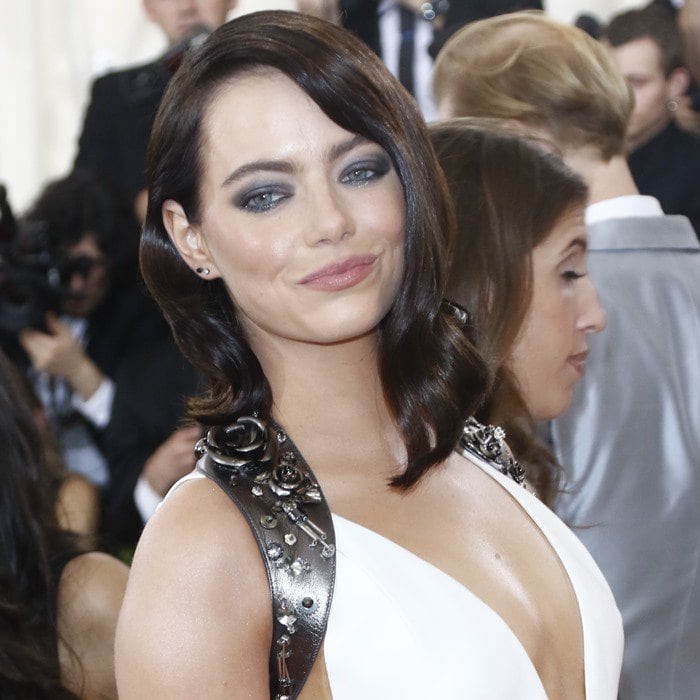 Emma Stone shows off her new dark hair at the 2016 Metropolitan Museum of Art Costume Institute Gala – Manus x Machina: Fashion in the Age of Technology held on May 2, 2016, at the Metropolitan Museum of Art in New York City (Credit: WENN / Dennis Van Tine / Future Image)
In May 2016, Emma Stone was practically unrecognizable at the 2016 Met Gala. The Spider-Man star showed off her dark new hair as she hit the red carpet at the Metropolitan Museum of Art in New York City.
The then-27-year-old actress wore a daring plunging Prada dress that featured a lace-up silver corset and a thigh-high split.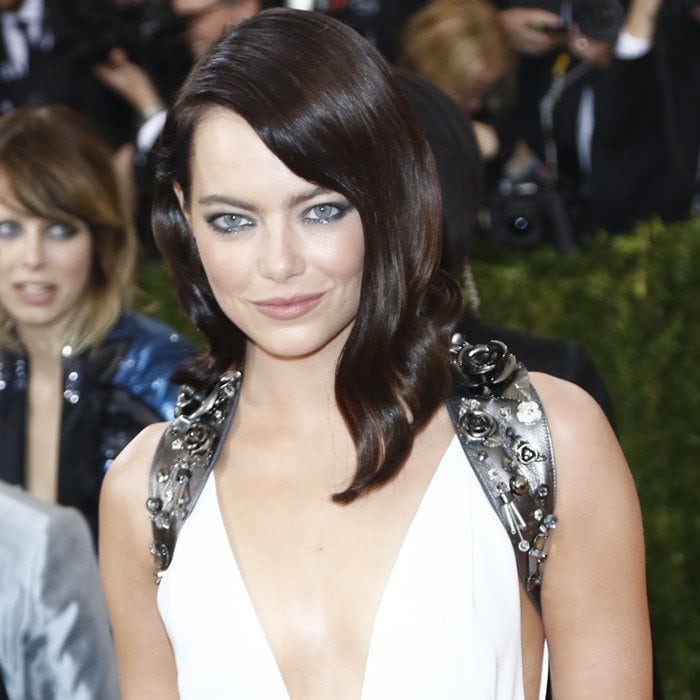 Emma Stone wears a white Grecian-inspired plunging gown on the red carpet of the Met Gala (Credit: WENN)
The floor-length white dress featured metal-like beaded leather straps along the shoulders and a matching lace-up corset around her waist.
Emma Stone wears simple stud earrings and smoky eye makeup to the 2016 Met Gala (Credit: WENN)
She styled the white Grecian-inspired gown with a clutch from the same Italian luxury fashion house.
Emma Stone flaunts the leather bodice on her white Prada dress (Credit: WENN)
She also accessorized with Lorraine Schwartz jewelry and a pair of black Christian Louboutin ankle-strap sandals.
Emma Stone wore a custom Prada gown and clutch, Lorraine Schwartz jewels, and Christian Louboutin heels to the 2016 Met Gala (Credit: WENN)
What do you think of Emma's look? Did she meet the gala's theme?
Emma Stone's feet in Christian Louboutin sandals (Credit: WENN)