Jeannie Mai has stolen our hearts with her straight-shooting diva style on the daytime talk show, The Real.
Now, she and her husband, rapper Jay "Jeezy" Jenkins, are expecting their first baby following their nuptials earlier this year.
Jeezy and Jeannie Mai at the 2020 BVLGARI B.Zero1 Rock Party on February 6, 2020 (Credit: Derrick Salters / WENN)
Who is Jeannie Mai Jenkins?
Jeannie Mai was born in San Jose, California. She had an early interest in makeup and beauty, leading to her first career as a MAC Cosmetics makeup artist.
She was able to break into the entertainment industry initially by doing makeup for some of the most famous faces of the time, including stars like Christina Aguilera.
Meanwhile, after hours, she was pitching herself for host work using scripts she had written herself. The Chinese-Vietnamese make-up artist was eventually cast to host locally produced shows in California before breaking out into nationally-recognized shows alongside top talents like Mario Lopez and Frankie Muniz.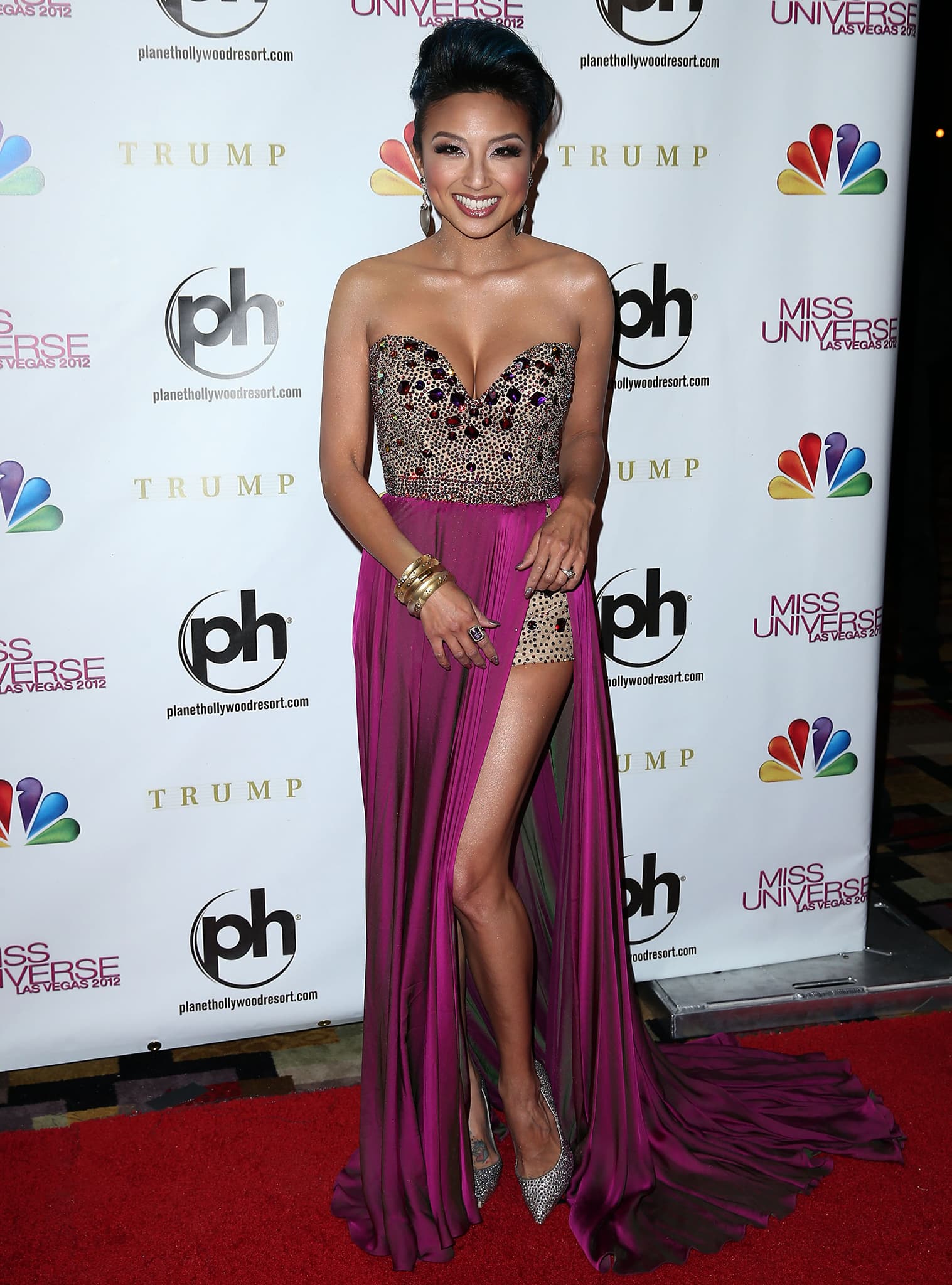 Jeannie Mai started her career as a makeup artist for MAC Cosmetics before becoming an award-winning host (Credit: Judy Eddy / WENN)
In 2009, she was cast as the host for one of the first style makeover shows, How Do I Look? on the Style Network.
She went on to host the Miss Universe Pageant and appear on primetime network hits like Biggest Loser.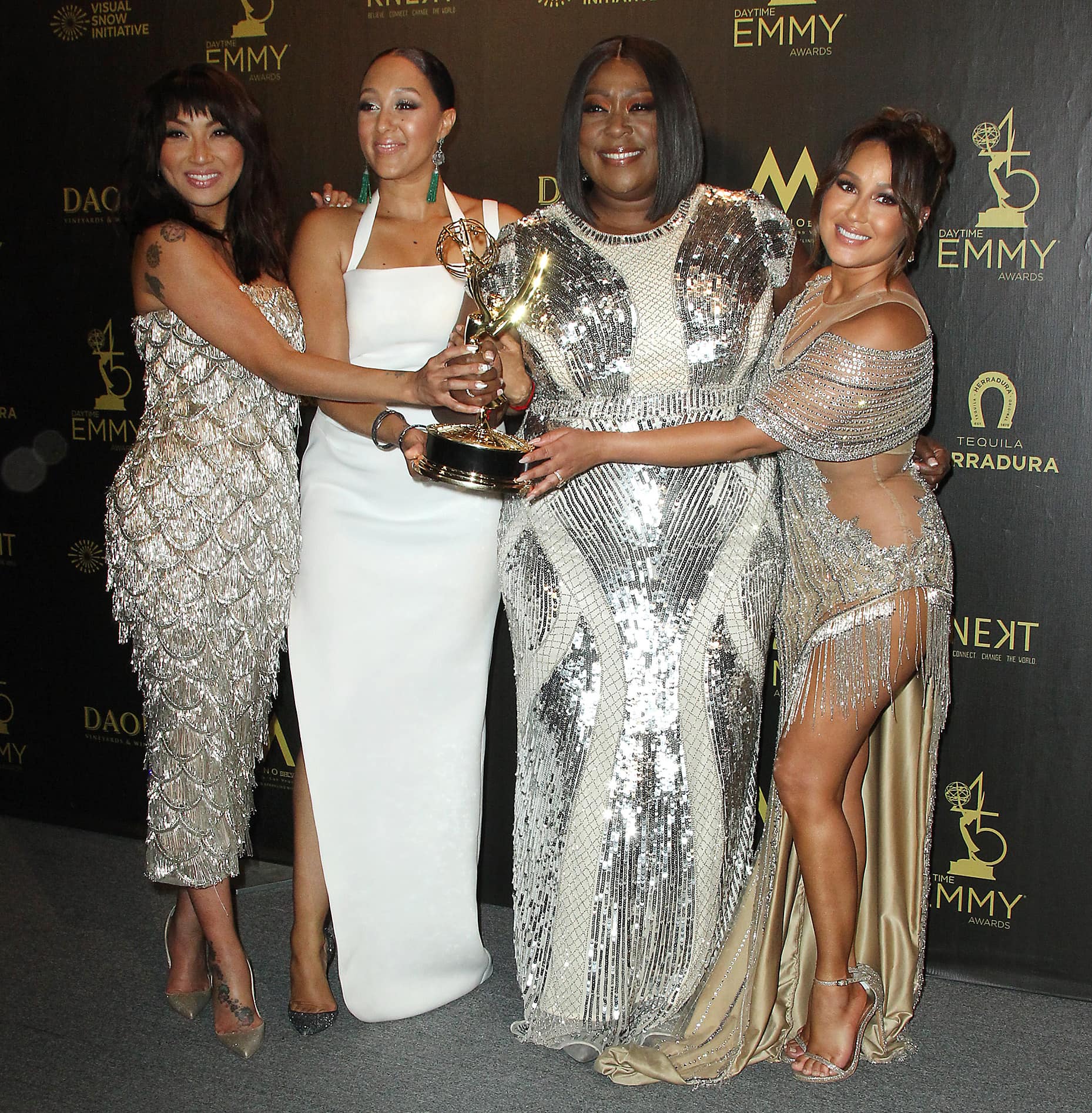 Jeannie Mai with her The Real co-hosts Tamera Mowry, Loni Love, and Adrienne Bailon at the 45th Annual Daytime Emmy Awards on April 30, 2018 (Credit: Adriana M. Barraza / WENN)
In 2013, though, Mai landed the opportunity of a lifetime. She was cast alongside Tamera Mowry, Tamar Braxton, Adrienne Bailon, and Loni Love on Fox Television's daytime talk show, The Real.
It was on this show that Jeannie met her future husband, Jay "Jeezy" Jenkins.
Jeannie Mai Finds True Love with Rapper Jeezy on The Real
Before Jeannie met Jeezy, she was actually with her now-ex-husband, Freddy Harteis, for ten years. The relationship ended abruptly, and not exactly amicably, as you'll find out.
Jeannie has always been very forthcoming about her relationships in the media and shared details about her marriage to Harteis.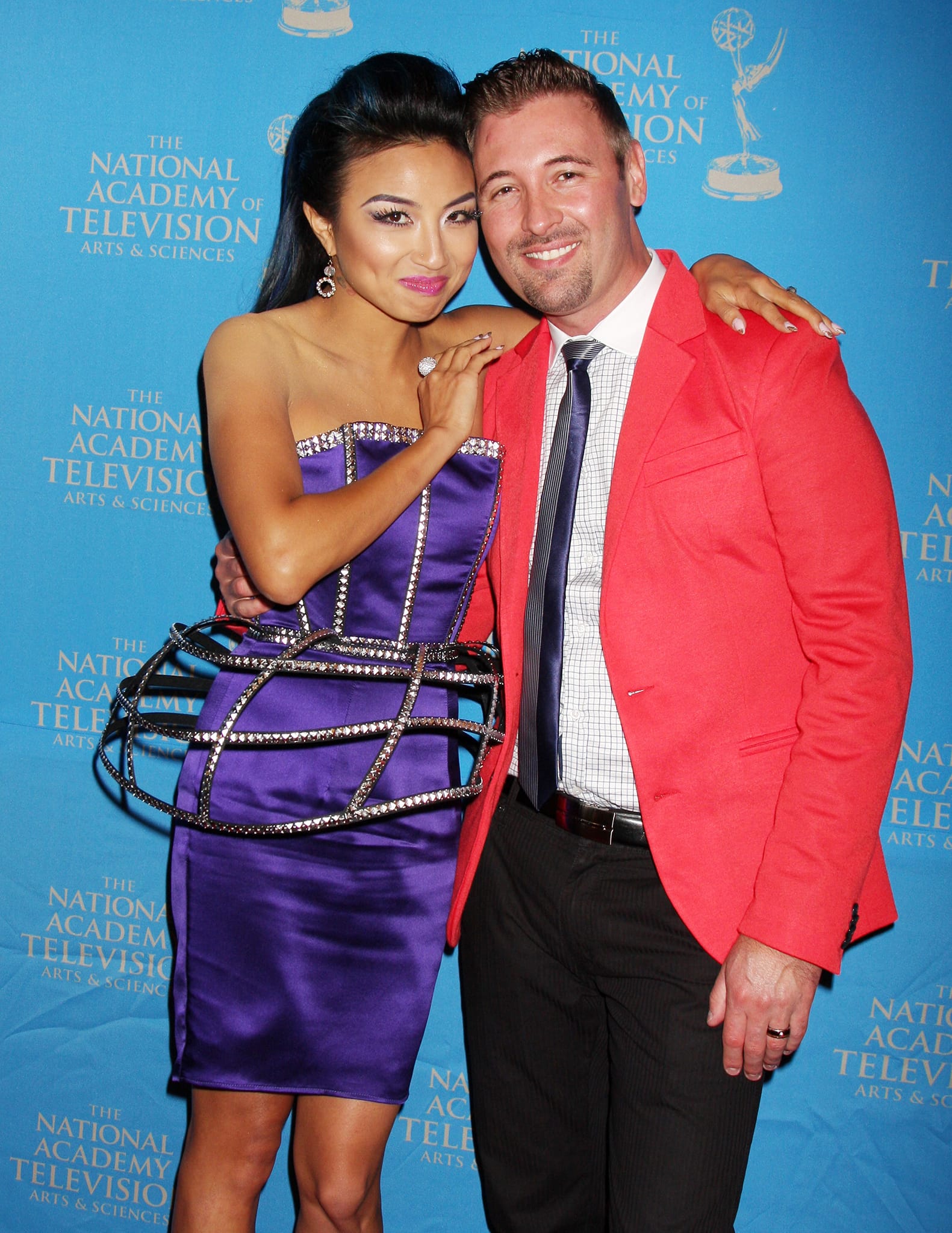 Jeannie Mai and ex-husband Freddy Harteis divorced in 2017 after ten years of marriage (Credit: WENN)
After their divorce in 2017, Harteis moved on quickly with his girlfriend, announcing that they were expecting a child within months of the separation. Jeannie, however, largely remained single before her first date with Jeezy in 2018.
Jeannie spoke candidly on The Real about her relationship with Jeezy, or "Jay," as she calls him. "Getting to know him has been one of the most beautiful experiences of my life," she gushed.
Jeannie contributes much of the success in their relationship to the fact that both are more mature or "grown-grown," as she described them. She also attributed the fact that they both took time to grow personally following long-term relationships that had ended recently.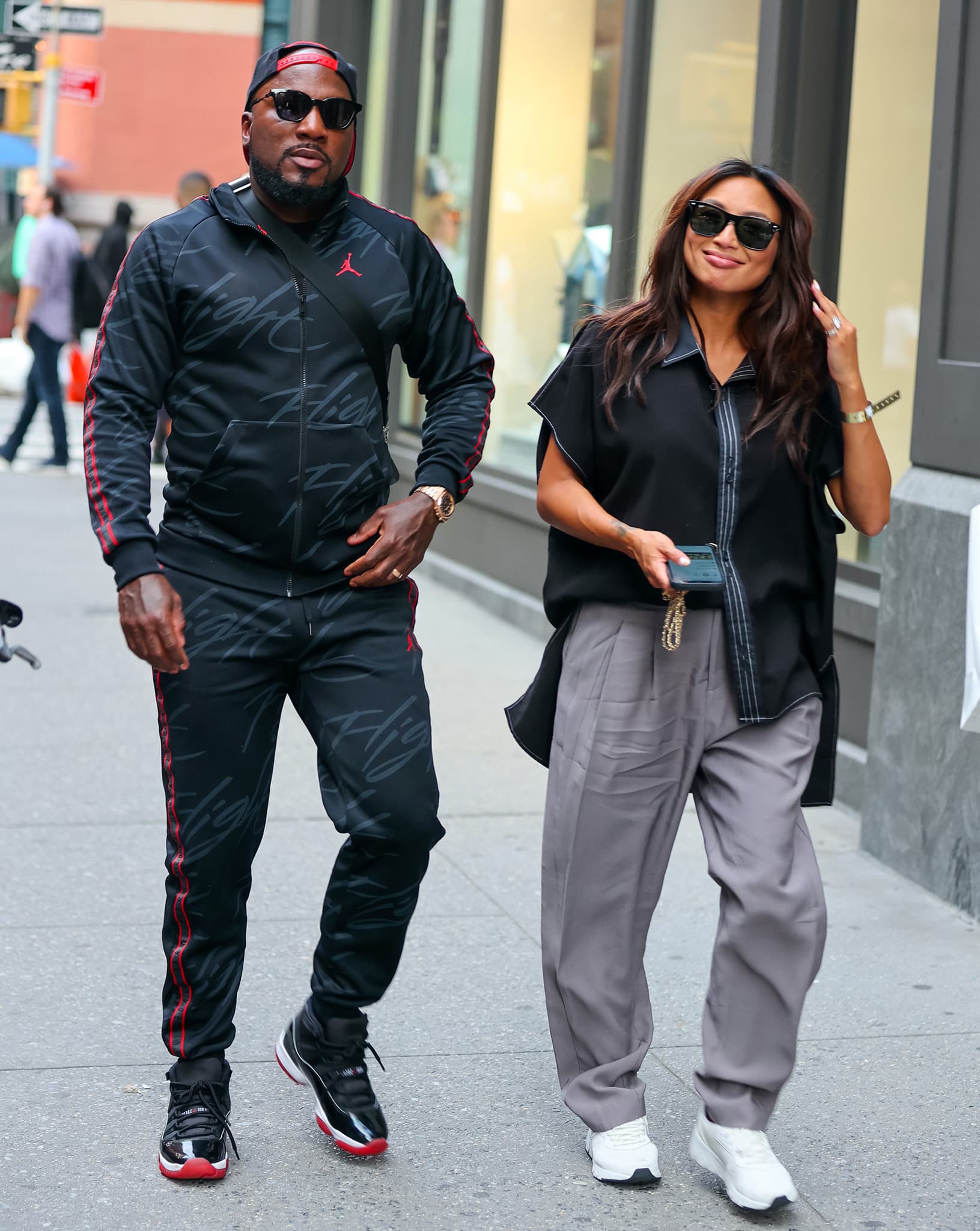 Jeezy and Jeannie Mai began dating in 2018 and got engaged in March 2020 during a quarantine date night at his Los Angeles home (Credit: Mega / WENN)
"He's introspective. He's passionate. He's incredibly deep. He's a visionary. He's a great leader. He's an amazing servant to his community," Jeannie says about the rapper.
And it's not just lip service- the two are clearly over the moon about each other. They even appear together on Instagram and at events. While this may seem normal for most celebrities, Jeezy, especially, is notoriously private about his relationships.
Jeannie Mai and Jay "Jeezy" Jenkins Tie the Knot
The two got married at their estate in the spring of 2021 after Jeezy's mother passed away suddenly. After the loss, the couple agreed that life was too short to wait through a lengthy engagement.
Mai told Vogue, "At the end of the day, Jeezy and I really just wanted to become husband and wife. So we decided to turn our original wedding into a mini-mony, where we exchanged our vows in front of our immediate family and a few close friends."
View this post on Instagram
The ceremony was very small, in consideration of Covid guidelines for gatherings. It was said to be so intimate that even the co-hosts of The Real didn't even make the list. There were no hard feelings, though, as the ladies made calls to express their support and love for the couple on their wedding day.
Jeannie and Jeezy Face a Health Scare
In late 2020, Mai was tapped to compete on Dancing With The Stars; however, after a doctor's office visit, she was whisked away to the hospital for emergency surgery. The star had been suffering from a parapharyngeal abscess following an intense bout of strep throat.
Her husband Jay was on hand following the surgery. While she was ordered to rest and stay quiet for two weeks, Jeezy quickly returned to the studio to make some noise of his own.
After the couple returned to their home in Atlanta, Jeezy reported to the studio and didn't leave until completing his new album, The Recession 2.
View this post on Instagram
In the following weeks, Jeezy uncharacteristically gave public updates on Mai's recovery to media outlets in conjunction with press surrounding the new album.
"She's at about 180 percent," Jeezy said during one such update. "She's very strong. She's fearless."
During and after recovery, Mai took to Instagram, posting pictures of herself pre- and post-operation in a hospital bed, as well as later photos of her surrounded by teddy bears and flowers from well-wishers.
Jeannie did see a full recovery, but she did lose a shocking 15 pounds from her already slim frame due to a limited, liquid diet during recovery. She worked alongside her care providers to rebuild her strength afterward.
Who is Jeezy?
Over the course of his career, we've known Jenkins as "Jeezy," "Young Jeezy," and "Lil J."
Jeezy, or Jay Wayne Jenkins, spent most of his childhood in Georgia following the separation of his parents. Without strong role models in his life, Jeezy drifted closer to Crip gang members for support.
He eventually spent nine months at a boot camp following a narcotics possession.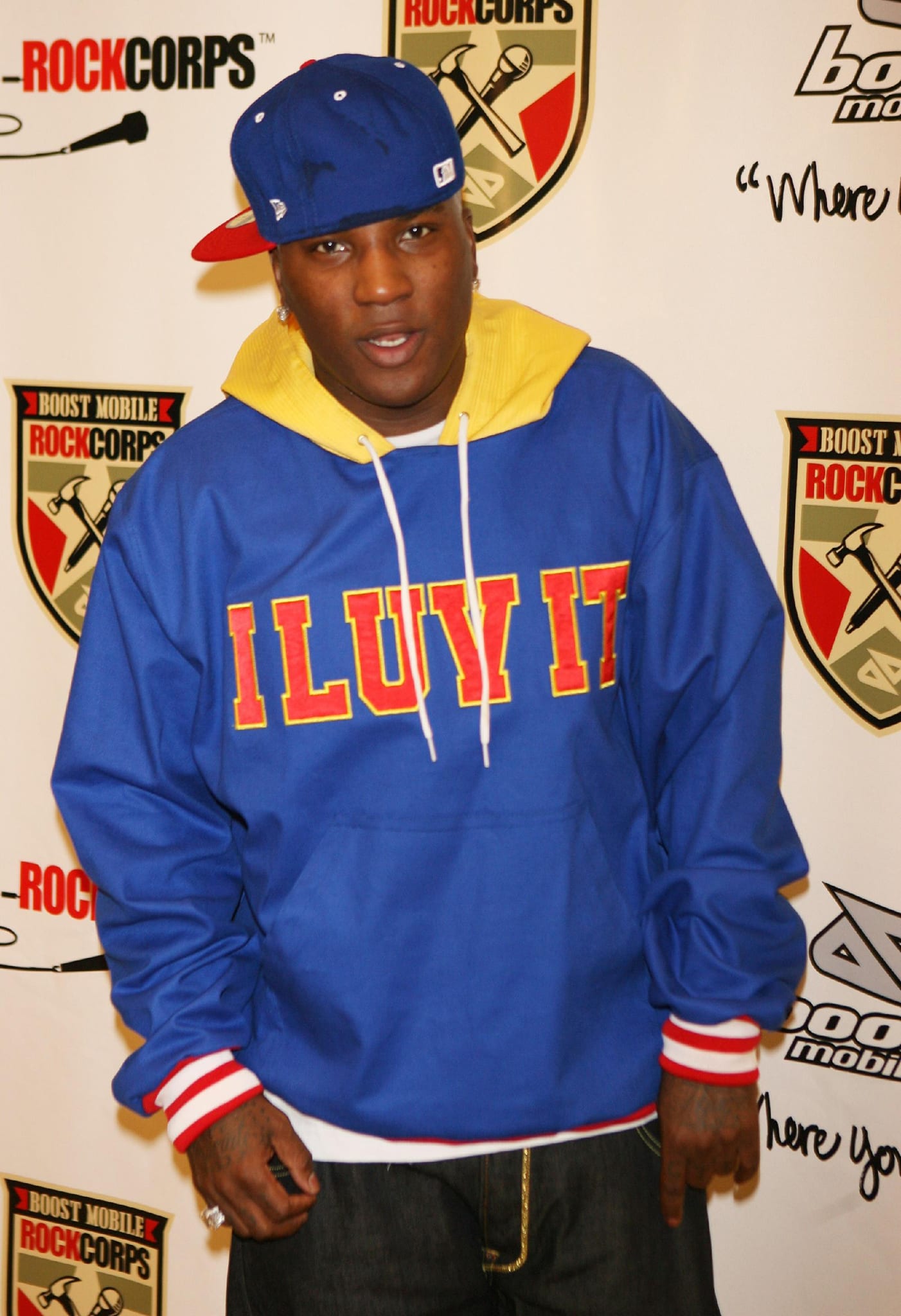 Jeezy, aka Young Jeezy or Lil J, spent nine months at a boot camp following a narcotics possession during his teen years (Credit: PNP / WENN)
Upon release, he founded his label, You Gunz Entertainment, which went on to become Corporate Thugz Entertainment, in 1998.
He didn't release his first solo album until 2001, with his next album being released in 2003. Bad Boy Records recruited Jeezy to be a part of Boyz n da Hood.
Meanwhile, Jeezy was shopping his solo project to different labels. His demo was enough to rattle the cages of some of the most notable record producers. He eventually signed with Def Jam Records despite being courted by big names like Warner and Interscope.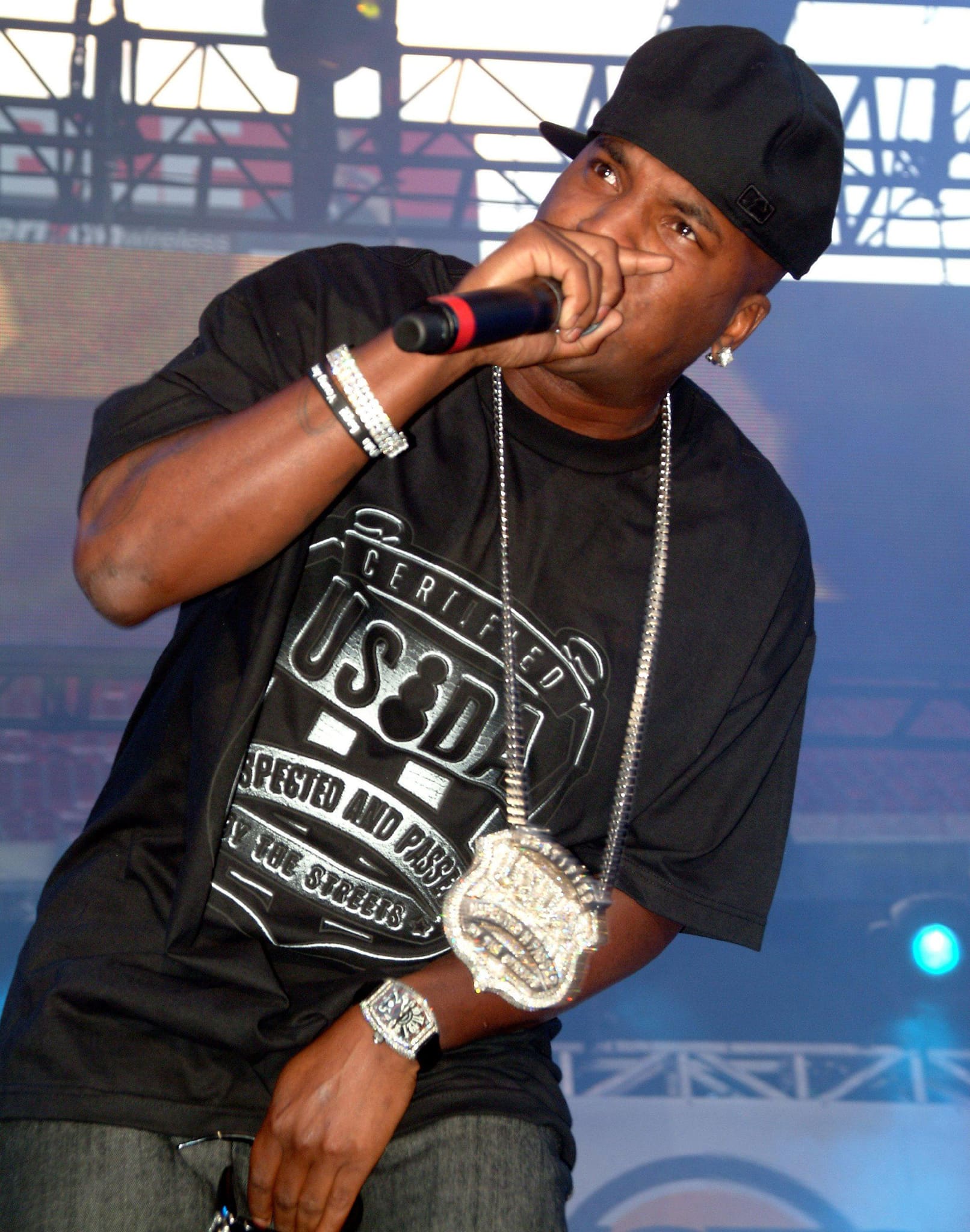 Jeezy signed with Def Jam Recordings in 2004 and has since become a multi-platinum selling artist (Credit: John Saint-Hilaire / WENN)
Jenkins went on to become a prolific performer with multiple platinum albums topping Billboard charts. On many of his albums, he's heard rubbing elbows with hip hop royalty, including the likes of Jay-Z, André 3000, and Rihanna.
He's received multiple Grammy nominations and won several Ozone Awards, BET Awards, and BET Hip Hop Awards, in addition to multiple other nominations.
Jeezy's Relationship History
As we mentioned, Jeezy is notoriously private about his relationships. In fact, in his long-term relationship with singer Keyshia Cole, he and Keyshia kept their relationship out of the press and under wraps for years.
The two finally split following what they both claimed to have rejected a marriage proposal from the other.
Jeezy dated singer Keyshia Cole from 2005 to 2007 (Credit: FayesVision / WENN)
Over the years, Jeezy has quietly dated several hot celebrities like Khloe Kardashian. He also has two children with Tynesha Dykes and has one child with musician Mahi Gebremedhin.
Jeezy also dated Khloe Kardashian from November 2008 to April 2009 (Credit: Johnny Louis / WENN)
Jeannie and Jeezy Share Some Exciting News!
This year, on Mai's show, The Real, she was relieved to share an important announcement.
"It's been really hard to keep all of these secrets for you guys because we've had so much to reveal here at the show, including the fact that I am pregnant!"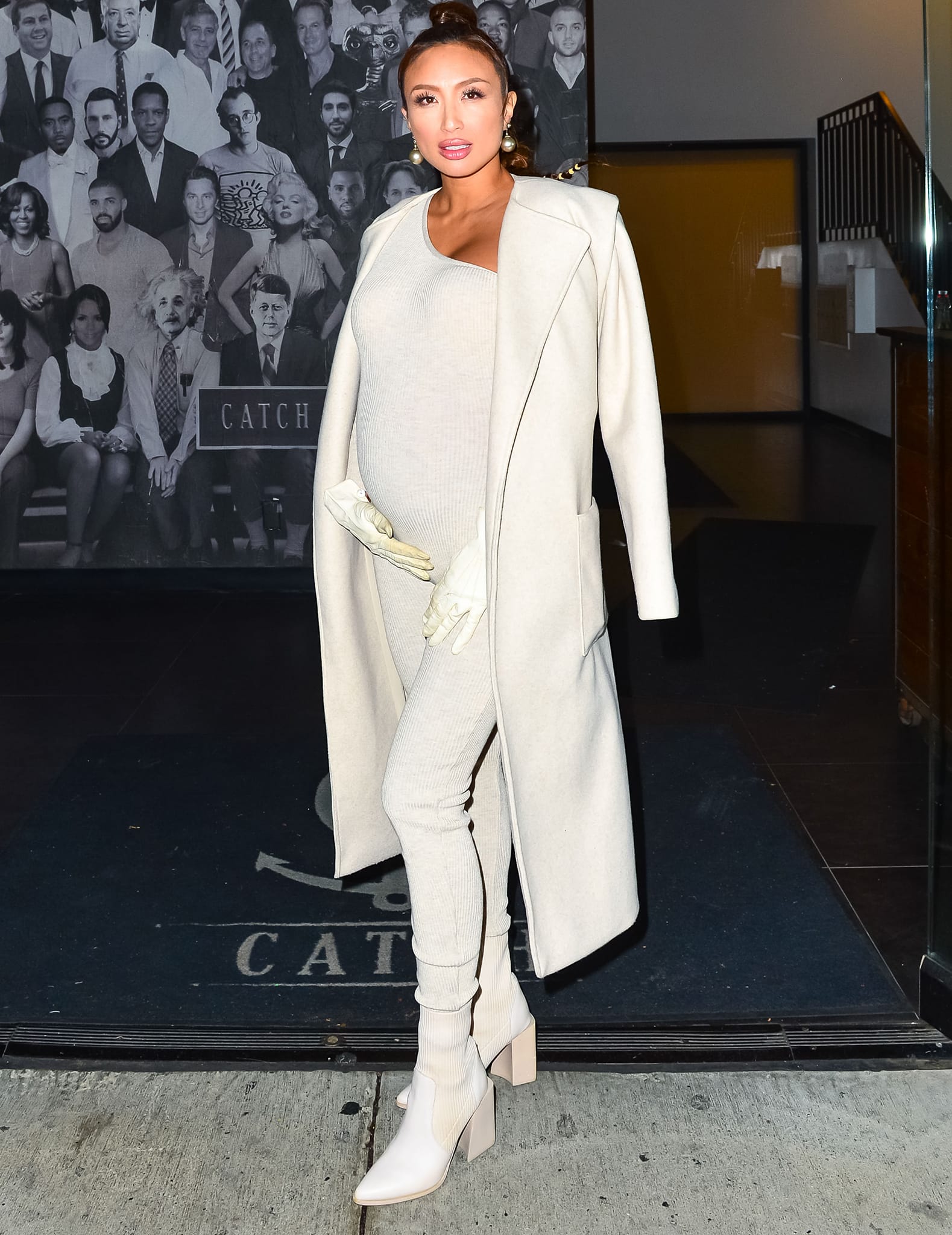 Pregnant Jeannie Mai shows off her baby bump outside Catch Restaurant in Los Angeles on October 25, 2021 (Credit: Mega / WENN)
Baby Jenkins will be Jeannie Mai's first child and Jeezy's fourth child.
Jeannie Mai's Ex-Husband Sneers at her Baby News
At the time of the announcement in September, Mai was already sporting a baby bump and is due in early 2022. Prior to her marriage to Jenkins, she had not considered having a child. In fact, it was the catalyst in ending her prior relationship with her ex-husband, Freddy Harteis.
Harteis didn't quite share in the joy of the news, rather lashing out at Mai stating he had "upgraded from trash to treasure a long time ago." Fans of the new couple pushed back on the comment.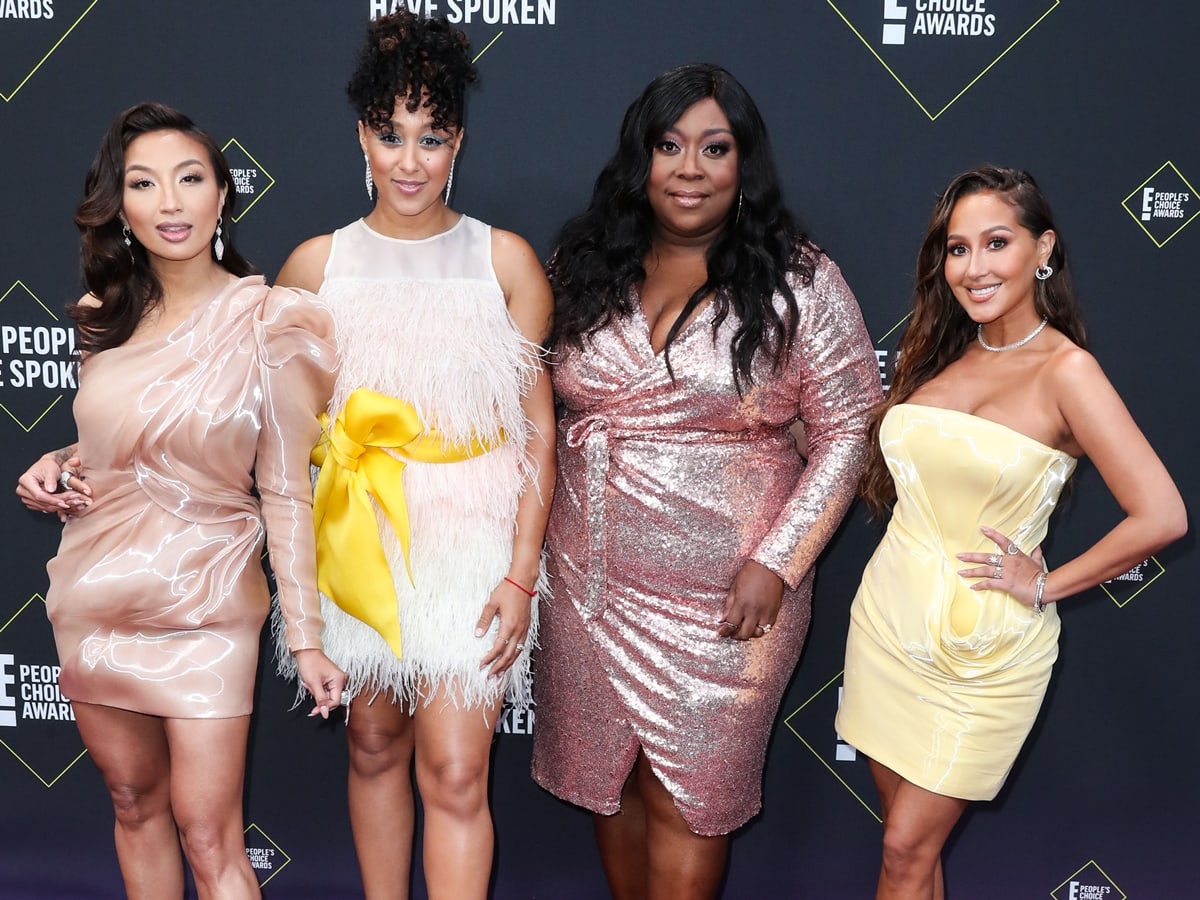 The Real co-hosts Jeannie Mai, Tamera Mowry-Housley, Loni Love, and Adrienne Bailon Houghton arrive at the 2019 E! People's Choice Awards held at Barker Hangar on November 10, 2019, in Santa Monica, California (Credit: WENN / Avalon)
The Real co-host, Loni Love, stood up for her colleague inferring that Harteis' new flame had posted the retort and scolded her for not wishing the couple well as Mai had done when roles were reversed.
"Auntie Loni here: This sounds like a woman answering… @thehollywoodhunter you better then this," wrote Love. "We were happy with your children being born so show the same grace to Baby Jenkins."
What are Jeannie Mai and Jeezy doing now?
Despite their busy schedules, the couple is still very much involved in charitable work.
Jeezy established his own non-profit, Street Dreamz Foundation, which promotes leadership skills for children in underserved communities in and around Atlanta. The foundation also hosts holiday functions that supply area kids with Christmas cheer by way of a toy drive.
View this post on Instagram
While Mai is still working on The Real and staying healthy for the baby, she's also very much invested in charitable causes like advocating for victims of human trafficking.
Jeannie told Forbes, "Selling the commodity of humans has to be the biggest business out there, as it is the most lucrative. I cannot go to sleep at night unless I know that I am using all of my platforms to fight human trafficking."
In lighter news, the couple is flooding Instagram with glamorous photos from events and more tender moments as well. It seems the two of them will soon have their hands full, both figuratively and literally in the coming months.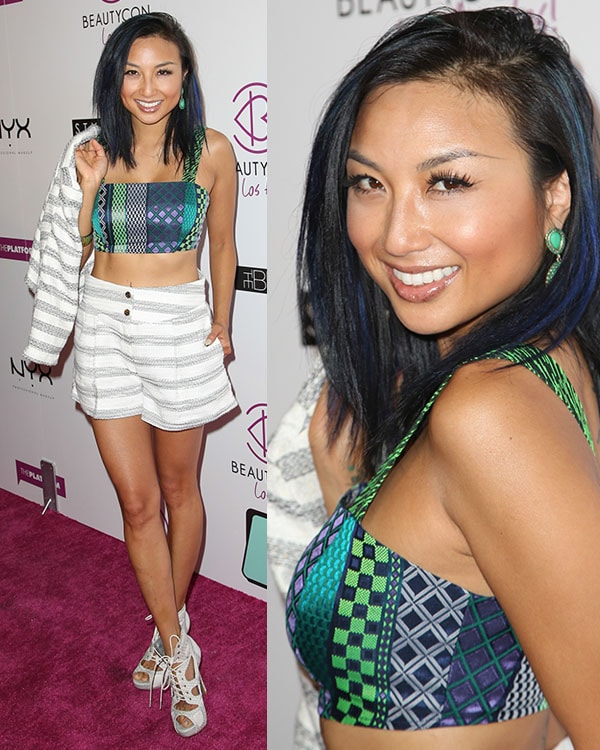 Jeannie Mai flaunted her endless legs at the BeautyCon Fashion and Beauty Summit held in Hollywood on August 24, 2013 (Credit: FayesVision / WENN)
In August 2013, The Real talk show host Jeannie Mai paraded her sexy legs at the BeautyCon Fashion and Beauty Summit at Siren Studios in Hollywood, California.
She looked very edgy and chic in a colorful cropped top and a matching gray-and-white jacket, shorts, and shoes. What else would you expect from a fashion expert?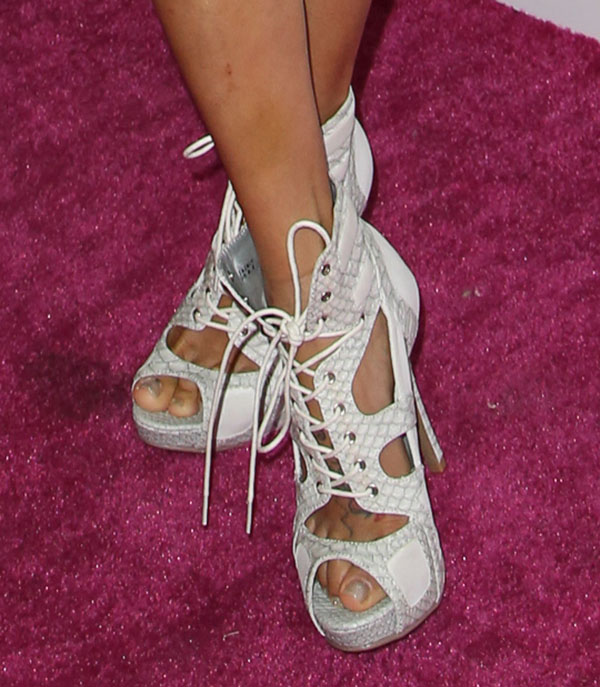 Jeannie Mai displayed her hot toes in white sandal booties (Credit: FayesVision / WENN)
Her smooth leather and snakeskin heels from ShoeDazzle are very interesting. They feature cutouts at the sides, peep toes, and a lace-up fastening.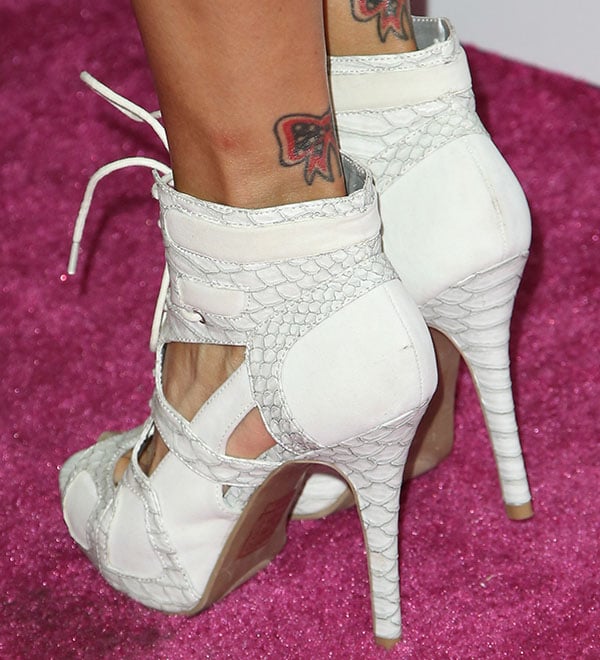 Jeannie Mai's smooth leather and snakeskin heels (Credit: FayesVision / WENN)